It's a marvelous experience to get a new mattress and feel the pleasure of being the first person to lie down on it. But every new item replaces an old one, and mattresses are no different. You'll need to know how to dispose of a mattress if you want to bring in a new bed to your new home.
When you know the best DIY way to get rid of a mattress, you don't have to worry about being stuck with a useless mattress taking up space. We developed this guide to show you the best old mattress disposal methods.
These options allow you to get that old and smelly mattress out of your home and someplace where it might do someone else some good.
In this article, you'll get reliable information on how to donate or recycle a mattress on your own. We also show you how to arrange to throw your mattress away, through either a private service or your municipal waste disposal organization.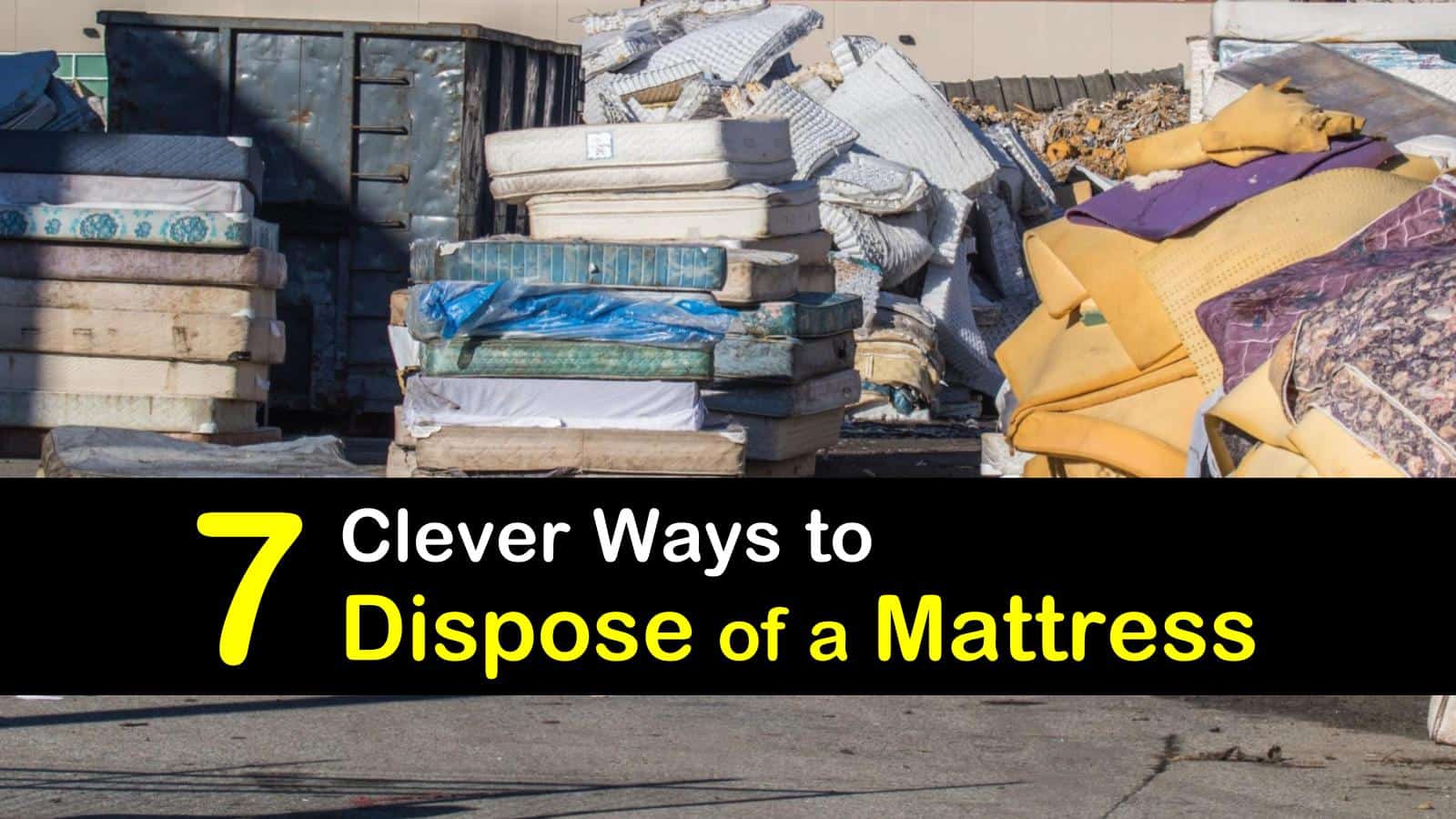 How to Get Rid of a Mattress
If it's practical, you should always try to recycle your old spring or foam mattress. A mattress is a large piece of gear, and it contains lots of metal box springs, fabric, and plastic. Even old polyurethane foam, also called memory foam, is worth something.
It's possible to clean a dirty old mattress and get years of life out of it. You can use a mattress cleaner like hydrogen peroxide, vinegar, baking soda, and ammonia to get rid of stains from vomit, urine, and blood.
If you have a bed bug infestation, you can try to get rid of bed bugs in a mattress before you decide to get rid of it. This process does take a little effort, but can save you a lot of money in buying a new mattress.
There are a ton of organizations that would love to get their hands on your mattress if it's in good shape and free of unpleasant stains. All you have to do is get in touch with them and arrange a pickup. These organizations will ensure that your used mattress goes to a good home where it will be thankfully used.
Old Mattress Disposal Through Donation and Recycling
This section looks at different options on the best way to get rid of a mattress by donating or recycling it. You'll find out which charities will be glad to take your old mattress off your hands. We also show you which municipal and state establishments support and encourage mattress donation.
Donate Your Mattress to a Charity
The world is full of folks looking to make a positive change in other people's lives, and you can help them achieve their goals. A little research nets you lots of local charities and other nonprofit organizations who would be delighted for you to donate a mattress. You don't even have to look too far to find places that accept mattress donations, either.
These places always need mattresses and other large furniture and should be your first stop. They all have robust donation divisions and will work with you to help you donate.
Call them up and arrange a visit. You might also consider contacting a local charity or Furniture Bank Association branch.
Before donating your mattress to a worthwhile charity, be sure to shampoo the mattress and get rid of stains first. For safety reasons, these organizations will not take dirty mattresses or a bed bug infested mattress.
Recycle Your Mattress with State or Local Authorities
One of the best avenues for mattress donation is through governmental organizations. States are increasingly looking at donations of all kinds to reduce resource expenditures. Mattresses are right at the top of the list.
California, Rhode Island, and Connecticut all participate in a state program called Bye Bye Mattress, as discussed in literature put out by the Mattress Recycling Council (..). Other states are joining all the time.
Many cities have mattress recycling programs, as well. Wichita, Kansas has a robust recycling facility, and some large cities in the United States are following suit with their recycling services. Contact your local municipality and ask about their recycling and repurposing programs.
There might be a drop-off point near your home or work that will accept your mattress. You're sure to find a local recycling center or mobile recyclers with a little legwork.
Donate Your Mattress Privately
You don't have to use the authorities to get your mattress off your hands. People have been using private means to move furniture out of their homes for centuries. With a little effort on your part, you can get rid of your mattress and perhaps even earn a buck while you do so.
Classified pages are your best bet. Craigslist is the first and biggest one to try, and you're likely to find someone willing to take the mattress off your hands. You can also go more local and post signs around the neighborhood. Note that bed bugs have made this option more complicated in recent years.
Unless you are taking your mattress to the dump, you must get rid of bed bugs first before donating or recycling it. Although it may take a little time, you can use several home remedies to eliminate this pest rather than calling an expensive pest control expert.
The Best Way to Get Rid of a Mattress – Throwing It Away
Sometimes, nobody seems to want what you're offering. Perhaps nobody wants an old mattress. You might do your best to find a place to donate your mattress, but come up empty.
What do you do? You can always go another route and either pay someone to remove it or arrange to throw it away. Both mattress removal options work, though both depend on your circumstances.
This section examines how to dispose of a mattress by throwing it away or having it hauled off for a price. You'll find out about a few different junk removal services with whom you can work to get rid of your mattress. We also give you a rundown of your options for throwing your mattress away using your local waste removal services.
Use a Junk Removal Service
People say that you can get anything you want if the price is right. As far as mattress disposal service goes, they're correct. If you have the right number and are willing to pay, you can find lots of folks who are eager to remove any junk you might want to lose. Use them to dispose of couches, tables, and mattresses.
1-800-GOT-JUNK will be happy to make arrangements and quote you a price. Many local waste removal companies would like to make your acquaintance, too. You're sure to find a junk removal company that works for your needs and situation.
Arrange for Curbside Pickup with Your City
If your city services include trash pickup, you might have an avenue through which you can dispose of your mattress. Many municipal waste management facilities accept mattresses, couches, and other large items from time to time.
Cities generally restrict bulk pickup to specific days every year, so check your local schedule. If you can't find a schedule, give your local waste services liaison a call and find out the pickup dates and instructions.
Use a Junk Removal Assistance Hotline
Perhaps you've tried finding charities, services, and your local trash pickup and still haven't had any luck getting rid of your mattress. You might find a junk removal assistance hotline to be just what the doctor ordered. These companies will work with you to get you in touch with the right resources.
Take the Mattress to the Landfill
If all else has failed, you can always do what your ancestors did and take your large waste to the local landfill. Don't just drop it at a local dumpster, though. You'll need to get a vehicle to load up your mattress and other waste, and the landfill will charge you a small fee for your visit.
Then, you'll be able to give your mattress a first-class sendoff. Every city and county landfill has different rules regarding how to dispose of a mattress legally and adequately. Take the time to read through your landfill's requirements.
Local home improvement stores such as Home Depot offer pickup trucks for rent at a fraction of what rental companies charge. So, you might do well when checking with them.
We hope you had a great time investigating our options on old mattress disposal. When it's time to switch to a new bed, you need to know what to do with the old one. Our guide lays out your different options and gives you the best way to get rid of a mattress. With our assistance, you'll be ready to lighten your load and get that old junk off your hands for good.
Thanks for reading our old mattress disposal guide. If you thought our article on how to dispose of a mattress was helpful, share these suggestions on the best way to get rid of a mattress with family and friends on Pinterest and Facebook.