Cleaning ovens is necessary to keep kitchens clean, but many store-bought cleaning products use harsh chemicals to get the job done. Ditch those toxic chemicals and try an all natural oven cleaner recipe that works just as good without exposing your family to toxins.
It's easy to forget about cleaning the oven, but grime and gunk accumulate on the bottom of the oven. Mystery splatters and bits build up on the oven door and sides of the range.
Self-cleaning ovens are an option. These auto-clean settings help keep your oven clean by using extremely high temperatures to burn any grime and gunk off your oven. You wipe off the remaining ashes when it cools, but a self-cleaning oven makes the house hot and stinky.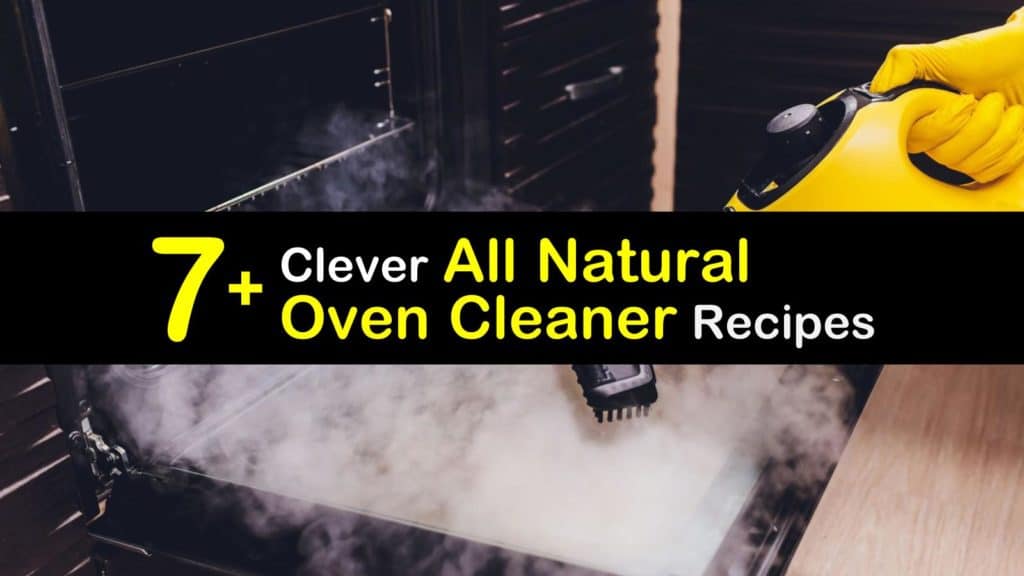 Homemade Natural Oven Cleaner Recipes
Avoid using a toxic oven cleaner and switch to using a homemade oven cleaner. We went through the most common recipes to show you the best DIY natural oven cleaner.
Everyone wants a clean oven, and that involves some elbow grease and natural ingredients. Don't turn to toxic, harsh chemicals known to cause cancer to clean an oven that cooks food for your family. Here are some of the best DIY oven cleaning recipes.
Use the Steam Clean Method with Essential Oils
If your oven only has light stains and spots, a steam clean method is an easy option. Fill a large oven-safe pot with water and ten drops of essential oils. Bake at 450℉ for 30 minutes.
This method works by loosening dirt and grime, allowing you to wipe the oven clean with a paper towel once it cools down. Try adding lemon essential oil, which is known for its cleaning properties.
Steam cleaning works well in a microwave as well. If you have gunk in your microwave, put a small bowl with warm water and lemon juice and microwave for one minute. Wipe the inside with a paper towel.
Two Ingredient All Natural Oven Cleaner Recipe
This recipe for a baking soda free oven cleaner only uses two ingredients: one cup of white vinegar and one tablespoon cornstarch. Stir the ingredients in a small pan and cook over medium heat until thickened into a paste. Remove from heat and let cool.
Apply to the oven and let it sit for 20 minutes, then wipe down with a damp cloth. Cornstarch is abrasive but also considered safe for stainless steel and glass. Use this mixture on a stainless steel oven exterior, too.
DIY Natural Oven Cleaner with Lemon Juice
Another all natural oven cleaner recipe that works well uses three ingredients. Lemon juice helps to brighten and lighten stains. It loosens any long-standing stains you couldn't remove with other cleaners and is ideal to clean burnt grease in an oven.
Mix the lemon juice and cornstarch in a small pan over medium heat, allowing it to form a thick paste. Remove from the stove and let it cool. Stir in the dish soap and apply to the inside of your oven, letting it sit for 20 minutes. Wipe clean with a damp cloth.
As an alternative, clean your oven with lemons themselves. Cut a lemon in half, dip the cut end in cornstarch or baking soda, and scrub the oven. Let it sit for the same amount of time and wipe clean.
An Easy Oven Cleaner with Baking Soda
Most people reach for this DIY oven cleaner first because this combo is a popular choice for homemade cleaners. Use ¼ cup baking soda and ¼ cup white vinegar.
Liberally sprinkle the baking soda over the dirty surface, covering the entire oven door and bottom of the oven. Put the vinegar into a spray bottle and spritz the baking soda with the vinegar until wet and bubbly.
Soak for 20 minutes and wipe clean. You may need to use a bit of elbow grease and a scrubbing pad to remove the grime. Use warm, soapy water to remove the residue from the inside of your oven.
Three Ingredient Simple DIY Oven Cleaner
This DIY natural oven cleaner is similar to the previous recipe but includes dishwashing soap. Use three tablespoons of baking soda, one tablespoon white vinegar, and one tablespoon liquid dish soap.
If you have to clean more than the oven door, double or triple the recipe. Mix the baking soda, vinegar, and dish soap. Apply to the dirty areas in the oven, and let the mixture sit for 20 minutes. Wipe with a damp cloth.
Natural Oven Cleaner Recipe with Hydrogen Peroxide
Hydrogen peroxide is a fantastic natural cleaner, so give it a try as a DIY natural oven cleaner. It breaks through the stains and grime.
Stir the ingredients and use a paper towel or cloth to spread the mixture throughout the oven. Let it soak for 30 minutes before wiping clean. Homemakers swear by this cleaning method.
Hydrogen peroxide breaks up grime while also lightening and removing stains. Baking soda is a natural, superfine abrasive that removes gunk while the soap cleans. It's a great combination.
Try Rubbing Alcohol as a Natural Oven Cleaner
Don't panic if you don't have baking soda; rubbing alcohol is another option. Gather ¼ cup rubbing alcohol, ¼ cup water, and eight drops of dishwashing soap.
Stir the ingredients and add to a spray bottle. Spritz the entire oven and let the mixture soak for 20 minutes. Wipe the whole range with a wet cloth.
Make a Baking Soda Paste
This natural oven cleaning recipe works amazingly well. Create a baking soda paste using three tablespoons of baking soda and 1 ½ tablespoons of warm water. Stir the baking soda and water to form a thick paste.
Apply to the dirty oven and let sit for 20 minutes as it works its magic. Wipe clean with a cloth.
If you have a stainless steel oven, this is a good option because baking soda isn't coarse enough to scratch or damage a stainless steel finish. Avoid any recipes that use salt as an abrasive cleaner.
Common Questions about Cleaning Ovens
Don't let your oven cleaning questions go unanswered! Homeowners often have questions about getting a clean oven.
Are Self-Cleaning Ovens Safe?
Using the self-cleaning oven function is scary. It heats the oven to a temperature rarely used for hours, and it's natural to wonder if it's safe to use.
Self-cleaning ovens produce and emit fumes into the air along with a burning smell. The fumes come from the burning of food particles and enamel lining. Occupants must stay home while using this function, but the smell makes it hard to stay inside.
Some experts claim that self-cleaning ovens produce carbon monoxide emissions, which are unsafe for humans.
Also, the high temperatures create a severe burn risk for kids. While this function cleans ovens well, you have to weigh the pros and cons to decide if you want to use it.
Can You Safely Use Essential Oils While Cleaning an Oven?
Natural cleaning recipes commonly use essential oils, but you might wonder if they're oven safe. Feel free to use essential oils in your DIY oven cleaner recipes. On average, use ten drops per recipe.
The most commonly used essential oils for cleaning ovens are lemon, orange, tea tree, and pine essential oils. Use one or a blend, but stick to the correct total number of drops even if using a mixture.
Do I Have to Clean the Heating Elements?
If you have an electric oven, you might wonder if you need to clean the heating elements. In most cases, cleaning the heating elements isn't necessary because they vaporize chemicals spilled on them.
However, if gunk builds up, it's safe to clean them with mild natural cleaners in the sink. Refer to your oven manual to remove the heating element; it involves unhooking electrical connections, so unplug the oven.
The best oven cleaning paste for a heating element is baking soda and water. Spread the paste over the heating element and let it soak overnight. Scrub it off in the morning with a sponge.
What is the Best Way to Clean the Oven Racks?
Cleaning oven racks is essential too. Clean the racks with any of the above recipes; thick paste options work the best. The easiest way to clean oven racks is to remove them from the oven and put them in a bathtub or kitchen sink.
Spread the baking soda paste or any other all natural oven cleaner recipe you prefer, and use a scrub brush to apply it all over the racks.
Let the cleaner soak for 20 to 30 minutes before wiping down the racks. If the racks are grimy and covered with dense food particles, don't be surprised if you have to apply several cleaner rounds.
It's easy to get your oven cleaned with a natural oven cleaner recipe. All of these recipes work; you have to find your favorite. Thankfully, oven cleaning is only necessary a few times per year, and you don't have to worry about chemicals reaching your family's food.
Recipe for All Natural Oven Cleaner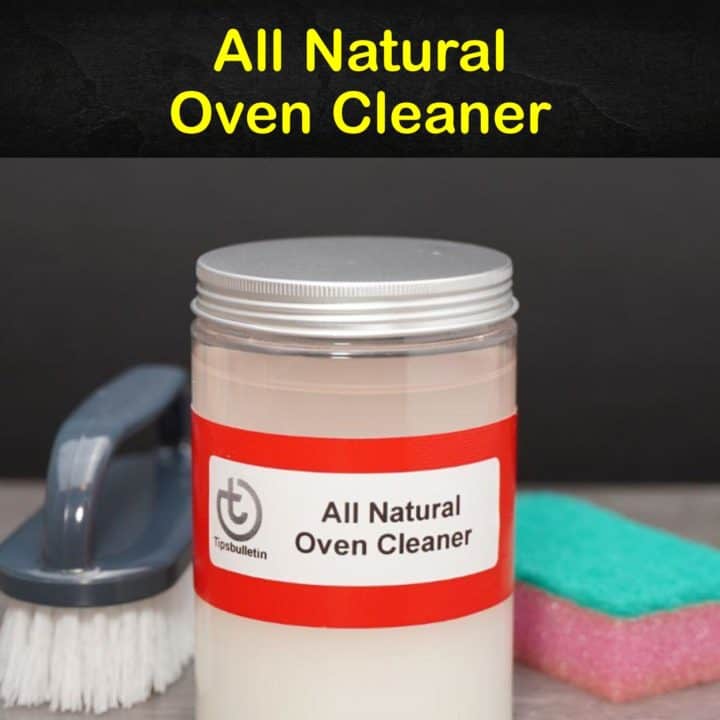 All Natural Oven Cleaner
Oven cleaning without caustic fumes!
Materials
4 ounces vinegar
4 ounces baking soda
4-6 drops of dish soap
Hot water
Tools
Measuring cup
12 or 16 ounce jar
Gloves
Nylon scrubber
Bucket
Cleaning rag
Old paintbrush
Instructions
Remove the grates from the oven to clean separately.
Combine the vinegar and baking soda in the container.
Spread on the oven interior with a brush or a gloved hand.
Let the solution sit for 20-30 minutes.
Use the scrubber to remove stains and grease.
Dip the rag in the soapy water and squeeze out the excess until it is damp.
Wipe away the grime and cleaner. Rinse the rag frequently. You may need to replace the soapy water depending on how dirty the oven is.
Notes
Double this recipe easily for heavy stains.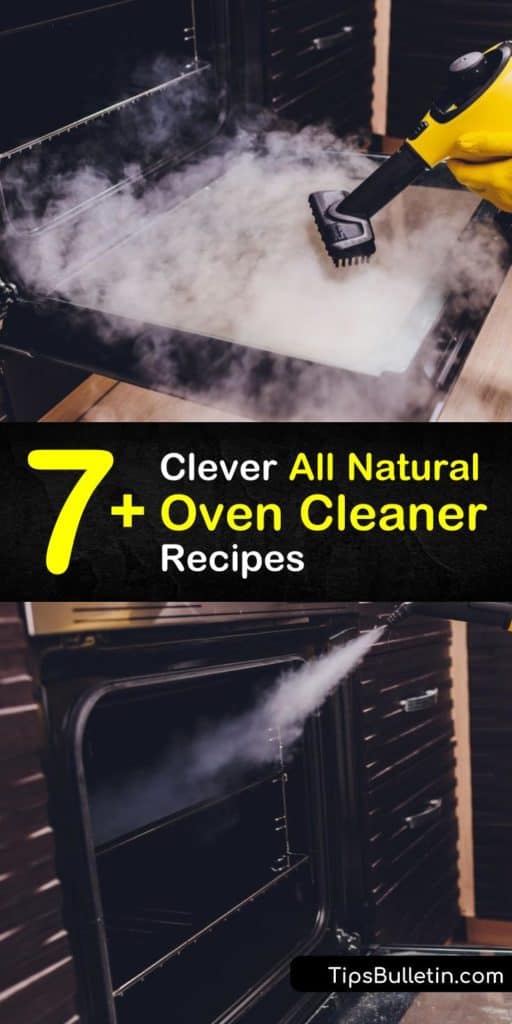 If you liked this article about using an all natural oven cleaner recipe, share all of these DIY non-toxic oven cleaning recipes with your friends on Facebook or Pinterest.