Evergreens in the form of trees or shrubs provide colored foliage year-round, as new leaves grow as dead ones fall off. When we think of evergreens, we think pine or Christmas type trees, but those are not the only options. The most amazing evergreen shrubs for the front of your house provide your landscape with a splash of color; they endure the coldest temperatures and the driest seasons.
Many opt to plant evergreen trees and shrubs in front of our homes; they act as a windbreak and a privacy screen. The evergreens also offer character, texture, and interest to otherwise dull and dull yards.
Evergreen shrubs are available in all shapes and sizes, which only add to their ability to spruce up your front yard. Dwarf shrubs make great additions to rock gardens, while larger box style shrubs create a privacy fence or add depth to an evergreen landscape.
Ideal Evergreen Shrubs for the Front Yard
Before you purchase any amazing evergreen shrubs for the front of your house, decide what you will use them for. Are you going to create a windbreak, a privacy screen, or do you want them for general decoration?
You can find evergreen shrubs in different sizes, shapes, and leaf styles, and not all work well for every purpose. Evergreen shrubs for privacy that grow taller may be a better idea for property borders rather than for the front of your house.
Things to Know Before Purchasing Evergreen Shrubs
When selecting evergreen shrubs for your yard, consider your USDA Hardy Zone. Understanding your zone is important as it allows you to determine the shrubs' chance of survival, as some are hardier than others.
Always check the zone rating on shrubs that interest you. Soil requirements are something else to consider. The majority of evergreen shrubs thrive in moist soil; if your area suffers from drier soil conditions, opt for drought-tolerant shrubs specifically.
Proper Care for Evergreens
Knowing how to care for your evergreen shrubs properly is essential to their survival. The majority of these shrubs do well in partial to full sun. Some evergreen shrubs handle adverse conditions, such as poor soil, pests, extreme weather, poor drainage, etc., better than others.
If your local area is prone to any of these issues, consult your local nursery or garden center for options that will withstand these conditions. Something that makes evergreens a fantastic choice for front yards of homes is how low maintenance they are. Some shrubs require a little bit of pruning and fertilizing once a year, while others don't.
Some evergreens drop their needles and seeds at specific times, while others don't. Know how much maintenance is required of the shrubs you are considering to ensure you pick the one that works best for you.
Size
Before making final decisions, consider the mature size of your shrub choices. Also, find their growth rate, as some are slower growing than others.
Select the best shrubs for your yard, and keep in mind your yard size and the space you are planting in. To look their best, the bushes must fit their surroundings. If they grow too big for the area, it will take away from your landscaped yard rather than add to its beauty.
Yew (Taxus baccata) – Amazing Evergreen Shrub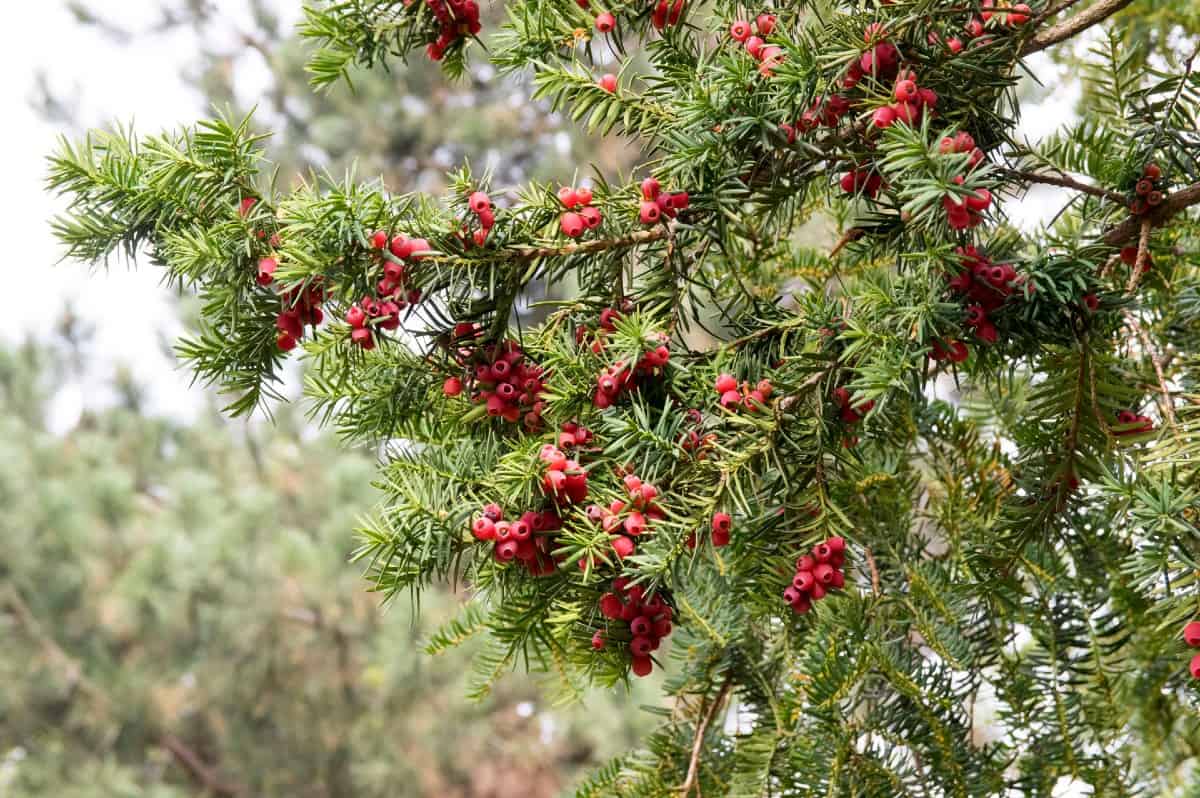 If you are after a reliable evergreen shrub, consider the Yew as its soft foliage occasionally produces red berries that attract various birds. Yew is not known for being useful to wildlife, but the toxic berries and seeds do not harm those that do decide to eat it.
The Yew shrub handles pruning and shearing well and can be shaped into various forms. The bush is highly resistant to pests and various diseases, which adds to its reliability.
Yew thrives when planted in sandy loams with excellent drainage. They tolerate full shade but do best in full sun to partial shade.
Viburnum (Viburnum spp.)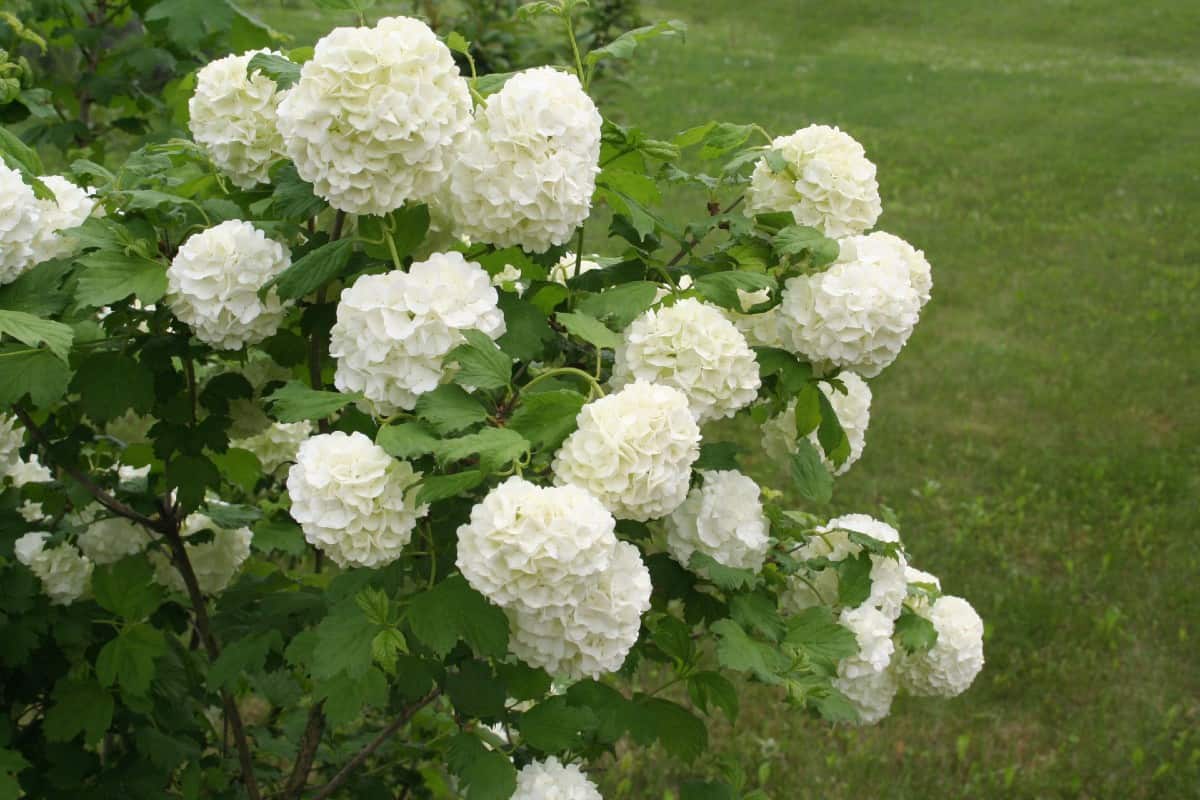 There are over 150 Viburnum plants. They are available as evergreens, deciduous, and semi-evergreen. Most home landscapers enjoy these shrubs for their foliage, in addition to their flowers and fruit. The majority of the varieties produce sweet fragrant flowers in the spring that range in color from white, cream, to pink-tinted to entirely pink flowers.
Fruit appears in the late summer or early fall, is round to oval, and comes in colors of black, red, blue, and yellow. These adaptable shrubs are relatively easy to grow, but their cold hardiness depends upon the individual species. They typically do well in zones 4 to 8.
Leaves vary in size and color with round or lance-shaped foliage that may or may not have teeth shapes around the edges. Flower heads vary from flat-topped clusters that look similar to hydrangeas or snowball looking ones with domed flowers.
You can even use Viburnum as evergreen flowers for pots and put them on the front porch if that area meets the recommended sunlight requirements for this attractive plant.
Green Mountain Boxwood (Buxus)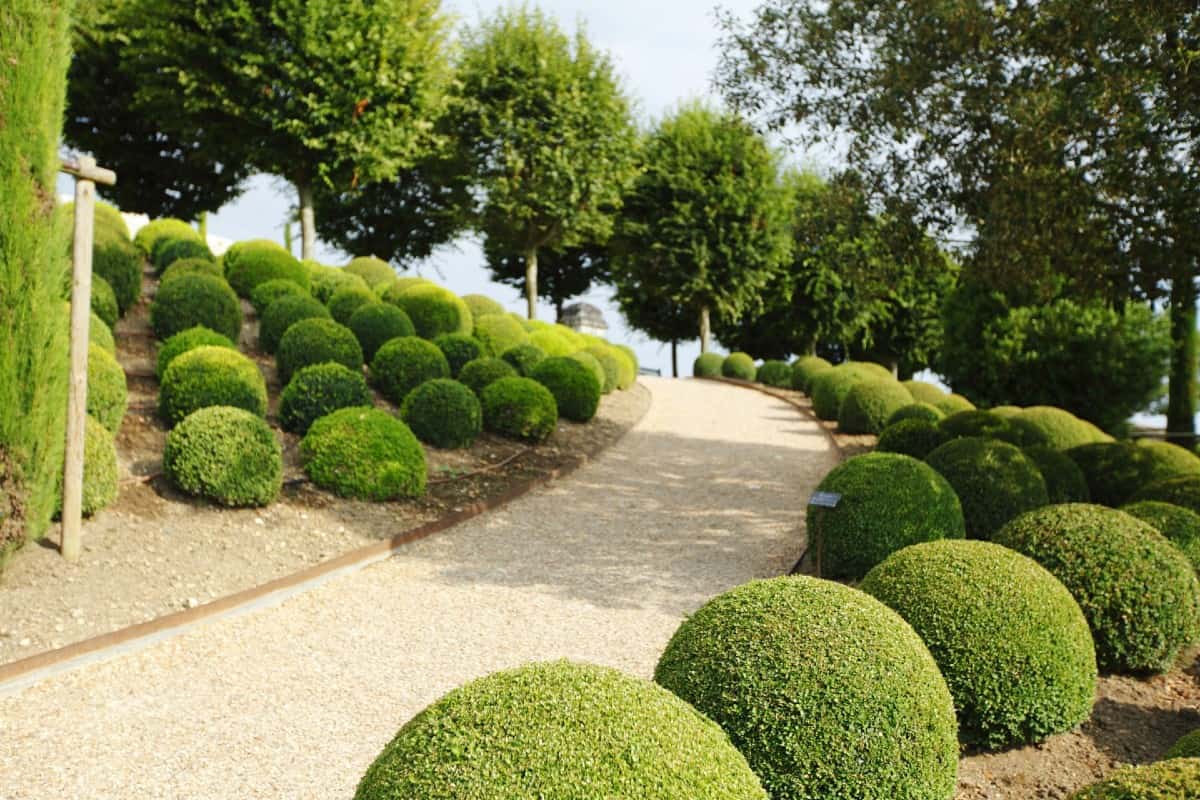 Although the Green Mountain Boxwood works well as a container plant, it serves as a focal point in the landscape. When planted directly in your yard, the shrub reaches up to five feet tall and three feet wide. Whether planting in your garden or a container, placement is essential.
The Green Mountain Boxwood does best in partially shaded locations where it is protected from strong winds. If planting in containers, rotate them regularly to prevent bare bark from occurring. Bare bark arises from a lack of proper sunlight.
The shrub does well in zones 4 to 9. As a slow-growing plant, the Green Mountain Boxwood offers dark green foliage all year long. It stands out among other evergreens due to its pyramid shape, as others are often round in appearance.
Use these evergreen shrubs for borders around your front walkway or to highlight a garden area. There are so many possibilities!
Evergreen for the Front of Your House – Mahonia (Mahonia spp.)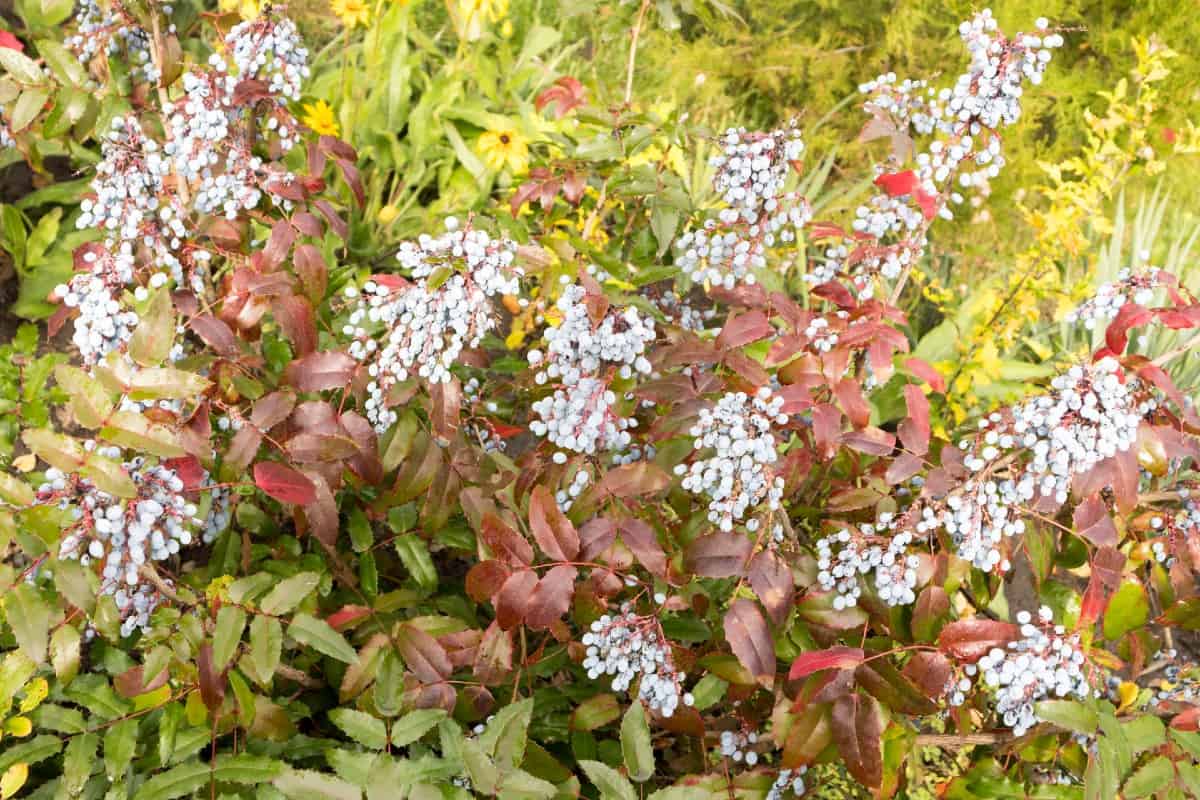 If you want something that looks edgy but is still visually appealing, consider one of the colorful evergreen shrubs like the different Mahonia varieties. Many people think of this shrub as a cross between Staghorn sumac and a holly bush, but the dark green leaves are sprinkled with bright flowers and fruits depending on the season.
Although beautiful to look at, the green leaves are sharp and pointy, so they are not fun to handle. Gloves are a must when pruning. The sharpness works well to help deter trespassers of the human and animal species. These plants prefer a small area in hardiness zones 7 to 9.
The plant reaches four feet tall and spans about four feet wide, but grows quite well in the shade in moist soil. Once fully established, it is drought tolerant but requires protection from winds to prevent winter burn. Creeping Mahonia offers some knock out looking yellow flowers with blue berries and is excellent for erosion control and areas where space for an upright shrub is limited.
Mugo Pine (Pinus mugo)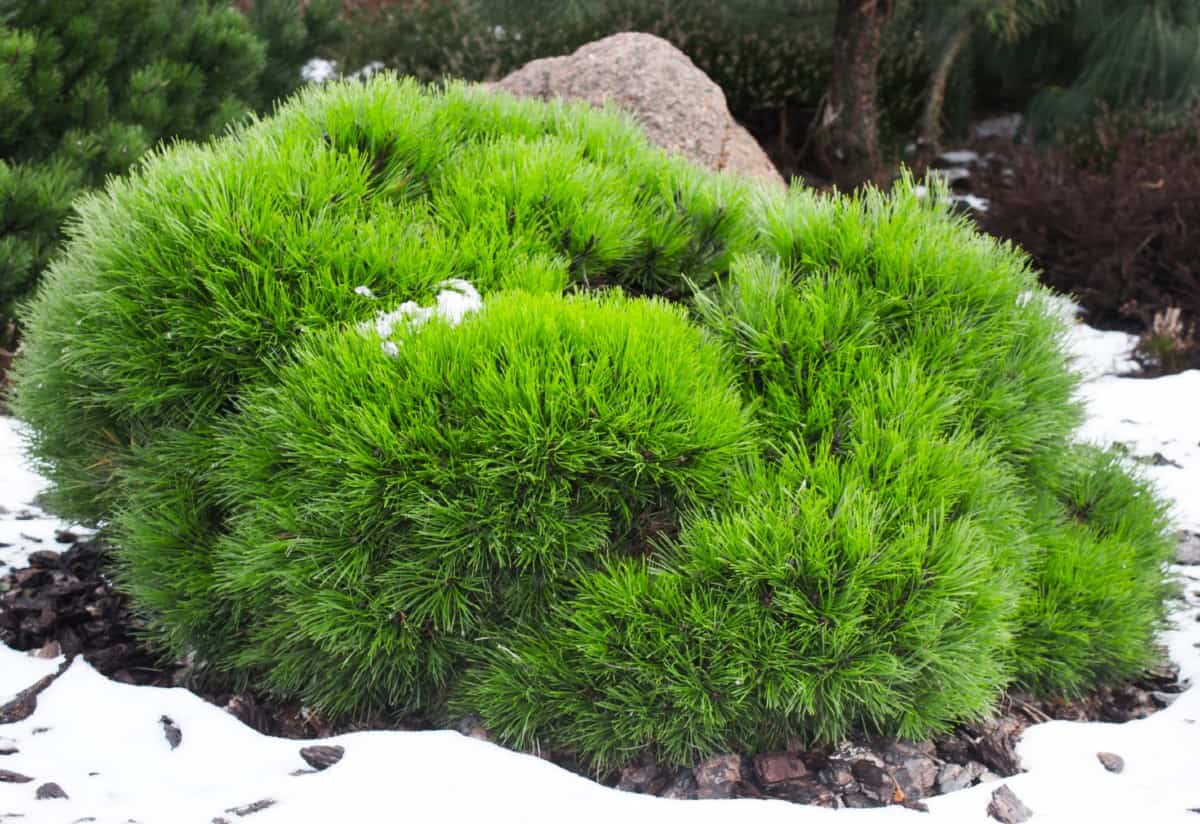 Although it's not typically what you would think of as the fastest growing ground cover plants, many people enjoy this evergreen shrub because it's a simple pine tree that works well in Asian themed gardens and other rock gardens.
The shrub typically thrives in dry, rocky areas, so drought-prone regions are not a concern. Although a pine tree, the bush stays small and contained and serves as a statement piece along with background color in any yard.
The best option for the Mugo Pine is the dwarf Mugo pine as it reaches only four feet tall and ten feet wide. It is a self-reliant plant that thrives in zones 2 to 8. The Mugo Pine requires full sun locations, is bird-friendly, and features monoecious purple to reddish flowers and a dark brown glossy cone that reaches up to two inches in length.
Cherry Laurel (Prunus laurocerasus)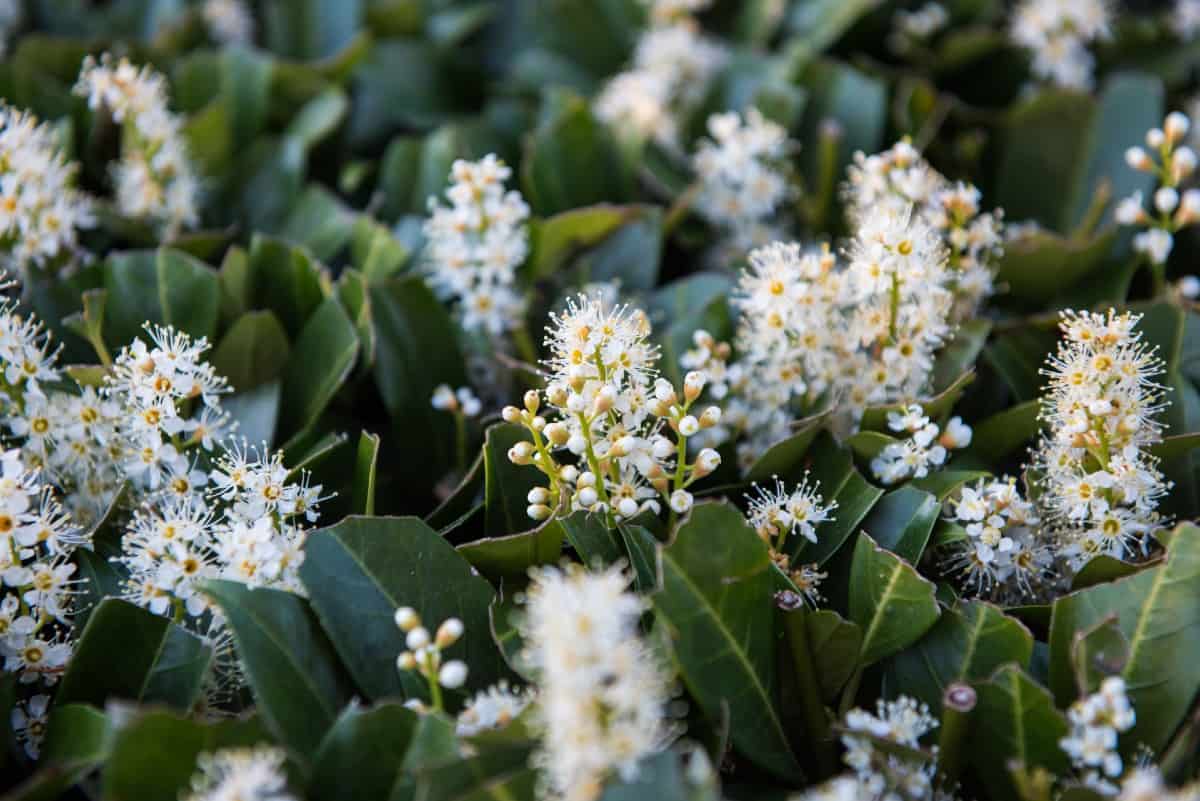 Many homeowners favor this shrub for the red berries it produces. It is also a popular choice as it's easy to grow in humid and warm areas. When looking at the growing ranges of the Cherry Laurel, it does take some effort to successfully grow in the northernmost areas as the temperatures are not quite as warm.
In these areas, windburn and branch dieback are familiar sights. This fast-growing shrub offers pleasant smelling white flowers that make their appearance in the spring.
While the plant is attractive and brightens up most landscapes, it is poisonous when ingested in large amounts due to the hydrogen cyanide it contains. Some varieties require full sunlight, but the Schipkaensis does well as an upright in areas with limited sun.
Inkberry Holly (Ilex glabra) – Amazing Shrub for the Front Yard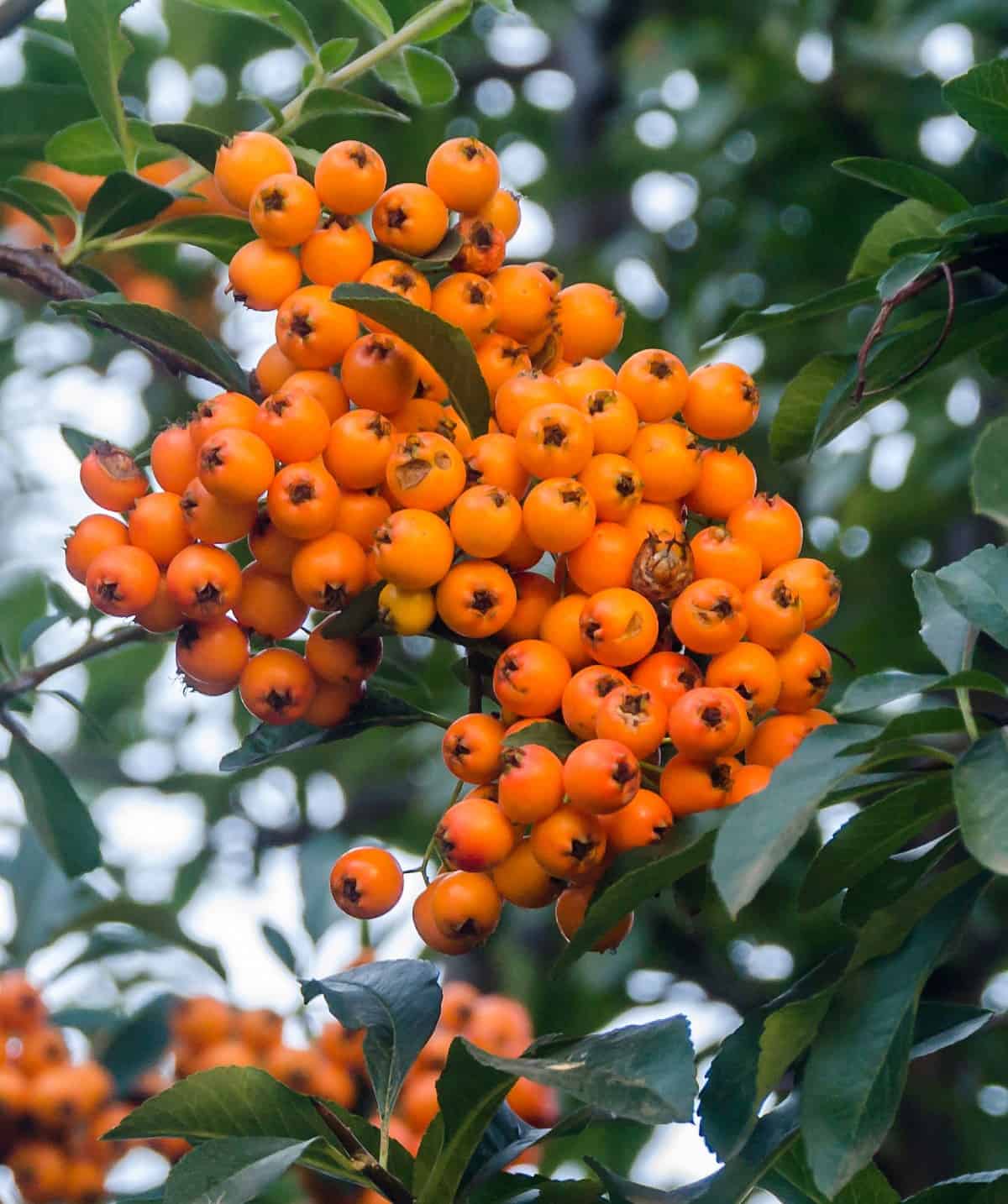 If you want a slow-growing shrub that offers a rounded and upright appearance, opt for the broadleaf Inkberry Holly. This shrub is easy to grow and provides excellent color during the barren winter months. Named after the fruit it produces, the black berries were once used to create black ink.
The shrub typically grows up to eight feet in height and spread, but compact versions are also available. Inkberry Holly does well in moist soil, so it is an excellent choice around ponds, bogs, and woodland gardens.
The leaves are dark green with a glossy appearance while the flowers are a greenish-white and appear in May and June. The flowers turn to black fruits that reach maturity in the fall. Inkberry works well for foundation planting or low hedges.
Japanese Pieris (Pieris japonica)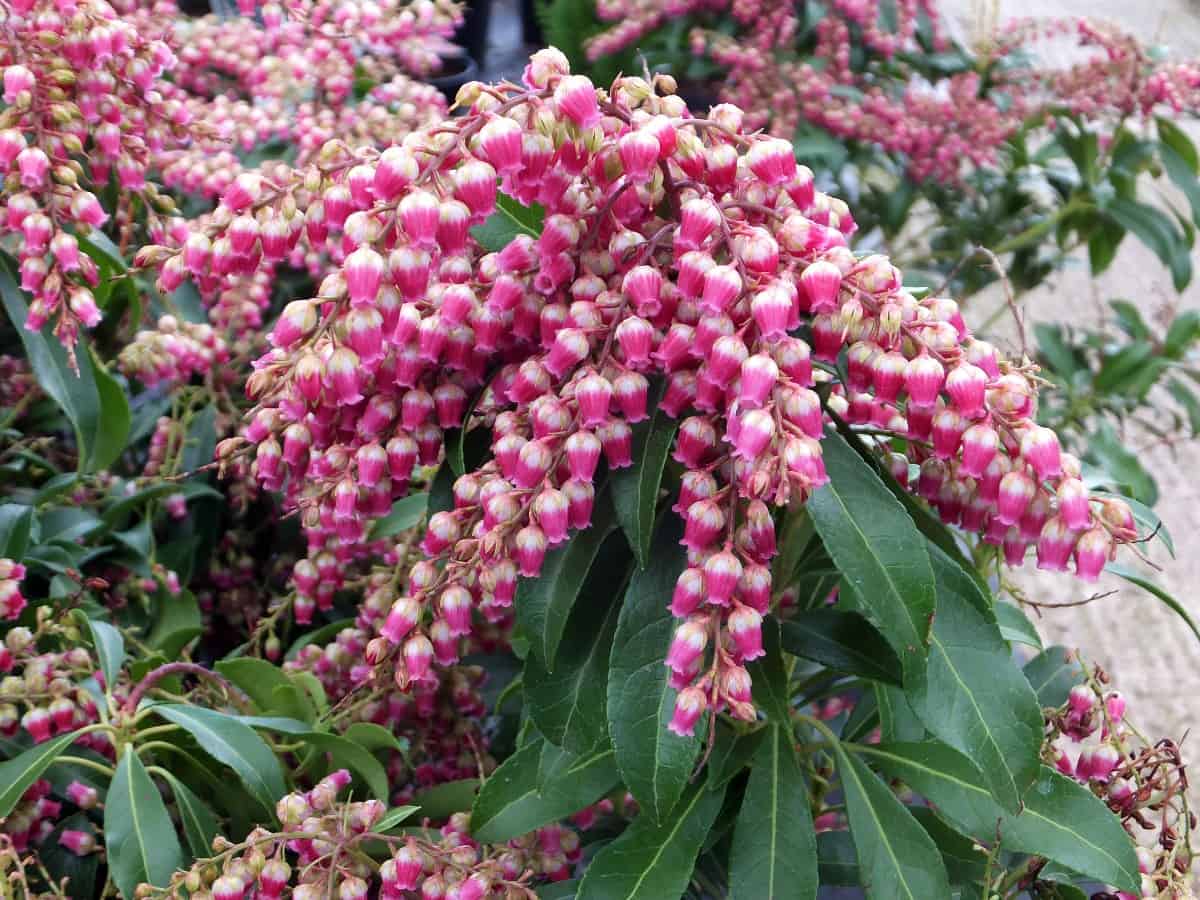 If you are looking for plants that are deer resistant bushes, the Japanese Pieris is an excellent option. This shrub provides bright green foliage all year. The leaves are further enhanced by the flower buds that first begin to appear during the winter months. The buds first look green, but as they get ready to open, they change from pink to dark red.
Urn-shaped blossoms open in the early spring and drape naturally over the edges of border walls or containers. Hardy enough to survive in zones 6 to 8, the fragile flowers require protection from extreme weather, including harsh winter winds and hot summer days.
Plant the Japanese Pieris in locations that provide morning sun and afternoon shade. Choose the form based on your landscape; compact-sized versions offer dense growth.
Azalea (Rhododendron)
Belonging to the Rhododendron family, the difference between azaleas and rhododendrons is the size and shape of the green leaves. Azaleas feature small, narrow, pointy leaves while rhododendrons are big and leathery. Azaleas are available as deciduous and evergreen, so read the labels carefully.
The deciduous azaleas drop all of their leaves once a year during the fall, while the evergreens do not. There are many varieties of evergreen azaleas that smell good almost year-round.
Azaleas feature bell, tubular, or funnel-shaped flowers and are available in varieties, including those with blue flowers. Azaleas range from ground cover style shrubs to plants that reach up to 25 feet tall.
Most azaleas bloom in the early spring; some varieties bloom during the summer and into the fall. When purchasing, make sure they are a deep green color and well-watered. For areas that reach above 90°F in the spring, avoid azaleas with white flowers.
Evergreens for the Front Yard – Bowling Ball Arborvitae (Thuja occidentalis)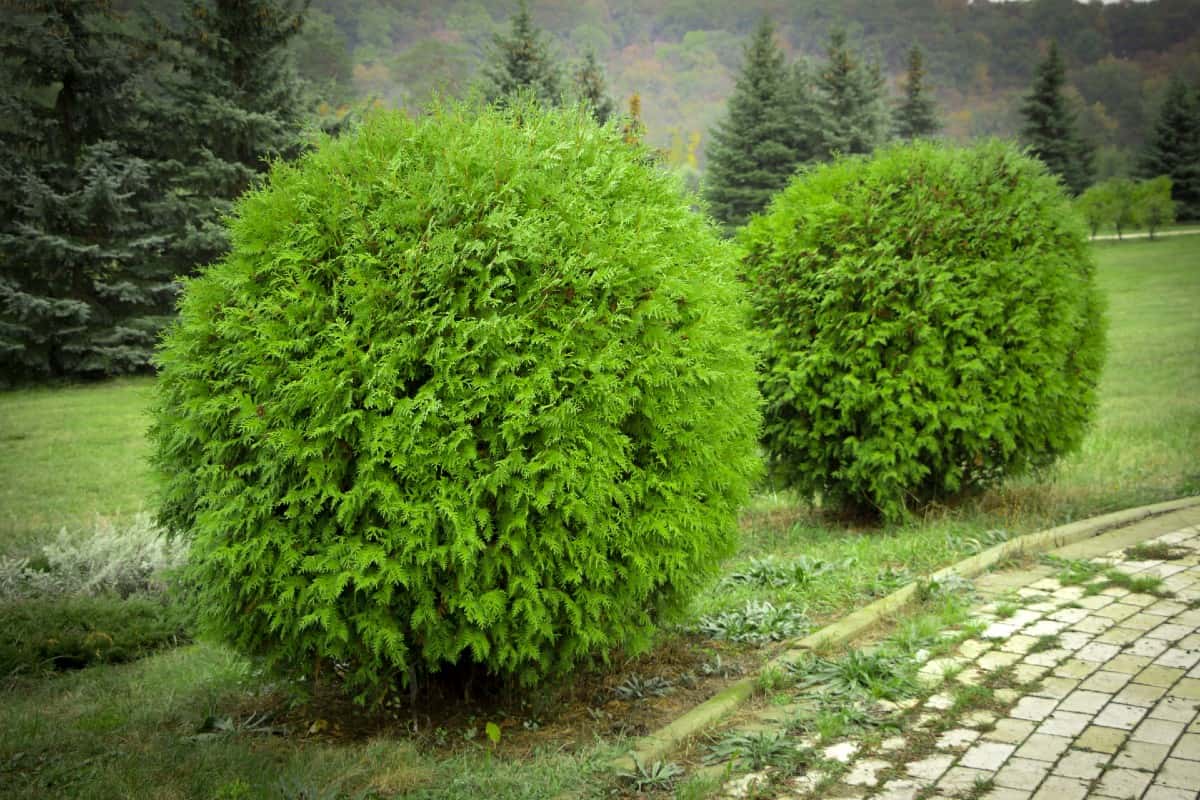 These dwarf bushes grow naturally in a spherical shape that makes a statement. It stands only about 30 inches tall and 30 inches wide and is a favorite for landscapes as it requires no pruning unless you are concerned about shaping.
The Bowling Ball Arborvitae serves as a foundation planting or a low hedge in limited spaces and offers rich, green foliage year-round. This evergreen shrub is slow-growing and requires weekly watering in a sunny location.
Bowling Ball Arborvitae doesn't do well in dry conditions. It requires protection from harsh weather, including winds and temperatures. If extreme heat is present, increase watering to ensure the plant's survival.
Maney Juniper (Juniperus chinensis 'Maneyi')
For a drought-tolerant evergreen shrub, look no further than the rugged Maney Juniper. The Maney Juniper serves well as a foundation planting as once fully established, it withstands several extremes, including salt and harsh winds, and freezing temperatures.
The shrub expands outward rather than growing upright; typical width is about six feet with a four-foot height. The Maney Juniper thrives in hardy zones 4 to 7 and requires normal soil conditions to thrive.
When selecting a planting location, opt for one with six to eight hours of sunlight, although it does well in partial shade, too. The blue-green foliage offers an attractive color to winter landscapes, and the ascending branches feature blue-green colored berries.
Burning Bush (Euonymus) – Evergreen Shrub for the Yard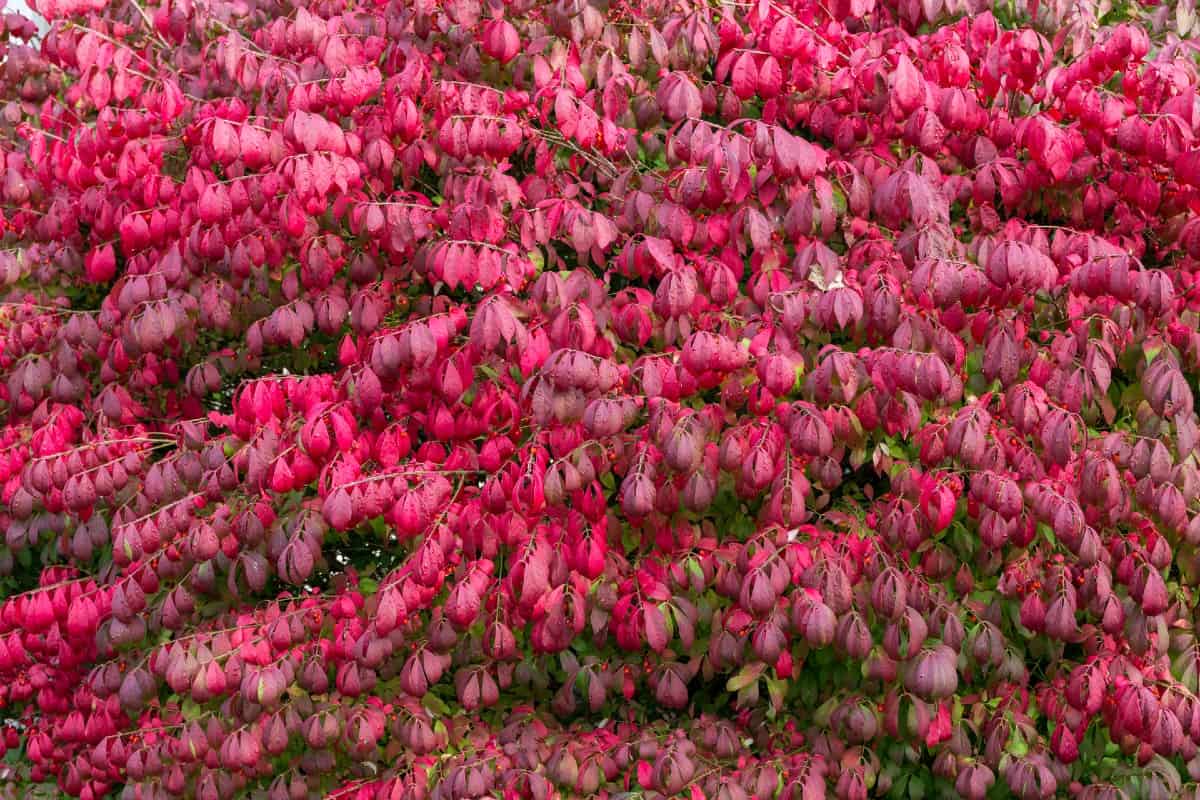 The most popular variety of Euonymus is the Burning Bush, but there are many other evergreen types, including low and controlled options, as well as tall and upright. A great thing about the various Euonymus shrubs is they aren't plagued by pests or disease, so they don't attract nuisance pests that harm beneficial insects.
The colors of this evergreen work well in a variety of gardens; they offer year-round color and lots of variety. Euonymus is one of the fastest growing evergreen trees but they do best when left to grow on their own. It is possible to manicure these hedges into a more formal shape than they tend to grow if you want more uniformity.
The majority of these shrubs grow well in well-draining soil, while some prefer a nutrient-rich environment. Soil type isn't as concerning as draining ability. Select locations that offer full to partial sun.
Golden Sword (Yucca filamentosa)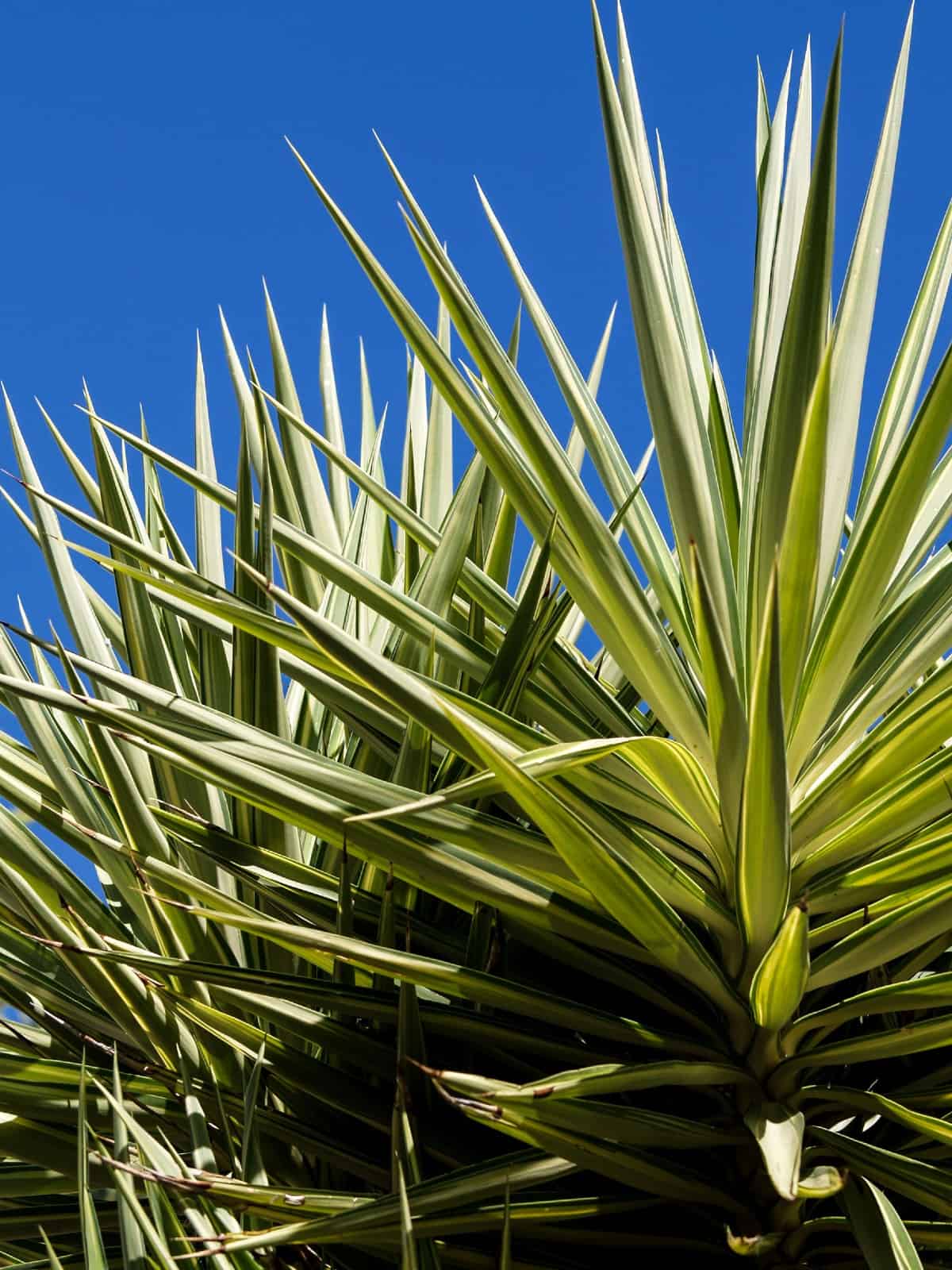 The Yucca shrub produces some of the coolest flowers around, making it a gorgeous addition to your yard. The mounding plant features thick green leaves in the shape of a sword that grows to about three feet tall and about two inches wide. The sword-like leaves feature a dark green margin with a golden center and a slightly curved edge.
The unique-looking foliage adds a bit of texture to your otherwise dull landscape. For a variegated plant, opt for the Color Guard Yucca, as it is easy to maintain once fully established.
For uniform color, opt for the Adam's Needle Yucca as it produces the same white flowers of the Gold Sword, but ranges in height from two to four feet. Stagger Adam's Needle with the Color Guard for an exciting look.
Amazing Evergreen Shrubs for the Front of Your House – Hydrangea (Hydrangea spp.)
Known for their large flower heads, Hydrangeas are easy to grow in a variety of soil conditions. These flowering shrubs work well in containers, as borders or in group plantings.
Plant it where it receives full sun in the morning and partial shade in the afternoon. Never prune after August 1. Cut deadwood away in the early spring or fall.
During the summer and fall months, these shrubs produce numerous blooms in many colors. They vary from red, white, blue, green, and purple to pink flowers. In some cases, hydrangeas produce blooms in all colors on the same plant.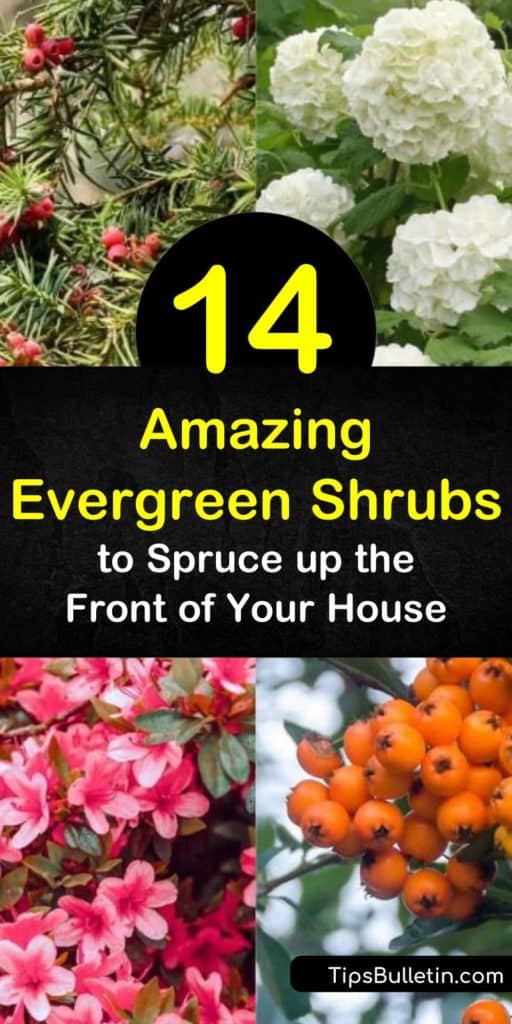 Thank you for reading our thoughts on the best evergreen shrubs to spruce up the front of your house. If you found any of our thoughts on the best evergreens for your landscaped yard helpful, please take a minute to share the most amazing evergreen shrubs for the front of your house with others on Facebook and Pinterest.