If you've spent previous summers looking at the shady areas of your backyard with dismay, you've come to the right spot to brighten up your yard with colorful blooms. It's easy to plant splashes of color and fragrance in shady spots as long as you know where to start. There is a vast selection of amazing flowers for shade to bring life to those otherwise unnoticed locations around your home.
There is an advantage to growing a shady garden that goes beyond bringing colorful blooms to shady areas of the yard. Creating a garden filled with shade loving plants and flowers gives you a cool place to relax on those hot summer days while taking in the fragrant, colorful blooms of the season.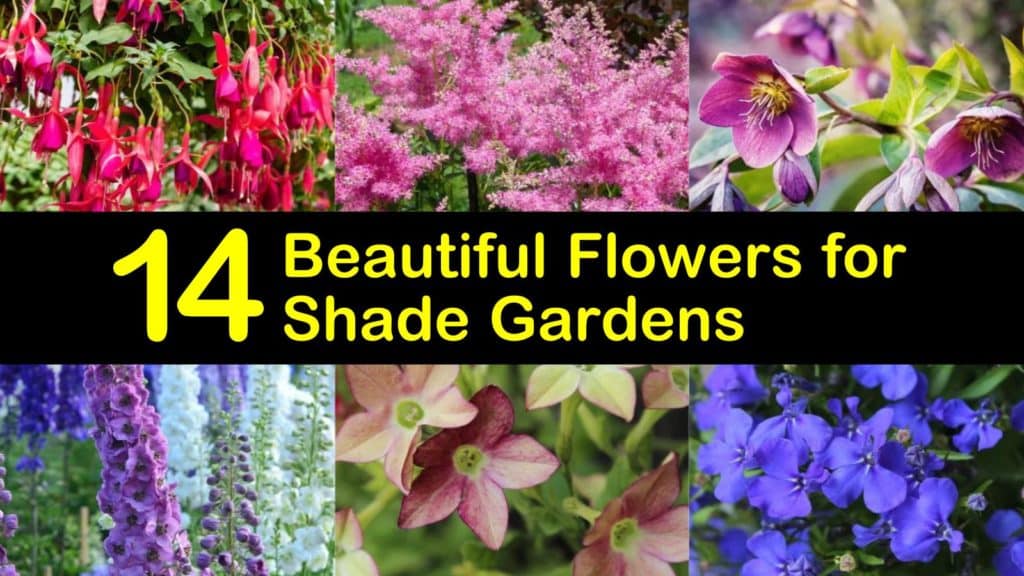 Growing Stunning Annual and Perennial Flowers in a Shade Garden
There are a few things to take into account before planting flowers in your shady yard. How much sun does the area get? How much space do you have? Do you want your flowers to grow back every year? Once you answer these questions, choosing the perfect shade flowers is easy.
It's also important to realize that some vegetables grown in shade can be added to your flower garden, too. Root veggies and leafy greens appreciate more shade than sun and can fill in spaces between flowers in darker areas of your yard.
What is the Difference Between an Annual and Perennial Flower?
Annual flowers are easy to grow plants that only thrive one growing season. These types of flowers put all of their energy into making continuous blooms from late spring through fall and die back after the first frost.
These types of flowers are a great choice if you rent your home or want to fill areas with constant flowers. Perennial plants put most of their energy into their root system and future growth.
They die off at the end of the growing season and then return the following year, usually with more growth than the previous season. While some perennials bloom several times through the growing season, most only bloom once.
What is the Difference Between Partial Shade and Full Shade?
It's essential to understand the differences between plants and their sunlight requirements. Planting shade flowers in the wrong areas of your yard with full sun results in a sad-looking plant or even the plant's death.
Full shade means that the flower cannot receive any direct sunlight whatsoever. These plants grow best in areas beneath a tree or a north-facing area of the home. Partial shade plants require protection from the sun during the hottest times of the day and receive small moments of the sun or dappled sunlight.
What Should I Look for When Choosing Shade Flowers for My Garden?
When choosing the perfect flowers for your shade garden, check your yard for full shade and partial shade areas. Check at different times throughout the day as the sun moves across the sky. Checking the sunlight is a great way to plan for your flower garden.
After you establish the shade requirements of your yard, choosing flowering plants from the local nursery is easy. Make sure to select healthy flowers. Avoid plants that are root bound, have yellow or wilted foliage, or other forms of damage and disease.
If you have a problem with keeping cats from pooping in flower beds, use a textured mulch among your plants or spritz essential oils throughout the area to deter them and encourage them to make their litter box elsewhere.
Where Should I Plant My Shade Flowers?
There are many different areas of the yard to plant shade flowers. If you have enough room, consider making a flower bed filled with your favorite flowering plants.
Place tall flowers in the rear or as a centerpiece and fill the area around them with low growing blossoms.
If you have limited space in the yard, or live in an apartment, try creating mini-gardens by filling hanging baskets, flower boxes, and planters with an assortment of fragrant shade flowers.
Be creative. There are no rules when it comes to creating a shade garden. To keep weeds out of your garden areas, have a ready solution handy. Does hydrogen peroxide kill weeds? Yes, it does. Create a mixture that includes this medicine cabinet staple to discourage weed growth.
Bleeding Heart (Lamprocapnos spectabilis)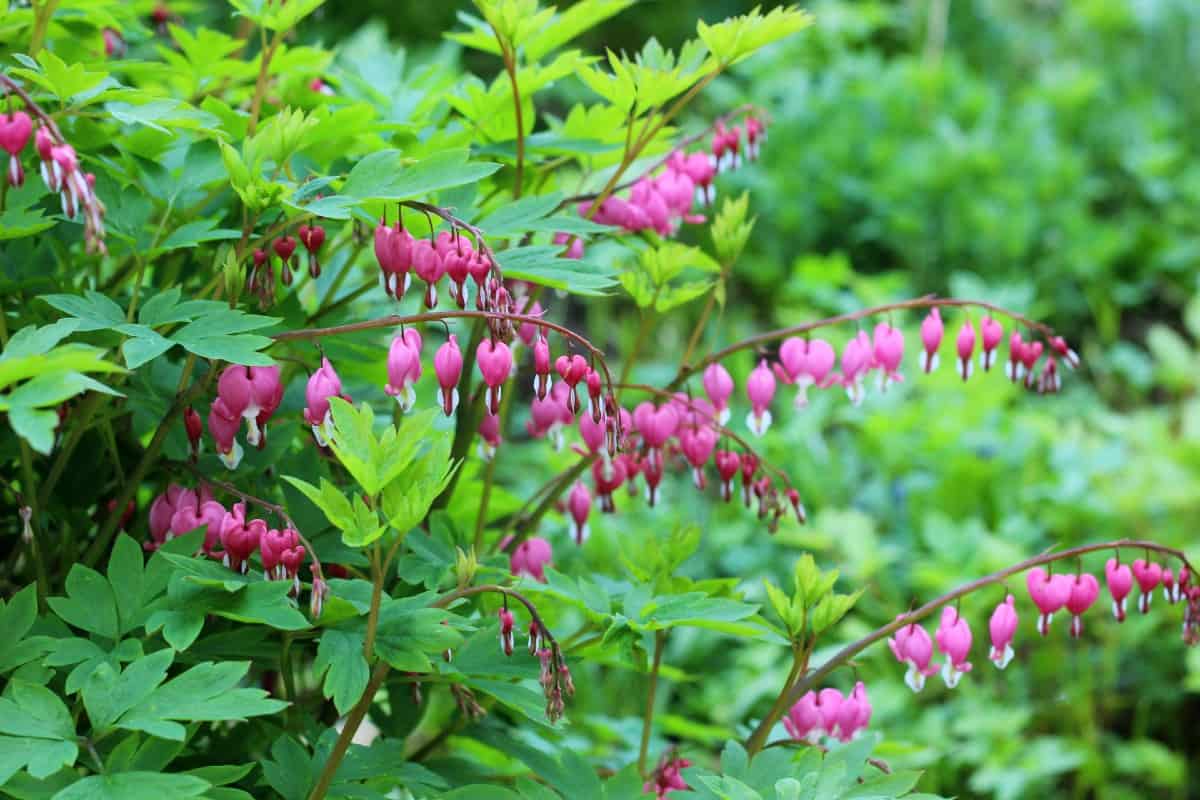 Bleeding hearts are a long time favorite among gardeners and are popular low light plants for outdoors. This classic cottage garden-style shade plant produces long, drooping stems that are laden with red, white, and pink, heart-shaped flowers from spring through fall. It is a fast-growing plant that mimics the shape of a shrub when fully grown.
This perennial flowering plant thrives best in zones 3 through 9 and reaches a height and width up to 3 feet. It enjoys shade but also grows in partial sun and is low maintenance and deer resistant.
Lily of the Valley (Convallaria majalis) – Amazing Shade Flower that is Highly Fragrant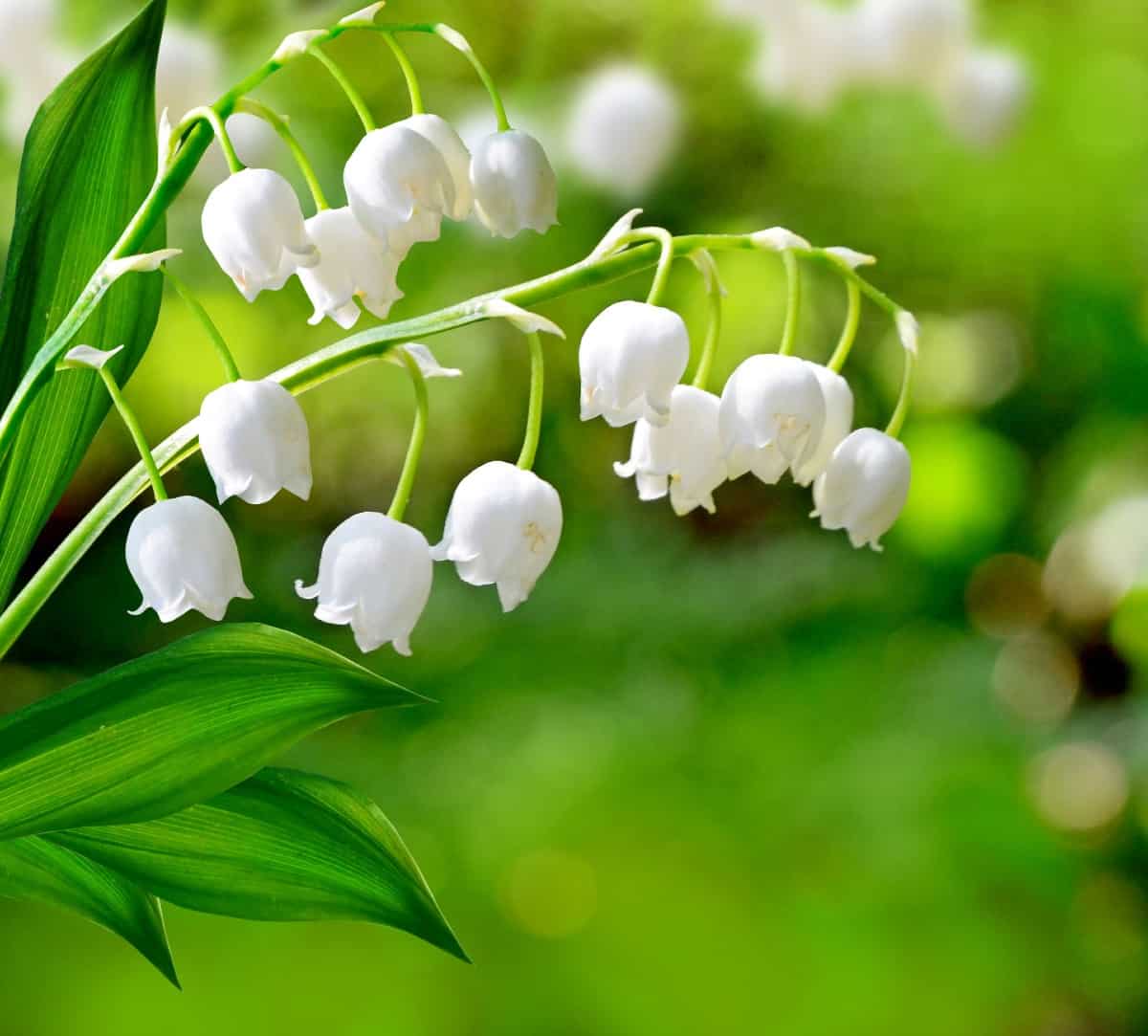 Often seen growing on slopes, lily of the valley is a spring-time flower that grows low to the ground and spreads quickly. It blossoms with delicate, small white blooms that are highly fragrant and fill the air with their scent.
Lily of the valley grows to a low height of 12 inches, making it an excellent choice for filling empty areas of shade. It thrives in zones 3 through 9 and enjoys part sun to full shade.
This low maintenance flower and shade loving plant is deer resistant, and its fragrant scent makes it an excellent cut flower for the home. Mix lily of the valley with some plants with pink or red blooms and you have quite the accent garden.
Dead Nettle (Lamium)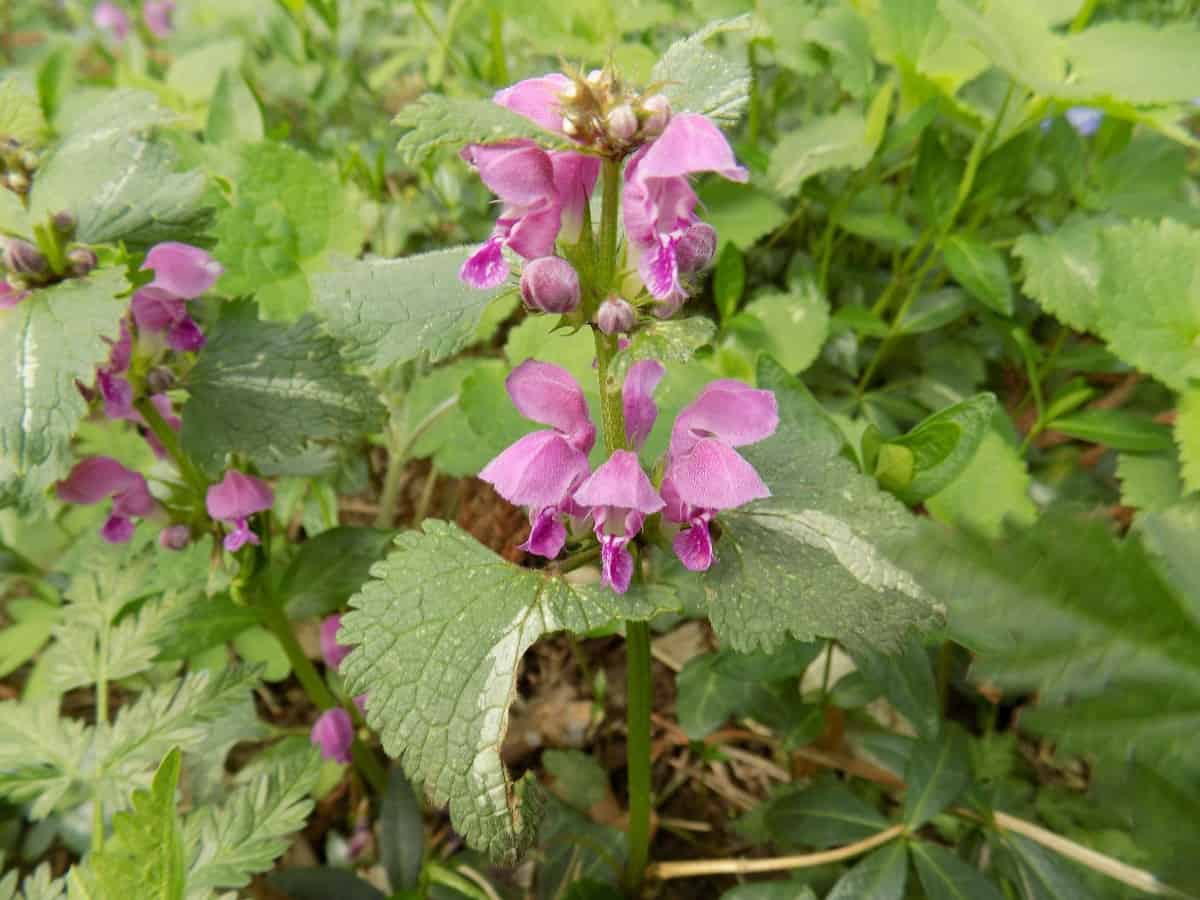 This is a fast-growing ground cover perennial with leaves that resemble stinging nettle without the ability to sting. Dead nettle produces pink, purple, or white blooms from May through July. It has creeping abilities, making it an excellent plant for filling shady spots.
It grows best in zones 4 through 8 and prefers well-drained soil. It has variegated foliage that spreads three times its height. Dead nettle reaches a height up to 12 inches tall and thrives best in full to part shade.
Lungwort (Pulmonaria officinalis) – Shady Flowers with Early Spring Blooms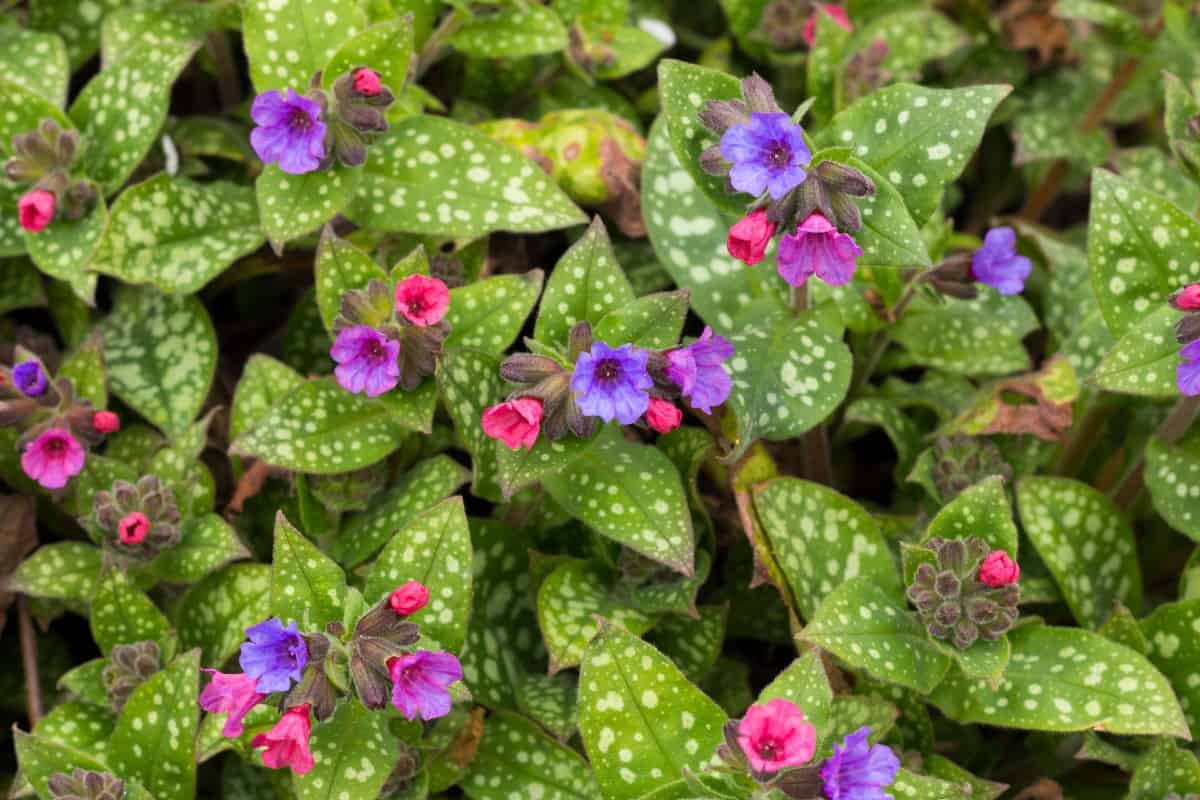 As one of the plants that thrives in shade, lungwort is an old-fashioned perennial that produces multicolored, long-lasting blooms in early spring. The flowers bloom in purple, pink, white, blue, and red.
The foliage has a striking silvery spotted pattern that catches the eye even when the flowers are not in bloom.
Lungwort is a great choice for ground cover with its low height of 12 inches and a spread that reaches up to 2 feet. This low-maintenance perennial grows best in zones 2 through 8, is deer resistant and drought tolerant.
Hostas (Hosta)
Hostas are commonly referred to as plantain lilies and are available in a vast array of bright and interesting foliage colors and variegated patterns.
This shade plant produces white and purple perennial flowers that bloom in summer, and comes in a variety of sizes, making it ideal for just about anywhere in the garden. As a perennial, hostas grow best in zones 3 through 9.
It is easily maintained and enjoys partial and full shade. Smaller varieties reach a height of up to 12 inches with more significant types that reach up to 3 feet. It is drought tolerant and deer resistant.
Coral Bells (Heuchera) – Amazing Flowers for Shade with Colorful Foliage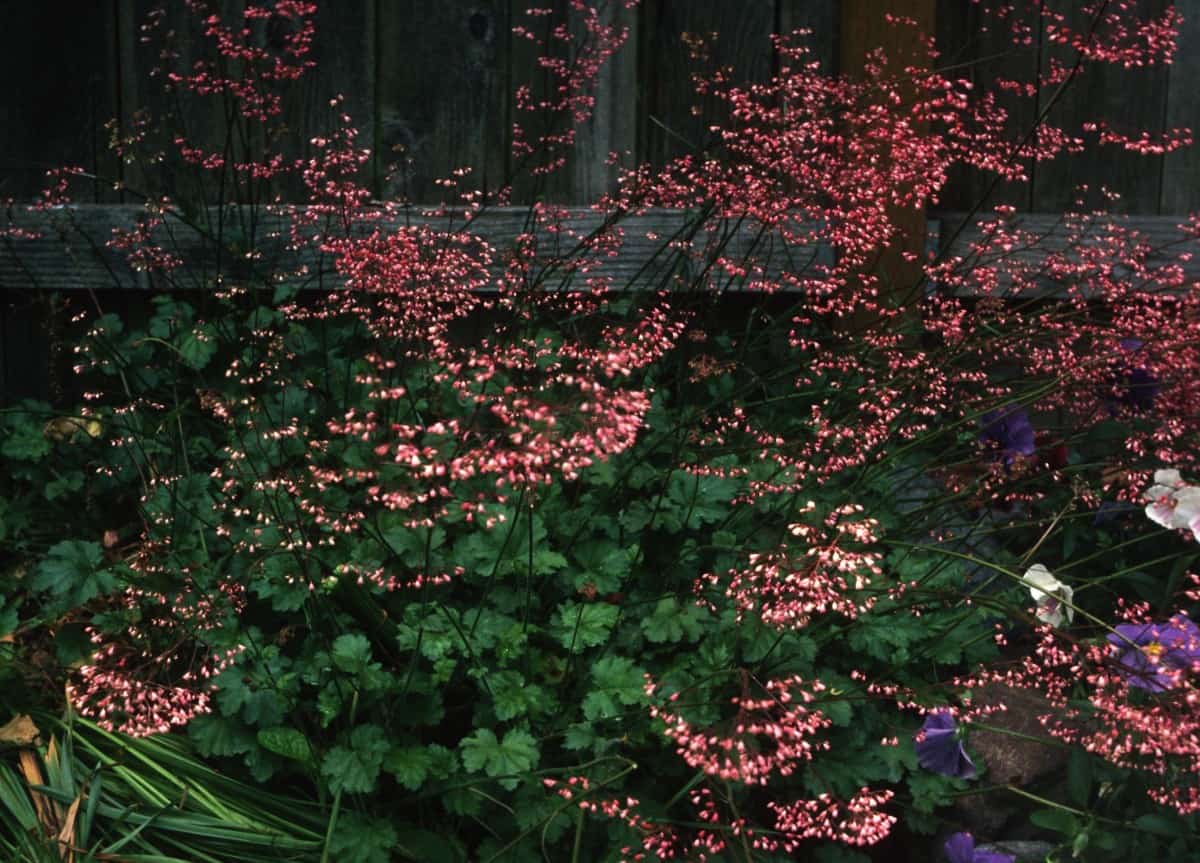 This traditional foliage plant grows in low mounds and forms small, bell-shaped flowers in colors that include red, white, coral, and pink. It blooms from spring through late summer and provides interesting foliage with its butterscotch colored leaves.
Coral bells grow in zones 4 through 8 and prefer loamy soil. This evergreen perennial reaches a height up to 18 inches tall and thrives in part shade. This flowering plant looks its best as ground cover, in rock gardens, or as a border.
Begonias (Begonia x semperflorens-cultorum)
The hardest part about growing begonias is choosing your favorite type for your garden. This annual comes in a variety of shapes, sizes, and colors ranging from white and yellow to pink flowers with distinctly colored foliage.
Begonias bloom from spring through fall and reach a height of 12 inches. They are low maintenance plants that perform better in shady locations. While they tend to look best in containers, they also grow well in a garden bed.
Astilbe (Astilbe) – Uniquely Textured Shade Flower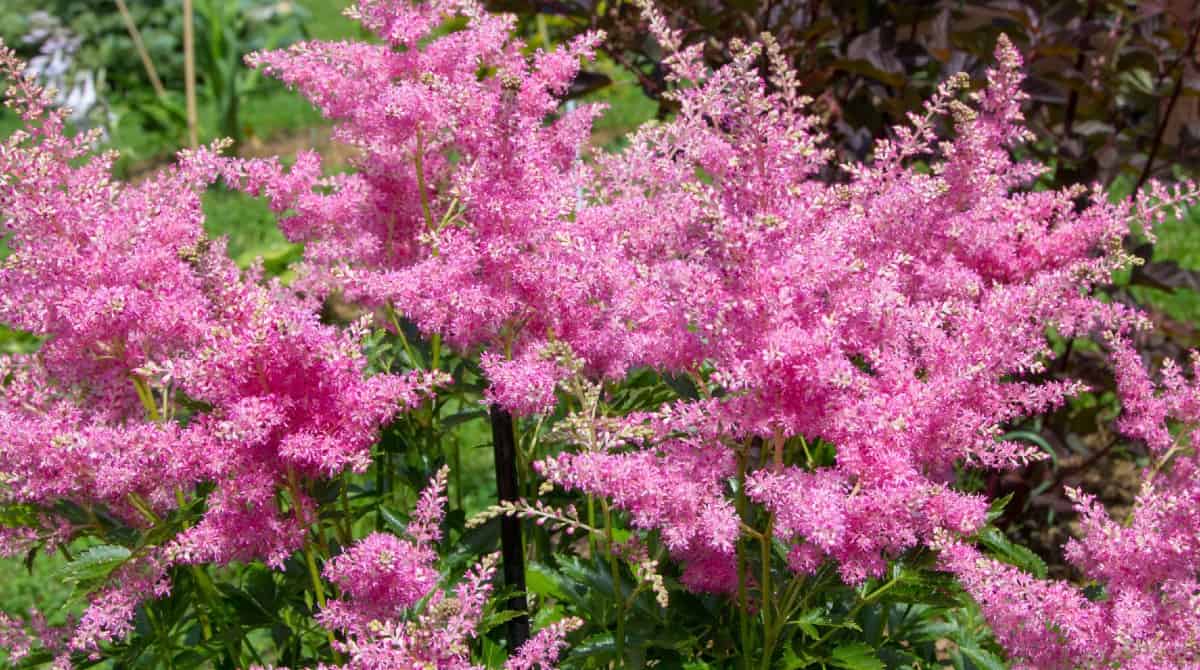 Astilbe has a feathery plume of flowers that range in color from purple and pink to red and white. These fragrant blooms last from spring through summer, attract birds to the garden, and provide winter interest to the yard.
This perennial grows in zones 4 through 8 and reaches a height of 3 to 8 feet, depending on the variety. It is deer resistant and makes an excellent cut flower for containers or grown as a backdrop in a partially shady area of the yard.
Japanese Toad Lily (Tricyrtis hirta)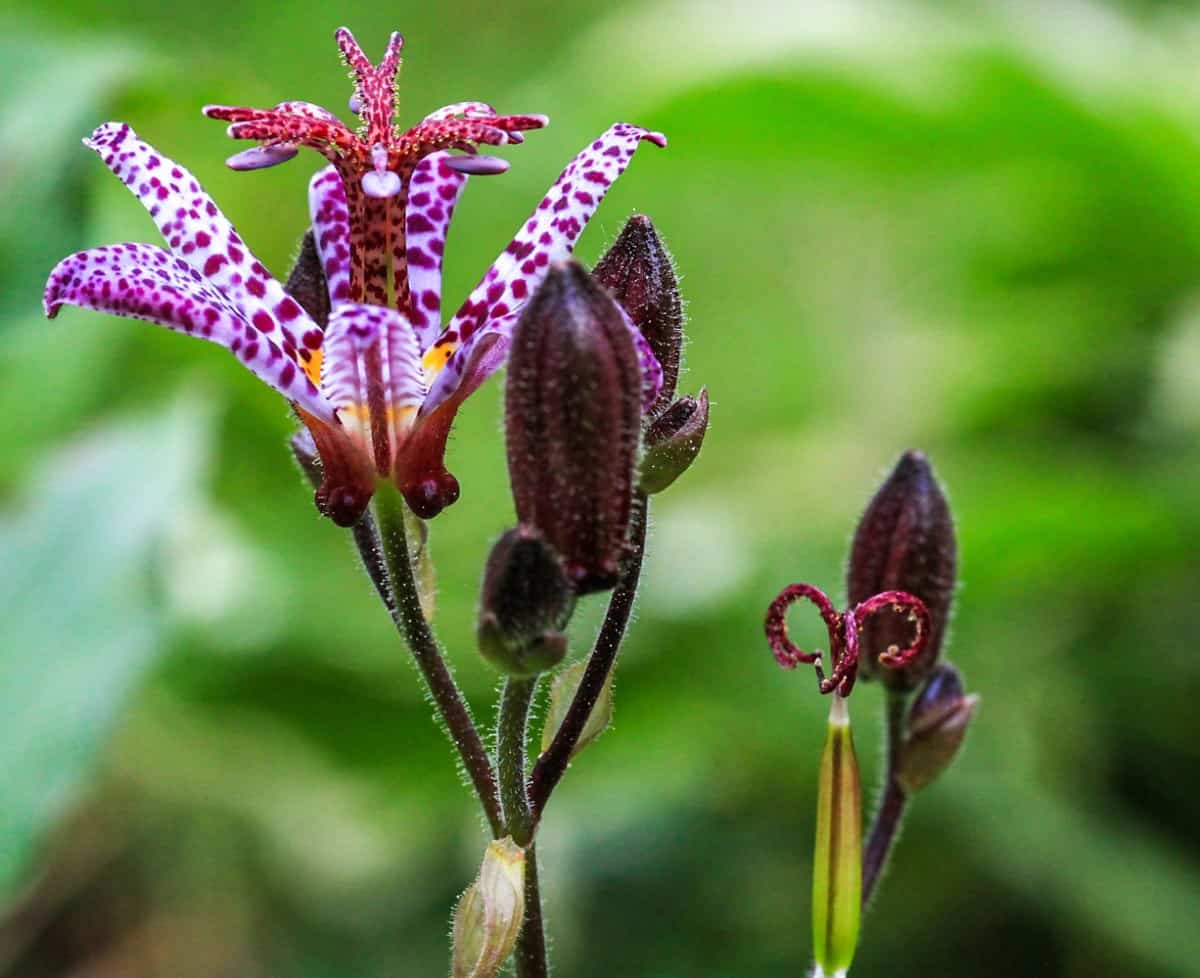 This late-blooming flower brings a touch of exotic color to the shade garden after all other flowers have finished blooming for the year. The showy blue, purple, white, pink, and yellow flowers have an arching habit above spotted and variegated foliage.
Toad lilies are low maintenance shade perennials that grow in zones 4 through 9. This low-maintenance plant is deer resistant and grows to a height of 1 to 3 feet. These cut flowers thrive in containers or as a centerpiece in the partial shade garden.
Hellebore (Helleborus) – Exquisite Flower for the Shade Garden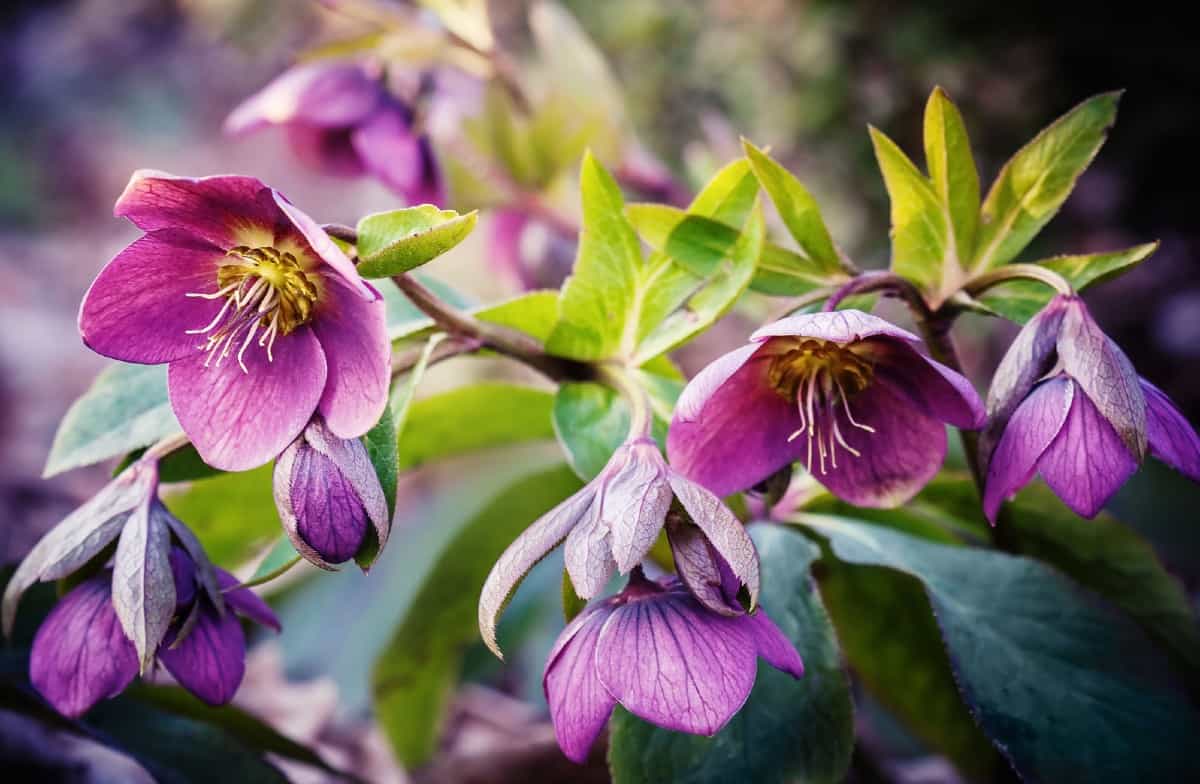 This flowering plant is also known as the Christmas rose and has bowl-shaped flowers in pink, yellow, maroon, and white, sometimes adorned with speckles of color. The foliage of the hellebore is an attractive chartreuse/gold color that gives the plant contrast.
Hellebore is a perennial plant that grows in zones 4 through 9. It is easily maintained and deer resistant. It blooms in spring and winter, enjoys partial to full shade, and reaches a height of 3 to 8 feet, depending on the type.
Lobelia (Lobelia erinus)
Lobelias love moist conditions and grow very well along streams and around ponds. They have brightly colored spikes of blooms in colors of white, pink, red, and blue flowers with purple/burgundy foliage. They make excellent cut flowers for containers or in a part shade garden.
These flowering perennials grow best in zones 2 through 10 and enjoy humus-rich soil. They attract birds with their fragrant flowers and colorful fall foliage and reach a height of 3 to 8 feet, depending on the variety.
Flowering Tobacco (Nicotiana persica) – Create a Moon Garden with Amazing Flowers for Shade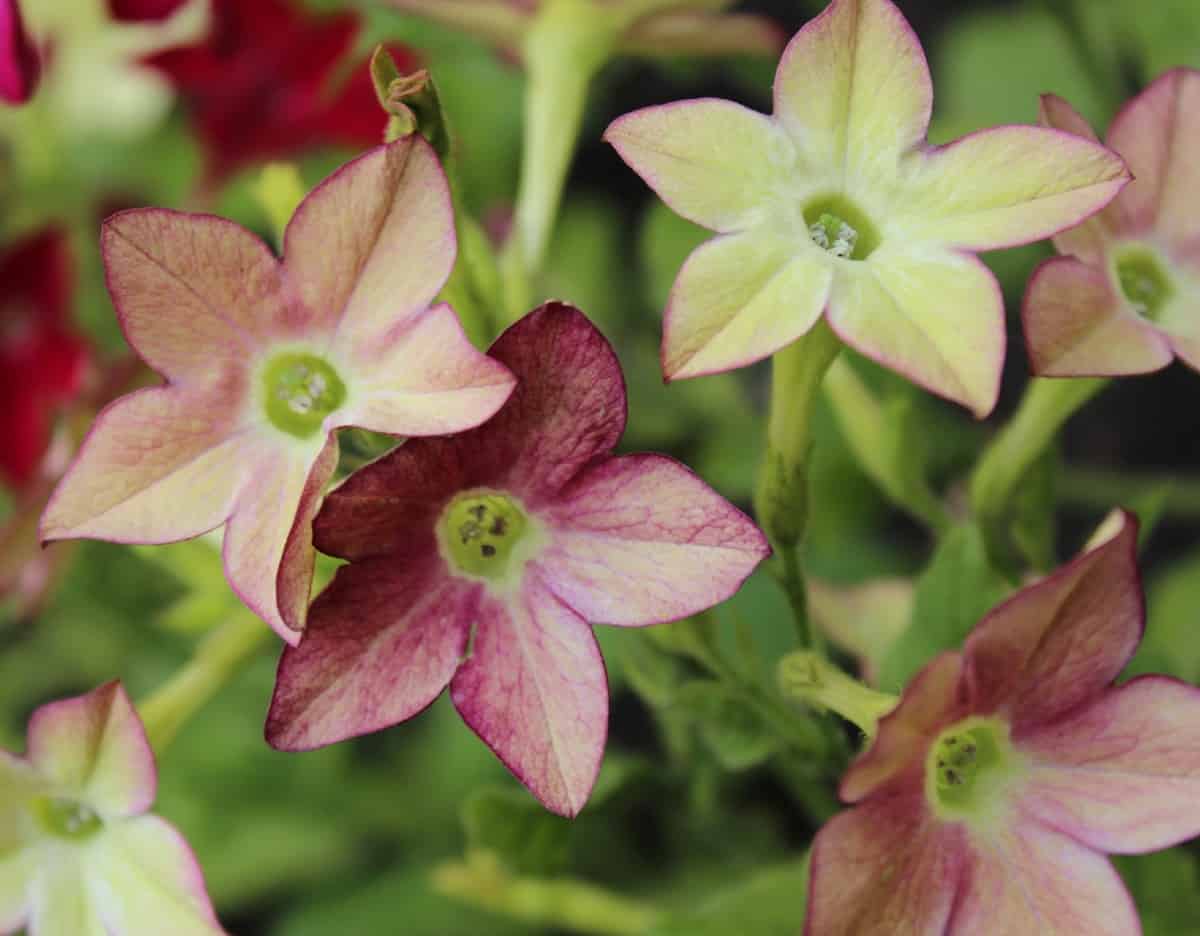 This nightshade relative provides evening fragrance to the garden and blooms with nodding, trumpet-shaped blossoms in colors of yellow, white, pink, and red. There are varying types of this plant that range from compact container varieties to very tall background varieties.
Flowering tobacco is a partial shade annual that blooms from early summer to fall. It attracts birds with its strong fragrance and is low maintenance. Depending on the type, it grows anywhere from 6 inches to 10 feet tall.
Fuchsia (Fuchsia magellanica)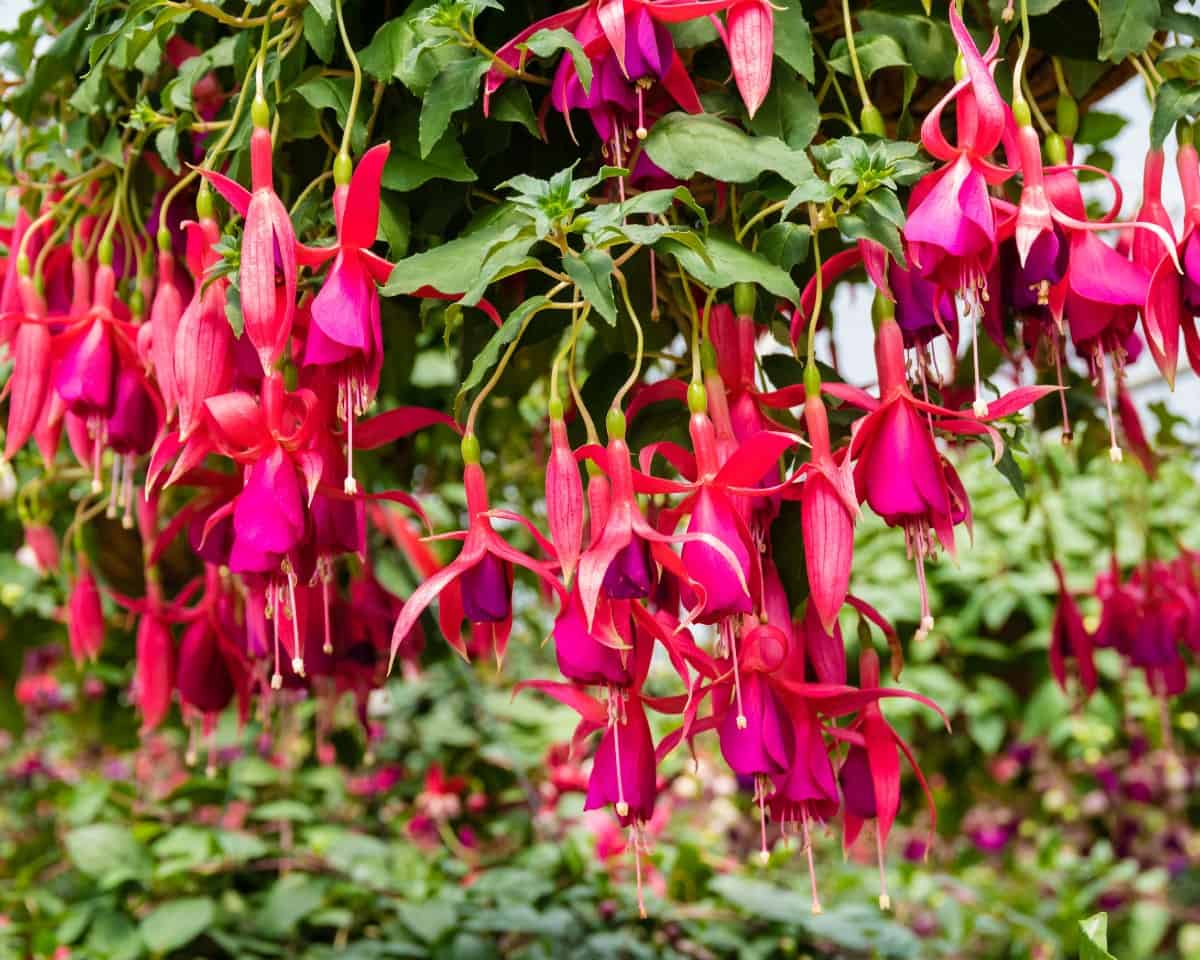 A stunning display of cascading multicolored flowers drapes beneath the fuchsia plant. The vibrant colors range from purple, pink, and red to orange and white flowers. These flowers are best grown in containers due to their hanging appearance, and they attract birds to the garden.
Fuchsia is an annual that grows as a perennial in zones 8 through 10. It blooms from summer through fall and enjoys both partial and full shade. It reaches an average height and width of 3 feet or more, depending on the container size.
Delphinium (Delphinium) – Majestic Flower for the Shade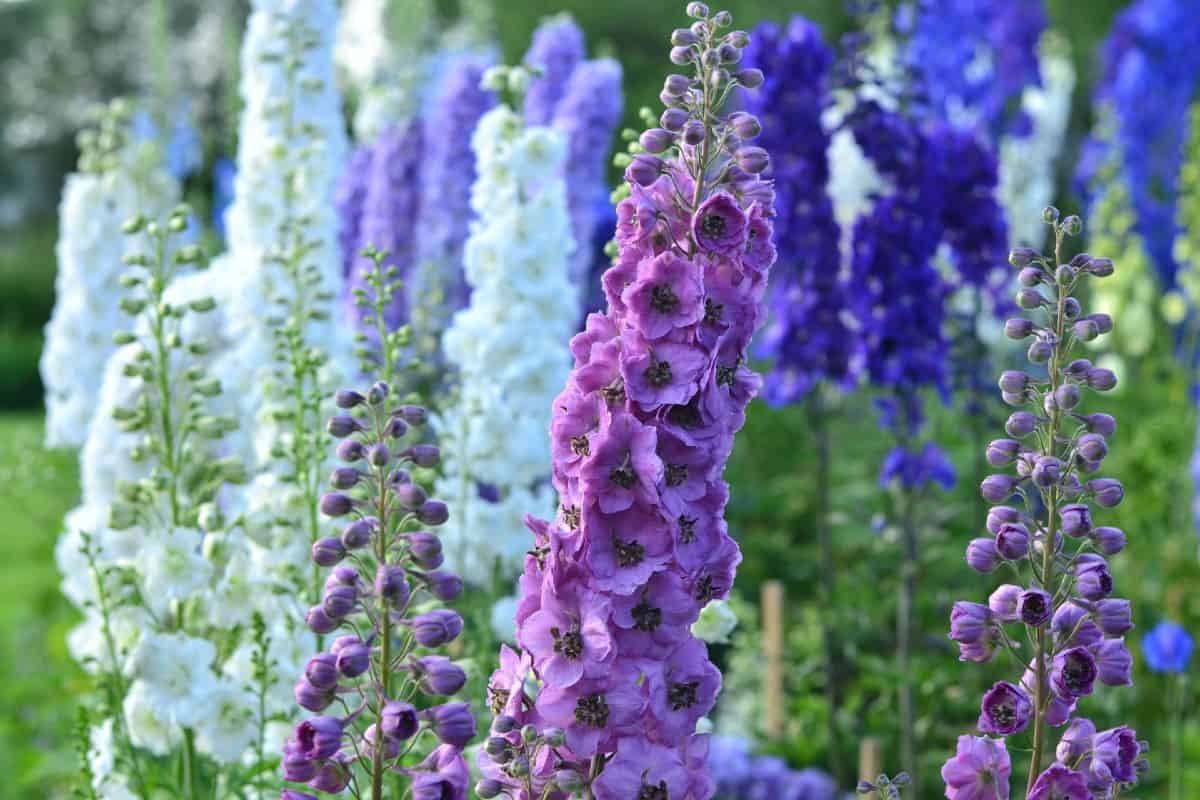 Tall spires of beautiful blue, purple, white, red, pink, and yellow blooms rise out of the top of blue/green leaves of the delphinium. These flowers reach such heights that they make a statement as a centerpiece or backdrop in the garden.
These perennial cut flowers thrive in zones 3 through 7 and reach a staggering height of 8 feet tall. These deer-resistant plants produce blooms along the entire stem of the flower and blossom all summer long.
Flowering plants are delights of the backyard that signal a new season of outdoor enjoyment. Fortunately, flowers are not just for sunny locations.
Filling shady areas of the yard and patio with flowering plants is easy once you know what to look for when plant shopping. Create a DIY garden with splashes of colors for both partial and full shade areas of your backyard. Kick back, relax, and enjoy your summer-time blooms.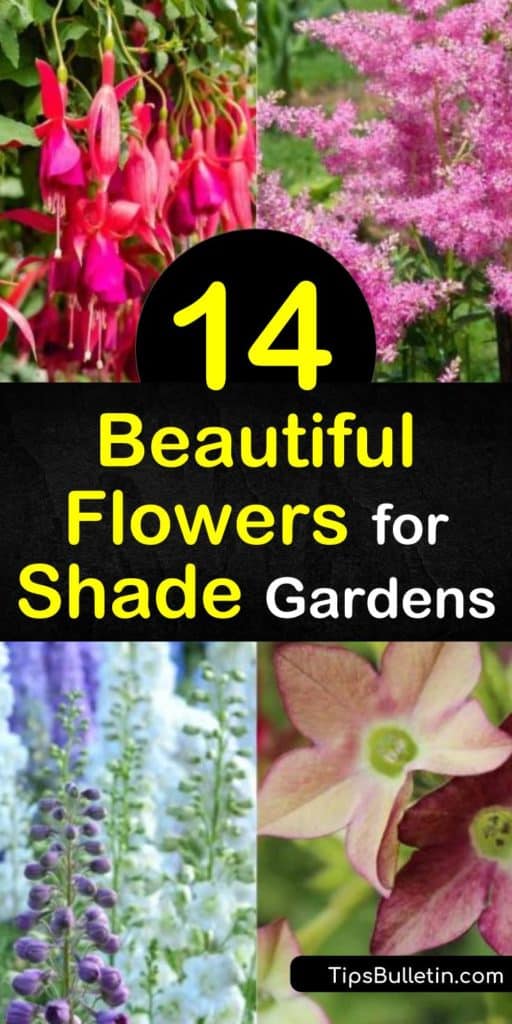 Filling a garden or flower pots and hanging baskets with amazing flowers for shade brings dark corners of the yard to life from spring through summer, so why not share our shade flower list with your family and friends on Facebook and Pinterest?