Container gardening with hanging baskets and planter boxes is a great way to grow flowers without creating a large garden. Not only are flowers easy to plant and grow in these types of containers, but they draw hummingbirds and butterflies directly to your windows. We found a vast selection of amazing flowers for window boxes that not only add curb appeal to your home but are stunning with their fragrant and colorful blooms.
Imagine the windows around your home adorned with beautiful window boxes overflowing with colorful and fragrant flowers. It's easy to do more than just imagine when there are so many container gardening possibilities and flowers within your reach. Let's get you started on creating a small flower garden around your windows by choosing the perfect plants.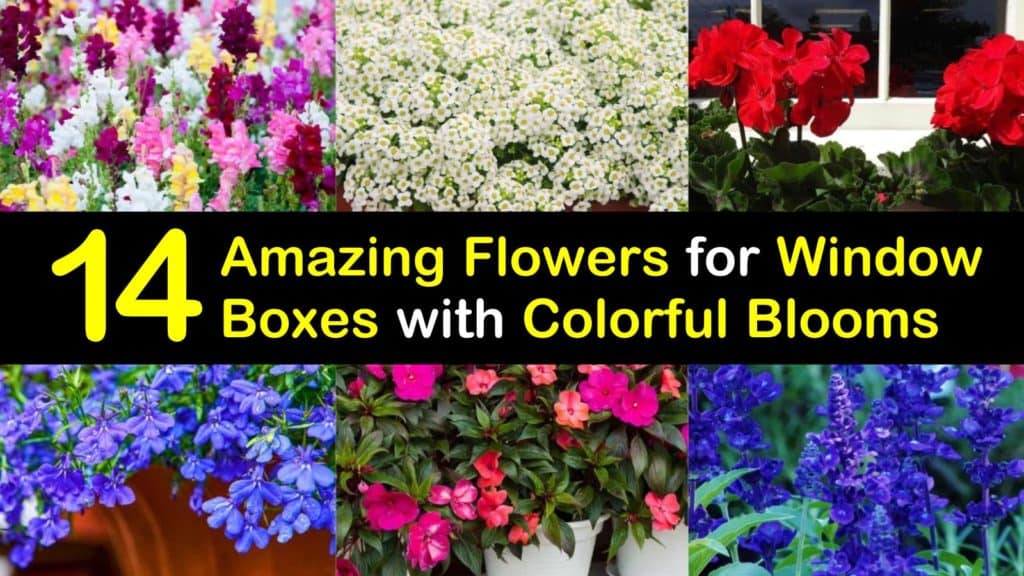 Creating Curb Appeal with Flower Boxes
Planting flowers in containers like a window box adds a little extra visual interest to your home, and there are many different varieties of flowers that are perfect for this type of gardening.
The first steps to creating the perfect window box display are to choose containers that complement your home and the right kinds of flowers for your area.
Add some of the best flowering shrubs for containers below your window boxes or nearby for blooms of varying heights and styles.
What are the Benefits of Flower Boxes?
There are many advantages to growing flowers in containers, and one of the most obvious is space. If you do not have a yard or the space to plant flowers outdoors, growing plants in window boxes is the way to go.
These types of planters are also a great way to bring colorful blooms to eye-level while bringing their heavenly fragrance indoors. Many different types of window boxes add appeal to the structure of your home.
It's easy to match the planter with your style, whether you decide to go with a coconut lined planter, a wood window box with decorative trim, or a simple plastic planter.
Which Flowers Grow Best in a Window Box Planter?
While many types of flowers grow in containers, the easiest types to grow are annuals. Fill your window box with plants for pots and window boxes of different colors of the same flower type, such as pansies, or mix it up by combining different plants.
Create a stunning display by planting tall flowers or foliage plants such as dracaena, angelonia, marigolds, or tulips in the center of the flower boxes. Fill the outside with cascading or filler plants such as sweet potato vine, asparagus fern, or kale.
Where is the Best Place to Grow Window Box Flowers?
The location for planting flowers in a window box depends on the flower and window position. Windows that face east receive morning sunshine while west-facing windows receive afternoon and evening light.
These areas get direct sunlight for only a couple hours a day, and partly sunny flowers grow best in these spots.
Windows on the north side of your house receive the least amount of sunlight, and shady plants are best for these areas while south-facing windows receive sunlight throughout the entire day, and only direct light flowers tolerate this much sunshine.
Are Container Flowers Hard to Grow?
Container flowers are relatively easy to grow. Some plants are easier to grow in a pot than in a flower bed because of their confinement to the container.
Potted plants require daily watering since the potting soil tends to dry up more quickly than ground soil. They also need regular feeding every couple of weeks to replenish nutrients that are washed away with frequent watering.
If you have problems with squirrels digging in flower pots, sprinkle cinnamon or cayenne pepper over the plants. It will deter the rodents and send them elsewhere.
Begonias (Begonia x semperflorens-cultorum)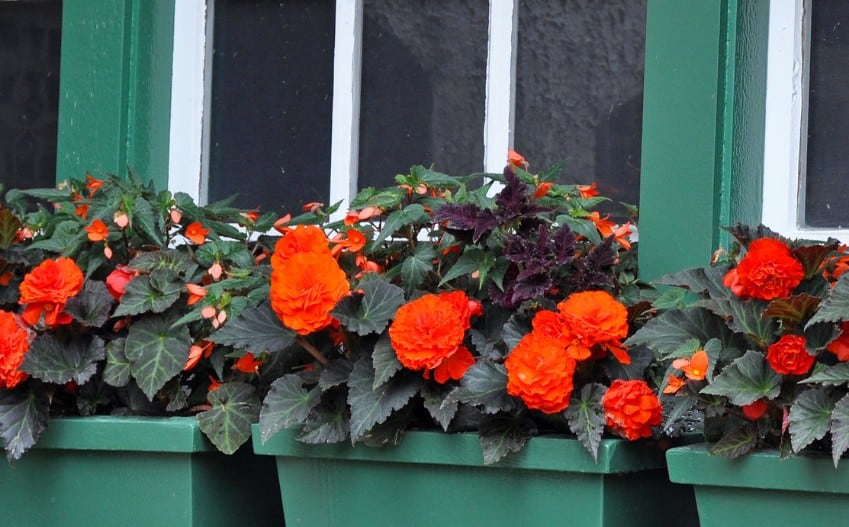 Begonias have stunning flowers and foliage and grow well in a variety of conditions. This annual flower comes in multiple sizes, shapes, and colors with flowers that bloom in shades of yellow, orange, pink, and white colors.
This low maintenance flower grows in shady and sunny areas and needs little to thrive. It produces blooms from spring through fall and reaches an average height of 1 foot. Give this plant plenty of water and well-drained soil, and it rewards you with endless blooms.
Petunias (Petunia × atkinsiana) – Amazing Flowers for Window Boxes with Fragrant Blooms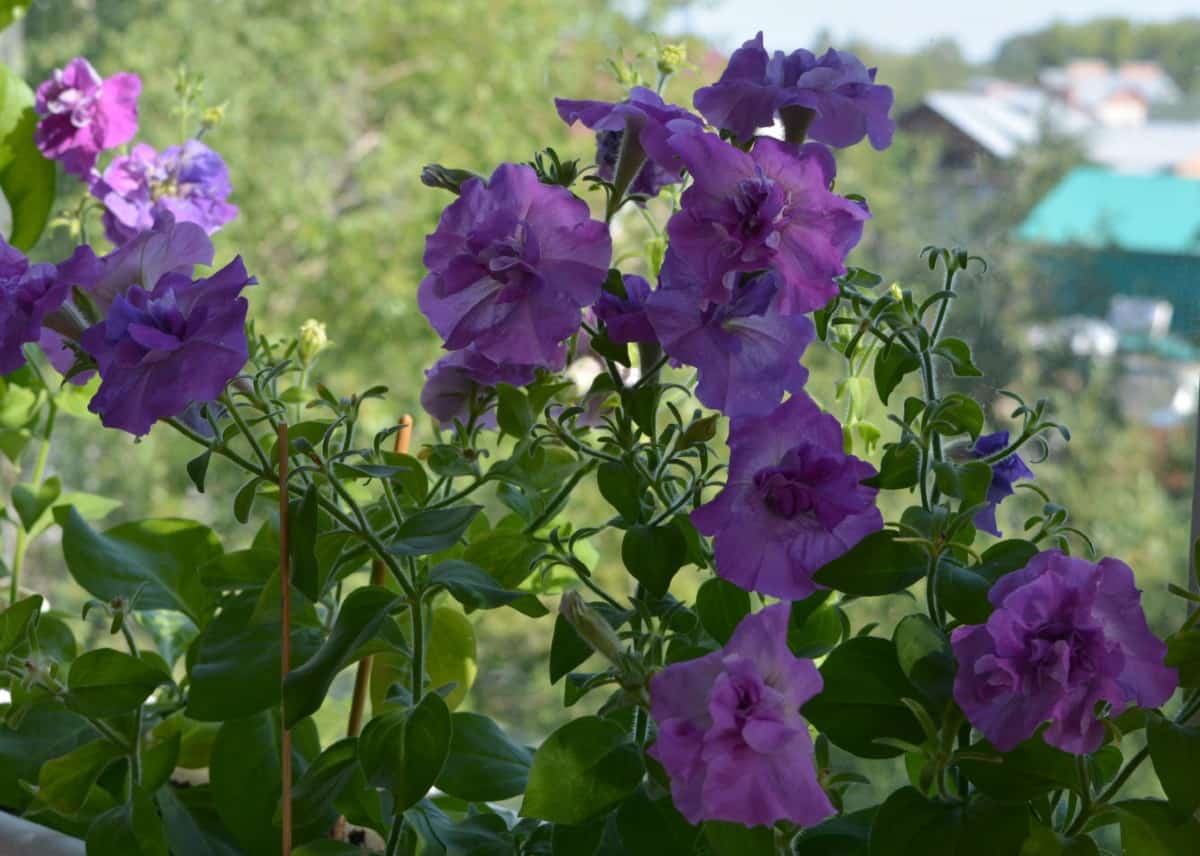 This annual flower provides loads of blooms all summer long in a variety of shades, from blue, purple, and red, to white, pink, and yellow. The flowers are highly fragrant, especially in the evenings, and attract hummingbirds to the window.
Petunias are a low maintenance flower that requires deadheading to encourage more blooms. They are deer resistant and enjoy sunny areas of the home. Depending on the variety, these flowers have an average height and spread of 1 foot.
Lobelia (Lobelia erinus)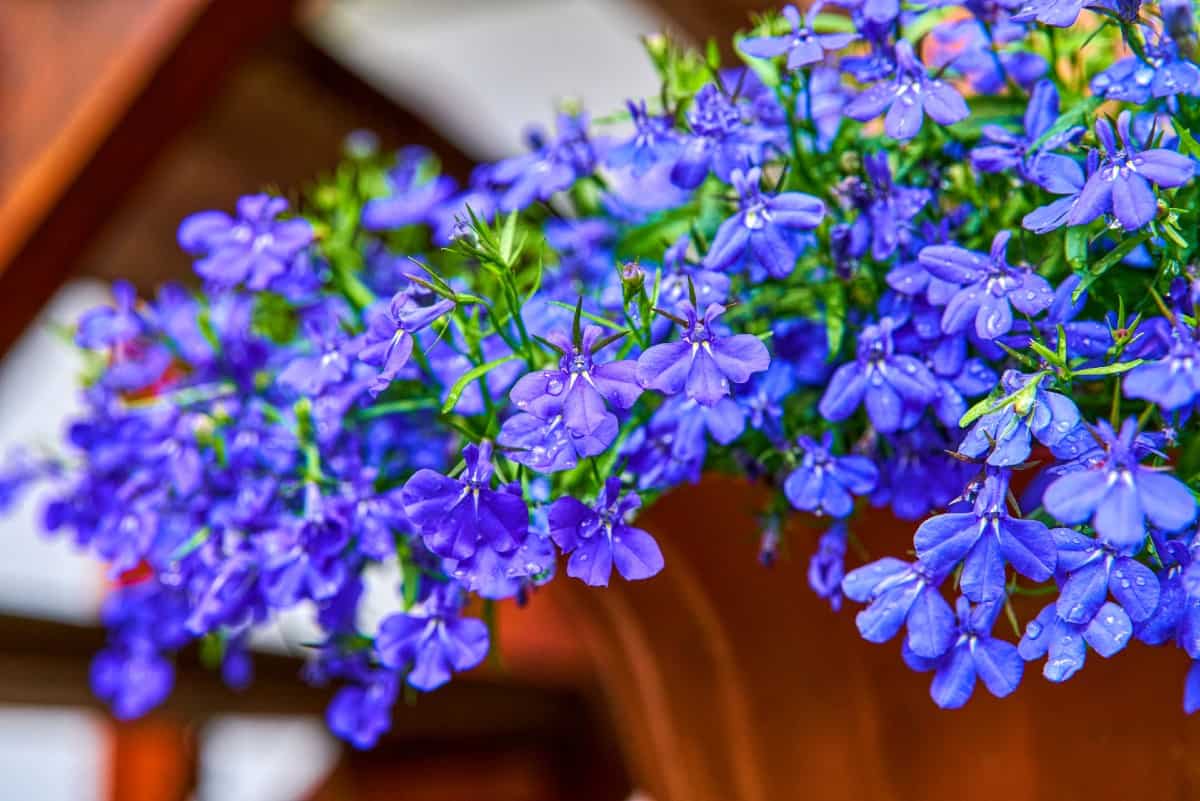 Lobelia flowers are a magnet for hummingbirds and have rich green foliage with spiked flowers. The blooms grow in pink, red, white, and blue, although the annual variety is often blue. Consistently damp soil is required for this flower to thrive.
The perennial variety of this plant grows in zones 2 through 10 and enjoys partial to full sun. Lobelia reaches an average height of 3 feet, while the annual type is a low grower. This flower is an excellent choice for containers and is a beautiful cut flower.
Coleus (Plectranthus scutellarioides) – Window Box Flowers with Colorful Foliage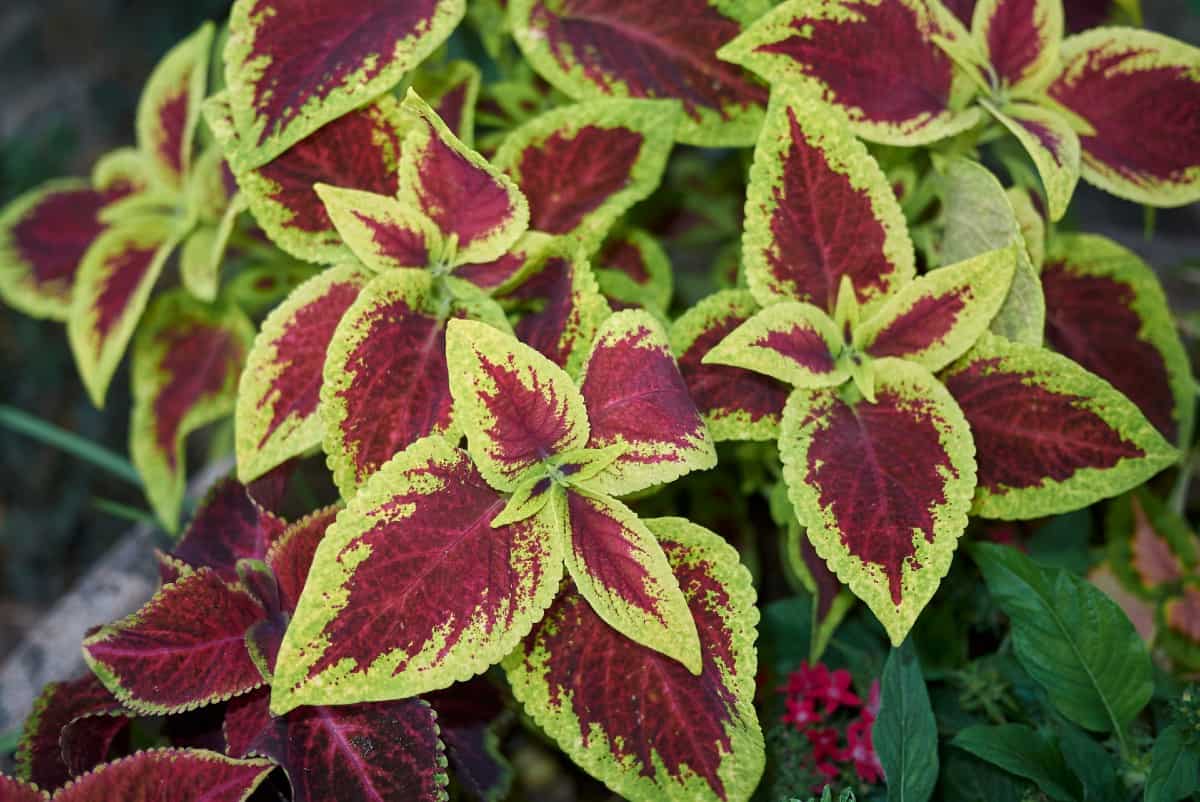 This shade loving plant is a favorite for its variegated foliage with contrasting color and fringed, scalloped, or toothed leaf edges. It is an annual plant that is easy to grow and fills shady areas of the house with color.
This low maintenance plant has an average height and width of 3 feet and needs moist soil to thrive. Bring coleus indoors before the first frost and grow it as a houseplant until spring-time.
Verbena (Verbena officinalis)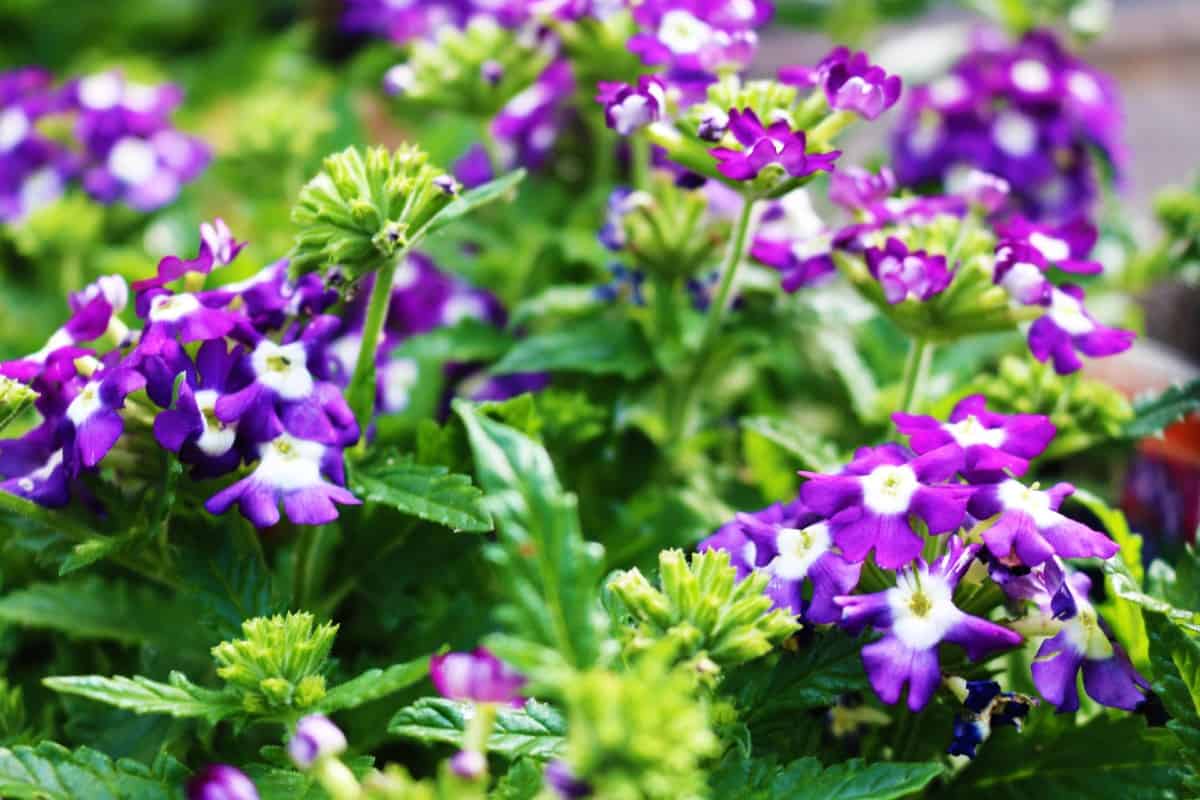 If you desire hanging flowering plants that cascade over the edges of a window box with ease, then verbena is the flower for you. It produces clusters of blue, purple, red, white, and pink blooms all season long.
This drought tolerant flower is also deer resistant and grows best on the sunny side of the home. It is an annual in zones 6 and below and grows as a perennial in zones 7 through 9. Depending on the variety, verbena grows 1 to 3 feet tall and spreads up to 2 feet wide.
Fuchsia (Fuchsia magellanica) – Colorful Window Box Flowers with Cascading Blooms
The impressive form of the fuchsia is striking with its uniquely shaped flowers that resemble swirling, layered skirts in colors of red, purple, orange, white, and pink. The elegantly drooping blooms are a favorite among hummingbirds and pollinators.
Fuchsia is an annual and perennial and thrives in zones 8 through 10. It blooms from summer through fall and has an average height and spread of 3 feet. Place a window box full of these flowers in either shade or sun to attract birds to your home.
Snapdragon (Antirrhinum)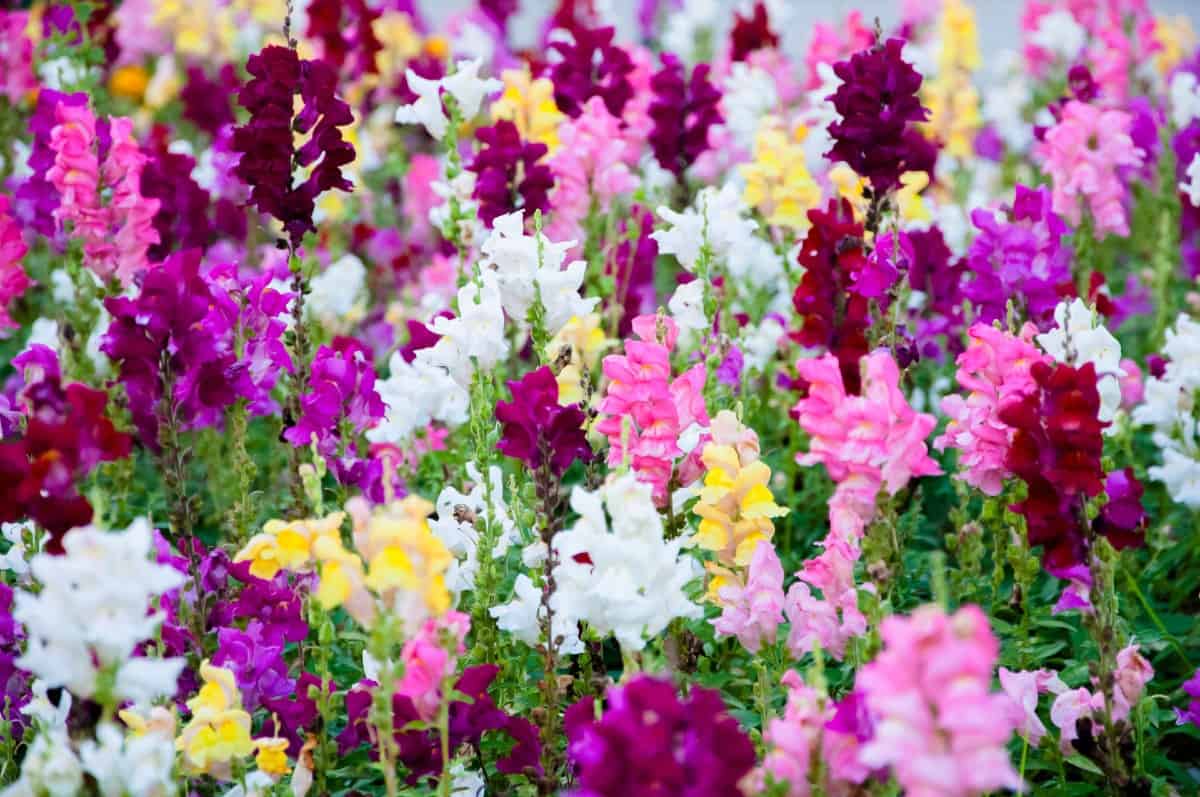 Snapdragons are a classic flower that has been around for ages. They produce dainty and vibrant blooms in yellow, pink, white, red, and orange and are excellent to cut for bouquets.
This cool-season annual thrives in part to full sun and blooms from spring through fall. It is a low maintenance flower that is easy to grow, reaching an average height of 3 feet with a width of 6 to 18 inches.
Caladium (Caladium) – Plants for Window Boxes with Stunning Foliage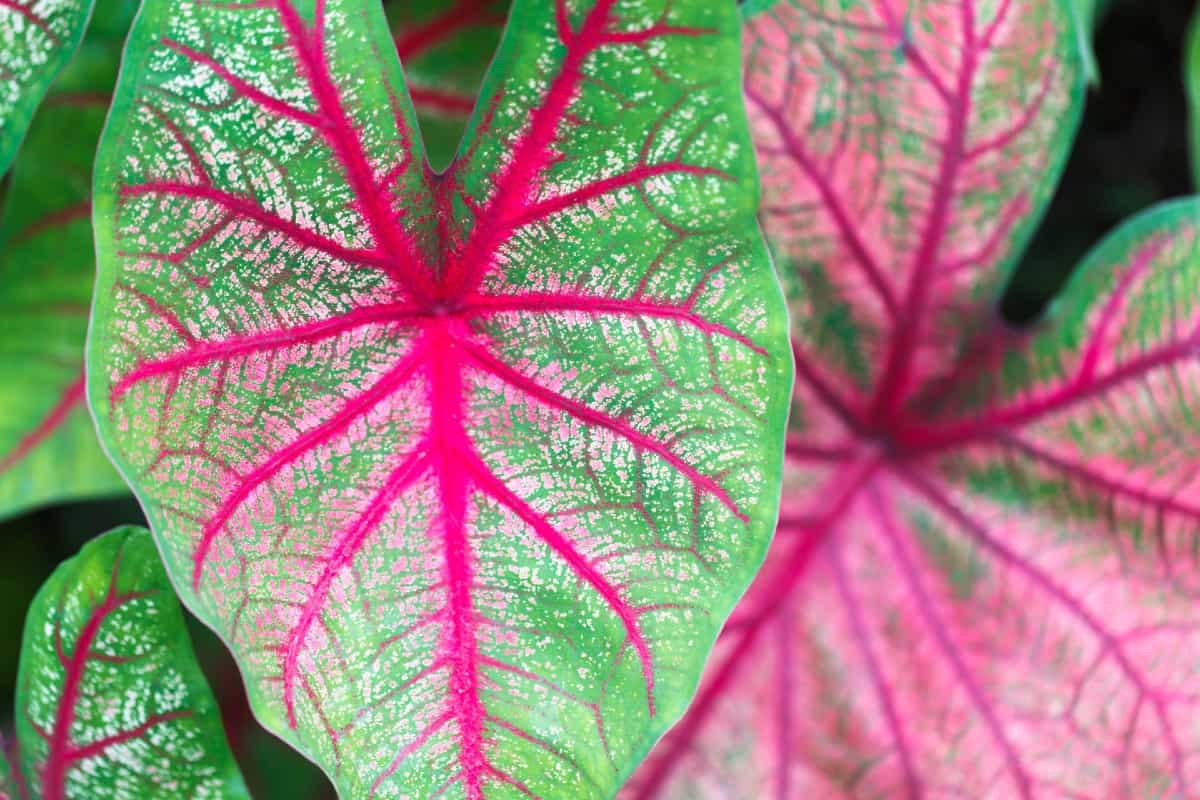 This plant produces arrow-shaped leaves in striking colors of blue/green, purple/burgundy, and gray/silver from June through fall. The foliage has the appearance of being splashed with multiple colors of paint and adds a unique flair to a window box.
Caladium is a low maintenance plant that grows 1 to 3 feet tall with a spread of 2 feet, depending on the variety. It thrives in part to full shade or sun and is a great filler plant for containers.
Impatiens (Impatiens walleriana)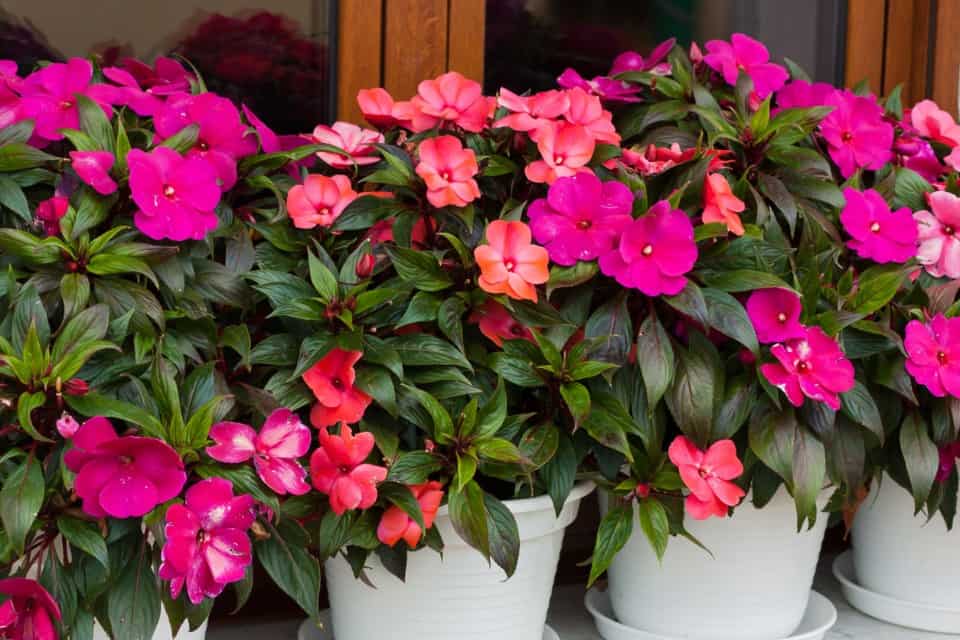 Impatiens are the ideal potted flowers for shade for brightening up dark sides of the home. They produce delicate blooms in a wide variety of colors ranging from blue, red, purple, and orange to white, yellow, and pink.
This low maintenance flower is an ideal choice for filling gaps in a window box on the north side of the home. It blooms from early spring through fall and grows from 1 to 3 feet tall and wide, depending on the variety.
Vinca (Catharanthus roseus) – Low Growing Flower with Delicate Blooms
The annual vinca has glossy, green foliage with colorful blooms in shades of red, white, pink, and purple. It is a hardy flower that performs well even on the hottest of summer days.
Vincas are drought tolerant and low maintenance, making them a good candidate for growing in containers. They reach an average height and spread of 1 foot and thrive on sunny sides of the home.
Geranium (Pelargonium)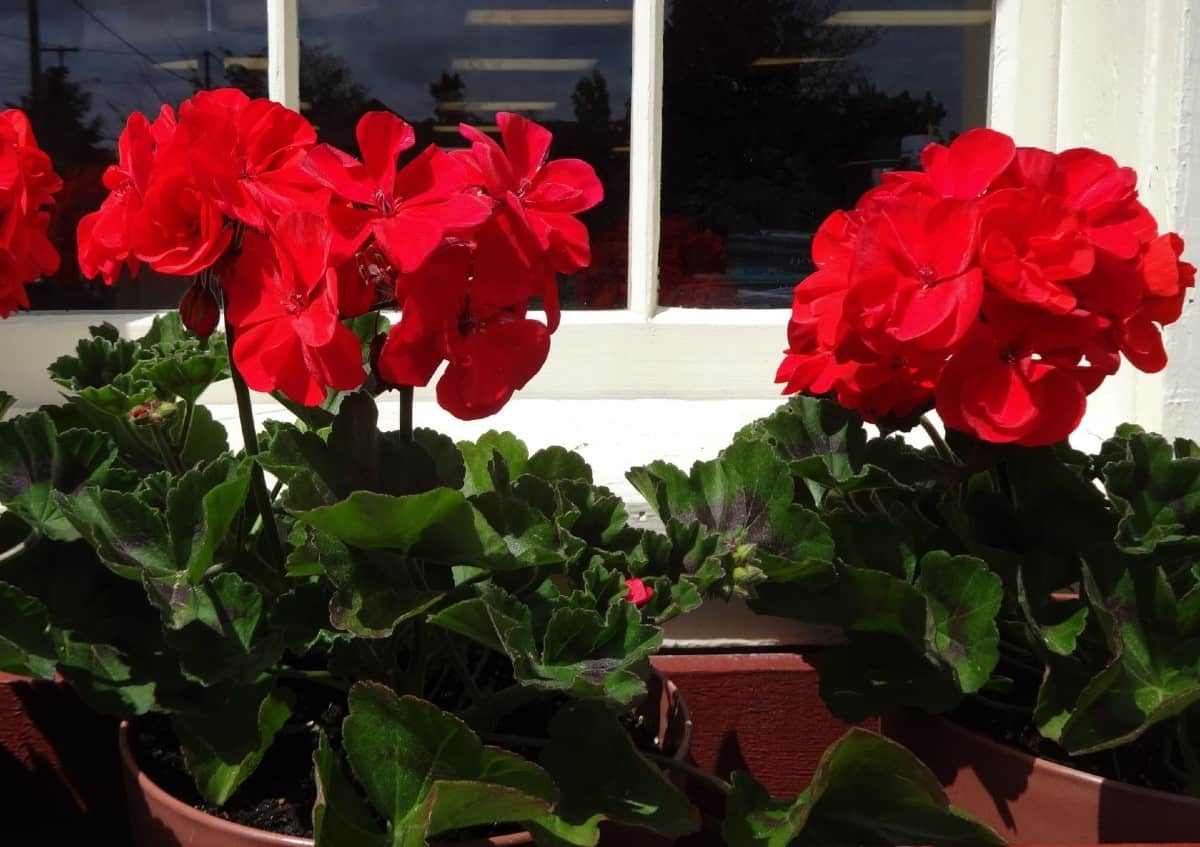 These classic garden flowers are a favorite among gardeners with their unique shaped leaves and tall clusters of blooms in shades of purple, red, white, pink, and orange. Removing the spent flowers encourages the plant to bloom from spring through fall.
Geraniums are very drought tolerant and love hot weather. These sun-loving flowers reach an average height and width of 1 foot. This low maintenance flower is easy to grow and deer resistant.
Sweet Alyssum (Lobularia maritima) – Delicate Carpet of Sweet-Smelling Flowers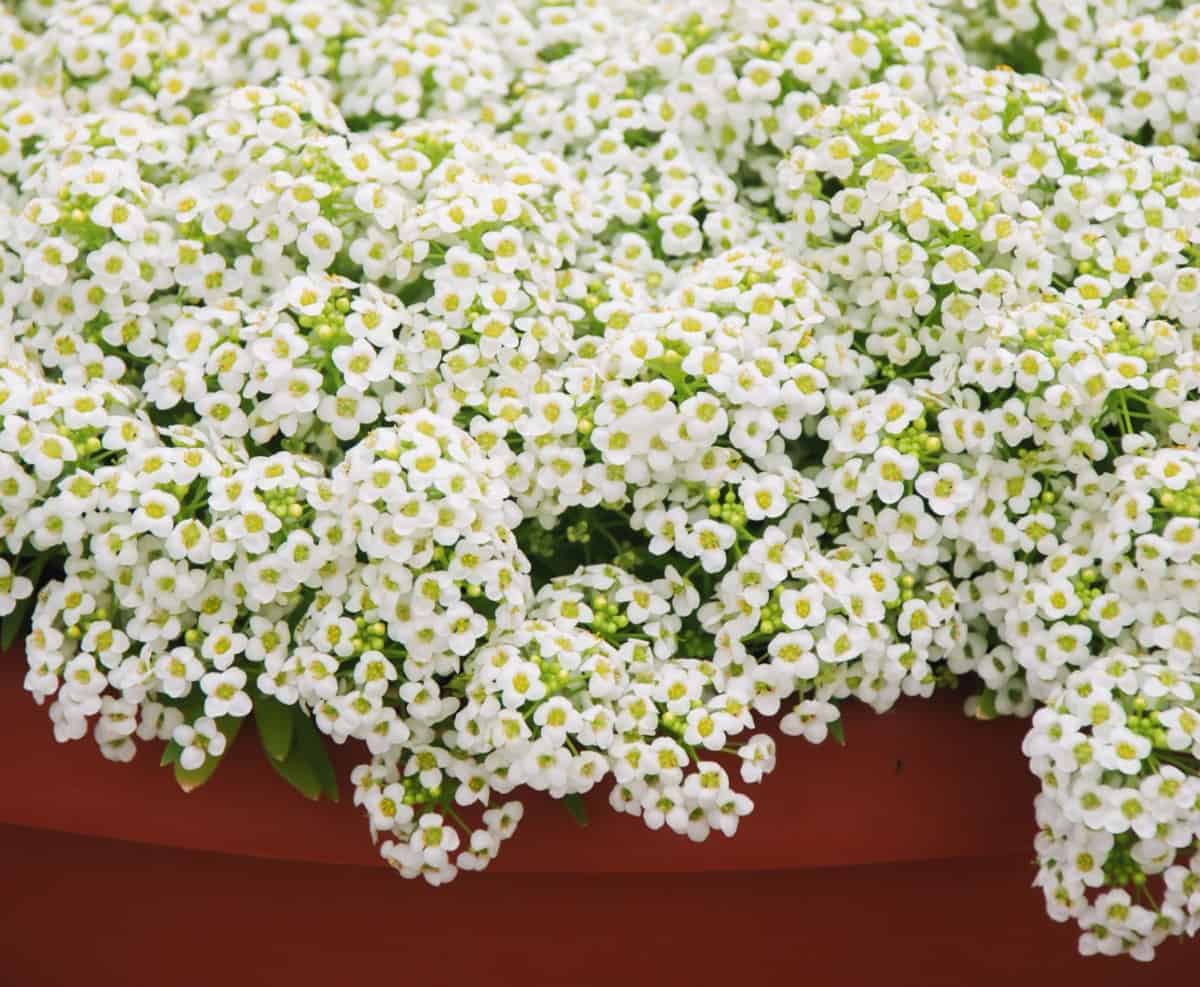 This cool season flower produces highly fragrant, dainty white, purple, and pink flowers during mild spring weather. The abundance of blooms attracts pollinators to the yard with their light, honey fragrance. It is a low-growing plant that is great for filling empty spaces in a planter.
Place it in front of evergreens for pots and containers for extra appeal. Sweet alyssum enjoys partial to full sun areas and blooms all summer long under the right conditions. This low maintenance flower grows to a height and spread of 6 to 12 inches.
Salvia (Salvia officinalis)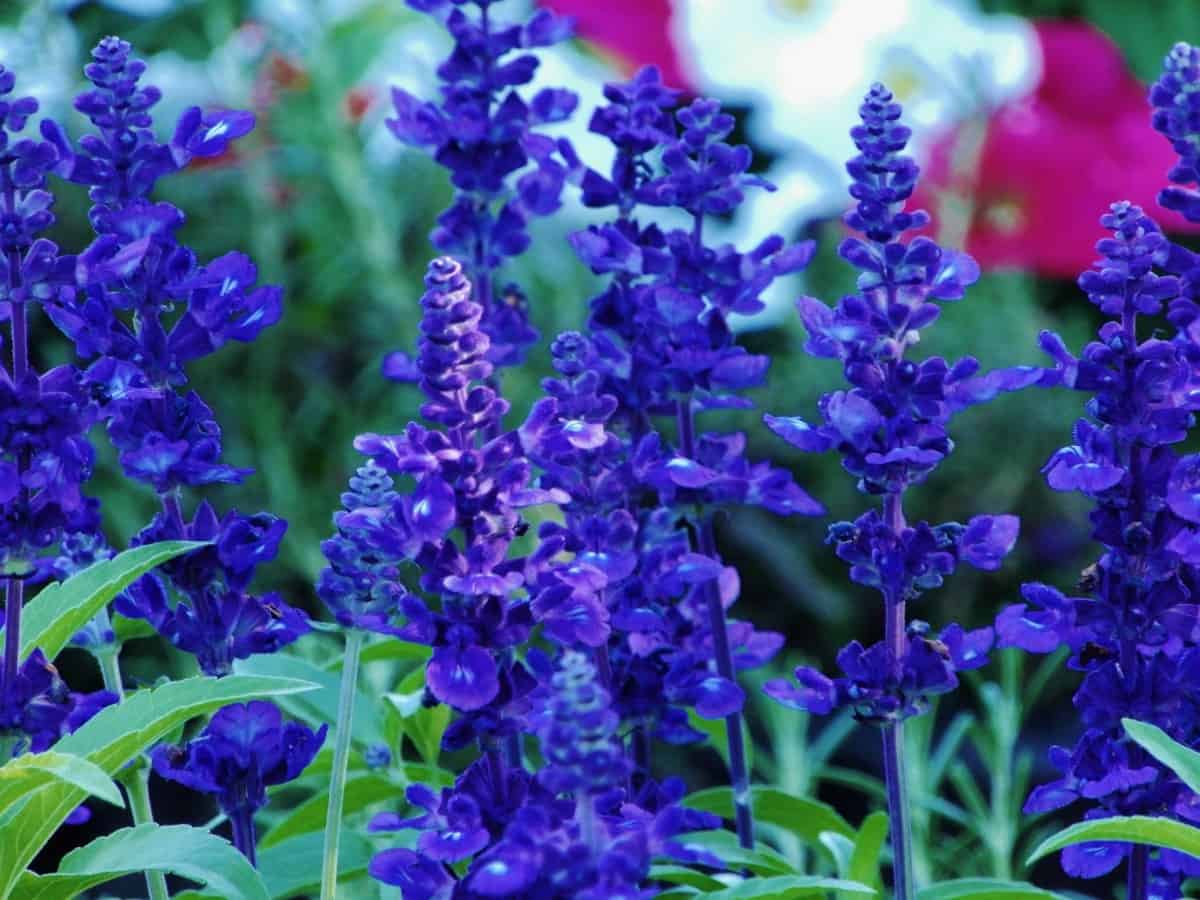 Salvia is a mint relative that blooms in a broad spectrum of colors, including blue, purple, red, white, and pink. It has a long blooming time from early spring through fall, and hummingbirds and pollinators are attracted to the flowers.
Depending on the variety, salvia reaches a height of 1 to 8 feet with a spread of 1 to 3 feet. This low maintenance flower is drought tolerant, deer resistant, and thrives in part to full sun.
Creeping Jenny (Lysimachia nummularia) – Flowering Succulent Creeper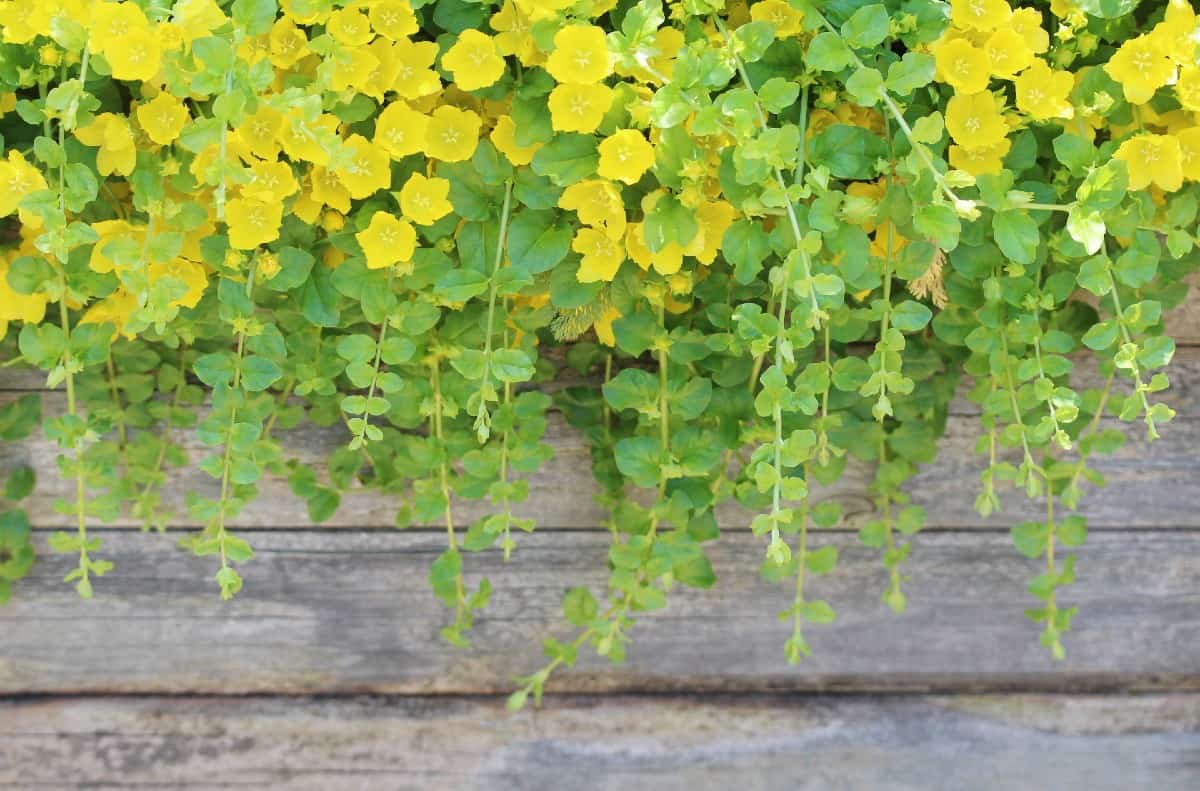 Creeping Jenny is an ornamental plant that creeps over the edge of a flower box with cascading foliage and dainty yellow flowers. The leaves change color depending on its location, producing golden yellow leaves in the sun and chartreuse green leaves in the shade.
This plant prefers moist, well-drained soil and enjoys both sun and shade. Creeping Jenny grows best in zones 3 through 9 and spreads as far as it is allowed through rhizomes and seeds.
Growing plants in window boxes around your home is easy to do as long as you choose the right flowers for your area and lighting. Flower boxes not only add color and appeal to the outside of your home, but their placement means that you get to enjoy the fragrant blooms inside the house while admiring their beauty.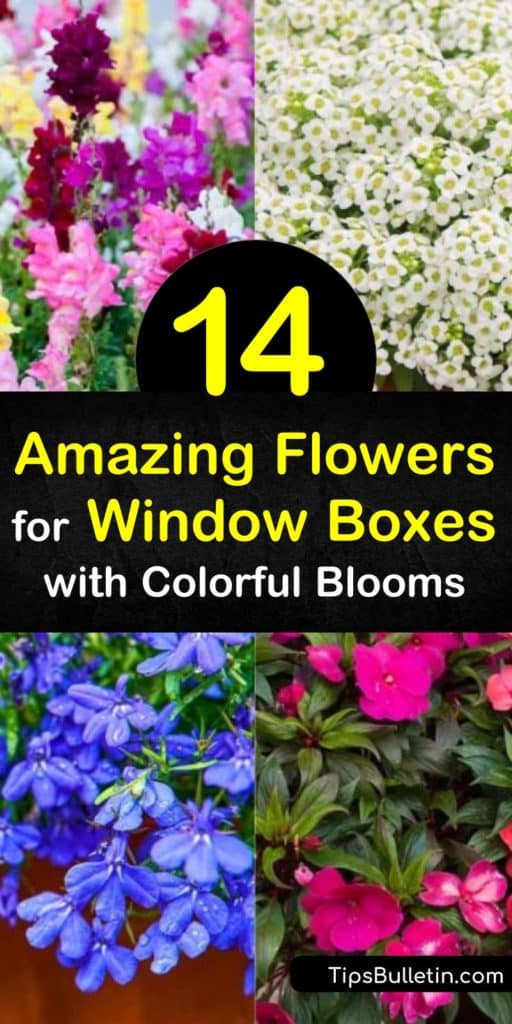 Now that you've browsed our list of amazing flowers for window boxes, it's time to choose your favorites, and don't forget to share our window box flower guide with your family and friends on Facebook and Pinterest.