Spring-time finally arrives, and you fill containers with beautiful annuals that enhance your garden with beauty throughout the summer. Unfortunately, these plants die off once fall comes and need replacement each year. Luckily, perennials are amazing plants for pots all year round.
Container gardening is an enjoyable way to fill your outdoor space with natural beauty and color. It seems a pity if all of your hard work comes to an end after each growing season.
The good news is that selecting the right types of plants fills your yard with greenery and flowers year after year.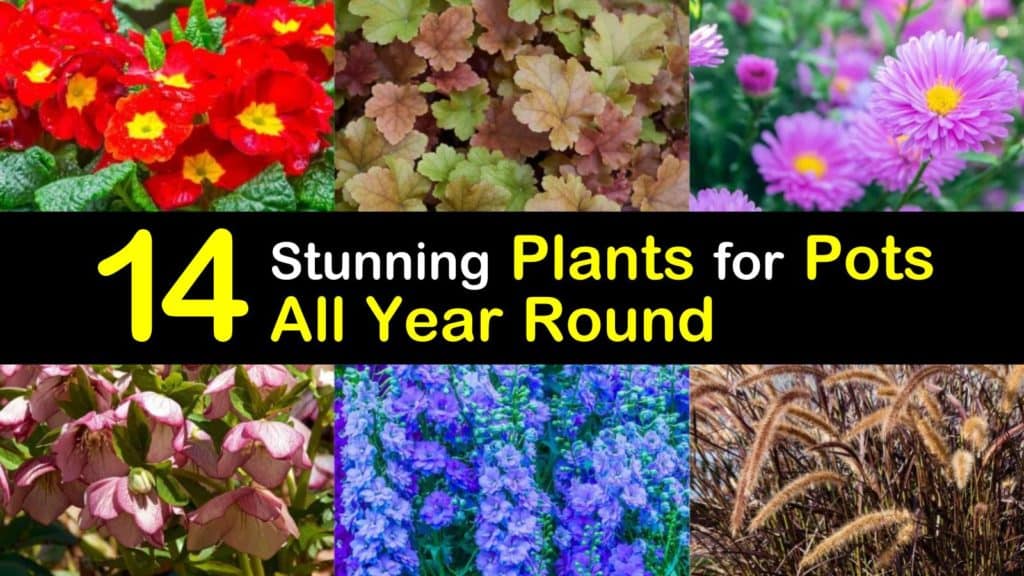 Stunning Plants for Year-Round Containers
The best types of plants for year-round containers are perennials. These plants fill space with ease, and there are many different varieties.
Some are enjoyed for their variegated foliage and brightly dappled leaves while others provide the area with fragrant and colorful flowers that draw pollinators to the yard.
Why Should I Plant Perennials Instead of Annuals?
Petunias, geraniums, and other container plants add beauty to the yard, but they are also annuals. These types of flowers die off at the end of summer and need replanting the following spring.
If you desire year-round potted plants, perennials are the way to go. These types of plants do not die off during the winter months. They continue growing each year with very little maintenance.
Do Perennial Plants Grow Well in Containers?
Most people imagine a large flower bed when they think about planting perennial flowers, but many of these plants grow perfectly well in containers.
Not only do they grow well in a pot, but they are easy to maintain, fill empty spaces of a patio or porch, and grow well in window boxes and hanging baskets as well.
Did you know that you can also plant fruit trees in containers? Growing cherry trees in pots in part shade is easy and "fruitful," as well as other fruit types. Having a variety of potted plants throughout the yard adds interest and appeals to all the senses.
How Do I Care for Container Plants?
While container plants are easy to grow, they do require care and maintenance that is a little different than growing them in a flower bed. The mature size of the plant depends on the size of the pot and is worth considering when purchasing your containers.
The bigger the pot, the bigger the plant. Potted plants tend to dry out faster than plants in the ground and need a daily dose of water.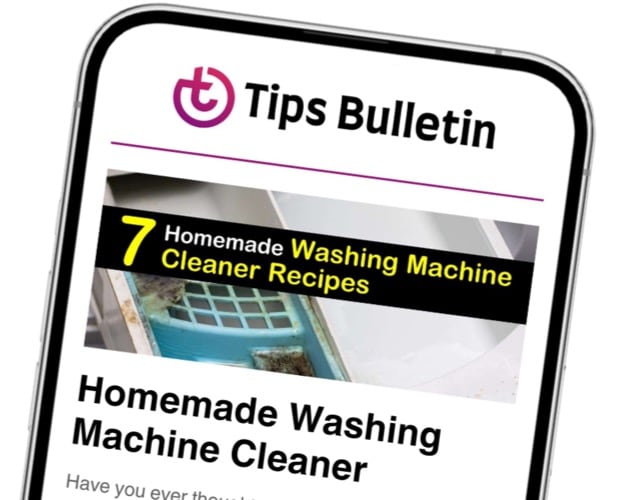 Finally, an email that Transforms Your Home.
Get the latest home and garden tips from our experts, delivered straight to your inbox.
They also require plant food once every couple of weeks beginning in the spring. Make sure that the pots and planters have good drainage to prevent soggy soil.
Be mindful about watering. Too much water in your container plants can lead to root rot or a gnat infestation. If you see the bugs, kill gnats in plants with a spritz of soapy water and don't be tempted to give your plants too much water.
If you have a lot of squirrels or chipmunks, prevent them from digging in your containers. Keeping squirrels out of planters is as easy as sprinkling some cayenne pepper on the soil periodically. The creatures don't like the spice.
Which Types of Perennials Should I Plant in a Pot?
Many types of perennials grow well in containers, whether they are small or large pots. It mostly comes down to your location and personal preference.
It's essential to determine which growing zone you live in before choosing your favorite plants. Make sure to match the plant's USDA hardiness zone to your area.
Choose compact or mounding plants rather than spreaders to prevent the plant from outgrowing the container too fast. A small tree or topiary makes a great focal point on a patio while spillers cascade over the sides of a planter and add a whimsical touch to the space.
Note that you can also grow annuals in containers, too. A mixture of perennials and annuals gives long-lasting beauty in your yard and garden. Also, annual flowers for hummingbirds are appreciated by the tiny fliers, particularly in the heat of summer.
Adding flowers, ornamental grasses, and colorful ferns in containers or in the ground provides even more variety in the landscape. A creative garden area is only limited by your budget and imagination.
Emerald Arborvitae (Thuja occidentalis)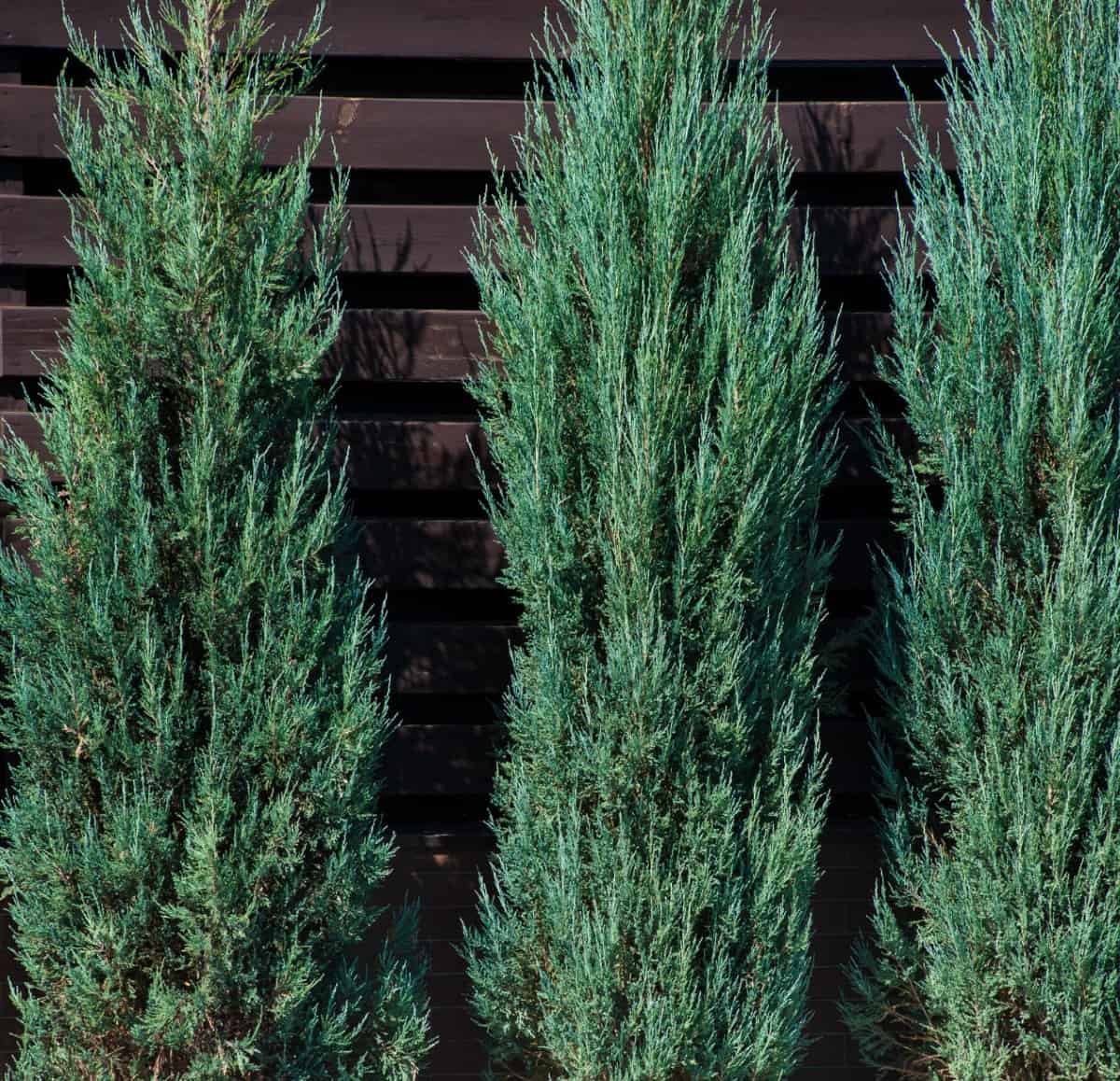 This evergreen shrub is dense with foliage that stays dark green all year round. It is easy to train this bush to a specific height and width when planted in a pot, and they are easy to prune to unique shapes and styles.
The emerald arborvitae is a low maintenance shrub that grows to a height that is determined by the pot size. It thrives in hardiness zones 2 through 7 and prefers part to full sun. It's easy to use this plant for a privacy fence if placed side-by-side to create a border.
These tall privacy hedges for pots and containers make it easy to move your living fence around as needed both for some separation and to add periodic variety to the landscape no matter how big or small.
Bergenia (Bergenia crassifolia) – Amazing Plant for Pots with Bold Leaves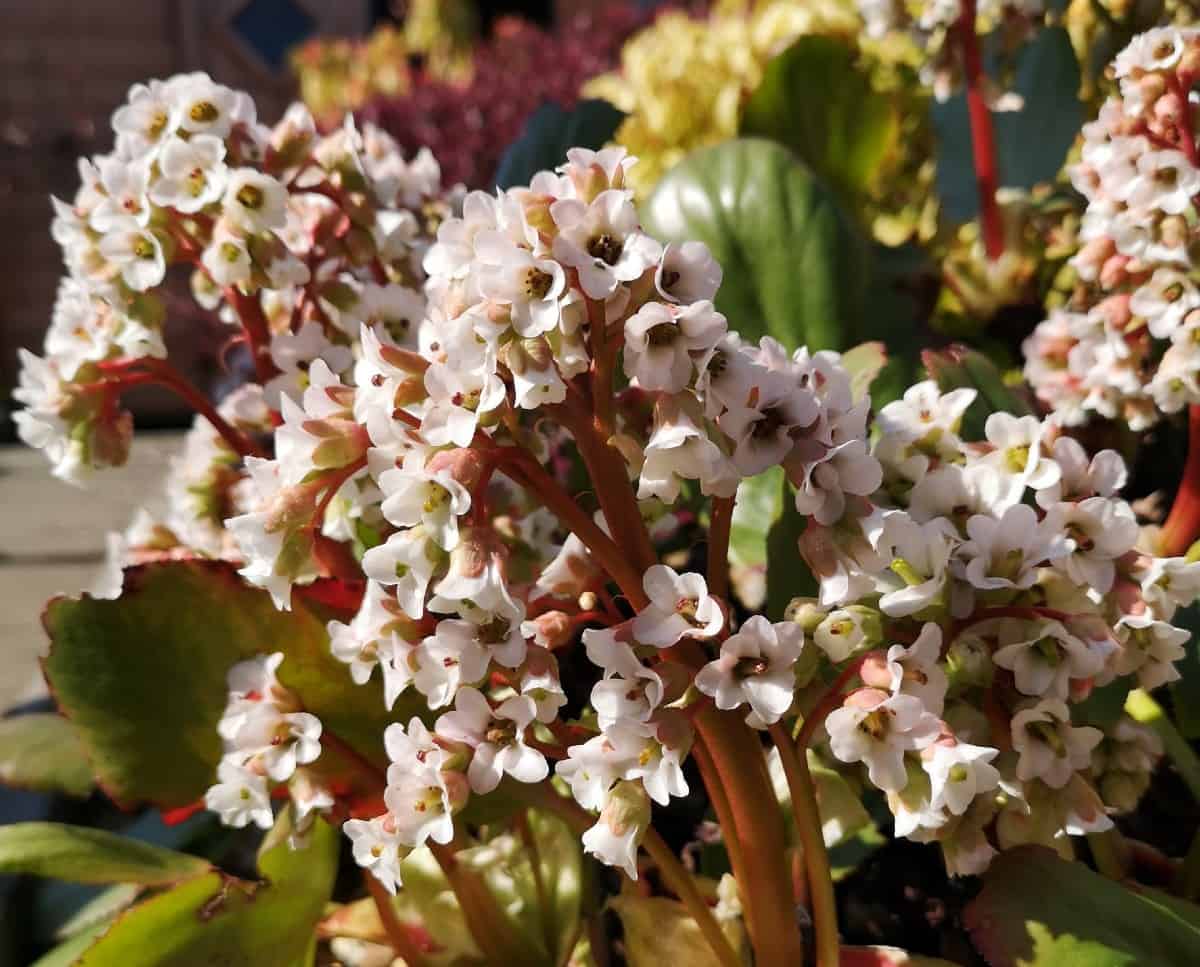 Bergenia is a clump-forming perennial with foliage that is dark green, glossy, and tooth-edged. Rubbing the leaves together creates a squeaking sound, giving the plant the well-known name, pig squeak. It produces deep pink, red, and white flowers in early spring.
This perennial plant grows best in zones 3 through 8, and while it thrives in part sun, it is one of the best plants for pots in shade. It is low maintenance and deer resistant and makes an excellent cut flower for in the home. Bergenia grows to a height of 1 to 3 feet and a width of 12 to 18 inches.
Coral Bells (Heuchera)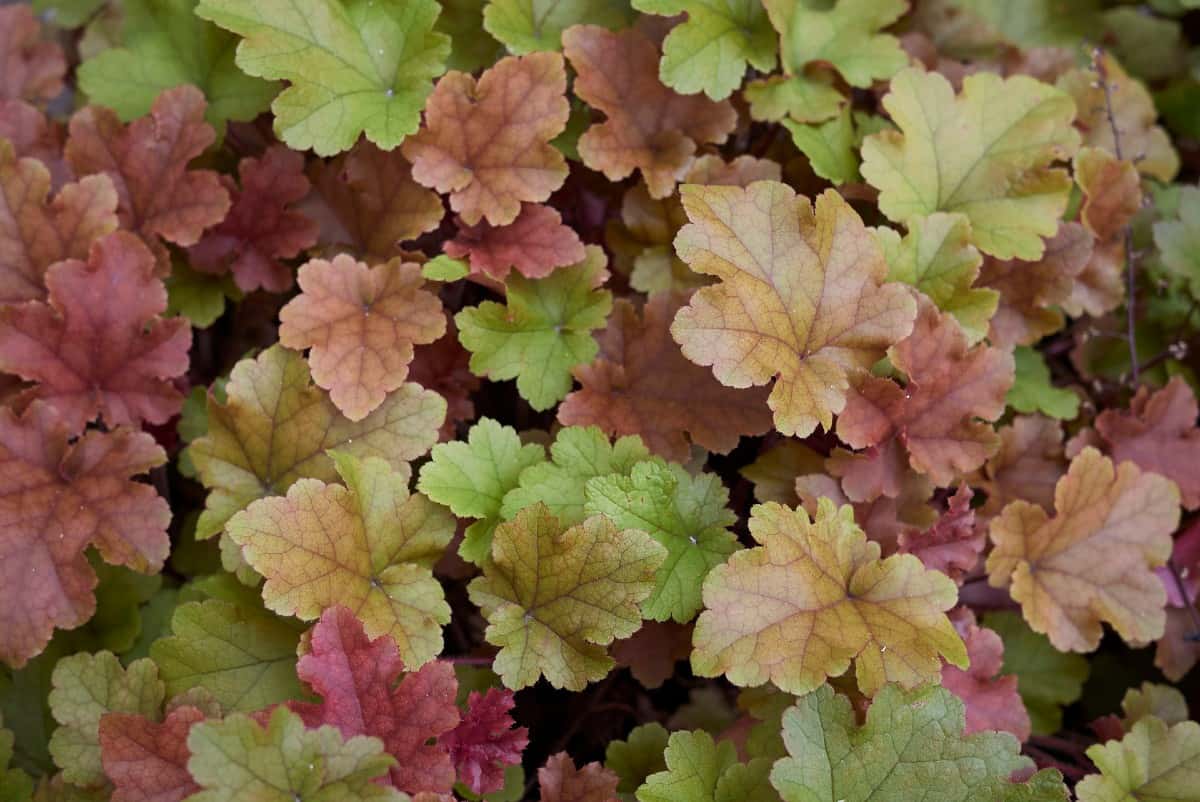 Coral bells is a foliage plant that comes in multiple color varieties, including rose, purple, lime-green, and gold, as well as variegated types. It produces tall stems with tiny bell-shaped flowers in shades of coral, pink, red, and white in the spring and summer.
This evergreen perennial flower grows best in hardiness zones 4 through 8 and enjoys full sun to part shade. It forms a low growing, round mound and reaches a mature size of 12 to 18 inches.
Heuchera makes its home just as well in the garden as it does as evergreen container plants you can move around your property.
Purple Fountain Grass (Pennisetum setaceum) – Container Plant with a Fountain-like Appearance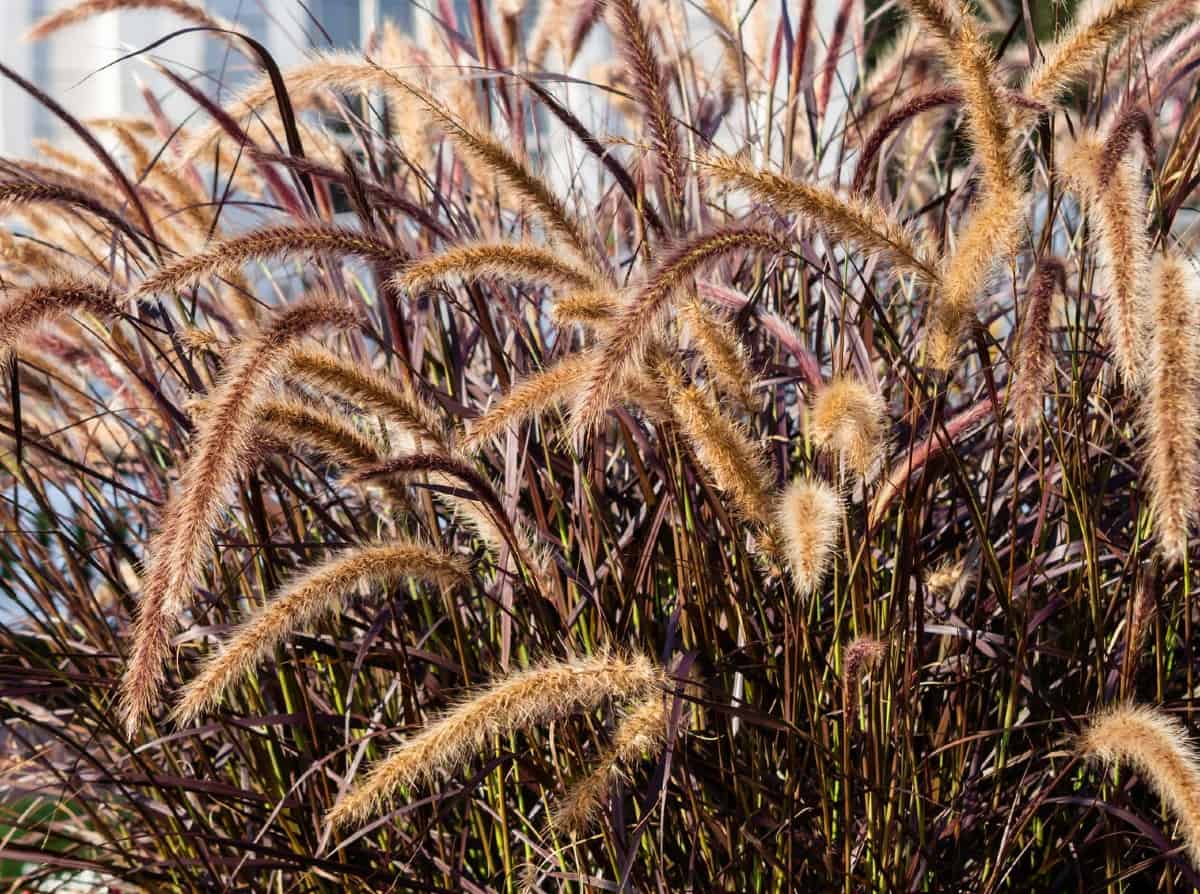 There are many types of fountain grass, and the purple variety is stunning in a planter with its spikes of purple flowers and a graceful spray of slender burgundy leaves. It blooms in July but keeps the tall and colorful form throughout the season.
Purple fountain grass is a cold-hardy plant that is also deer resistant. It thrives in zones 9 and 10 and enjoys full sun and well-drained soil. This ornamental grass reaches a mature height of 3 to 5 feet with a spread of 2 to 4 feet.
Red Twig Dogwood (Cornus sericea)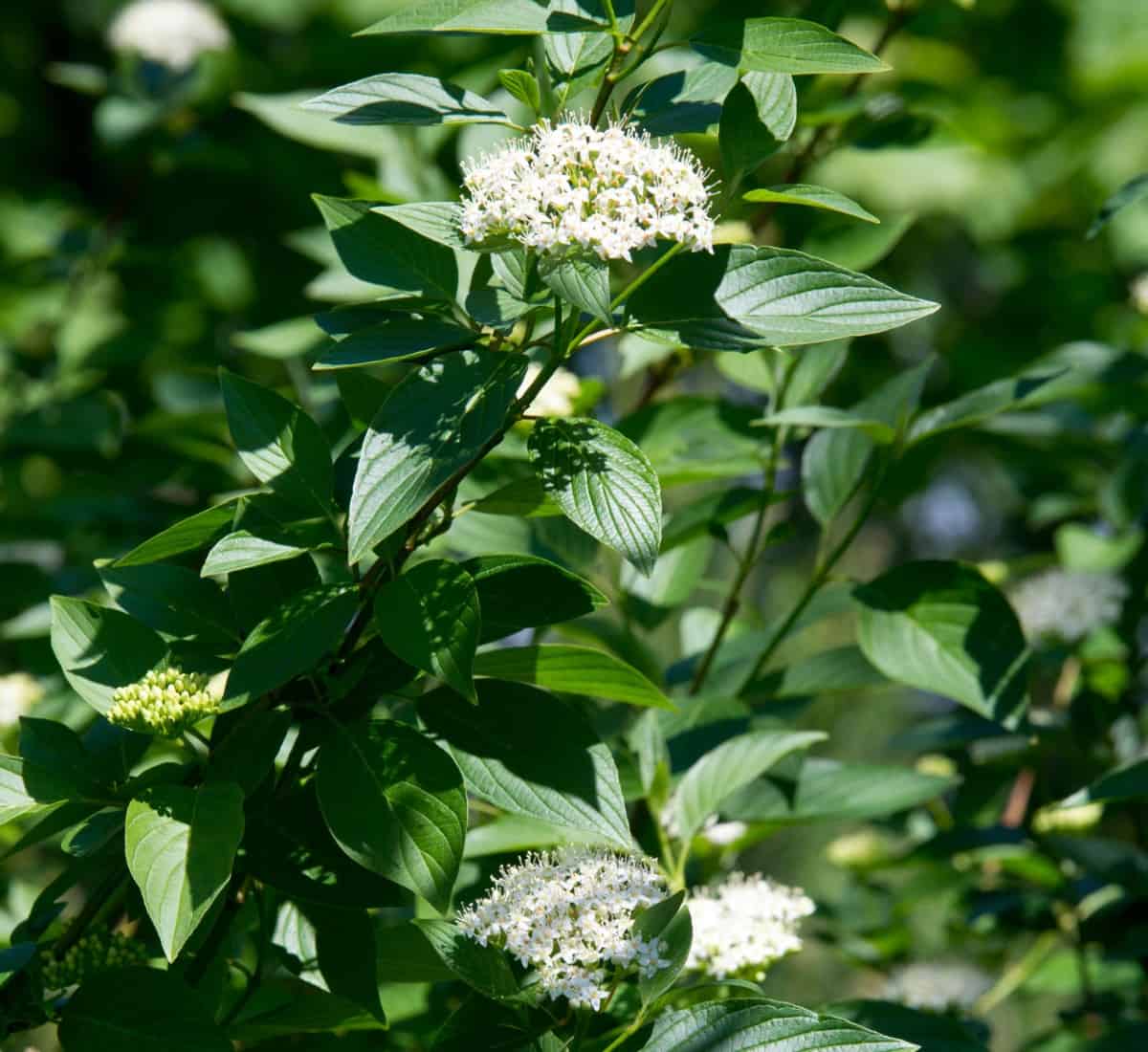 This deciduous flowering shrub brings delight to the yard all year long. It produces white flowers in the spring, variegated foliage in the summer, berries in the fall, and bright red colored branches during the winter months.
The red twig dogwood grows best in zones 3 through 8 and enjoys part shade to full sun. Depending on the pot size, it has a mature height of 8 feet tall. Provide this shrub with fertile, moist soil, and it rewards you with beauty from spring through winter.
Japanese Pieris (Pieris japonica) – Elegant and Graceful Flowering Plant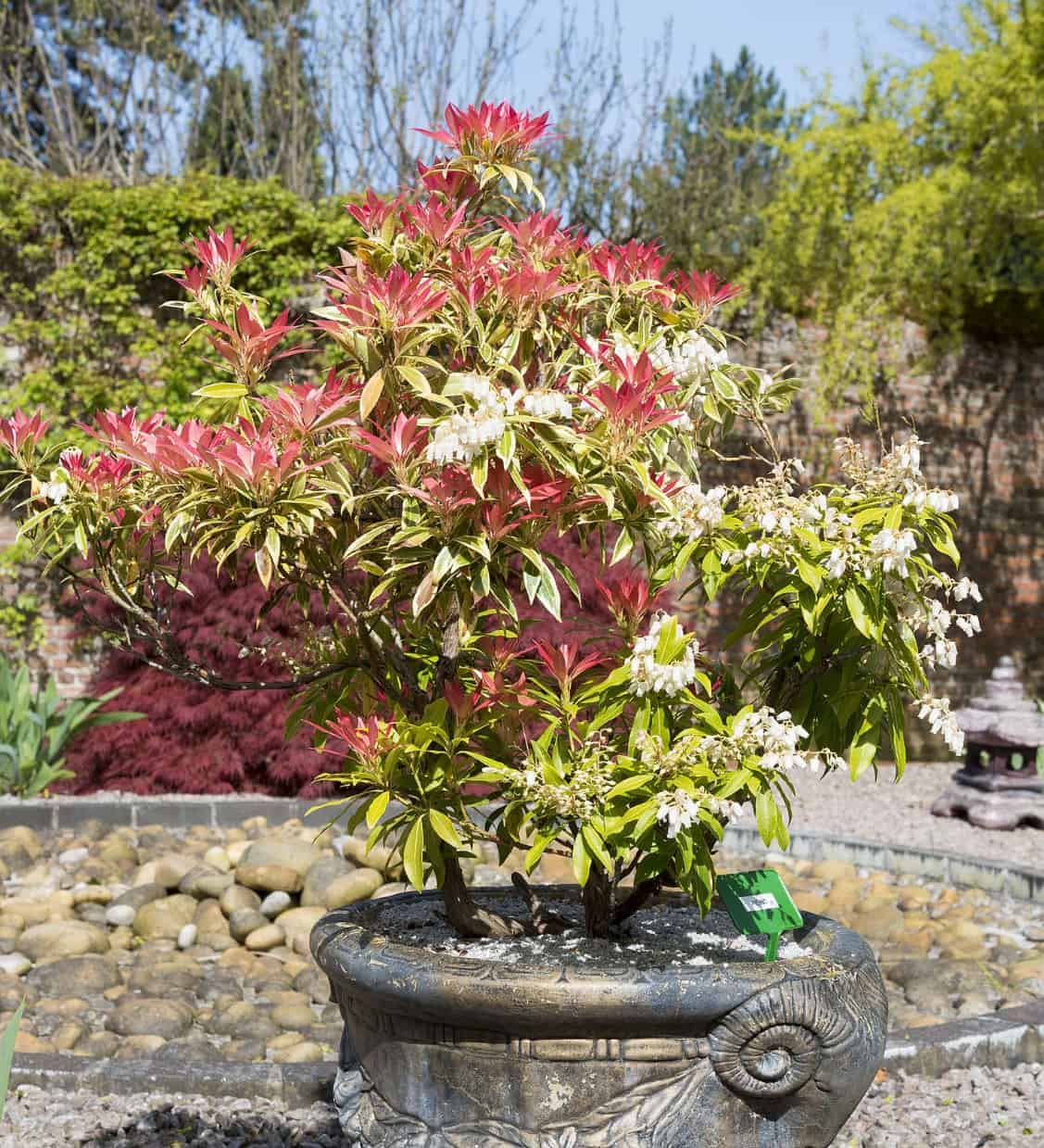 The Japanese Pieris, or lily of the valley bush, produces pendulous chains of fragrant flowers that resemble the lily of the valley plant. The flowers bloom in shades of white, pink, and red and provide a sweet, light scent to the garden.
This bush requires full to partial sun to thrive and grows best in zones 5 through 8. It is low maintenance and deer resistant, with an average mature height of 8 feet, depending on the size of the pot.
Golden Creeping Jenny (Lysimachia nummularia)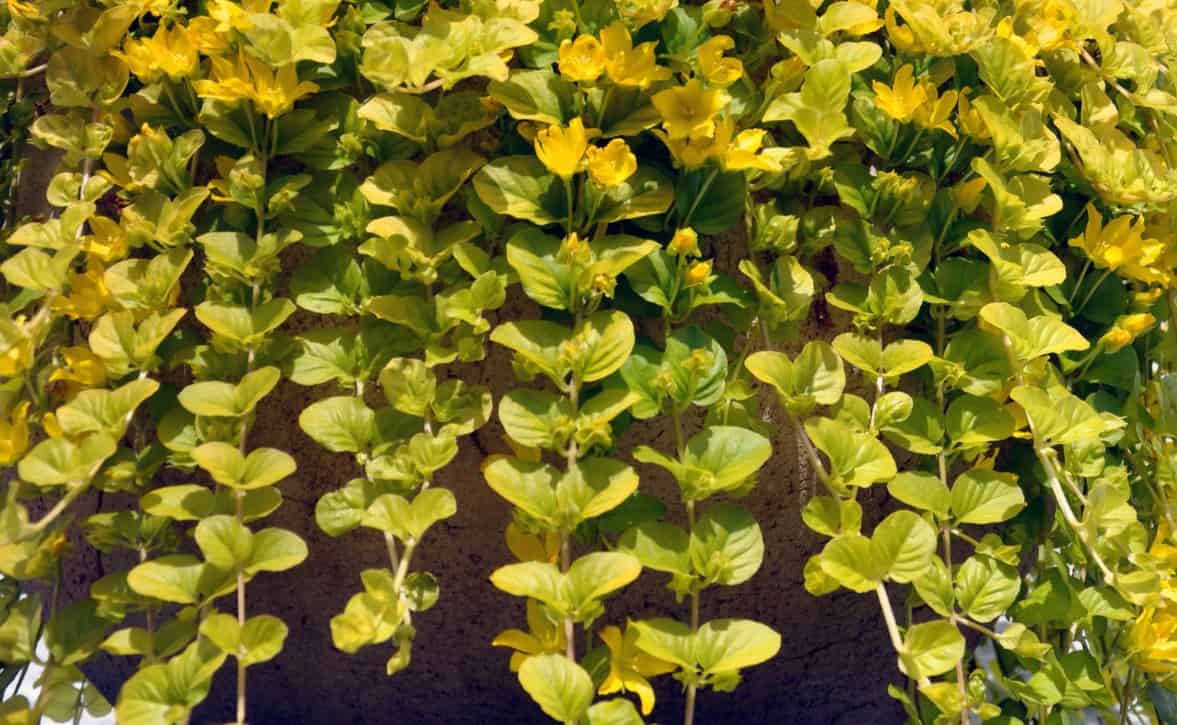 Golden creeping Jenny is a beautiful ornamental creeper that produces bright yellow flowers in the spring, with gold or green foliage, depending on the amount of sunlight it receives.
Because they are spreading groundcover plants, these succulents fill a pot with ease and create appeal in the yard with their cascading and flowing growth.
This low growing plant grows well in both sun and shade and thrives in hardiness zones 3 through 9. The size of the plant depends solely on the size of the pot, and it prefers moist, well-drained potting soil.
Green Mountain Boxwood (Buxus x 'Green Mountain') – Potted Plant with All-Year Color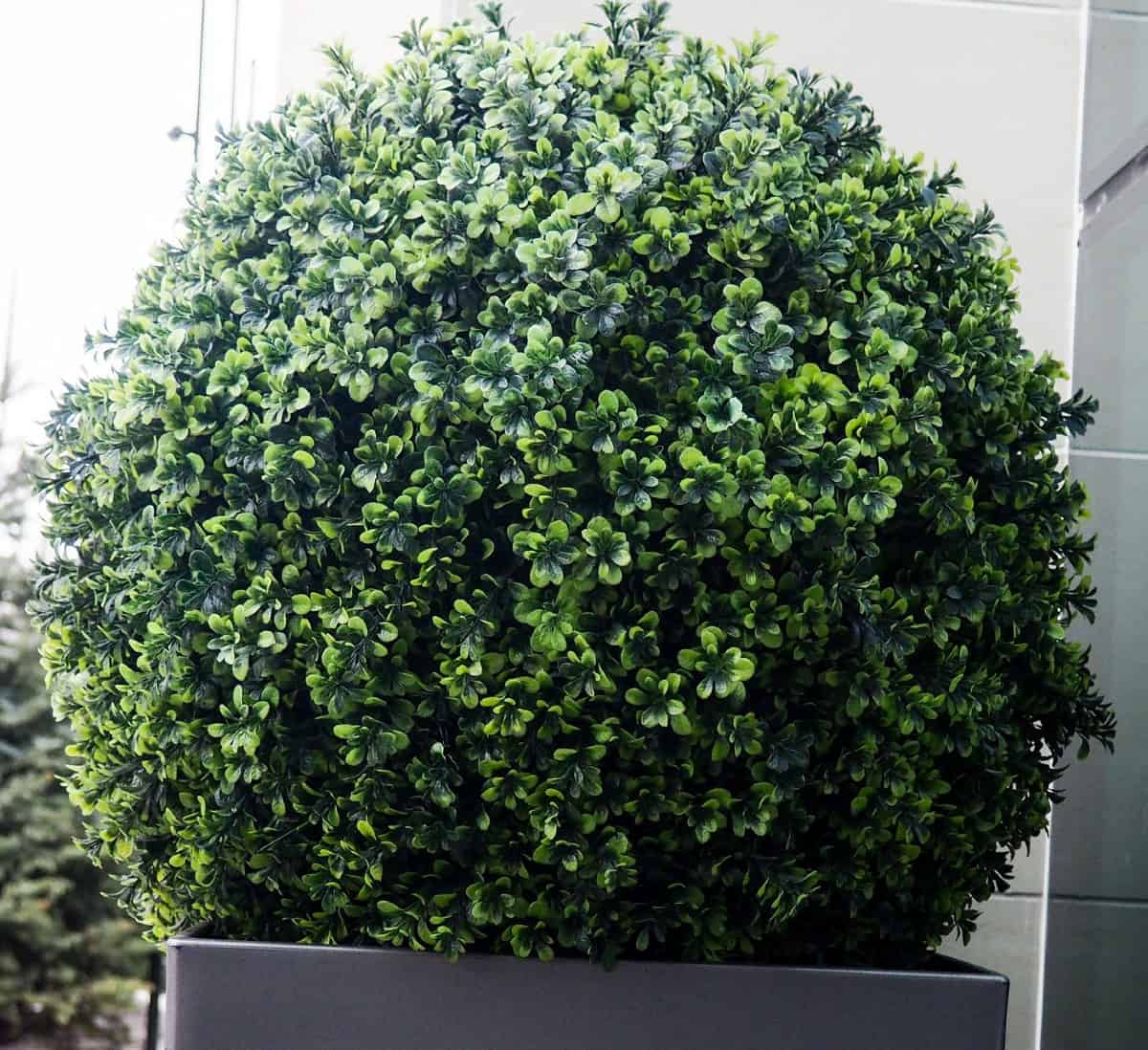 This shrub has bright green foliage and maintains its vibrancy through the winter months. Its broadleaf evergreen leaves are dense and lush, and it grows in an upright, pyramidal form.
The green mountain grows faster than other boxwood varieties and reaches a mature height of 5 feet tall and spreads up to 3 feet wide. It is adaptable and thrives in zones 5 through 9 in full sun to part shade.
Golden Sword Yucca (Yucca filamentosa 'Golden Sword')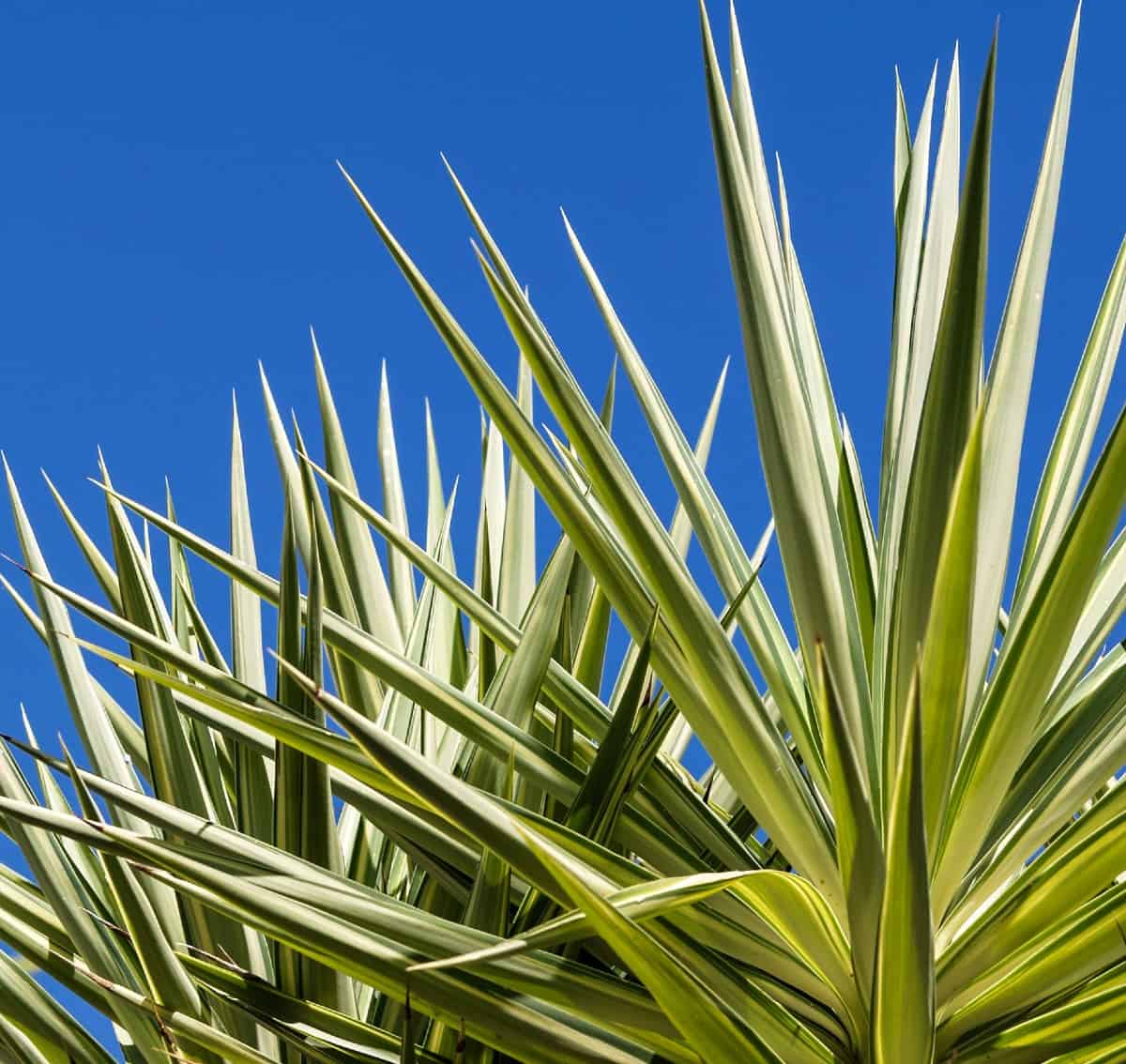 The sword-like leaves of this yucca are boldly striped with bright green and creamy yellow shades. It produces tall spikes of showy and fragrant ivory-white blooms during the spring and creates contrasting textures in a container garden.
This easy-care evergreen plant has a moderate growth rate and reaches a height of 4 feet tall with a width of 5 feet, depending on the pot size. It grows best in zones 4 through 9 and prefers sunny areas of the yard.
Delphinium (Delphinium elatum) – Flowering Plant with Tall Profuse Blooms
This flowering plant is best known for its tall spires of colorful summer-time blooms in shades of red, purple, white, pink, and yellow, with blue being the most common. Delphinium adds a strong, vertical element to a planter with its lush foliage and striking flowers.
This perennial makes an excellent cut flower for the home. It thrives in zones 3 through 7 and does not tolerate hot, sunny days. Delphinium grows best in part to full sun and has an average height and width of 3 feet, depending on the planter size.
Aster (Asteraceae)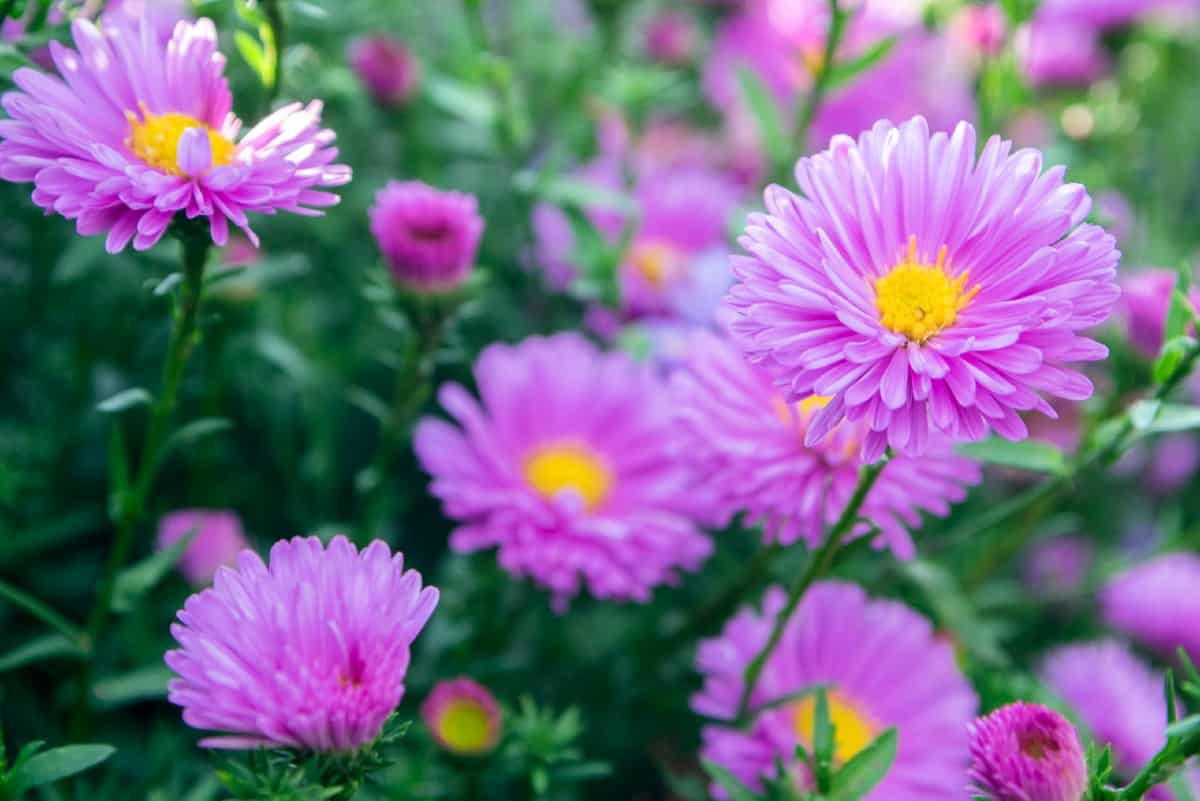 Asters are easy to grow flowers that come in a wide variety of sizes, shapes, and colors. Supported by evergreen foliage, these plants display summer blooms in shades of white, pink, purple, and blue and attract birds to the yard.
This low maintenance plant thrives in hardiness zones 3 through 9 and requires part to full sun to thrive. It is drought tolerant, making it perfect for growing in pots, and reaches an average height of 3 feet tall, depending on the variety.
Lavender (Lavandula) – Container Plant with a Relaxing Fragrance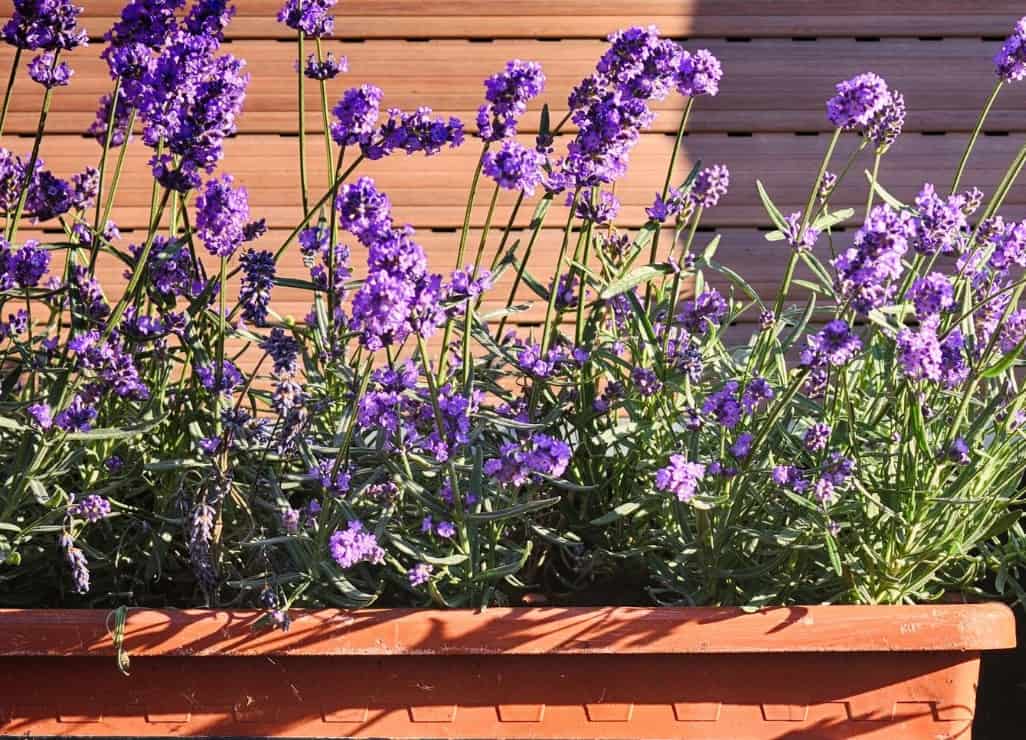 Lavender is an excellent flower to grow in pots to create a multi-sensory bed. It produces purple-top blooms out of highly fragrant foliage and attracts birds to the yard. Potted lavender plants placed around a seating area fills the air with a sweet and relaxing scent.
These herbs for your spring garden are perennials that thrive in zones 5 through 10. They enjoy sunny areas of the yard and have a mature height and width of 3 feet. The plant is an excellent choice for cut and dried flowers for the home.
Primrose (Primula vulgaris)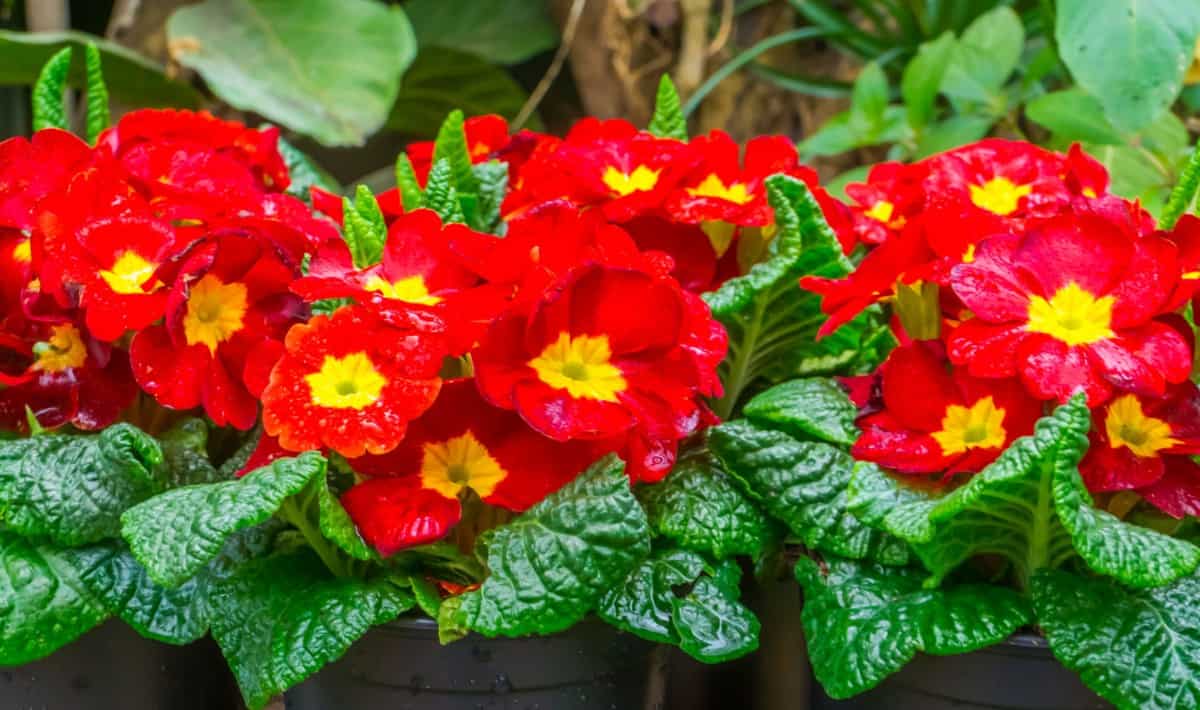 This cheery spring-time plant comes in a wide assortment of colors, shapes, and sizes, making it an ideal plant for the picky gardener. The flowers bloom in shades of blue, green, and red to white, pink, and yellow during the spring with vibrant blue/green foliage.
This low maintenance plant thrives in both shade and sun and grows best in hardiness zones 2 through 8. It is deer resistant and grows up to 3 feet tall and 18 inches wide, depending on the variety.
Hellebore (Helleborus) – Potted Plant with Early Spring Flowers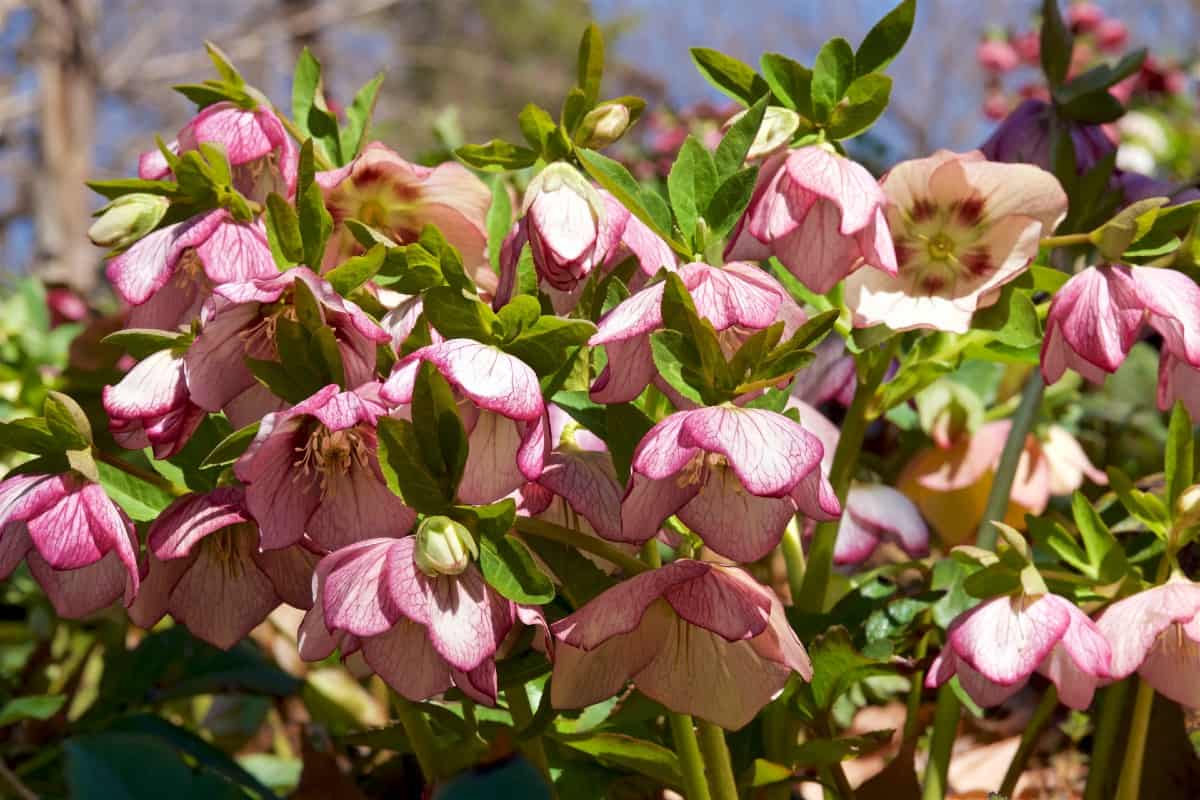 Hellebore produces bowl-shaped flowers in speckled shades of white, pink, yellow, and maroon. The blooms last for several months, from early spring to the first frost, with leaves that grow on sturdy stems in shades of chartreuse/gold.
These easy growing plants are deer resistant and low maintenance and grow well in both shade and sun. Hellebore has an average height of 3 feet tall with a spread of 1 to 3 feet, depending on the type. It thrives in zones 4 through 9.
Note that not only can you grow these lovely plants, but fruits and veggies are also great candidates for pots.
A yard or patio filled with hanging baskets, terra cotta pots, and other garden containers is a sight to see, especially when filled with plants that grow year after year.
They fill the space with lush, green leaves and colorful blooms while creating a focal point. Not only that, but these low maintenance plants reward all of your hard work with year-round enjoyment.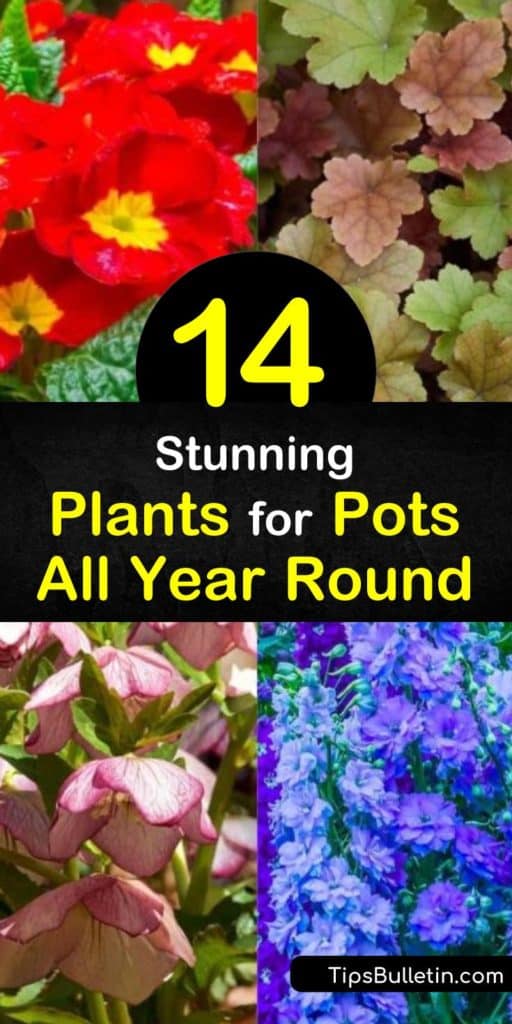 We hope that you fill your yard or patio with some of these amazing plants for pots all year round, and we'd love it if you'd share our year-round plant guide with your friends on Facebook and Pinterest.