It doesn't matter if you have a fence around your property or not; all of us crave some privacy from time to time. If you're thinking about installing a fence or looking to spruce up your existing one, there are tons of amazing plants for your fence line that you may not have considered before.
Privacy plants seem like they were made only for one purpose: creating a border between you and something or someone. On top of the beauty that privacy plants add to your home, they also create shade and incorporate texture, depth, and color to your property.
In the following list, there are plenty of options for a DIY fence made of plants or vines that fill in an existing structure that showcase eye-catching flowers and foliage.
Things to Consider When Planting along a Fence Line
There are two options when planting along a fence line. It is possible to skip the high price of material and labor of wooden and chain link fences and grow trees, shrubs, plants and herbs that deter cats and other creatures while adding interest to your yard.
There are several amazing plants for your fence line that you can handle on your own and give you just as much privacy. If you have a fence surrounding your property, make it look even better by covering it in lush green vines that are easy to prune.
This strategy takes a boring, old fence to the next level and makes your yard feel like a magical oasis. When choosing plants to add to your fence line, consider how much privacy you genuinely desire.
Some plants are denser and taller, while others are shorter and bushier. Double-check that you choose something that fits your demands.
Keep in mind that an existing fence is a backdrop to your plants. Make sure the background looks good with what you envision in the future.
There are dozens of different varieties to choose from, including spiky bush plants that deter wildlife and neighbors at the same time and tall and short species that flower.
Grow some natural deer repellent plants and keep them from nibbling on your flowers or veggies.
The Most Amazing Plants for Your Fence Line: The Arborvitae Tree (Thuja occidentalis)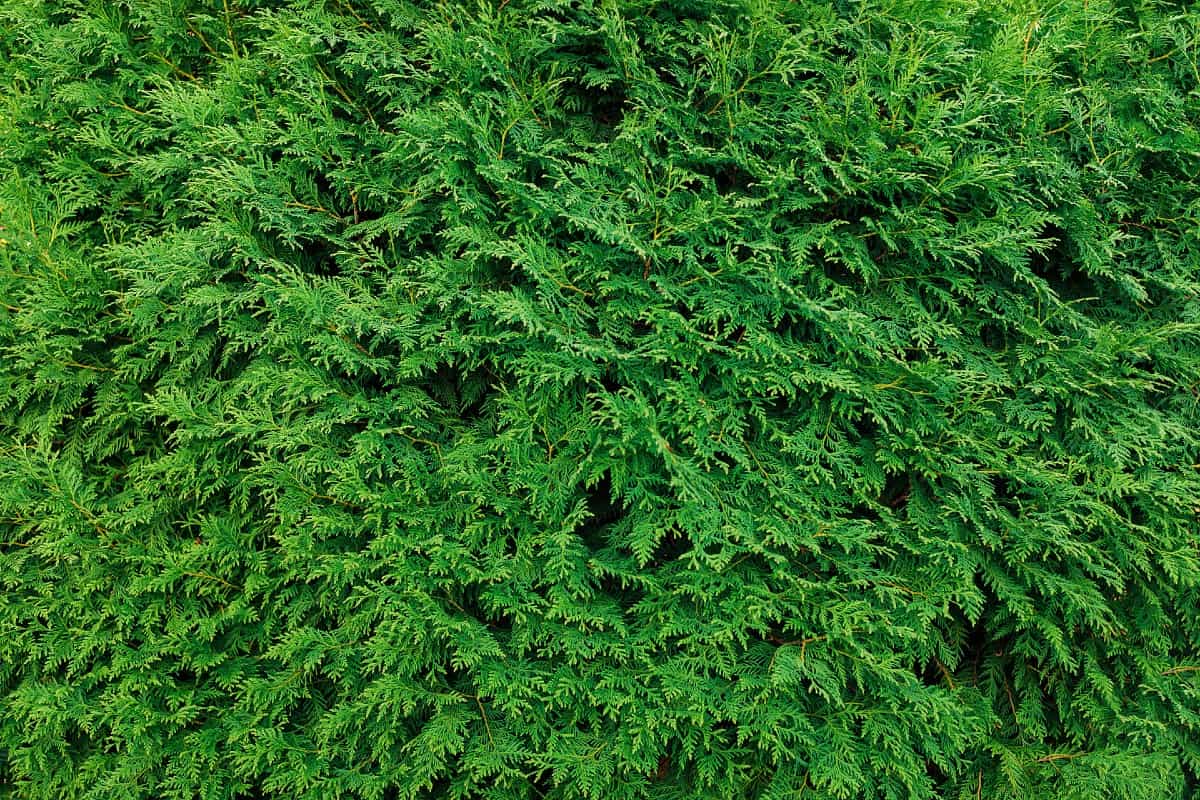 Arborvitae trees are amazing plants for a property border. These evergreens are large fast growing shrubs that require minimal care, all while providing you with a solid privacy fence.
They are emerald green throughout the year and have flat, glossy green leaves and cones that turn reddish-brown every fall. Most grow up to 15 feet high, and some are pruned into spiral shapes.
Arborvitae trees are hardy in USDA hardiness zones two through seven. These trees thrive in areas with full sun to partial shade, although some shade is better in hotter regions.
Well-draining soil and watering twice per week for the first few months is best. Plant each tree three or four feet apart for the perfect DIY fence line.
Boxwood (Buxus sempervirens)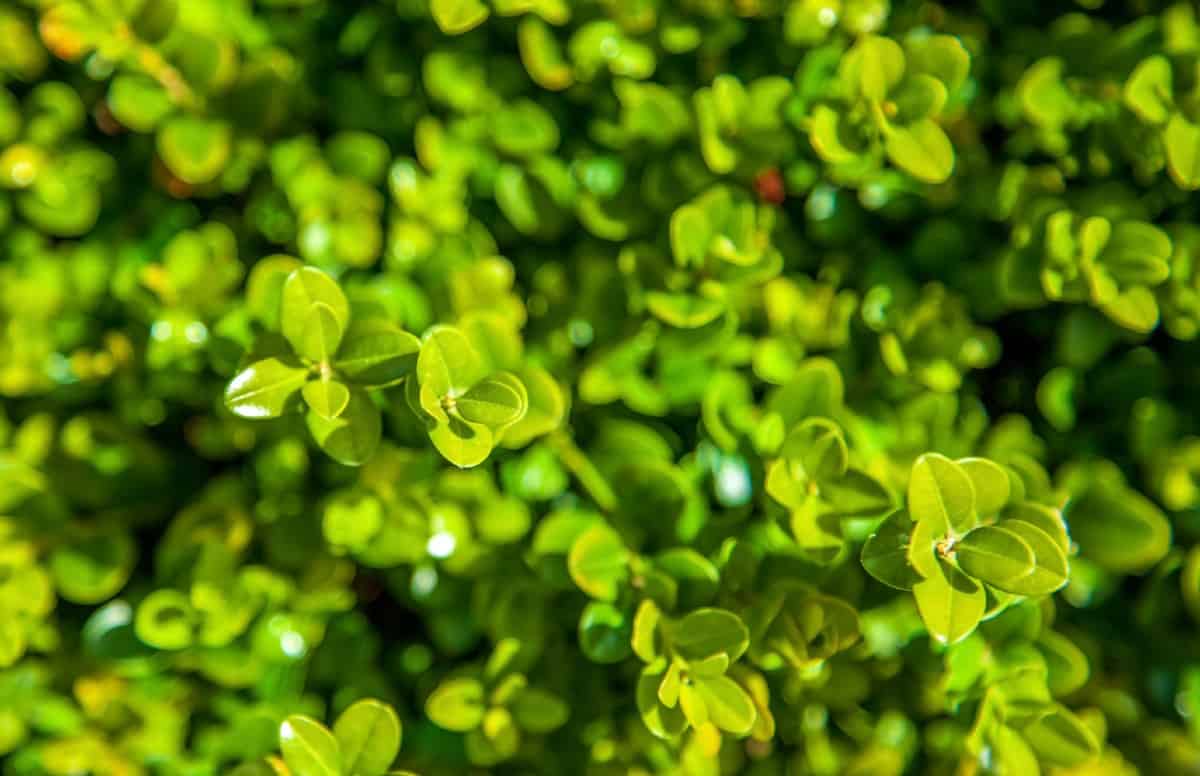 Boxwood plants are dense evergreen shrubs that are perfect for low-growing hedges. Although some varieties grow 20 feet tall, the most common are roughly four or five feet high.
They are incredibly hardy from zones four through nine and can be shaped into numerous forms. Boxwood shrubs like having dappled shade but survive in full sun as well, although temperatures that are too hot cause the foliage to turn bronze.
They have small, yellow flowers that bloom in the spring but are mainly grown for their variegated foliage. Prune boxwood as necessary and add fertilizer each spring.
Boston Ivy (Parthenocissus tricuspidate)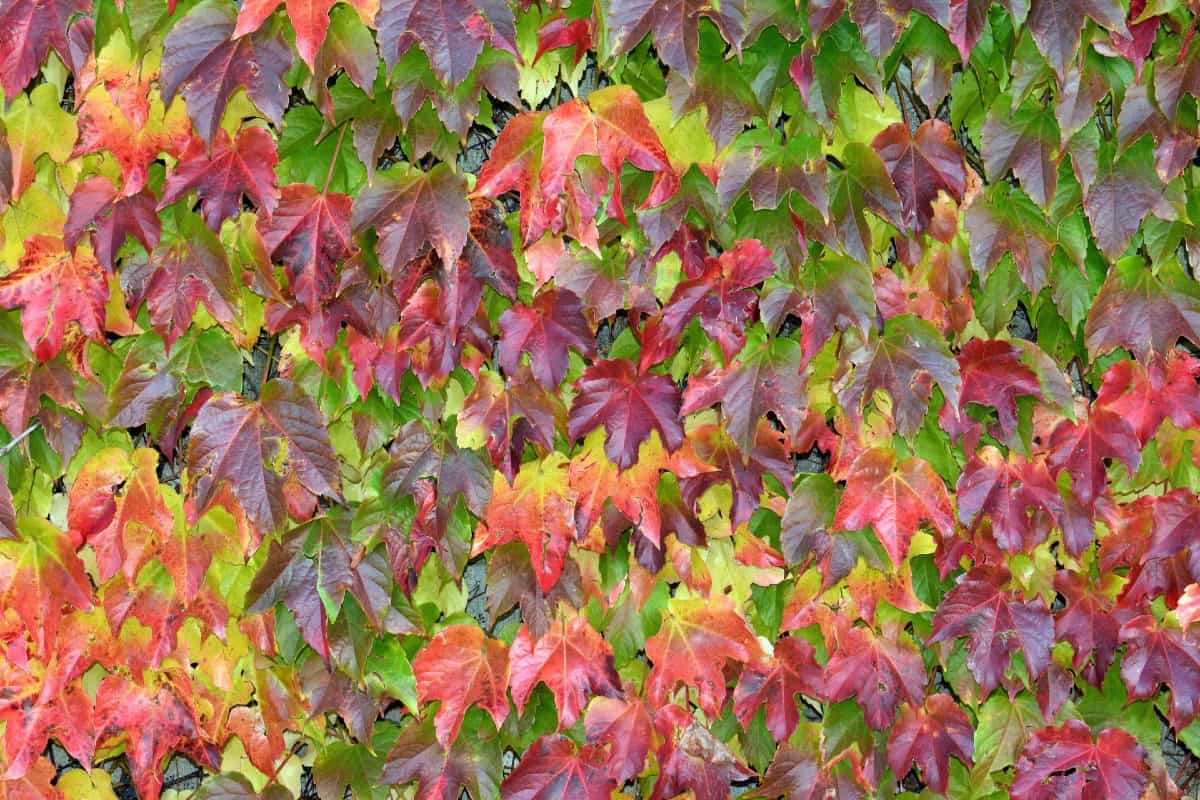 Boston ivy is a low-maintenance climbing vine that makes a beautiful privacy screen when grown along a chain link fence. These plants have shiny green leaves and grow fast in most conditions.
Do not fertilize Boston ivy, or it may take over other plants located nearby. Keep the soil moist for optimum health. However, mature plants are drought tolerant and survive dry soil conditions.
These vines grow up to 50 feet within several years, so prune them often and make sure you choose the perfect location before planting.
Leather Flower (Clematis montana) – Beautiful Flowering Vines for Fences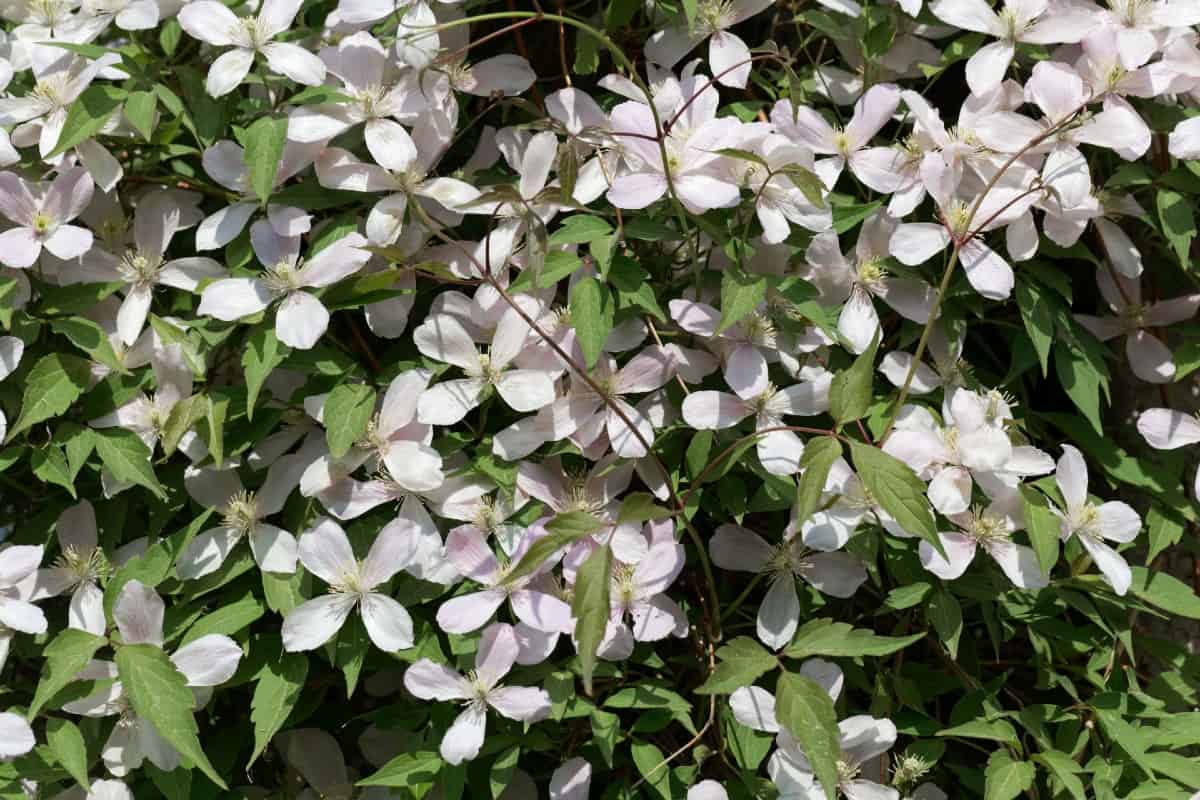 These gorgeous fence line plants are flowering vines that quickly grow on a wooden fence. These vines showcase pinkish-white flowers throughout May and reach lengths of 25 feet.
Because it is a climbing plant, a sturdy structure like a picket fence is the perfect place for them to grow. Plant leather flower vines in full sun or part shade.
They prefer their roots kept cold and their foliage exposed to sunlight. Deadhead the flowers to prevent them from creating a mess after they fall and enjoy their lovely vanilla scent each spring.
Skip Laurel (Prunus laurocerasus)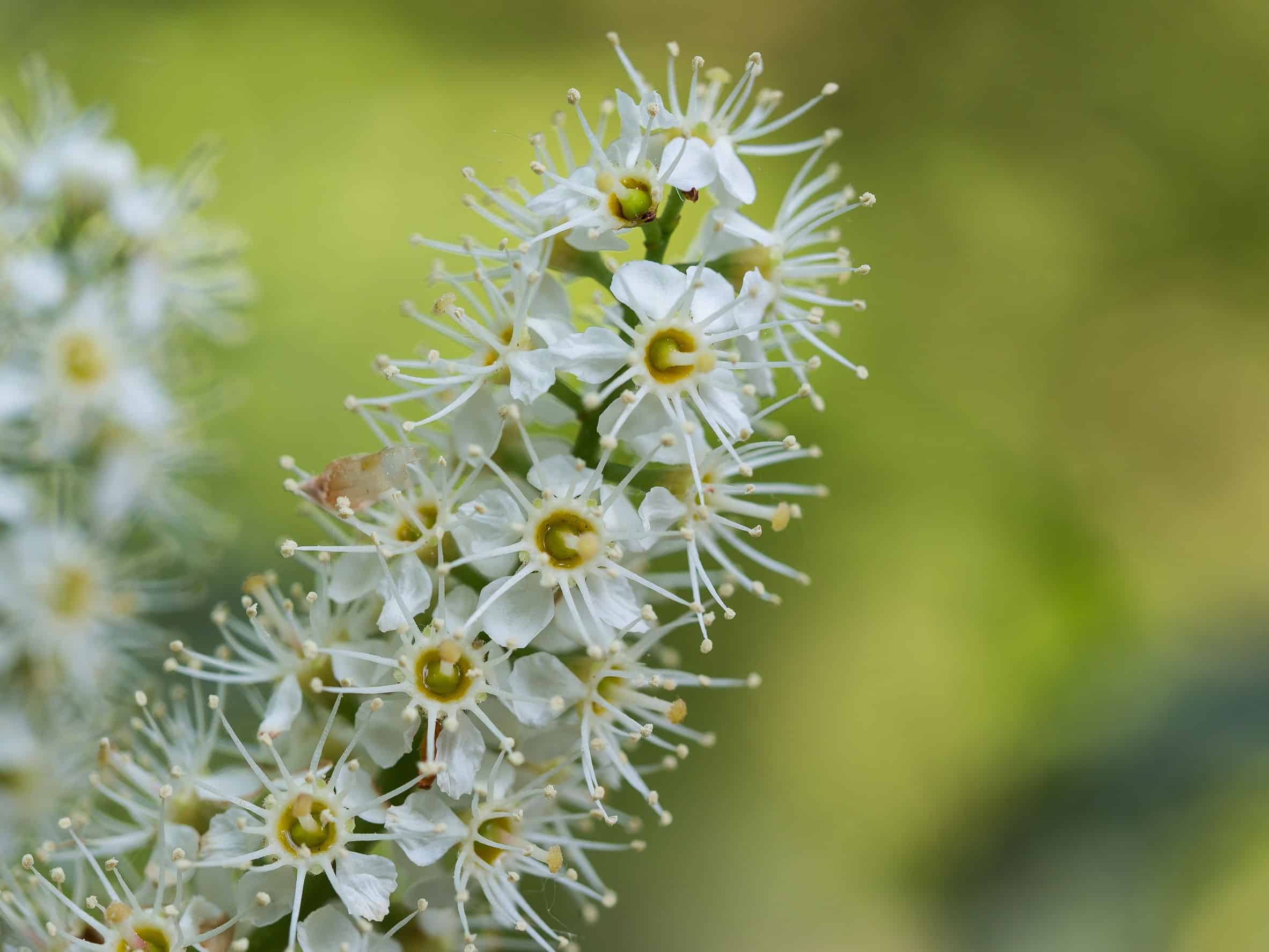 Skip laurels are evergreen shrubs that work perfectly as a DIY fence for outdoor spaces. These plants reach up to 40 feet in height and are hardy to USDA zone five. They have aromatic white flowers that smell like almonds and red berries that attract wildlife.
Plant skip laurels in the fall and place them in a partly sunny to full sun area. They thrive in well-draining soil with a pH level of 6.5 to 7.5. Add a balanced fertilizer every spring and watch these beautiful plants grow strong and healthy.
Silver Lace Vine (Fallopia baldschuanica)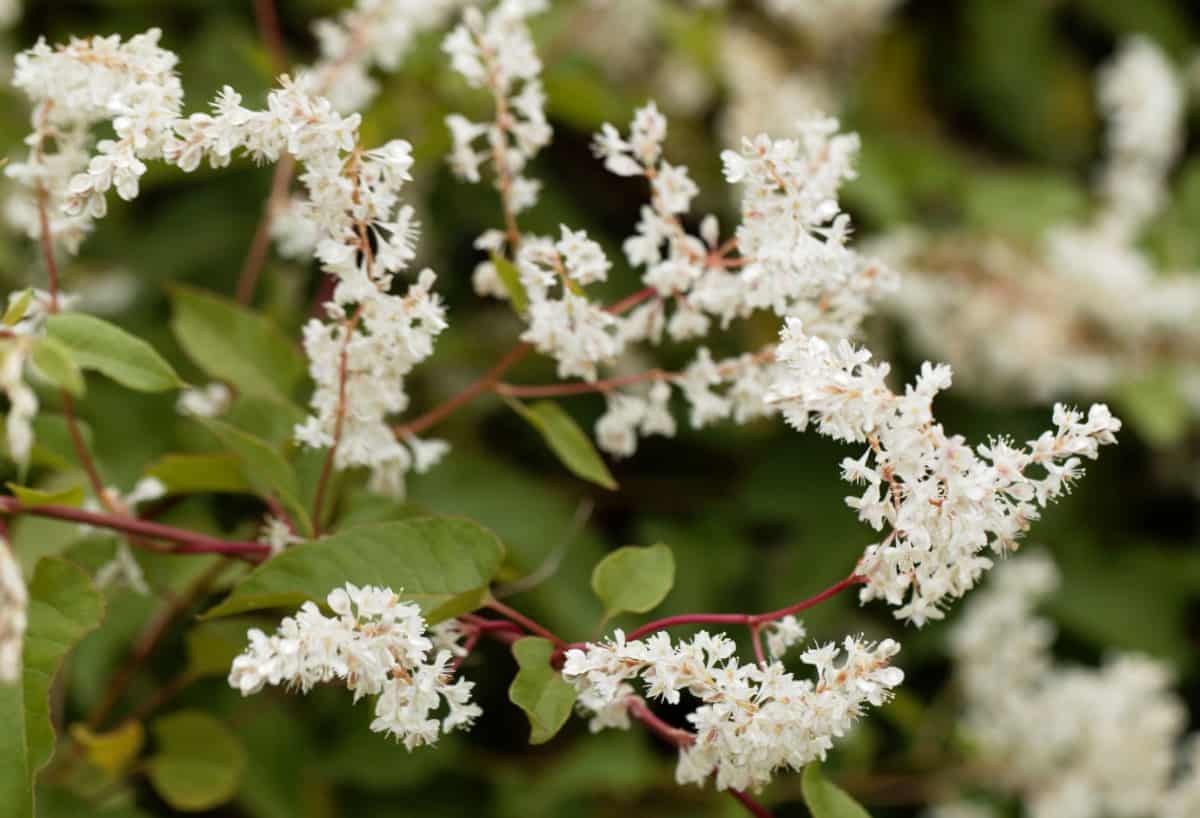 The silver lace vine is an aggressive-growing flowering vine that turns a wood fence into a thing of wonder. It grows up to 12 feet every year and twists around its support system.
There are fragrant white flowers that bloom from summer to fall, and the plants are hardy in USDA zones four through eight. Silver lace vines are easy to maintain.
The primary labor with these vines is having to prune them so they don't become overgrown and overtake the rest of your garden.
Once these vines establish themselves, they aren't picky about the soil or amount of sun. They fill your yard with beauty, and you'll be able to smell them from the moment you set foot in your front yard.
Shrubs for Hedges: Privet (Ligustrum ovalifolium)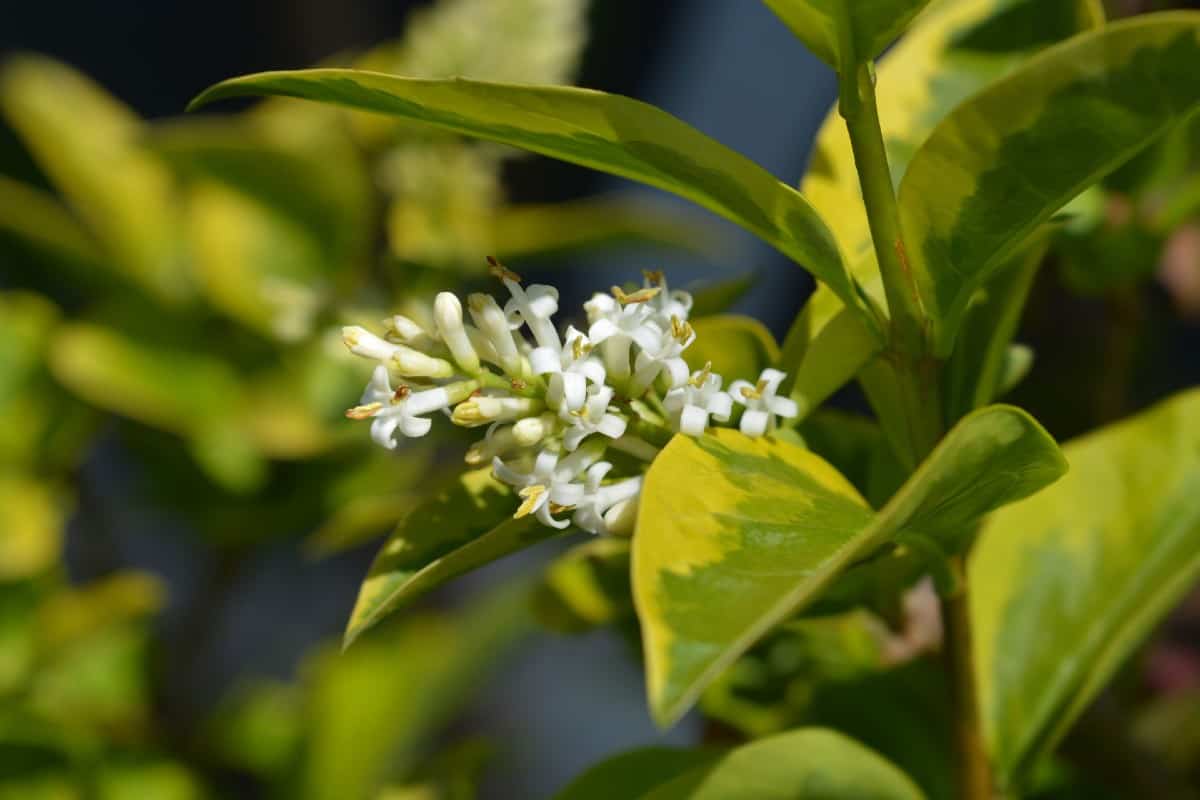 The privet plant is famous for its capabilities of creating a beautiful hedge along a property's border. These trees are great for those looking for a more private setting because the foliage is dense and can be shaped into any form you desire.
It also produces small, white flowers that attract butterflies, bees, and other essential pollinators. Privets grow anywhere from four to 15 feet tall and eight feet wide, making perfect tall hedges if you need the added privacy.
Privet plants tolerate a wide range of soils but prefer to have full to partial sun. They are hardy in hardiness zones five through eight and native to Europe, North Africa, and Asia.
Yellow Jessamine (Gelsemium sempervirens)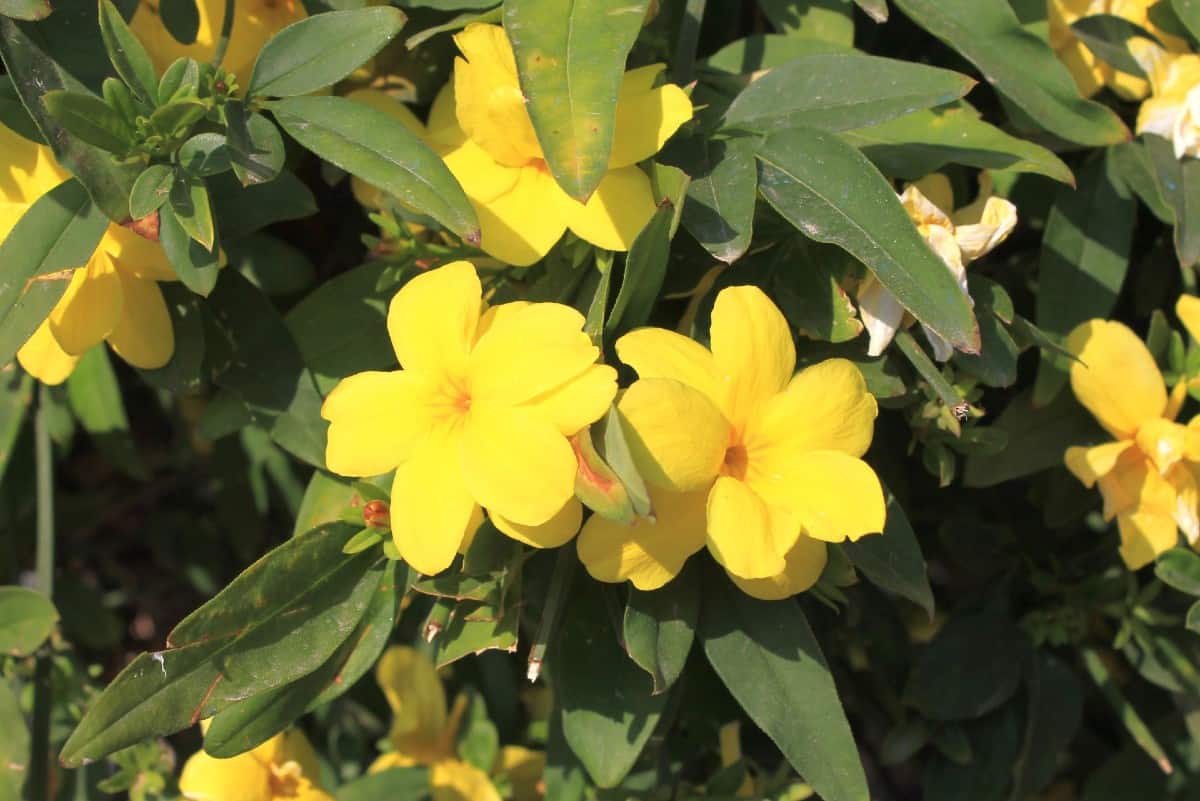 Some of the most amazing plants for your fence line include yellow jessamine. It has stems extending as far as 20 feet, and it twines itself around trellises, arbors, fences, and whatever else is in its path.
Jessamine has glossy, dark green leaves that keep their color all year and are covered in clusters of aromatic yellow flowers in the late winter and early spring.
Yellow jessamine is native to the southeastern United States and is hardy in USDA zones seven through nine. Jessamine tolerates partial shade but prefers lots of sunlight. Add fertilizer to the soil every spring and prune them when they start looking a little wild.
American Holly (Ilex opaca)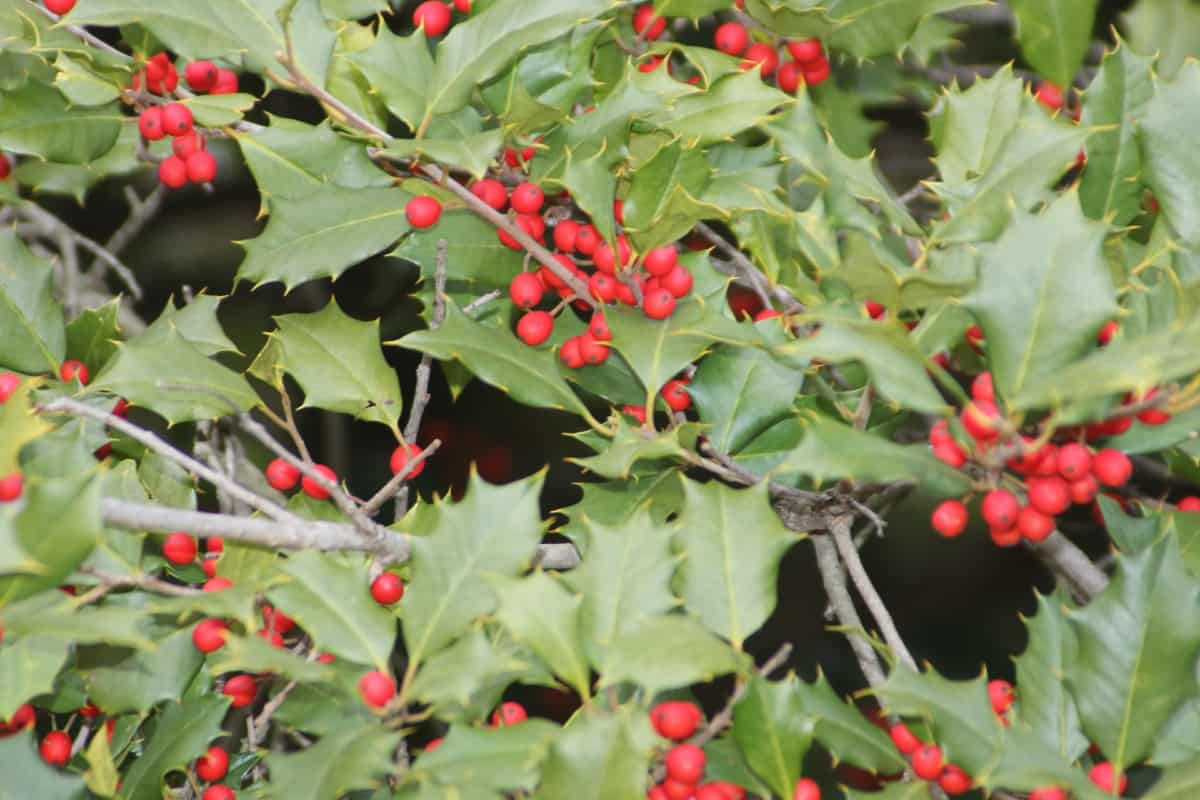 Most people are familiar with holly. These evergreen shrubs grow 15 to 50 feet tall and are famous for their striking red berries that appear every fall and winter.
Holly bushes have dense, dark green foliage that shelters birds from the elements and are unique plants for your fence line. Although holly trees tolerate most soils, their ideal type is acidic, with plenty of drainage.
They do best in partial sun but also grow in shade or full sun. The shrubs tolerate some flooding, drought, and even salt. They are genuinely hardy plants for those with harsh yard conditions.
Creeping Fig (Ficus pumila) – Vines with Unique Foliage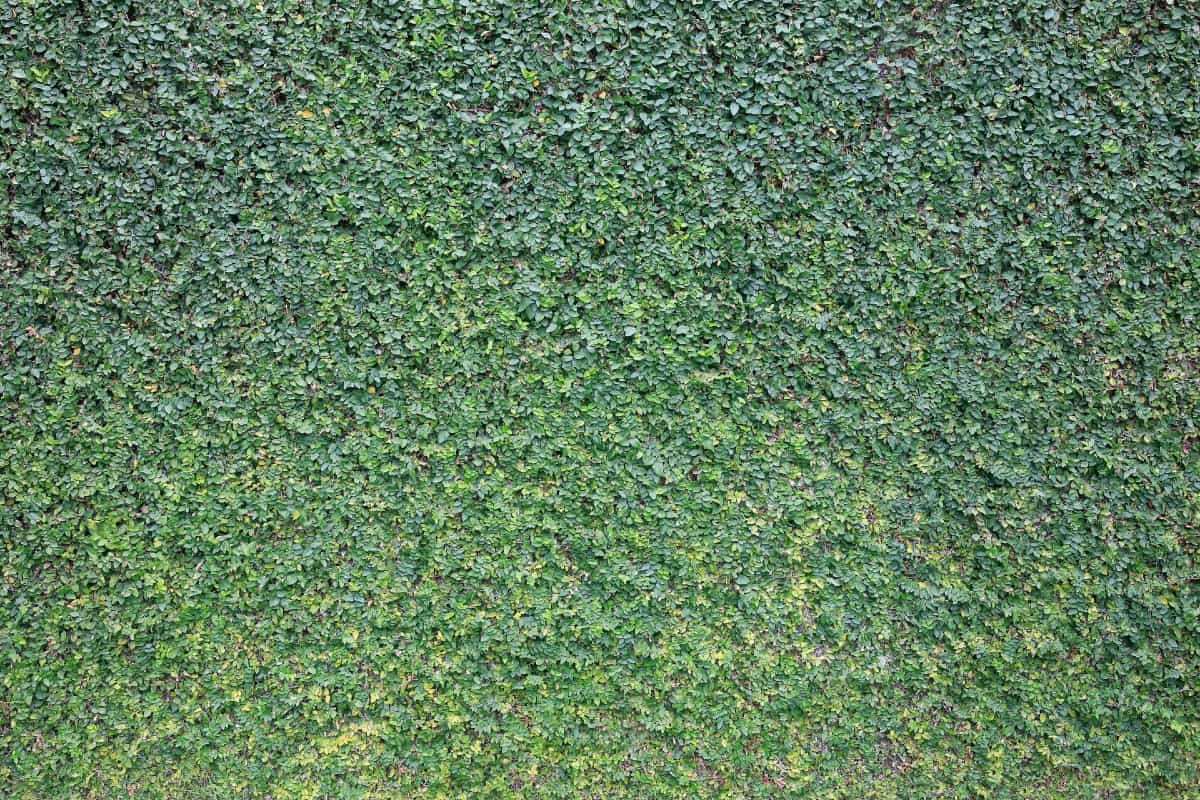 The creeping fig vine is most well-known for areas needing wall cover. Although they are often sold as houseplants, they make excellent choices for growing along an outdoor fence if you live in USDA hardiness zones seven or above.
They also work as ground covers and rise to 20 feet long. Creeping fig vines don't require overly fertile soil. More deficient soil helps them to grow more slowly for those not interested in lots of pruning.
They enjoy all light conditions, from full shade to full sun, and only require regular watering until they are more mature.
Hicks Yew (Taxus x media)
Hicks yew is a shrub that makes a stunning privacy screen. It has upright growing branches with thick, shiny, and dark green needles. These trees are tall and narrow and form columns around the yard for an exciting look.
In the autumn, they produce red berries that contrast with the foliage and bring color to your home while other plants fade.
Hicks yew is hardy in zones four through seven and isn't ideal for areas with hot temperatures. They do best in full sun or part shade and grow up to 12 feet tall. They are slow growers but look perfect as a fence with a little upkeep.
Red Twig Dogwood (Cornus sericea)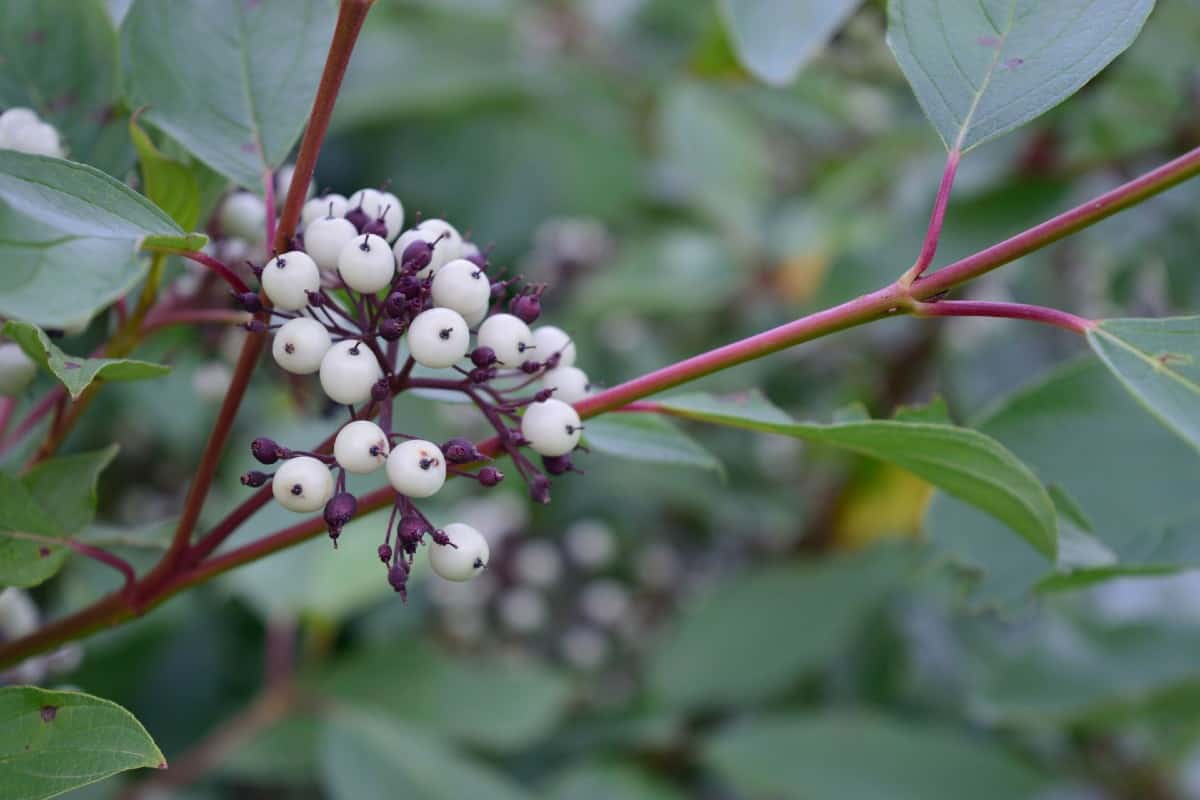 The red twig dogwood shrub is known for its fire-red stems that look like flames during the fall and winter. It has white spring blooms, variegated leaves during the summer, and berries that show up afterward.
Red twig dogwoods line the border of your yard and bring pops of color that the neighbors will envy. They grow best along a southern or western facing wall and look even more impressive when used alongside the yellow twig dogwood species.
Give these dogwoods full sun to partial shade and fertile, slightly acidic soil for optimal health.
Exotic Plants for Your Fence – Dutchman's Pipe (Aristolochia macrophylla)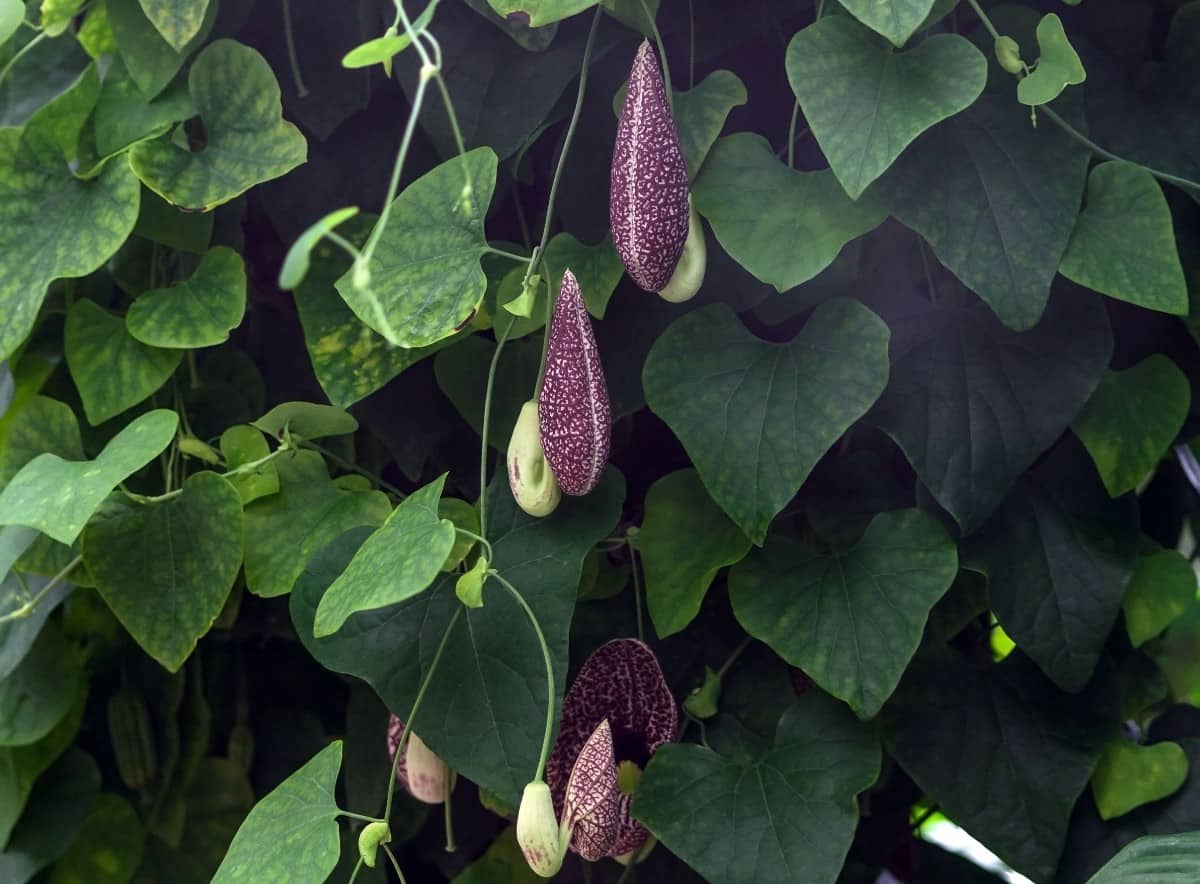 If you want your privacy fence to stand out, adding the Dutchman's pipe vine is a sure way to do it. These striking plants have exotic-looking flowers that resemble curved pipes every late spring and early summer.
The heart-shaped leaves glow green and attract swallowtail butterflies and other beneficial insects. The Dutchman's pipe vine thrives in full sun to partial sun.
They like moist, well-draining soil and require lots of water. Don't allow the soil to dry and fertilize the ground each spring.
Trumpet Vine (Campsis radicans)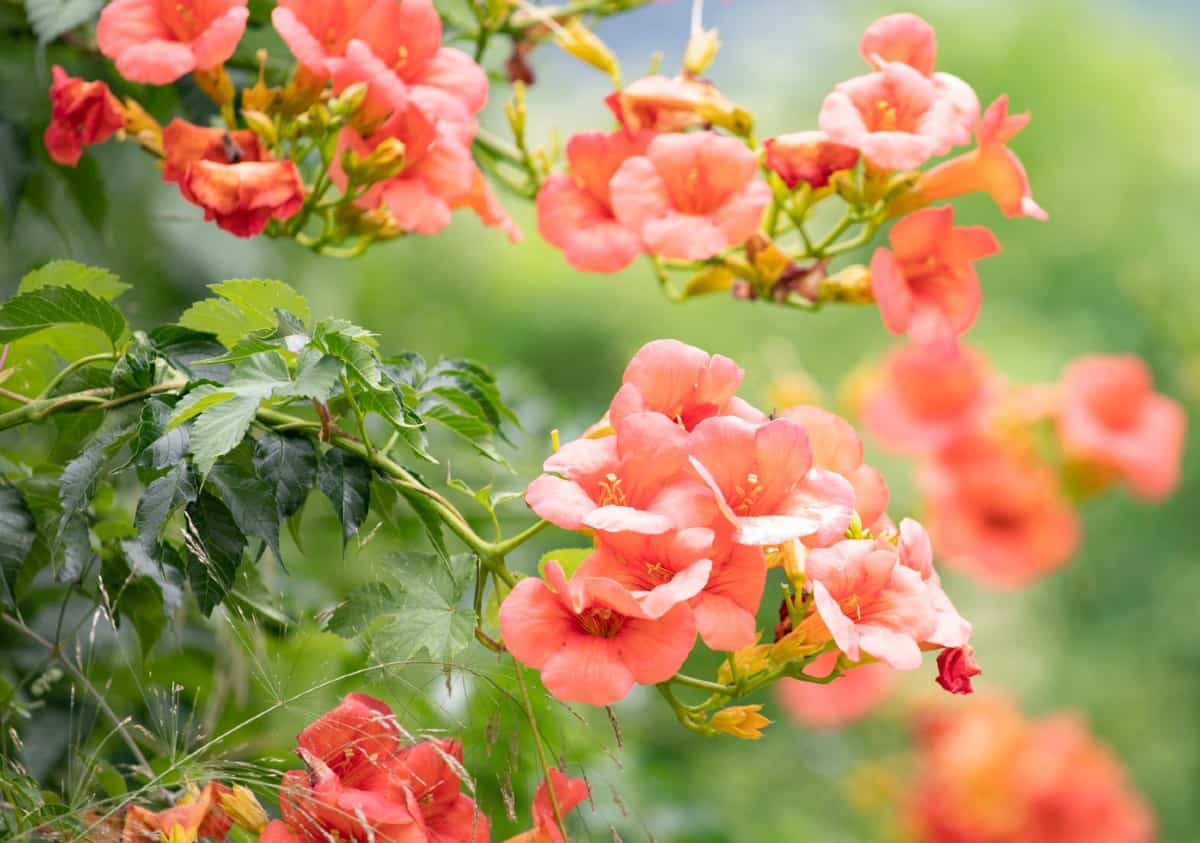 Trumpet vines are some of the most popular and amazing plants for your fence line. Their bright orange flowers attract hummingbirds and grow in the shape of – you guessed it – a trumpet.
These are fast growers and quickly sprawl out along a supporting fence. Their leaves are extra-large and dark green.
If you're willing to prune trumpet vines, they are mesmerizingly beautiful. They reach a mature size of 40 feet long when grown in full sun and soil with good drainage. They are also hardy in zones four through nine and native to the southern United States.
The best thing about choosing which plants to grow along your fence line is the variety of options you have.
Whether you want a tall tree, a short shrub, or a simple green vine, there are always plants that fit what you're looking for. As long as you give the plants the appropriate environment, they will pay you back and give you the privacy you want.
If these amazing plants for your fence line helped you create privacy, feel free to share these DIY privacy fence plants on Facebook and Pinterest.