As a homeowner, you likely dream of a beautiful backyard where you enjoy family time in private, and why shouldn't you? You work hard, and you deserve some down-time in the privacy of your outdoor space without the prying eyes of a nosy neighbor. There is a vast array of amazing shrubs for privacy that not only give you the seclusion you're looking for but reduce noise and act as a wind barrier as well.
Shrubs are an excellent choice for creating a privacy fence around your yard. The best thing about shrubs is there are so many varieties that you are sure to find the perfect ones for your backyard space.
Create privacy with a dense hedge of bright green foliage, fill empty spaces with vibrant fall color, or fill the area with fragrant white flowers or red berries.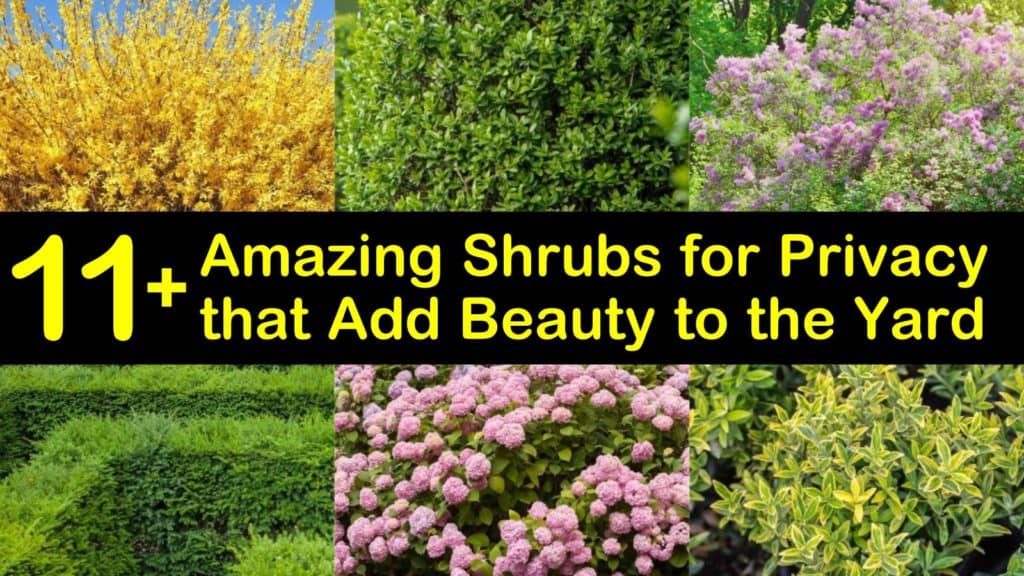 Creating Privacy with Shrubs
You've already taken the first steps for planting hedges around your house for privacy. The next steps are deciding which types of shrubs are best for your garden, where to plant, and how to care for them so that they fill your yard with years of natural beauty.
Should I Plant Deciduous or Evergreen Shrubs for Privacy?
There are a few factors to think about when deciding to plant deciduous or evergreen shrubs. Evergreen trees are the best plants for privacy around your house around the yard because they keep their foliage throughout the entire year. These are the right choice if you desire a continuous natural fence.
As a bonus, choose red evergreen shrubs to intersperse with green ones for added color and interest. On the other hand, deciduous shrubs offer something to the yard that some evergreen types do not, such as colorful fall foliage and flower blooms.
The only downfall is that these types shed their leaves at the end of each growing season, leaving your yard exposed for several months each year. This isn't necessarily bad if you only spend your time outdoors during the warmer months.
How Fast Do Privacy Trees and Shrubs Grow?
Trees and bushes are available in many types, including both slow-growing and fast-growing shrubs. The amount of time it takes for them to reach a mature height all depends on the variety. Some bushes grow several feet a year while others grow much slower.
The key to determining how fast a shrub grows is to look at the plant care tag while browsing plants at your local nursery. Check for its yearly growth rate and the mature height and spread before purchasing to ensure you get the right privacy shrubs for your yard.
Where Should I Plant a Privacy Hedge?
Before choosing and planting privacy shrubs in your yard, take a stroll around your outdoor space to determine how much sunshine it gets, how much space you have, and the areas you desire the most privacy. Doing this helps you choose shrubs wisely, which saves you money and time in the future.
Pick shrubs with the proper hardiness zones for your region and choose the right plants to grow according to the amount of sun your yard receives. If you are planting shrubs for windbreak purposes in addition to privacy, locate the area of your yard with prevailing winds, usually from the northwest.
Are Shrubs for Privacy Hard to Maintain?
Contrary to what you think, growing shrubs is relatively easy. While they do require some maintenance after planting to ensure they get settled in with healthy growth, shrubs generally take care of themselves after they establish.
Check the planting guide on shrubs at the garden center for key phrases. The easiest shrubs to grow that require very little work on your part are plants that are labeled low-maintenance, deer resistant, and drought tolerant. These easy growing shrubs only need occasional trimming to prune away dead or diseased branches.
If you are looking for safety as well as privacy, think about interspersing some thorn bushes with other hedge plants to deter animals and people from entering your property.
Emerald Green Arborvitae (Thuja occidentalis)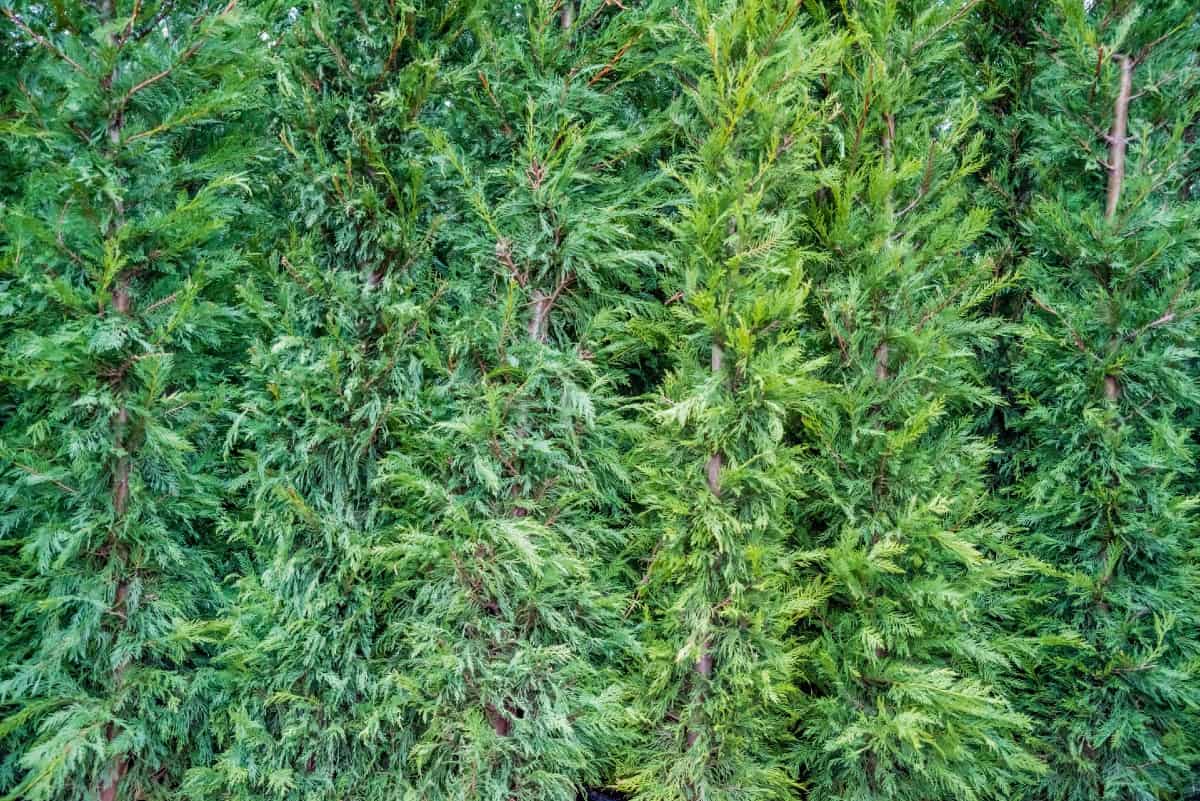 The arborvitae is a popular evergreen shrub that produces dense foliage, making it an ideal candidate for a living fence for your backyard or as shrubs to grow near the pool to keep out prying eyes.
Not only do they keep the yard private, but they are easily trimmed to create living works of art. However, they are just as happy being left alone. This slow-growing tree thrives in zones 2 through 7.
It is considered low maintenance shrubbery, has blue/green foliage, and requires full to part sun for the best growth. The Emerald Green Arborvitae reaches a mature height of 20 feet or more with a spread between 10 to 15 feet.
Forsythia (Forsythia × intermedia) – Privacy Shrub with Early Spring Blooms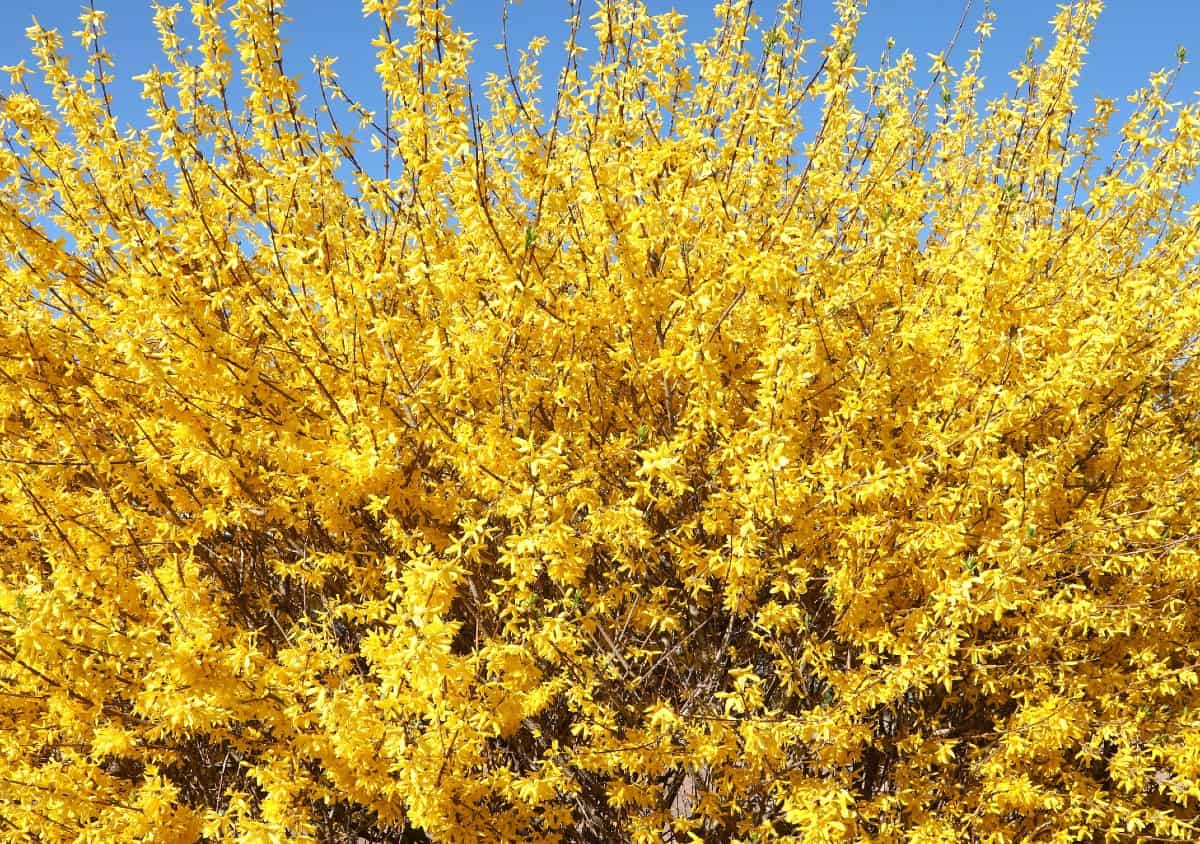 This shrub produces bright golden blooms in early spring before any other plant is even considering new growth. Forsythia grows in elegant mound shapes and is an excellent shrub for breaking out of the winter blues.
As a low maintenance shrub that is also deer resistant, it is easy to grow and thrives in partial to full sun. Forsythia grows best in zones 4 through 9 and also makes an excellent cut flower. Forsythia grows to a mature height of 8 to 20 feet and a width up to 12 feet, depending on the variety.
Hydrangea (Hydrangea macrophylla)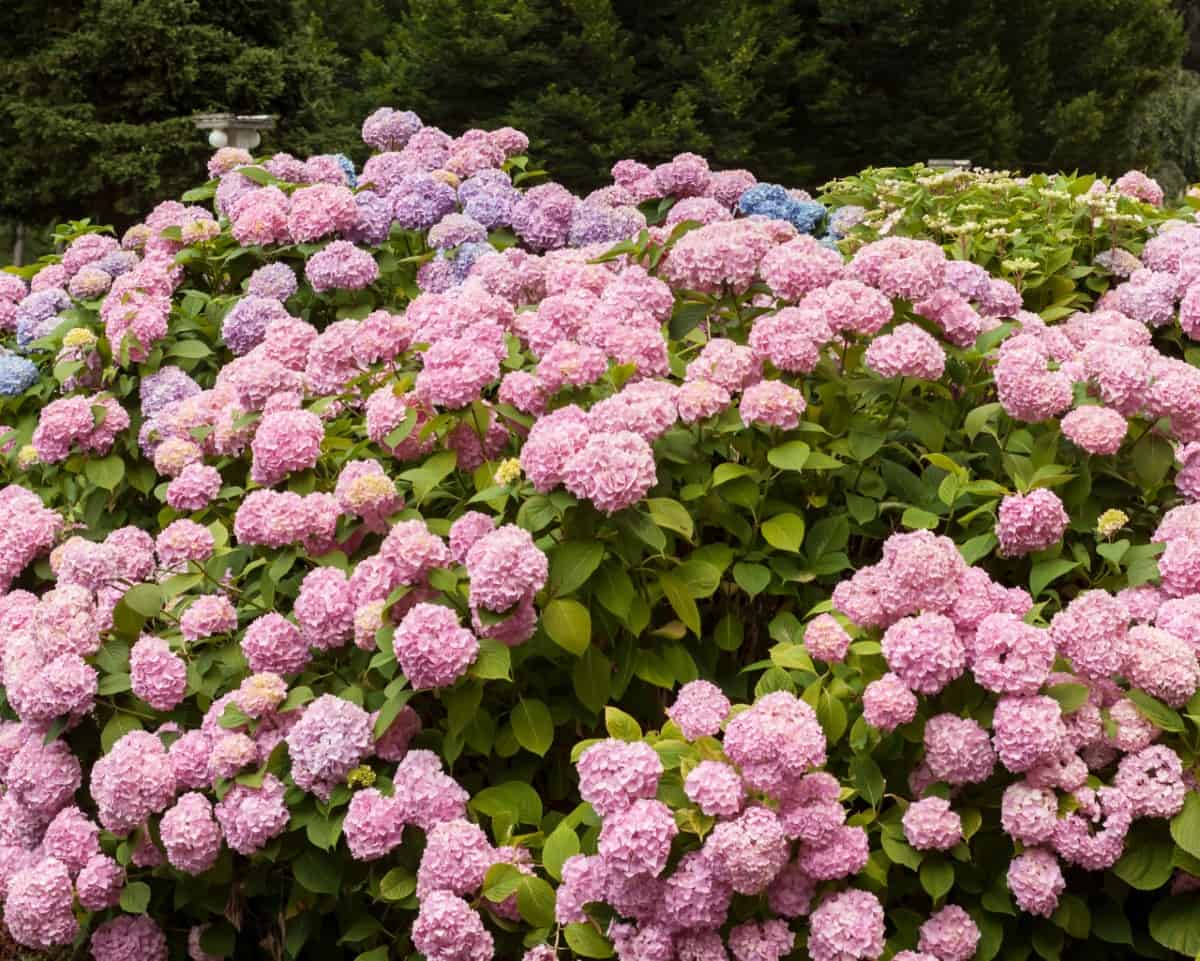 Hydrangeas produce huge bouquets from summer through fall in colors that range from blue and purple to white and pink. It comes in many different sizes, colors, and shapes with foliage that is blue/green or chartreuse/gold.
This deciduous shrub grows 3 to 20 feet tall with a spread of up to 12 feet, depending on the type. It is low maintenance and grows in zones 3 through 9. Hydrangeas are tolerant of both shady and sunny locations in the yard.
Lilac (Syringa) – Highly Fragrant Flowering Bush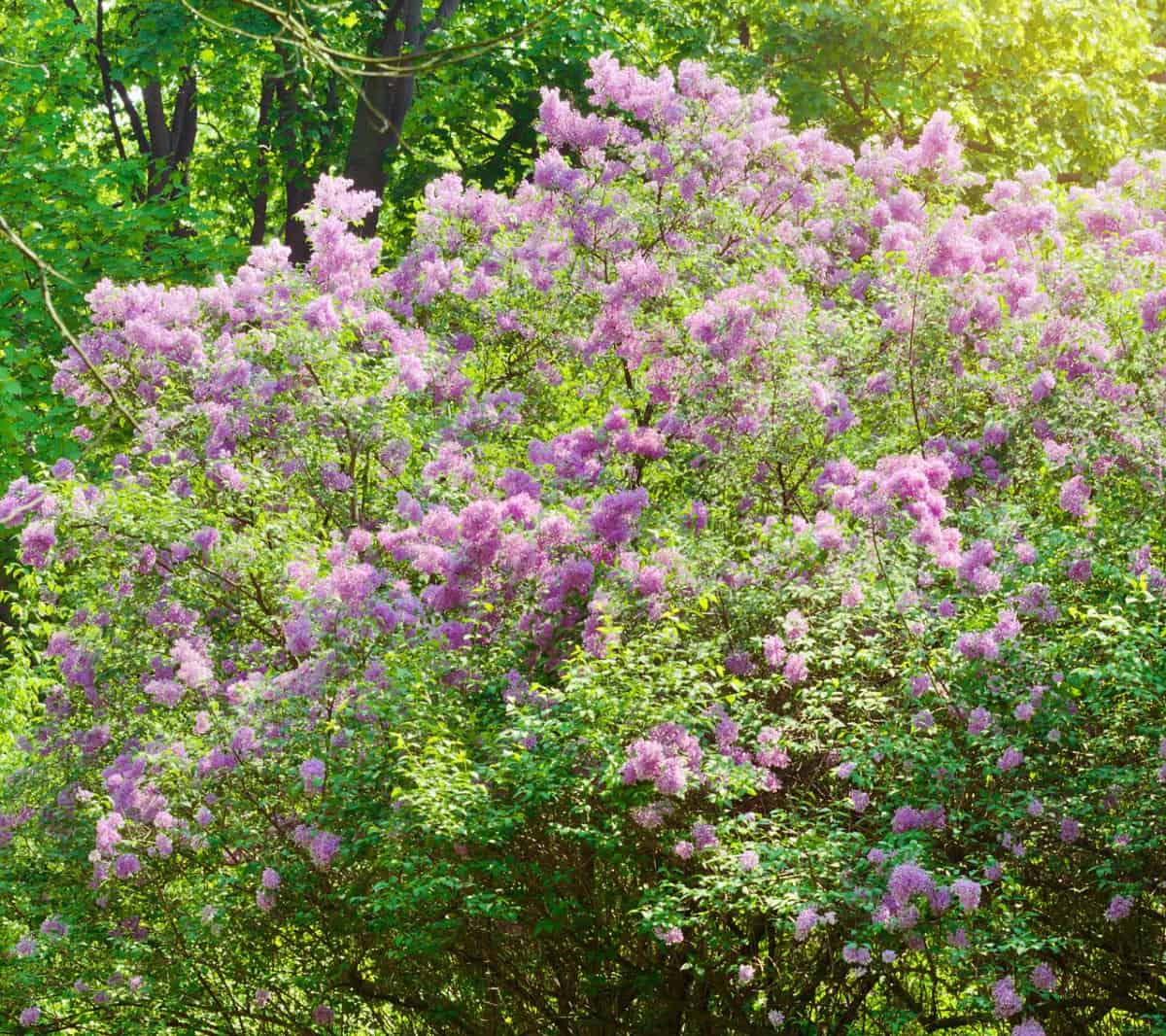 Lilac is a sizeable deciduous bush that produces heart-shaped leaves and pastel flowers in shades of blue, white, purple, and pink. These sweetly scented blooms make lovely cut flowers for the home and attract butterflies and pollinators to the yard.
This shrub is covered in blooms from spring through summer and thrives in full to part sun. It grows best in zones 3 through 7 and is low maintenance and drought tolerant. There are many different varieties of lilac, and they reach varying heights of 3 to 20 feet with a width of up to 15 feet or more.
Euonymus (Euonymus fortunei)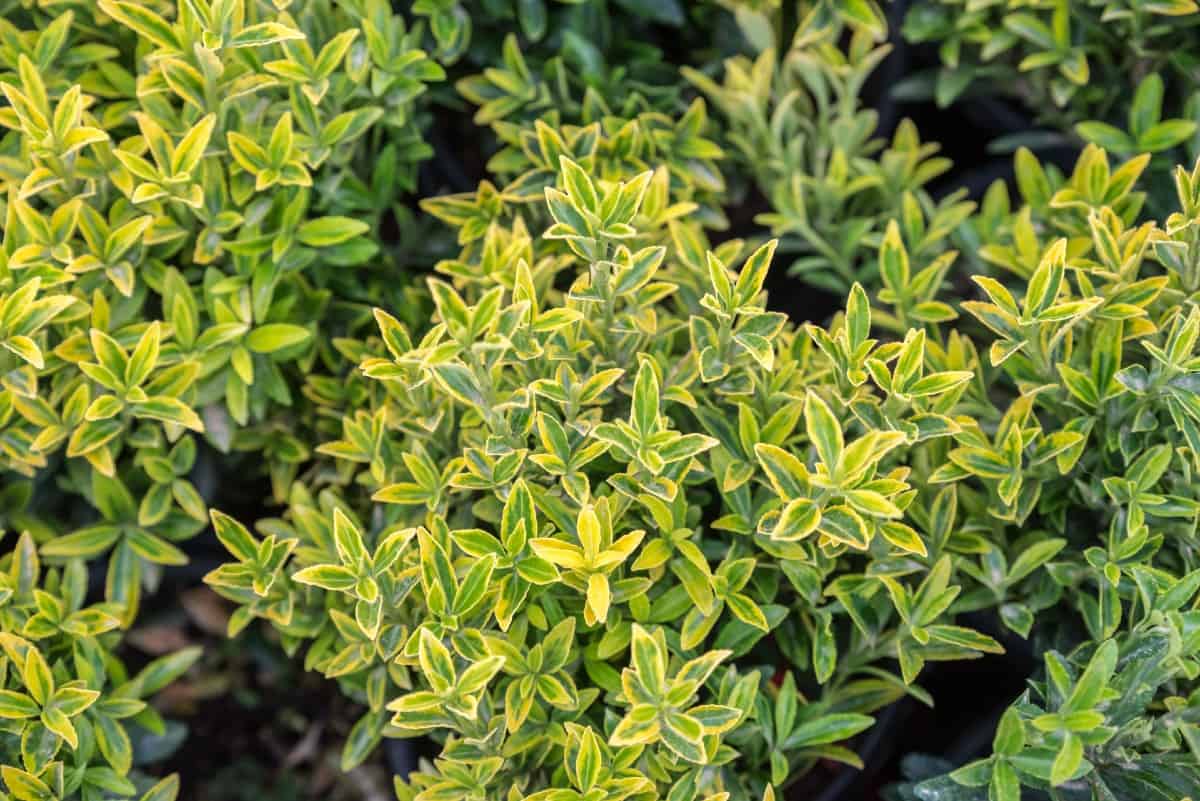 This dense, woody-stemmed deciduous shrub fills with colorful variegated leaves and colorful fall foliage. The Euonymus produces white and yellow flowers in the spring and red berries in the autumn, which attracts many birds to the yard.
This deer resistant and low maintenance shrub grows best in zones 4 through 8 and is suitable for both privacy and erosion control. It thrives in shade and sun and reaches a mature height of 8 to 20 feet, with a width of up to 15 feet, depending on the variety.
Rose of Sharon (Hibiscus syriacus) – Amazing Shrubs for Privacy that Bloom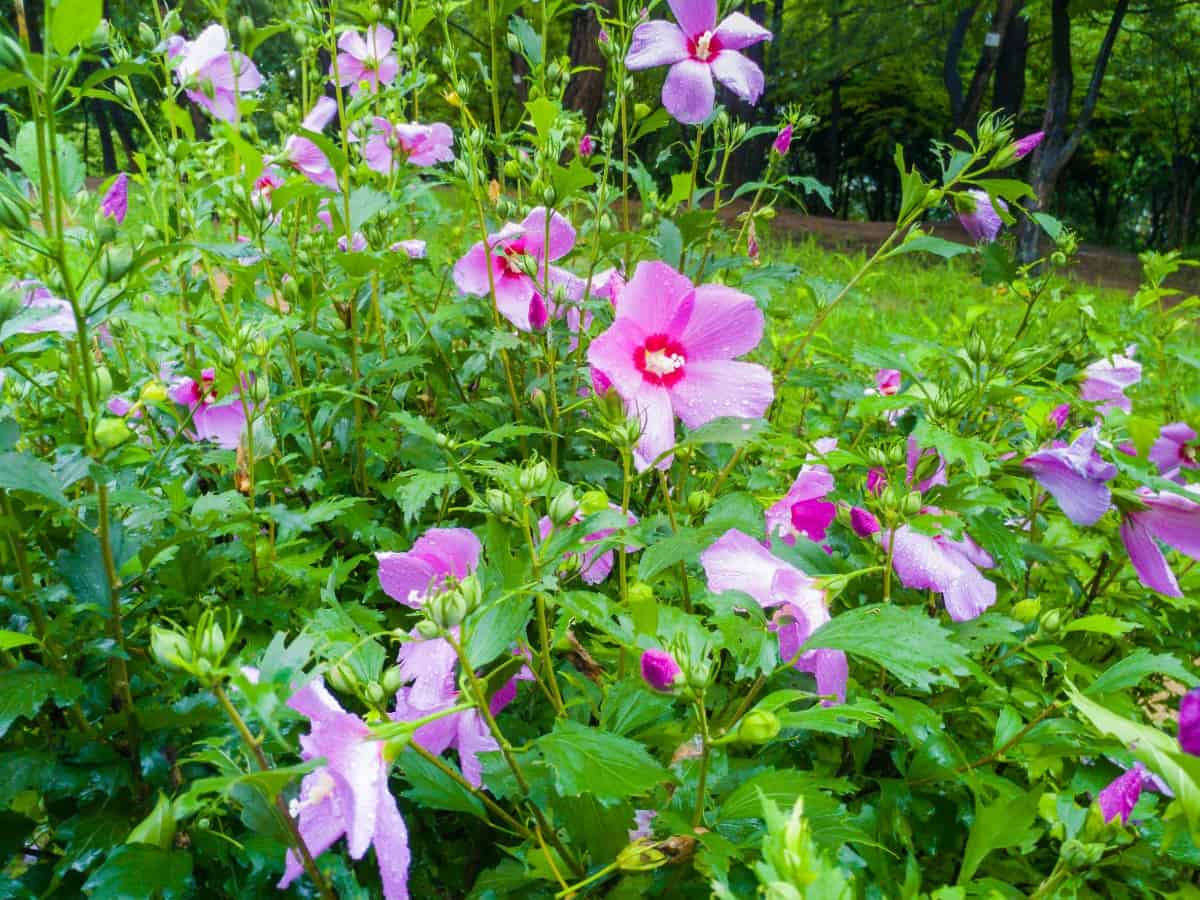 Rose of Sharon is a common hibiscus shrub that blooms with large, showy blossoms of varying colors that include white, pink, yellow, purple, orange, and red. It blooms most of the year and attracts hummingbirds to the yard.
This deciduous bush fills out quickly and reaches an average height and width of 8 feet. It thrives in sunny locations in zones 5 through 9 and is low maintenance, drought tolerant, and deer resistant.
Privet (Ligustrum ovalifolium)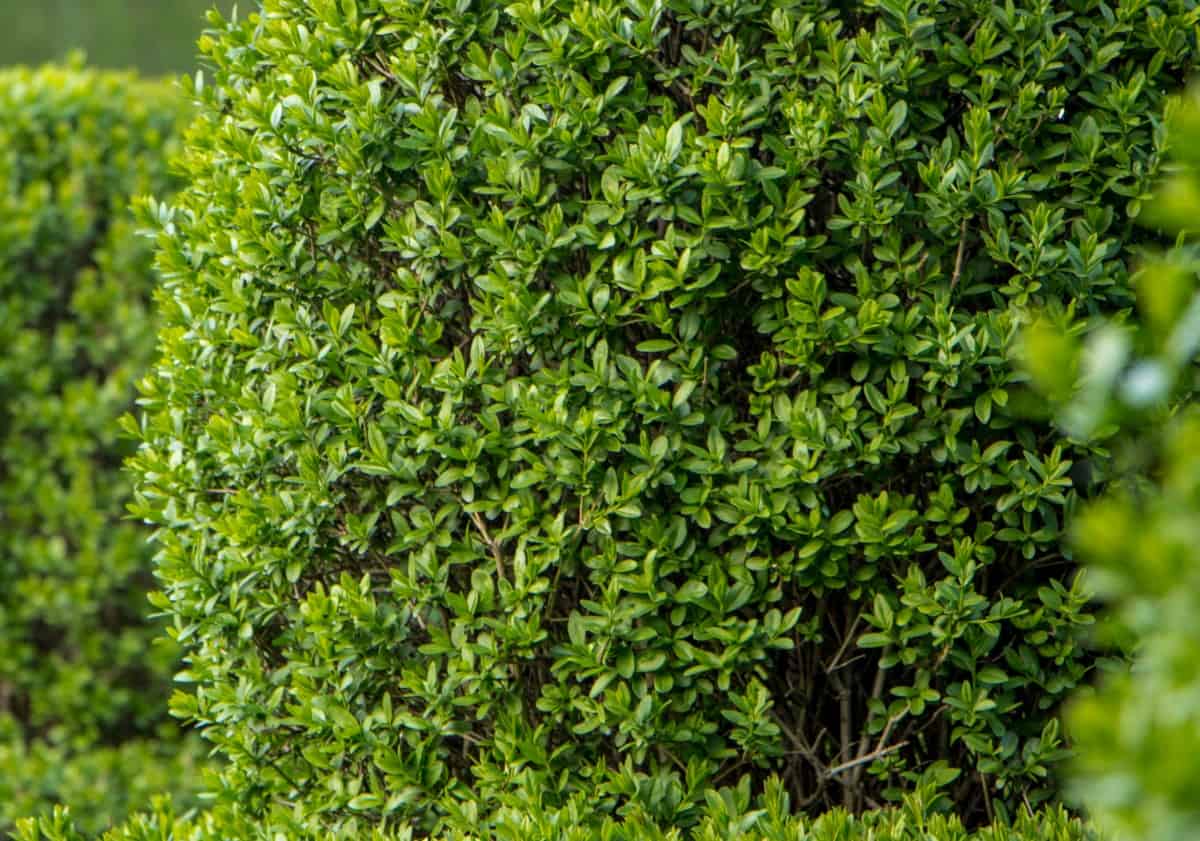 Privet is an evergreen or deciduous shrub, depending on where you live. It has dense, dark green leaves, making this shrub ideal for a privacy fence. The privet is one of the fastest growing privacy shrubs, at a maximum of about three feet annually. It produces white, fragrant flowers in late spring and bird-loving black berries in the fall.
These low maintenance, drought tolerant, fast growing evergreen shrubs for privacy thrive in zones 5 through 9 and enjoy partial to full sun. Privet has a mature height of 8 to 20 feet and a width of up to 8 feet, depending on the type and whether you prune it regularly or not.
Boxwood (Buxus) – Deciduous Shrub for Natural Fence Sculpting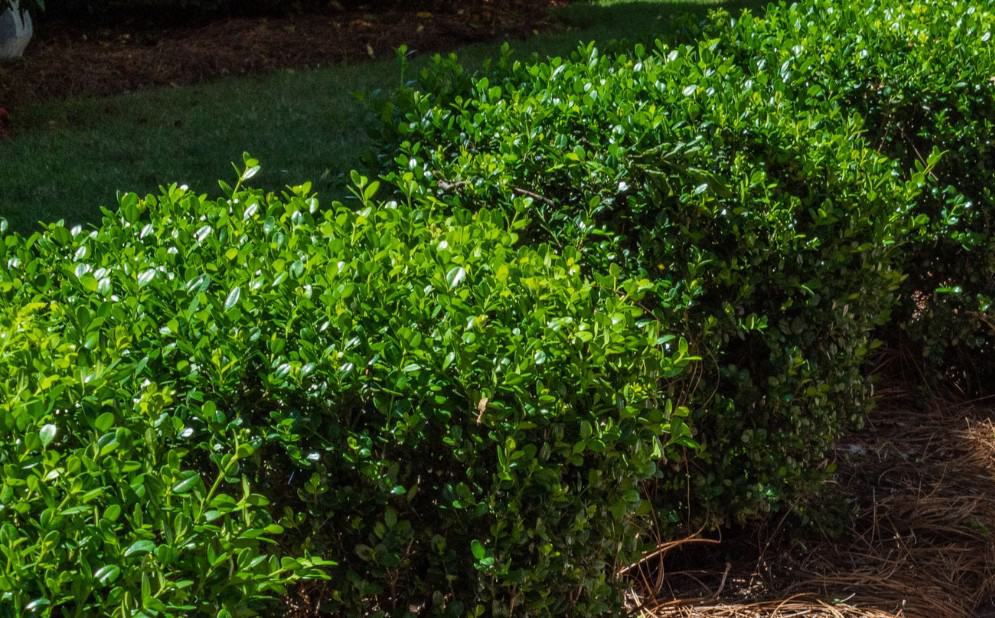 The Boxwood shrub is a common sight in a formal garden and rightly so. It has lush, glossy foliage that is easy to prune and manipulate into various shapes and sizes and adds a touch of character to any area where privacy is required.
This bush thrives in both shade and sun and grows best in zones 4 through 8. It has a mature height of 3 to 20 feet and a width of up to 8 feet, depending on the variety.
It is easy to care for and deer resistant. Grow these shrubs for coastal gardens at the beach or at your home in the midwest. It is highly adaptable to a variety of growing conditions.
Red Twig Dogwood (Cornus sericea)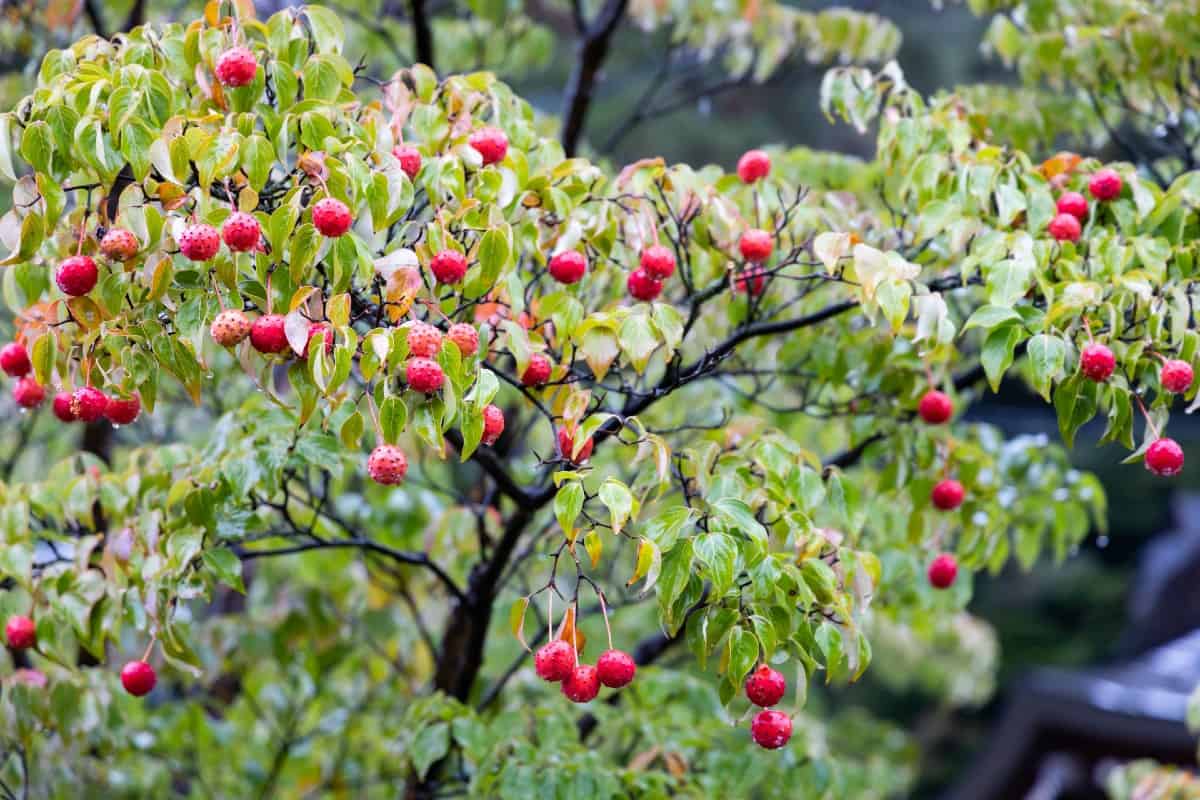 The Red Twig Dogwood produces white flowers in the spring, beautiful variegated foliage during the summer, and red berries for the birds from summer through fall. Not only is dogwood a natural fence in the summer, but it adds color to the winter landscape with its bright red branches.
These deciduous winter interest shrubs thrive in zones 3 through 8 and enjoy part shade to full sun. It has a mature size of 8 feet tall and 8 feet wide and is an excellent bush to plant for erosion control.
Leyland Cypress (Cupressus × leylandii) – Fast Growing Privacy Evergreen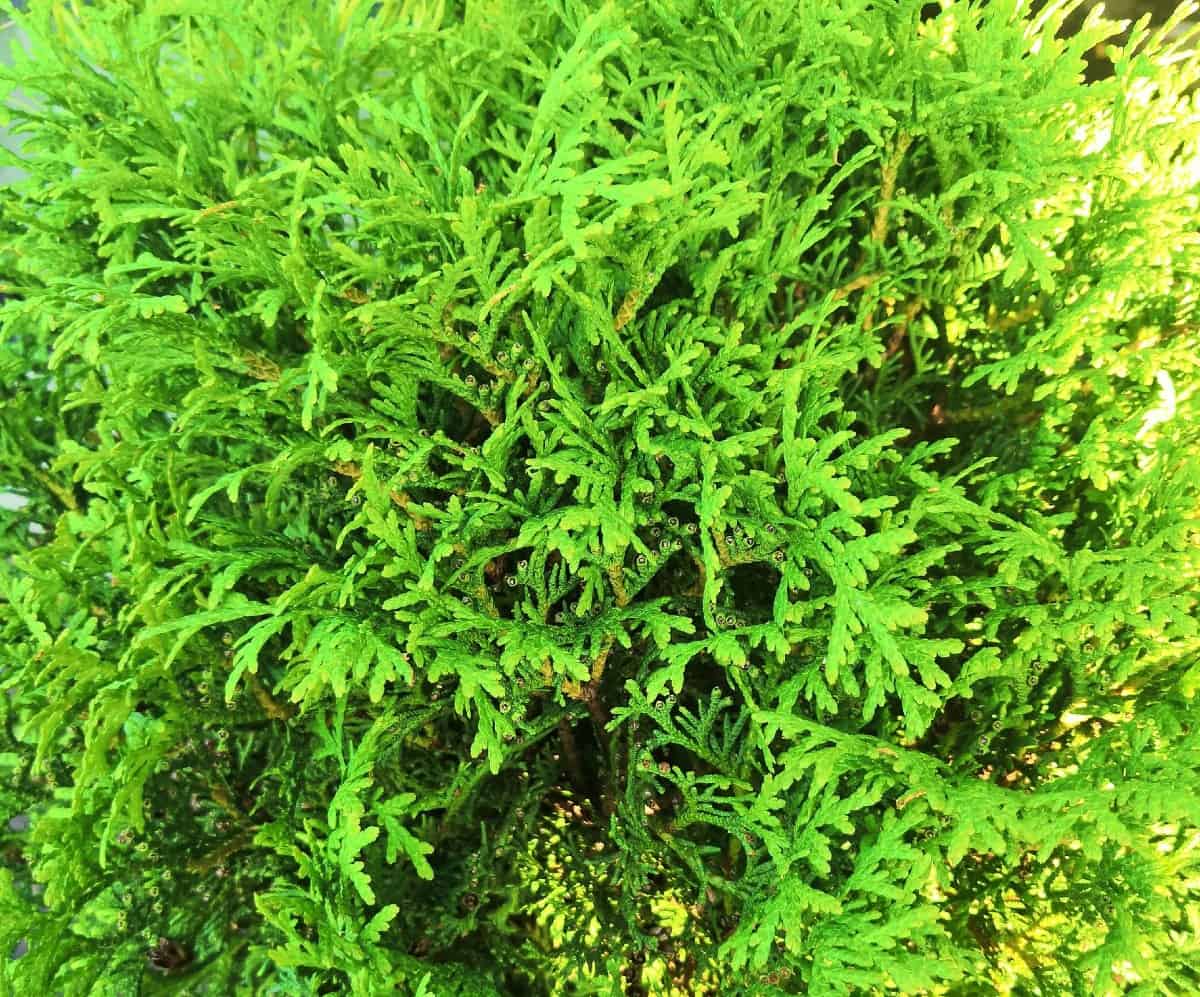 While these coniferous evergreens are fast-growing, which makes them an ideal choice for a privacy screen in your yard, they do require more maintenance than other shrubs.
This tree has flattened sprays of needled, evergreen foliage and grows in a columnar shape. Prune it regularly to encourage dense growth on all sides.
The Leyland Cypress grows at a rate of 2 to 3 feet per year and has a mature height of 50 feet tall. This fast growing privacy bush grows best in zones 6 through 10 and enjoys full to partial sun.
Yew (Taxus baccata)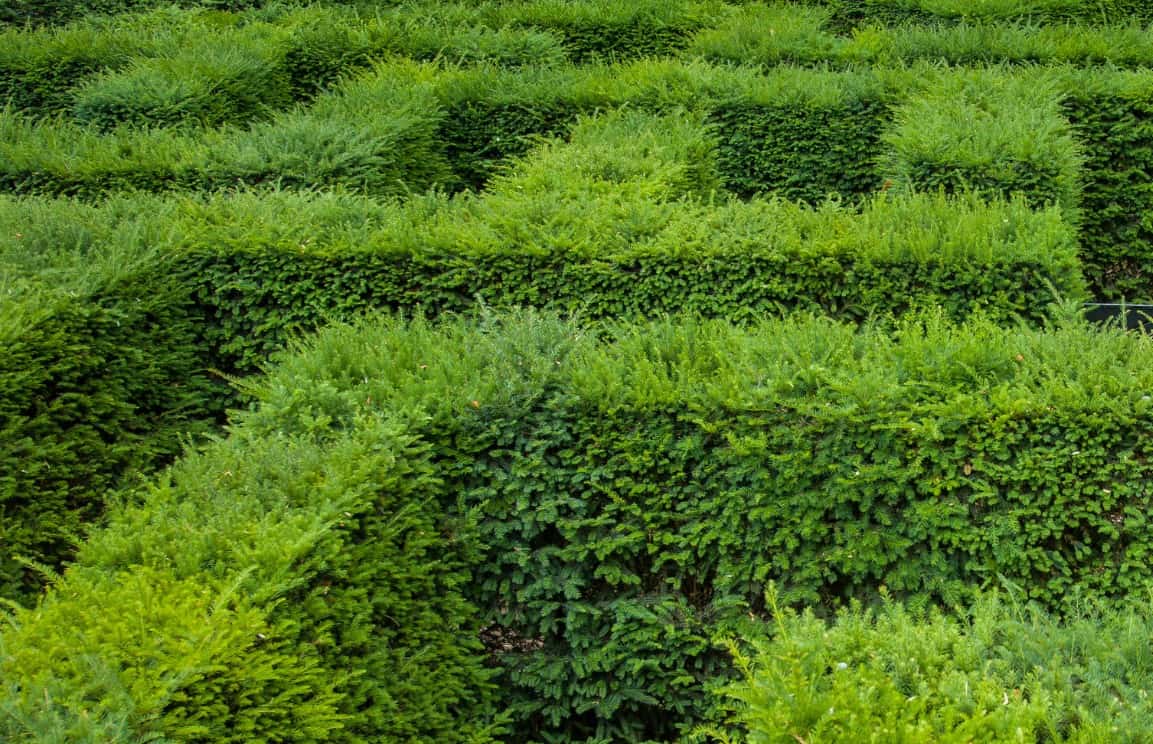 Yew is a long-lived plant that is exceptionally tolerant and easy to grow. It has blue/green and chartreuse/gold foliage that is easy to shape. The only downside of this shrub is that it is toxic, so beware if you have children and pets.
This shrub enjoys both shade and sun and grows best in zones 4 through 7. It reaches a mature height of 20 feet or more with a width that ranges between 4 and 20 feet, depending on the variety.
Thuja Green Giant (Thuja plicata x standishii)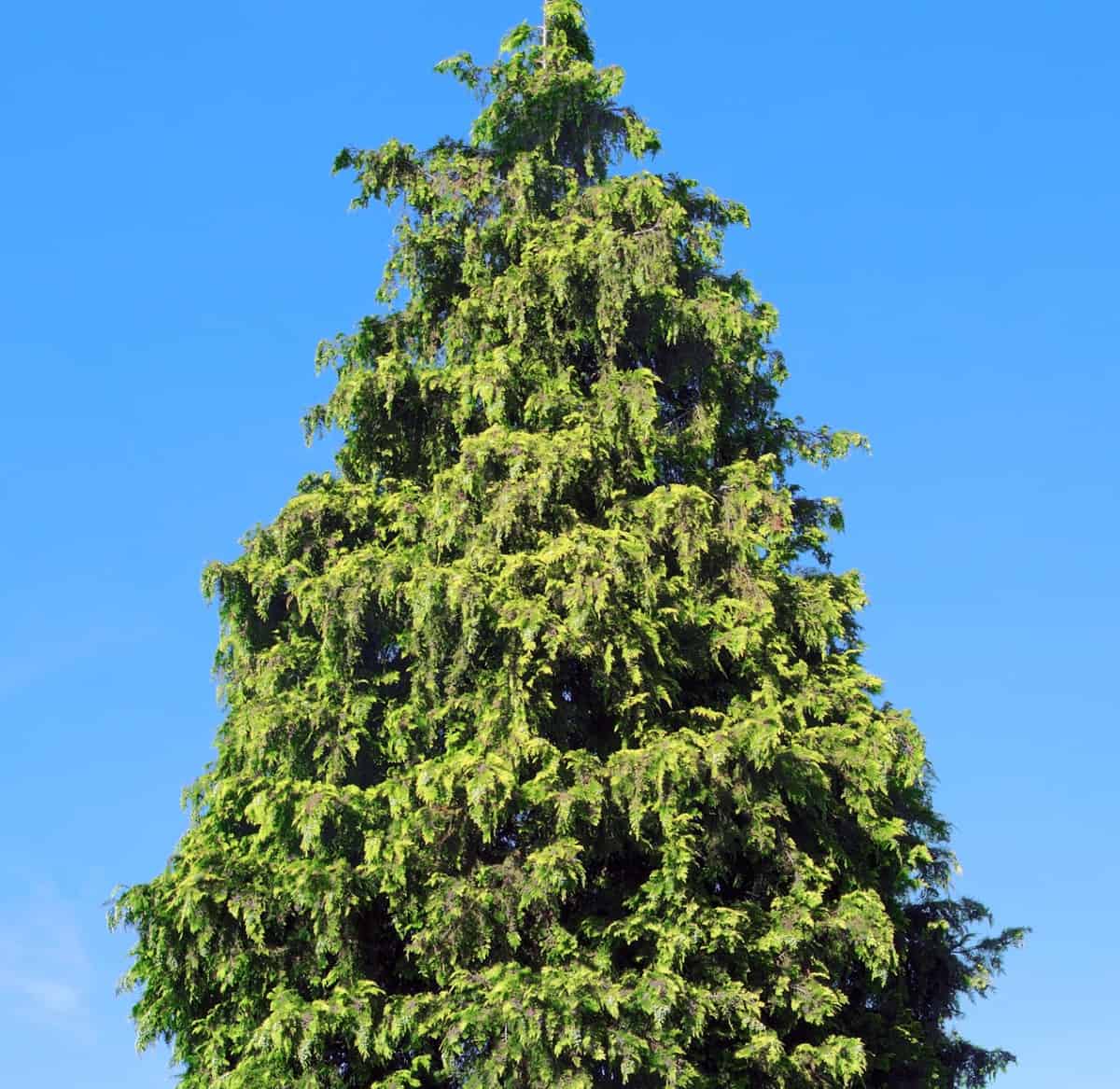 If you're looking for a majestic evergreen tree to grow quickly as a privacy screen, the Green Giant is one of the best trees for the job. It has dark, green foliage that darkens to a bronze shade during the winter months, and creates a tall, natural fence in no time at all.
This fast-growing tree is adaptable to most soil types, is drought tolerant, and easy to maintain. The Green Giant thrives in zones 5 through 9 and tolerates light shade to full sun. It has a growth rate of three to five feet per year with a mature height of 60 feet and a width of 20 feet.
Butterfly Bush (Buddleja) – Beautiful Shrub that Attracts Hummingbirds and Butterflies
This stunning bush has long, draping stems filled with clusters of colorful flowers in shades of blue, red, white, and pink. The profuse blooms of this shrub attract all types of pollinators to the bush, including butterflies and hummingbirds.
This sun-loving shrub flowers all summer long and thrives in zones 5 through 10. The Butterfly Bush is low maintenance, drought tolerant, and deer resistant. It reaches an average height and width of 8 feet or more depending on the type.
Your backyard is a personal extension of your home, and you deserve some privacy while enjoying it. Fortunately, nature provides you with everything you desire when it comes to creating a privacy screen, from lush green foliage and colorful fall leaves to dense shrubs filled with fragrant blooms of flowers.
Planting amazing shrubs for privacy not only gives you a secluded space in your yard but blocks out noise and wind, and fills your yard with natural beauty, so why not share our privacy shrub list with your friends and family on Pinterest and Facebook?