So, you recently decided to take on a new hobby and begin gardening, but don't know where to start. The best place to begin nurturing your green thumb is with annuals for beginners. Annuals are plants that produce flowers and foliage for only one growing season.
Annuals are on a mission to grow as quickly as possible and become beautifully lush, making these plants the perfect first step in obtaining a new skill. Most annuals for beginners flourish in the hot summer heat and last until the first frost of fall.
Because annuals are quick to grow, they fill window boxes, hanging baskets, and bare spots in your garden beds in barely any time. This fast-growing process makes for a speedy reward with limited work. Annual plants also come in various shapes, colors, textures, and sizes that bring endless diversity and interest to your yard and landscaping.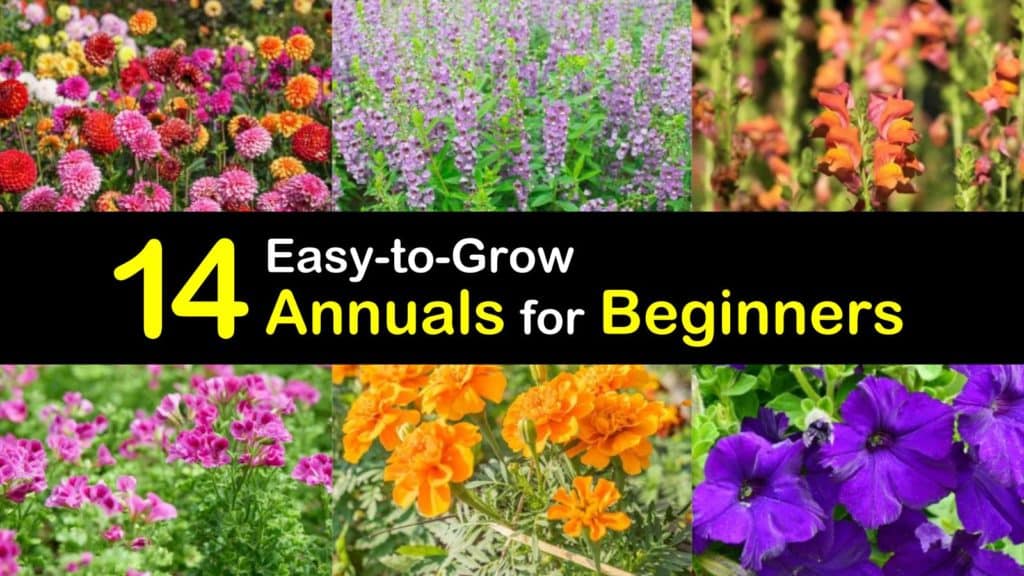 What Every Beginning Gardener Should Know
What makes these annuals for beginners so easy is that they mostly all prefer full sun and fertilized, draining soil, so they all require similar care.
If you've never tried growing your own plants, there are some basics to familiarize yourself with. It doesn't matter if you're planting annuals for beginners, easy perennial flowers, or more labor-intensive plants for experts, gardening all comes back to basic survival requirements for each individual type of flower.
Location is essential for your plants to thrive. Many plants have specific needs regarding sunlight, soil type, and amount of water. If your site doesn't fit your particular plant's requirements, then the chances of survival are low.
Pay close attention to how much sunlight a location receives. Areas with full sun require at least six hours of direct sunlight every day. Make sure your soil has the proper fertilization.
Most soils are healthy for annuals for beginners, but some prefer more deficient soil or soil that differs in acidity. Be cautious not to overwater or underwater your plants. A simple rule of thumb to follow is that most plants like about one inch of water per week.
Low-maintenance Annuals for Beginners – Zinnias (Zinnia elegans)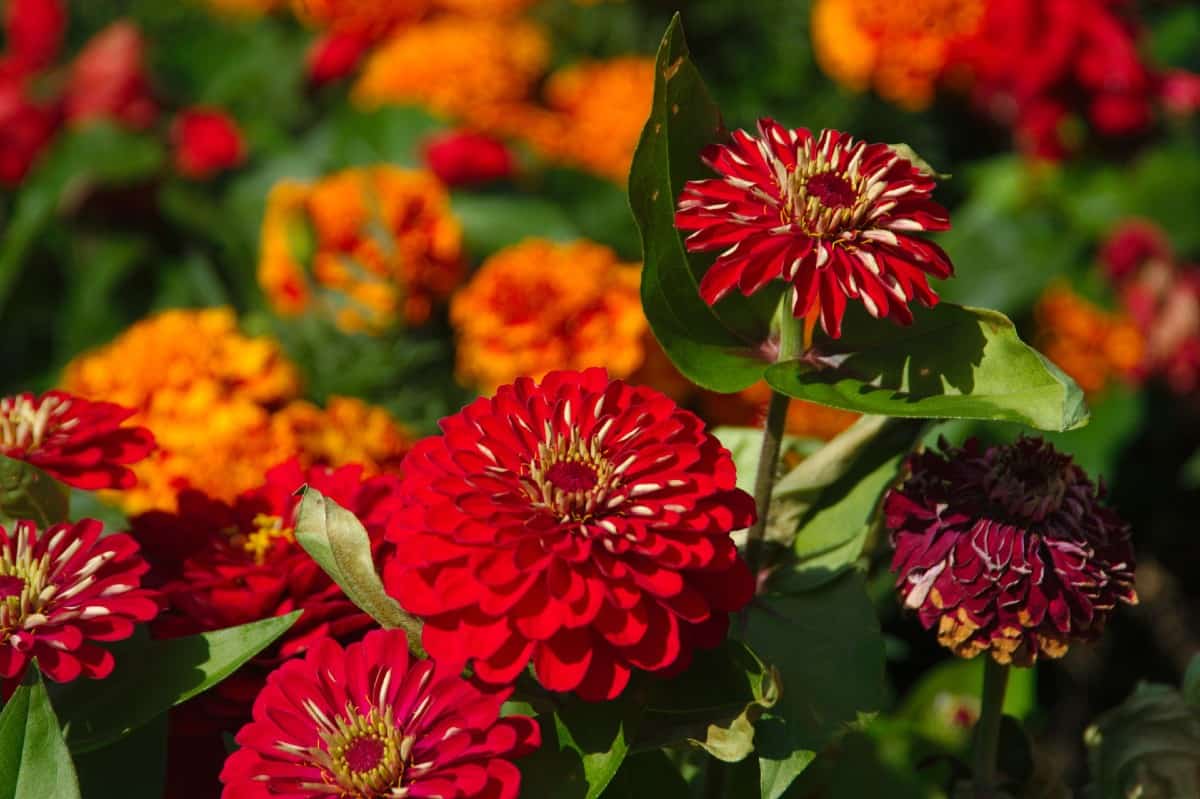 Zinnias are our favorite annuals for beginners, as they are some of the easiest flowers to grow. They sprout quickly and have abundant blooms. These flowers offer different bursts of colors with daisy-like heads that stand on an individual, erect stem that makes them beautiful cut flowers.
We recommend growing zinnias from the seed in your garden beds. They also do okay when they are started indoors and transplant them outside while still young.
Zinnias prefer locations where they receive full sun. Plenty of air circulation prevents powdery mildew and other diseases from spreading. Zinnias adapt to a variety of soil conditions but prefer well-draining soil that is rich in organic matter.
Dahlias (Dahlia pinnata)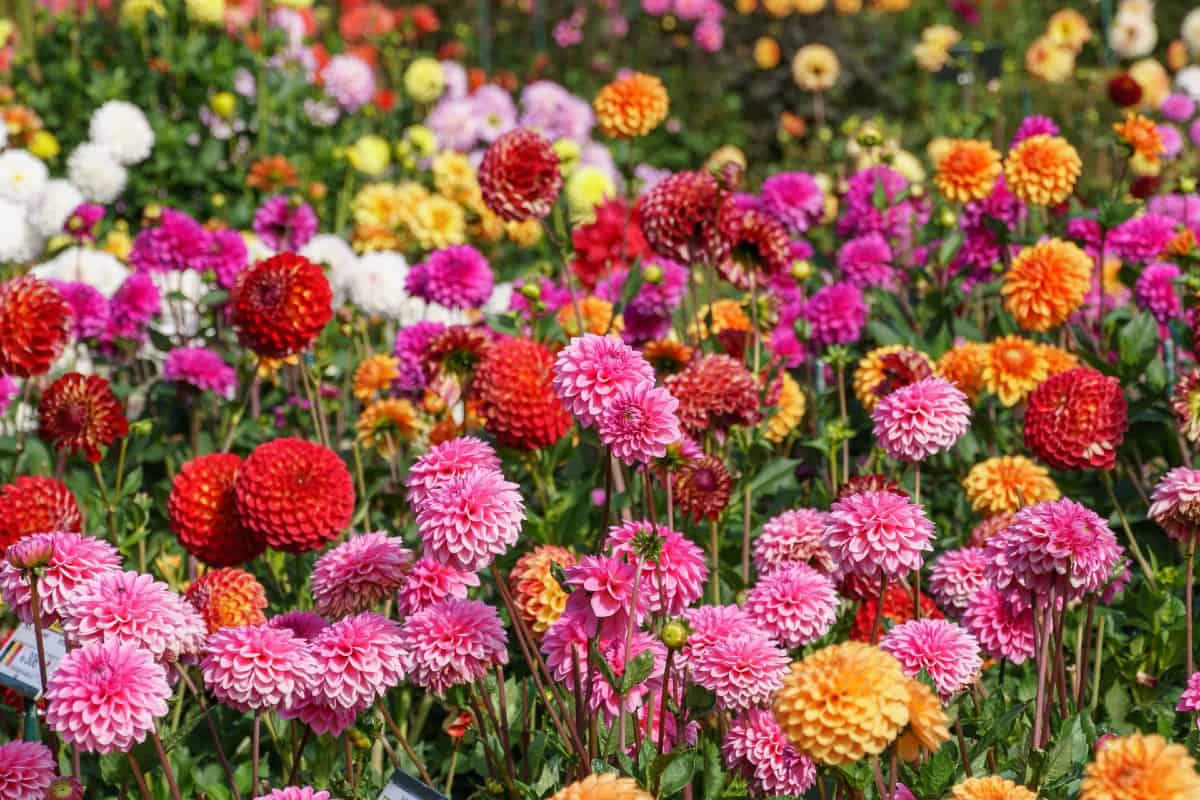 Dahlias are flowers that bloom from the middle of summer through autumn. They are closely related to zinnias, daisies, and sunflowers.
Dahlia flowers come in a rainbow of colors with flowerhead sizes ranging from two to 15 inches, depending on the species. They grow around four to five feet tall and have unique, spiky petals.
Dahlias are hardy in USDA hardiness zones two through seven, making them one of the easiest to grow flowers for beginners.
When given the proper growing conditions, they have a blooming season of over 120 days. Place dahlias in a sunny location that receives at least six to eight hours of sun every day.
Geranium (Pelargonium peltatum)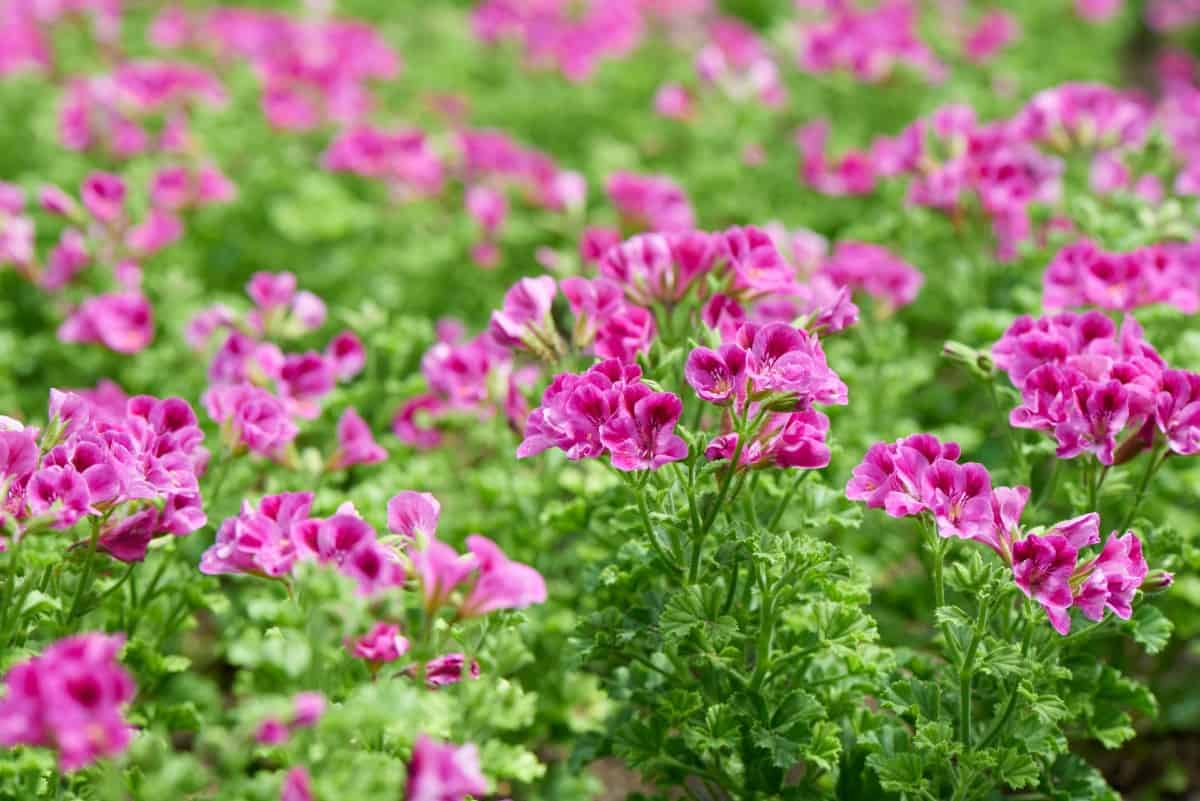 Geraniums are another plant idea for those who have little gardening experience. They have either lobed or pointed green leaves. The flower clusters come in shades of white, pink, red, mauve, and purple.
Pay attention when purchasing these at your local garden center. Healthy plants have no discolorations, and the stems are sturdy.
Let the soil dry between each watering. Geraniums bloom more when spent flowers are deadheaded and become bushier if you pinch the stems. Fertilize them every two weeks during their growing period.
While geraniums do well in the garden, they are also easy container flowers, whether for a pot situated on a table or as a hanging plant.
Sweet Pea (Lathyrus odoratus) – Easy Annuals with Fresh Scents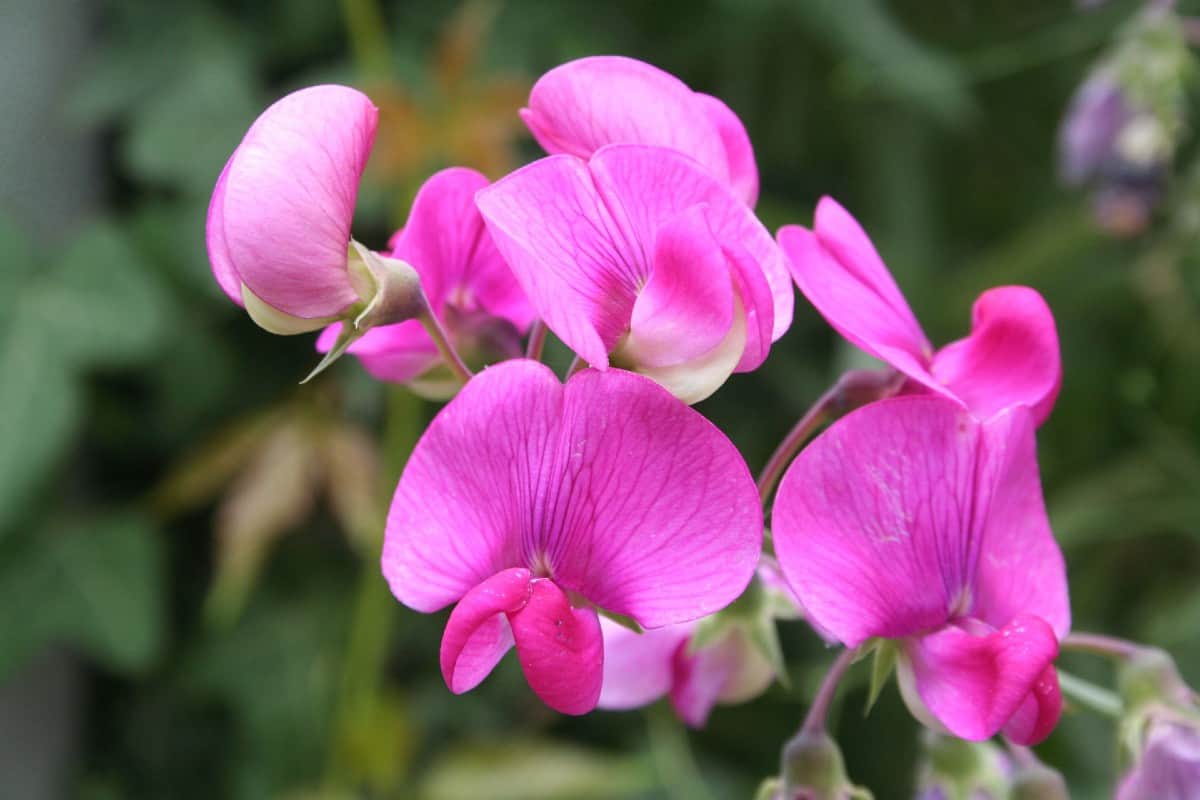 Sweet peas are delicate, fragrant flowers that look pretty in a cutting garden and used in bouquets or hanging baskets. They have a scent similar to orange, honey, and jasmine. Sweet peas are very hardy and make easy-to-grow annuals for beginners.
Sweet peas are most happy when their soil is cool and moist. Alkaline soil is best. They are hardy in USDA zones two through 11. Add generous amounts of fertilizer or compost to the earth when planting sweet peas.
Morning Glory (Ipomoea purpurea)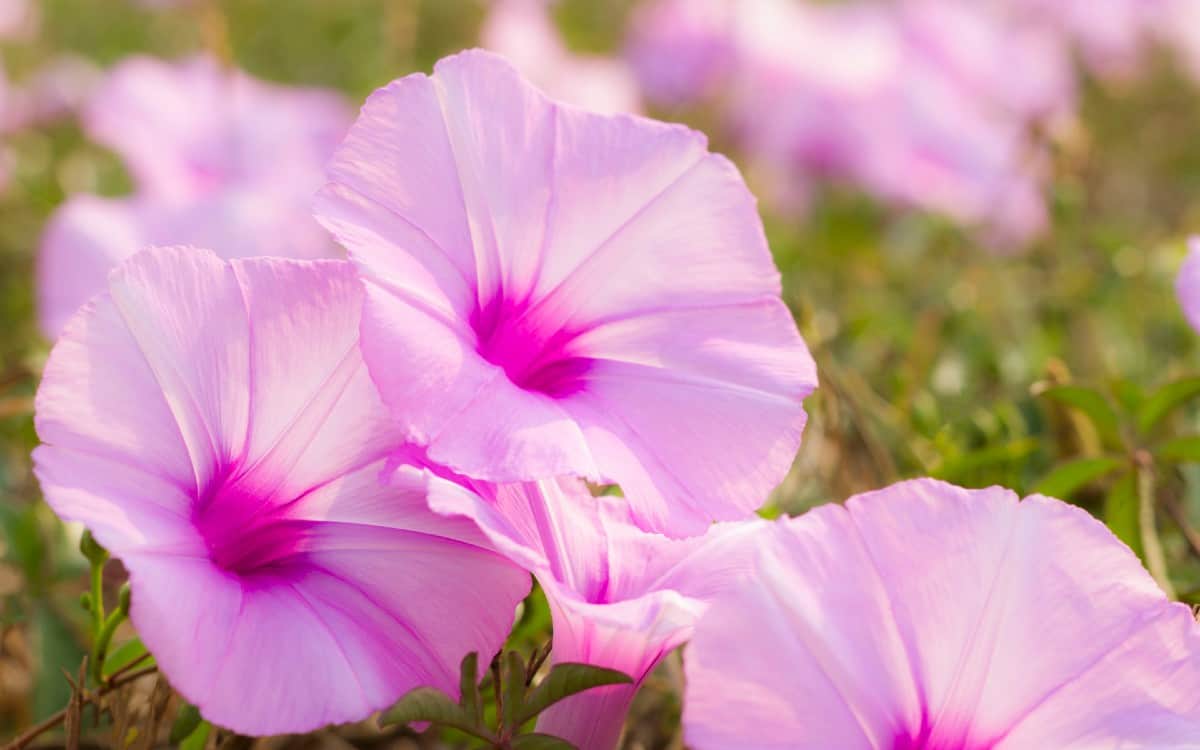 Morning glories are climbing plants. They have thin stems with heart-shaped leaves and trumpet-shaped blooms of pink, blue, purple, white, or magenta. Train them on a pergola, trellis, or other similar structure to climb on or use them for groundcover.
They grow quickly – in one growing season, they reach up to 15 feet long. Morning glories bloom in the early summer until the first autumn frost, and these annual flowers for hummingbirds add that little bit of extra enjoyment for people and birds alike, as well as for a variety of other pollinators like bees and butterflies.
Place the flowers in an area with full sun and well-draining soil. They also prefer to be protected from strong winds, so finding the right location is essential to their health.
Vibrant Flowers for Beginners: Marigolds (Tagetes erecta)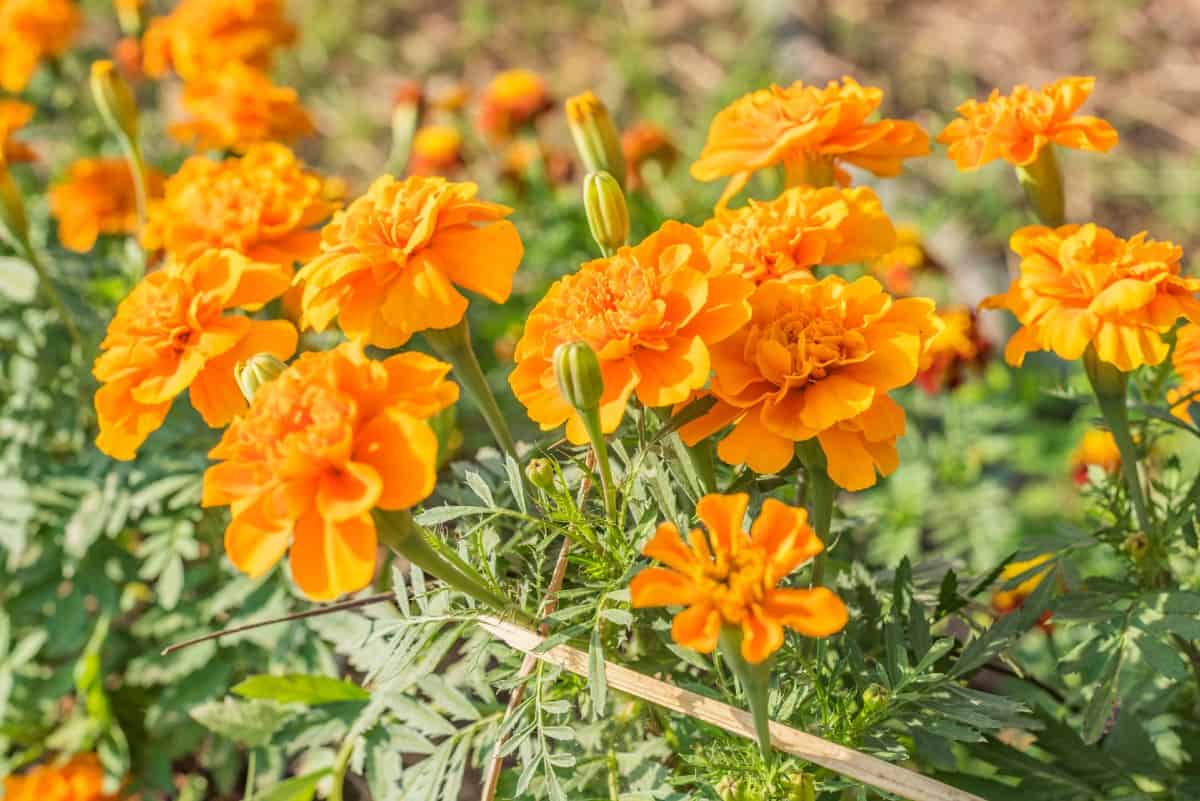 Marigolds are some of the most cheerful flowering plants. Their colors of brass, gold, and copper tones bloom all summer long. The flowerheads are typically similar to carnations, but with over 50 variations, there are plenty of different looks to choose from.
Plant marigolds in the early spring or as late as midsummer. The seeds sprout within a week and bloom after eight weeks. Marigolds are happiest in full sun.
If planted in shaded areas, powdery mildew may take over. Place each seed one inch apart and water them thoroughly.
Marigolds are so easy to grow that they are the perfect plants for kids to start with.
Petunias (Petunia x atkinsiana)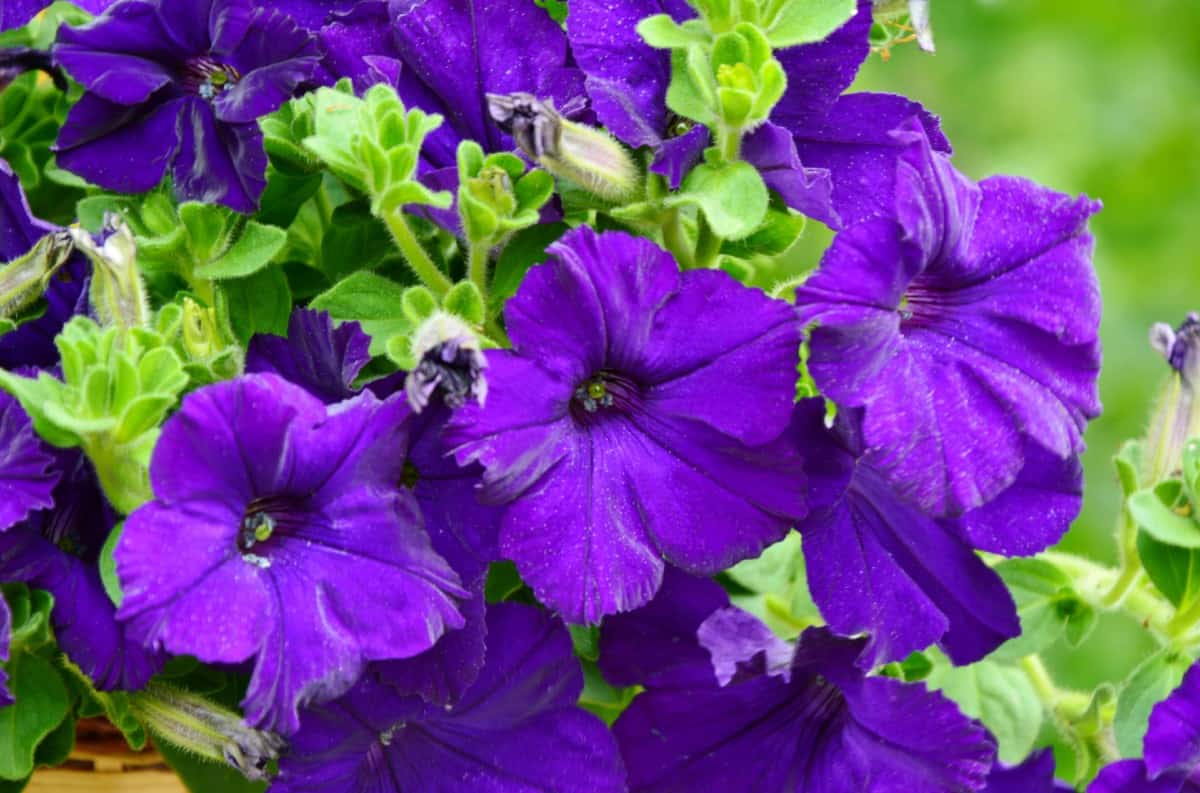 Petunias are the most popular annual flowers. They are low-maintenance and look stunning in window boxes or hanging baskets, but are fantastic border and groundcover plants as well.
The trumpet-shaped flowers of petunias come in a variety of colors and bloom from spring until autumn. Petunias grow six to 18 inches tall and spread 18 inches to four feet wide.
They require full sun and soil that drains exceptionally well. Although growing them from seeds is possible, it's much easier to transplant them into your flower garden.
Begonias (Semperflorens cultorum)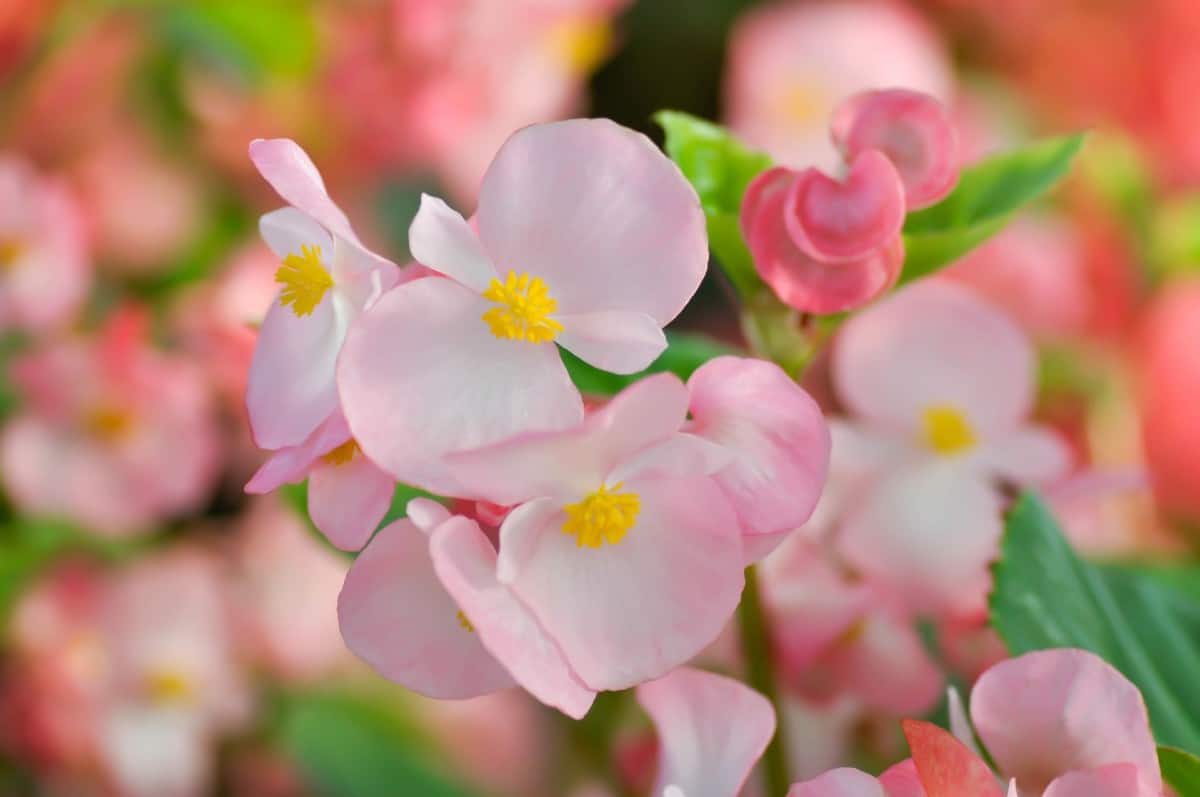 Begonias are the perfect plant for a late summer garden. These plants are fast growers and are ideal plants to fill in the bare spaces of your garden. They have attractive dark-green foliage and delicate flowers.
They also look stunning in mass plantings or for container gardening. Plant begonias in either partly shaded or full sun locations.
Direct sunlight during the hottest parts of summer might cause stress to the plant, so areas with afternoon shade are perfect. Deadhead spent blooms to promote more flowering. Keep the soil moist but not soggy.
Nasturtiums (Tropaeolum majus): Easy-to-Maintain Annual Flowers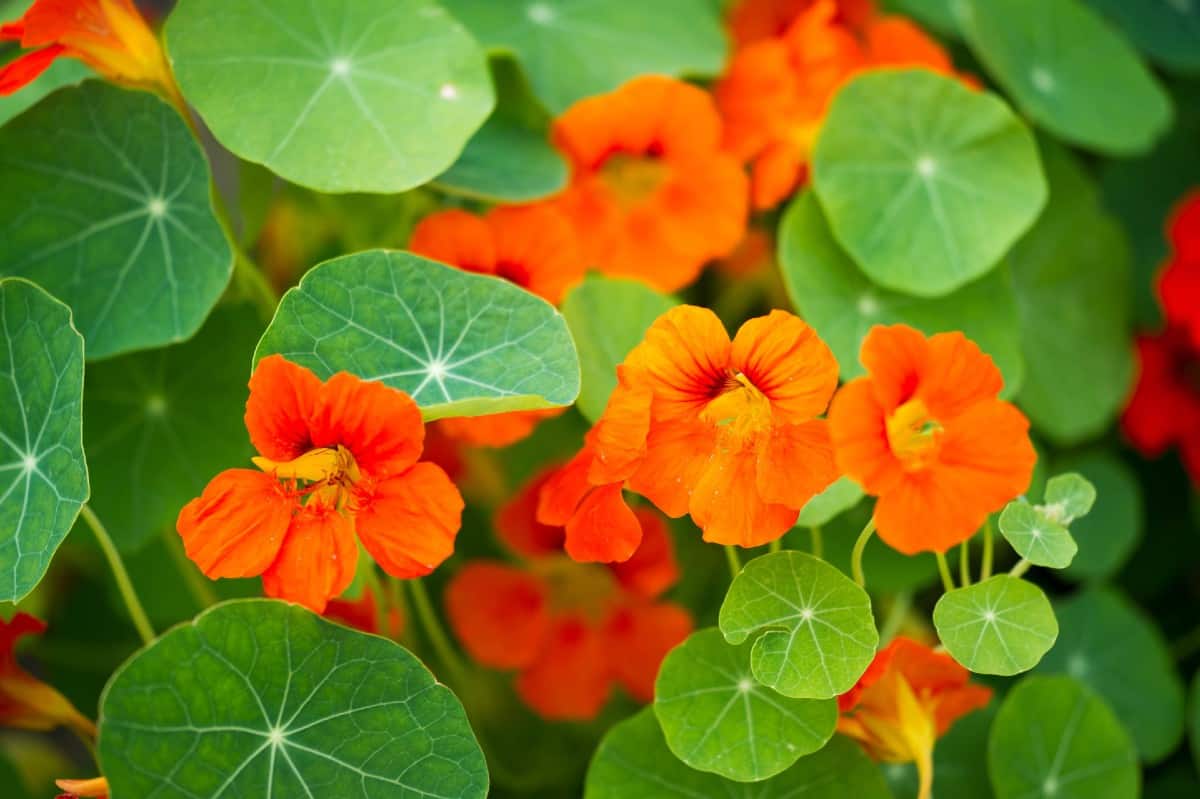 Nasturtiums are another low-maintenance flower that multiplies. They are colorful, edible, and so easy to plant that even young children succeed in growing them.
They make excellent companion plants because they produce mustard oil that traps garden pests. Nasturtiums appear only ten days after seeding. They have bright greenery and stunning flowers.
These flowers are annuals for poor soil conditions, although it's best to plant them in moist, well-draining soil and areas that have full sun during the day. Although they do tolerate some shade, they won't bloom as well with it. Place each plant about 12 inches apart.
Snapdragons (Antirrhinum majus)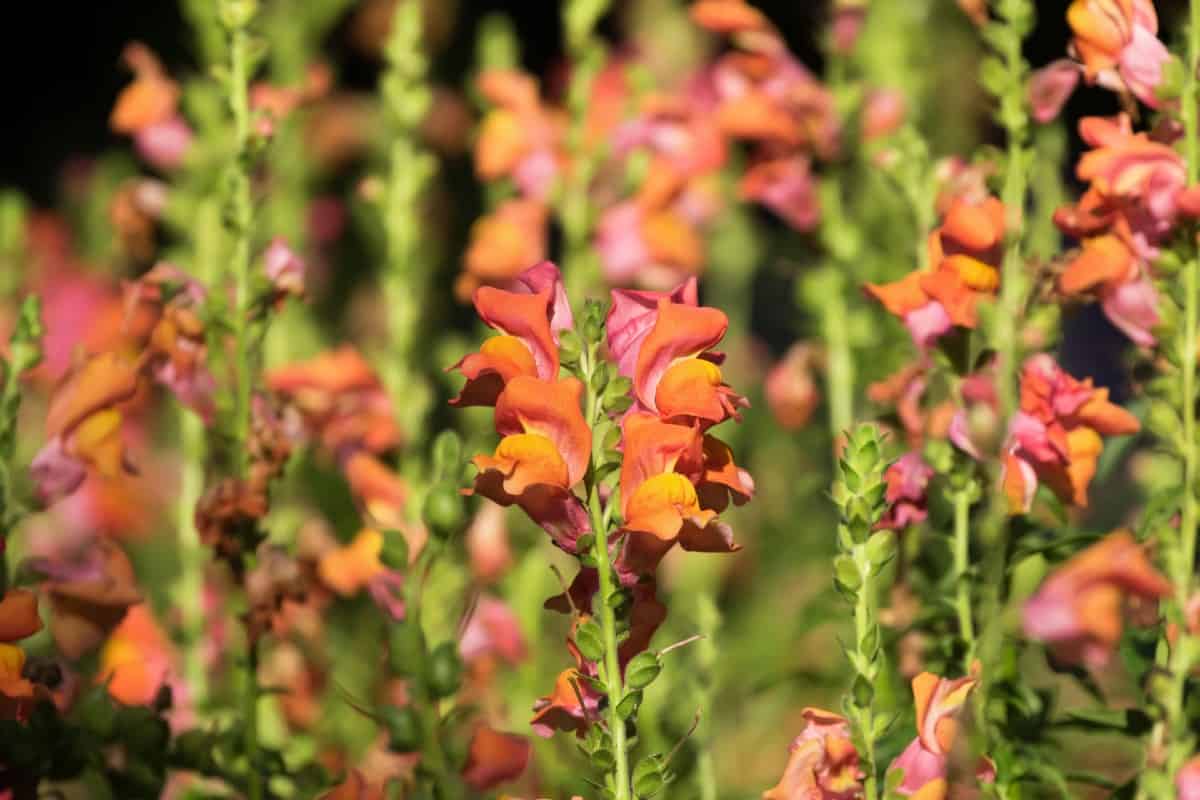 Snapdragons are infamous for their petals that pop open when you squeeze them. If you want to feel like a professional gardener, these plants offer an intricate aesthetic without the hard work.
Snapdragons prefer to bloom during cool weather and have saturated colors of nearly every hue. Their towering stalks stand out in the spring and fall, and they bloom for long periods.
Snapdragons grow from six to 48 inches tall. They like full sun or partial shade, as long as they have fertile, well-draining soil. Although they are relatively simple to grow, most beginners should look out for leaf spots and aphids.
Pansies (Viola tricolor)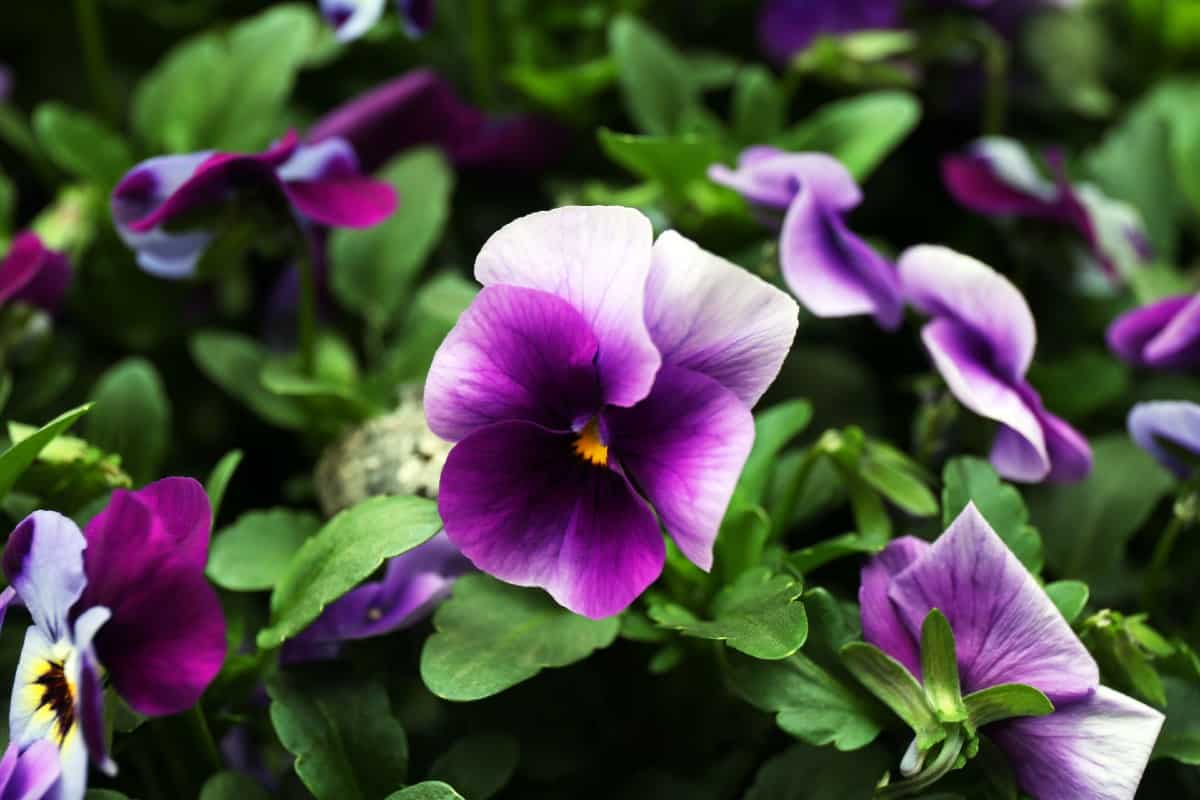 We love pansies because their flowers have vibrant colors, with dark centers that resemble tiny faces. They have heart-shaped petals that shine in containers and borders, as a groundcover, or in your flower beds. They are truly versatile for all situations.
Pansies are hardy in cold weather and even survive some frosts. Plant them in the early spring or fall from transplants or plant seeds in the late summer. Pansies like humus-rich soil and full to partial sun. Space each plant about one foot apart.
Annuals with Interesting Foliage: Coleus (Plectranthus scutellarioides)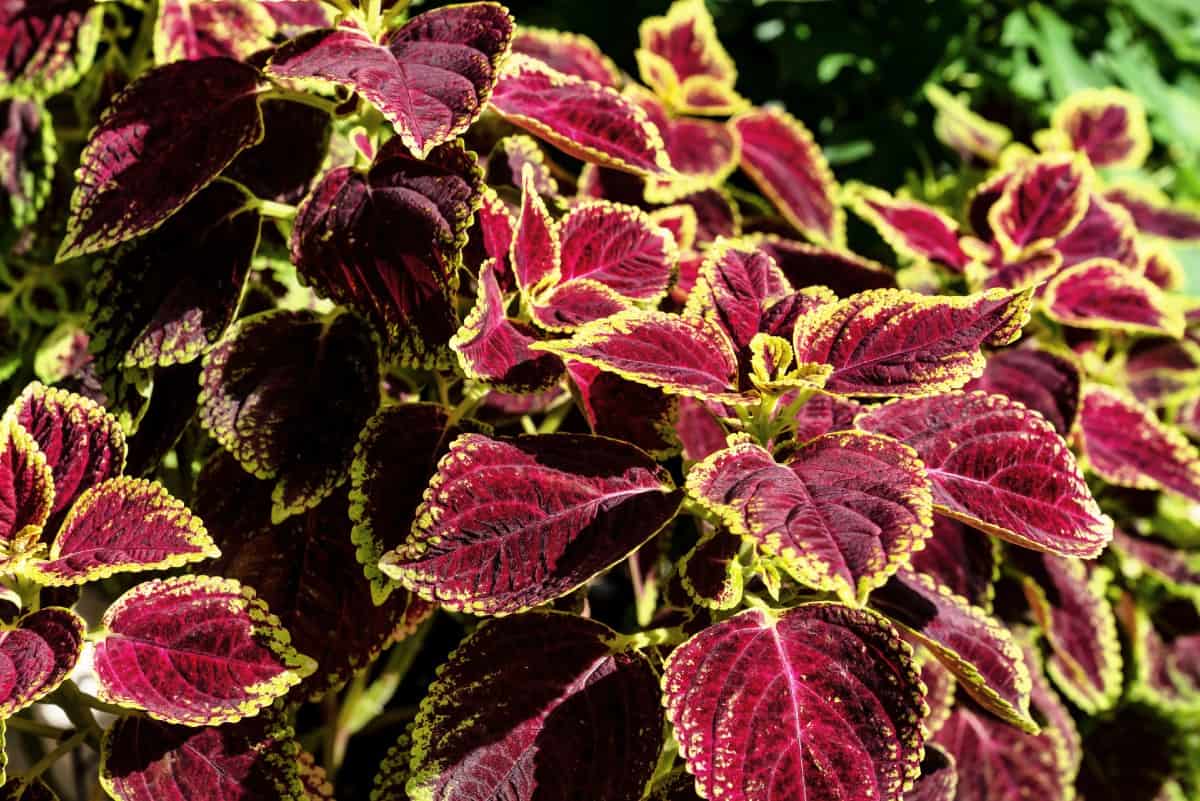 Coleus is most famous for its unique foliage that combines contrasts of bright and dark colors. Related to the mint family, these shade-tolerant plants offer texture and color without having to bloom. Start coleus indoors ten weeks after the last frost.
Set them in an area where they are protected from winds since the branches break easily. Water coleus whenever the top inch of soil is dry. Pinch growing shoots to encourage bushier growth and fertilize them in the middle of summer.
Touch-Me-Not (Impatiens walleriana)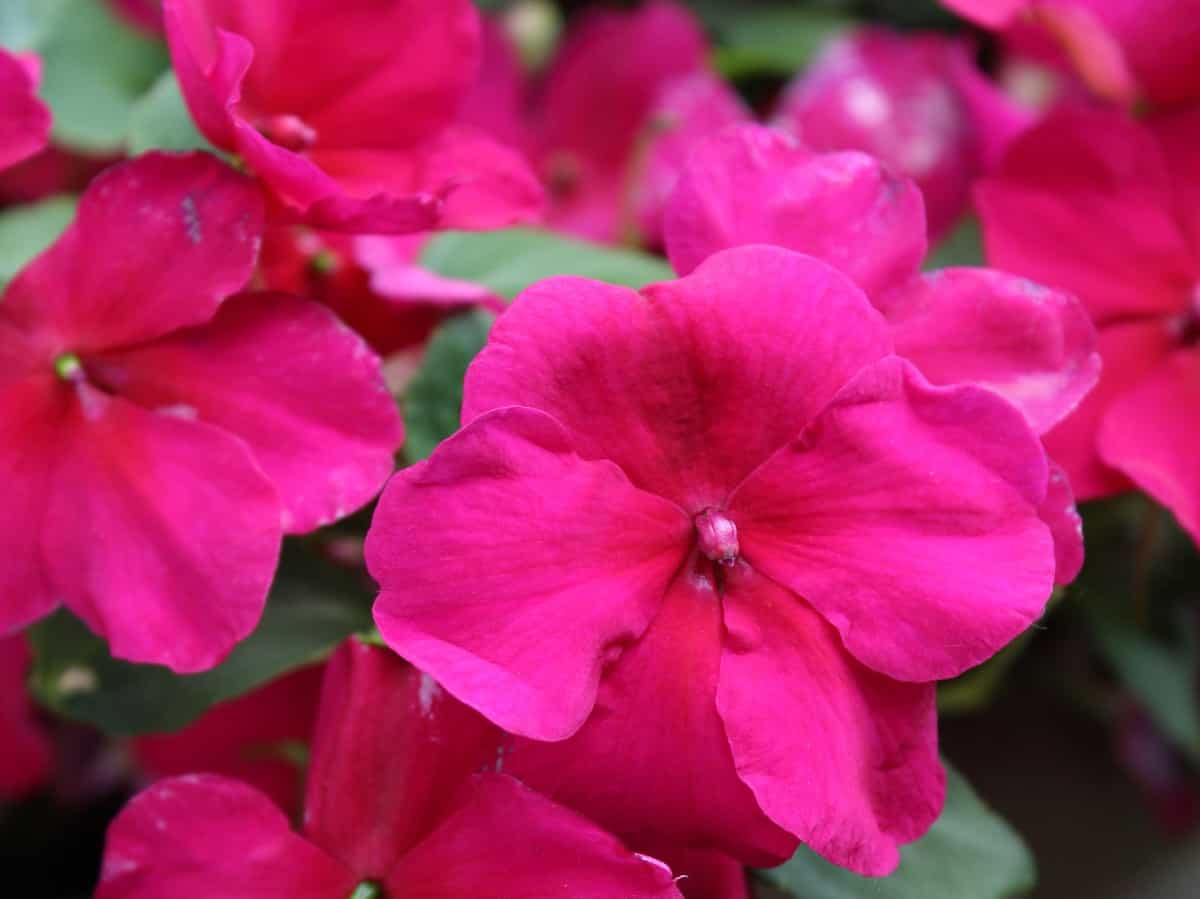 Impatiens plants, commonly referred to as touch-me-nots, are cheery annuals that bring light to shaded parts of your garden and yard. It is best to purchase these from your garden center. Use them as border plants, bedding plants, or for container gardening.
Impatiens likes to have moist, well-draining soil and partial to dense shade, and they require about two inches of water every week. If the temperature rises above 85°F, they need 4 inches of rain or water per week. Do not deadhead the flowers.
Angelonia (Angelonia angustifolia)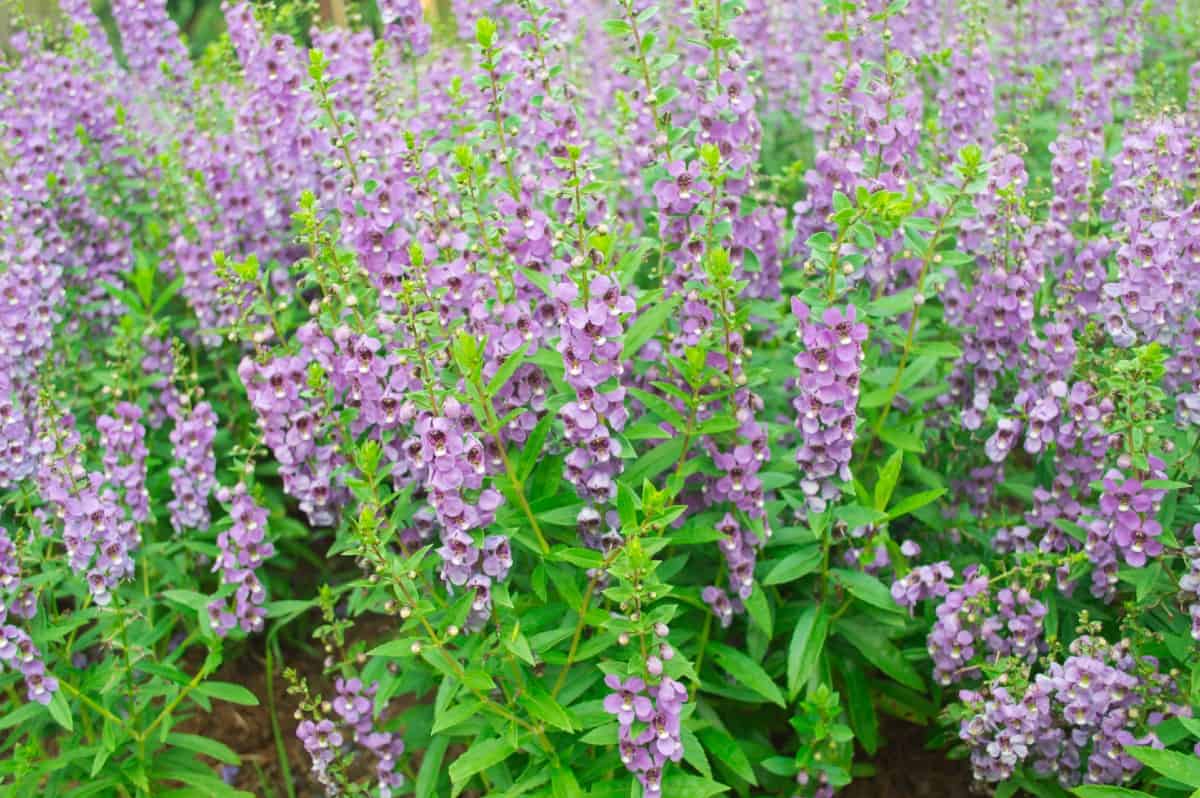 Angelonias are plants that look incredibly delicate, but they are one of the easiest plants to grow. If you haven't heard of Angelonia, they also have the name summer snapdragons because they have a similar, smaller appearance.
They grow about 18 inches tall and have a fragrance similar to apples. Angelonias are bluish-purple and require no deadheading. These flowers prefer to be in full sun or lightly shaded areas.
Place each plant at least 12 inches apart in colder climates and 18 inches apart in hotter climates. With well-draining, moist soil, these plants make excellent annuals for beginners.
Now that you have an extended list of the easiest-to-care-for annuals for beginners, you can dig in the dirt and cherish the fruits of your labor.
When you give your flowers and plants the best location, sun, and water, your plants' happiness will shine with bushy foliage and pops of bright hues and intriguing textures.
Despite what you've heard before, anybody can garden. Your new skill provides visual attractiveness, but you'll also feel good about helping something thrive and watch your hard work pay off in the end.
If you're looking for success in growing annuals for beginners, please share this list of low maintenance plants on Facebook and Pinterest.