Growing flowers in a shady and dry yard lead to disaster if you choose the wrong plants. While many plants require full sun and regular watering to survive, some varieties are drought tolerant and enjoy shady areas. We have compiled a list of our favorite annuals for dry shade to help you grow the perfect garden.
Gardening in the yard is an enjoyable experience that we all look forward to in the spring. But, making the mistake of planting thirsty, sun-loving annuals in dry areas of a shady yard leads to disappointing patches of struggling or dead plants.
Plants such as marigolds, petunias, and zinnias are stunning in a sunny garden, but they do not grow well in dry and shady areas. Therefore, it's essential to understand your yard's conditions and the types of flowers you are planting to ensure that they match.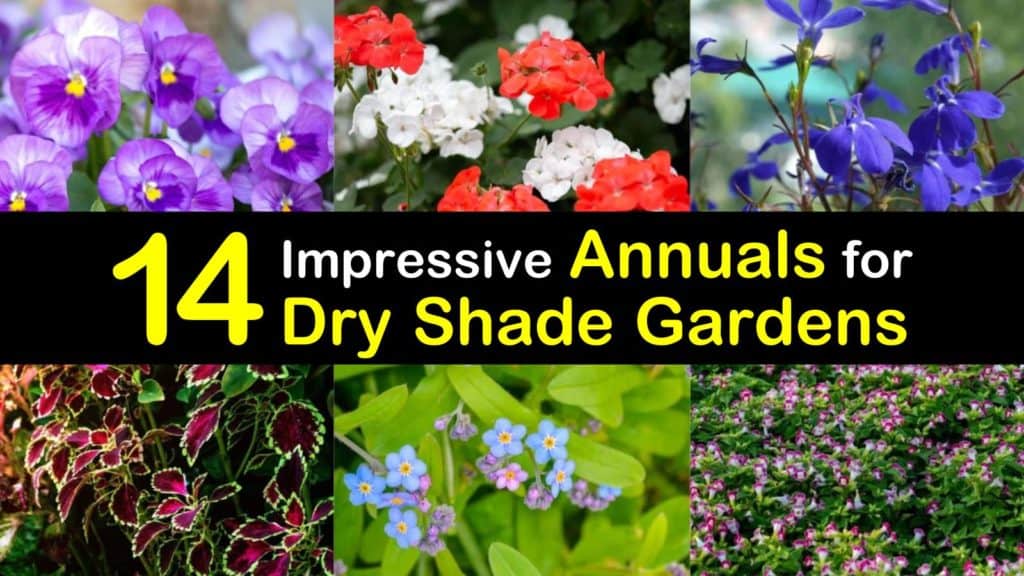 Growing Dry Shade Annual Plants and Flowers
There are plenty of plants that grow well in shade just like there are for the sun. You can even have a shaded vegetable garden.
For this article, we have picked our favorite annuals that not only thrive in part and full shade areas of the yard but are also drought tolerant. These are some of the easiest plants to grow and require very little care to thrive. You can also learn more about many trees that flourish in the desert and plants that you can grow in dry areas.
What are Annual Plants?
There are three types of plants; annuals, perennials, and biennials. Annuals only last for one growing season; the stems, leaves, and roots die annually.
Perennials continue growing for several seasons, and biennials have a life cycle of two years. Some annuals are also perennials, depending on the climate condition and geographic location.
Which Types of Annuals Grow Best in Shade and Dry Soil?
Various annuals tolerate dry soils in shady locations, and the key is to study the plant care guide. Look for hardy plants that are drought tolerant to ensure that they withstand periods of dry weather.
Make sure the plants handle either full shade or part shade. Full shade annuals tolerate no direct sunlight while partial shade plants tolerate filtered light. Coleus and alyssum are good examples of dry shade plants.
Where is the Best Place for Growing Dry and Shady Plants?
The best place for planting full shade plants is beneath a tree or large shrub. Not only are these areas shady, but they tend to have dry soil as well. Another good location for full shade annuals is on the north side of the home, where it's the shadiest.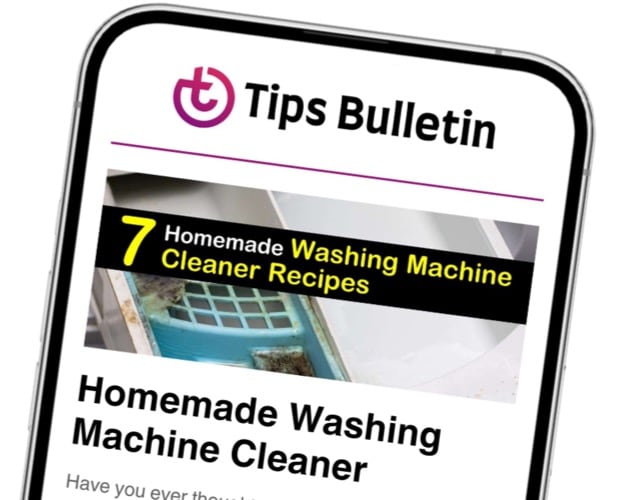 Finally, an email that Transforms Your Home.
Get the latest home and garden tips from our experts, delivered straight to your inbox.
If you have part shade plants, consider growing them in areas where they do not get sun exposure during the hottest time of the day. Dappled, early morning, and late evening sunlight are best.
Are Dry Shade Annuals Hard to Grow?
Growing dry shade annuals is easy as long as you choose the right plants for your area and condition. Dig a hole slightly larger than the plant, remove the plant from the container, and carefully loosen some of the roots from the soil.
Place the plant in the ground so that it is level, and fill the hole with soil. Place a decent layer of mulch around the base of the plant to retain moisture and give it a proper watering.
Coleus (Plectranthus scutellarioides)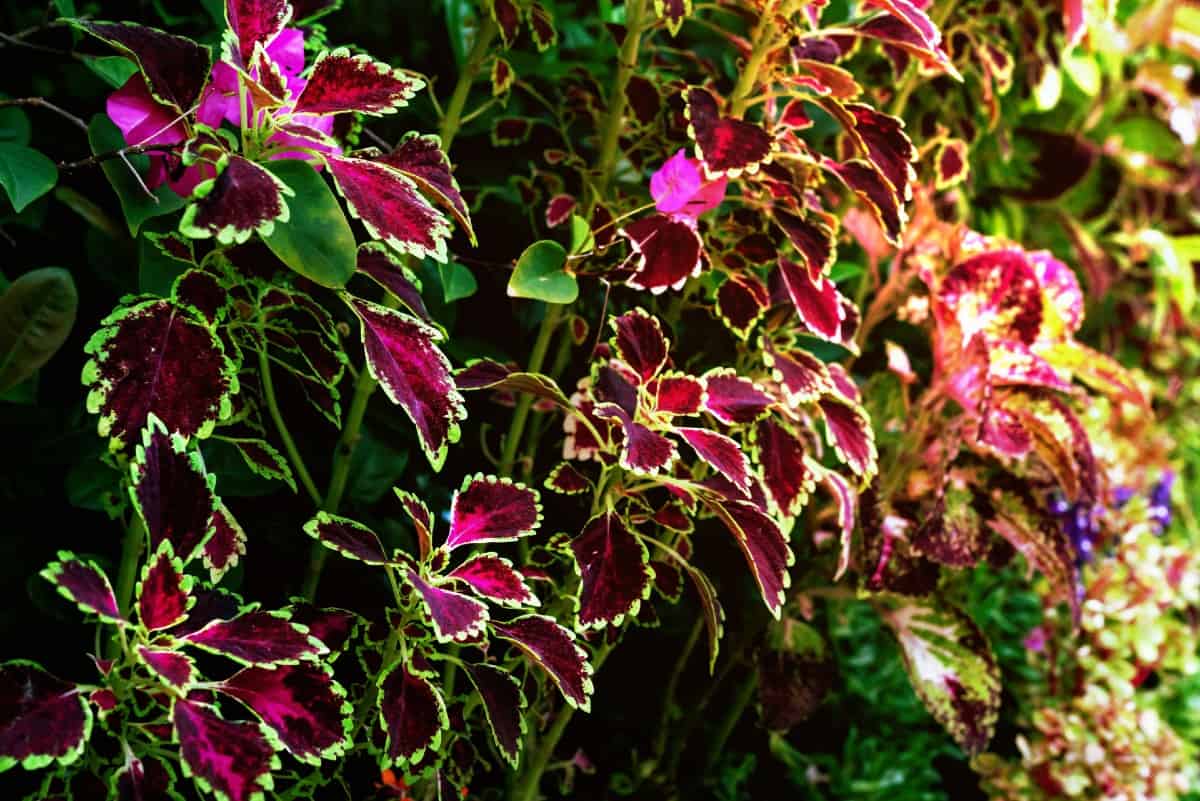 Coleus are wonderful plants for shaded areas that provide the yard with color throughout the entire growing season with colorfully marked foliage in striking shades of purple and green. It produces thin stalks of flowers that you prune off to encourage the plant to form a bushy and full appearance.
These annuals thrive in either sun or full shade and tolerate dry conditions with ease. They are low maintenance plants that grow well in containers or a garden setting. Bring coleus plants indoors before the first frost and enjoy them as a houseplant.
Common Impatiens (Impatiens walleriana) – Colorful Annuals for Dry Shade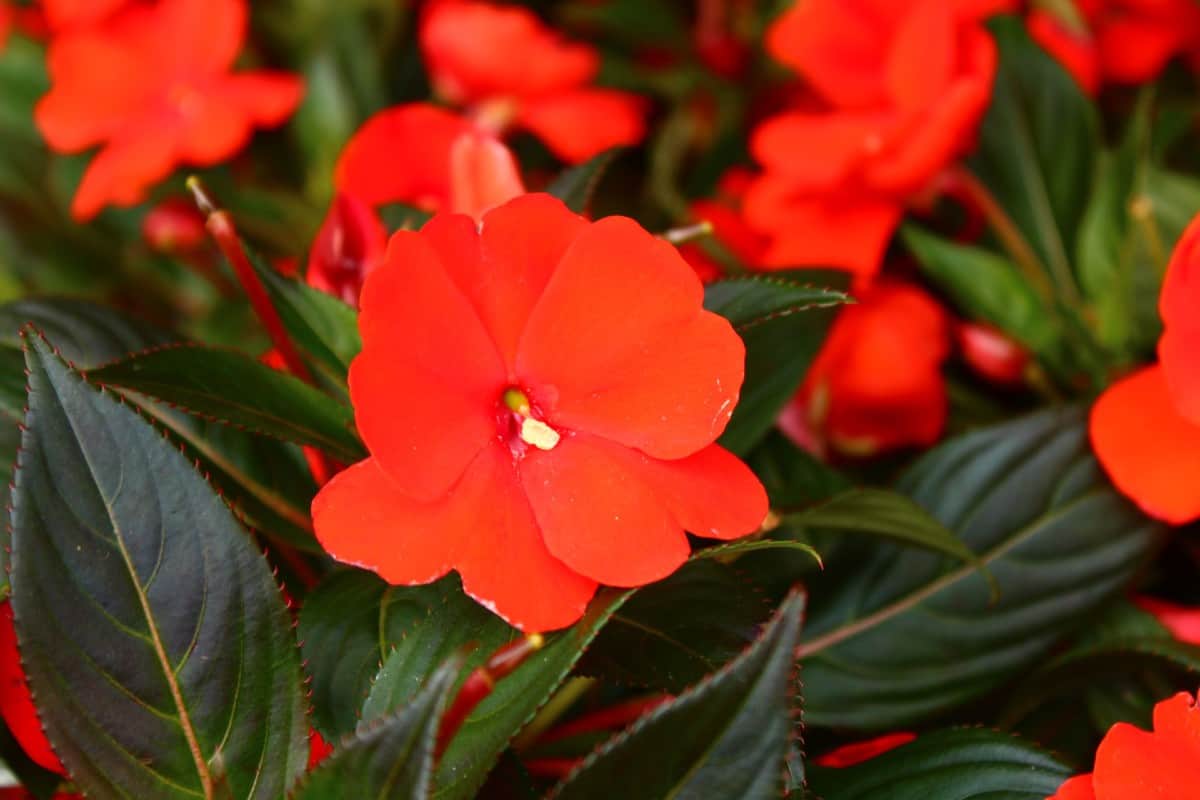 Unlike New Guinea impatiens that require full sun, common impatiens tolerates shady locations with ease. They bloom in bright colors of purple, red, orange, white, pink, and yellow flowers throughout the entire growing season.
Impatiens grows up to 3 feet tall and wide and is perfect as a groundcover plant in dry and shady areas of the garden. They are easy to grow annual flowers for beginners as they have very low maintenance requirements and do not require deadheading to flourish.
Hosta (Hosta)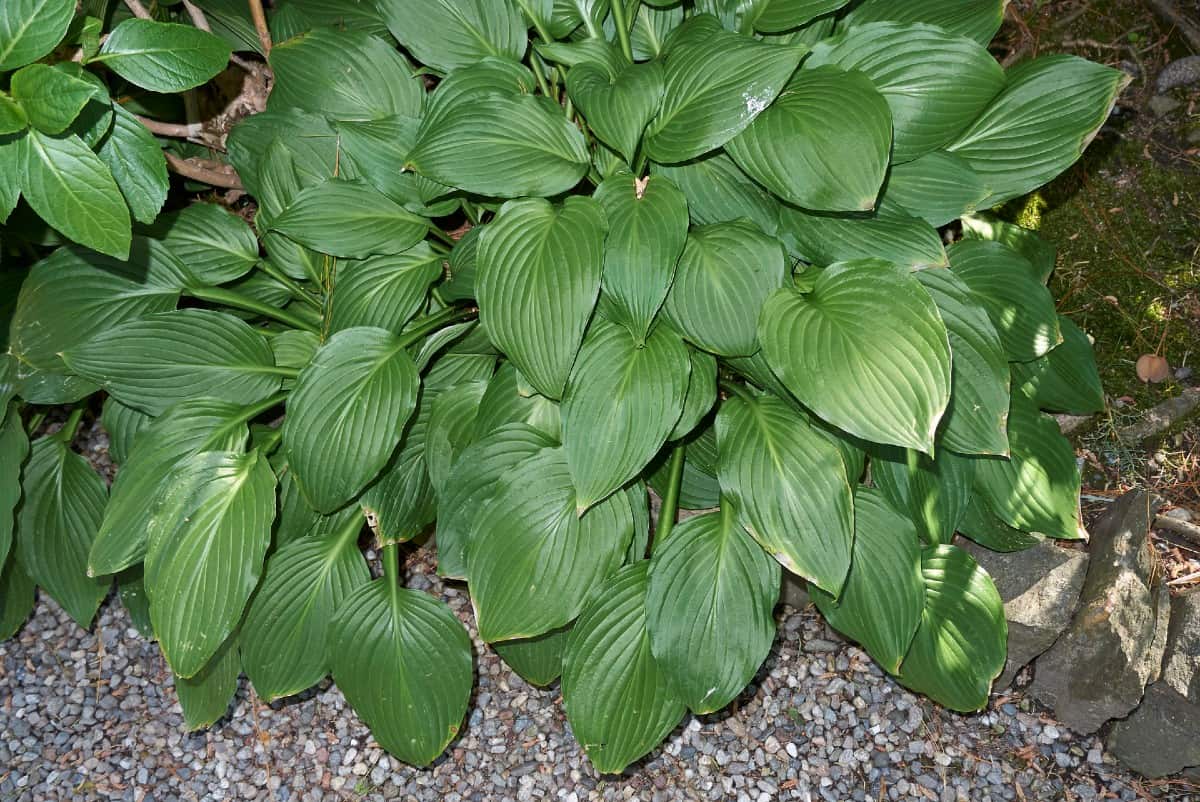 Hostas are well-known shade dwelling plants that fill a garden space with large, bright green, pale yellow, and variegated foliage. They are clump-forming and low growing plants that produce tall spikes of small flowers in late spring or early summer.
Hostas grow as a perennial in zones 3 through 9 but are easy to grow as annuals in other locations. They are low maintenance and very drought tolerant. They grow anywhere from 6 inches to 3 feet tall and spread up to 8 feet, depending on the type.
Forget-Me-Not (Myosotis) – Delicate and Dainty Shade Annuals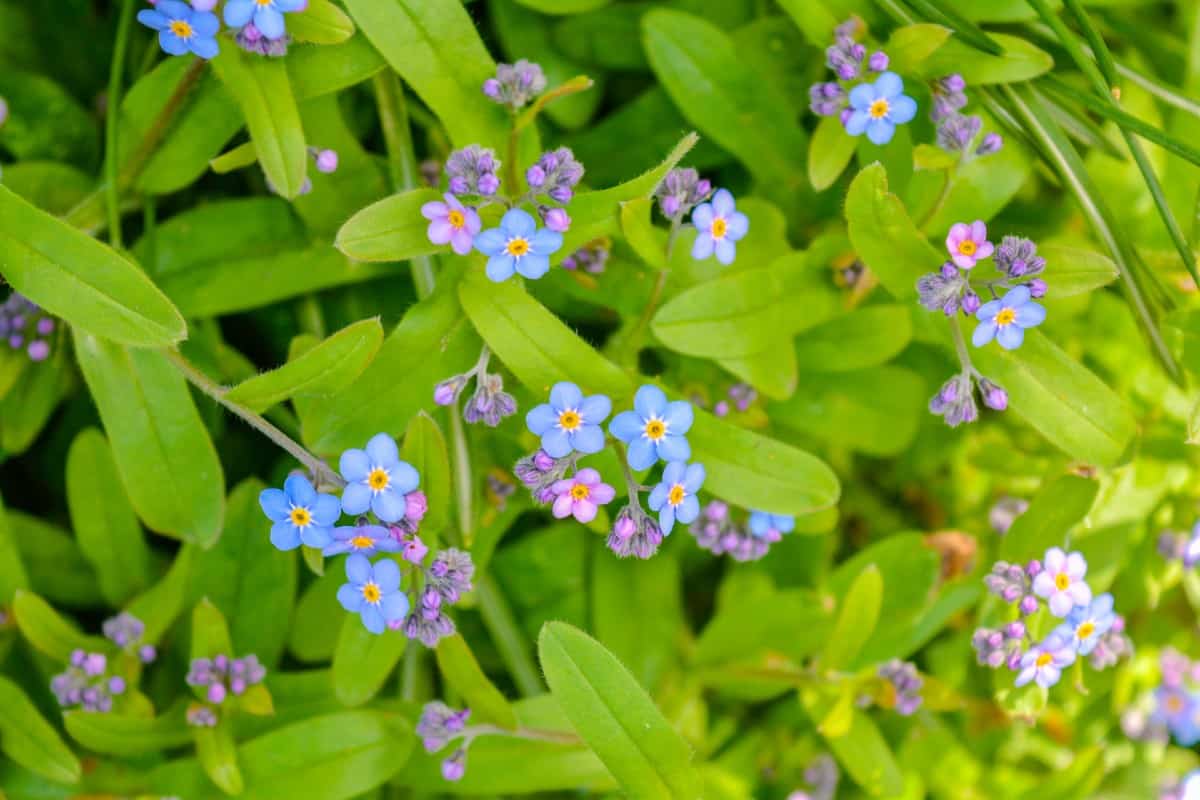 These shade loving annuals generally produce dainty sky-blue flowers, but other varieties produce shades of white, pink, and yellow from spring through summer. These delicate flowers look stunning as a shady border plant or in mixed containers.
These hardy plants are drought tolerant, thrive in partially shady areas, and grow 6 to 12 inches tall. Forget-me-not flowers are perennial in zones 3 through 8 but grow as an annual plant in others.
Nicotiana (Nicotiana tabacum)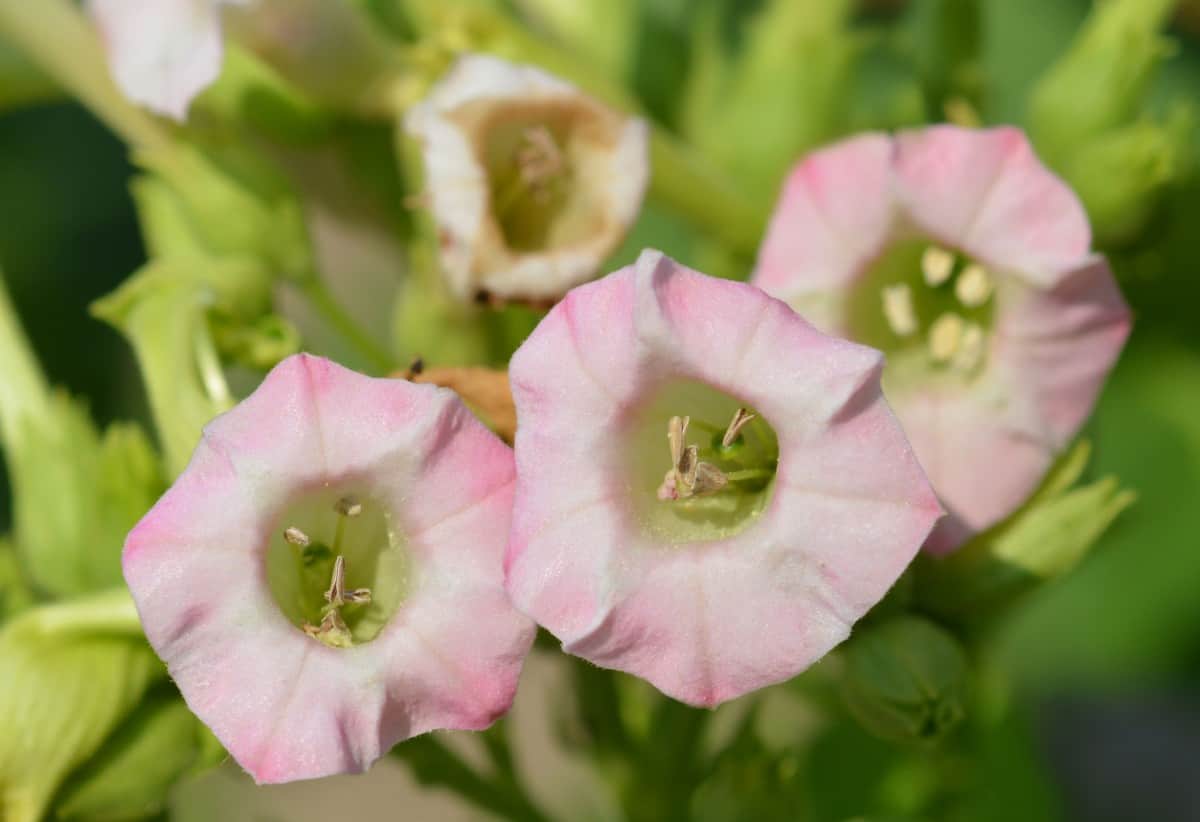 Flowering tobacco has trumpet-shaped blooms and fuzzy-sticky green foliage, resembling other night-shade relatives such as petunias. It produces five-petaled flowers in pink, red, white, and pale green from summer through fall.
Nicotiana grows well in both shade and sun and has a mature size of 3 to 5 feet tall and spread up to 2 feet wide. It tolerates dry conditions for short periods and enjoys moderate temperatures.
Pansy (Viola tricolor var. hortensis) – Colorful Dry Shade Flowers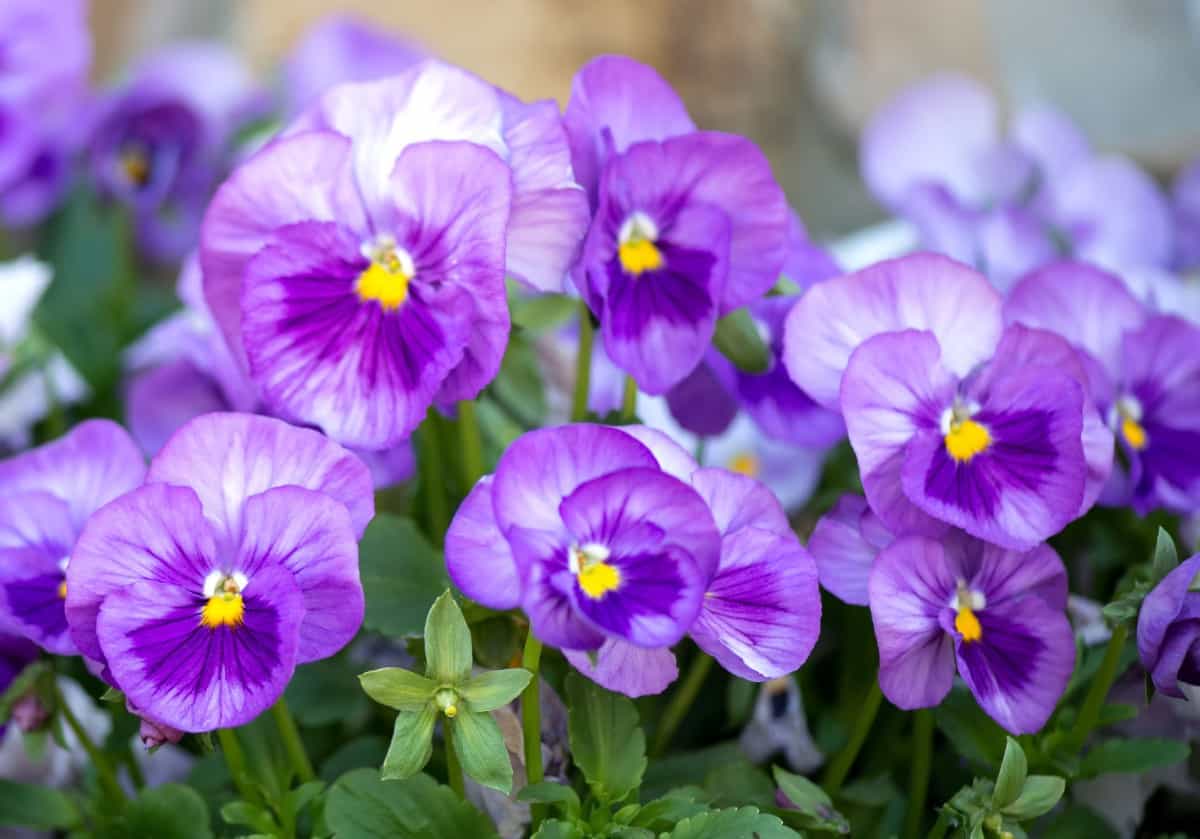 This cool-weather plant is noted for its multi-colored flowers that are almost heart-shaped. Their petals overlap with bi-colors and center markings that have a face-like appearance. They bloom in colorful shades of purple, pink, yellow, orange, and white flowers.
Pansies bloom from spring through fall and grow well in partially shady areas. Their fragrant blossoms are low growing with an average height and spread of 6 inches or more.
Wax Begonia (Begonia x semperflorens cultorum)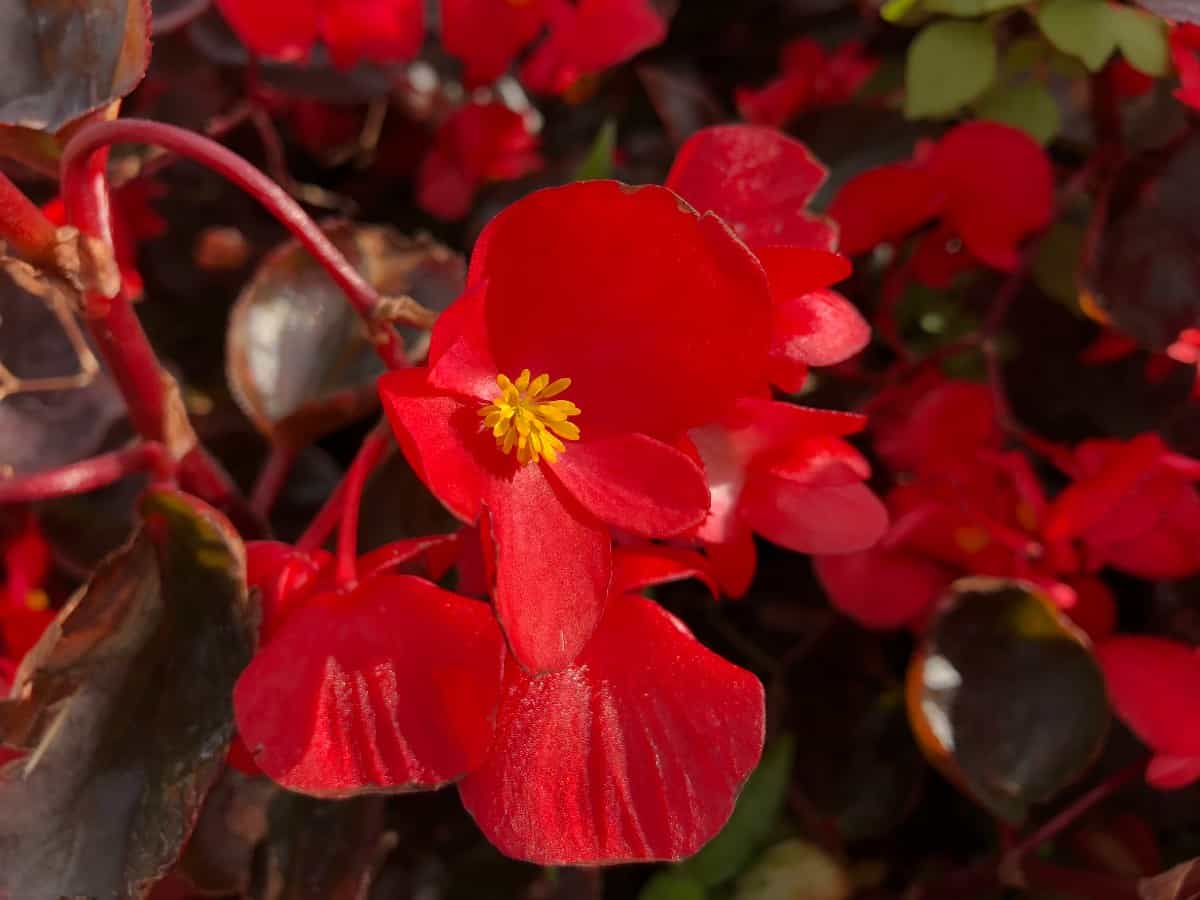 Wax begonias grow in mounds of waxy leaves that range in color, including bronze and dark green. They produce small white, pink, red, and bi-colored flowers in loose clusters throughout the growing season.
The wax begonia is a versatile plant that is suitable for growing in both sunny and shady areas of the yard. They grow well as a bedding plant, but require air circulation to prevent fungal issues. These begonias grow 6 to 12 inches tall and look stunning planted in masses.
Fuchsia (Fuchsia magellanica) – Bicolor Flower for Shady Hanging Baskets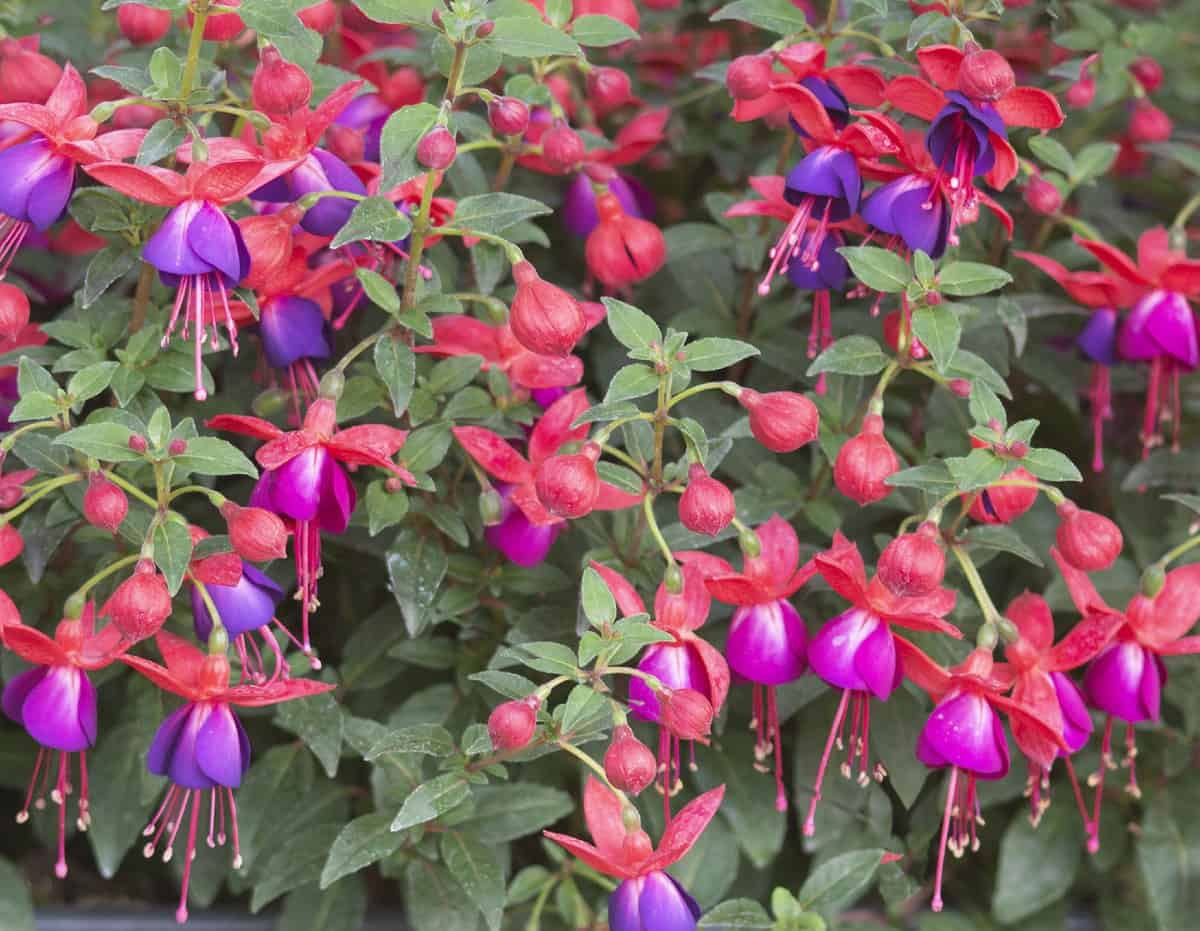 The unique blossoms of the fuchsia plant grow in an arrangement of flowers that resemble the swirling of colorful skirts in colors of red, orange, white, pink, and purple. Their cascading growth makes them an ideal flowering plant for hanging baskets.
Fuchsia plants enjoy part and full shade but tolerate some sun as well. They bloom from summer through fall and have an average height and spread of 3 feet. The flowers of this plant attract hummingbirds to the yard.
Lobelia (Lobelia erinus)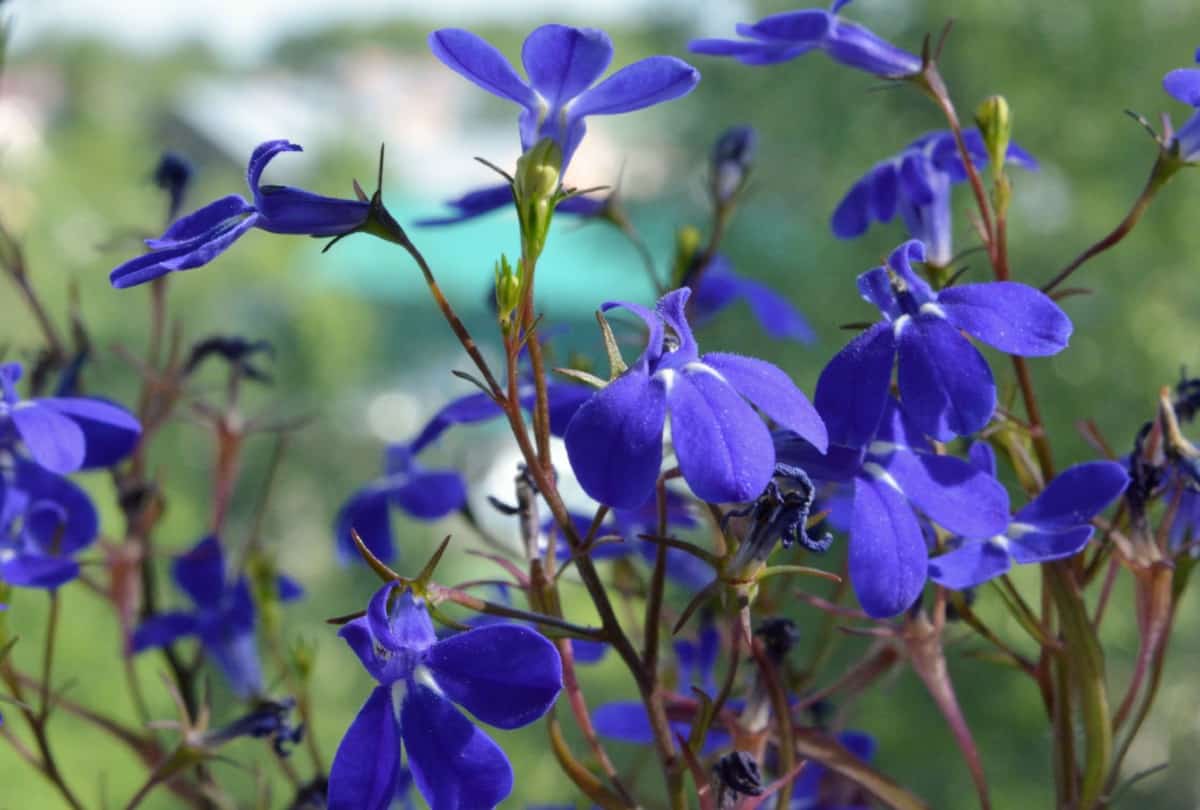 This non-stop bloomer produces vibrant masses of white, blue, pink, violet, and bi-colored flowers throughout the entire growing season. Some varieties grow in an upright form while others have a trailing habit.
Lobelia does not like hot weather and prefers growing in part to full shade areas. Depending on the type, it has an average growth height and spread of 10 to 12 inches. This plant is deer and rabbit resistant and attracts butterflies to the garden.
Geranium (Pelargonium) – Hardy Flower for a Shade Garden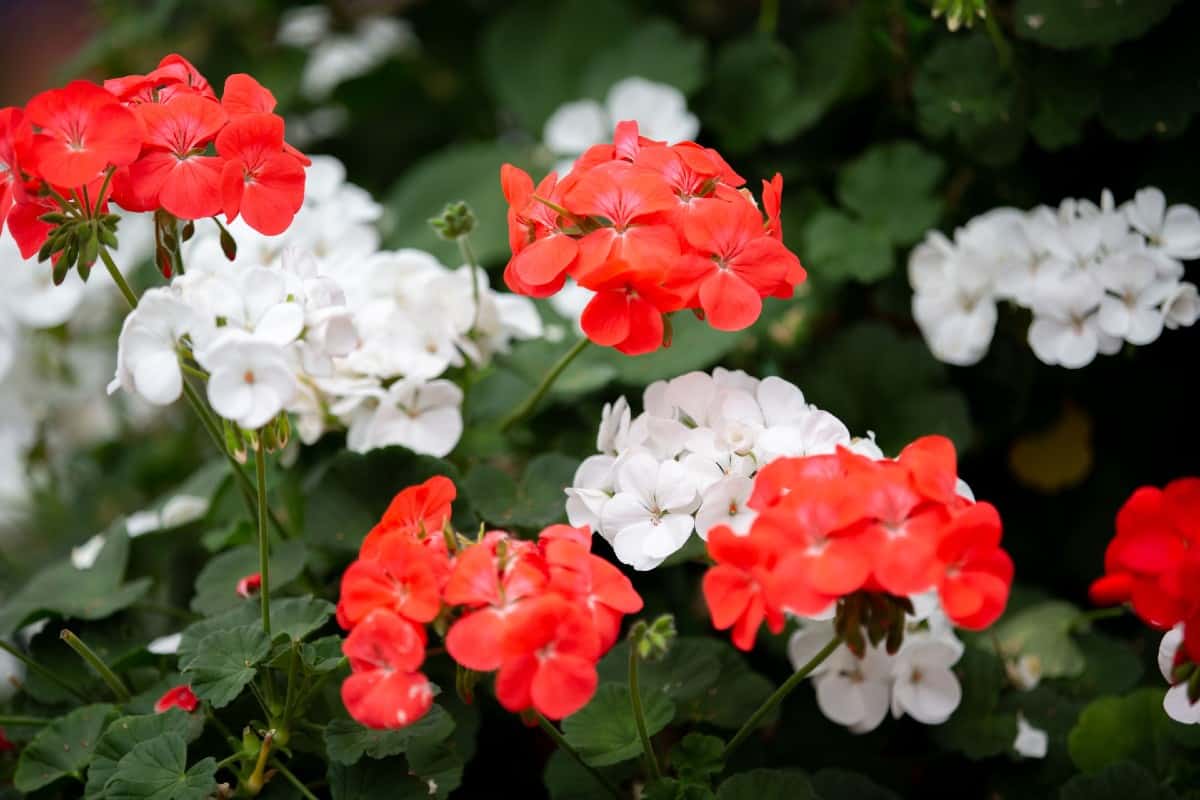 This popular garden flower produces colorful spikes of blooms in shades of purple, red, orange, white, and pink, and they flower freely throughout the season.
Geraniums hold up well to dry conditions and tolerate partial shady areas. Keeping annuals blooming all summer long involves deadheading the flowers to encourage more blooms and keep a tidy appearance.
These prolific bloomers grow from 6 inches up to 3 feet tall, depending on the variety. They are drought tolerant, deer resistant, and low maintenance, making them the perfect dry shade garden flower.
Wishbone Flower (Torenia fournieri)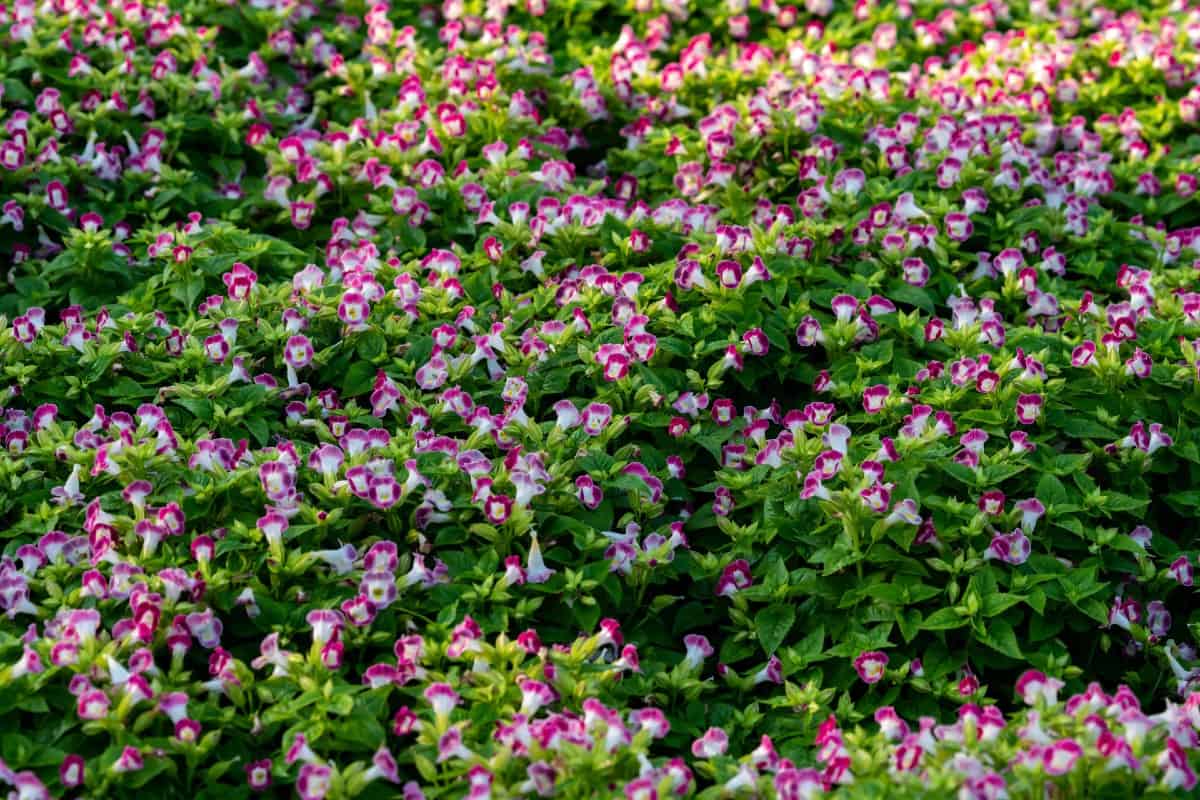 The upturned blooms of the wishbone flower give it a quirky and bright appearance. It is a profuse bloomer that requires minimal deadheading. It fills the area with shades of blue, purple, white, yellow, and pink flowers from spring through fall.
There are many varieties of the wishbone flower, including summer wave, and they all enjoy full to part shade to thrive. These deer resistant flowers are low maintenance and grow 6 to 12 inches in height with a 6 to 18-inch spread.
Sweet Alyssum (Lobularia maritima) – Shade-Loving Annual with a Sweet Fragrance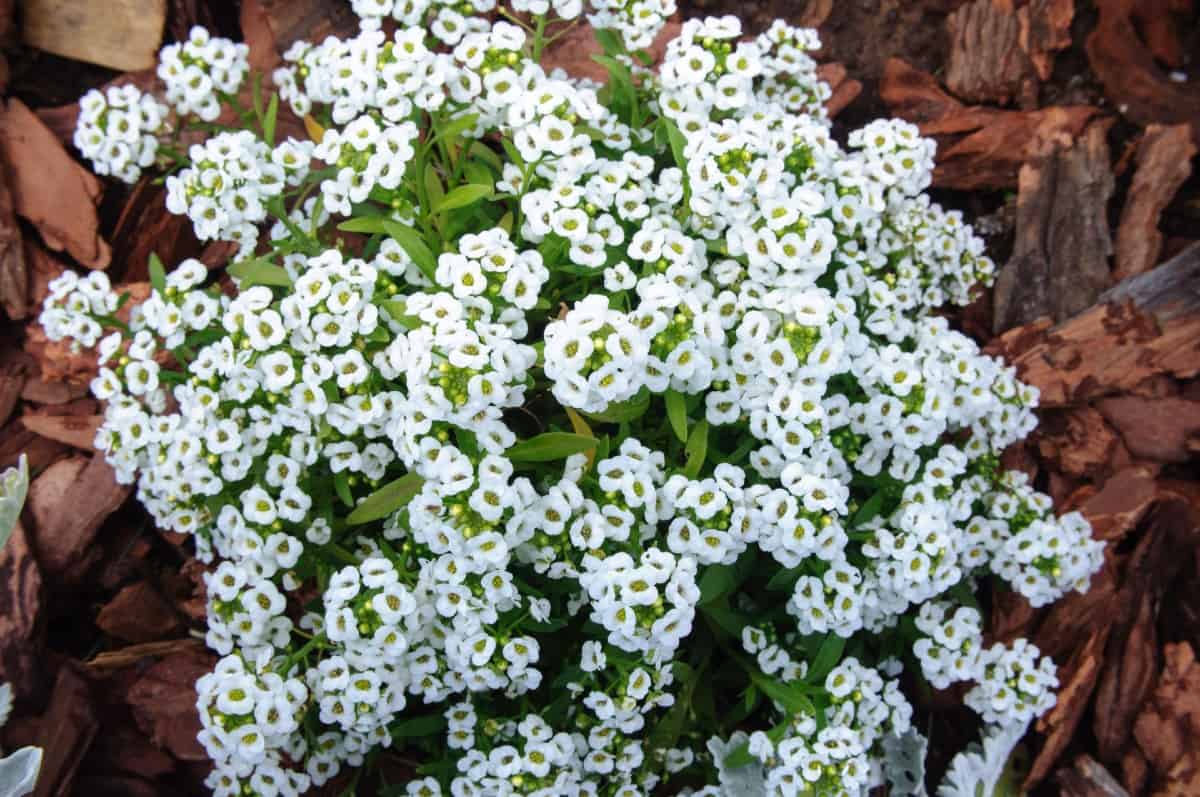 This cool-season plant fills the yard with dainty white, purple, or pink flowers and a sweet fragrant scent. They produce the most blooms during the cool times of the year from spring through fall and grow in tight mounds of foliage.
These flowers have a low growing habit of 6 to 12 inches in height and width, making them an ideal choice for a groundcover plant. They do not tolerate the heat of the sun and prefer growing in shady areas of the yard.
Balsam Impatiens (Impatiens balsamina)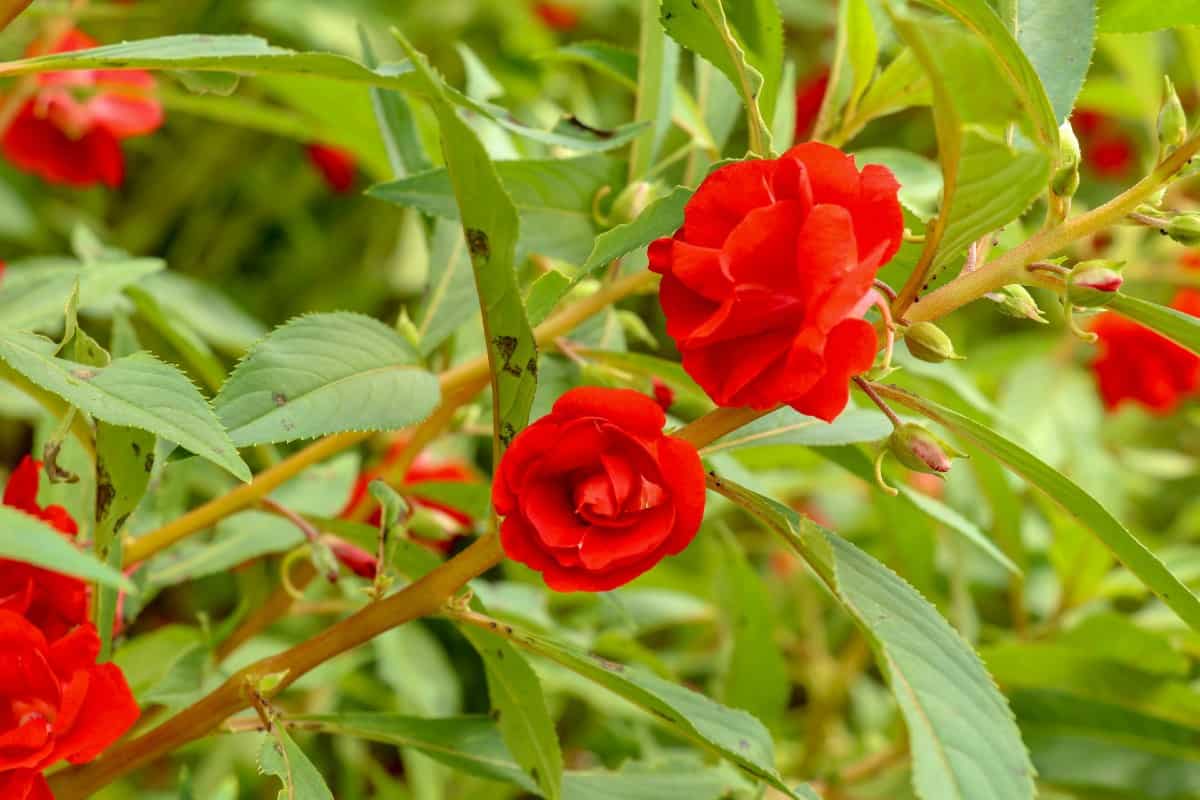 Balsam flowers are an old-fashioned favorite that goes by several different names, including garden balsam and rose balsam. They produce purple, white, red, and pink flowers that range from double to cup-shaped single blossoms from summer through fall.
These low maintenance annuals have dark green, lance-shaped leaves and thrive in both shade and sun, but require protection from the afternoon sun. Balsam impatiens grow 12 to 24 inches tall and grow well in a container or garden setting.
Foxgloves (Digitalis) – Tall and Striking Flowers for Dry Shade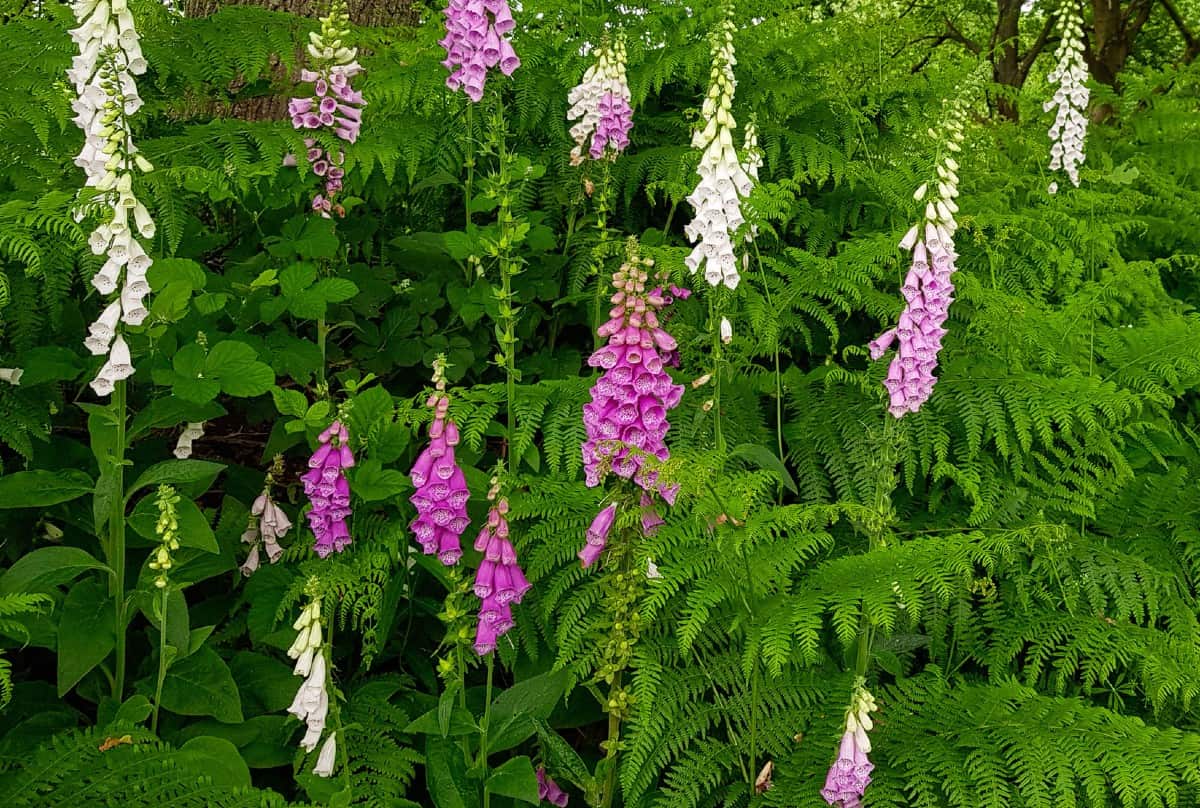 These eye-catching plants are tall and slender and produce tubular blooms in shades of white, pink, purple, orange, and yellow with striking patterns. They bloom from spring through summer and attract birds to the yard.
Foxgloves are a perennial plant in zones 3 through 8 but is also an annual flower in other locations. They are low maintenance, deer resistant, and are great plants for dry shade. They prefer partial shade or sun and have a mature size of 2 to 5 feet tall and spread up to 2 feet.
No two types of flowers are alike, and neither are the areas of your yard. Matching the right annuals to the best growing condition and location creates the perfect situation for a stunning garden setting.
Not only is a dry shade garden a beautiful sight to see, but these types of annuals are some of the easiest to grow.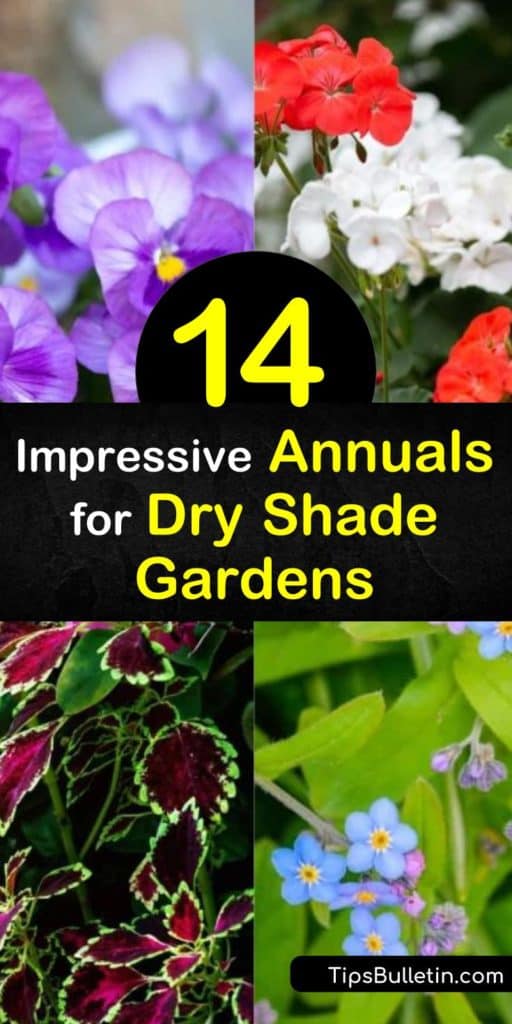 We hope that you fill shady areas of your yard with our annuals for dry shade for summer-time enjoyment, and we'd love it if you'd share our dry-shade annual guide with your family and friends on Pinterest and Facebook.