Growing beautiful flowers around your home, whether you plant them in a window box, planter, or flower bed, is a great way to bring cheer to your outdoor space. But what if most of your yard rests in the shade? Brighten dark areas around your home with annuals for shade and bring life to your yard with colorful foliage and vibrant blooms.
Planting a shade garden is not as hard as you think. Many annuals not only tolerate low light but thrive in shady areas of the yard.
There are a variety of plants that do not grow well in direct sunlight, and the high temperatures of the full sun cause them to wither and wilt.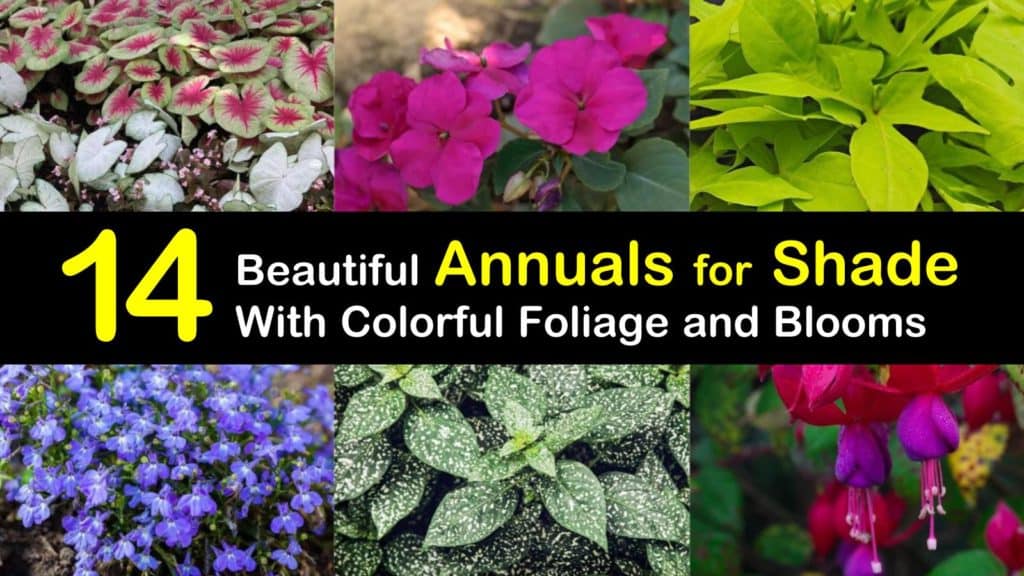 Growing Shade-Loving Annuals
Most people know at least some plants that grow in sun, but what grows in shade areas? The key to growing plants in a yard that receives very little sunshine through the day is to choose annuals that love either part shade or full shade.
We found many shade annuals that are perfect for bringing color and life to the area while attracting pollinators such as hummingbirds.
What are Shade-Loving Annuals?
Shade-loving annuals, such as coleus and balsam, are plants and flowers that grow best in part shade, low shade, or full shade. Many of these plants cannot tolerate much light at all and die when exposed to full sun.
While annuals do not grow back year after year as perennials do, they fill the yard with colorful flowers and foliage throughout the entire growing season.
How Do I Choose the Right Annuals for My Yard?
There are just a few factors to consider when purchasing annuals for your outdoor space. Check the plant label to determine if it is a part shade or full shade plant and choose the suitable varieties for your yard.
Pick healthy plants that do not have brown spots or wilted leaves and make sure that the roots are not growing out of the container's bottom. Choose flowers that have closed buds rather than open blooms.
What is the Benefit of Growing Annuals?
There are many benefits to planting shade annuals around your home. The most obvious reason is the colorful appeal they provide to the area, whether it is with their vibrant blooms or stunning foliage. Many of these flowers are even great for cutting to fill a flower vase in the home.
Annuals play another beneficial role in the yard. Many of them attract pollinators such as bees, butterflies, and hummingbirds. Not only do you get the opportunity to enjoy the beauty of the plants, but you get to watch nature at its finest.
Are Annuals Hard to Grow?
Annuals are the easiest types of plants to grow. The only hard part about growing these types of flowers is knowing that they die off at the end of the season.
Simply plant the flowers in good soil, whether in a flower bed or container, and water them regularly. Feed the plants occasionally to give them nutrients and deadhead the flowers to encourage more growth.
Impatiens (Impatiens walleriana)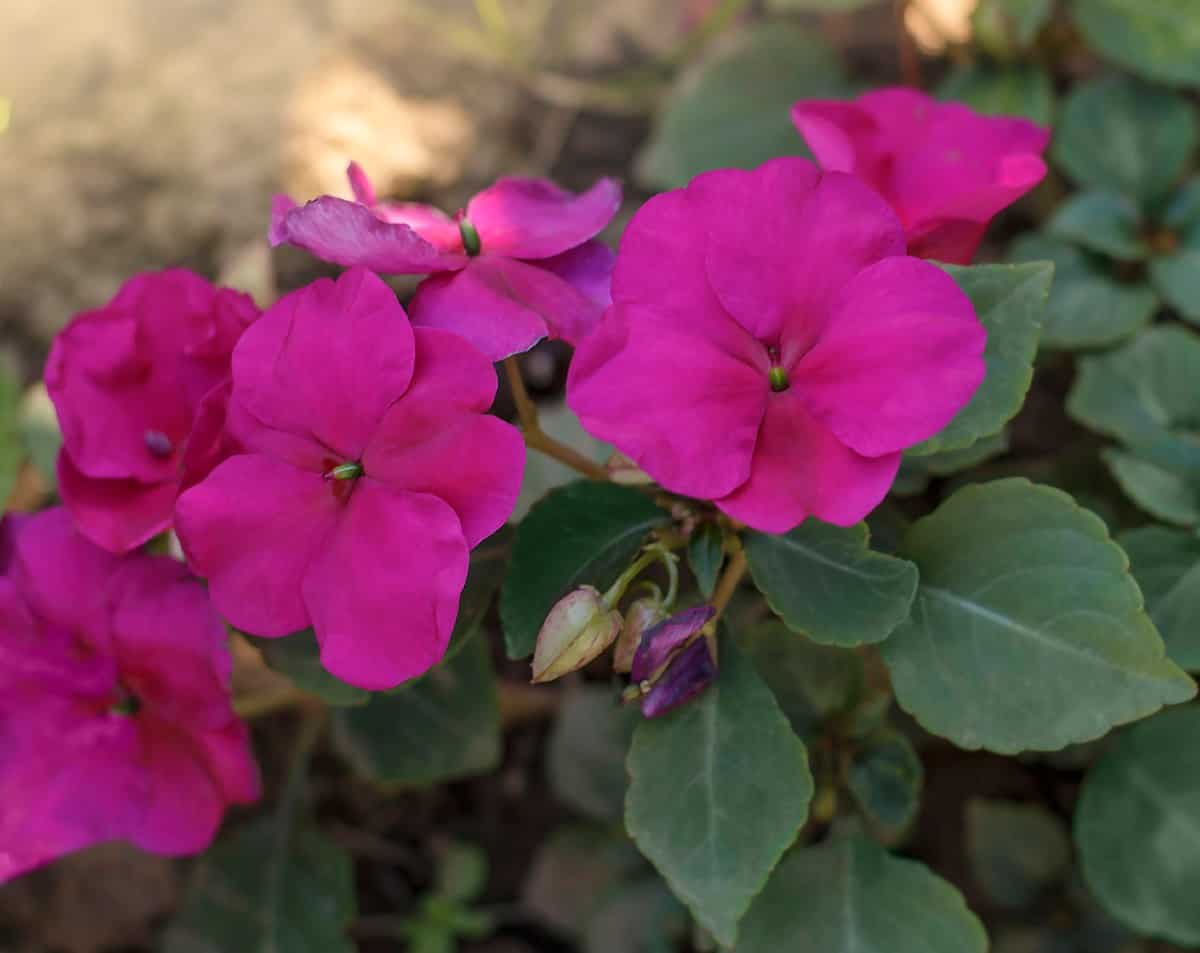 Impatiens is one of the most popular shade container plants. There are many different varieties of impatiens, including single and double impatiens, but not all types grow well in the shade, such as the New Guinea impatiens.
The shade-loving variety produces pink, purple, red, orange, yellow, and white flowers all summer long and does not need deadheading.
Impatiens grow 1 to 3 feet tall and wide, depending on the variety, and enjoy part to full shade. They are an annual flower that is low maintenance and fill garden spaces with their groundcover habits.
Caladium (Caladium ) – Annuals for Shade with Colorful Foliage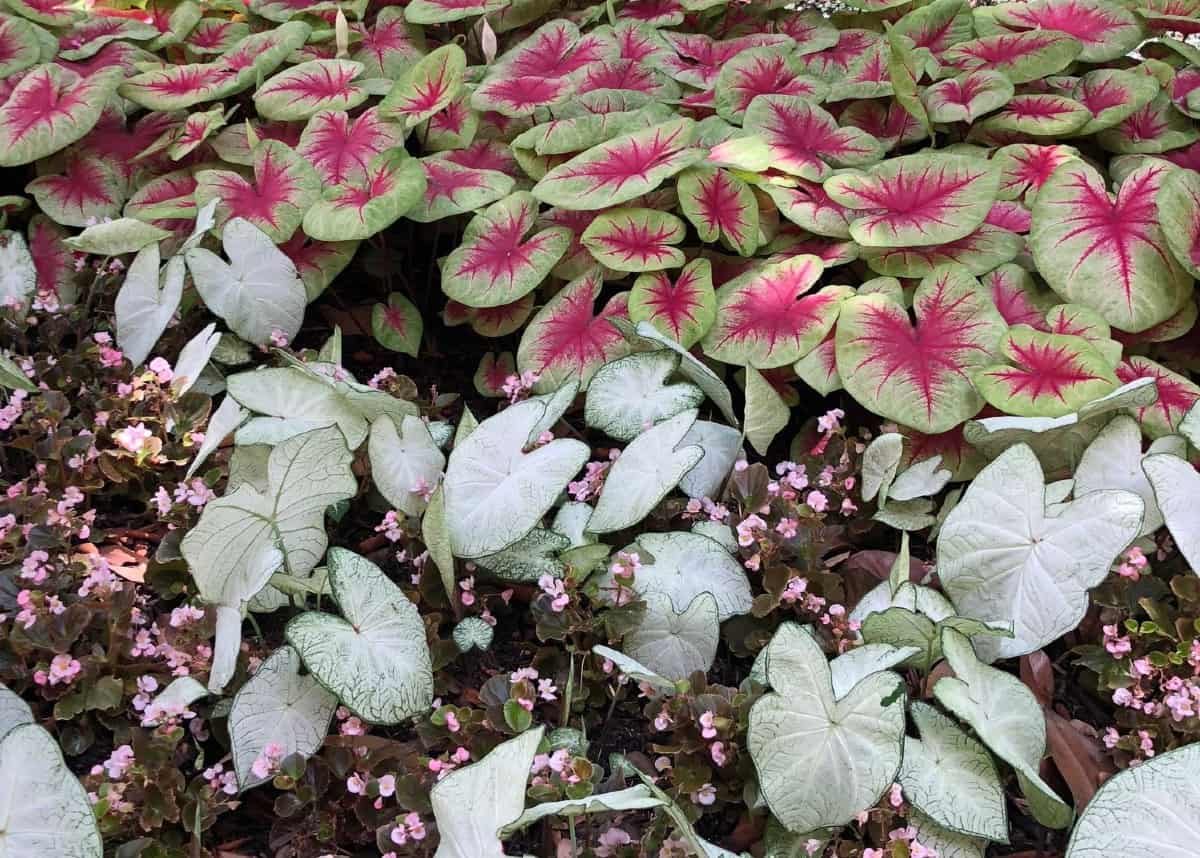 These shade-loving plants have arrow-shaped leaves with stunning blue/green, purple/burgundy, and gray/silver splattered foliage. It is a bulb type plant that enjoys part shade and filtered sun and grows well in containers or gardens.
Caladium grows 1 to 3 feet tall with a spread of up to 2 feet. It grows as an annual but thrives as a perennial in zones 10 and 11. This low maintenance plant grows well as a groundcover beneath a tree or other shady spots in the yard.
Polka-Dot Plant (Hypoestes phyllostachya)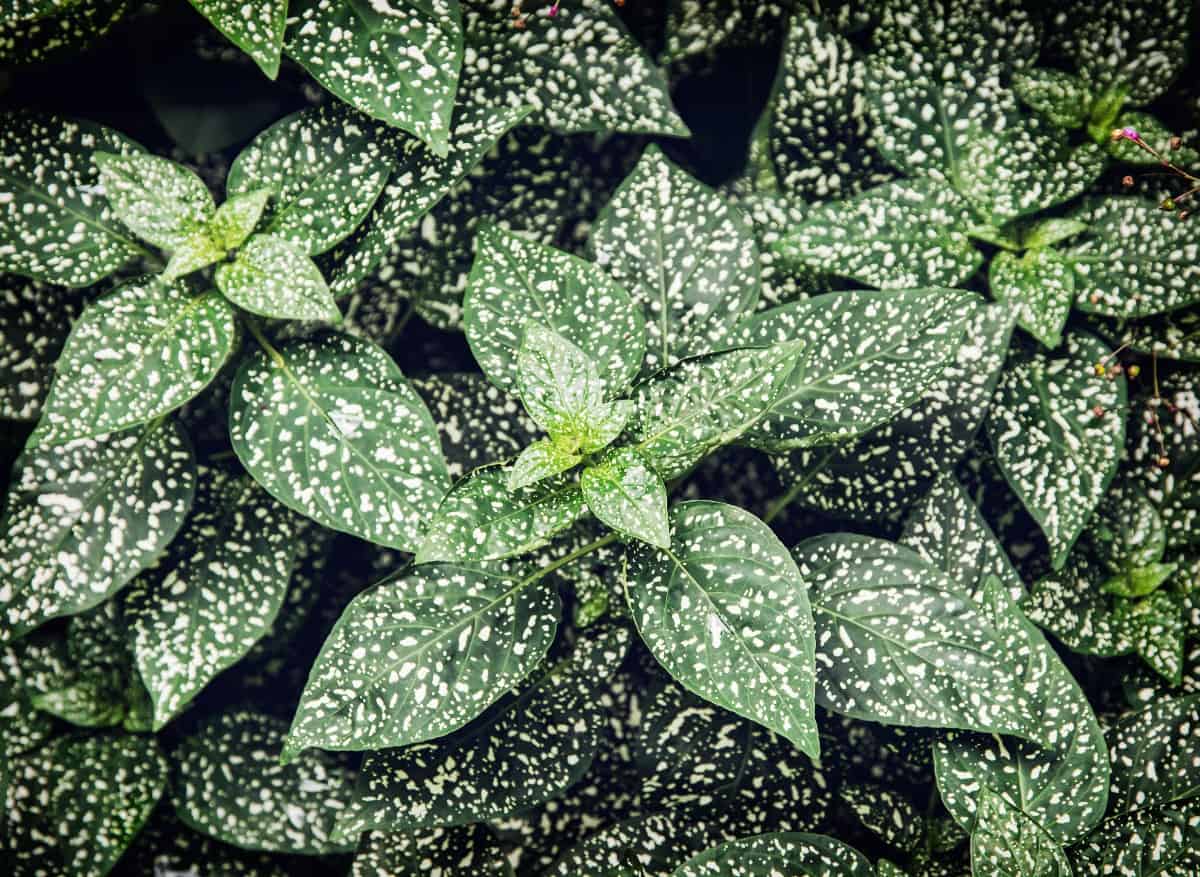 This foliage plant is a common houseplant that grows well under the right outdoor conditions. There are many different varieties, and most have a green base leaf with splashes and speckles of color ranging from purple and white to pink and red.
Polka-dot plants are awesome plants for shade that grow up to 3 feet in height in their native habitat, but their size is easy to maintain if planted in containers. They enjoy low light areas of the yard and need consistently moist soil.
Browallia (Browallia speciosa) – Shade Plants that Attract Hummingbirds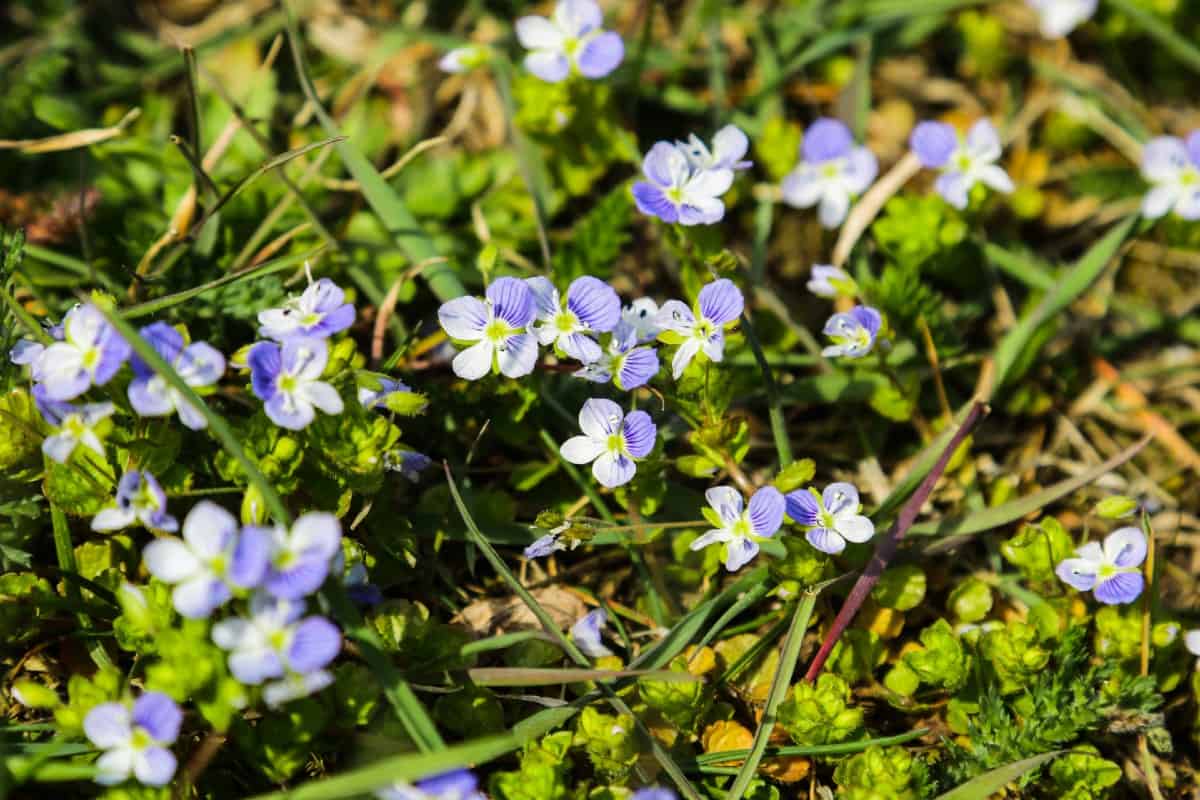 Browallia produces star-shaped blue, purple, and white flowers that look striking against its bright green foliage. It has a tidy, mounding shape that makes them ideal flowers for pots and hanging baskets or as a border plant in shade gardens.
This low-maintenance plant blooms from spring through fall and thrives in part to full shade. It is an annual that grows as a perennial in zones 9 through 11. As a low light outdoor plant, browallia reaches a height of 1 to 3 feet, with a spread up to 12 inches.
Pansies (Viola tricolor var. hortensis)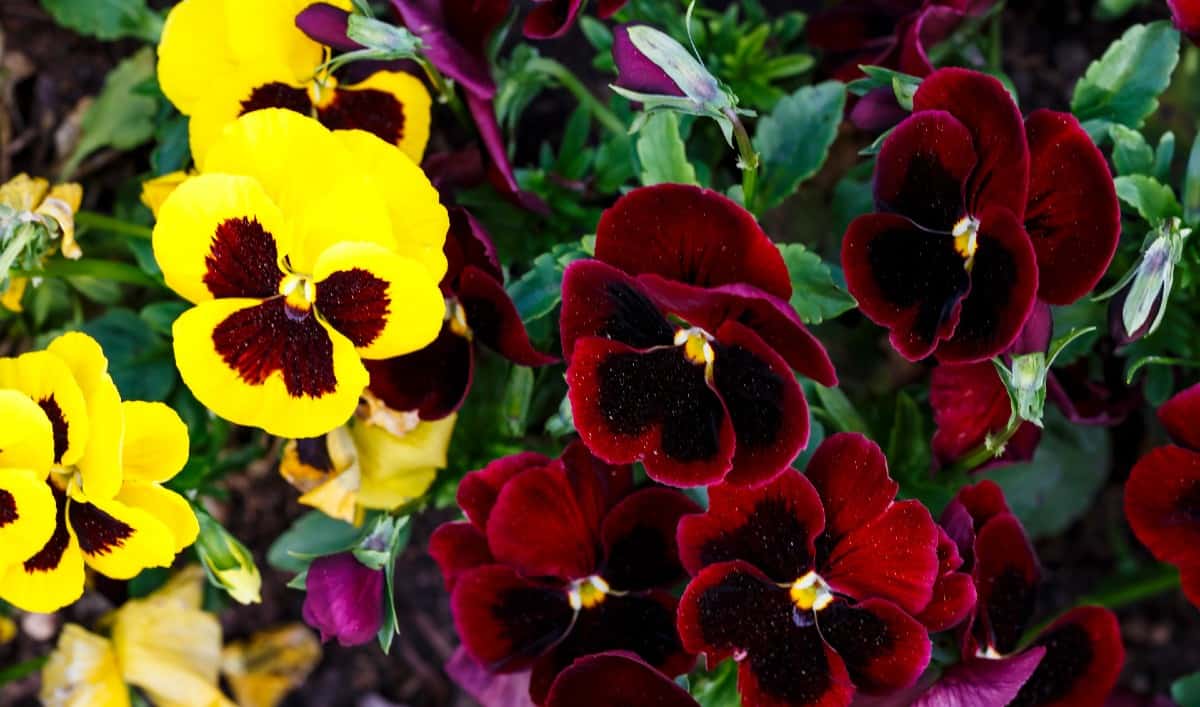 Pansies or violas are a cool-season plant that signals the arrival of spring with their early blooms. They also brighten the fall landscape.
It is a low-growing plant that produces dainty flowers in colorful mixed shades of purple, white, red, yellow, orange, and pink blooms.
These fragrant flowers and easy shade plants enjoy growing in partial shade and have an average growth height of 6 inches with a spread of 4 to 12 inches.
They are pretty annuals for baskets and containers, as well as planters and flowerbeds, and bloom in spring and fall.
Begonia (Begonia x semperflorens-cultorum) – Shady Flower with Stunning Foliage and Blooms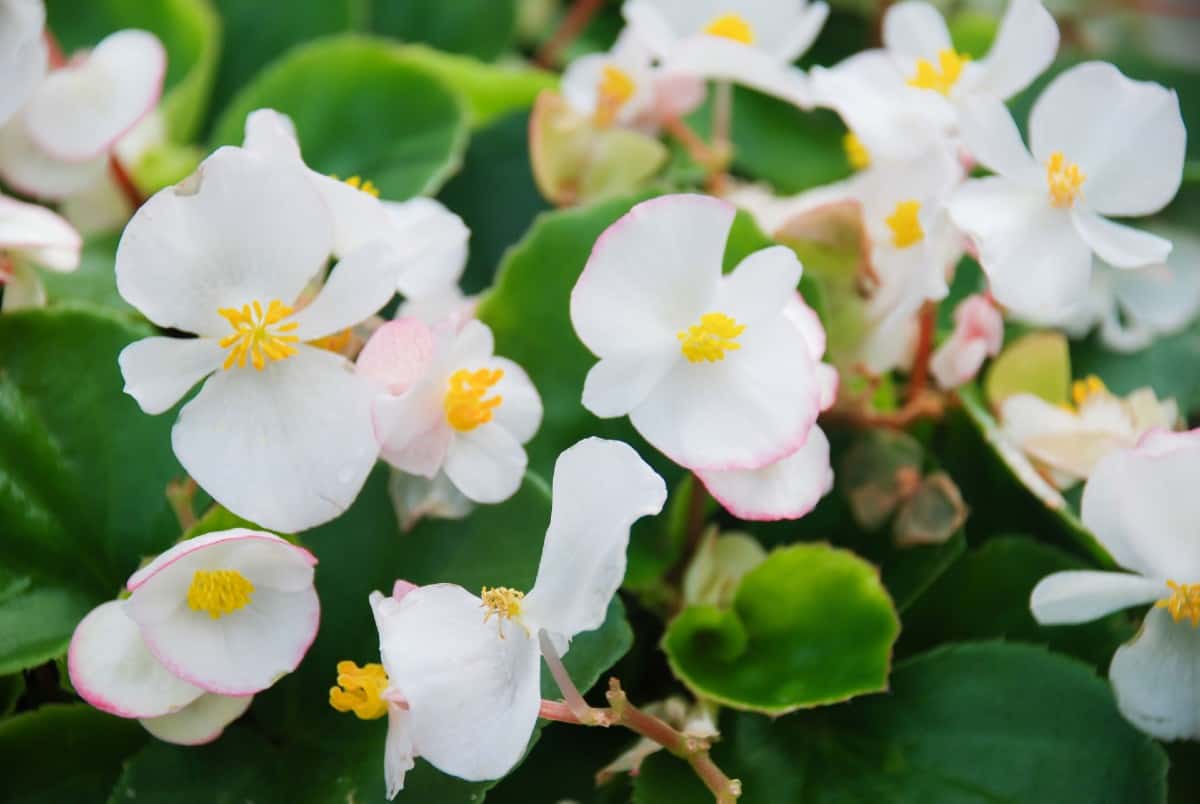 There are many varieties of begonias, including the dragon wing, wax begonia, and tuberous begonias, and these flowers tolerate many light conditions from full or part shade to part sun.
They bloom from spring through fall in shades of pink, yellow, white, and orange and come in a variety of sizes and shapes.
As easy growing annuals, begonias grow from 6 inches to 3 feet tall, with a spread of 6 to 12 inches, depending on the type. They are low maintenance and thrive in rich, well-drained soil.
Give them plenty of water and fertilizer and watch as they fill a space with ease. Hanging planters or window boxes make the ideal location to place these beauties.
Oxalis (Oxalidaceae)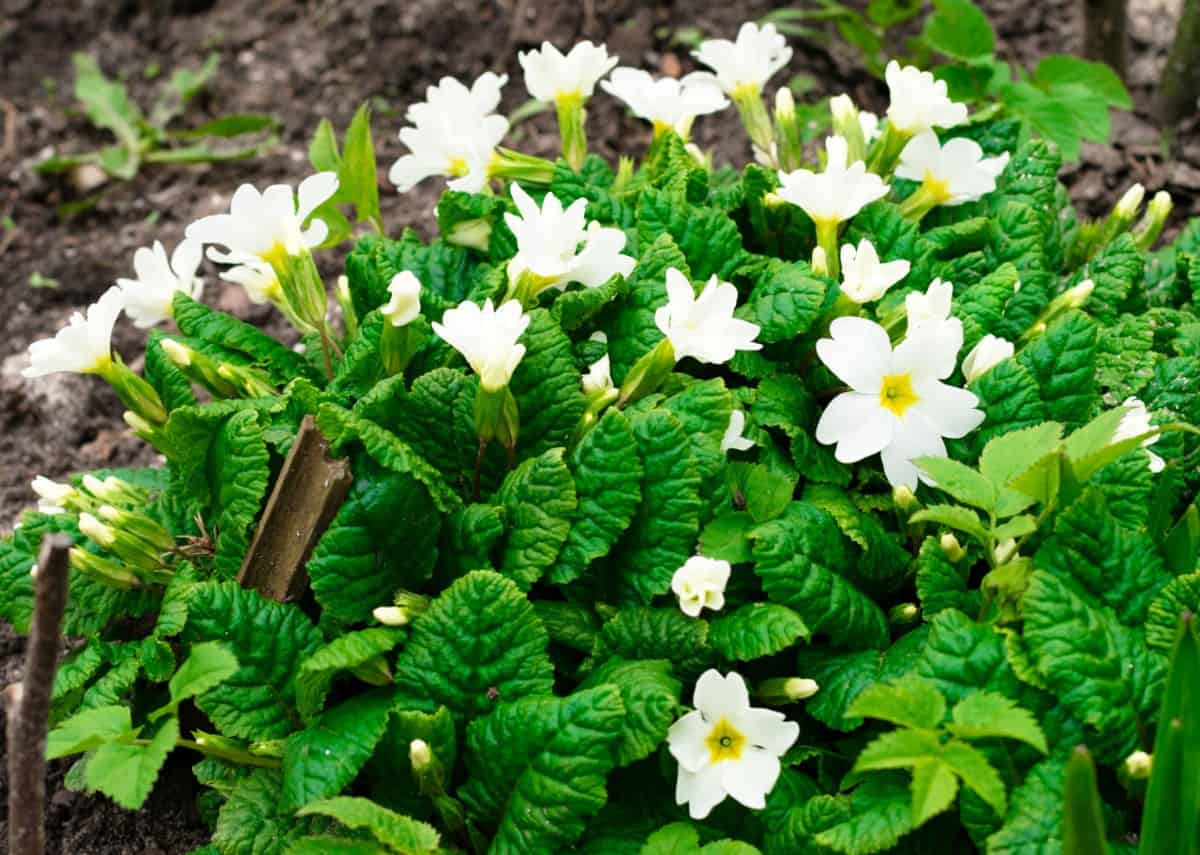 There are hundreds of oxalis species with a wide range of types. They have different shades of foliage ranging from blue/green to purple/burgundy and produce flowers in colors of orange, white, yellow, or pink from spring through fall.
This low maintenance flower is drought tolerant and thrives in part to full shade. It has a low growing habit and only reaches a height of 6 to 12 inches with an equal spread, depending on the variety.
Fuchsia (Fuchsia magellanica) – Hanging Shade Plant with Swirling Skirt of Colorful Blooms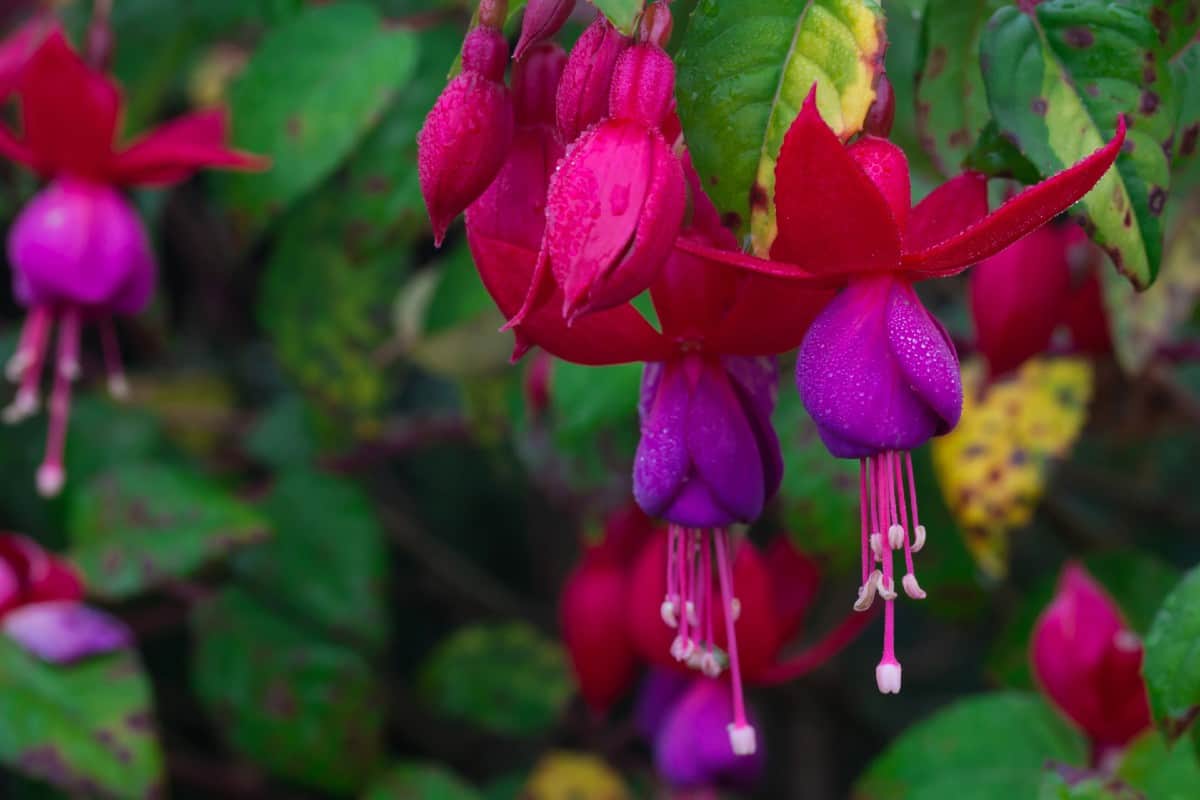 Fuschia is a vibrant plant that produces a display of bicolor flowers in shades of purple, red, orange, white, and pink all summer long. The foliage and bloom stems drape over the edge of a container and are the ideal annuals for hummingbirds in the garden.
This plant is an annual that grows as a perennial in zones 8 through 10. It thrives in both shade and sun and has an average height and width of 3 feet, depending on the type and container.
If you have a problem with slugs in your yard and garden, fuchsia is one of the annuals that repel slugs, so it's one plant that will be safe from the slimy creatures.
Wishbone Flower (Torenia fournieri)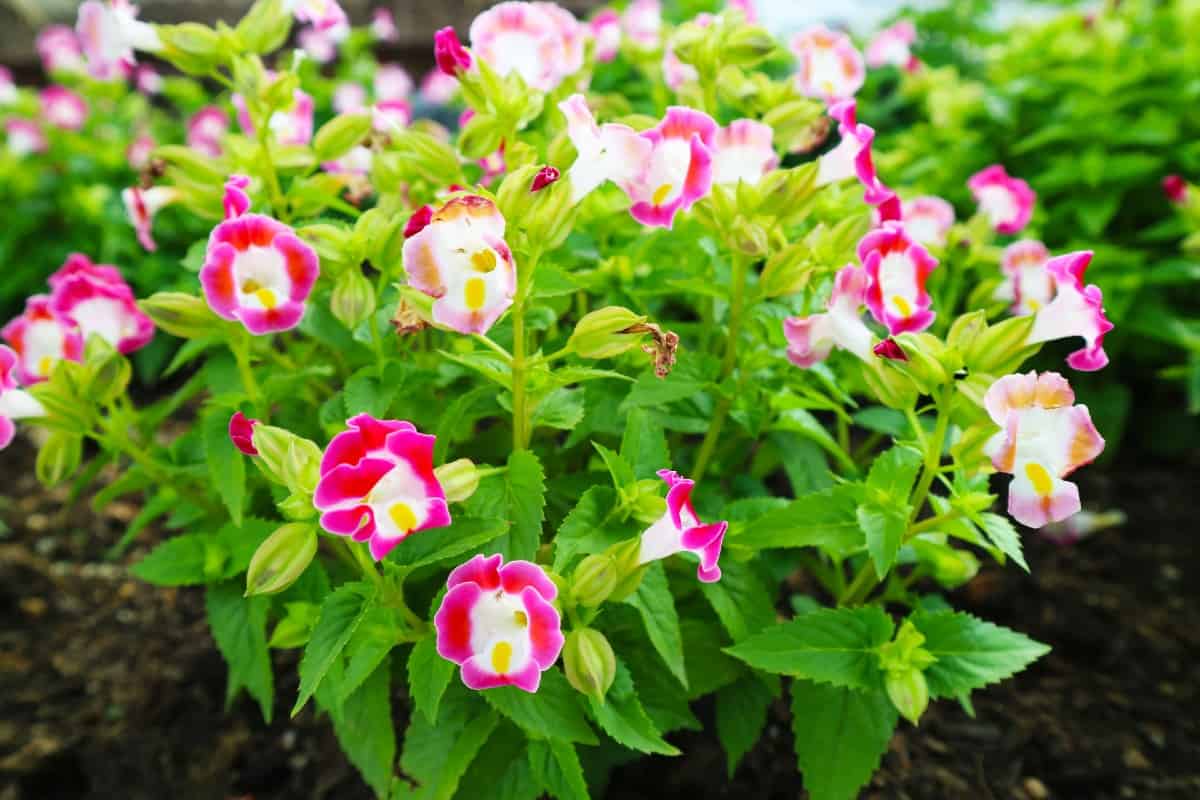 There are many types of wishbone flowers, including the upright and trailing variety, such as Summer Wave. These pretty blooming annuals have stamens that form wishbone shapes and produce flowers in bright hues ranging from purple, blue, and white to pink and yellow.
This low maintenance flower is deer resistant and blooms from spring through fall. The wishbone flower reaches a height of 6 to 12 inches and a spread of 6 to 18 inches, depending on the type.
Sweet Potato Vine (Ipomoea batatas) – Vigorous Shade Annual with a Trailing Habit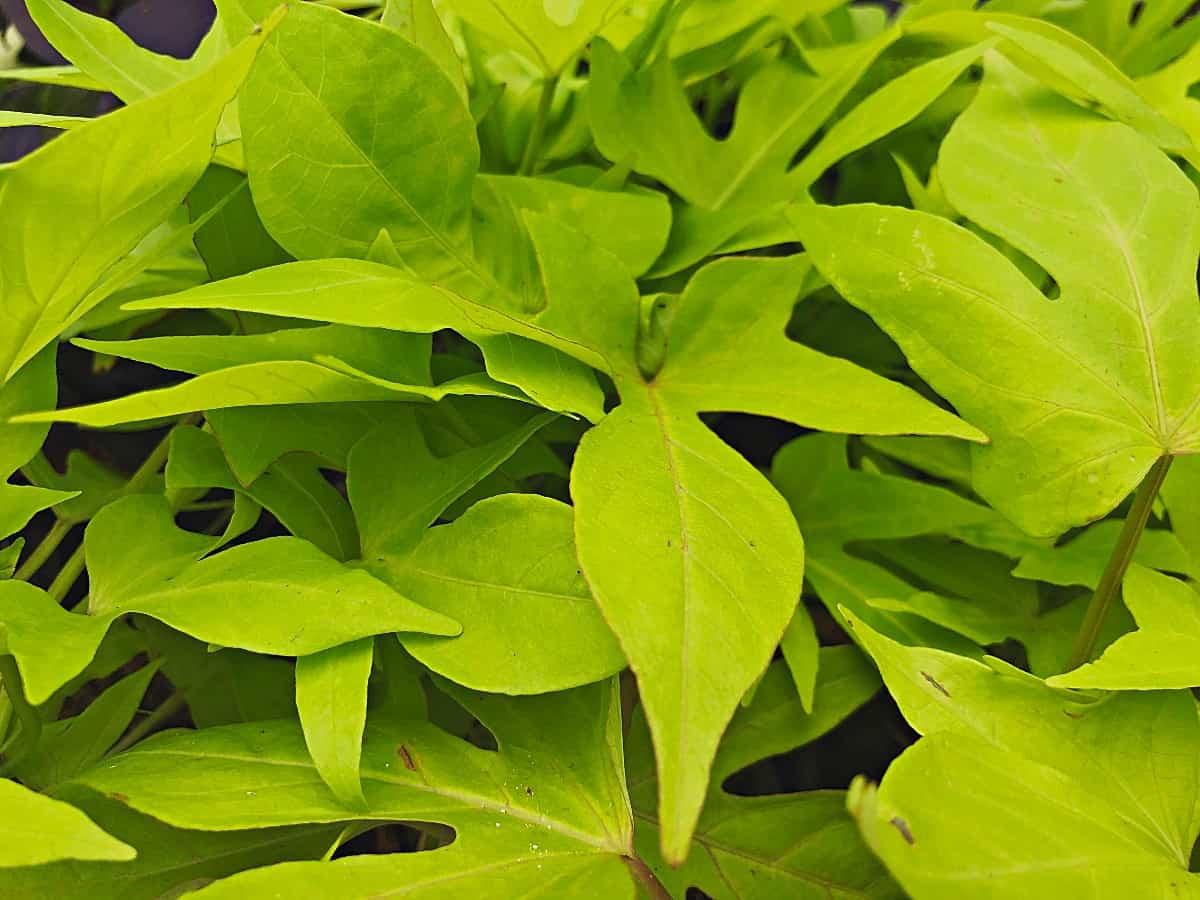 The sweet potato vine comes in a variety of interesting shapes, colors, and sizes. This vigorous plant is one of the annuals with colorful leaves. It produces trailing foliage in shades of blue/green, purple/burgundy, and chartreuse/gold, and it grows well as a groundcover or in containers.
These low maintenance plants are easy to grow and enjoy part shade areas of the yard. The height of the plant only reaches 6 inches, but it spreads up to 3 to 6 feet wide under the right conditions.
Nicotiana (Nicotiana persica)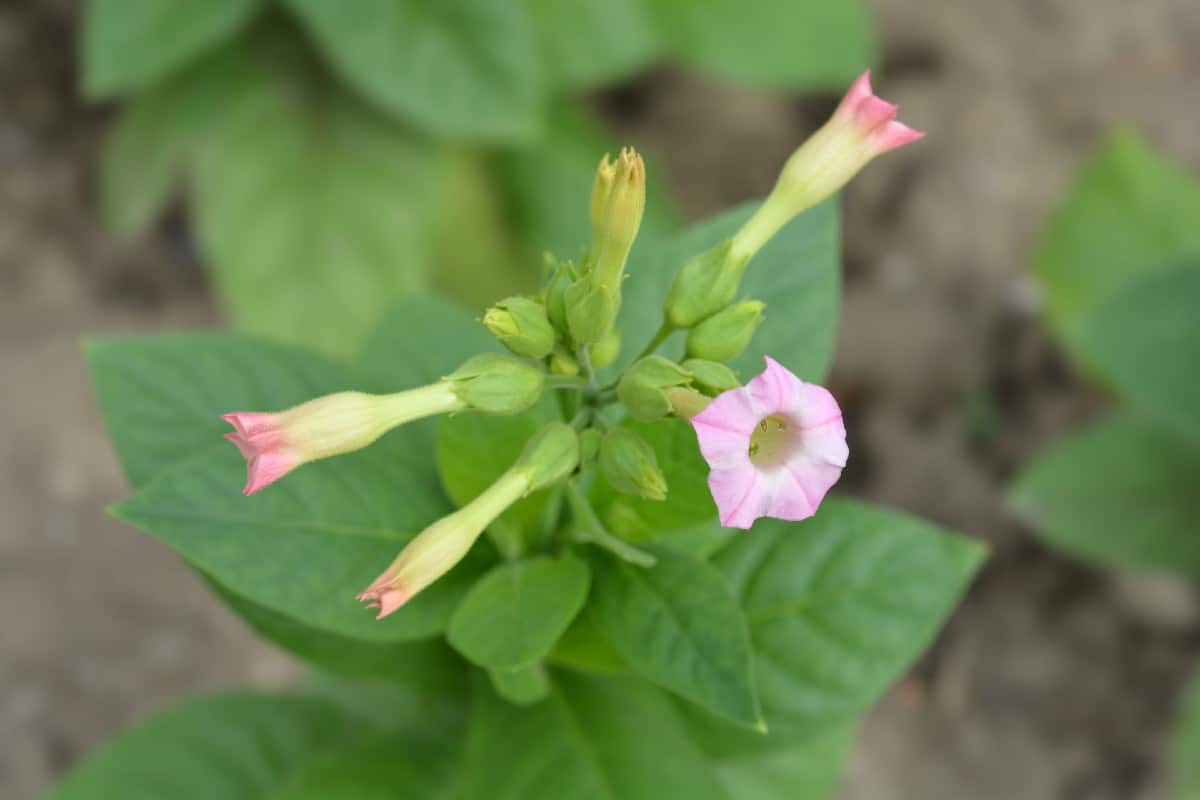 Also known as the flowering tobacco plant, nicotiana produces trumpet-like flowers. These annuals for fragrance smell more strongly in the evening than during the day. The flowers attract nocturnal pollinators such as moths to the garden, and they bloom all summer long.
Nicotiana is a warm-natured flower that thrives in partial shade. Some varieties only grow to a few inches tall, while others reach a height of 5 feet. Regular watering and deadheading are required to produce brilliant blooms.
Sweet Alyssum (Lobularia maritima) – Dainty and Fragrant Flowers for Shade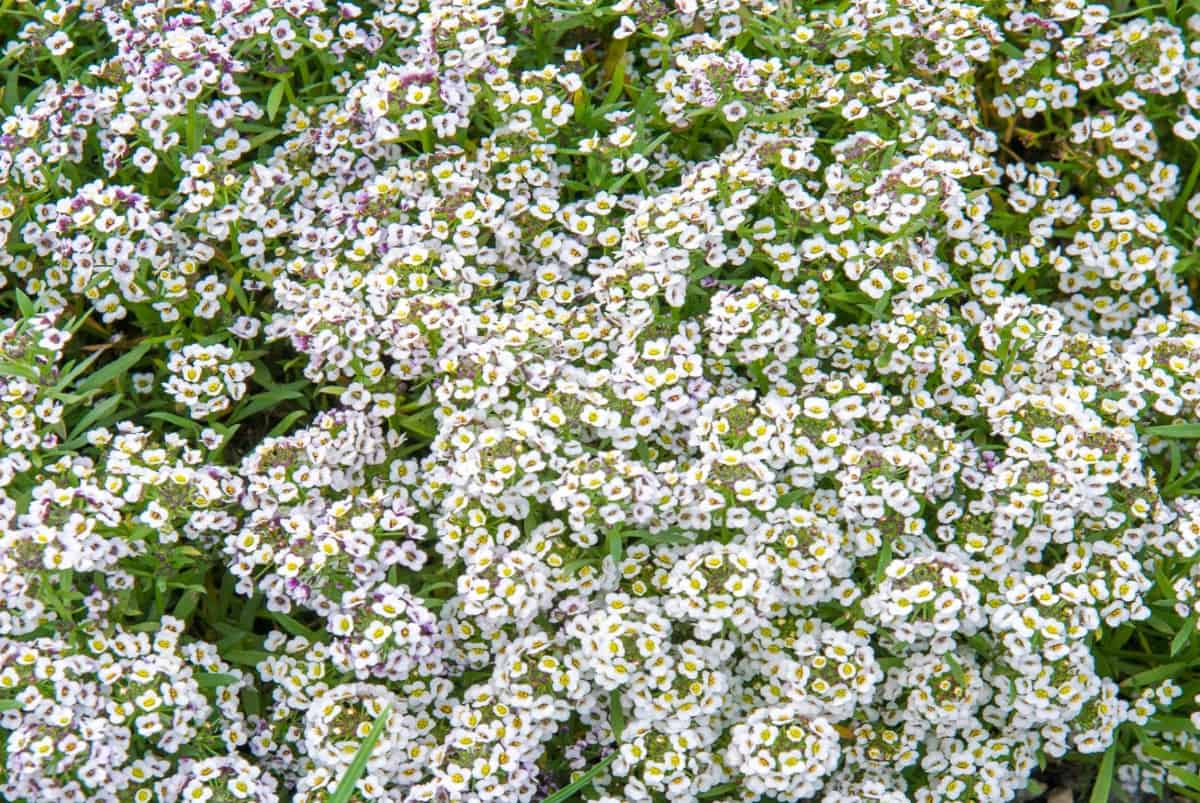 This cool-season annual produces an abundance of pink, white, and fragrant purple flowers during mild spring weather. The blooms have a light honey fragrance that attracts pollinators to the garden and look stunning planted in masses.
Sweet alyssum is a low growing flower with an average height and spread of 6 inches. It loves partial shady areas of the yard and is low maintenance, making it an ideal choice for containers.
Snapdragons (Antirrhinum)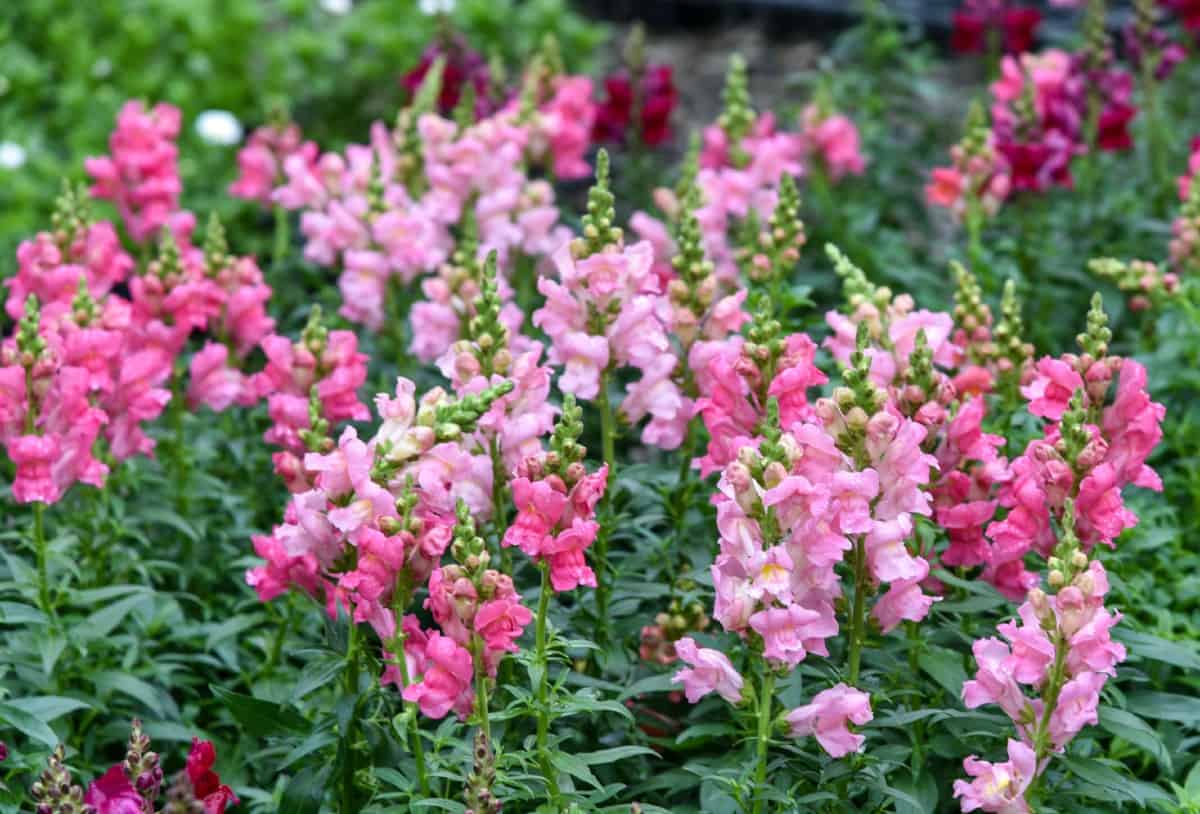 Snapdragons are a cool-season flower that produces tall flowers in bright and cheery shades of orange, red, white, pink, and yellow flowers from spring through fall. These plants make excellent cut flowers and grow well in containers or a garden setting.
These flowers are an essential nectar source for bumblebees, and they thrive in partial shade. Snapdragons are low maintenance and have an average height of 1 to 3 feet, with a spread of 6 to 18 inches, depending on the type.
Lobelia (Lobelia erinus) – Hummingbird Magnet with Tall Spikes of Flowers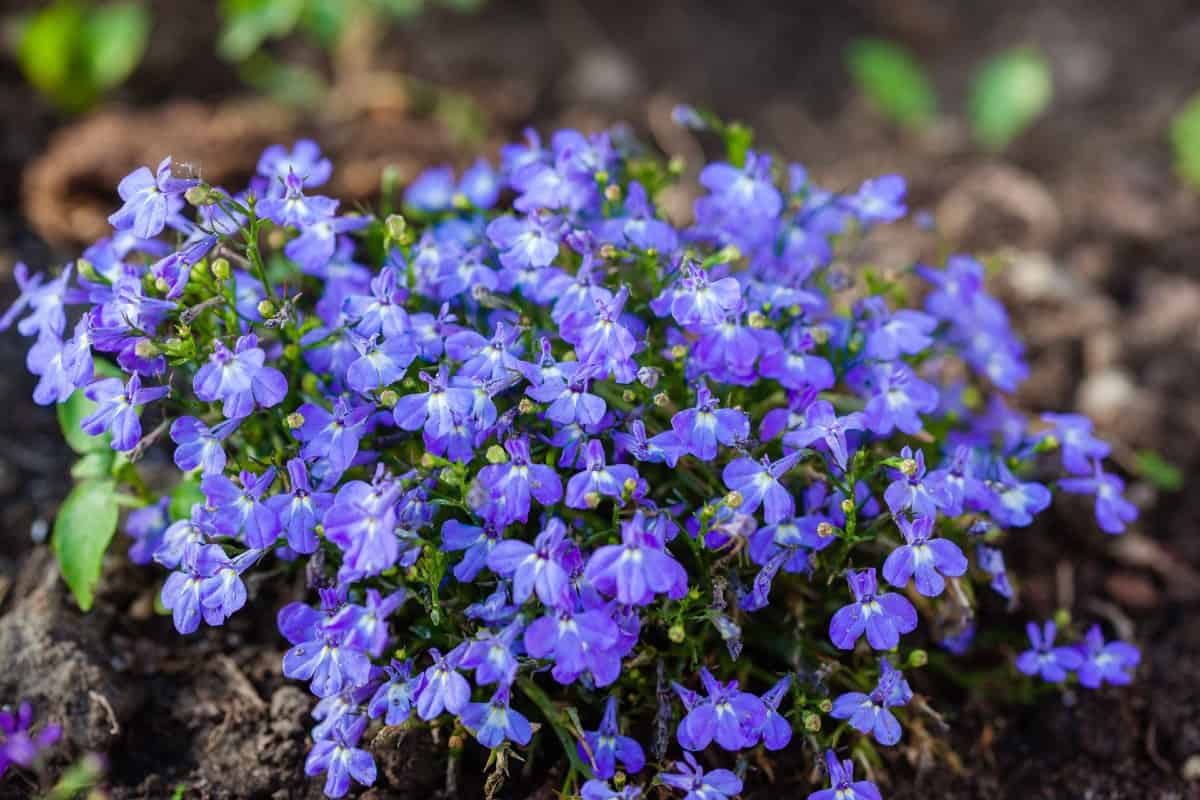 Lobelia is a low growing annual that produces tall spikes of flowers in shades of blue, red, white, and pink throughout the summer. It has striking foliage that is rich green to dark reddish-purple.
These colorful flowers are magnets for hummingbirds and enjoy moist conditions. They grow well in part shade areas of the yard and have an average height of 3 feet tall with a width of 1 to 3 feet wide.
Growing a stunning flower garden filled with fragrant flower blooms and striking foliage is not reserved for sunshine gardens alone.
It's easy to fill a north-facing window box with full shade flowers, or place hanging baskets beneath a partial shade tree, and create beautiful flower beds in shady spots of the yard. All you have to do is pick the right flowers and plants for your yard's growing conditions.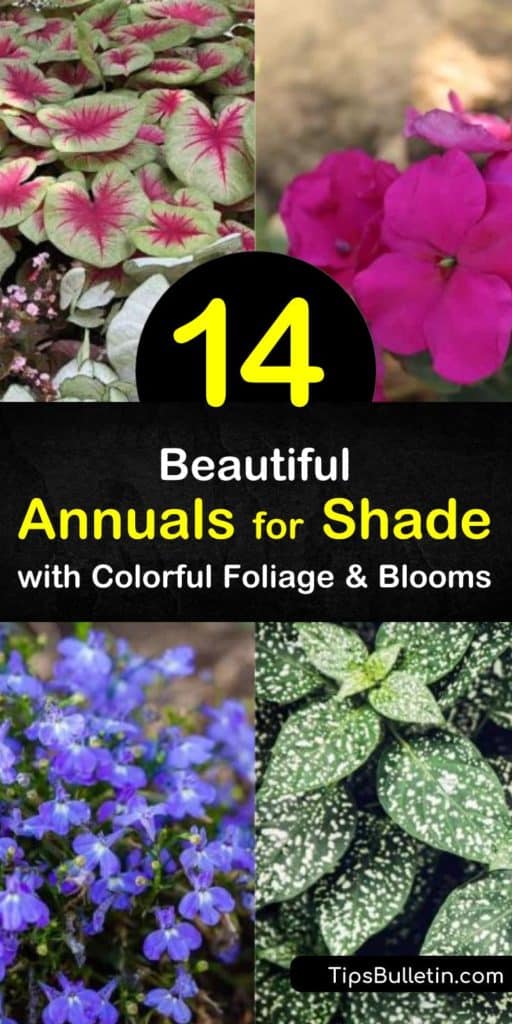 We're pleased that we could help you in your search for the perfect annuals for shade to fill your outdoor space with attractive foliage and vibrant flowers, and we'd love it if you'd share our guide to shade-loving annuals with your family and friends on Facebook and Pinterest.