Coastal environments are some of the most challenging for gardening, with their strong winds and sun, salt, and sand. With all these barriers to growing a luscious seaside garden, you'll be happy to find out about tough annuals for the beach.
When you think of annual flowers, you may come up with garden center classics like the zinnia, dianthus, or impatiens, or even more unusual species like celosia.
These are all excellent annuals, and some even possess desirable characteristics for a coastal garden, like tolerance for sandy soil. However, some annuals are even more suited to a coastal garden.
Annual Plants for Coastal Environments
If you live by the beach or the coast, it's important to choose trees that grow on beaches, as well as certain annuals and perennials that can handle the conditions.
As long as you carefully follow the guidelines for where and when to plant them, these annuals' colorful blooms and leaves are their own sweet reward.
Where to Plant Annuals for the Beach
The best planting location for these annuals varies as much as the plants themselves. Some make good ground covers or work well in a bed or border. Several make excellent container plants, whether in window boxes or hanging baskets.
Most, though not all, do best in the heat and full sun, perhaps with some shade in hot climates. Many of these annuals are perennials in tropical zones.
When to Plant Annuals
Annuals can be tender, half-hardy, or hardy. Sow tender annuals either indoors four to six weeks before the final frost, or outdoors once there is no frost risk.
Start half-hardy annuals indoors six to eight weeks before the final frost or directly outside once the soil has started to warm up.
Sow hardy annual seeds outside in early spring since they tolerate light frost. The sowing date also depends on how long the plants take to germinate and mature.
Pot Marigold (Calendula officinalis)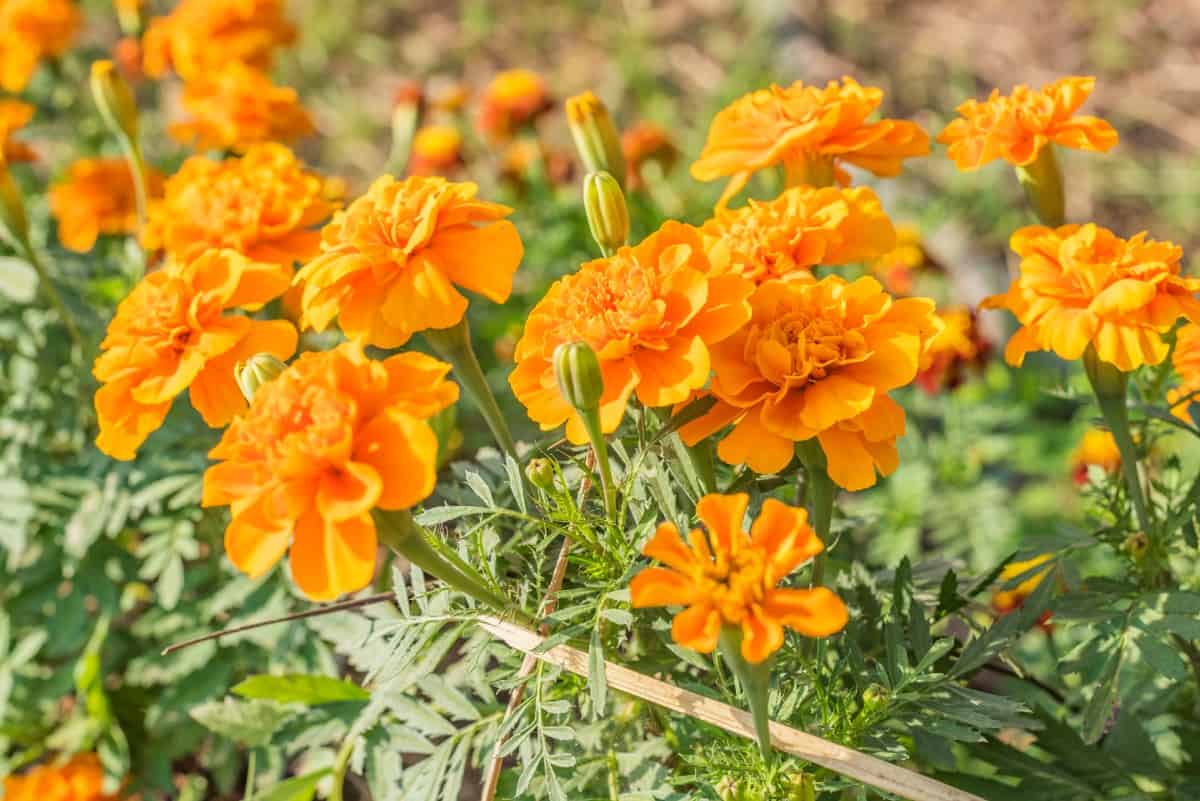 These compact ground cover plants for the beach bear yellow, orange, pink, or creamy blooms from May to early fall. The flowers and leaves are edible but bitter. Calendula thrives in beds and containers in mild coastal areas.
Start its seeds indoors six to eight weeks before the final frost or outside just before the final frost. Find a location with full sun or part sun in hot climates. The soil should be average-quality, well-drained, fertile, and slightly acidic or neutral.
Add balanced, water-soluble fertilizer when planting if the soil is of low quality. Water your pot marigolds frequently until they're established, then only occasionally.
Wax Begonia (Begonia semperflorens)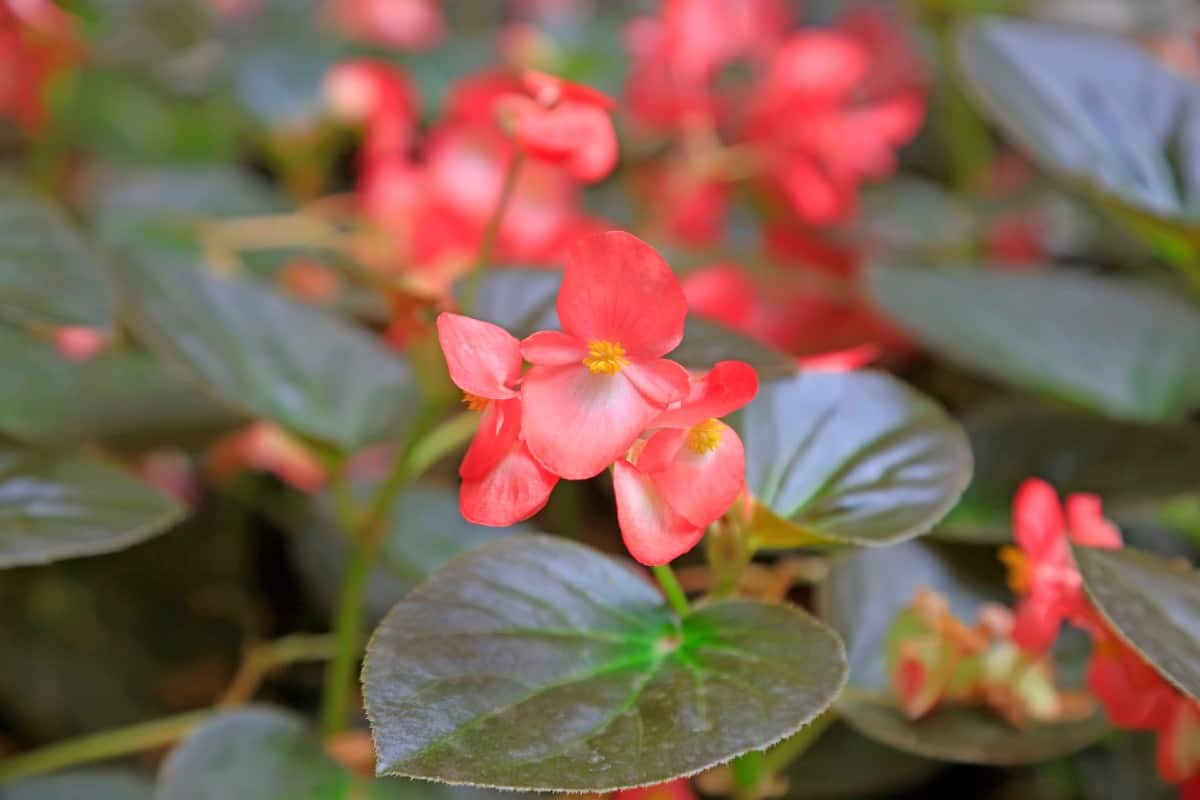 This annual's single or double flowers come in pink, white, and red, while its leaves are green or maroon. It detests extreme heat and dry weather, thriving in mild coastal environments. Plant begonias in a container or a mass in a flower bed.
Propagate this annual using cuttings. These sun loving flowers prefer full sun or afternoon shade for scorching summers and well-draining soil. Keep the soil moist but not soggy, applying water at the base, and apply fertilizer once a month.
Coleus (Solenostemon scutellarioides) – A Vibrant Coastal Annual
This annual's leaves come in vivid hues like lime green and orange. Coleus produces inconspicuous flower stalks throughout the growing season.
Though it loves heat and sun, it benefits from afternoon shade in hot areas. Plant it in a mass, container, or border in moist, fertile, neutral, or slightly alkaline soil.
Start coleus seeds indoors eight to ten weeks before the final frost, transplanting outdoors once temperatures remain above 60℉.
Do not let the soil dry completely. Distribute mulch, but not cedar mulch, and feed your coleus plant diluted balanced fertilizer once a month if the soil is poor.
Lantana (Lantana camara)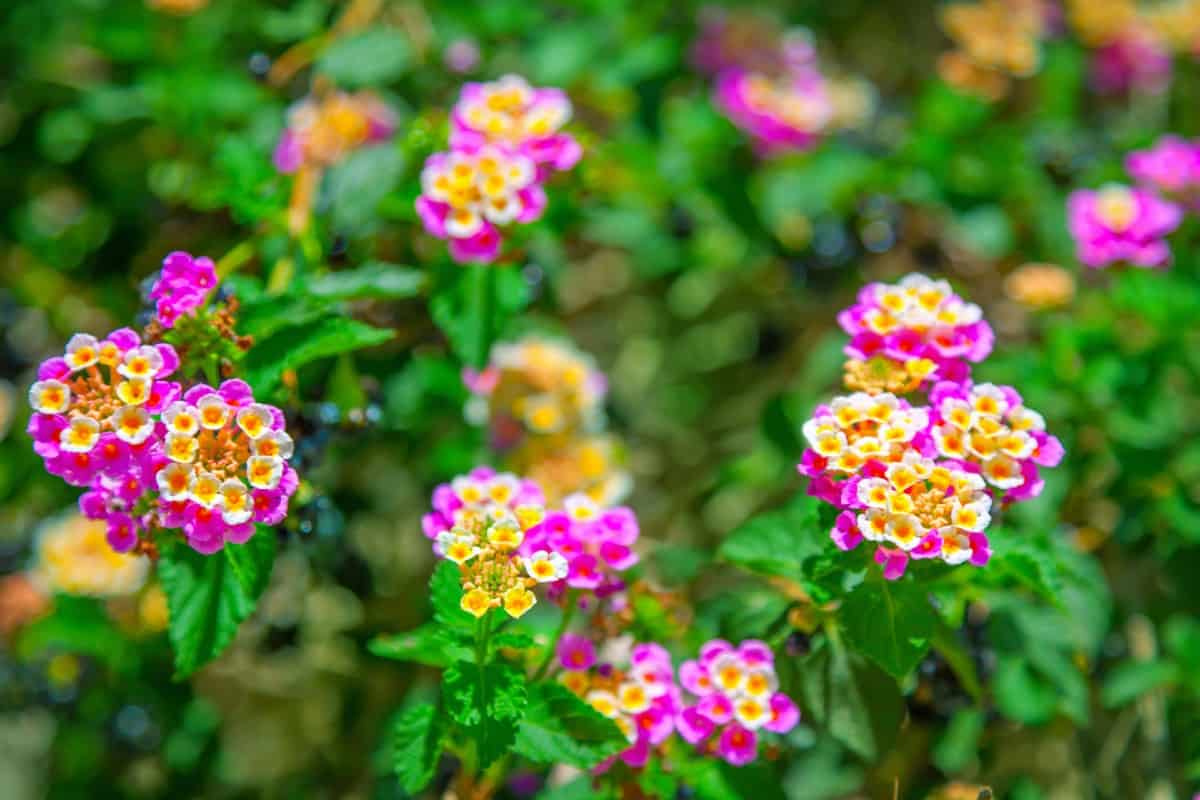 This vine-like shrub's clusters of flowers are bright pink, yellow, and more, often with several colors per cluster. Though these types of beach flowers smell unpleasant, the leaves smell like citrus.
Lantana tolerates humidity and salt spray. Try it in a border or hanging basket or as a ground cover or specimen plant. Note that lantana is considered a noxious weed or invasive plant in many warmer states – its leaves cause a rash, and its berries are toxic.
Plant it in the spring once there's no frost risk in well-draining, slightly acidic soil and full or partial sun. Water your lantana frequently and well. You may give it balanced fertilizer one time per month.
Ivy Geranium (Pelargonium peltatum)
This annual bears pink, red, or white blooms from spring to fall. It grows best in cool yet sunny coastal or mountain climates. Ivy geranium suits a container.
Propagate it using cuttings, or sow the seeds indoors in January. Plant your geraniums in moist, well-drained, sandy loam and full sun, or partial shade if summers are sweltering.
Water your plants regularly but allow the soil to dry between waterings. Apply a light, frequent fertilizing to encourage blooms, or use enriched potting soil. Note that ivy geranium is toxic if ingested, and its juices may cause a rash.
Kale (Brassica oleracea) – An Edible Coastal Annual
This nutrient-rich vegetable's green or purple leaves may be curly. Light frost makes its leaves sweeter, while heat turns them bitter. Kale plants produce yellow flowers in early spring and do well in a coastal setting.
Grow them in a bed or container in full sun to partial shade and slightly acidic, moist, fertile, well-draining loam. Start kale seeds indoors six weeks before the final frost or directly outdoors once the soil is at least 45℉.
In warm climates, grow kale from seed outdoors in the late summer, early fall, or spring. Water your kale plant regularly. Add compost or high-nitrogen fertilizer when planting and throughout the growing season.
Pansy (Viola tricolor var. hortensis)
This popular annual's flowers come in nearly every color. The edible flowers are often bi- or tricolored and appear to have little faces. Enjoy year-round blooms in mild coastal areas. Pansies are ideal for flower beds, borders, and containers.
They prefer cool weather. Sow pansy seeds indoors ten to twelve weeks before the last frost and transplant them outdoors in the spring. Alternatively, sow seeds in the summer or fall for blooms the following spring.
Pansies do best in fertile, humus-rich, moist soil and, if possible, full sun during colder months and partial shade during warmer months. Water your plants weekly and fertilize them every three months.
Seaside Petunia (Calibrachoa parviflora)
This annual boasts fragrant narrow leaves, slender branches that put down roots, and bell-shaped pink or purple flowers from May to September. It grows in low, dense mats in moist, sandy areas, like wetlands and streambeds.
The soil should be fertile and drain well. Propagate the seaside petunia using herbaceous stem cuttings, or distribute seeds outdoors after the last frost.
This plant prefers regular watering and full sun. Apply all-purpose fertilizer every few weeks during the growing season.
Moss Rose (Portulaca grandiflora) – A Tough Coastal Annual
This annual boasts succulent leaves and semi-double or double flowers from early summer to frost. Its flowers close when there's less sun and come in colors like yellow, red, and white. Use it in a container or as a ground cover.
Moss rose tolerates wind and some drought and thrives in poor-quality, well-draining, sandy, gravelly soil. It prefers full sun. Regular watering is beneficial.
Start seeds indoors eight weeks before the final frost, or plant them in the ground after the last frost. Apply a slow-release fertilizer twice a year.
Sweet Alyssum (Lobularia maritima)
This annual forms dense mounds of white, pink, or purple flowers that ease up during the hottest part of the summer. Though it's a perennial in coastal zones, sweet alyssum is often grown as an annual. Consider growing it in a border, rock garden, or container.
Start alyssum seeds inside six to eight weeks before the final frost, or sow them in your garden in well-draining soil one week after the last frost. This annual prefers full sun but requires some shade in hotter areas.
One inch of rain a week is sufficient, but give extra water during a dry spell. Feed it all-purpose fertilizer in midsummer.
Gentian Sage (Salvia patens)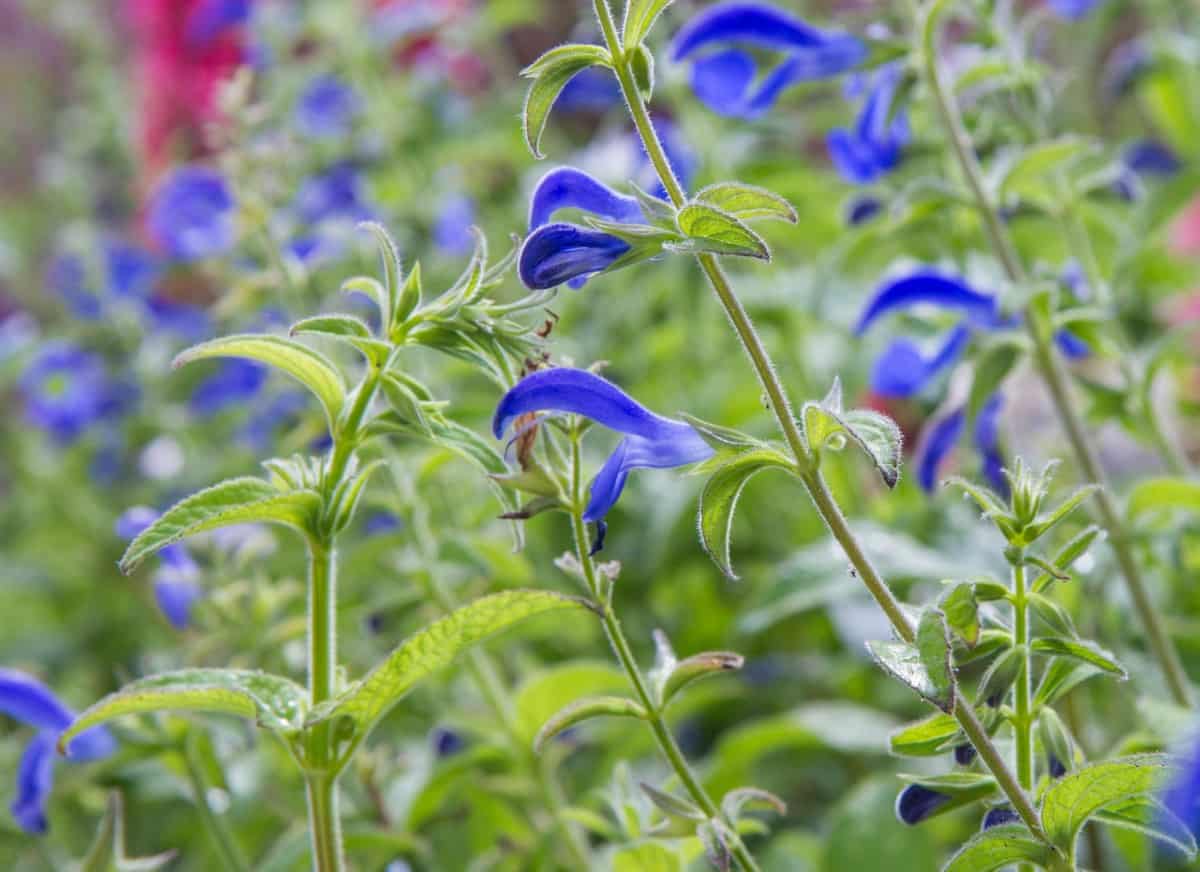 This sage variety, perfect for coastal gardens, boasts deep blue flower spikes in the summer and fall. Its strong scent attracts hummingbirds but repels garden pests. Grow Gentian sage in a bed, border, or container, or use it as an edging plant.
Sow sage seeds in the spring once there's no frost risk, or take cuttings from non-flowering branches in the spring or early fall. Plant Gentian sage in full sun and moist, well-drained, somewhat fertile soil.
Apply compost and mulch when planting, but no fertilizer. Water your plant during the summer if it receives less than one inch of water per week.
Desert Sand Verbena (Abronia villosa) – A Hardy Coastal Annual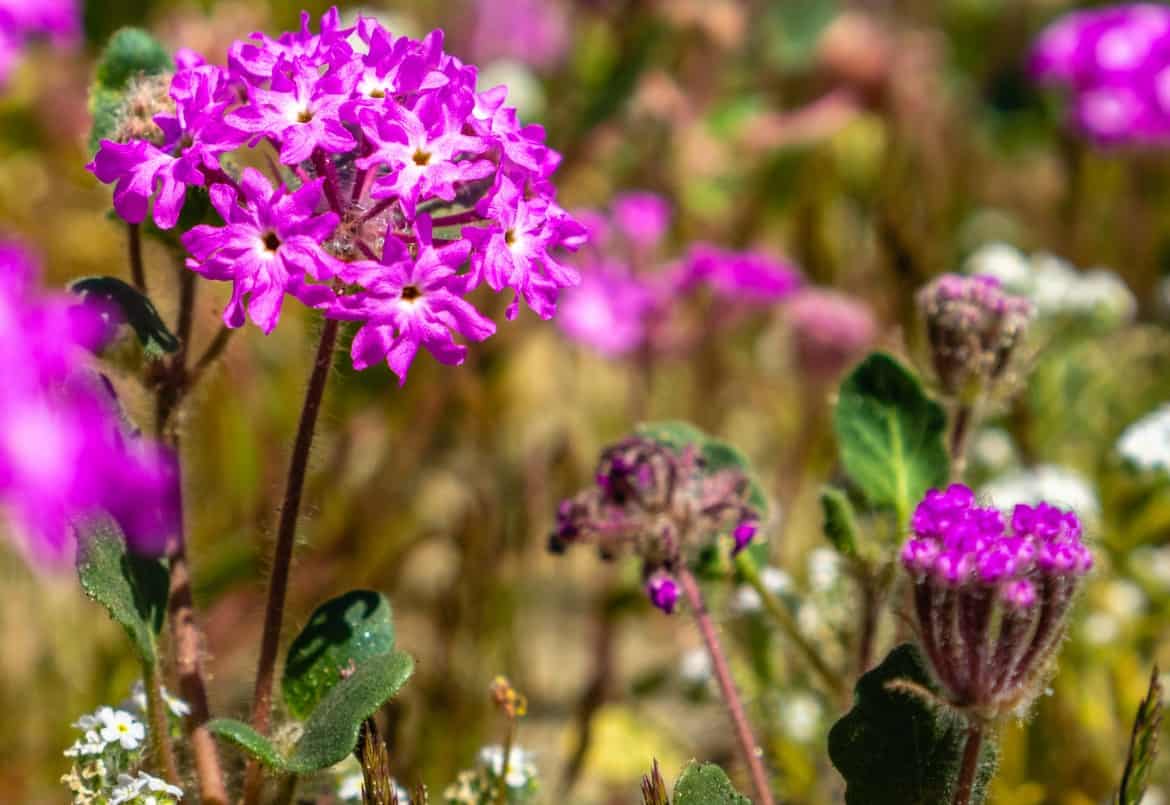 This ground cover boasts clusters of bright-pink, trumpet-shaped flowers from February to July. Its stems and fleshy oval leaves are covered in short, sticky hairs.
Plant seeds for this verbena in late summer, fall, or early spring. As its name suggests, it requires sunny conditions and sandy soil. The soil should be dry and well-drained.
The desert sand verbena has extensive roots that work to find any nutrients and water buried underground. Nonetheless, give it water every three to four days and fertilizer once a week.
Nuttall's Snapdragon (Antirrhinum nuttallianum)
This plant grows either like a vine or in an upright, rounded mound with triangular or heart-shaped leaves. Its blooms, present from April to July, are lavender-blue with a delicate purple-and-white lip.
In the wild, these snapdragons grow on rocky slopes or among dunes or coastal shrubs. Propagate them by seed in full sun and well-drained, alkaline, sandy, rocky soil.
The water needs for the Nuttall's snapdragon are meager, meaning that you should water established plants at most once a month. Apply balanced, all-purpose fertilizer once they start blooming.
Madagascar Periwinkle (Catharanthus roseus)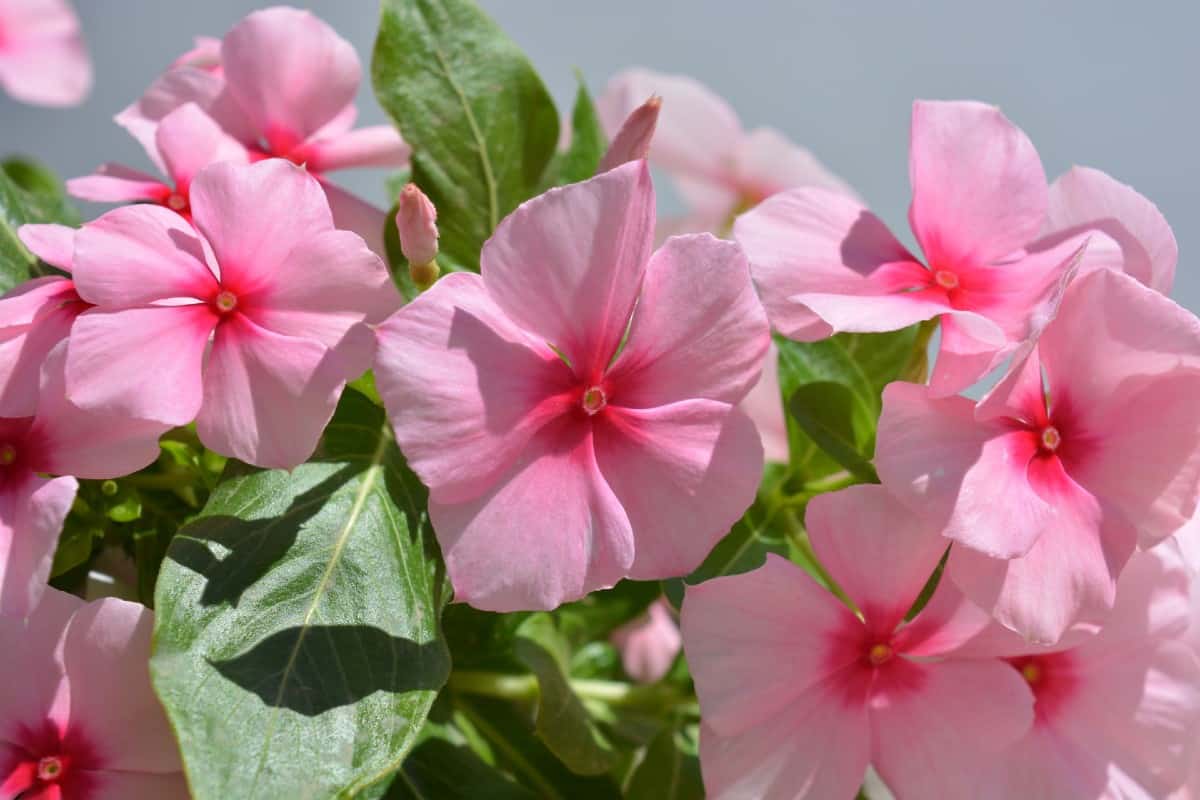 This tropical vinca plant flourishes in humid heat. It has dark-green, leathery leaves and blooms from June until the fall frost. Its pink or purple flowers often have a contrasting center.
The Madagascar periwinkle rapidly fills a border or place it in a container like a window box. Take cuttings in the fall, or start seeds indoors 12 to 16 weeks before the last frost. Plant your periwinkle in the spring once evening temperatures hover around 60℉.
Find a site with full sun, although it tolerates a little afternoon shade, and dry, well-draining sandy loam. Water the vinca weekly if there's little rain. Do not give it any fertilizer.
Gardening in coastal regions can seem challenging. The combination of sand, salt, heat, and wind is not inviting for most plant species.
However, annuals for the beach make your job as a coastal gardener much easier. Pick a favorite or two for a full season of color and interest.
If you found this article about annuals for the beach helpful, please share these coastal garden ideas with friends on Facebook and Pinterest.