Growing plants from seeds is an ideal way to incorporate a wider variety of species than you might find in your everyday garden centers. Some gardeners find seeds from online catalogs, which broadens the range of those found fully grown. Selecting annuals that grow from seed is also a fantastic way to save on money since they are generally cheaper than flowers in stores.
In addition to the benefits of price and variety, growing a plant from seeds carries its own emotional connection. You receive all the joys and accomplishments of starting a project from the beginning and watching it bloom into something spectacular.
It's an incredible way for gardeners to interact with their flower beds, whether they are just beginning their flower planting journey or are seasoned landscapers.
No matter what the case, these beautiful annuals should provide you with plenty of inspiration to get you started.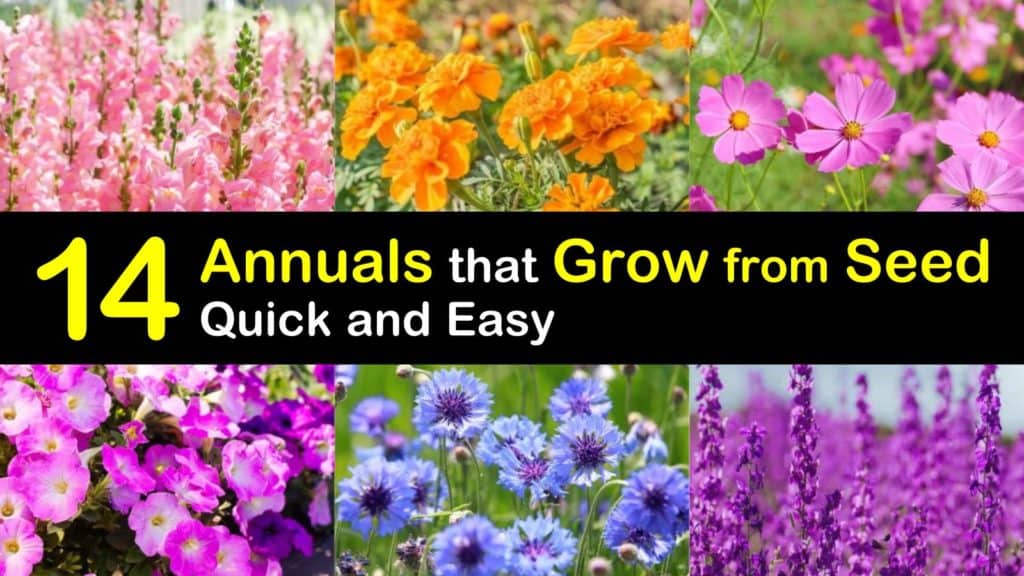 Remarkable Ideas for How to Grow Plants from Seeds
One thing to always keep in mind is the location and climate in which you plan on planting your annuals or perennials that bloom all summer. Some environments allow certain annuals to be perennials and vice versa, so knowing the USDA hardiness zone for your location gives you additional guidance.
Note that you aren't restricted to flowers. It's easy to grow asparagus from seeds, in addition to a variety of other veggies. You also get to eat the proceeds!
Morning Glories (Ipomoea)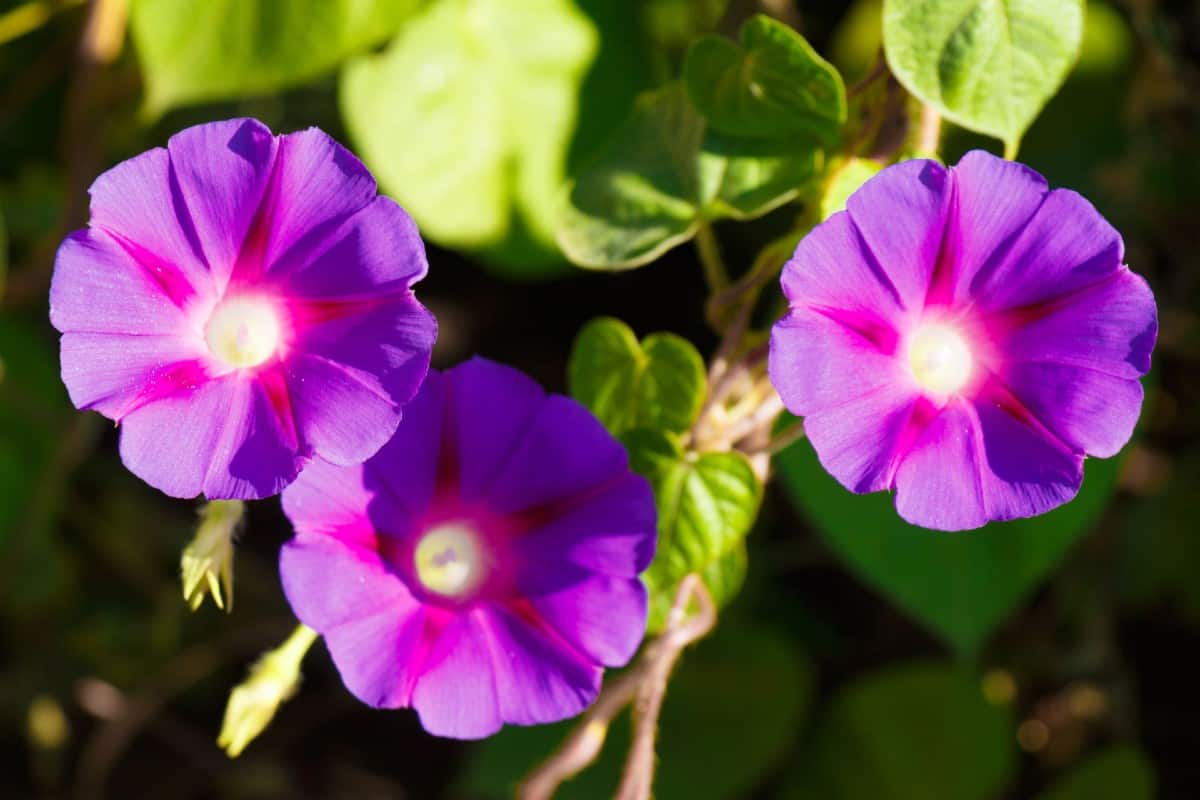 Morning Glories are some of the loveliest flowers you'll ever see. They develop bright and vivid pops of color, with some varieties displaying bicolored petals.
The flowers grow in a trumpet shape that appeals to pollinators like hummingbirds, while the leaves are a stunning green heart shape. These annual flowers take 120 days to grow from a seed to a fully-blooming flower.
These flowers are annuals for poor soil that are late bloomers – they don't usually appear until August or September. When planting them outside, plant them after the last frost and give them a trellis to pergola to climb up. The vines extend up to 15 feet in height, so added support goes a long way.
Bachelor's Button (Centaurea cyanus): Blossoms with a Spiced Aroma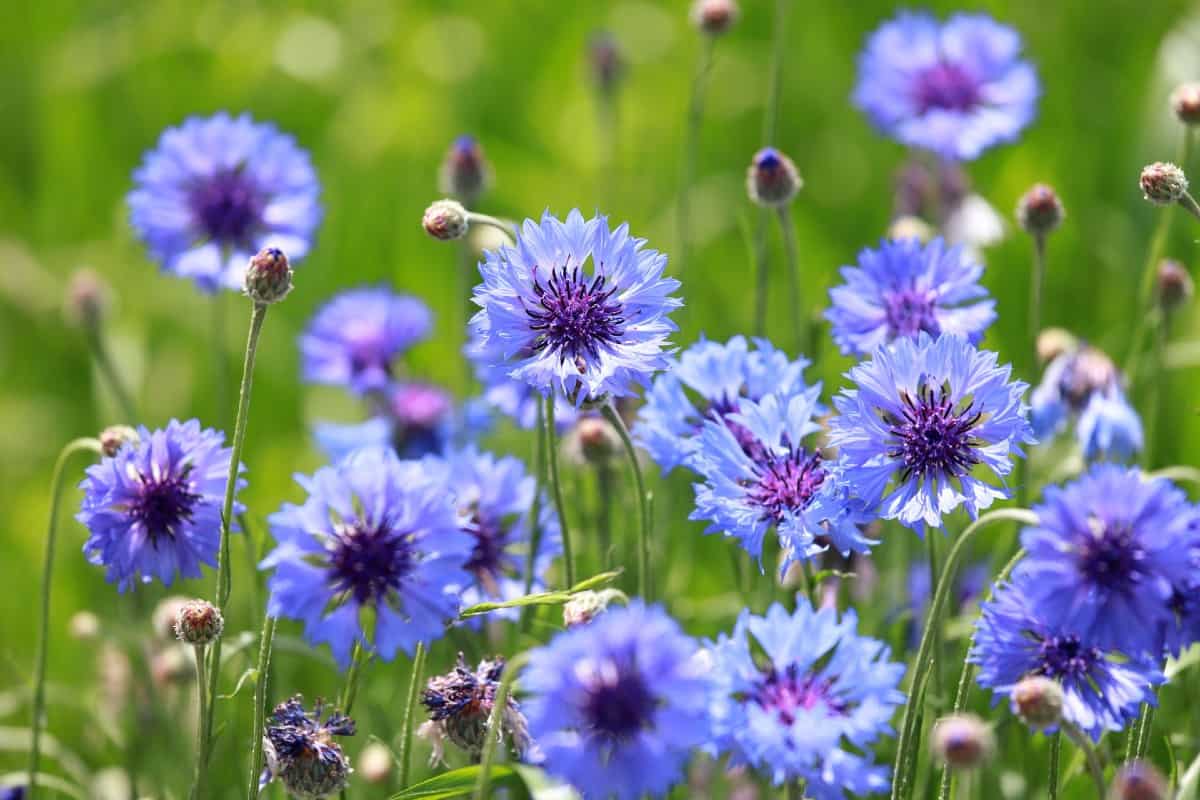 Another fantastic annual plant to add is Bachelor's Button. Also referred to as cornflower, these plants resemble tiny carnations with delicate paper-like petals.
They bloom with one flower per stem and give off a strong, musky fragrance that smells like sweet spices. Some ways to increase their longevity is by keeping the soil alkaline and deadheading old blooms.
Deadheading the plants allows new growth to shine through and increases the number of flowers blooming. Adding crushed limestone is also a great strategy to balance the soil's pH level to keep it on the alkaline side.
Petunia (Petunia × atkinsiana)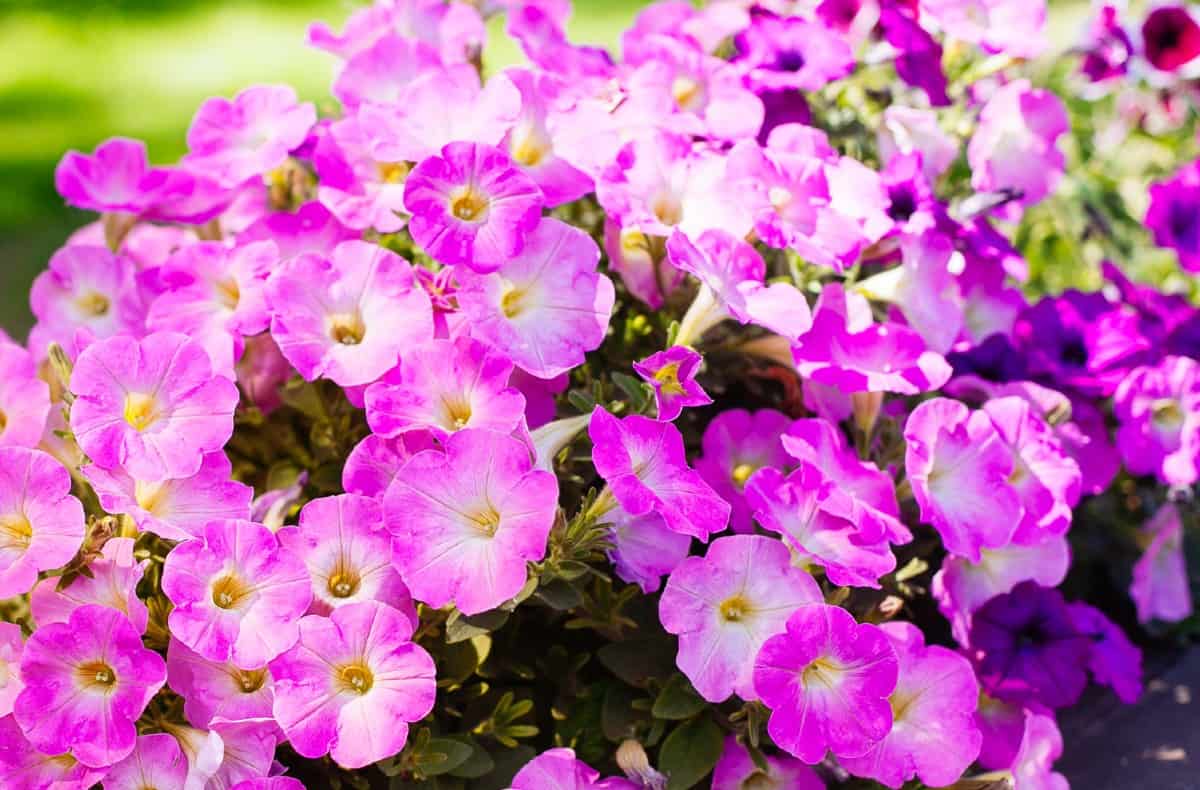 Petunias come in many different shapes and sizes, though planting them from seeds is relatively the same. These gorgeous flowers bloom numerous times throughout a flowering season, which typically takes place during the summer.
Plant petunias in early spring, right after the last frost. Petunias only take around 7-10 days to germinate and grow best afterward when provided at least 25% organic matter in the soil.
When growing petunias, however, do not cover the seeds with soil. Instead, they need at least 6 hours of full sun to germinate properly.
Black Cumin (Nigella sativa)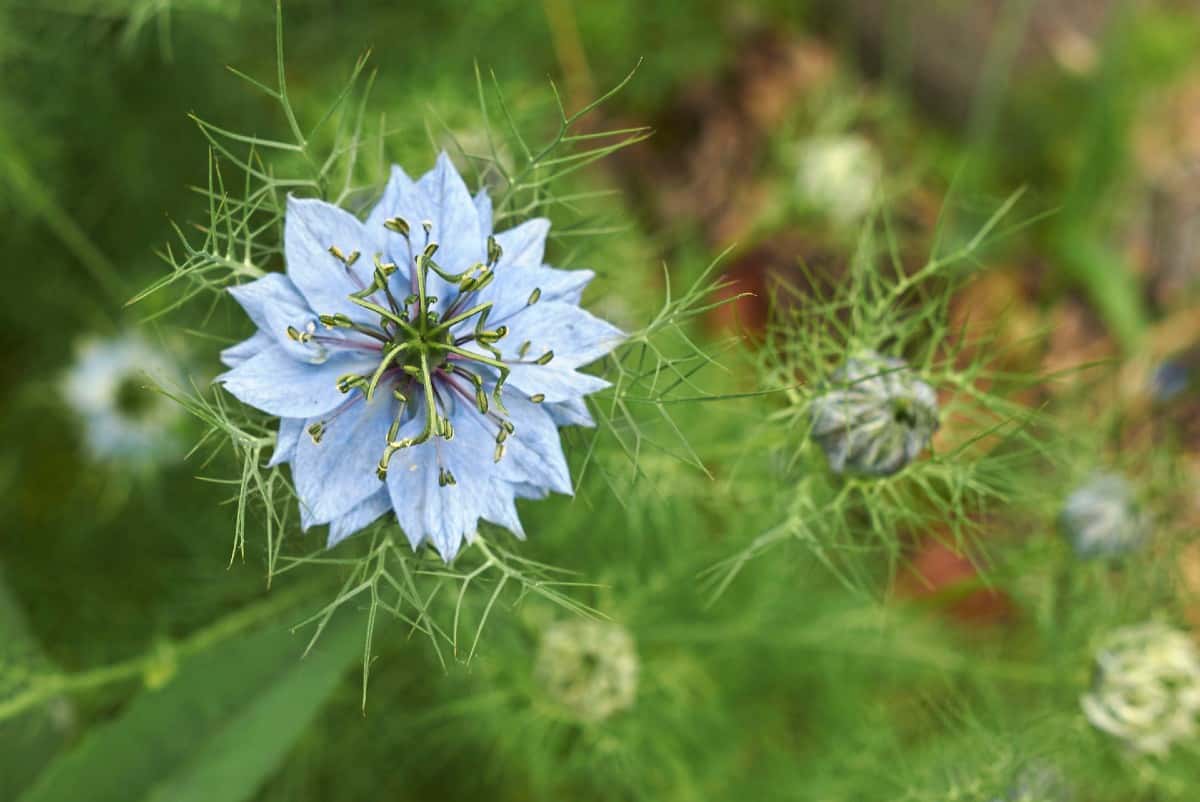 Black cumin is beloved for the spices it produces rather than the flowers. Yet, this shrub produces beautiful accent blossoms that are perfect for a cut flower, especially when dried.
They spread out in impressive star-shaped petals that are generally a pale blue hue. Flowers appear in late spring to early fall, which means planting as early as the winter allows is not always as critical as other species.
Sow them deep into the soil, about 8-10 inches down, with plenty of sunlight shining down on the top layer. Afterward, it takes only about two weeks for the flowers to begin peeking out of the ground.
Larkspur (Delphinium consolida): Annuals that Grow from Seed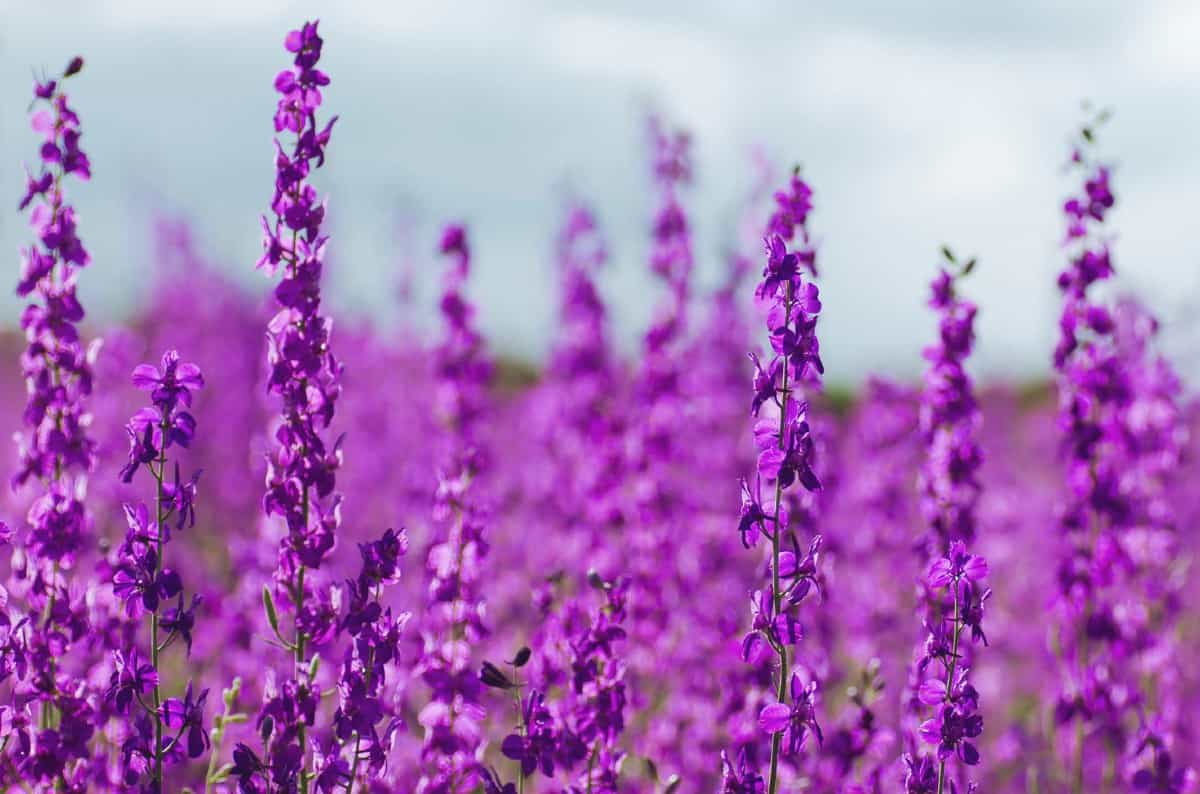 Another seed packet to add to your shopping list is larkspur. Throughout history, these pretty clusters of flowers have been associated with everything from preventing witchcraft to taking part in Summer Solstice celebrations.
Gardeners love to add these to their landscapes for bursts of color or as part of a cutting garden. These flower seeds take 2-3 weeks to germinate, though only under the right weather conditions.
If the weather is too hot, anywhere at about 55 ℉, they won't grow. Plant them ¼ of an inch deep into the soil in early spring for summer growth, or fall for flowers the following year.
Pot Marigold (Calendula officinalis)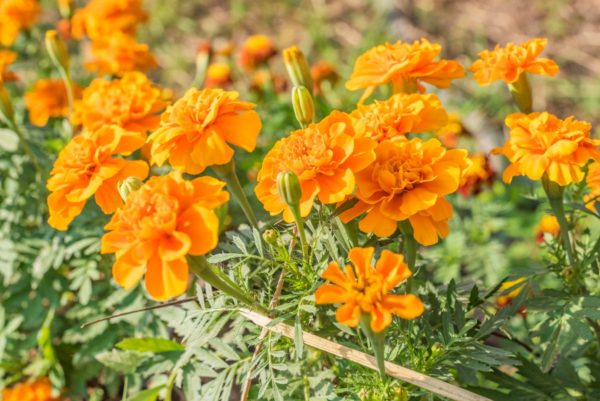 For easy to grow flowers from seed you can't get any better than marigolds. These annuals are a popular flower that provides fiery colors to warm any garden. These easy annuals are also edible, with a taste similar to smoky pepper. It has even been used as a substitute for saffron.
When growing these plants, start indoors before transplanting them outside. They typically take 6-8 weeks to blossom and are hardy throughout almost all of the country. When given full sun and well-draining soil, flowers appear in spring.
Cosmos (Cosmos bipinnatus): Stunning Flowers of All Colors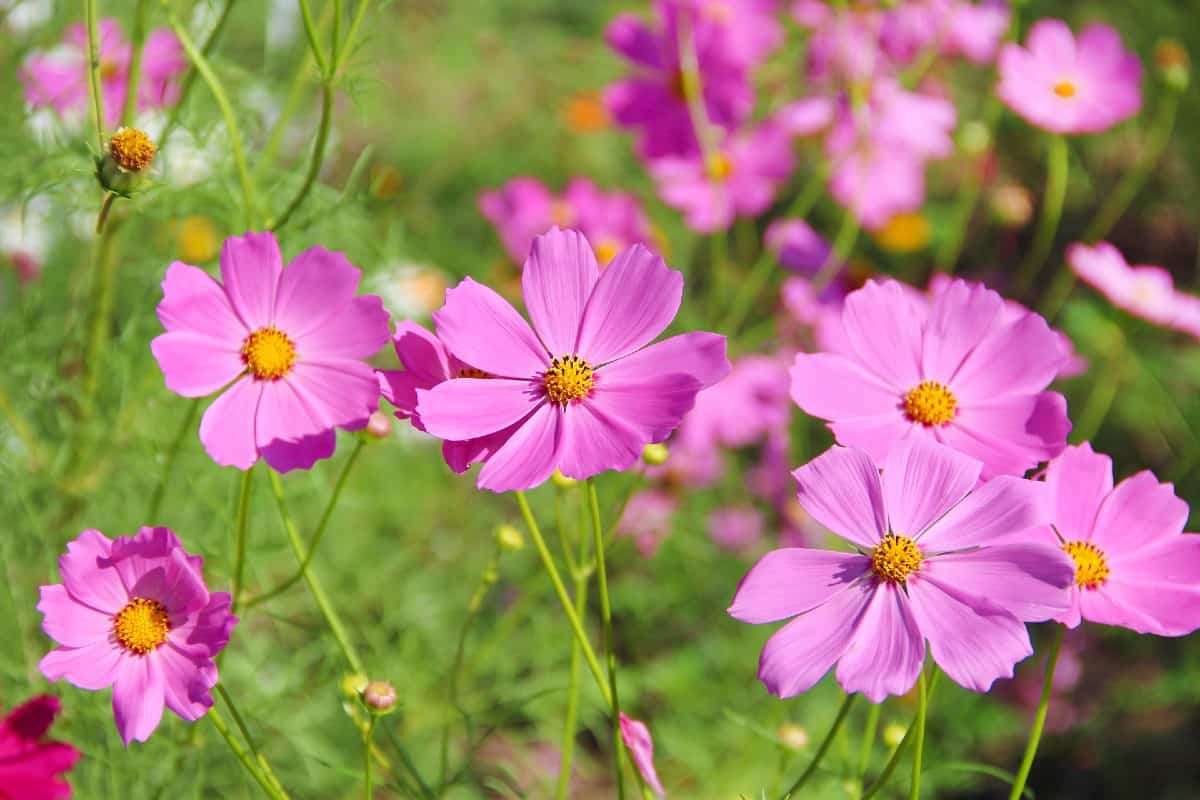 If you're looking for a wide array of colors to make your choice easier, then cosmos flowers are your best bet. Sometimes referred to as Mexican Aster, these wildflower annuals display colors from gold to pink to chocolate.
Color is not the only characteristic in which the plant fluctuates. By the end of one growing season, the plant may be as small as 18 inches or as tall as 60 inches.
Flowers bloom in late summer into the fall, leaving the best time for planting in spring. They germinate in as little as seven days but don't produce flowers for about 60 days.
Grow them indoors in cooler climates, especially in environments with strong winds that may damage the delicate blooms. Though the cosmos's ability to self-sow makes them an asset in most areas, in the southeast, they are an invasive species.
Cosmos flowers are ideal annuals for a bird-friendly yard and attract butterflies, as well. Birds eagerly eat the seeds that fall after the flower finishes blooming and dies.
Zinnias (Zinnia elegans)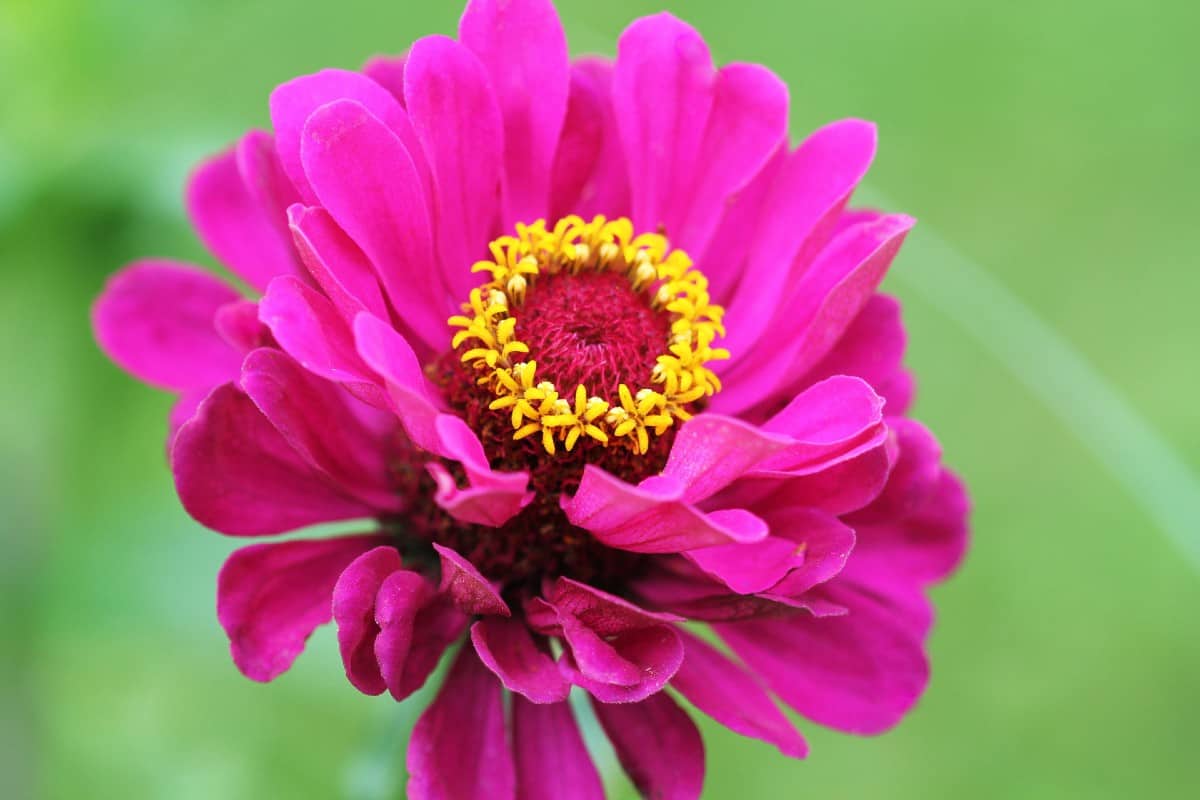 Other hardy annuals to add to your garden are zinnias. These beautiful flowers are easy to grow throughout most of the country, thriving in areas 3-10 of the USDA hardiness zones.
Deadheading works wonders for these plants, with more blooms emerging in just a couple of days for every cut flower. After 4-7 days, zinnia seedlings begin to sprout.
However, it takes up to two months from planting for the flowers to bloom in spring. They reach heights of anywhere between 10 inches to 4 feet tall, so space them out at least 18 inches apart to give them plenty of room to grow.
Nasturtium (Tropaeolum)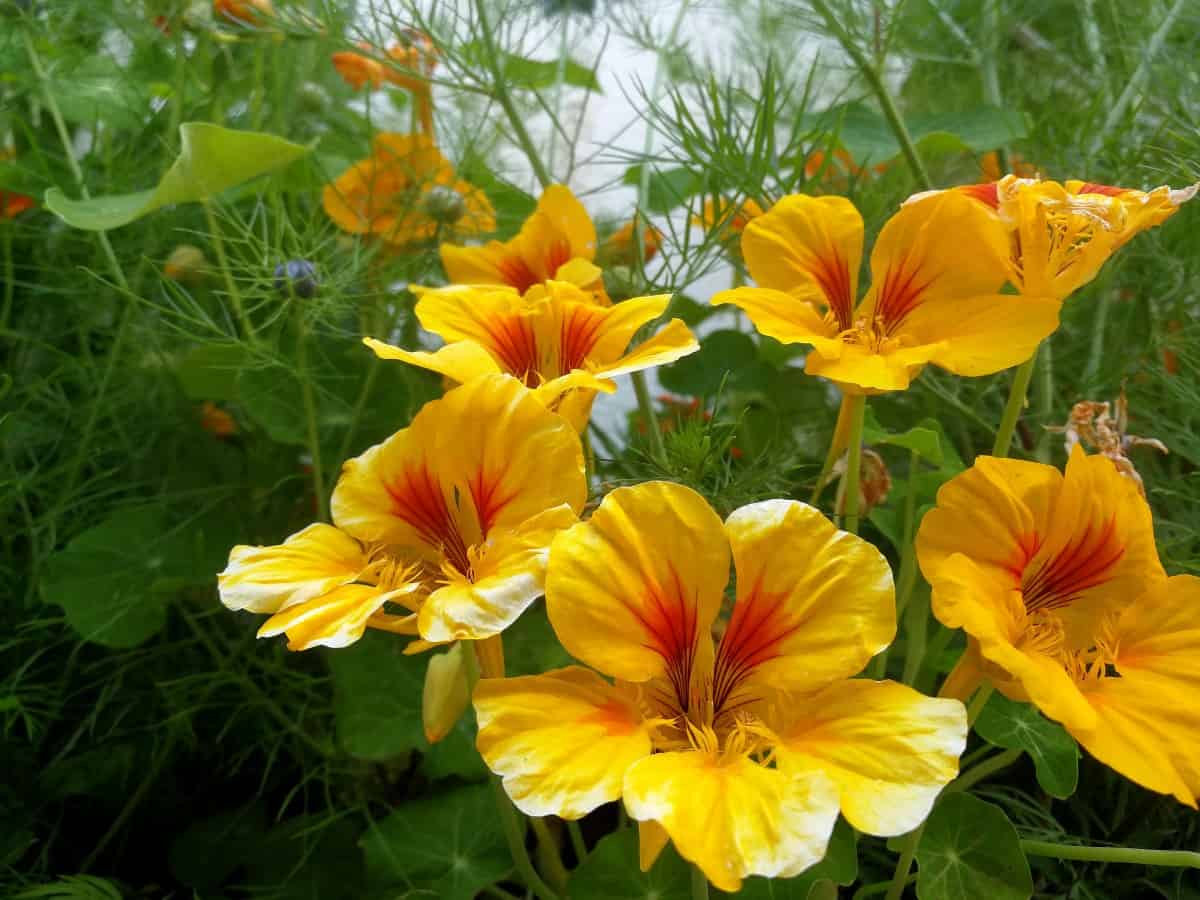 Another edible flower with a peppery taste is the nasturtium, which is also considered a good source of Vitamin C and iron. Beyond its nutritional value, nasturtium is a fantastic flower to grow from seeds. They even thrive in poorer soil without fertilizer.
To plant nasturtium, place two seeds in the soil and bury them an inch deep. Seeds germinate without 10-12 days, then take about 4-6 weeks to generate flowers.
They do not like extreme weather, though, and shy away from high levels of heat. With a typical bloom time of early summer to fall, warmer regions see a shift in flowering seasons to fall through spring instead.
Sweet Peas (Lathyrus odoratus): Perfumy Flowers to Add Sweet Aromas
You may recognize this next flower as a popular scent in lotions and scent bundles. That's because this lovely flower is intoxicatingly fragrant and is also a wonderful annual to grow from seeds.
Sweet Pea flowers grow throughout most of the United States, with slight variations on how to handle them. Flowers bloom typically after 3-4 months of planting.
Most gardeners plant them in spring, as soon as the earth is soft enough to work. In warmer climates, where heat may scorch the delicate petals, planting them in late fall allows for a successful bloom in cooler winter months.
Cockscomb (Celosia cristata)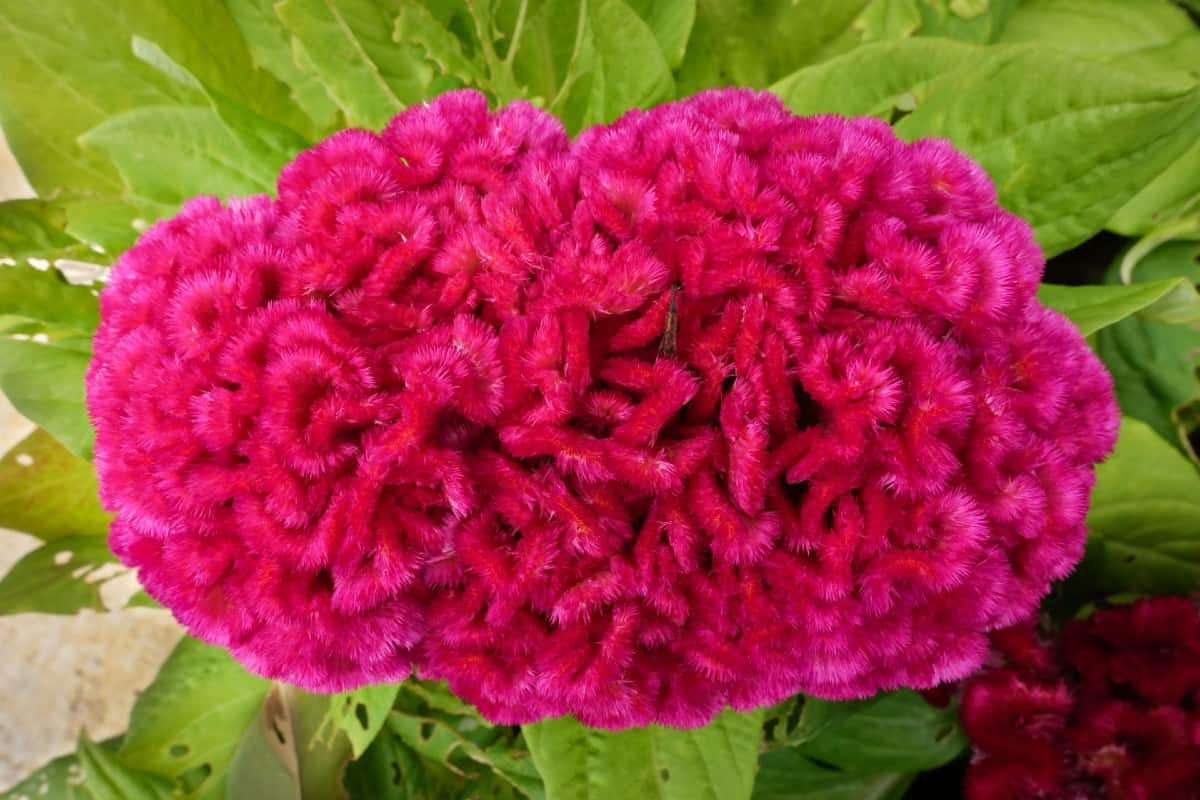 Cockscomb is a delicate shrub that acts as both a perennial and annual, depending on its location. In zones 9-10, you can grow perennials with seeds for birds like the cockscomb, since it loves warmer climates. It shouldn't even go into the ground until the soil temperatures reach at least 70℉.
Transplanting is not the ideal method for these plants as it often leads to shock. Instead, add them directly to the garden with just a light sprinkling of soil over the top. Seeds germinate in one to two weeks, while flowers take up to four months to show.
Snapdragon (Antirrhinum): Flowers of Various Sizes and Bloom Times
Another popular flower to add to your garden is the snapdragon. These long flowering annuals come in a wide range of sizes, from 6 inches to 48 inches tall. They prefer the mild weather of zones 8-9 and perform well when kept in soil at approximately 65℉.
In higher temperatures, the flowers stop blooming. When preparing the seeds, start them indoors first, 6-10 weeks before moving them outside. Do not cover the seeds and allow up to two weeks for seedlings to appear.
After transporting them outdoors in a couple of months, continuously water them, especially in the summer months. Snapdragons bloom in spring, but adequately hydrating them in summer may produce a second bloom period in the fall.
Hyacinth Bean (Lablab purpureus)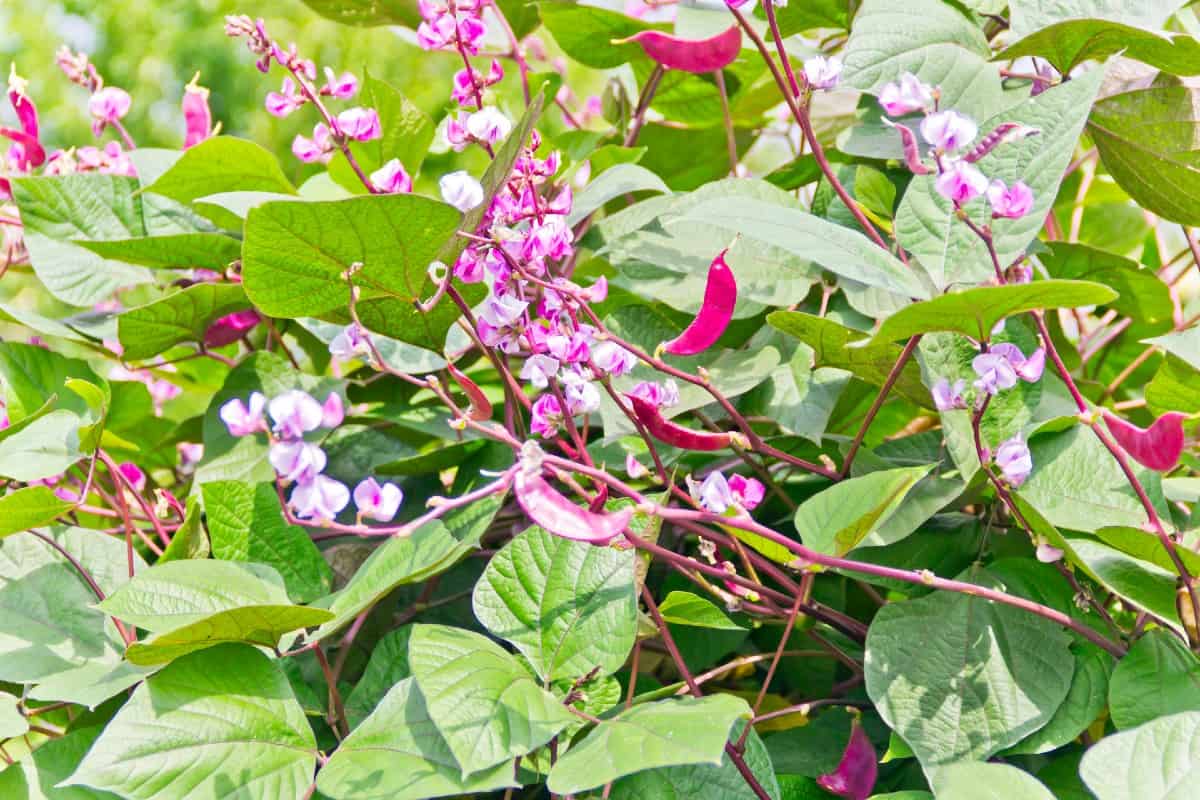 Hyacinth Bean is an incredible plant that produces both flowers and bean pods for birds and deer to munch on. These long, oval pods contain numerous seeds in one pouch and are even edible for humans when prepared appropriately.
They appear after 90 days of planting. The Hyacinth Bean survives best in hardiness zones 9-11, growing faster whenever the weather starts to heat up.
Add seeds directly to the garden and place them 6 inches apart. After a couple of months, your efforts bear a gorgeous shrub of varying purple shades from the flowers right down to the stems.
Alyssum (Lobularia maritima)
For plants that attract wildlife, there is no better plant than alyssum. It is highly desirable among most pollinators, including bees and butterflies. Its compact size also makes it a terrific ground cover plant to fill in empty spaces.
Flowers bloom starting in June and go through October, though some last all year long. Another great advantage of alyssum is that it self-seeds, making it easier for new plants to grow year after year without replanting.
Seedlings sprout up as early as five days after planting, though the actual flowers don't appear until a couple of months have passed.
Now, you have the information you need to guide you on your planting journey. One of the most critical factors to keep in mind is location.
Selecting flowers capable of surviving in warm or cold climates ensures their success during growing. When planting several at a time, you also should check that they require the same type of soil and nutrients.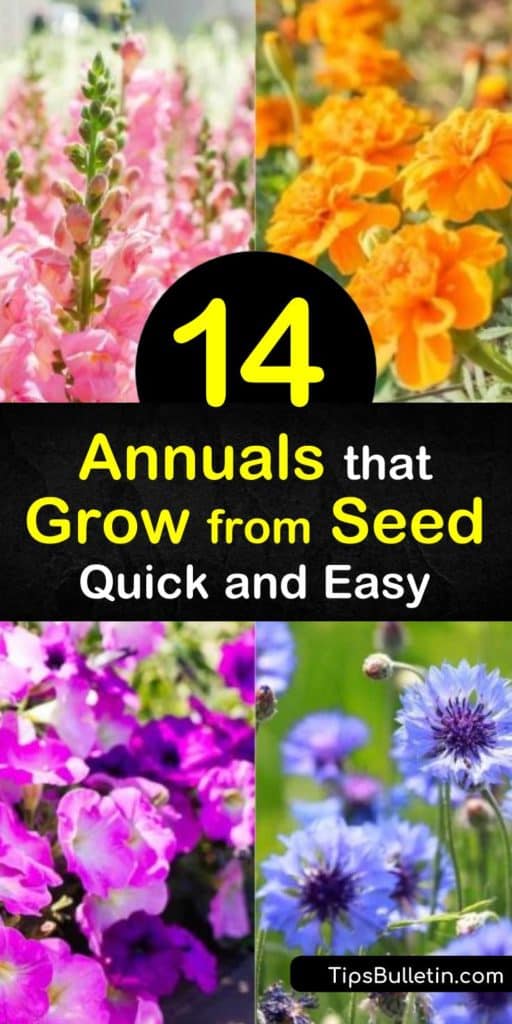 If these flower garden tips are everything you ever hoped they'd be, then please remember to share these annuals that grow from seed with friends and family on Facebook and Pinterest.