It's easy to think that the main attraction of a garden is colorful blooms rather than the leaves, but many plants produce vibrantly colored leaves that are stunning in their own right. Some of these plants even have a soft and fuzzy texture that is pleasing to touch. We've chosen some of our favorite annuals with colorful leaves and unique characteristics to create a visual and touching garden experience.
Sensory gardens bring the senses to life in a variety of ways. Some gardens fill the air with fragrant scents of flowers and herbs, while others have a soft and relaxing sound during a gentle summer breeze. Some are visually appealing with their striking colors, and others are a joy to run your hands through.
Creating a garden filled with beautifully colored and scented flowers is easy, but these gardens tend to look drab after the flowers die. Many plants have plain green leaves that are not as appealing as the flower itself. But, there are some that we love for the brightly colored and textured foliage.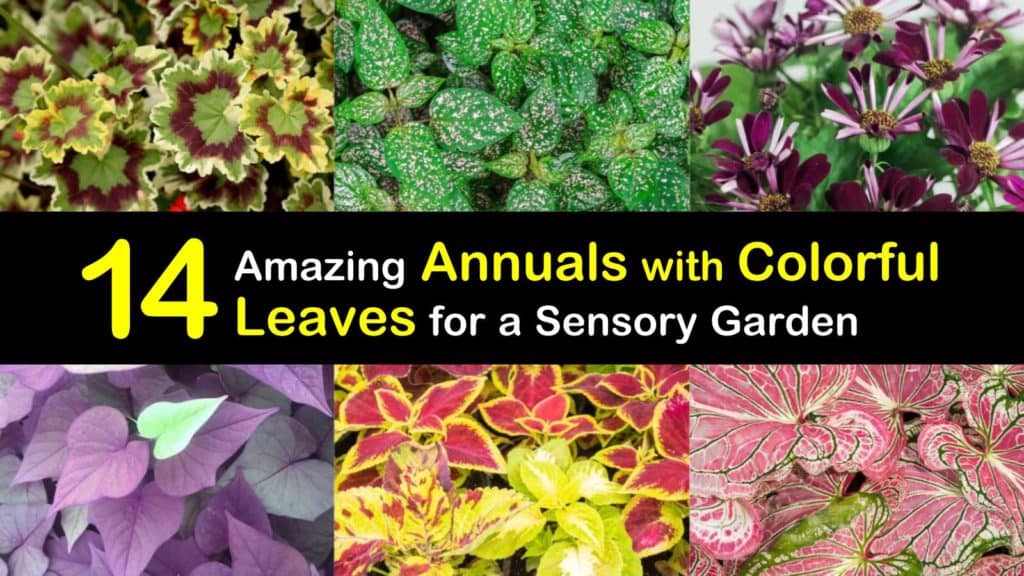 Growing a Beautiful Garden for the Senses
Many foliage plants, as well as trees and shrubs, fill the space with color, whether you grow container gardens or garden beds. The colorful foliage of these plants looks stunning throughout the entire growing season, and they are very easy to grow.
Add a variety of trees with red foilage in the fall, as well as bushes and perennials and annuals for color all year.
Which Types of Annuals have Colorful Leaves?
There are numerous foliage plants that are famous for their leaves, like several varieties of ferns. Some of them are solid and striking in shades of green, chartreuse, gold, and burgundy, such as coleus and sweet potato vine.
Other plants produce variegated leaves in contrasting shades of green, white, gold, and purple, such as the polka dot plant and caladium, and even appear splashed with paint.
What are the Benefits of Growing a Sensory Garden?
There is a wide range of benefits to growing a sensory garden. The most obvious is their stunning appearance. Colorful foliage plants fill the space with non-stop color and visual appeal from spring through fall and keep the garden looking fresh even when the flowers are spent.
Some have the added benefit of drawing beneficial insects and hummingbirds to the yard. These plants provide eye-candy to your outdoor space, and some of them have an extra advantage.
The leaves of specific plants have a soft and fuzzy surface that is hard to resist touching, especially by children.
Can I Grow Foliage Plants Anywhere?
Annuals grow just about anywhere as long as they get the right amount of sun. Some plants thrive in sunny areas, while others prefer a bit of afternoon shade.
Some wilt and die in full sun and need a tree's shelter to shade them. Check the plant care tag for sun requirements to help you choose the perfect place to plant them.
Are Foliage Plants Hard to Grow and Maintain?
Annuals are some of the easiest plants to grow as long as you give them what they desire to thrive. Be sure to plant cool-season annuals and warm season ones at the right times and in the right locations so that they will thrive.
Once you establish their sun and shade needs, loosen their roots gently and place them in a prepared garden bed or container.
Spread a decent mulch layer around the plants and water them daily to prevent them from drying out. Cut back any dead flowers or damaged leaves to encourage healthy growth.
Canna (Canna indica)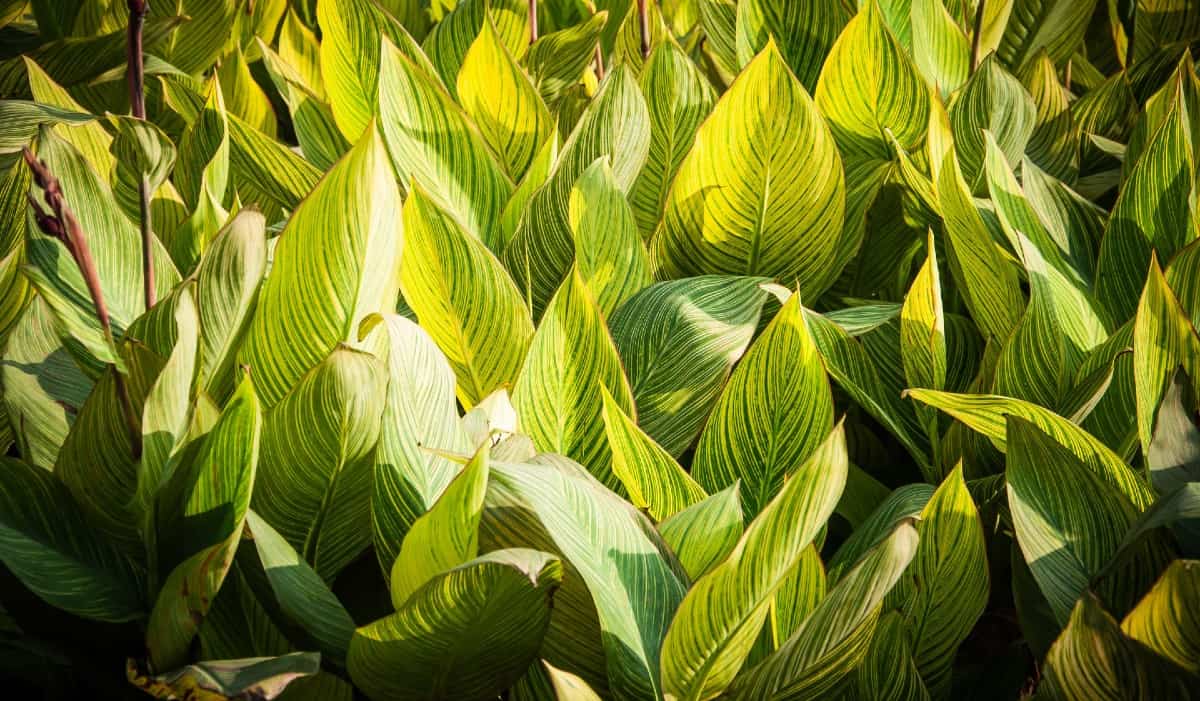 These plants grow in a tall and upright fashion and have stunning bronzy leaves with tiger-stripes of green, burgundy, and gold. Canna produces flowers in shades of orange, red, white, pink, and yellow that attract hummingbirds to the yard.
Canna is a sun-loving plant with a mature height of 1 to 3 feet, making it ideal for a backdrop in the garden. It is a low-maintenance annual that is deer resistant and provides colorful flowers and foliage to the yard all summer long.
Snapdragon (Antirrhinum) – Flowering Annuals with Colorful Leaves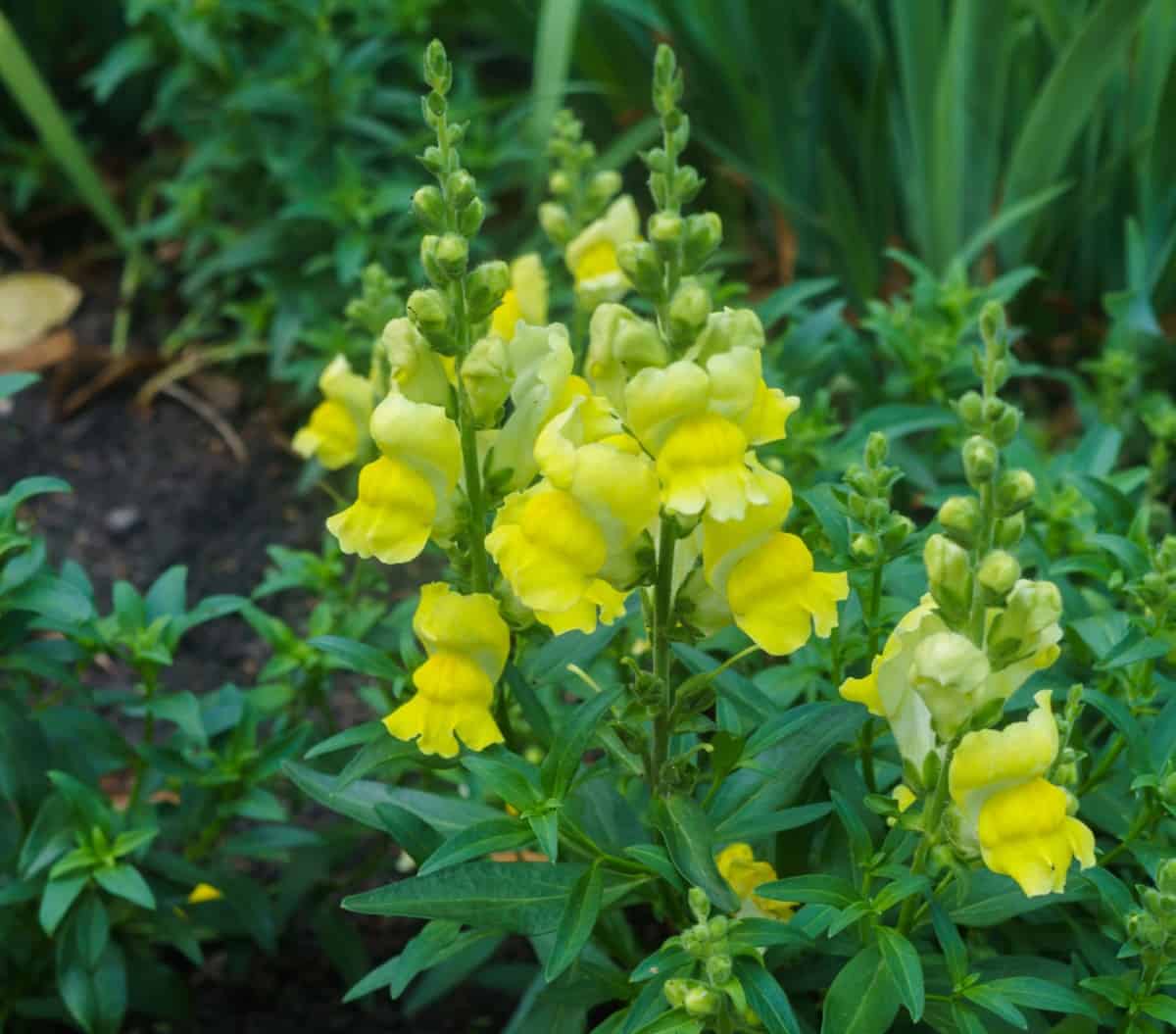 Most types of snapdragon have plain green leaves, but some varieties are variegated, creating a beautiful contrast to the flowers. They bloom all summer with orange, white, red, pink, and purple flowers, but tend to die off during the summer's hottest days.
Snapdragons grow 1 to 3 feet tall and prefer part to full sun. They are a low maintenance annual that grows well in containers or a garden bed, and the blooms make an excellent cut flower for the home.
Fancy Leaf Geraniums (Pelargonium x hortorum)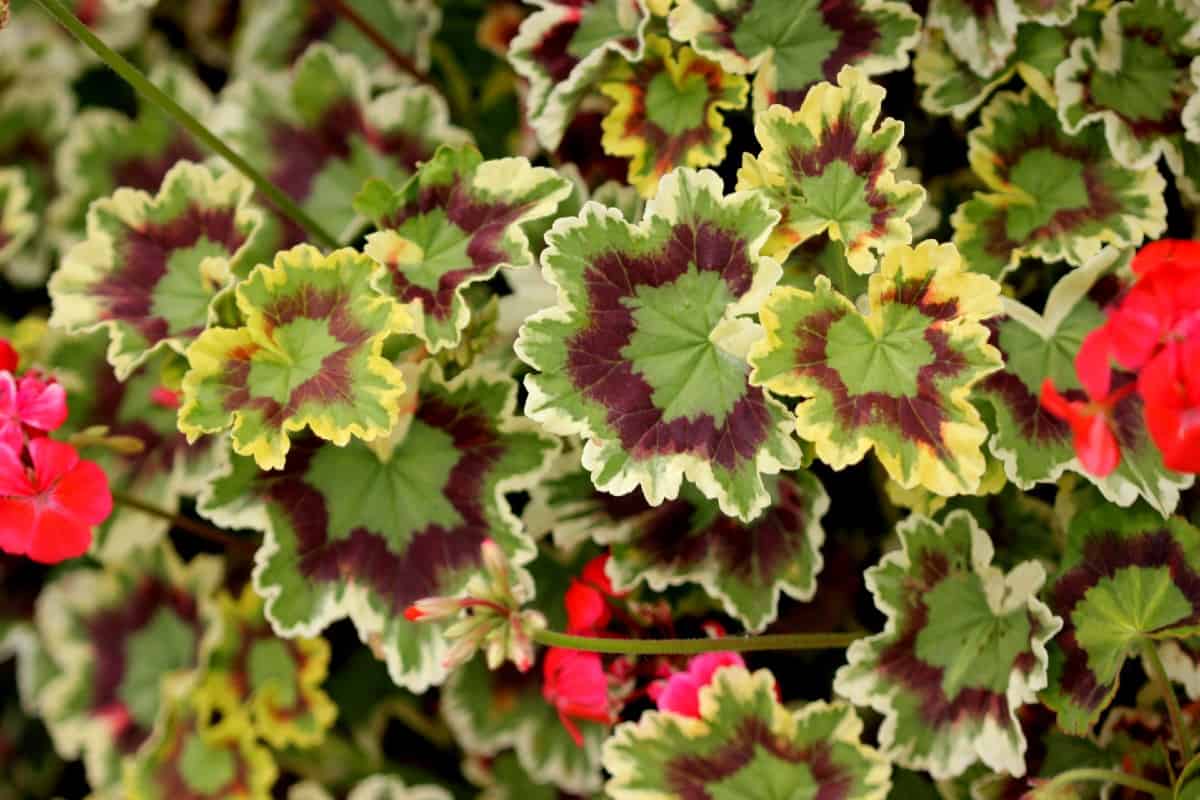 The fancy leaf geranium has showy foliage in shades of silvery green, edged with contrasting colors. It produces clusters of orange, pink, red, white, and purple blossoms on long stalks throughout the growing season.
This mounded plant grows 1 to 3 feet tall and prefers part to full sun, with protection during the afternoon hours. Deadheading is necessary to encourage healthy growth. It grows well in both containers or a garden setting.
Coleus (Plectranthus scutellarioides) – Annual with Colorful Foliage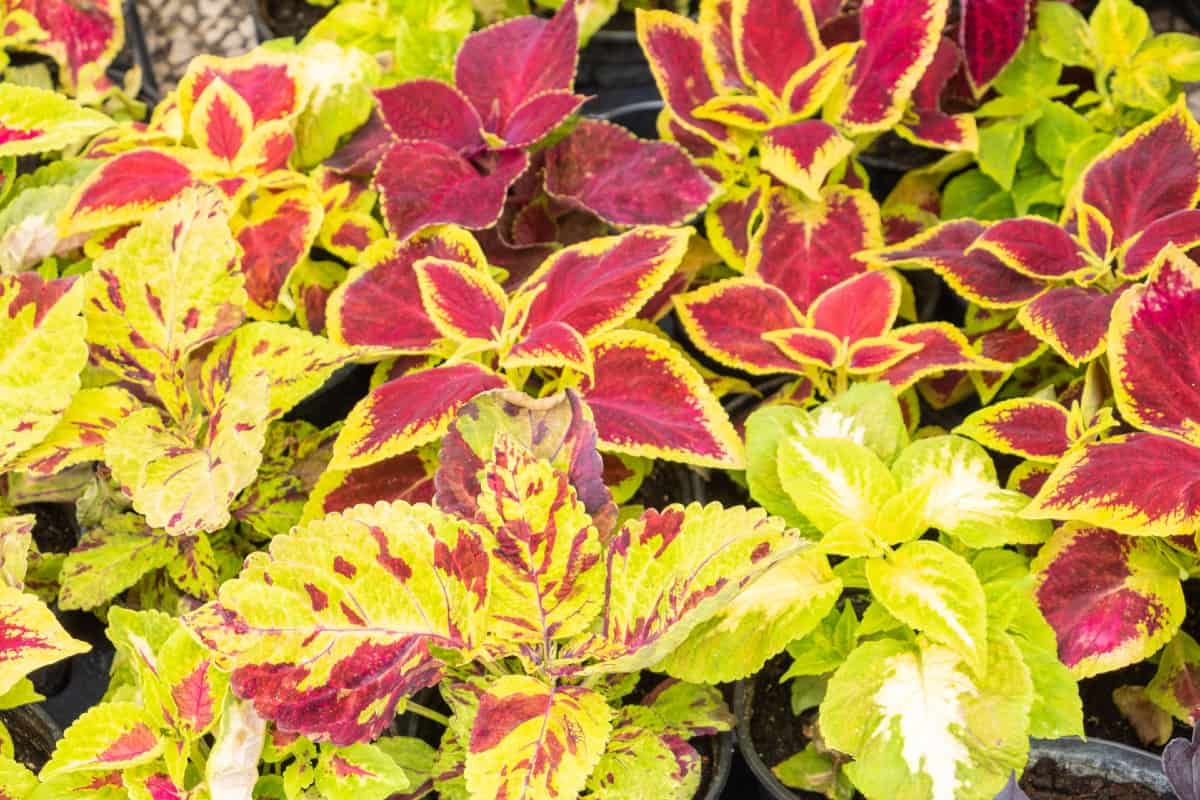 There are many different types of coleus, and they all have colorful foliage in colors ranging from red, bronze, and purple to pink, gold, and orange, with both variegated and solid colored leaves.
Coleus grows 1 to 3 feet tall and wide. Some like full sun, while others prefer partial shade. They are a low maintenance plant that looks great as a border or in containers, and potted coleus also grows as a houseplant.
Sweet Potato Vine (Ipomoea)
This colorful foliage vine is a great plant to fill empty areas in the yard or trailing over a basket's edge. It produces green, purple, gold, or silver foliage throughout the season, and the leaves vary from hand- to heart-shaped.
Sweet potato vines grow 6 inches tall and spread up to 6 feet and are beautiful annuals spilling with color in a pot or elsewhere. They are sun-lovers but do tolerate partial shade. These low maintenance plants are an ideal way to add colorful ground cover to a garden during flower down-time or in hanging baskets.
Dusty Miller (Jacobaea Maritima) – Striking Foliage Plant with Fuzzy Leaves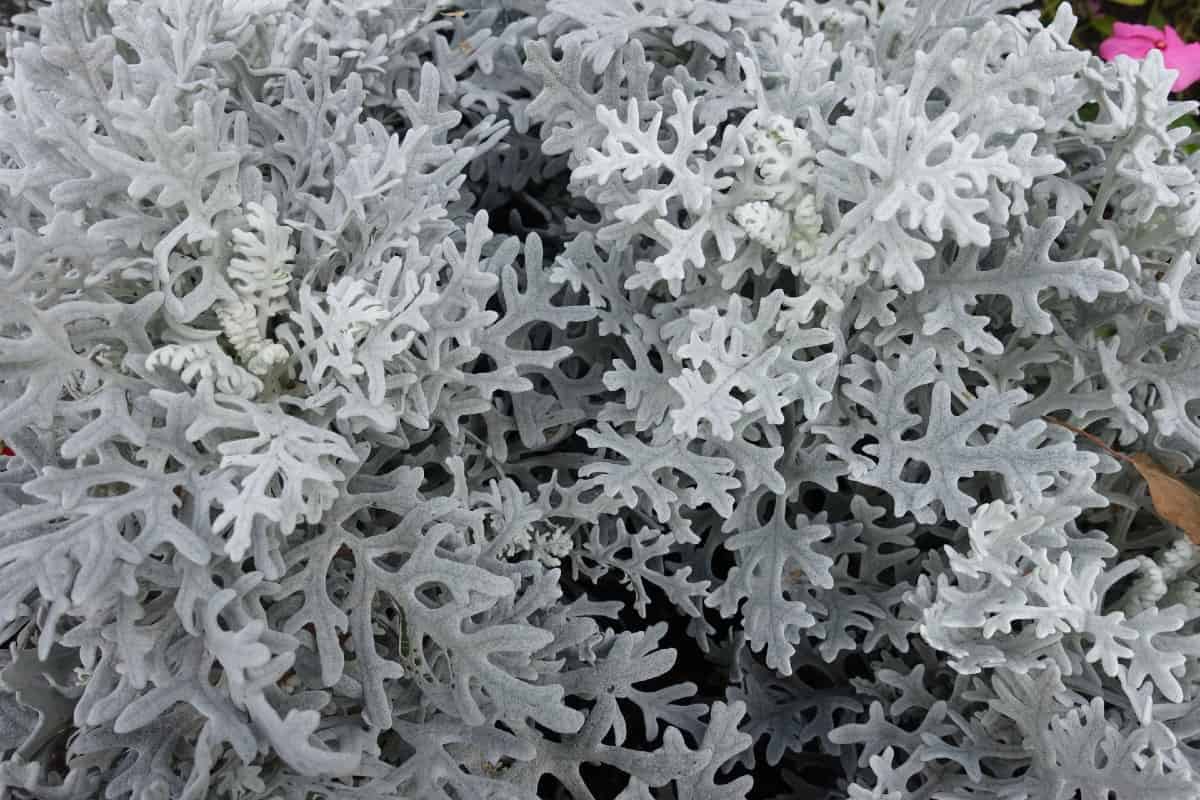 This low maintenance annual is silvery-white with soft and fuzzy foliage that appears to glow in the moonlight. It comes in a couple of varieties, each with its own texture, and it looks striking as a border or edging plant.
Dusty miller is an easy growing plant that tolerates the hottest days of the summer. It enjoys full sun and has an average size of 12 inches tall and full. The foliage of this plant looks impressive as a cut flower in a bouquet.
Like lamb's ears, dusty miller plants are slug resistant annuals because of their fuzzy texture.
Cineraria (Pericallis × hybrida)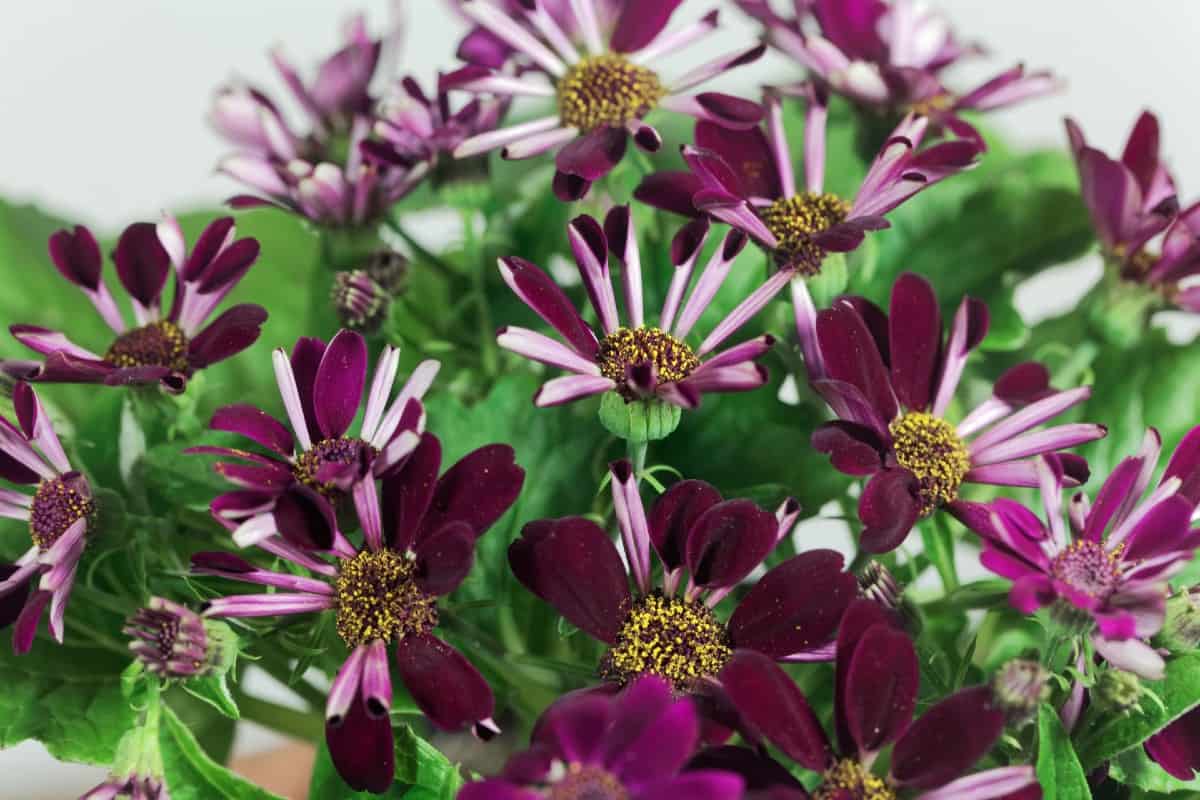 Cineraria plants have lush green foliage that looks amazing alongside other colorful plants. These summer blooming annuals sport daisy-like flowers with flashy colors and bi-colored petals.
These plants vary in size, depending on the type, and the annual dwarf size is an ideal bedding plant. Cineraria loves sitting in a shady area of the garden and requires even-moisture to thrive.
Begonia (Begonia x semperflorens-cultorum) – Flowering Annual with Brightly Colored Leaves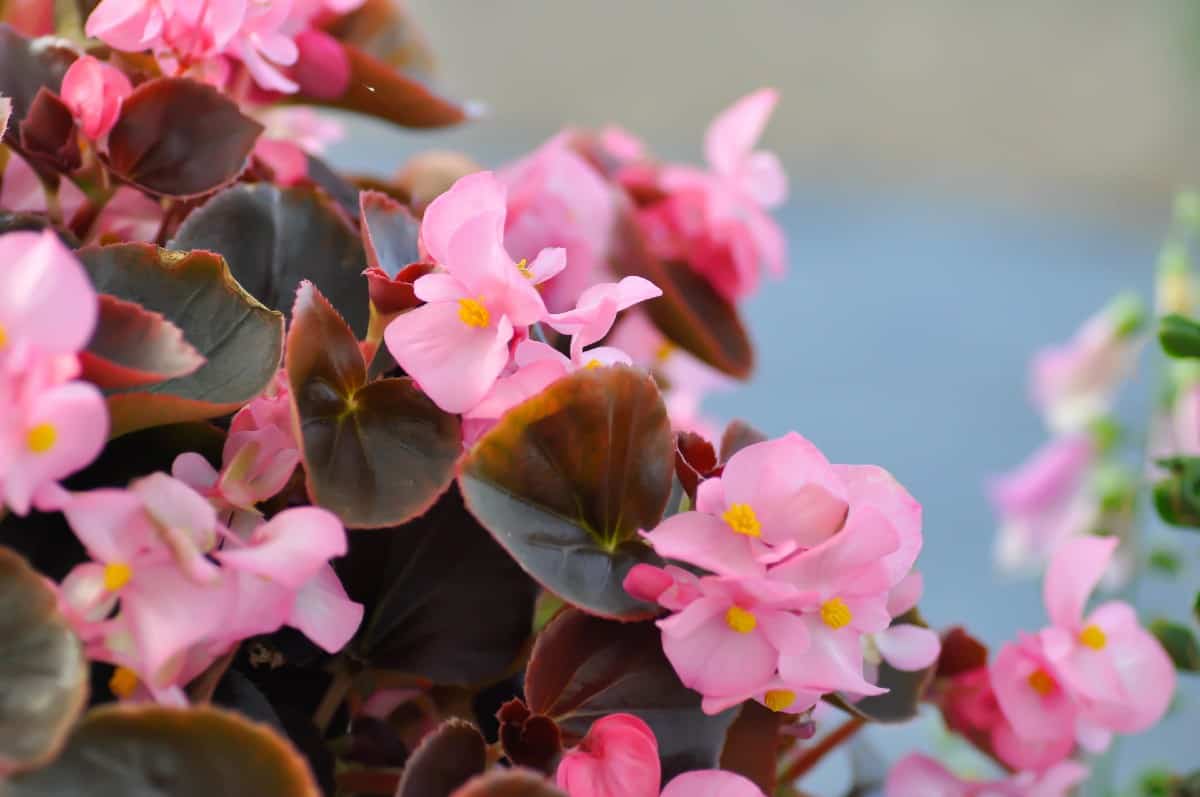 Begonias come in all different shapes, sizes, and colors, and are a popular annual for both their flowers and foliage. They have bright green, bronze, and burgundy colored leaves and produce purple, pink, and white flowers throughout the entire growing season.
These flowering annuals are low growers and grow only 6 to 12 inches in height. They love both shade and sun and are low maintenance. Grow begonias in a garden setting beneath trees with colorful fall foliage or in flower pots for a beautiful display of colorful leaves and flowers.
Petunia (Petunia × atkinsiana)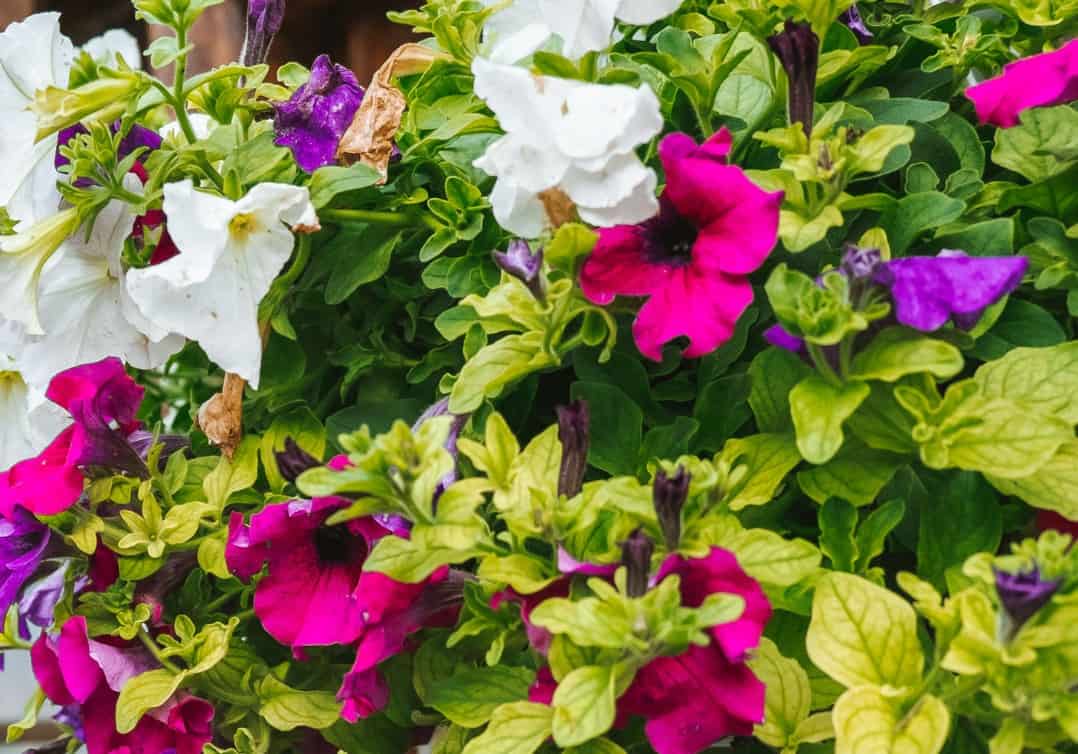 Most petunias have bright green leaves, but some varieties have variegated leaves that are a striking contrast to their flowers.
They bloom with red, white, purple, pink, yellow, and blue flowers from spring through fall and grow well in hanging baskets, pots, or a flowerbed.
These fragrant plants are deer resistant and are the perfect annual flowers for hummingbirds in the garden. Petunias grow 6 to 12 inches tall and spread roughly the same size. They are low maintenance plants that fill the space with ease.
Caladium (Caladium bicolor) – Strikingly Colorful Foliage Plant
Caladiums are an exotic-looking plant with spectacularly colorful foliage. Their large pointed leaves are arrow-shaped and have splashes of green, pink, white, cream, and red.
These tropical plants grow as a perennial in USDA hardiness zone 10 and 11 but are happy as an annual everywhere else.
Caladiums grow 18 to 24 inches tall and make for an excellent groundcover plant to add color to a shade garden. They are low maintenance and grow in both shady and sunny areas of the yard.
Coral Bells (Heuchera)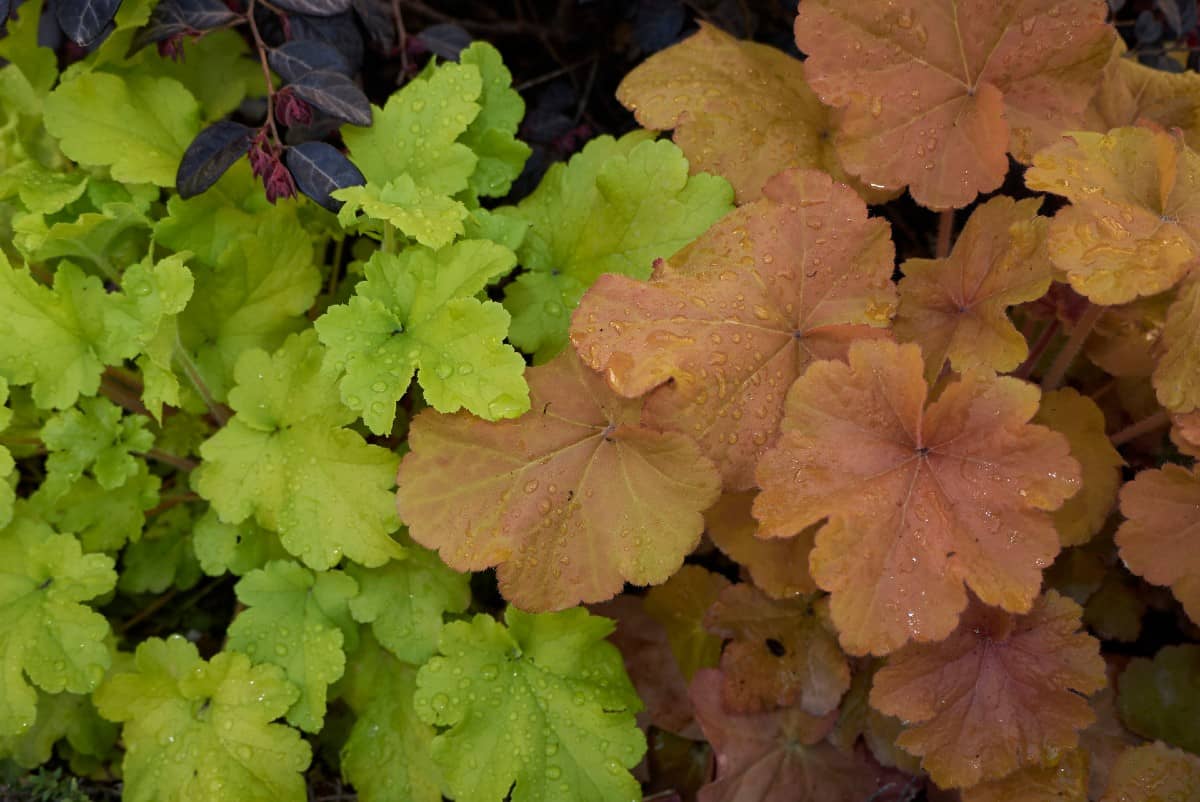 This traditional foliage plant forms round mounds of foliage in shades of lime green, gold, purple, rose, or variegated. During the spring and summer, they produce tiny bell-shaped white and pink flowers that are a favorite among hummingbirds.
Coral bells grow 12 to 18 inches in height and enjoy part shade to full sun. They require neutral soil and good drainage to flourish. Pair these plants beside colorful flowers to create contrast in the garden.
Polka Dot Plant (Hypoestes phyllostachya) – Colored Foliage Annual that Doubles as a Houseplant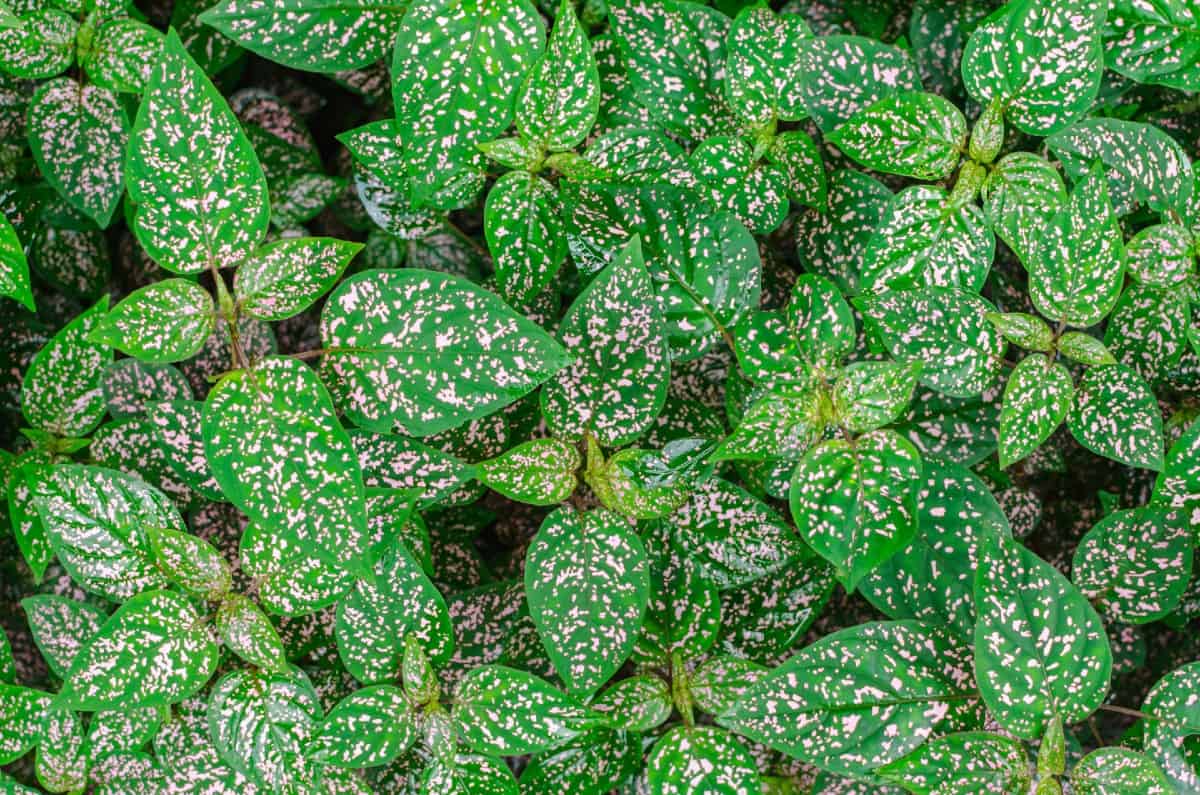 The polka dot plant has foliage that appears as if it is splattered with paint. Its green leaves have speckles of lavender, purple, scarlet, and white and fill low areas of the garden with a display of color throughout the season.
This plant grows both outdoors in the garden and indoors as houseplants. It loves bright light and ample moisture and rises approximately 1 to 2 feet tall as an annual.
Salvia (Salvia officinalis)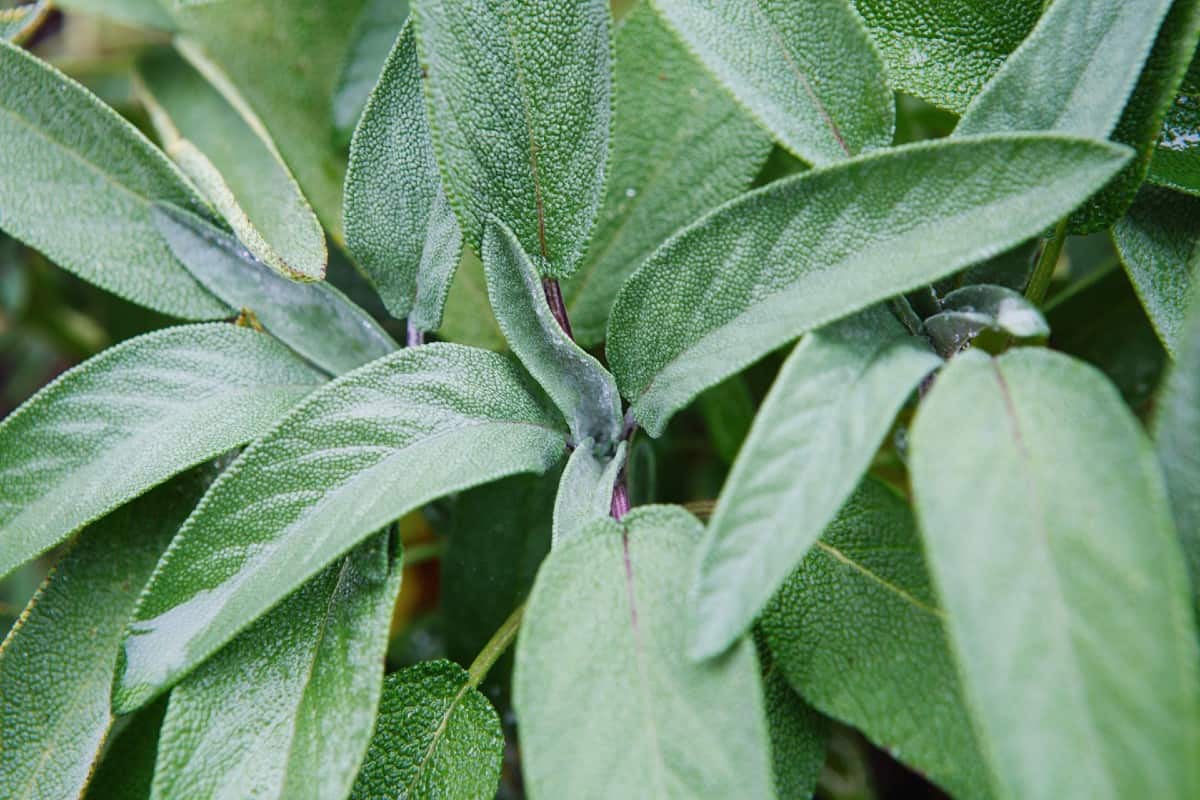 There are many salvia types, and some of them have foliage that is both visually and texturally appealing. Sage has soft and textured leaves that are fragrant while other salvia plants have delicate, bright green foliage.
Salvia produces blooms in shades ranging from purple and red to pink and white. They are low maintenance, drought tolerant, and deer resistant. Salvia grows 1 to 3 feet tall and wide and is best situated in a part to full sun garden.
Purple Ornamental Pepper Plant (Capsicum annuum) – Purple Colored Plant with Colorful Fruits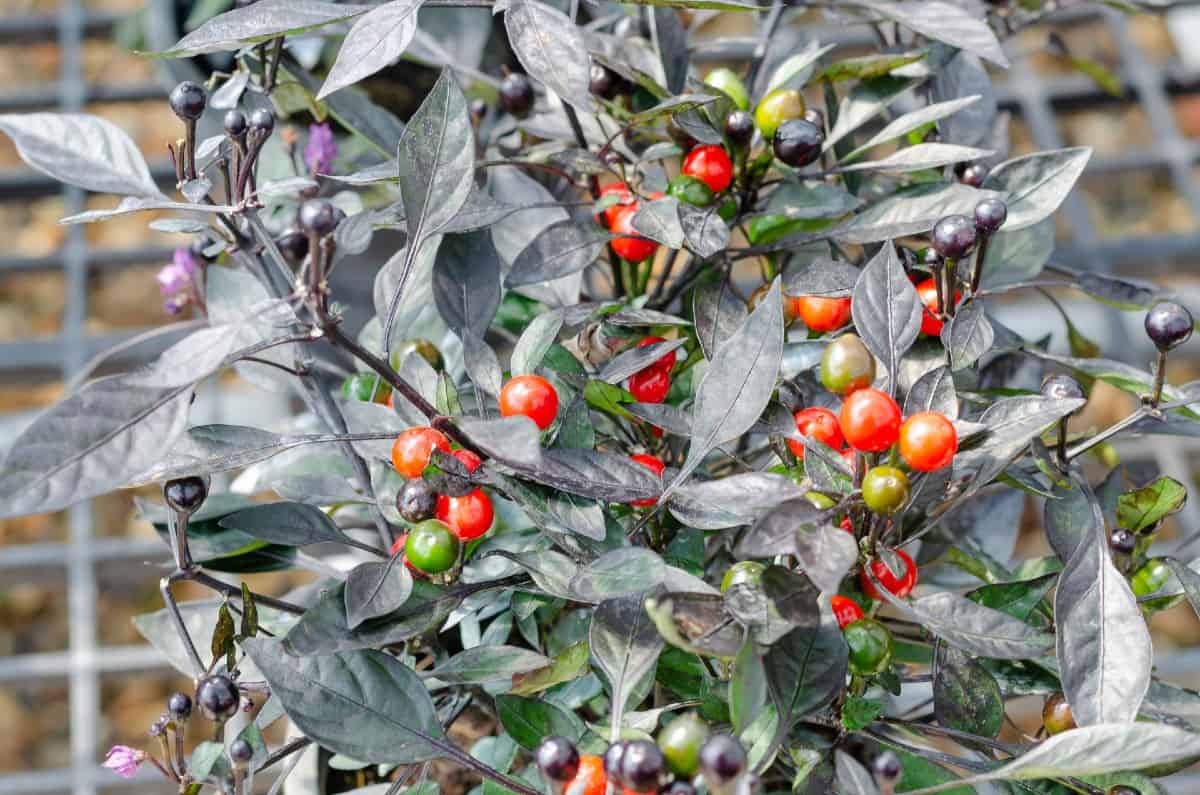 These herbaceous ornamental pepper plants offer a visual array of color to the yard. They have foliage that is near-black in color with occasional splashes of white or bright purple. They grow in a rounded, upright form and produce purplish-black fruit.
These pepper plants grow 15 inches tall and 20 inches wide and desire full sun to flourish. They maintain their foliage color throughout the growing season and are an excellent choice for containers or gardens. They are low maintenance and drought tolerant.
Gardens are not just for flowers anymore. Thinking that foliage plants are drab and boring is a common mistake because many have an appeal that makes them shine among the rest.
Some have tricolor or variegated leaves with contrasting colors, while others are hard to resist touching with their soft and fuzzy leaves.
Creating a garden with a visual and textural appeal by planting annuals with colorful leaves is easy, so why not share our colorful foliage plant guide with your friends and family on Facebook and Pinterest?