Many people wonder what the difference between romaine and iceberg lettuce is or ask is iceberg lettuce the same as romaine? These types of lettuce are not the same and have a few marked differences in romaine vs iceberg lettuce.
Iceberg lettuce, known as crisphead lettuce, is pale green leaf lettuce with ball-shaped leaves, whereas romaine lettuce is a darker green with an elongated leaf. Compared to romaine lettuce, iceberg lettuce has a longer shelf life. It is less expensive, making it a popular choice in eateries and grocery stores to maximize profit and reduce food waste.
The nutritional content of the two products is the most significant distinction. Romaine lettuce is the leader in almost every nutritional area, and it contains higher quantities of vitamin A, vitamin K, beta-carotene, and folate than any other veggies. Romaine also contains significant amounts of folic acid and magnesium.
The Difference between Romaine and Iceberg Lettuce
The darker leafy greens of romaine have a higher nutritional value than iceberg's white crunchy heads. The difference between romaine and iceberg lettuce spans from its color and leaf shape to its flavor and shelf life, making it essential to understand the nuances of romaine vs iceberg lettuce.
Salad greens like bibb lettuce, iceberg lettuce, endive lettuce, romaine lettuce, Boston lettuce, and arugula are well known for their health benefits. They are hailed as nutritious and great for weight loss or boosting the immune system while staying low in carbohydrate.
After washing off bugs in romaine lettuce, it's common to use romaine and iceberg lettuce for Caesar salads or healthy wraps as they offer an easy and tasty way to increase the intake of veggies with a mild flavor. One cup of lettuce is packed with antioxidants and low in carbs, making it one of the healthiest veggies.
Comprehending the difference between romaine and iceberg lettuce allows you to make the best choice for flavor and nutrition when selecting lettuce to add to your diet.
Nutrition for Romaine and Iceberg Lettuce
Lettuce (Lactuca sativa) is a daisy-like annual plant in the Asteraceae family. It is typically cultivated as a leaf vegetable, although its stem and seeds are harvested. It's used in sandwiches and wraps, but lettuce is most commonly associated with salads. Lettuce is well-loved because of its health benefits.
Iceberg and romaine lettuce include essential nutrients to help us stay healthy, nourished, and at an optimal weight. Both types of lettuce are low in cholesterol. Iceberg lettuce has around 13 calories per one cup serving, while romaine lettuce has about 15 calories per one cup serving.
Romaine, on the other hand, has more nutrients than iceberg, whether you follow the best time to harvest romaine lettuce or you buy it. Fiber, iron, folate, potassium, phosphorus, manganese, vitamin C, vitamin A, and vitamin K are all present, as well as calcium, magnesium, and several other vital vitamins.
Is Iceberg Lettuce the Same as Romaine?
While these leafy greens are types of lettuce, their nutritional content is different, and they are not the same plant. The flavor of iceberg is delightfully neutral, and it's easy to regrow iceberg lettuce in water. Romaine lettuce has a slightly bitter taste that is not overpowering but pairs well with salty, sour, and sweet dressings.
Crisphead, butterhead, leaf or loose-leaf, romaine or cos, and stem lettuce are the five types of lettuce. Crisphead lettuce, like iceberg lettuce, has spherical heads with tightly packed leaves. In the compact head of iceberg, there are delicate, translucent green leaves.
A head of romaine lettuce has crisp, vivid green leaves. This lettuce grows high and tall. The leaves are very bright green and progressively lighten towards the stem, and are joined to the core stem by thick but sensitive stems.
Romaine vs Iceberg Lettuce – Serving
Another way romaine vs iceberg lettuce differs is how they are served. Cooking romaine lettuce is an option. The best way to eat iceberg lettuce is straight from the refrigerator.
It may seem strange to cook lettuce, but it is possible with a full head of romaine. Cooked romaine gives your salad a tremendous charred flavor which adds great depth to the taste. Romaine may be cooked in the oven, on the grill, or the stove.
Iceberg lettuce is highly watery lettuce and is best served ice-cold from the refrigerator. The lettuce stays incredibly crisp and is known for its exceptional crunch. The same holds true for lettuce or cabbage.
Storing Lettuce
To keep iceberg lettuce or other different lettuces, gather a few moist paper towels and a baggie and set them aside. Take the head of lettuce and roll it in damp paper towels before placing it in a plastic bag to keep it fresh. The paper towels help maintain crisp, fresh leaves for a more extended period. Replace the paper towels as needed if they dry out.
To preserve romaine lettuce, place the unwashed head of lettuce in a clean plastic bag and place it in the drawer of your refrigerator or freezer. When adequately packed and stored in the fridge, iceberg and romaine lettuce last for 7-10 days. Keeping romaine lettuce fresh ensures you have it for a salad when you need it.
While you can freeze romaine lettuce as well as iceberg, the texture changes dramatically. Frozen lettuce is better used for recipes like soups and stews.
Understanding the difference between romaine and iceberg lettuce and learning the answer to is iceberg lettuce the same as romaine is straightforward. By uncovering variances in romaine vs iceberg lettuce, it's easy to comprehend these lettuce varieties are not the same and vary in color, flavor, and nutritional value.
When looking for caesar salad ingredients or a tasty addition to a wrap, consider romaine vs iceberg lettuce. Add romaine for a more nutritious and slightly bitter and tangy taste, or if you want to try grilled lettuce or a hot salad or sandwich.
Choose iceberg lettuce for crunch and a mild flavor. Iceberg's flavor neutrality makes it ideal for dressings with solid flavors. While it may be one of the least nutritious salad greens, it pairs well with thick dressings that stick to the lettuce leaves and complement rather than overpower the flavors.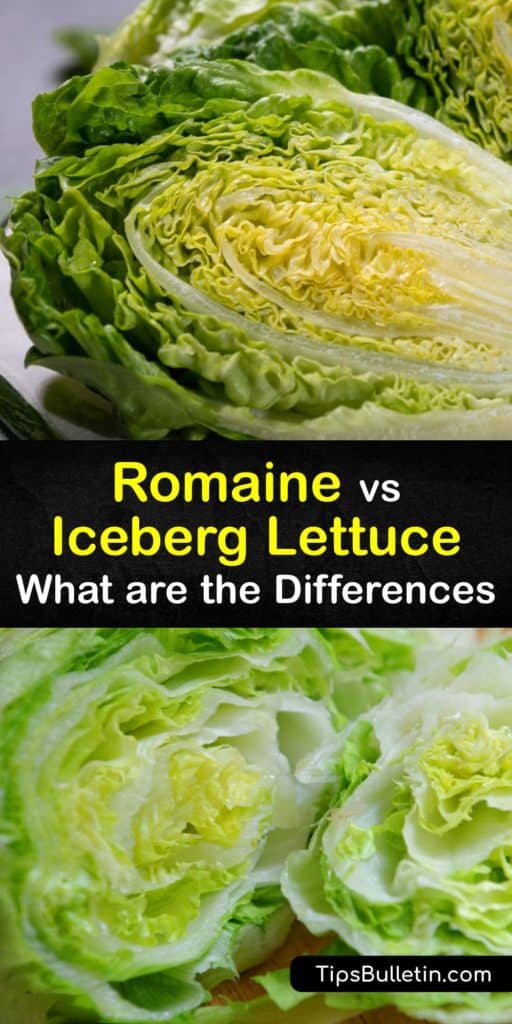 If you loved this article on romaine vs iceberg lettuce, please share these handy tips on the difference between romaine and iceberg lettuce with your family and friends on Pinterest and Facebook.