Nobody likes to clean the bathroom; however, with a weekly bathroom cleaning schedule, the unenjoyable task of cleaning the bathroom will go by much quicker. By creating a bathroom cleaning checklist and developing a cleaning routine that includes all of the cleaning tasks that you need to complete will ensure you don't overlook anything that needs cleaning.
The following free printable bathroom cleaning checklist template will help you remember what bathroom cleaning chores need to be done and when you should do them.
If you can develop a bathroom cleaning schedule, your master bathroom and other bathrooms in your house will always be sparkling clean.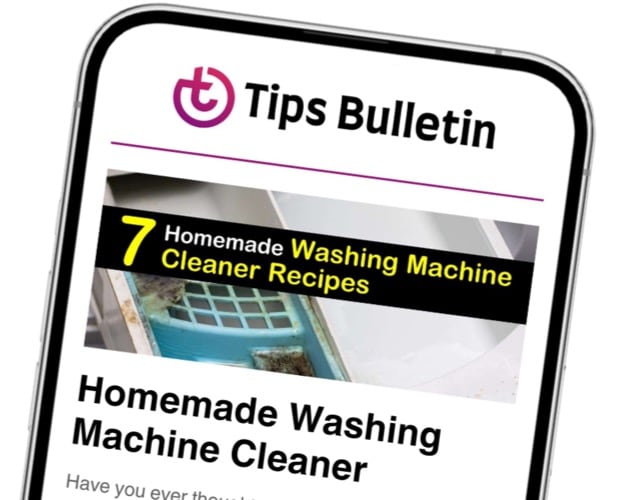 Finally, an email that Transforms Your Home.
Get the latest home and garden tips from our experts, delivered straight to your inbox.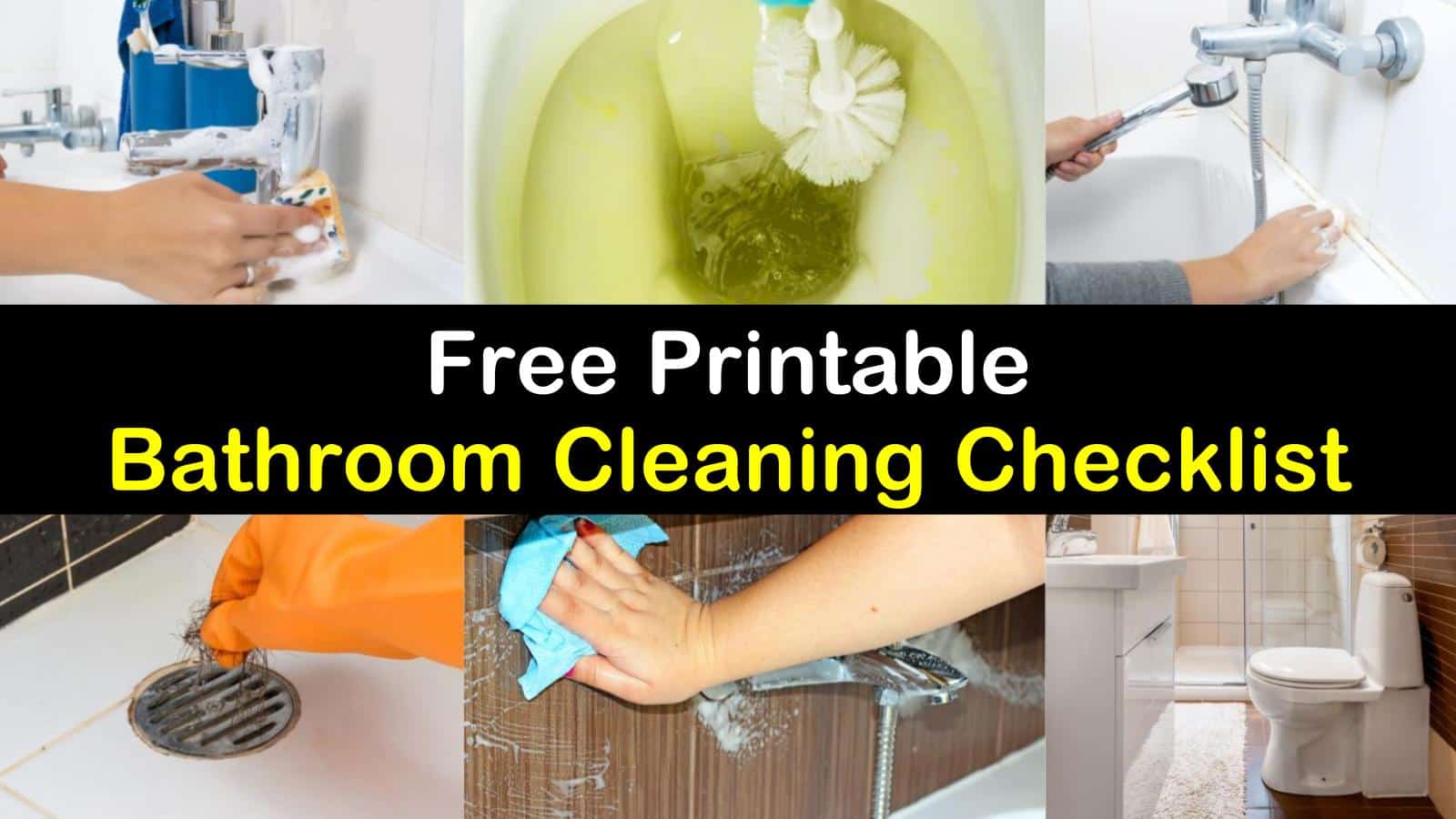 How to Clean a Bathroom
Follow these simple tips on how to clean a bathroom to make the task, if not pleasant, at least easier than it could be. Before you can get down to the nitty-gritty tasks of cleaning the bathrooms and checking items off your restroom cleaning checklist, you need to make sure that you have all your cleaning supplies in one place.
As you move through the bathroom, make sure that you pick up anything that doesn't belong, like newspapers, shoes, etc., and place them outside the door. Take the time to put away items around the tub and the vanity so that you have a clean surface to work with.
If you have children who play with tub toys, consider washing them in the top rack of the dishwasher to clean and disinfect them. When you start to clean, pre-treat the surfaces to help speed up the cleaning process.
Spray the tub and shower walls with a disinfectant spray and let them soak. Quickly wipe down the counters with a microfiber cloth to get rid of makeup powder, hair, and other gunk that will otherwise get scooted around during the wet cleaning process.
The entire cleaning process will go much faster if you remove the dry gunk first. Keep some paper towels and a spray bottle of your cleaning products under your sink for quick cleanup of daily messes.
Easy-to-Use Guidelines for Cleaning Bathrooms
Daily Cleaning
Wipe down the tub, shower, and sink after every use. You're not doing a thorough scrubbing, but instead, you want to remove any hair, toothpaste, or wayward hygiene products from surfaces when they occur.
Hang your towels up to dry, so they don't mildew. If your towels do start to smell like mildew, run them through a wash cycle using vinegar and baking soda.
Using the cleaning product and paper towels under your sink, make sure to clean up spills immediately.
Change hand towels daily to encourage proper handwashing.
Weekly Bathroom Tasks
Start by pre-treating surfaces. Spray the shower walls, doors, and tub with an all-purpose bathroom cleaner.
Spray the inside of the toilet bowl with cleaner and let it sit without flushing.
Dust the light fixtures above the vanity and recessed lighting with a long-handled duster.
Remove everything from the counters and wipe the surface with a dry microfiber cloth to remove makeup, dust, hair, etc.
Clean the toilet. Now that the toilet cleaner has had time to work, use a toilet brush to scrub the inside of the toilet bowl.
Spray the outside of the toilet with an all-purpose cleaner, and wipe it down with a damp cloth. Make sure to clean the toilet seat, as well as the rim, and don't forget the hinges. Learn how to clean the toilet tank in just a few minutes.
Spray cleaner on the vanity and wipe it with a damp cloth.
Remove soap scum from your soap dish by running it under warm water, then clean it with a disinfecting spray.
Spritz and wipe down the bathroom sink basins and faucets.
Spray the mirror with glass cleaner and wipe with a dry microfiber cloth until it is streak-free.
Polish all the faucets with the glass cleaner, and wipe down the doorknobs and light switches.
Return items like the toothbrush holders and soap dish to the vanity, wiping down each piece as you go.
Clean the bathtub and shower, and use a microfiber cloth to wipe the walls of the shower and the ring around the tub, then thoroughly rinse. If you have a jetted tub, the best way to clean whirlpool tubs is to wipe the jets clean and the surrounding seal first before tackling the rest of the tub. You may need to use an old toothbrush to get into the crevices of the jets to get rid of soap scum and hard water deposits. Regular cleaning of this area ensures that the jets are always working when you need them.
Wipe down the shower rods and rings, and use fresh water to clean the shower curtain. If you have shower doors instead of a shower curtain, deep clean shower doors with a homemade solution of peroxide and cornstarch or another effective recipe to remove hard water stains and soap scum. Don't forget to get in the cracks and crevices. An old toothbrush can help.
Clean the shower head to remove hard water stains and minerals.
Unstick the shower mat from the bottom of the shower, turn it upside down, and spray the bottom with a vinegar or bleach-based solution. Let it sit for a few minutes before cleaning a mildew moldy shower mat with a sponge or stiff-bristled brush.
Remove hair from the drain. If you have a clog, you will know it. Water will start backing up and there will be an unpleasant sewer smell in the bathroom that could be coming from the tub or shower, toilet, or sink drain. Regular cleaning and sanitizing of drains will help to ensure that this does not become an issue.
Use glass cleaner to polish the handles and fixtures and clean the inside and outside of the glass doors to remove water spots.
Learn how to clean bathroom floor tiles the right way. Sweep and mop the floors with a homemade floor cleaner that disinfects.
Vacuum the bathroom rugs and clean bathroom rugs if needed by handwashing them or throwing them in the washing machine.
Empty the trash and clean out the trash can and return when the floor has dried.
Change your towels and wash them with homemade laundry detergent.
Wash the bath mats every two weeks.
Check and restock supplies like toilet paper, toiletries, and cleaning supplies.
Comprehensive Monthly Bathroom Care Plan
Clean and organize your cabinet drawers and medicine cabinet, getting rid of any expired medication safely.
Perform a deep-cleaning to get rid of any mold or mildew that has started to form.
Use the brush attachment on your vacuum cleaner to clean the air vents.
Thoroughly wash the inside and outside of your trash can with hot, soapy water. Allow to air dry before putting it back.
Clean the grout in your bathroom with a reliable grout cleaner.
Wipe the leaves of your bathroom plants to remove dust.
Cleaning the bathroom is at the bottom of most people's cleaning list. Not only can the job of cleaning the bathroom be quite disgusting, but it can also take a ton of time if you haven't been keeping up with the task.
By creating a restroom cleaning checklist and sticking to the cleaning routine, you can significantly reduce the amount of time that you are spending on your weekly cleaning. This printable bathroom checklist will help you knock through this chore in no time and ensure that you don't miss anything important.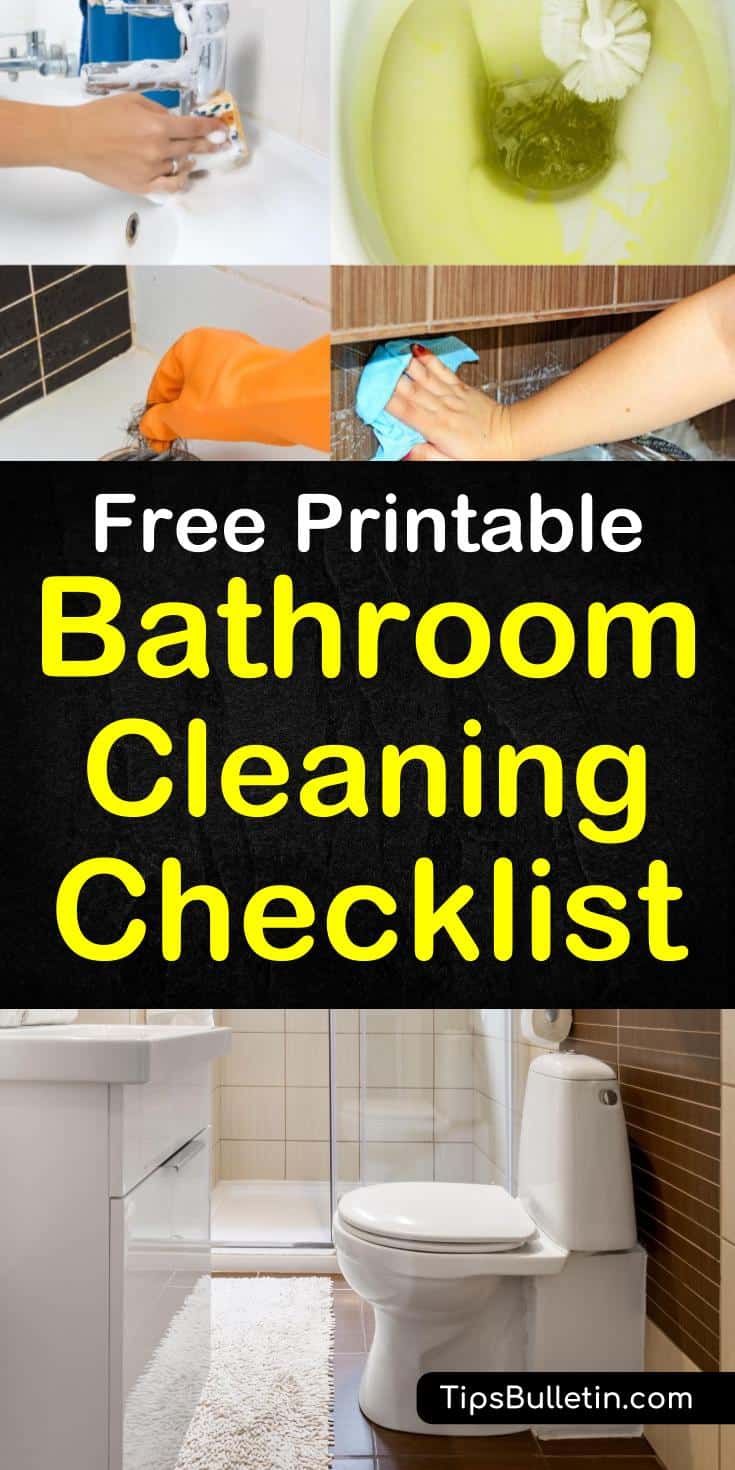 We hope you enjoyed learning how to create a bathroom cleaning checklist to help you keep on top of this chore and keep your bathroom sparkling clean. If you found our printable bathroom cleaning checklists useful, please feel free to share the information with your family and friends.
Free Printable Bathroom Cleaning Checklist
Get your free printable bathroom cleaning checklist here to keep handy for those daily, weekly, and monthly restroom cleaning tasks.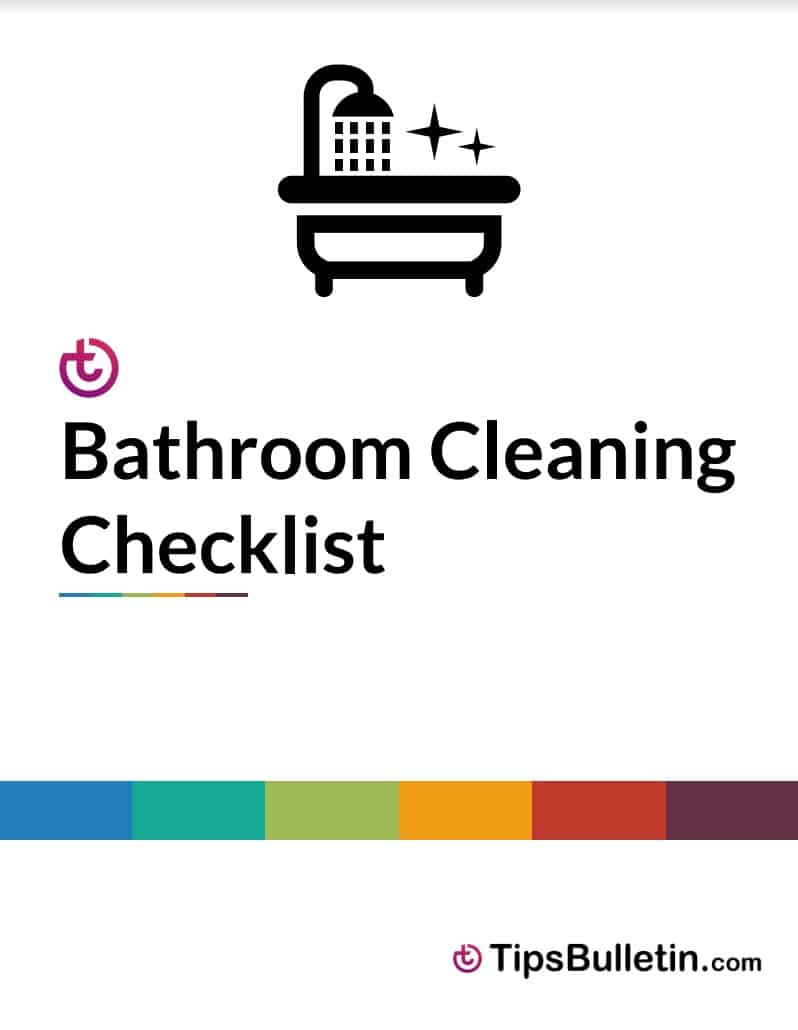 >> Download and print our free PDF Bathroom cleaning checklist here