When your bathroom smells musty, it is uninviting and seems unhygienic to family and guests. Figuring out the cause of unwanted bathroom odor may seem challenging. Discover how to get rid of a musty smell in the bathroom and restore the sanitation of your space.
Even the cleanest bathroom may develop undesirable smells. Some bathrooms get a distinct moldy smell, while others smell more like sewage. Taking note of the scent you're dealing with and where it's emanating from helps direct your efforts and ensure you efficiently remove it.
Excess moisture in the air and low ventilation create a favorable environment for mold and bacterial growth. If you become aware of a foul odor in your bathroom, don't wait. Blocked drains, a cracked toilet seal, or a leaky pipe frequently compound the issue.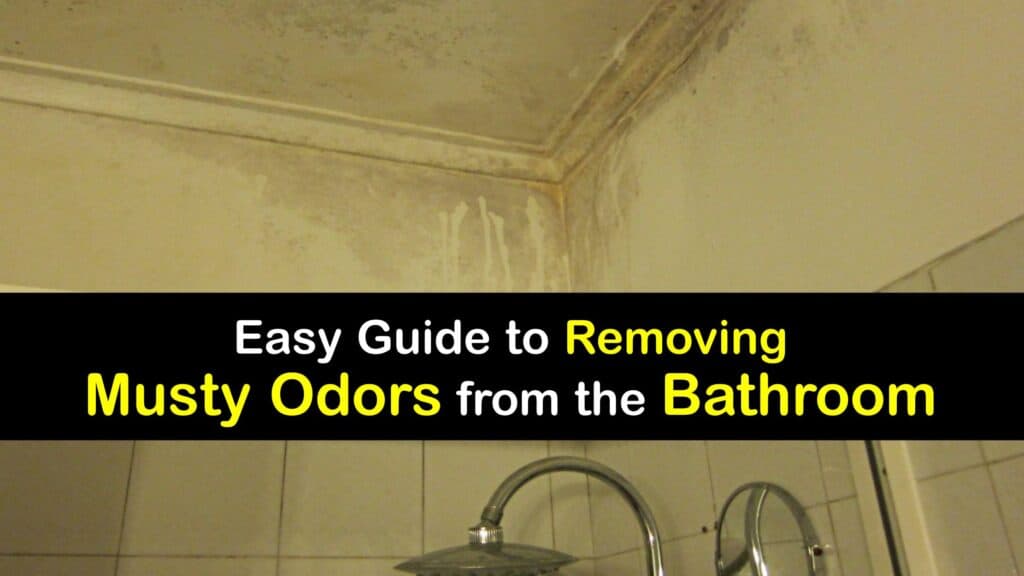 How to Get Rid of a Musty Smell in the Bathroom Fast
Discover how to remove a mildew smell from your bathroom and restore your bathroom to a fresh, clean, and welcoming space. Don't panic if you realize your bathroom smells musty. Similar to removing sweat smells from clothing and other odors, you need to find the cause of your musty smell before you can learn how to treat it.
Though it might seem daunting, this smell often arises from something small such as excess moisture allowing mildew growth or grime inside your toilet bowl or tank. Routine maintenance prevents moldy smells before they form and helps keep your bathroom smelling clean.
Find out how to get rid of a musty smell in the bathroom using supplies you already have. Narrow the source of the issue and use everyday items to quickly and effectively clean away mold, remove hard water build-up, and treat your toilet tank.
Why Your Bathroom Smells Musty
When you encounter an unpleasant smell in the bathroom, the first step is identifying the cause. There are several reasons for musty odors or a foul bathroom smell. Hot water leads to excess moisture, creating a perfect setting for mold, and a bathroom's nature is predisposed to sewer smell.
Whether you find an unpleasant moldy smell in the bathroom or another foul odor, find where it originates to get to the root of the issue.
A mildew smell usually indicates a mold problem, and this pesky bathroom invader grows on many surfaces, from the shower curtain to the toilet tank. A sewer gas smell or sewer odor usually indicates an issue with the toilet seal and pipes or a clogged sink drain or shower drain.
If you have a musty odor or general bad smell, bacteria build-up on the toilet seat could be to blame. Thankfully, you can find ways to get the moldy smell out of your basement with a few smart tips once you've identified the issue.
How to Remove a Mildew Smell from Your Bathroom
Getting the mildew smell out of the bathroom doesn't have to be complicated. Mildew refers to a group of fungus and molds growing in your home. If you're curious about how to remove a mildew smell from your bathroom, the answer is simple.
Generally, killing the mold and cleaning it away is enough to remove the smell that comes along with mold and mildew. Make a batch of powerful mildew removal bathroom cleaner to eliminate the odor for good.
Mix the supplies in a spray canister, taking care not to burn yourself with the boiling water, and shake well. Check the consistency, ensuring all the powder dissolves. If you still see lumps, continue to shake until blended.
Spray the cleaner on bathroom surfaces where you suspect mold is an issue, including the bathtub, shower curtain, walls, backsplash, sink, and toilet bowl. Use a damp sponge or rag to work it in and let it sit for 15 minutes before rinsing with cool water.
Instead of spraying, pour this mixture into your sink drain to stop the sewer odor in a bathroom sink. After about 15 minutes, flush with water. Repeat if needed.
Use this recipe to eliminate musty smell in your basement or if you have a musty smelling washing machine, too. Wipe down the appliance – inside and out – and swipe walls, wash the floor, and any other hard surfaces to see if it takes care of the problem.
Homemade Hard Water Removal Spray
Hard water stains are unsightly, make your toilet bowl seem filthy, supply a surface for bacteria and germs to cling to, and make your bathroom smell musty. These chalky stains are caused by mineral deposits from the water used to flush your toilet.
The various minerals adhere to the inside of the toilet bowl, making a layer of rough strata which is hard to remove and discolors your porcelain. Mix some homemade hard water remover when hard water stains your toilet, and clean it off promptly.
Add the vinegar, lemon juice, and dish soap to a spray bottle and shake until blended. Spray the hard water remover inside your toilet bowl, covering the entire surface of the hard water stain.
Consider turning off the water to your toilet and flushing until empty to enable you to clean the whole bowl. Let the hard water spray sit on the stains up to half an hour, then scrub and rinse well with clean water. The addition of lemon will make your bathroom smell better right away, as it lingers for a while after using it.
Odor Eliminating Toilet Tank Treatment
Toilet odor may smell musty or like sewage – either way, it's undesirable. Make a cost-effective tank treatment when your toilet doesn't smell its best and eradicate the unwanted stench quickly with powerful ingredients. Baking soda and white vinegar are tough on odor, yet are natural and free of toxic chemicals.
For a simple and effective way to remove sewer smell from bathroom areas, add both ingredients to the toilet tank, use a clean toilet brush to mix them with the water inside, and scrub around the tank's walls. Leave the treatment in the tank for two to four hours to tackle the smell coming from toilet, scrub again to remove any lingering stench, and flush.
Use this cleaner in the sink to remove black sludge from bathroom sink drain to release the odor and clean out the pipes. It works the same way to clean a stinky shower drain pipe or one from the bathtub.
Maintenance for Removing the Musty Smell from a Bathroom
Preventative measures to limit moisture and keep your bathroom clean help reduce unwanted odor. The same is true when you need to get the musty smell out of a house. Since hot baths and showers create steam, and most bathrooms are enclosed spaces, they are inviting environments for mold.
While some moisture is inevitable, reducing it as much as possible cuts down on the dampness available for mold growth. Combined with taking out the trash and working to increase ventilation, you can stop musty odors at the source. If your bathroom smells like mildew follow these simple steps to get rid of the unwanted odor.
Set a schedule and combine good management with cleaning and air freshening as needed. If you find a mildew smell in towels, add some white vinegar to the wash to eliminate the problem.
If a bad smell persists in the bathroom, it could indicate a more severe issue with the toilet seal or piping. Consider contacting a licensed plumber for support.
A musty, foul-smelling bathroom is unappealing. When bathrooms are unused for a long time, have poor ventilation, or fall behind on maintenance, they quickly begin to harbor odor. With a little knowledge and basic tools and supplies, homeowners can clean their bathrooms and remove the mildew or sewer smell for good.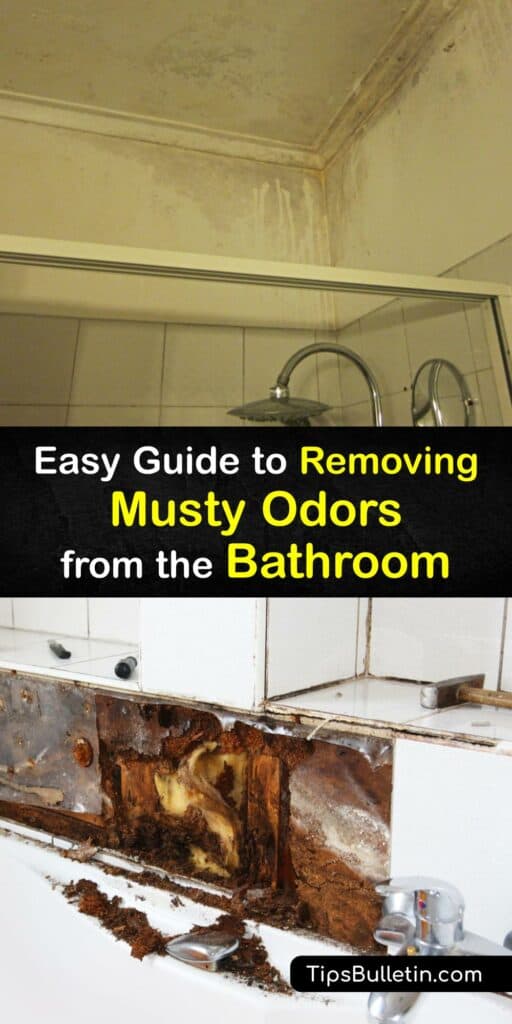 If you loved this article on what to do when your bathroom smells musty, please share these brilliant tips on how to get rid of a musty smell in the bathroom with family and close friends on Pinterest or Facebook.