It's no lie; cleaning the bathroom is my least favorite chore. As a result, it doesn't take long for my bathroom tiles and grout to get dirty. Luckily, with these bathroom tile cleaner recipes and tips, I can keep my bathroom looking sparkling clean and you can, too.
Something as simple as making sure your tiles are clean can make your bathroom and kitchen surfaces seem that much newer. When you find that you need to work on cleaning tiles, follow these tips and tricks to make a bathroom tile cleaner to add to your supply of homemade cleaning products.
Tiles, particularly those in the tub and shower, accumulate soap scum, hard water stains, and a variety of other stains that must be removed. In addition, you have to clean the grout.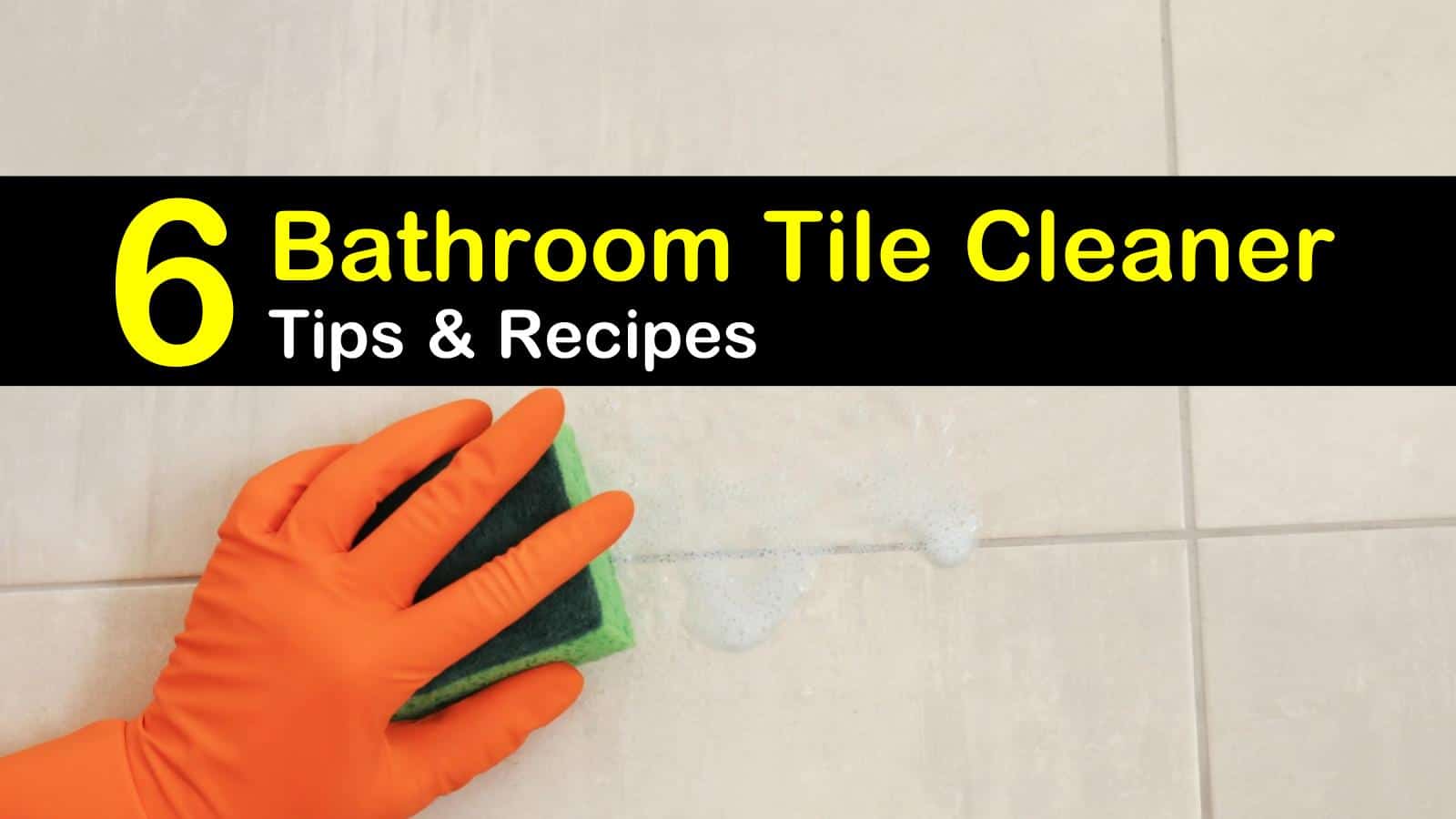 Simple Yet Powerful DIY Cleaners for Bathroom Tiles
Learn how to clean epoxy grout and other grout types and what kind of cleaners work on them before spraying just any cleaner. You don't want to ruin either the tiles or the grout.
Multipurpose Bathroom Tile Cleaner
To add to your stock of homemade bathroom cleaners, follow this non-toxic and straightforward cleaning solution recipe for the best shower tile cleaner.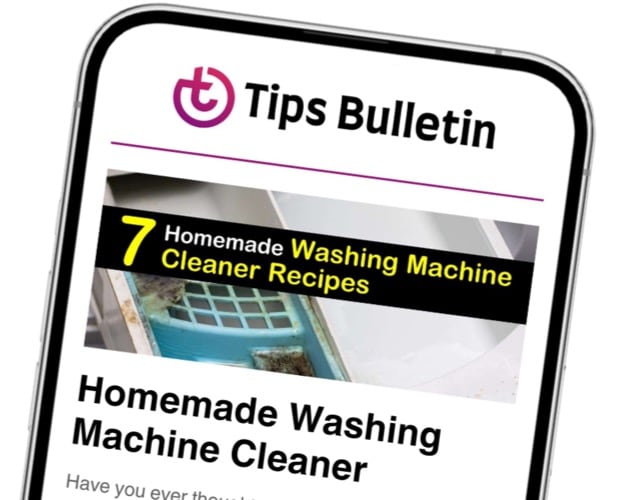 Finally, an email that Transforms Your Home.
Get the latest home and garden tips from our experts, delivered straight to your inbox.
For a homemade shower tiles cleaning solution, combine the ingredients in a mixing bowl or container. Use a sponge or damp cloth to sop up some of the mixture. Scrub the ceramic tile, shower walls, or toilet bowl. Rinse with warm or hot water.
Homemade Tile Cleaner Stain Remover
This recipe is a beautiful stain remover to help fight that nasty grime or hard water stains.
Combine the baking soda, washing soda, Borax, and dish soap in a bowl. Wipe the area you want to clean with the white vinegar. Scrub with the stain remover mixture, let sit for 15 minutes, and rinse with warm water. This recipe also helps incleaning porcelain tile.
Multi-Surface Floor Cleaner
If you have to clean what feels like an endless field of floor tile, follow this recipe for an all-purpose homemade tile cleaner recipe.
Mix the ingredients in a bucket and mop as usual to clean tile flooring. For quick, localized cleaning, pour the mixture into a spray bottle and spot clean the floor or other tile surfaces. You can let the floor air dry or buff with a dry mop or cloth to increase the shine and get rid of water spots.
Baking Soda and Elbow Grease
Sometimes you need a simple fix or a little touch up with minimum ingredients. If that's the case, grab the baking soda from your pantry and a damp cloth or scrub brush. Pour a little baking soda into a bowl and use the wet scrubber to pick up some of the baking soda.
Scrub the tiles to clean off soap scum or hard water stains and rinse with warm water. This trick also works for cleaning grout. Use a grout brush or an old toothbrush and a little bit of elbow grease to get your grout cleaner.
White Vinegar – The Best Shower Tile Cleaner
If you need a little bit more power when it comes to bathroom cleaning, you can use vinegar.
Combine the two ingredients in a spray bottle and shake to mix. This all-purpose cleaner works wonders on many of your bathroom surfaces, such as shower doors, shower walls, and shower curtains. You can even call this vinegar spray a DIY shower cleaner spray.
Hydrogen Peroxide – The Tile Grout Cleaner
Sometimes, you just come to the point where you need to put some heavy duty work into your grout. While the baking soda is a great fix, the power of hydrogen peroxide can help even more when cleaning grout.
Mix just enough white flour into a bowl of hydrogen peroxide to form a thick paste. Using an old toothbrush or a grout brush, apply the paste. Cover in plastic wrap, taping down the sides. Let sit overnight.
In the morning, rinse the paste away with cold water. The chemical makeup of the hydrogen peroxide will not only help whiten your grout but will also serve as a sanitizer to kill mold and mildew.
Just a little bit of TLC for your tile floor and surfaces can go a long way in making your home look new and fresh again. Sure, you can stick to your magic eraser and elbow grease, but hopefully, you found a recipe or tip in this article that works for you and helps make your life a little easier.
Recipe for Homemade Bathroom Tile Cleaner
Homemade Bathroom Tile Cleaner
Sparkling tiles with the power of standard home ingredients!
Materials
1/2 cup of lemon juice
1 cup of white vinegar
1 1/2 cups baking soda
6 tbsp dishwashing soap
6 tbsp table salt
Tools
Quart jar
Wooden spoon
Tablespoon
Measuring cup
Microfiber cloth
Instructions
Add the lemon juice, vinegar, salt, dish soap, and baking soda to the jar.
Stir well to combine.
Dunk the microfiber cloth into the mixture, squeeze out some of the excess, and wipe the tiles in one area at a time.
Rinse clean with hot water.
Notes
Lemon juice is more effective than lemon essential oil.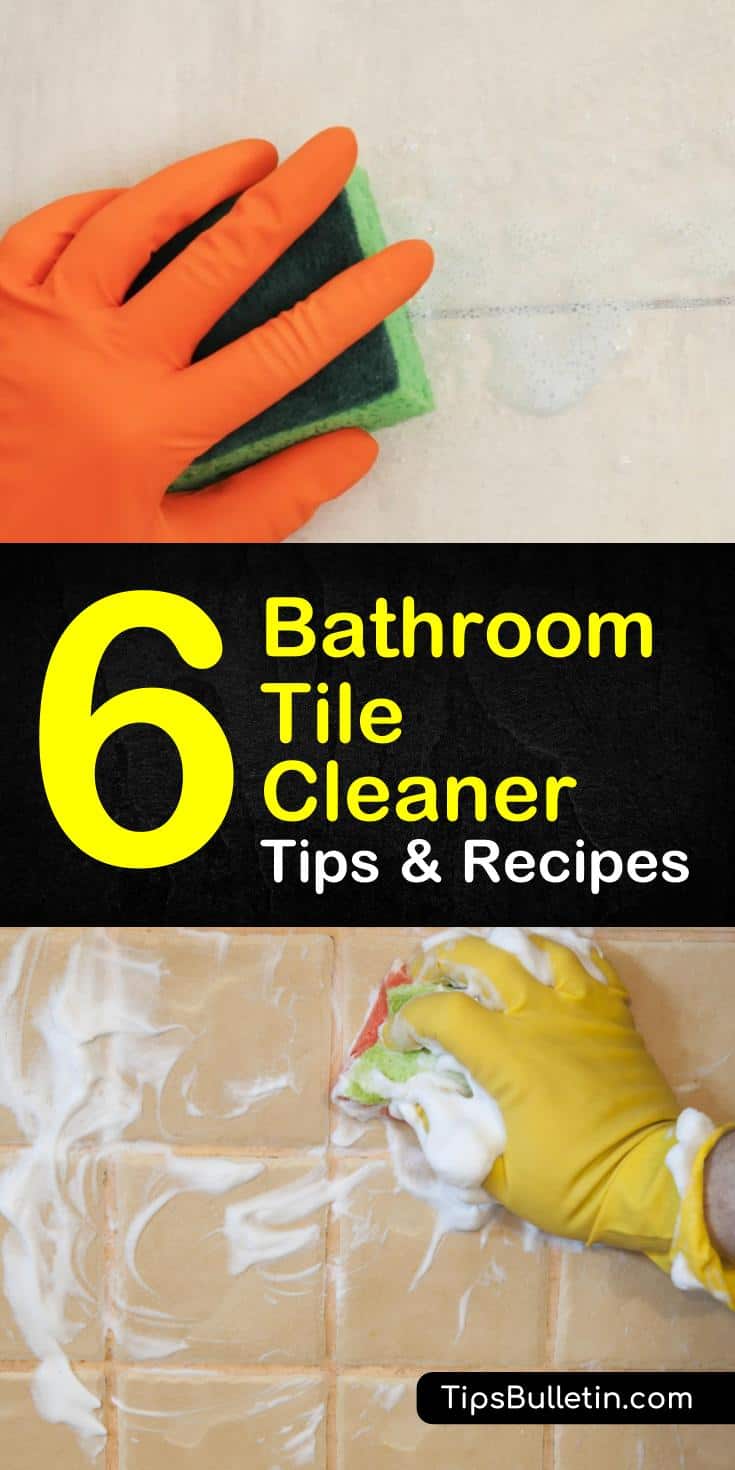 If you enjoyed these bathroom tile cleaner recipes, please share these various homemade tile cleaner tips with your friends on Facebook and Pinterest.