The word "cactus" may call to mind a tall, solitary plant silhouetted against the desert. In fact, cacti come in many different sizes and forms, some of them making excellent house plants. These beautiful cacti boast bright flowers and surprisingly diverse spine colors and styles.
In the desert, they must survive for extended periods without rain. They've developed unique adaptations like ribs that expand to absorb water during rare rainstorms and wax secretions to prevent evaporation.
Other than sunlight, the main thing that cacti demand is well-draining soil. Though they do need water, too much causes their roots to rot.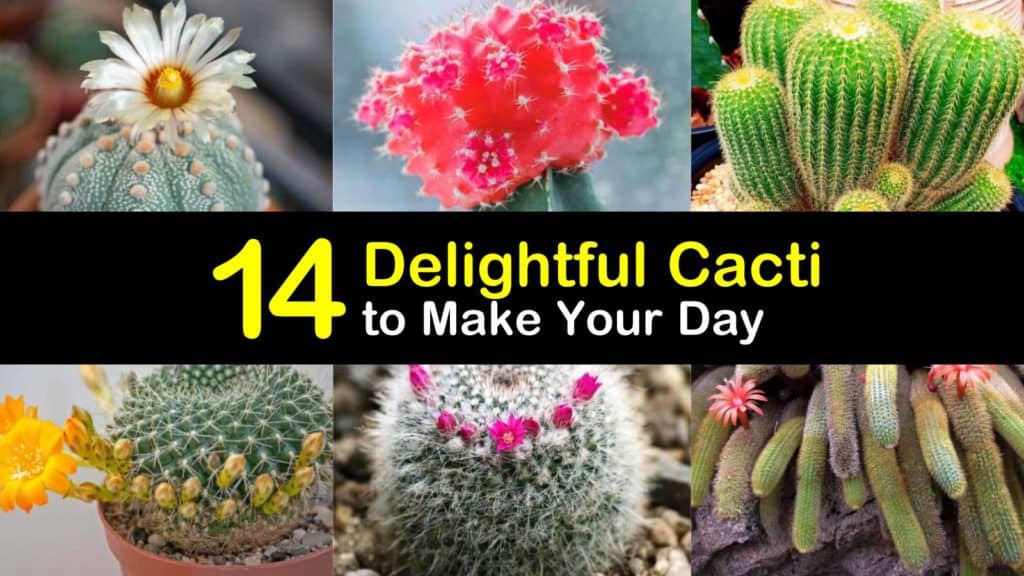 Charming Cacti
These succulents often propagate best with cuttings. Follow these steps to have a cheerful cactus sitting in your garden or window and enjoy spiky shrubs year-round.
One of the benefits of growing cacti outdoors (if your climate permits), is that the spines usually prevent squirrels from digging in the plants.
Other animals aren't too fond of a cactus, either. Repel cats from plants with a few well-placed cacti.
How to Grow Beautiful Cacti
Grow columnar cacti from cuttings, paddle cacti from whole pads, and barrel cacti from small offshoots. Store the cactus piece in a cool, dry spot under bright yet indirect light for 10 to 15 days.
Once the cutting develops a callus—a dull white patch over the cut—dust it with rooting powder. Plant it in a mixture of perlite and coir or peat, placing the small pot outdoors in a bright yet sheltered location.
Water it five days after potting, then wait until the soil has almost completely dried out before watering again.
When to Plant Cacti
Propagate cacti in late summer or early fall when nighttime temperatures are above 60℉, and daytime temperatures are between 75 and 85℉. Avoid midsummer heat, which causes young cacti to dehydrate quickly.
Expect a cactus to put down roots four to six weeks after potting it. Once it's rooted, transplant it outdoors or into a larger pot.
Ruby Ball Cactus (Gymnocalycium mihanovichii)
This cactus has a vivid Gymnocalycium grafted onto a host cactus, often a Hylocereus. The ruby ball cactus is typically used as a house plant but also shines in a dish garden.
Graft little Gymnocalycium cacti onto host plants, which require fertile, fast-draining, acidic to neutral cactus mix. Site your cactus somewhere with sunlight that's bright but not overpowering.
Water deeply when the soil is dry, especially during the summer. Only mist your cactus during the winter. Distribute cactus fertilizer once a month during the growing season of April to September.
Old Lady Cactus (Mammillaria hahniana)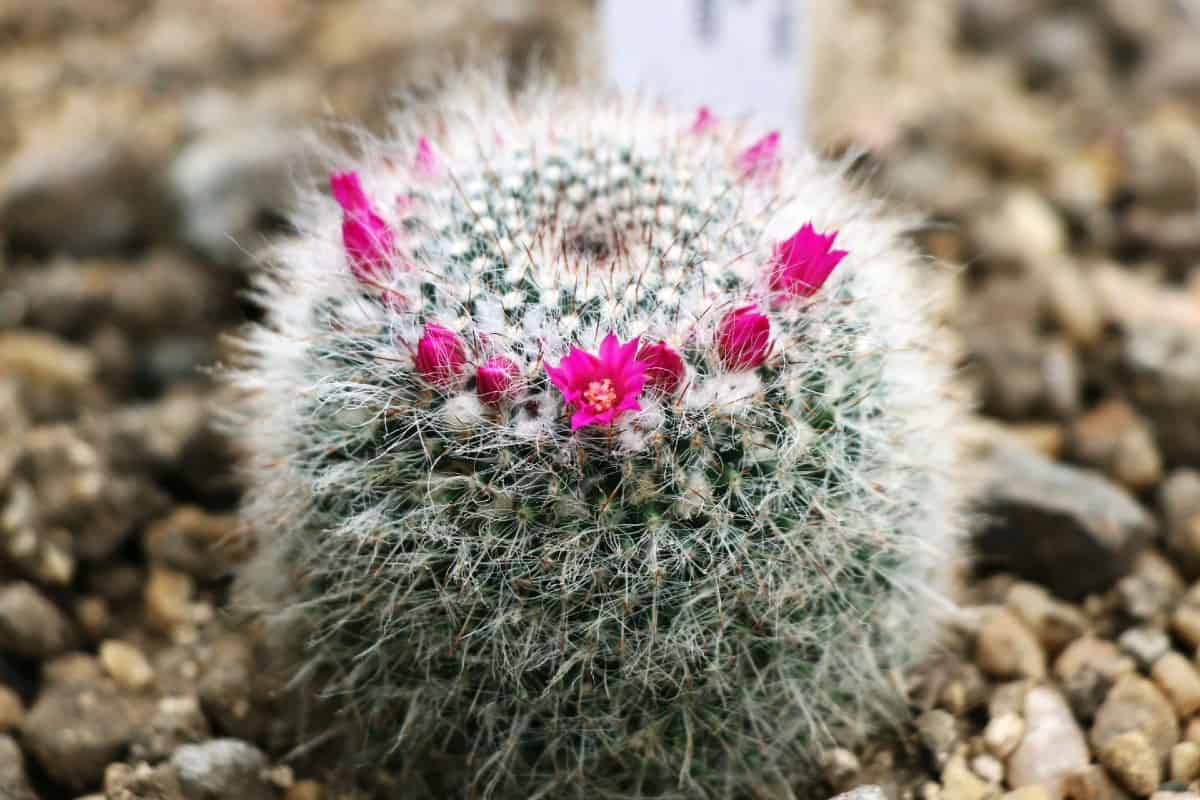 This small pincushion cactus is a one of the delightful drought resistant flowering plants of the cactus variety. It is covered in white spines and down and boasts a circle of pink flowers in the spring. It's often grown indoors but tolerates some cold outdoors.
Either divide its offsets or start seeds in the spring, sprinkling sand on top of them and keeping them moist. The old lady cactus does best in an unglazed clay pot in well-drained, gritty soil with a sandy topsoil layer and gravel around the base.
This succulent likes temperatures between 50 and 75℉. Give it cactus fertilizer once a month, and water it between mid-spring and summer.
Blue Columnar Cactus (Pilosocereus pachycladus) – A Blue-Toned, Attractive Cactus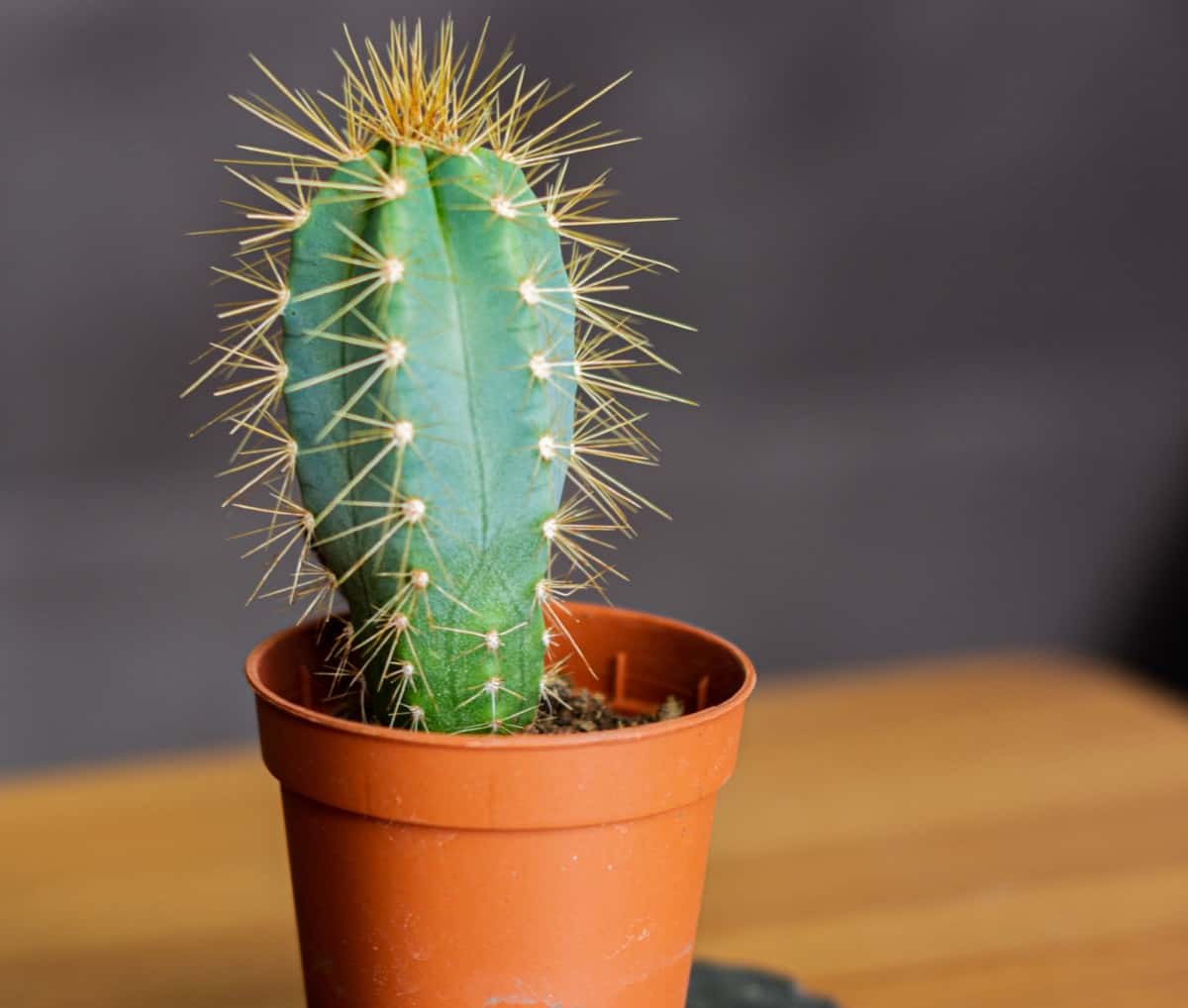 This cactus's blue-green stem reaches up to 33 feet tall and sends out branches. Its yellowish spines turn grey as they age, while its white flowers have a greenish or reddish outer section.
Grow this columnar cactus from cuttings. It thrives in plentiful direct sunlight and well-drained soil that's rich with organic matter.
Unlike other cacti, the blue columnar cactus favors consistently moist soil, though not waterlogged, during the growing season. Add cactus fertilizer while it grows.
Saguaro Cactus (Carnegiea gigantea)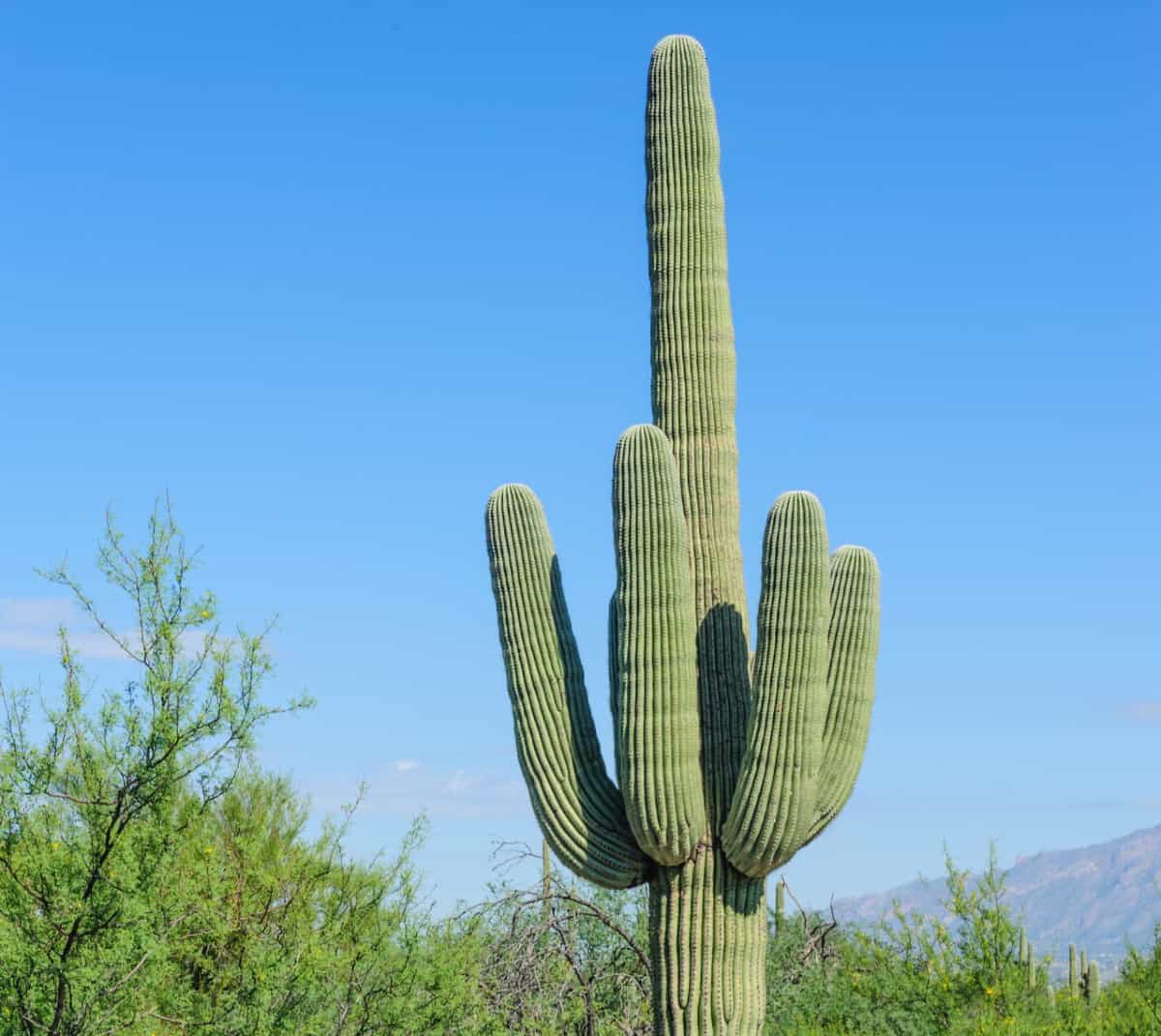 This tall, pleated cactus may only gain a couple of inches during its first few years and take 75 years to produce its first arms. Its white, night-blooming flowers—present from May to June—are the state flower of Arizona.
This cactus only sprouts in specific sections of the Sonoran Desert that do not freeze. You cannot dig these cacti up, but you might acquire one and give it a new home. In the wild, little Saguaro cacti develop under a protecting nurse tree.
Saguaro cacti thrive in well-draining grit with a dose of cactus fertilizer in the spring. Allow the soil to dry between waterings.
Prickly Pear (Opuntia ficus-indica)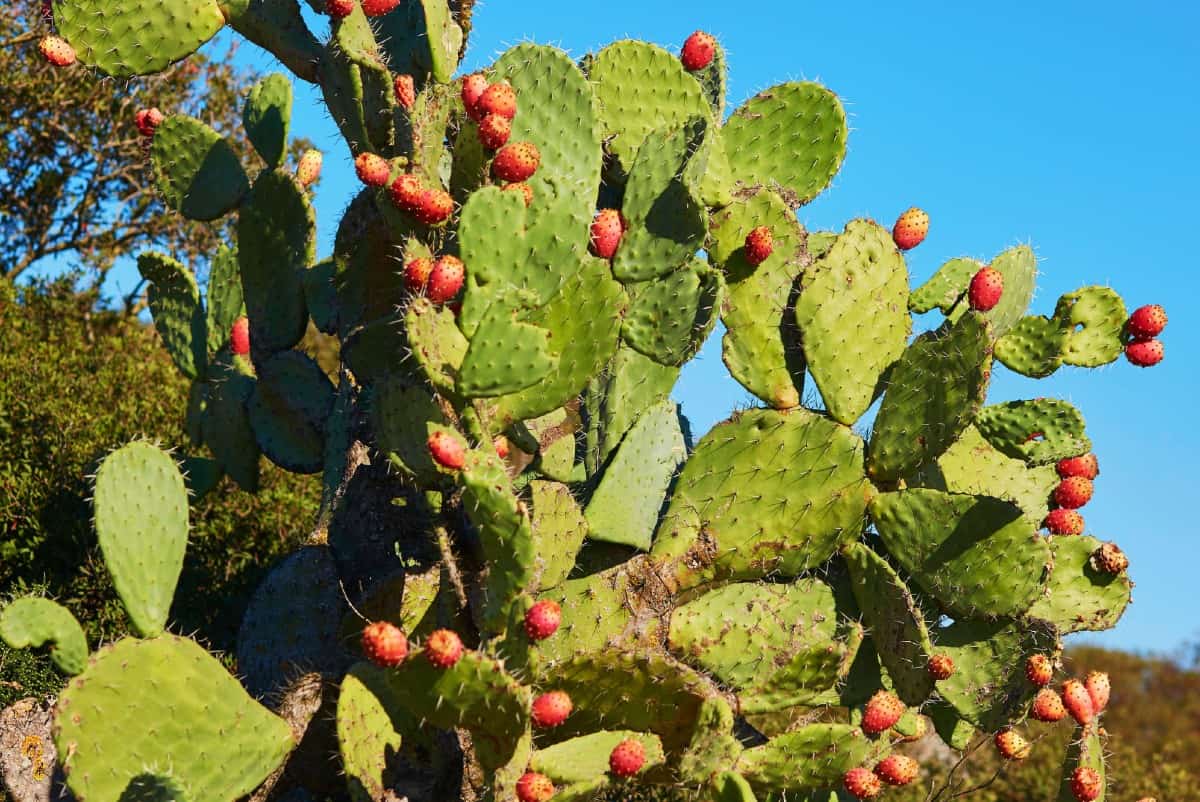 This distinctive cactus has wide, edible pads with detachable spines and little stems that can irritate people's skin. It bears large orange or yellow flowers from June to July and edible fruit.
In colder climates, grow the prickly pear cactus in a pot to move indoors during cool weather. Propagate it using pads in the spring or summer or seeds in late spring. Prickly pear excels in fast-draining, alkaline or neutral soil and full sun.
Water rooting plants every two or three weeks. Established cacti survive on rainwater alone, although they appreciate watering during extreme droughts. Feed young plants balanced fertilizer and established plants water-soluble, low-nitrogen fertilizer.
Yellow Tower Cactus (Parodia leninghausii) – A Cheerful, Attractive Cactus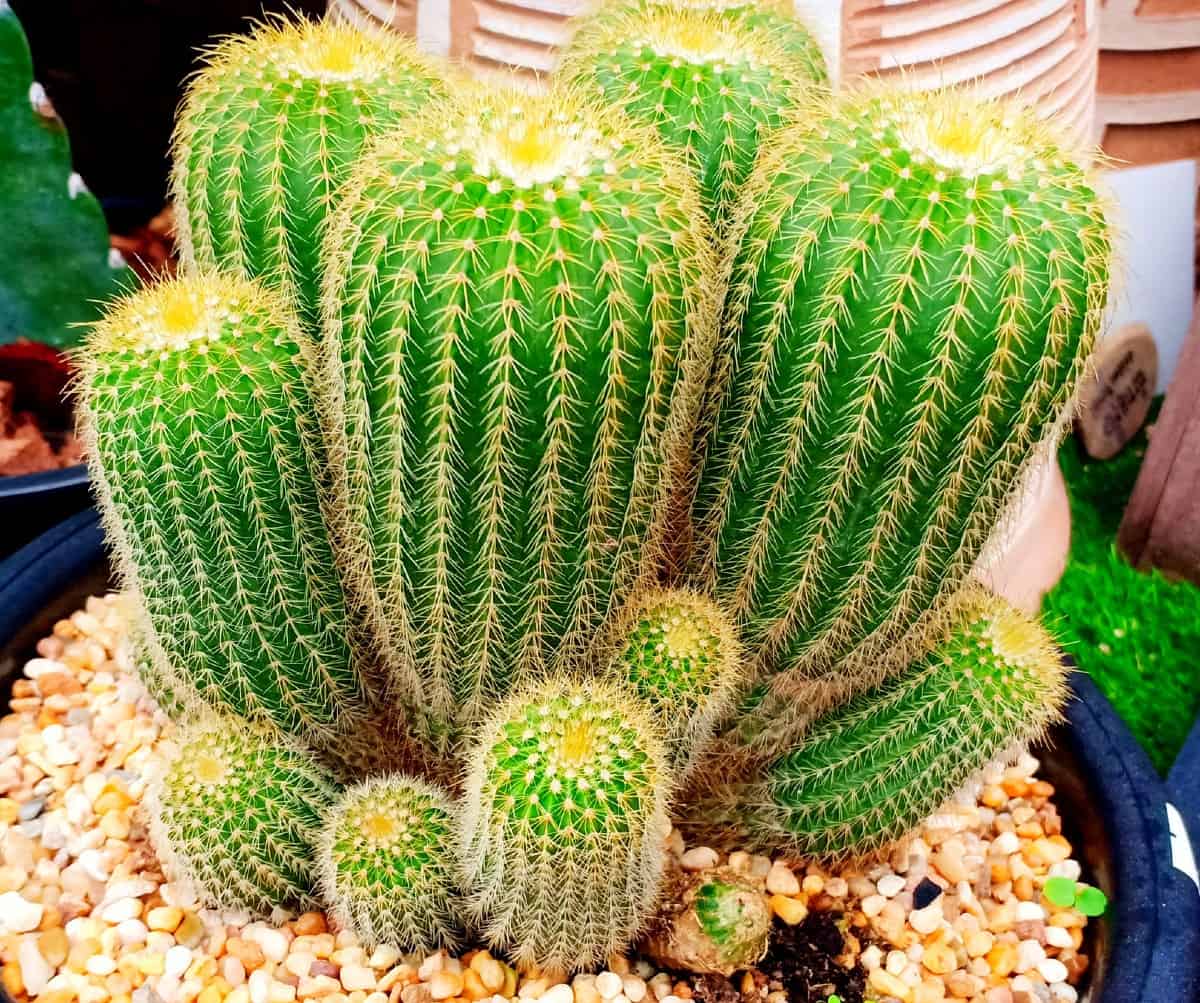 This cactus has long, harmless golden spines. Younger plants are globe-shaped, while older ones are columnar with yellow flowers. The Parodia genus also includes the notocactus, eriocactus, and brasilicactus.
Propagate yellow tower cactus with offsets or seeds, keeping seeds moist for several months. This cactus does best when it receives partial shade during the hottest chunk of the afternoon. It prefers fertile, well-drained cactus mix.
During the cactus's growing season of spring and summer, feed it cactus fertilizer and water it regularly to have moist but not damp soil. In the winter, water it less often.
Golden Barrel Cactus (Echinocactus grusonii)
This cactus is native to Mexico and the American Southwest. It is rare in the wild, but a common house plant. It does survive outside in dry climates with temperatures above 40℉.
The golden barrel cactus has very sharp spines on deep ribs. Young plants are spherical, while older specimens are less so and bear yellow summertime flowers. Sow this cactus's seeds or plant the "pups" sprouting at its base.
Put it in dry, well-draining soil and water it at most once a month. This cactus flourishes in a bright, sunny indoor or outdoor location. Add high-potassium fertilizer every four weeks.
Red Crown Cactus (Rebutia minuscula)
This crown cactus, native to the mountains of South America, sends out red flowers from its base or between the individual plants in a cluster. Propagate it with offshoots.
This cactus thrives in fertile, fast-draining cactus mix and partial to full sun, benefiting from bright light as long as it's not too hot.
During its growing period—spring and summer—water it well when the soil has dried out almost completely. Water less in the winter. During the growing season, also apply cactus fertilizer.
Sea Urchin Cactus (Echinopsis calochlora) – A Rounded, Attractive Cactus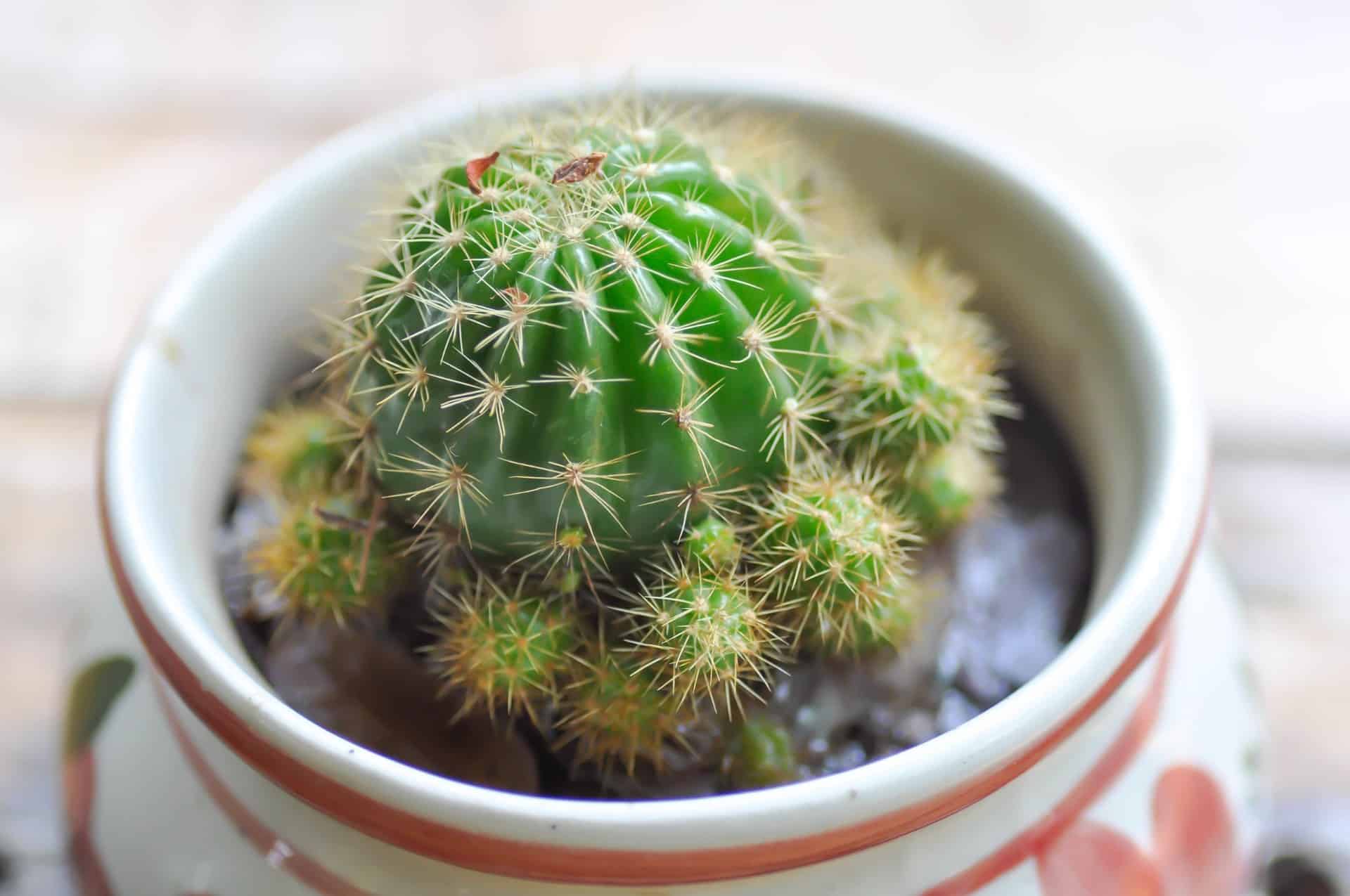 This cactus has a rounded body, golden spines, and fragrant white flowers that appear intermittently between late spring and early fall, opening in late afternoon.
It shines in a sunny windowsill or a protected location outdoors. Propagate it using the offsets sprouting around its base. The sea urchin cactus enjoys fertile, fast-draining cactus mix.
While it grows, apply cactus fertilizer mix and let the soil dry out almost completely before watering thoroughly. Only mist your cactus during the winter.
Sand Dollar Cactus (Astrophytum asterias)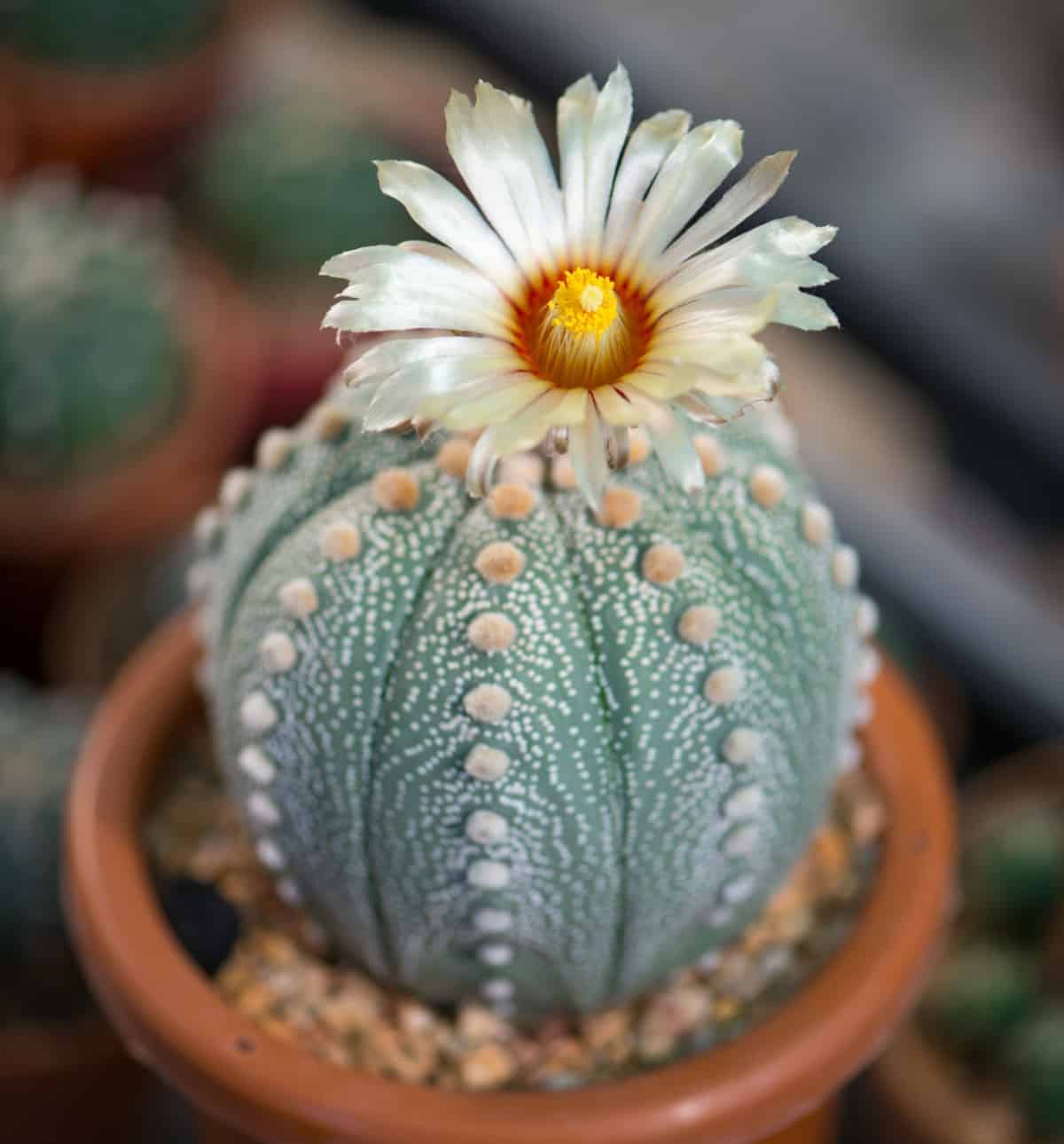 This slow-growing barrel cactus lacks spines but does have tiny tufts of hair and a large, yellowish, orange-throated flower. It's native to North America. Asterias is one of the more challenging cacti to look after.
Sow its fragile seeds in cactus potting soil that, ideally, contains loam or peat. The sand dollar cactus demands a very sunny location, preferably with temperatures above 70℉ in the summer, but cool, temperate winters.
Water this cactus infrequently in the summer and not at all in the winter. During the growing period, mix balanced fertilizer into its water. Repot your sand dollar cactus at the start of every growing season.
Golden Rat Tail Cactus (Cleistocactus winteri)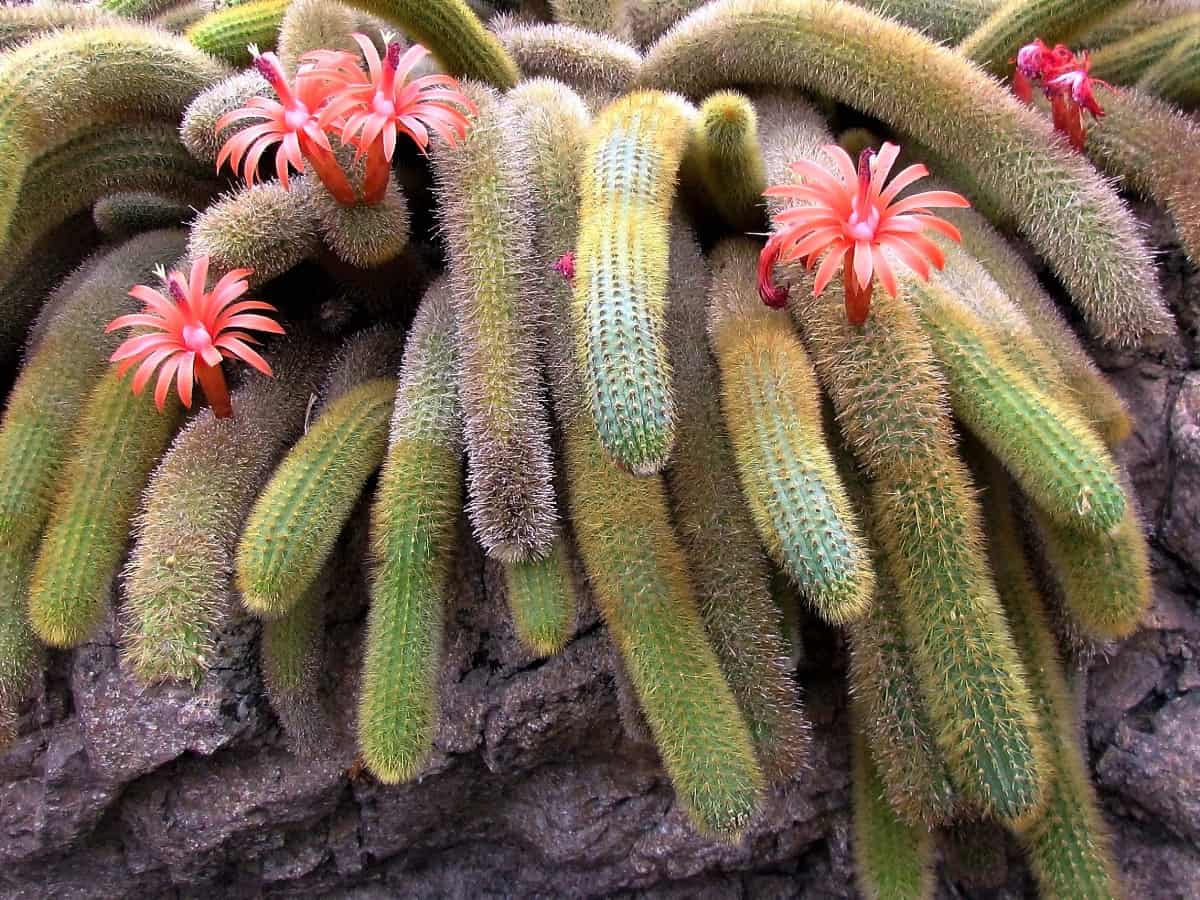 This cactus's fuzzy, arching stems look stunning dangling out of hanging baskets. The plant also produces salmon-colored flowers in the spring.
Propagate stem pieces in the springtime, or grow the cactus from seed if you're patient. A sunny window is ideal, as is either cactus potting soil or a combination of two parts sand and one part loam.
In either case, grow the golden rat tail cactus in a well-draining unglazed pot. During spring and summer, give it water and balanced fertilizer once a month. Do not provide either water or fertilizer during the winter.
Old Man Cactus (Cephalocereus senilis) – A Hairy, Attractive Cactus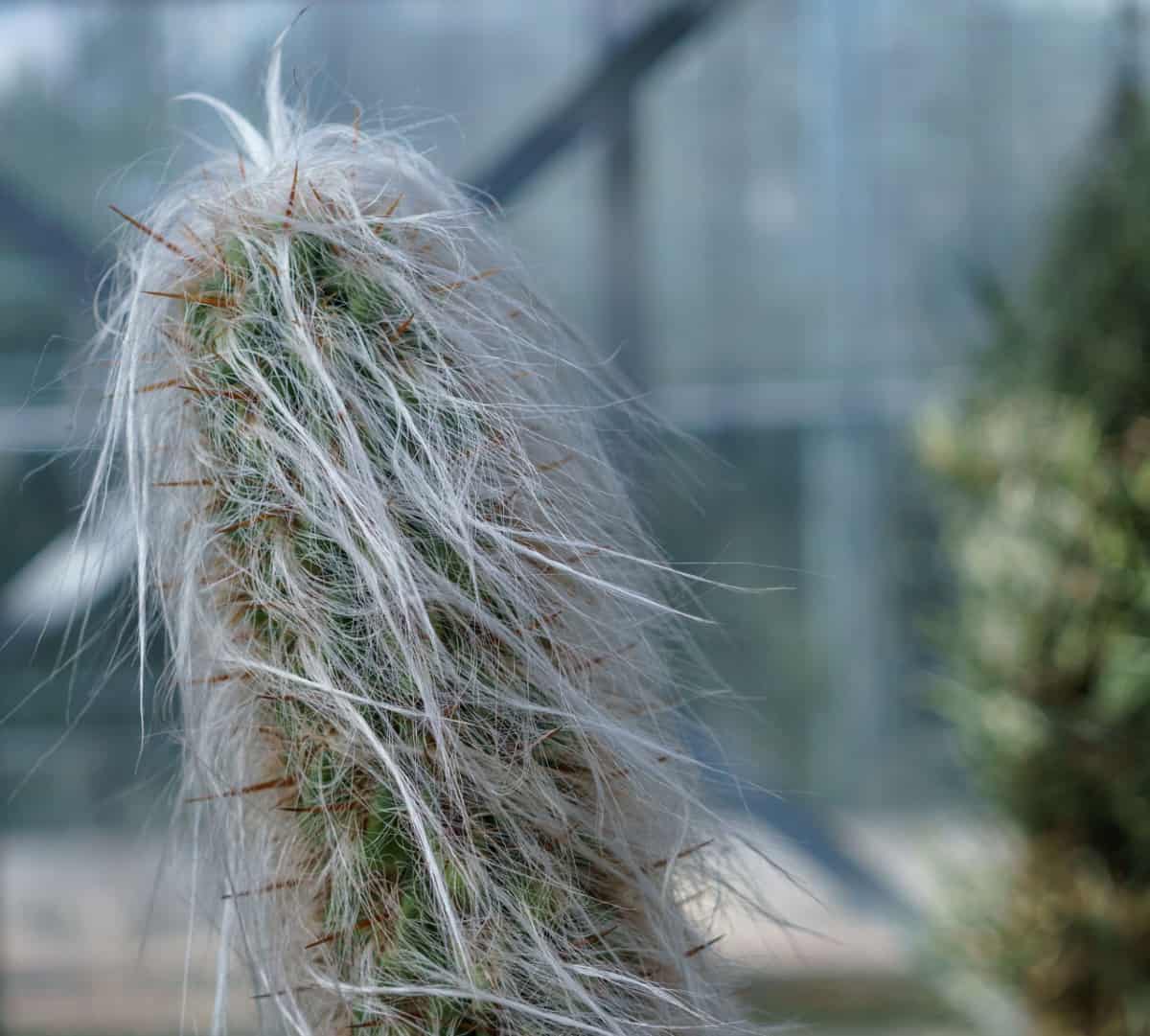 This quirky cactus has white tufts all over its body, a few long white strands, and, occasionally, pink flowers. It can reach 45 feet tall but typically stays much smaller when potted.
The old man cactus prefers a hot, dry climate and bright sun. Indoors, it likes temperatures of at least 65℉, although cooler during its winter hibernation. Propagate this cactus with cuttings or seeds if you have more patience.
The old man cactus flourishes in a cactus mix or a blend of sand, perlite, and topsoil. Allow the upper two inches of soil to dry completely between waterings, and only water once or twice during the winter. Distribute cactus food in early spring.
Silver Torch Cactus (Cleistocactus strausii)
This cactus's slender stem often splits at the base into several branches, all covered in dense, short white spines and a few thicker yellow spines. In the spring and summer, the silver torch cactus bears narrow magenta flowers.
Propagate it using seeds or stem cuttings. Grow this cactus in well-drained soil and full sun, although it doesn't appreciate extreme heat and is hardy, briefly, to 14℉.
Water it regularly while it's expanding, letting it dry out between waterings. Do not water your cactus during the winter. Feed the silver torch cactus diluted low-nitrogen fertilizer every two weeks during the spring and summer.
Mexican Lime Cactus (Ferocactus pilosus)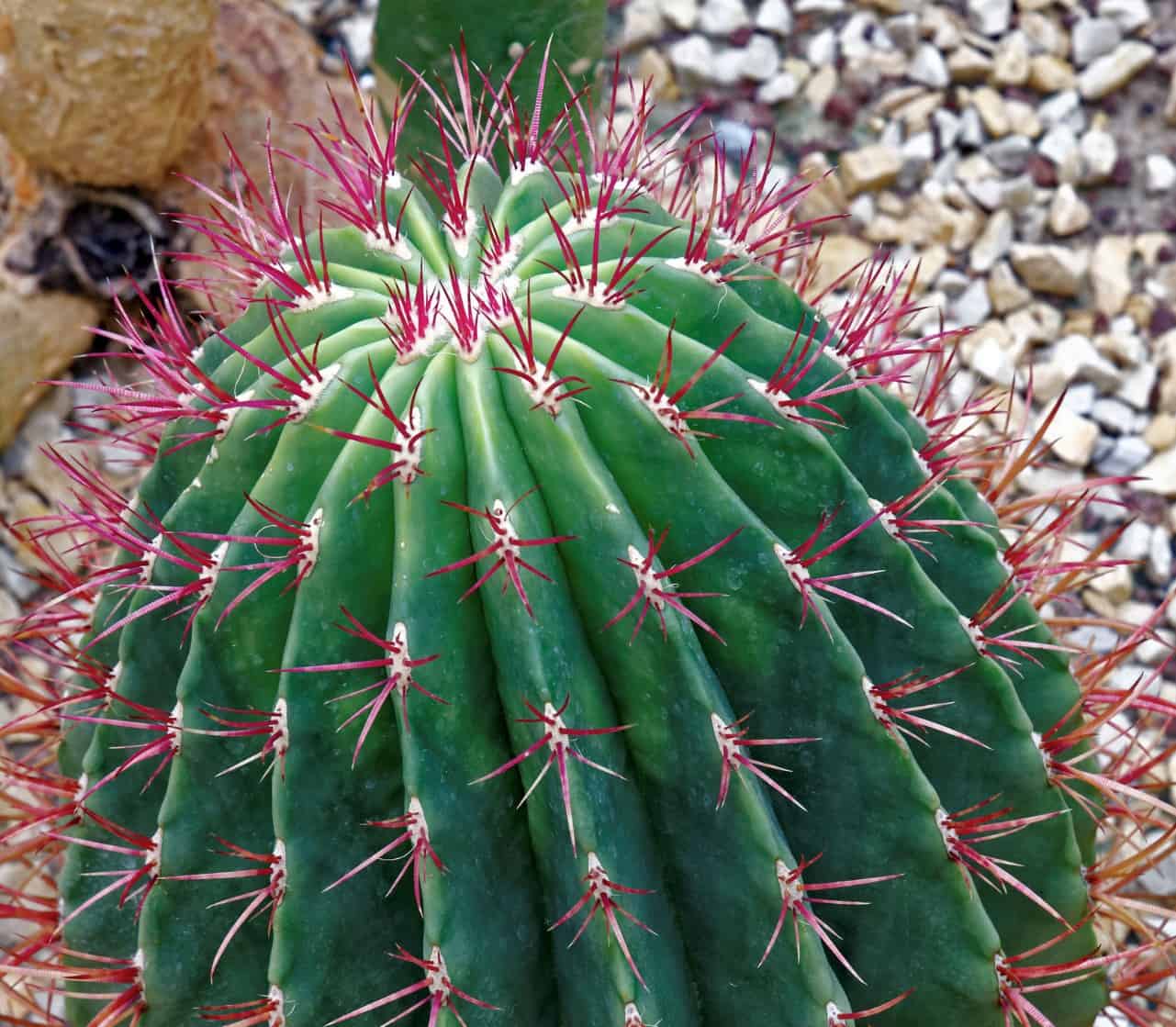 This cactus ends up either barrel shaped or columnar with prominent ribs decorated with red spines. Mature plants may possess bright orange-red flowers from late spring to summer. Eventually, this cactus may form groups of several barrels.
Sow the Mexican lime cactus's tiny, mahogany seeds. It favors well-drained soil and full sun, or partial sun in intense heat.
Water this cactus regularly during the growing season if the soil has dried out, but leave the ground dry in the wintertime. Apply high-potassium fertilizer in the summer.
There's a reason cacti are popular to grow as house plants or outdoors in suitable climates. These low-maintenance succulents add an exotic touch to a garden.
Beautiful cacti abound, from short, squat varieties covered in colorful spines to tall, thin ones. Many have eye-catching flowers, and several have unique features like hair tufts.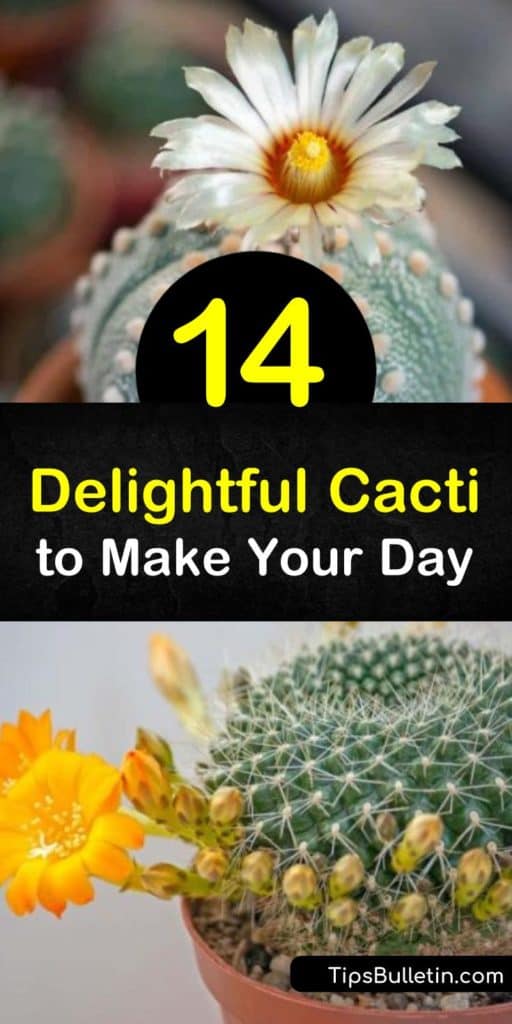 If you found this article about cacti useful, please share these desert garden tips with your friends on Facebook and Pinterest.