If you've ever made a recipe that calls for beets, then you're probably well aware of the famous red beet. This is the most common type in the produce section of your grocery store, after all. But, did you know that there are many different types of beets in a range of sizes and colors?
The world of beets is an amazing thing. Of course, the typical red beet comes to mind when thinking about these roots, but there is actually a rainbow of beets, from red and orange to yellow and white, each with its unique flavor.
While these root vegetables appear exotic, they are all easy to grow and use in various recipes.
So, forget those cans of red beets in your market's veggie aisle, and plant your own garden beets. Better yet, grow some candy-stripe beets and prepare a fun dish to impress your family.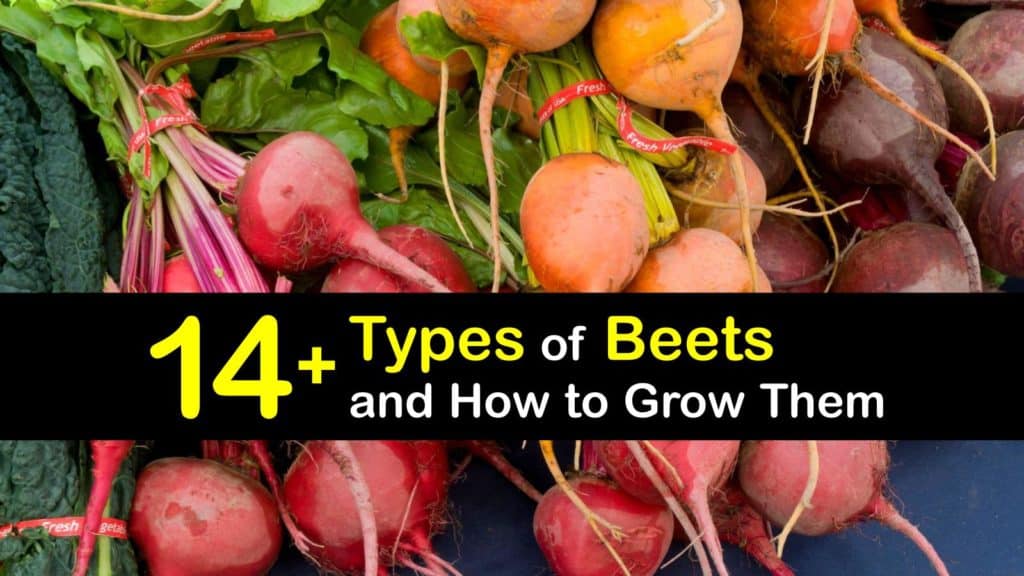 Growing and Preparing Fun and Tasty Beet Varieties
There are more beet varieties than you probably know, many with vivid colors. We explain the different types of beets to help you choose the right ones to grow in your garden and give you some ideas for preparing them in recipes.
How Many Beet Types are There?
Thinking there is just one beet type, the red one, is a common mistake since that's the specimen typically sold in grocery stores. However, there are many beet types in a variety of colors, sizes, and flavors. So, how many are there?
There are several types of common garden beets, each with its own properties. The best way to categorize them is to break them down by color.
There are red, golden, striped, and white beets, and then there are color variations. Each color type is also available in different shapes and sizes with varying flavors.
Which Varieties of Beets are Simple to Grow?
With so many beet types to choose from, it's often difficult to know which ones to produce in your garden. There are the striped beets that look like a candy-cane and the rich, golden-colored beetroots. So, which varieties of beets are the easiest to grow?
Just about all beet types are simple to grow. However, some varieties have a shorter growing season than others, and some beets, such as Cylindra beets, take up less garden space and are ideal for small areas.
Some take 50 days to mature, while others take almost 70 days. However, baby beets only grow for 40 days before you harvest them.
There are those like the Early Wonder that are heat and cold tolerant. Finally, some beets do not stain, like the White Albino, during harvesting and preparation.
The Most Common Types of Beets
There are many unique beets with striking colors that look fabulous in a salad or jar of pickles, but what are some of the most common types of beets? Here are some typical beets and the differences between them.
Red beets are the most well-known, and Detroit Dark Red is the most popular heirloom variety. It is sweet and tasty, has exceptional roasting qualities, and perfect for canning.
Golden beets are less sweet than red ones, and the most common is Burpee's Golden. This type is an heirloom cultivar created by the Burpee seed company, and it has a mild flavor and tender green leaves.
What are the Nutritional Benefits of Beets?
You may a beet-lover, but did you know that these root veggies are also very healthy for you? They contain a good amount of vitamins and minerals, and we explain how they benefit you.
There are many health benefits to eating beets, and they are packed with essential nutrients. Beetroots have magnesium, potassium, folate, iron, vitamin C, and iron.
Consuming beetroots and beet juice lowers blood pressure and improves blood flow.
They also contain varying plant compounds, depending on the root color pigment. For example, red beets have betanin, while yellow beets contain vulgaxanthin.
Beet greens have more iron than spinach, as well as potassium, magnesium, vitamin K and B6, and they are a wonderful source of fiber.
Is There More Than One Type of Red Beet?
Out of all the beet types, the red variety is the most popular. This is mainly because it is most common in stores, but is there more than one type of red beet, and if so, do they taste different?
The most famous beet with red roots is the Detroit Dark Red beet. However, Early Wonder, Lutz Green Leaf, Merlin, Red Ace, Red Ball, Crosby Egyptian, and Crapaudine beets are also red beets. They are sweet, mild, and tender, with a hint of earthiness and dark green tops.
The Different Varieties of Golden Beets
Golden beets are a top choice for roasting to bring out their flavor. However, there are a few gold varieties of beets. Learn the differences between them to help you choose the right beet for your tastes.
Burpee's Golden is a golden beet with two-inch globe-sized roots, yellow color, and a sweet flavor.
The Golden Detroit variety has one to three-inch oval-shaped roots with an orange/yellow color and light green tops with no bitter taste. Touchstone Gold has deep orange skin and bright yellow flesh. All three types taste great raw or cooked.
What are Baby Beets?
There are many beet varieties, and baby beets are often sold as specialty food. These small specimens have thick and crunchy stems and delicate greens, and they don't require peeling for recipes.
Baby Beets
Baby beets are any type of beet that you pull early during the growing process. They are a petite beet with smooth skin and a sweet, earthy flavor, depending on the beet type.
While small beet varieties require peeling, baby beets do not, and you eat them the same way you do mature beets.
The Unique Appearance of Striped Beets
If you think the different types of beetroot and beets range from red to gold, think again. There are also beets with colorful stripes that taste delicious and look striking on the dinner plate.
Striped Beets
Chioggia beets, Bull's Eye beets, or Bassano beets, is an Italian heirloom cultivar with a delicate, sweet taste.
The outside is pink and round, but cutting into the beet reveals concentric rings of white and pink. These Italian beets are eye-catching eaten raw on a salad, but cooking them causes the color to fade.
The Sweetness of Sugar Beets
Sugar beets are not quite the same as traditional beets and are not common in stores. They have different shapes, colors, and tastes and seem closer to the tulip family than the beetroot family. What are sugar beets, and are they suitable for cooking?
Sugar beets contain a high concentration of fructose and are grown commercially for sugar production. They grow in temperate climates, and a full-grown sugar beet is about a foot long.
Roasting these beets brings out a caramelized, sweet taste, and they are a good substitute for potato dishes.
The Soft Texture of Heirloom Cylindra Beets
Cylindra beets are an heirloom plant that is excellent for growing in a small garden, and the texture of these elongated roots makes them an excellent choice for a variety of dishes.
Cylindra, or Formanova beets, are elongated with smooth skin and grow six to eight inches long. They have a sweet and mild earthy flavor, and their uniform width makes them ideal for slicing. They are tasty in soup and stew and the right size for canning and pickling.
Fat and Top-Heavy Mangel-Wurzel Beets
Mangel-Wurzel beets are also called Mangold beets and are often confused with the turnip. They are larger than regular beets and were initially grown for animal fodder. However, we now enjoy their roots and leaves in a variety of ways.
Sometimes called field beets or fodder beets, Mangel-Wurzel beets are slightly larger than traditional beets and reddish-orange in color.
They are ideal for harvesting when they are young and tender and perfect for making a beet burger, eating thinly sliced and raw on a salad with radishes, or mashing like a potato.
What is a White Albino Beet?
If you are searching for something a bit different for your next side dish, the albino beet is the one for you. It is one of the sweetest of table beets with a delicious flavor and doesn't stain during preparation.
White albino beets are very sweet beets. They are a smooth, round beet from Holland, and their snow-white color means there is no bleeding while cooking them. They taste divine roasted, steamed, sauteed, and pickled.
How to Grow Your Own Beets
Since grocery stores only carry certain types of beets, the best way to have your favorites on hand whenever you get the craving is to produce them yourself. Discover how to grow your own beets in a garden or grow beets in a container on the patio.
When is beet season? Beets are cool-weather plants that flourish when temperatures are between 50 and 65°F. They prefer part to full sun and loose, rich soil. After preparing the garden bed, sow the seeds in the soil two to three weeks before the last frost in the spring.
When growing beets from seeds, follow the plant depth directions on the seed packet and make sure to space them accordingly. To encourage faster germination and protect them from unexpected frost, cover them with row covers.
As the beets grow, hill up the soil around them if they begin pushing up from the soil. Do not let the dirt dry out, and spread four inches of mulch around the plants.
Ways to Prepare Beets in Recipes
The best part of growing beets is the harvest, especially if you get a good crop, but this also means that it's time to come up with ways to eat them and learn about storing beets in refrigerator, root cellar, and freezer.
Beets are the type of veggie that you either love or hate, but there are many ways to prepare them, even if you're a picky eater.
There are many ways to eat beets, and it all depends on the type. Some of them are tasty eaten raw, while others are suitable for boiling and roasting. Some are perfect for pickling.
If you plan on eating your beets raw, peel off the hard outer layer with a vegetable peeler and grate them in a salad or as a soup garnish.
To boil or roast them, trim off the stem and clean them under running water. Boil them for 30 to 60 minutes, or roast them with olive oil and seasonings for 40 minutes at 375°F.
Using Beet Greens in Recipes
The root is not the only part of beets that is edible. The green tops are healthy and tasty and a great way to use up all parts of the plant after a harvest. The greens taste similar to kale, and this recipe is simple to prepare.
Start by removing the stems from all the beet greens and placing them into a large pot of lightly salted boiling water.
Boil them for two minutes until tender and strain them in a colander. Transfer the greens to a large bowl of ice water to stop the cooking process and set them aside.
Turn the stovetop to medium heat and heat the olive oil in a skillet. Add the garlic and red pepper and stir while cooking for one minute.
Place the greens into the pan and season with salt and pepper to taste. Stir them around to coat them evenly with the garlic and seasonings and serve them hot.
The range of colorful beets available is just as stunning as a Swiss chard garden with their red, purple, pink, orange, gold, and white colors. They are easy to grow, and the flavor is great for everything from soup and stew to salad and pickles.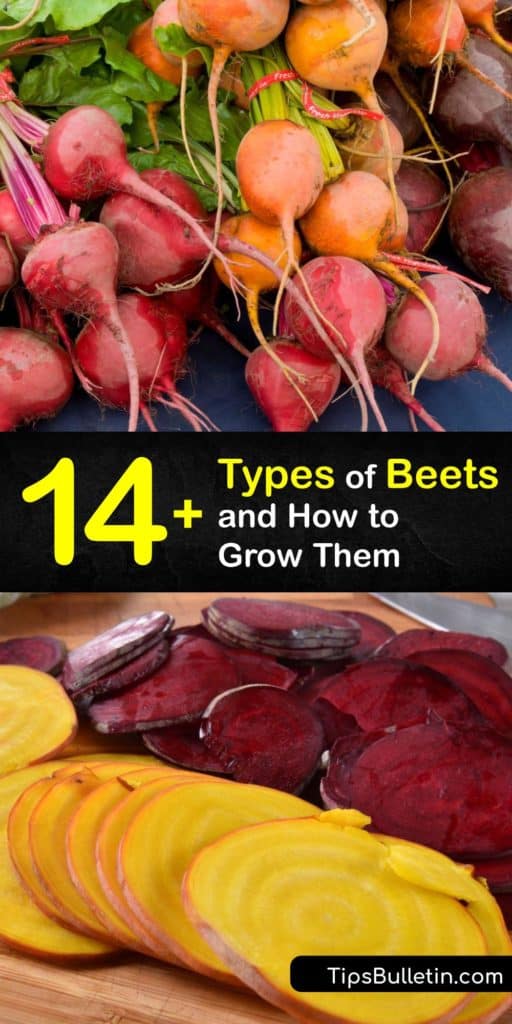 There are so many types of beets to grow in your garden that you'll never get bored, so why not impress your family and friends by sharing our beet variety guide with them on Facebook and Pinterest?