There is nothing lovelier than the cascading tendrils of blossoms spilling out over a hanging basket. These vibrant pops of color offer style and elegance to an otherwise dull porch and even go so far as to brighten up an ordinary room in your home. Selecting the best flowers for hanging baskets is essential to their success, both in terms of development and function.
Though almost any flower fits comfortably in a pot, it may not deliver the aesthetic quality your taste demands. Equally, choosing a specimen that requires more sun than the indoors provides is reason enough to evaluate your options carefully.
Luckily, we have some ideal examples of hanging basket flowers. After discovering which varieties are perfect for your climate and location, simply determine which of the remaining options look best in terms of color and style.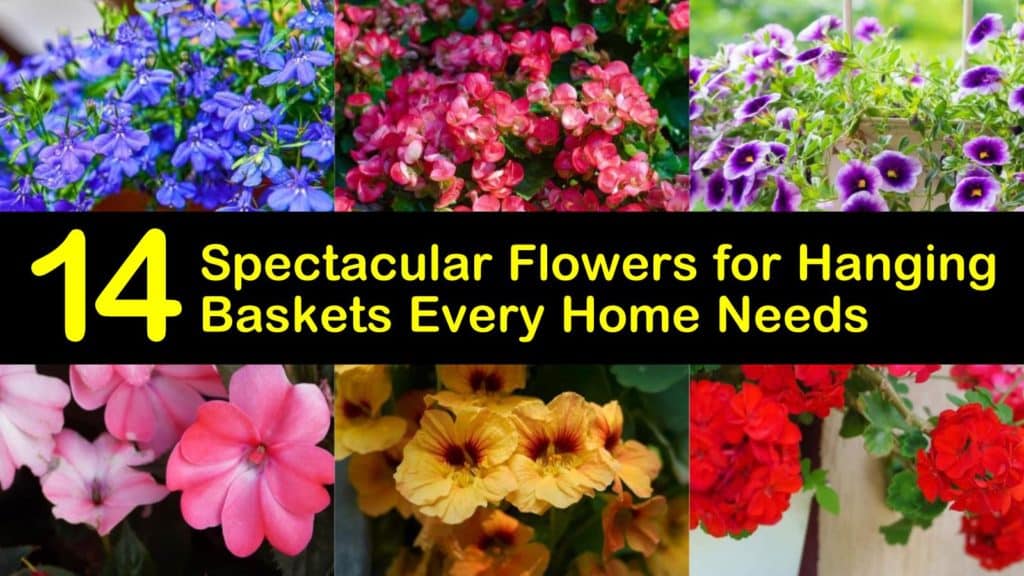 Beautiful Hanging Basket Flowers for All Types of Homes
One critical thing to look out for when beginning the hanging flower search is what type of basket in which you plan to house it. This step is an excellent opportunity to get creative with a decorative piece or to upcycle old garden props like watering cans to design your own DIY container.
The key, in this case, is size, since larger baskets allow for smoother airflow and higher water retention. All of this means less maintenance on your part and fuller, healthier plants.
If squirrels or other small mammals like chipmunks and rabbits are a problem in your area, it may help to find plants that they find distasteful. Keeping squirrels away with homemade sprays that contain cayenne pepper or garlic is also useful.
Sweet Alyssum (Lobularia maritima)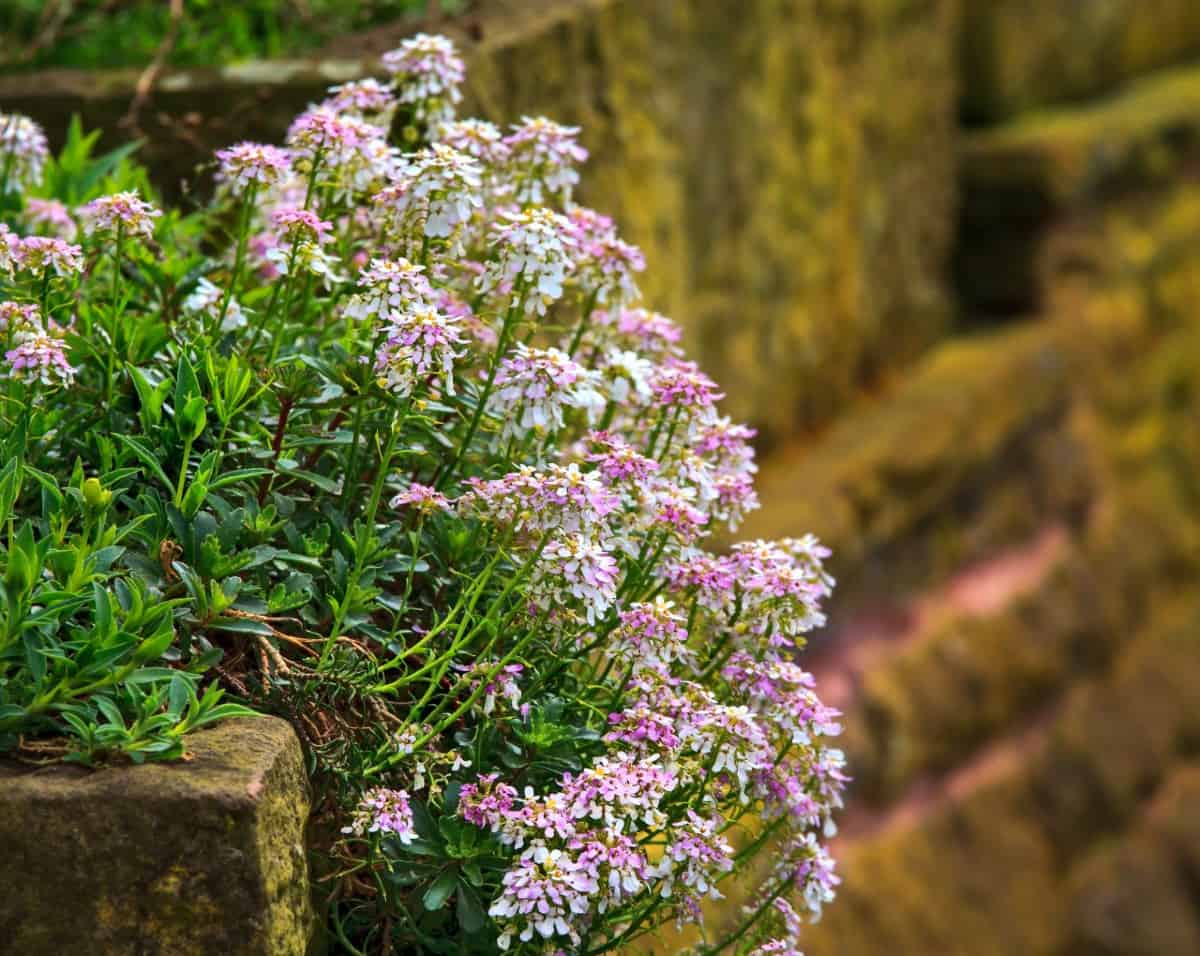 Some of the best flowers for growing in hanging baskets are Sweet Alyssum. This hardy plant has delicate white flowers and is drought-resistant. So, if you forget to water the bundle of blooms and leaves dangling above your head once or twice, it continues to flourish.
This lovely bouquet of cascading annuals loves a nice sunny spot to call its own. Sweet Alyssum isn't too picky about location either and does just as well in full sun as it does in partial sunlight.
Trailing Lobelia (Lobelia erinus): Lovely Hanging Basket Flowers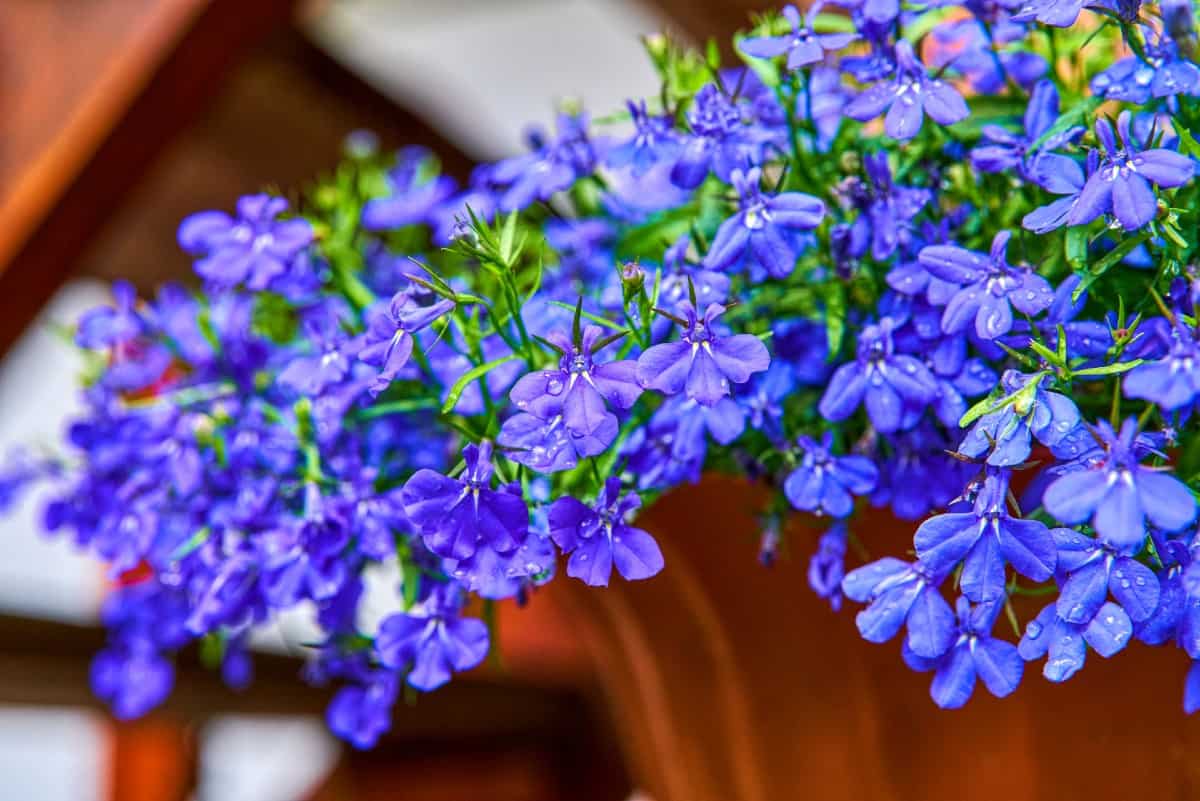 Lobelia is another magnificent specimen that produces bright, colorful flowers in the summer. While this plant comes in a variety of colors, the most common hue is a violet-blue. The vegetation often comes in two different types, as a full cluster of flowers or spilling over as a trailing plant.
The key to tending to Trailing Lobelia in hanging baskets is to provide them with plenty of water without drowning them completely. Lobelia loves moist soil, so water them frequently, daily in hotter months. Fertilizing the plant with a water-soluble solution approximately once a week is equally crucial.
Nasturtium (Tropaeolum)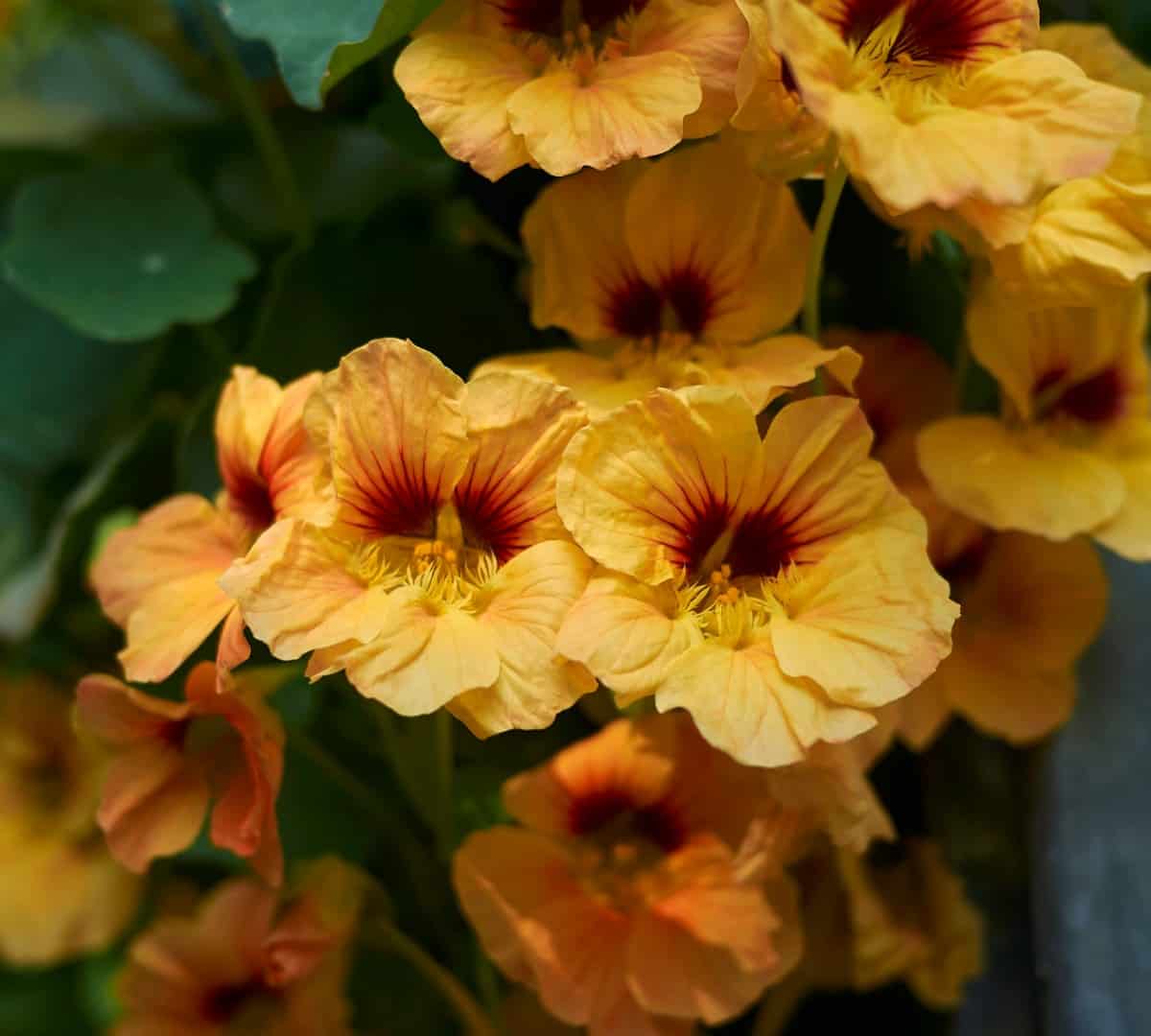 Nasturtium is an easy-to-grow plant that develops lovely flowers ranging from yellow to red. Unlike most flowers, Nasturtium fares much better in more deficient soils than it does in rich, fertilized earth.
Too many nutrients in the soil result in fewer blooms for the plant, making it one of the most natural flowers to maintain. Nasturtium makes excellent spiller plants in a hanging basket or window box.
In addition to its carefree characteristics, most of this groundcover plant is edible. For best results when planting in hanging baskets, place the Nasturtium in a bright spot, and remove any dead flowers or leaves to stimulate growth.
Twinspur (Diascia)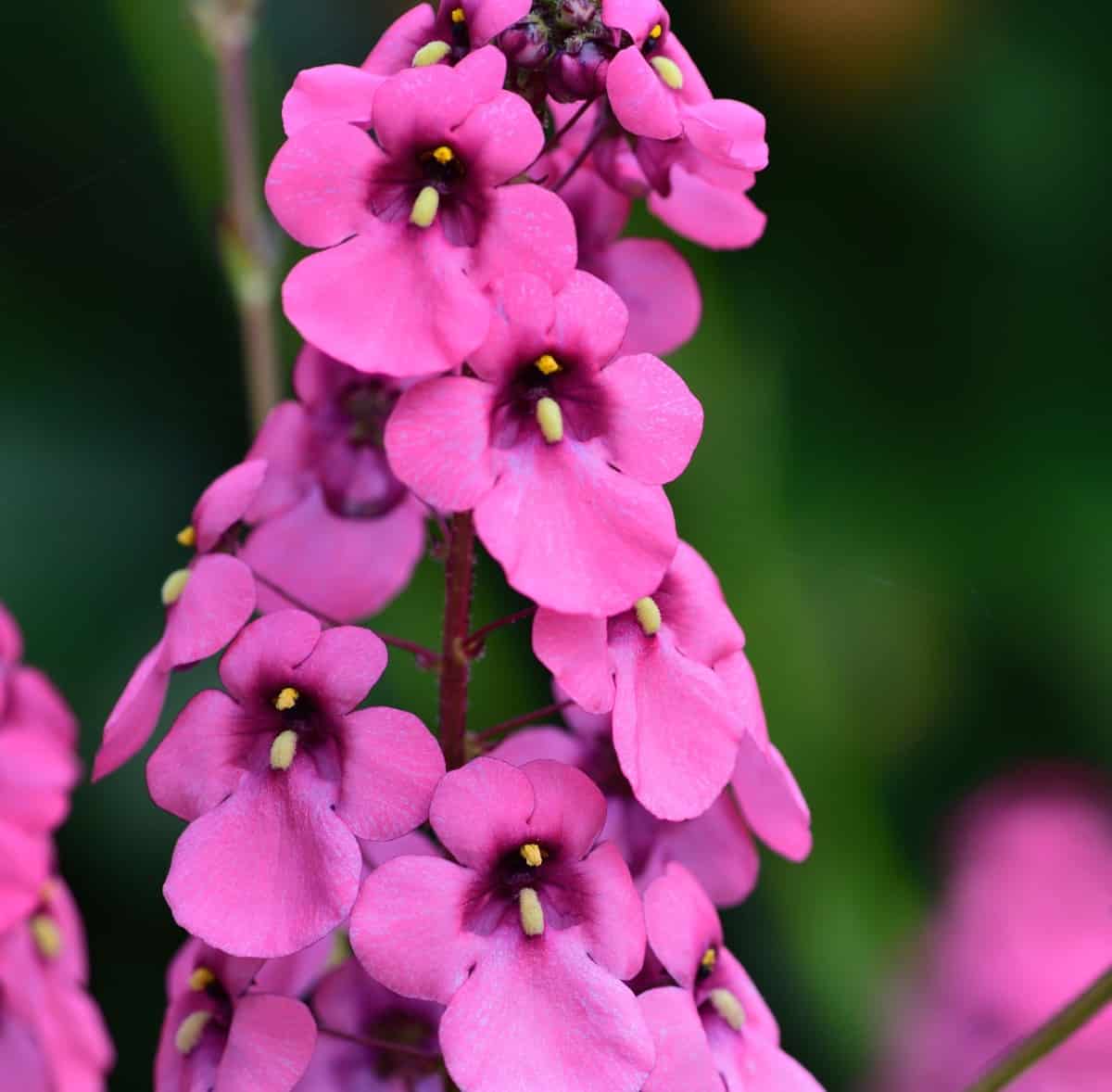 Twinspur receives its namesake from the little spur tucked behind each bloom, which attracts pollinators like bees. The flowers range in colors from white to coral to light purple, all of which have a yellow center.
Typically grown as groundcover plants due to their wide-spreading nature, Twinspur acts wonderfully as a hanging flower since it stretches up to feet across. The plant is tolerant of light frost but not heat, so bringing it indoors during the hot, summer months keeps it from withering. Deeper waterings are also preferable to frequent waterings when tending to the plant both inside and outside.
Geraniums (Pelargonium): The Best Flowers for Hanging Baskets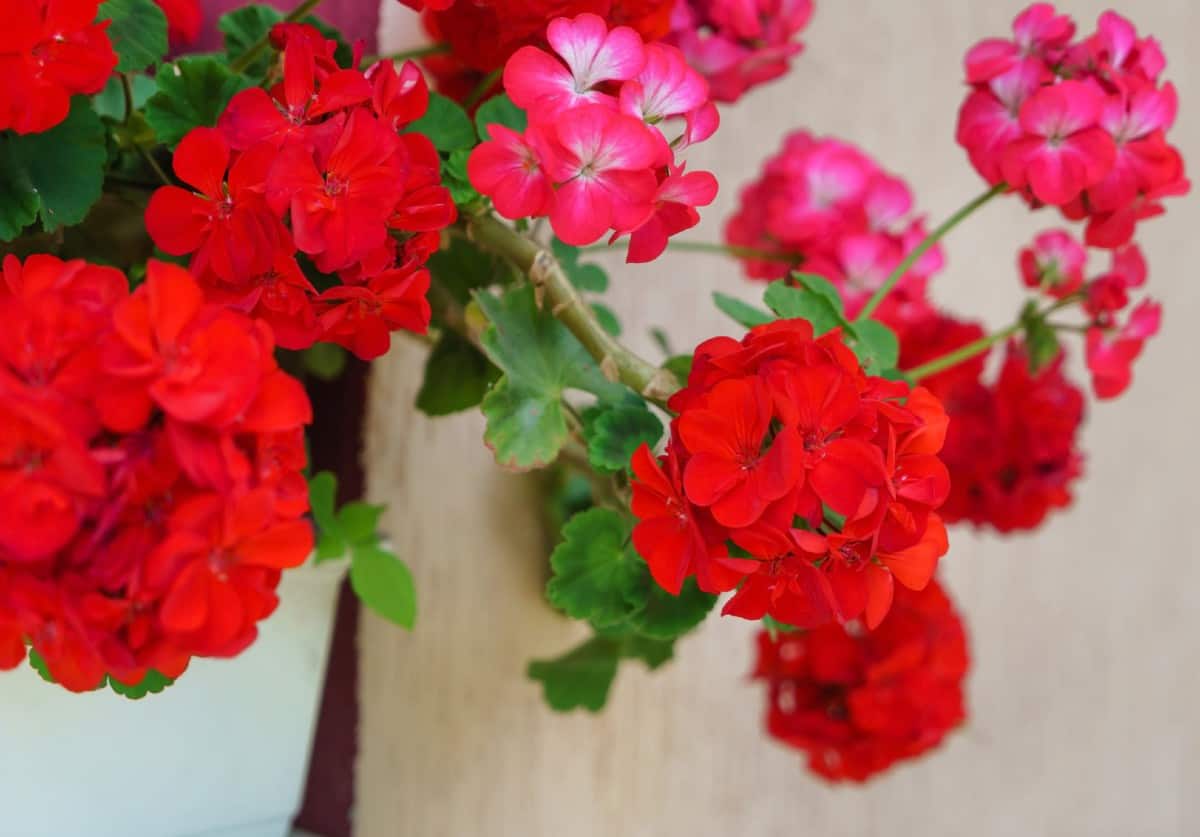 One of the best flowering plants for hanging baskets is the geranium. Especially in the case of scented geraniums, these blooms not only provide yearlong beauty when kept indoors but a pleasant fragrance, as well. Most homeowners leave their geraniums outside during the warmer months, allowing them to soak up plenty of direct sunlight on porches and perimeters of the home.
During the colder months, bring these plants inside. If they receive plenty of sunlight indoors, many continue to bloom even through the winter. Since geraniums are toxic to pets, hanging baskets are ideal for keeping them well out of reach.
Petunia (Petunia × atkinsiana)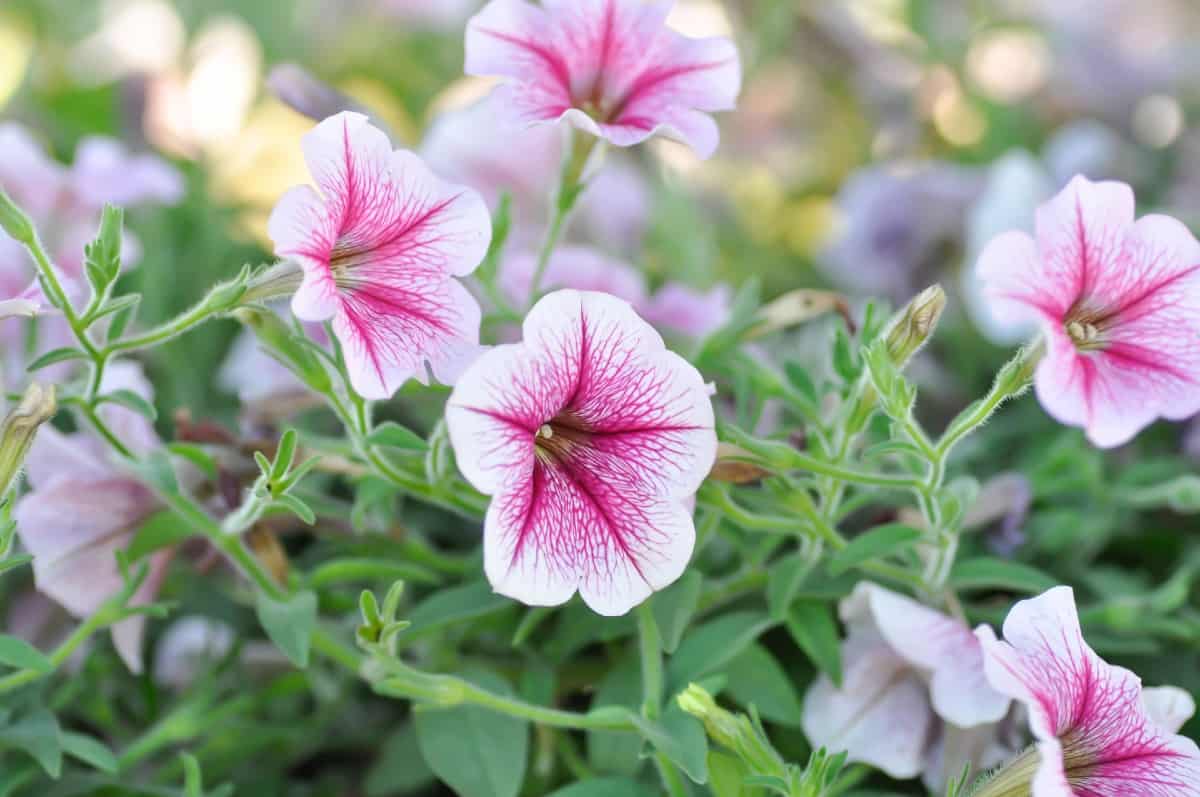 As one of the most popular hanging plants, petunias blossom in almost every color, from fuchsia to white to red. There are two main types of petunias: Grandiflora petunias, which possess more abundant flowers, and Multiflora, which produce small flowers in mass quantities.
Where the Multiflora variants suit flower beds, the Grandiflora species work much better in hanging baskets. Because petunias are relatively drought-tolerant, watering them once a week is enough to keep them healthy.
Fertilizing them every month, as well as removing dead blooms, is recommended to keep these lovely plants thriving. These low-maintenance flowers brighten any area, whether in the garden or hanging from your front porch.
To kill aphids on petunias, the best way is to remove them by hand. Put on some gloves and run your fingers along the leaves and stems where the aphids congregate and smash them. Dispose of the gloves when you are finished.
Moss Rose or Purslane (Portulaca oleracea)
Another great candidate to add to your list of hanging basket plants is Moss Rose, also referred to as Purslane. These beautiful flowers possess thick, succulent leaves that add to its appeal as a drought-tolerant plant, a quality highly sought after in plants that dangle overhead and out of sight.
Moss Rose only grows about 8 inches tall but expands up to two feet wide, which creates the coveted effect of flowers tumbling over the container's edge. Native to South America, the hardiness of these plants equips them for almost every zone in the United States, from the cold weather zones to tropical USDA hardiness zone 11.
Verbena (Verbena officinalis): Perfect for Pollinators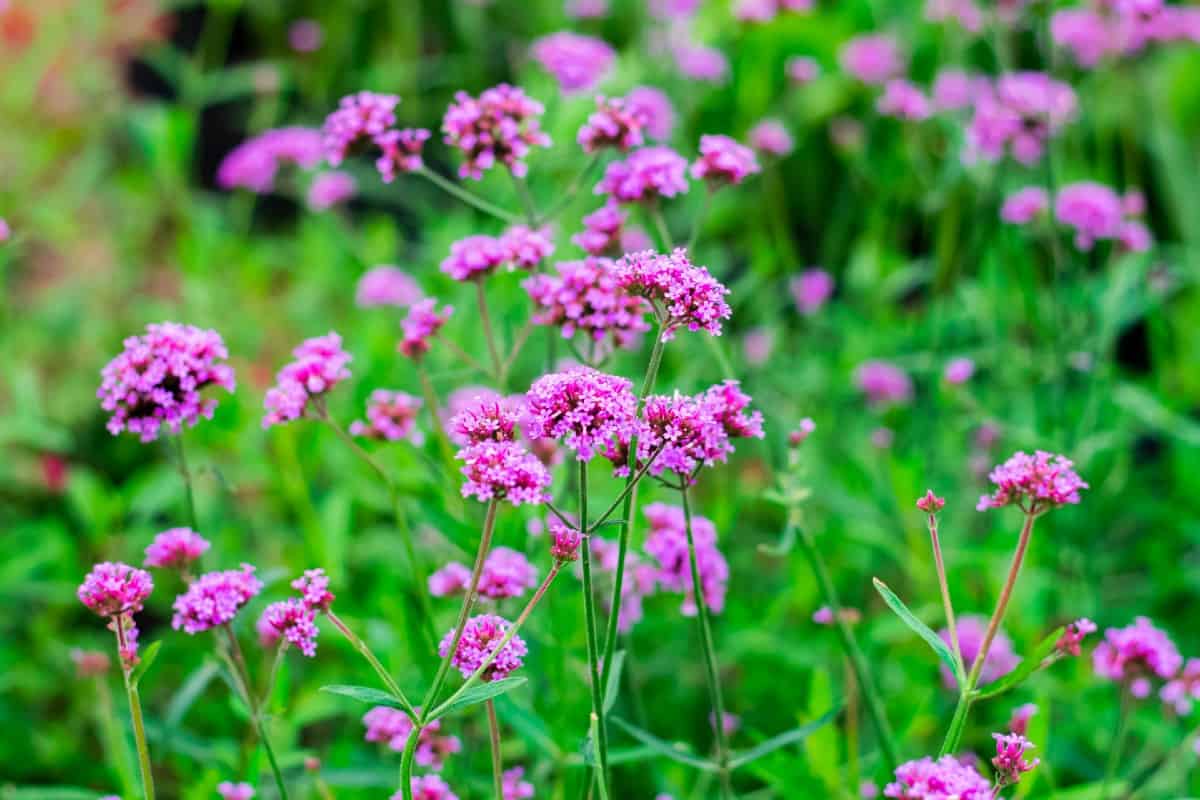 A typical flower found in both gardens and hanging baskets around the world is Verbena. Typically paired with other plants like Lantana, these are easy flowers to care for and they are incredibly eye-catching. The only drawback is the extra attention it sometimes receives from pesky insects.
While these flowers often attract some of the less desirable creatures, they also attract beneficial and beautiful pollinators like hummingbirds, too. Using a quality insecticidal soap or a DIY recipe of dish soap and water also prevents issues with pests if they become an issue.
Begonia (Tuberous begonias)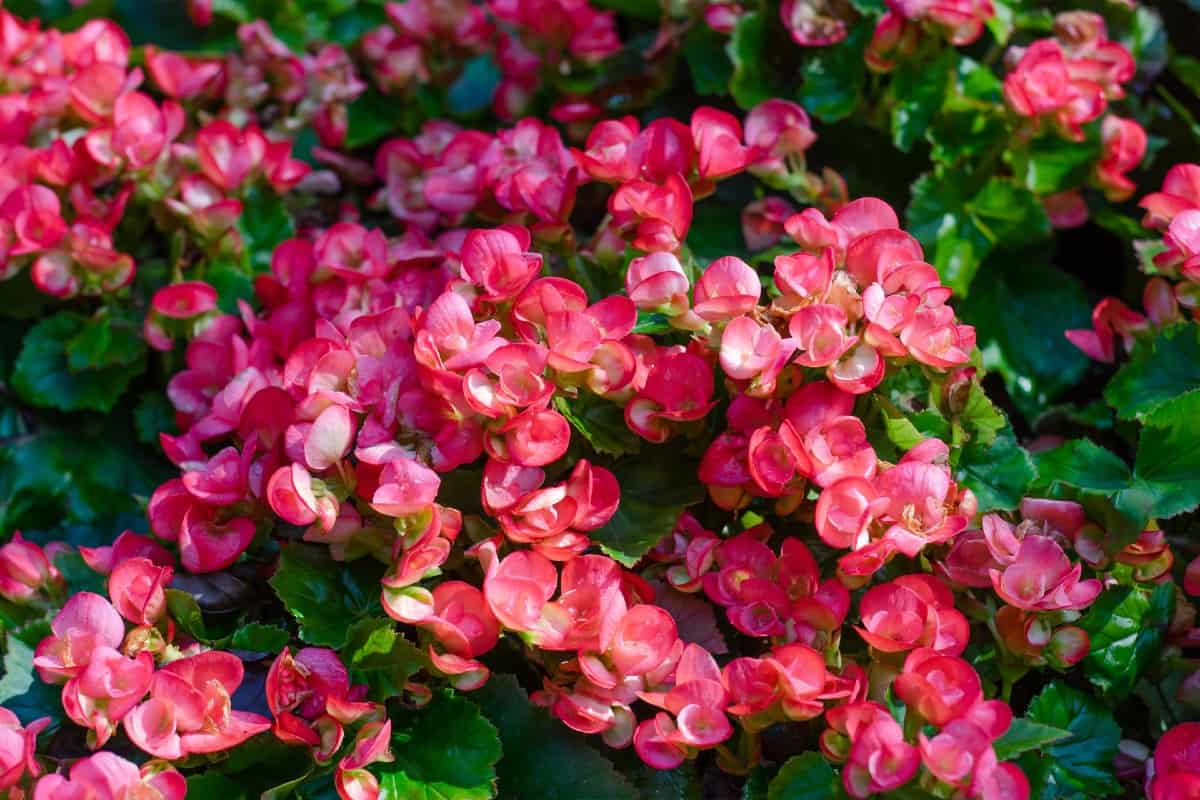 Begonias are a brightly colored flower that is beautiful no matter where you put it. As good plants for hanging baskets, there are three main types of begonias, with two of the most common choices being the tuberous and wax species.
While Wax Begonias make excellent bedding flowers, they also work well in large pots and baskets. The variety that creates the most dazzling effect, however, is the Tuberous Begonia. The flowers drape over the sides of the planter, making an eye-catching display.
A tropical plant, begonias do exceedingly well in hot and humid areas of the country. They still need plenty of shade to handle these harsh conditions, though, and prefer their soil to dry out before another watering. In colder regions, the same amount of shade is not necessary, but it does make them phenomenal plants for porches and hanging baskets indoors.
Impatiens (Impatiens walleriana) Delicate Shade-Loving Blooms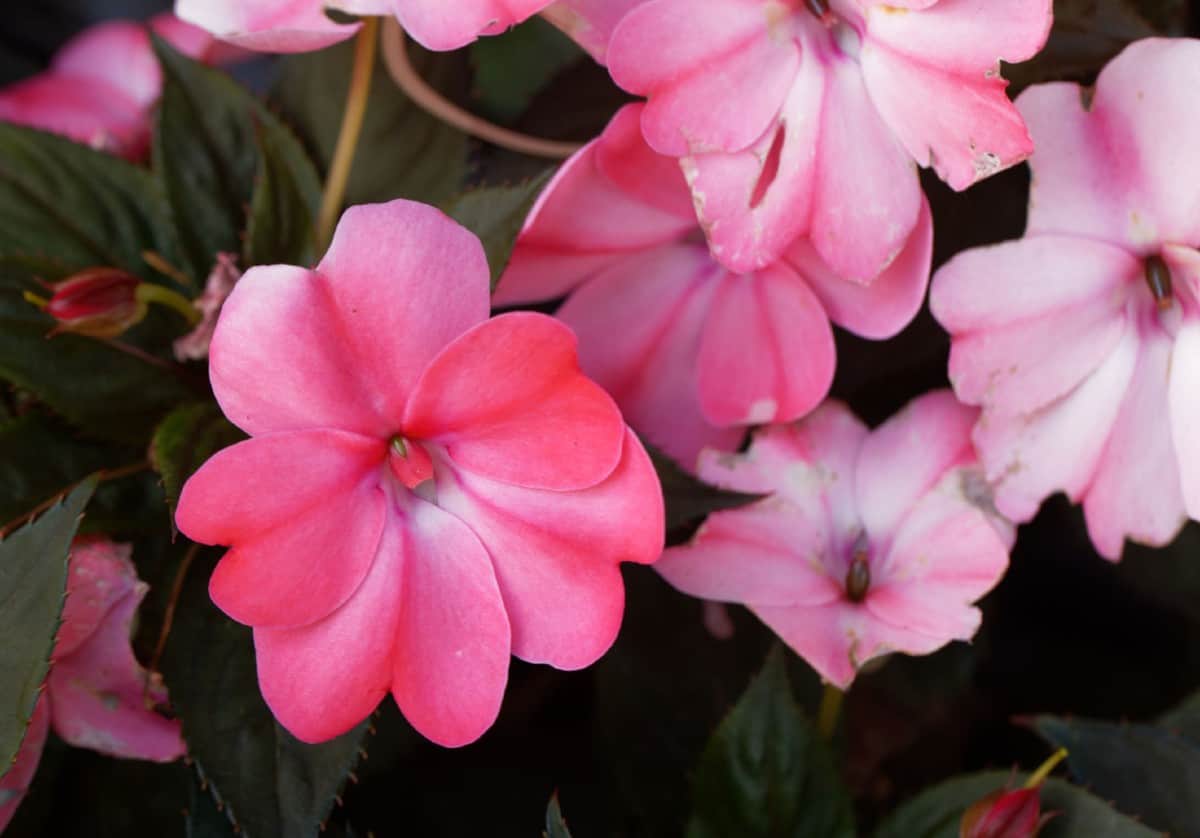 A group of flowers made to be houseplants is Impatiens. These dainty pink and purple flowers love partial to deep shade, which means hanging them indoors or on porches is ideal. Keeping their potting soil moist and drained is also critical to ensuring their success with a proliferation of brightly-colored blooms.
When tending to Impatiens as shade flowers for hanging pots, water them at least once a day to ensure they receive adequate moisture. If temperatures get too hot, however, double that amount and monitor the water levels carefully to prevent the flowers from drying out and dying.
Million Bells (calibrachoa)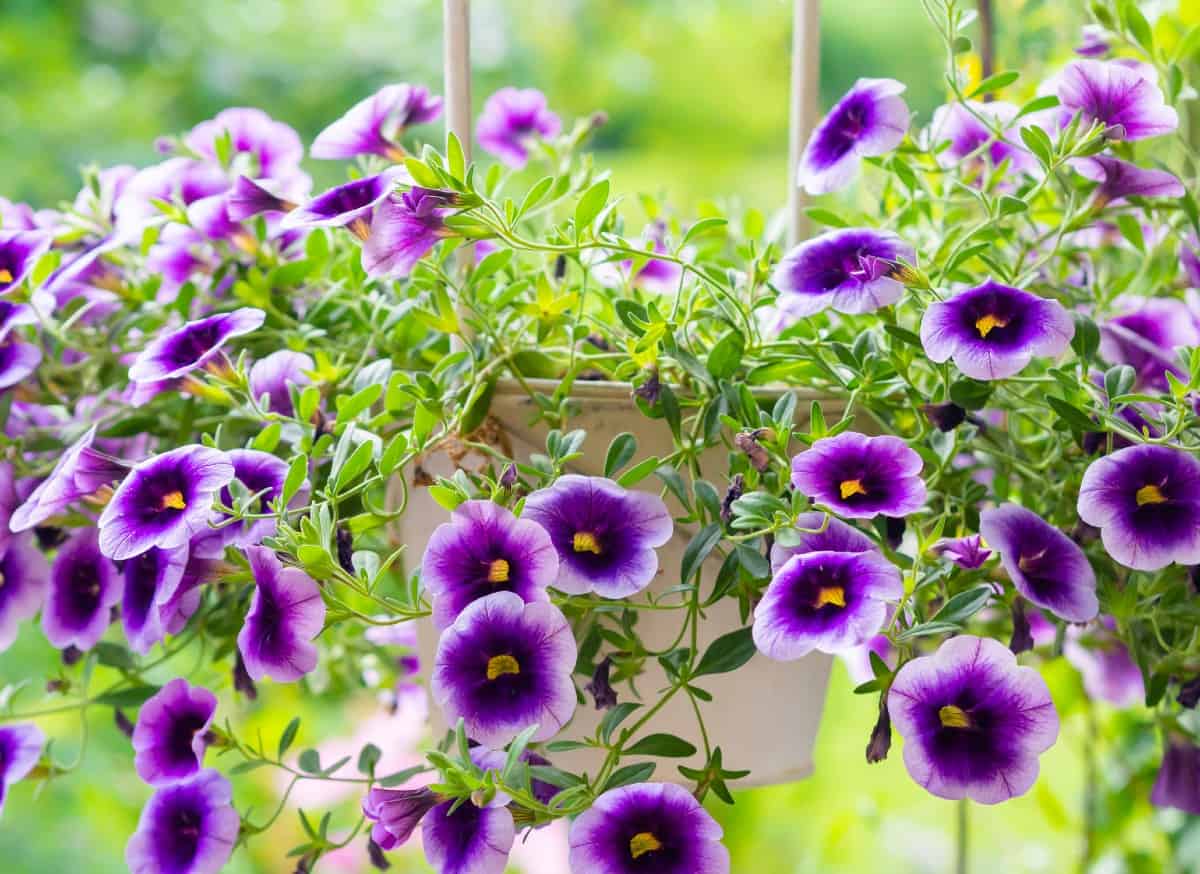 The Million Bells plant has some of the brightest flowers for hanging baskets. With electrifying colors like violet, magenta, and even bronze, they add an eye-popping burst of color to every dangling container.
In addition to their brilliant color, the trailing branches on the Million Bells flower creates an incredible cascading look over the sides of baskets. Maintenance of these plants is relatively simple and requires a little bit of fertilizer on regular occasions. Staying away from anything that increases the pH levels in the soil is critical to the plant's success.
Sweet Potato Vine (Ipomoea batatas)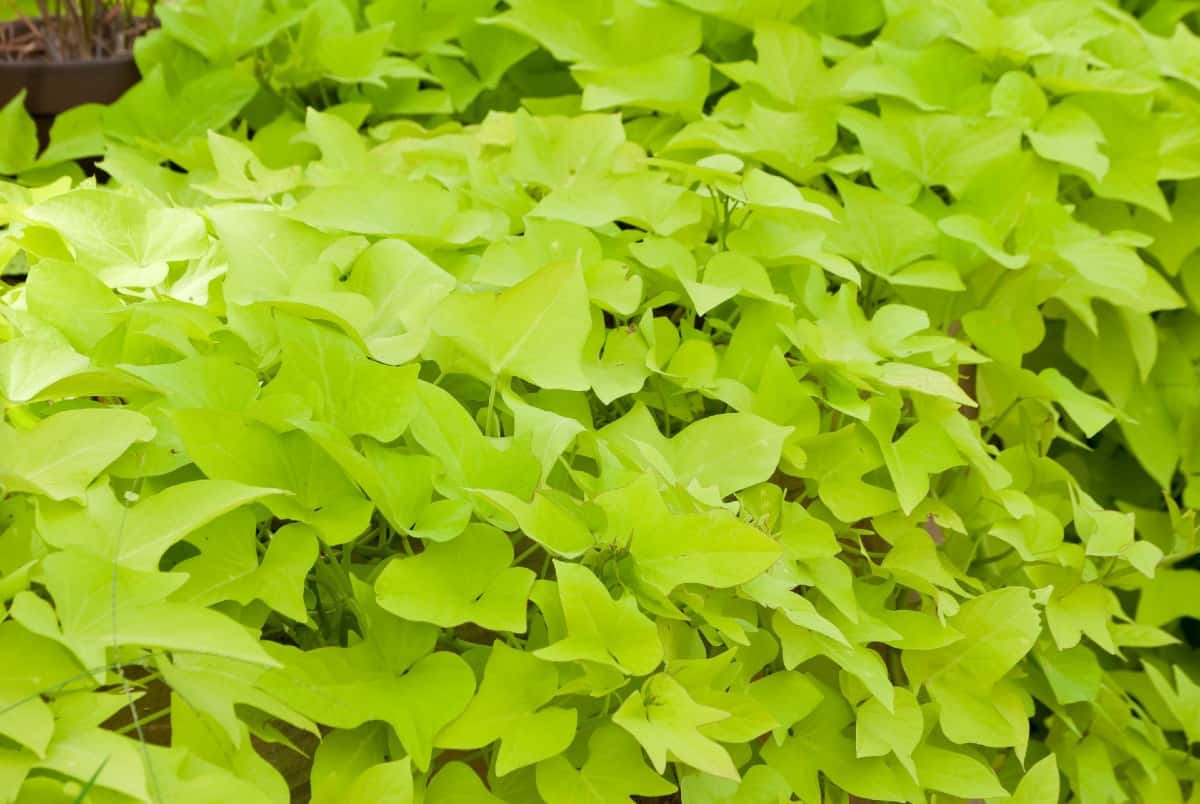 One of the best plants for hanging baskets is the Sweet Potato Vine. With long, sweeping limbs that stretch up to six feet long, it's no wonder they look magnificent cascading down over floating containers overhead. While the showstoppers, in this case, are the foliage and branches, Sweet Potato Vine also sprouts small white flowers for a short period in the summer.
Colors of the vines also change depending on the plant itself. In some cases, the leaves are golden, other cases purple or even black. Since Sweet Potato Vine is toxic to pets, keep it well out of reach of animals.
Water Hyssop (Bacopa monnieri)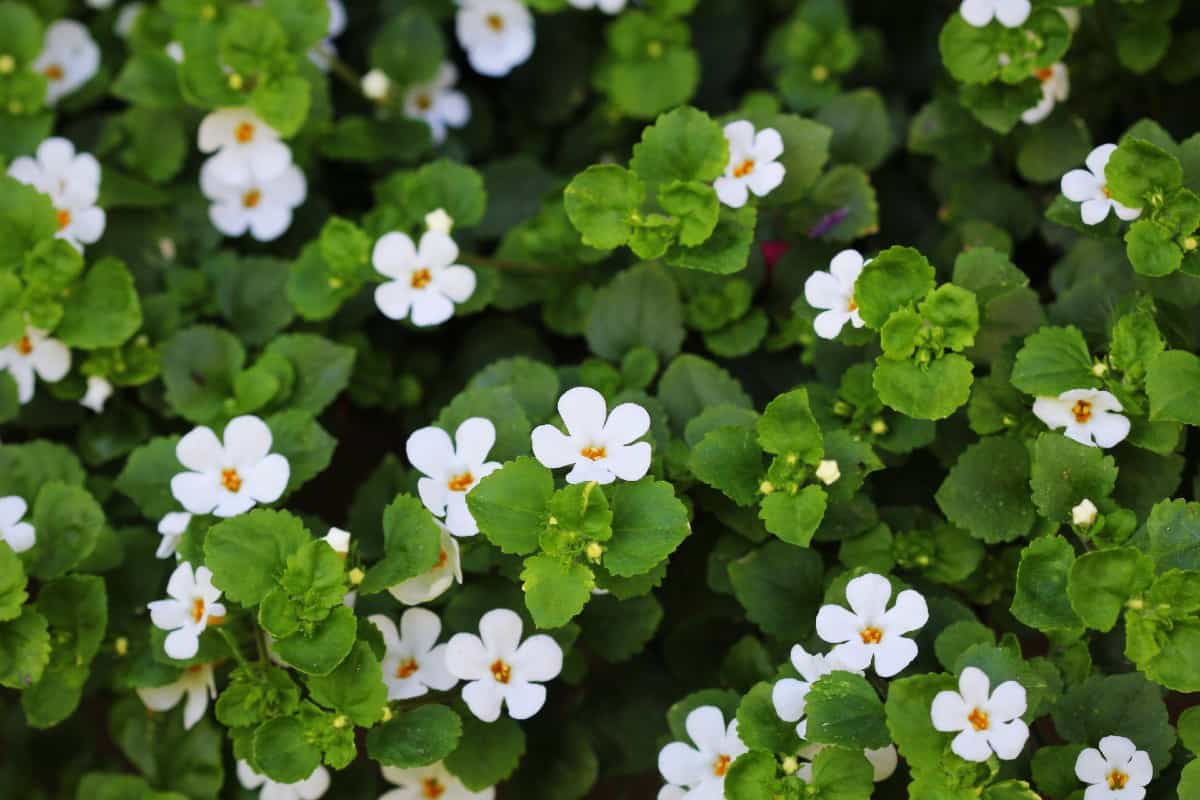 Another unique specimen to add to your flower baskets is Water Hyssop. Traditionally a semi-aquatic plant, Water Hyssop mostly appears in water gardens or small ponds. However, it also does well in hanging baskets with plenty of water and sandy soil.
This incredible plant presents delicate white, blue, or purple blooms starting in mid-spring until early fall. Like most plants, Water Hyssop requires an adequate amount of light to survive, though it grows just as well in partial shade, too. This plant attracts White Peacock butterflies, so place it on porches to enjoy the wildlife.
Pansies (Viola tricolor var. hortensis)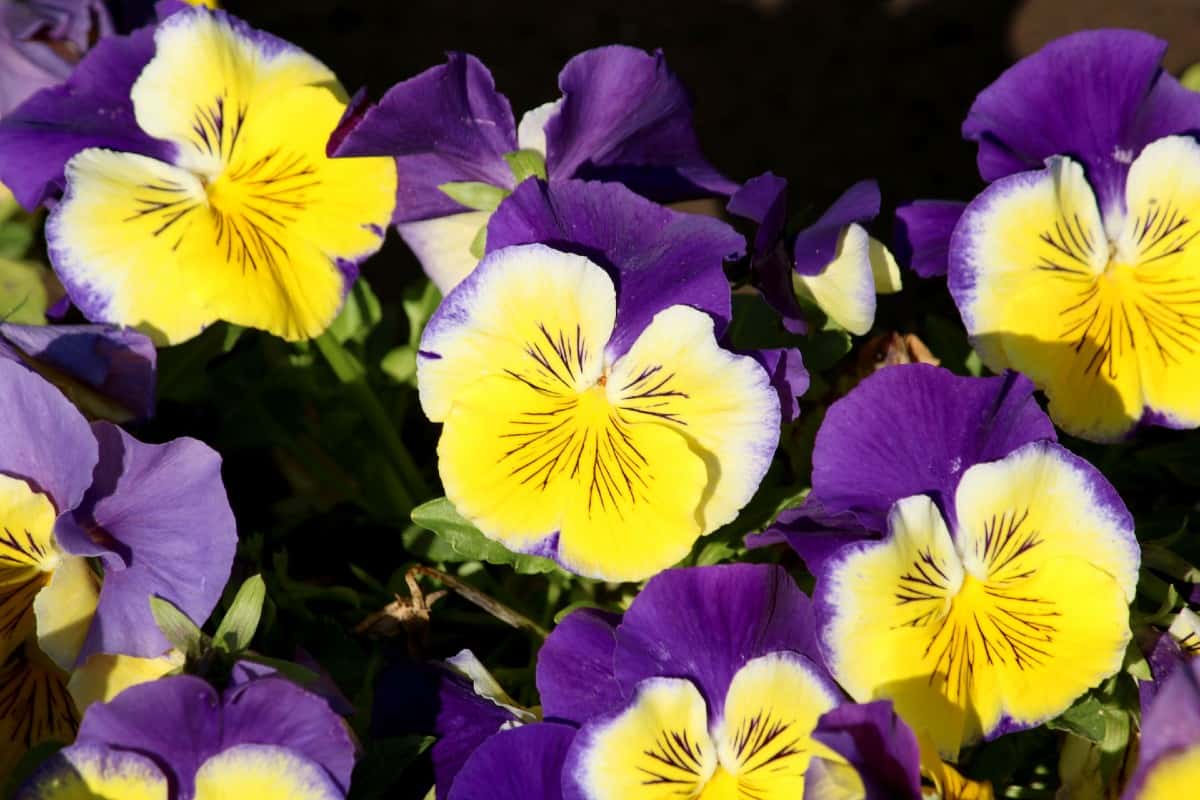 Many recognize pansies as the adorable little flowers with faces that seem to peer back at you. The gorgeous streaks of colors they provide are just one of the many reasons homeowners love to use them as hanging plants and for window boxes. They also pair beautifully with other wide-spreading plants like Lobelia or Sweet Alyssum.
Most pansies grow in large clusters that spread up to a foot across. Often used as ground cover in gardens, they produce flawless dapples of pinks and purples that spill out over the edges of their containers. Because they prefer cooler weather, placing them in a pot with potting soil is a great way to transfer them from the outdoors and indoors as the climate changes.
This list of hanging basket flowers provides you with an extensive selection for finding the ideal match for your home. While these are not the only blossoms and vines available, they are certainly the more beloved and easier to grow specimens. And if these beautiful buds are not your cup of tea, let them offer inspiration for choices further down the line.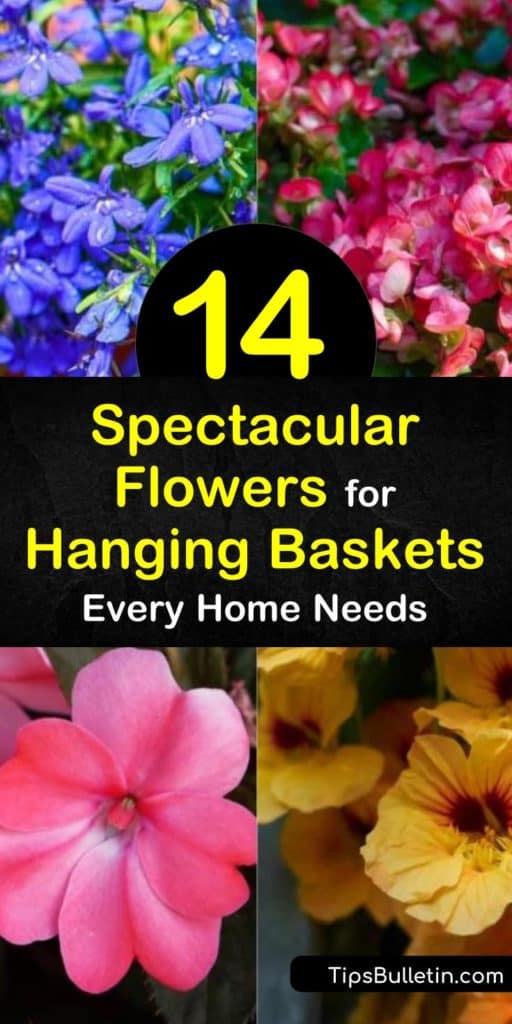 If you found these hanging flower guides useful, then please don't forget to share the best flowers for hanging baskets with all your garden lovers on Facebook and Pinterest.