When it comes to having fresh herbs on hand, it doesn't get much more convenient than your kitchen windowsill. In this article, discover the best herbs to grow indoors and how to keep them thriving year-round.
From flavoring your favorite recipes to sipping a fragrant cup of homegrown tea, there are plenty of excellent reasons to try growing herbs indoors. Although culinary herbs might not be the first thing that comes to mind when you think about houseplants, many are incredibly easy to grow as indoor plants.
When making your selection, a few factors to consider are how many hours of sun your area receives each day and how much space you have available. Planting an indoor herb garden is incredibly straightforward, which makes them an ideal choice for novice gardeners and experienced green thumbs alike.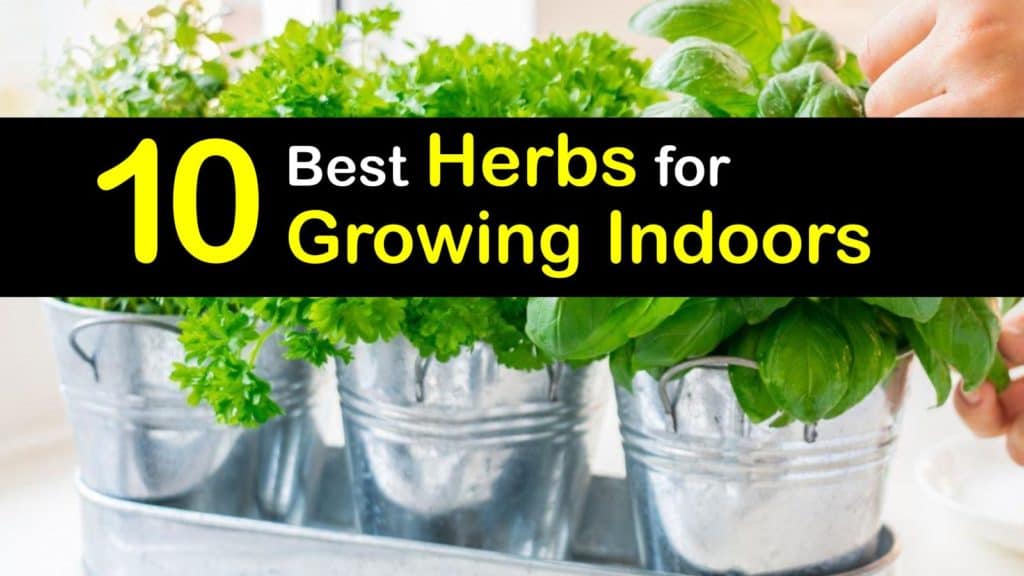 Best Way to Grow Herbs Indoors
Most types of herbs are incredibly adaptable and thrive in a variety of conditions. As long as you provide them with rich soil, adequate air circulation, and enough light and water, the indoor herb growing opportunities are endless.
The same applies when you grow veggies indoors as well as fruit. Read on to learn how to grow herbs indoors and you'll always have a continuous supply of your preferred fresh herbs on hand.
The best way to grow herbs indoors depends on which varieties you choose to plant and the light and humidity conditions in your home. If you don't have a sunny south-facing window available, don't worry. There are plenty of herbs to grow that don't like full sun.
All you need to get your indoor herb garden started is a large pot with drainage holes, nutrient-rich potting mix, and a location that gets at least four hours of bright light each day. You can also grow herbs in water from cuttings from another plant. Wait until they take root and either leave them in the water or add them to a pot with soil.
If you're feeling patient, starting your herbs from seed is a fun and rewarding DIY project. Otherwise, purchase an established plant from your local garden center for faster results.
The best herbs to grow indoors are the ones that you like to use most often. If you enjoy Mediterranean cuisine, try planting an Herbes de Provence assortment.
Although the ingredients vary in different places, the usual herbs consist of marjoram, oregano, rosemary, savory, tarragon, and thyme. Sometimes included are basil, chervil, fennel seed, lavender, and mint. Feel free to modify the blend to your liking.
If your dried herbs haven't been pre-ground, it's best to process the fennel seeds and rosemary separately from the more delicate leafy herbs. Once everything is roughly chopped, stir the ingredients in a mixing bowl until well-blended.
Store your Herbes de Provence in a cool, dry place sealed in an airtight container. For the best overall quality, use it within 12 months.
Of course, there are a variety of herbs to grow in the fall or spring when you plant them outside. Indoors, that's not a problem. Grow whatever you want, whenever you want, whether you grow summer herbs or others.
Best Herbs to Grow Indoors in Bright Light
Many of our favorite herbs grow best in full sun, where they get at least six hours of direct sunlight throughout the day. When growing them indoors, it's crucial to ensure that they receive enough light. Otherwise, the plants will become stunted and unhealthy.
In most cases, a south-facing window provides plenty of light for most herbs. It's beneficial to rotate the pots a quarter-turn once or twice per week to encourage strong stem growth and prevent the plants from leaning toward the light.
If you don't have a sunny windowsill available, it may be worthwhile to invest in grow lights to get the best results out of your indoor herb garden. Here are a few of the easiest herbs to plant in bright light conditions.
Basil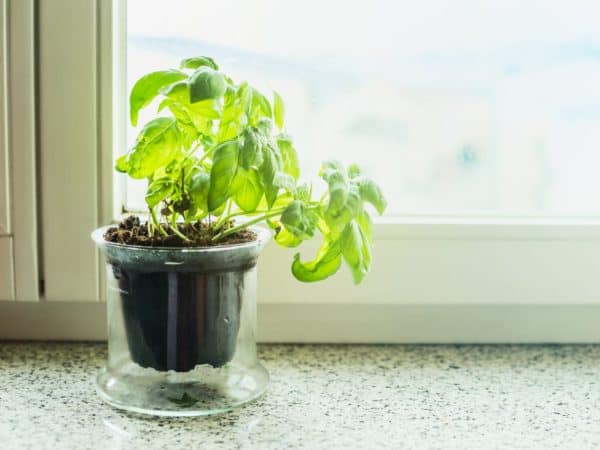 Growing basil indoors is amazingly easy. When planting basil in a pot, employ well-draining potting soil that's rich in nutrients and organic, nitrogen-rich fertilizer.
Use a container with good drainage at least six inches wide and eight to ten inches deep. The plants aren't especially heavy feeders, but they do benefit from a bit of extra fertilizer every six weeks or so.
There are countless delectable uses for fresh basil, so it's well worth the effort to grow at home. Make savory homemade pesto, snip a few leaves to use as a garnish for your favorite Italian meal, or incorporate it in a refreshing cocktail.
Lemongrass
Lemongrass is a staple ingredient in many types of Asian cuisine, and it's also super easy to grow indoors. It's even possible to propagate lemongrass from the stalks you buy at the grocery store.
Make sure that the stalks still have their base intact and haven't been trimmed since that's where the roots develop.
After cutting dry ends off the tops, place the lemongrass stalks in a glass of water on a sunny windowsill. Refresh their water every few days, especially if you notice it getting cloudy.
New leaves and roots typically emerge in about a week. The plants develop much faster in bright, warm conditions, and growth may be slower in the fall and winter. Once the roots are approximately three inches long, transplant them into a pot.
Lemongrass grows quite large, sometimes reaching three or four feet tall and two feet wide. Container-grown plants are often a bit smaller than their outdoor counterparts, but it's still essential to choose a large enough pot. Grow lemongrass in a container that holds at least five gallons of potting soil.
The plants benefit immensely from regular harvesting, which encourages new growth to develop. Be sure to keep your lemongrass plant well-watered and fertilize it every four to six weeks.
Oregano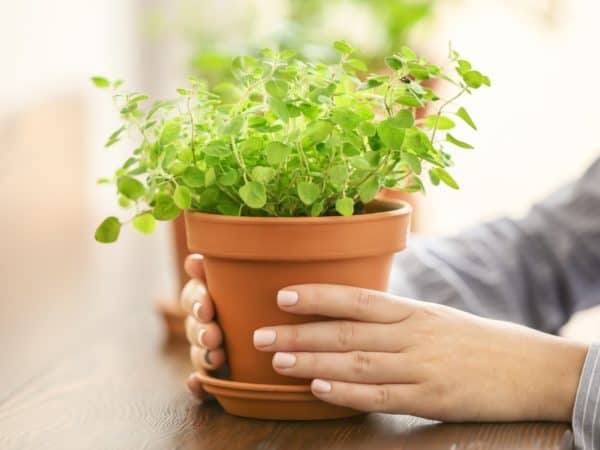 Oregano is a sun-loving Mediterranean herb that grows best when temperatures are between 65-75℉. The plants have moderate water needs, and the potting soil should dry out completely between watering. They aren't heavy feeders and don't usually depend on supplemental fertilizer.
Oregano often spreads up to 18 inches wide and reaches a foot or two in height. To accommodate its prolific growth habit, use a pot that's at least 12 inches deep and wide.
If your plant becomes overgrown, cut it back by up to two-thirds of its size. Add fresh oregano to sauces, soups, and stews, use it to flavor meat dishes, or incorporate it in a healthy salad.
Oregano plants prefer sandy, well-draining soil. It's helpful to add some extra sand or perlite to your potting soil to ensure good drainage or try making your own DIY potting soil blend.
In a large bucket or wheelbarrow, mix all the ingredients until evenly blended using a hand trowel or garden fork. It's best to use all your homemade potting mix at once if possible. Otherwise, store it in a sealed plastic bag in a cool, dry spot.
Growing Herbs Indoors with Low Light
There are numerous options available for herbs that don't demand bright light to grow well. While some plants might exhibit slower growth with less light, growing herbs indoors is still possible where they get around four to six hours of sunlight daily.
There are several relevant considerations when growing herbs in low-light conditions. In addition to developing slower, they also require less water and fertilizer than plants growing outdoors or in bright light.
The lack of a south-facing window doesn't mean that you can't grow an indoor herb garden. Here are a few of the easiest herbs to grow in low light.
Chervil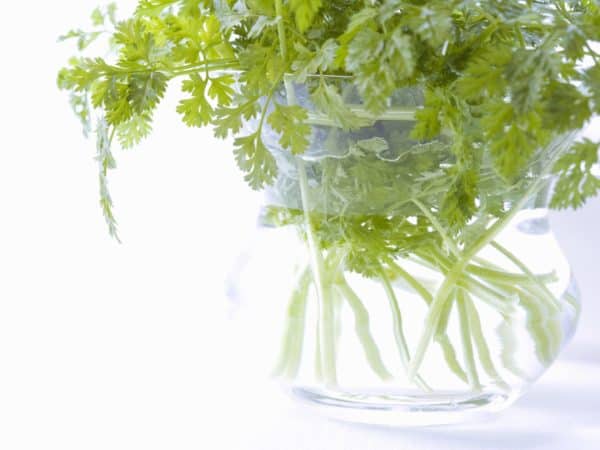 Chervil is closely related to parsley and has a mildly anise-like flavor. It is commonly used in French cooking. The plants thrive in cool temperatures and prefer to grow in the shade.
If your chervil begins to bolt or prematurely produce flowers, chances are it's too warm or getting too much light.
Use a pot at least eight inches wide and 12 inches deep to accommodate chervil's large taproot. Although they're frequently grown as annual herbs, the plants are technically biennial.
They grow roots and leaves in the first year, followed by flower and seed production the next season.
Similar to most other types of herbs, chervil plants aren't heavy feeders and don't usually require additional fertilizer as long as you use rich soil. Snip the topmost sprigs frequently to encourage branching.
For a fresh twist on classic salad dressing, try this amazingly simple recipe for chervil vinaigrette. It pairs well with fresh salads, fish, and steamed veggies like asparagus or green beans.
Combine the ingredients in a small mixing bowl and whisk until they're well-blended. Store your chervil vinaigrette refrigerated in an airtight container.
For the best possible flavor, use it within one month. Always check for signs of spoilage before using homemade dressing, especially if it's been in the fridge for a while.
Chives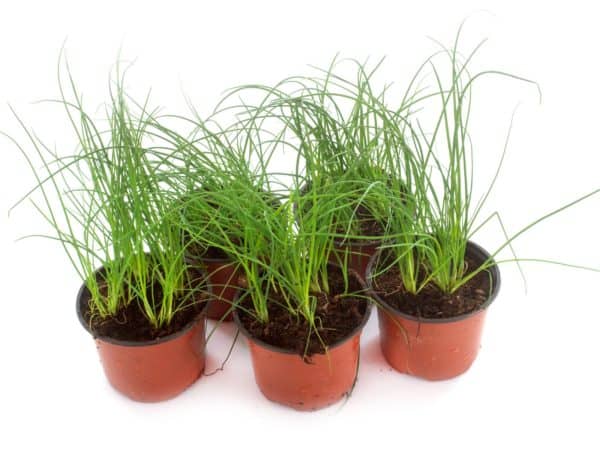 Chives are highly versatile herbs to grow. They thrive just about anywhere as long as they have consistently moist soil and four to six hours of light daily.
Since they have shallow roots, use a pot that's six to eight inches deep and wide. If you're growing multiple plants in the same container, allow about six inches of width per plant.
These perennial herbs keep growing for many years under optimal conditions. While they're not especially heavy feeders, it's helpful to give them a dose of all-purpose organic fertilizer every few months to ensure vigorous new growth.
Similar to most other leafy herbs, chives should be harvested often to encourage maximum production.
Cilantro/Coriander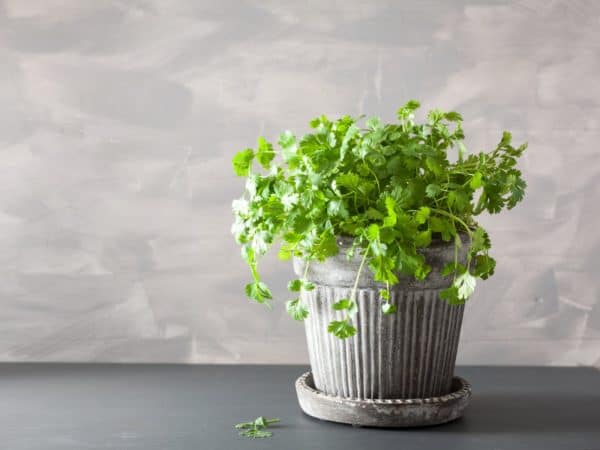 Planting cilantro indoors is a popular growing trend. Cilantro has a citrusy, tangy aroma and is a familiar ingredient in Asian and Mexican dishes. These easy-to-grow plants do best in consistently moist soil with occasional fertilizing. They're slower to bolt when grown in cool temperatures and moderately low light.
In the US, the leaves of this herb are called cilantro, and the seeds are coriander. In other parts of the world, both leaves and seeds go by the name coriander.
Lemon Balm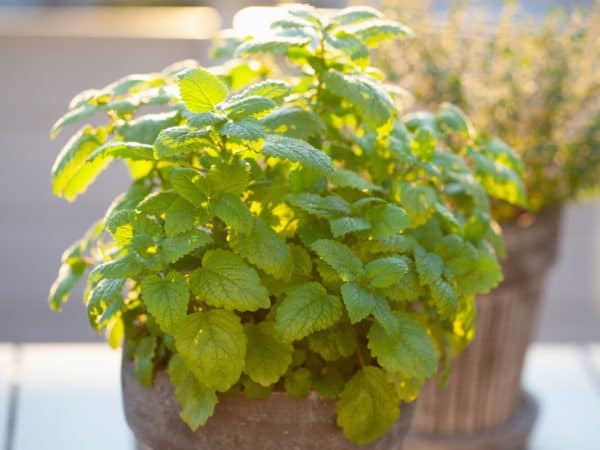 Lemon balm boasts a delightfully citrusy essence that's excellent in sauces, marinades, and herbal teas or infusions. Use the fresh sprigs as a fresh garnish for a fruity dessert or cocktail.
As a perennial herb, it's vital to grow lemon balm in a pot large enough to accommodate its mature size of one to two feet tall and two to three feet wide.
Select a container that's a minimum of eight inches deep and 15-18 inches wide. The plants prefer consistently moist soil and benefit from occasional fertilizing with an organic, all-purpose fertilizer.
If you are looking for what herbs repel mosquitoes, look no further than this one. Lemon balm is ideal for deterring the pests. Add a plant or two to the patio or deck to keep them away while you're outside.
Mint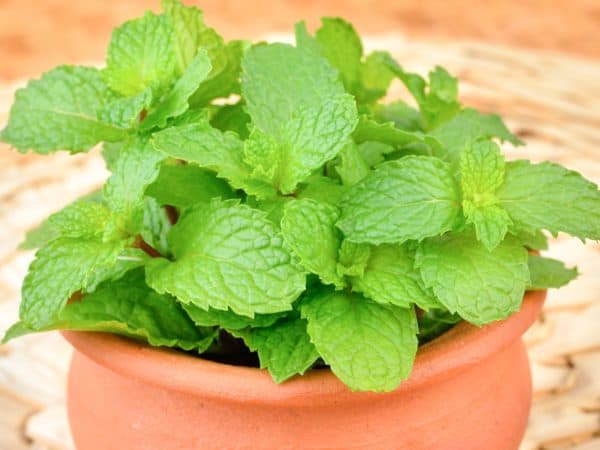 Mint is one of the absolute easiest herbs to grow at home. If you don't want to purchase an established plant, it's astonishingly simple to propagate mint plants from cuttings.
Place a few sprigs in a glass of water on your kitchen windowsill. You'll see new roots begin to form within a few weeks. There are numerous varieties of mint available, so choose which flavor you like best or try growing a few different types.
Peppermint and spearmint have the most potent aroma and frequently get used for making herbal tea. For something a bit more unusual, try planting chocolate, orange, or pineapple mint.
Parsley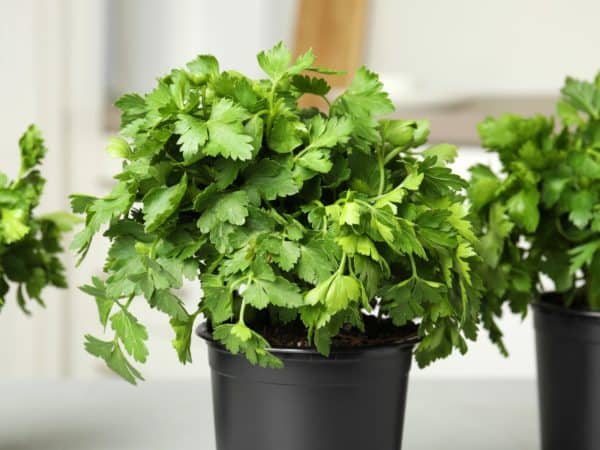 This leafy biennial herb boasts a mild, earthy aroma and is fabulously easy to grow. Fresh parsley leaves make an attractive garnish, and add a delightful zest when mixed into salads, soups, and stews.
Parsley plants are relatively heavy feeders and grow best with regular applications of organic, all-purpose fertilizer every four to six weeks.
There are curly and flat-leaf Italian parsley cultivars. In general, curly parsley leaves tend to have a milder flavor.
Tarragon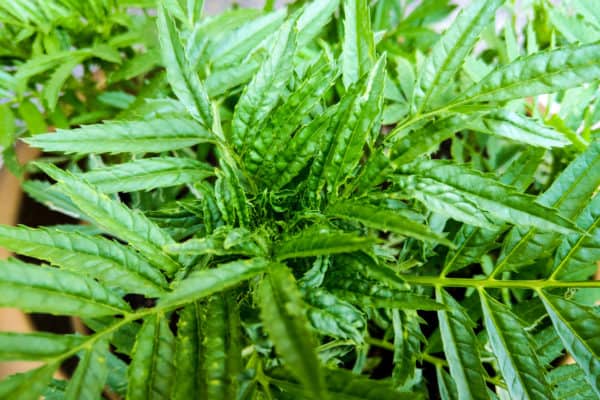 Tarragon is a tender perennial that thrives for years under the right conditions. The slender, lightly curled leaves have a mild anise flavor that pairs well with chicken or fish and adds a tangy pep to sauces like aioli or pesto.
A mature tarragon plant may reach up to two feet tall and a foot wide. Plant it in a container that's at least 12 inches deep and eight to ten inches wide. Its shallow roots are easily damaged, so repotting tarragon isn't ideal.
Growing herbs indoors is a worthwhile endeavor for a multitude of reasons. The best way to grow herbs indoors depends on your home's lighting and how much space you have available.
Select your herbs based on which ones you like to cook with. If you don't have a sunny windowsill for the pots, consider using a grow light to keep the plants healthy.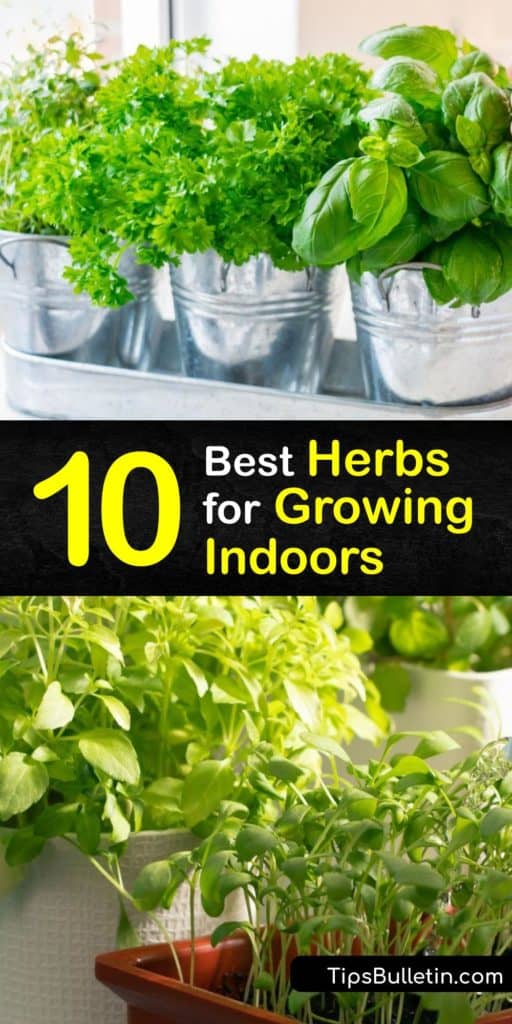 If you found these indoor gardening tips helpful, please share this article about the best herbs to grow indoors with your fellow gardening enthusiasts on Pinterest and Facebook.