If you're considering purchasing a houseplant, perhaps you imagine a cute little cactus perched on a windowsill or a leafy plant sitting on a living room table. Although those are both perfectly valid options, have you ever looked up when visualizing houseplants? The best indoor hanging plants have all the benefits of indoor plants without taking up valuable space.
Adding any form of greenery indoors has obvious benefits, like brightening up a living space and improving mood.
The mood aspect could partly relate to plants' air-filtering properties. Besides converting carbon dioxide into oxygen, several species remove toxins from indoor spaces.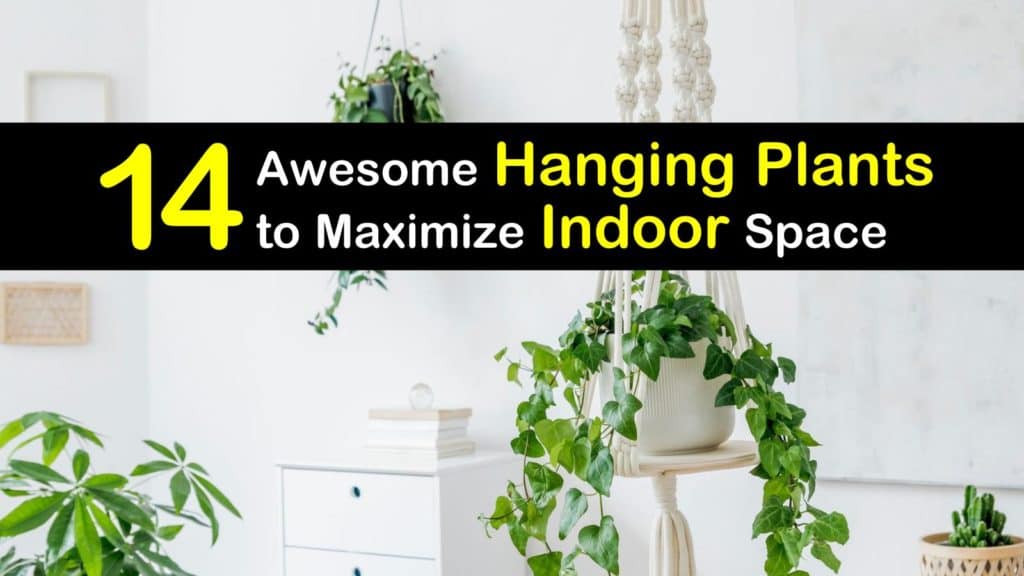 Best Hanging Plants for Growing Indoors
It always brightens a room when you can add living greenery. Choose from an indoor apple tree, a potted succulent for the dining table, or a hanging basket in a corner.
Caring for a hanging plant is rather different than growing one on the ground. Looking after plants indoors has its unique challenges as well. Follow growing requirements carefully to enjoy a happy hanging plant.
How to Grow the Best Indoor Hanging Plants
If you're using a wire hanging basket, insert a coconut fiber or sphagnum moss liner. Alternatively, dampen loose sphagnum moss and pack it into place.
Fill the hanger with potting mix, potentially also adding slow-release fertilizer and compost. Remember that every addition makes the pot heavier.
Hanging baskets are often shallower than other containers, drying out quickly. Leave some space at the top to stop water from running off, and spread a mulch layer. You'll need to water often, particularly in the summer.
Keep an eye out for pests. Prepare a homemade plant spray for bugs to have handy in case you notice soil gnats or other unwanted creatures.
Where to Grow Hanging Houseplants
Besides a wire basket, you might choose a clay-based pot for plants that suffer after overwatering. On the other hand, a ceramic pot retains water well. Consider whether you want a narrow container or a wide one.
A hanging terrarium with a hole for air circulation makes a cute vessel for a succulent or air plant. Another creative option is placing a container inside a jute macrame net.
String of Pearls (Senecio rowleyanus)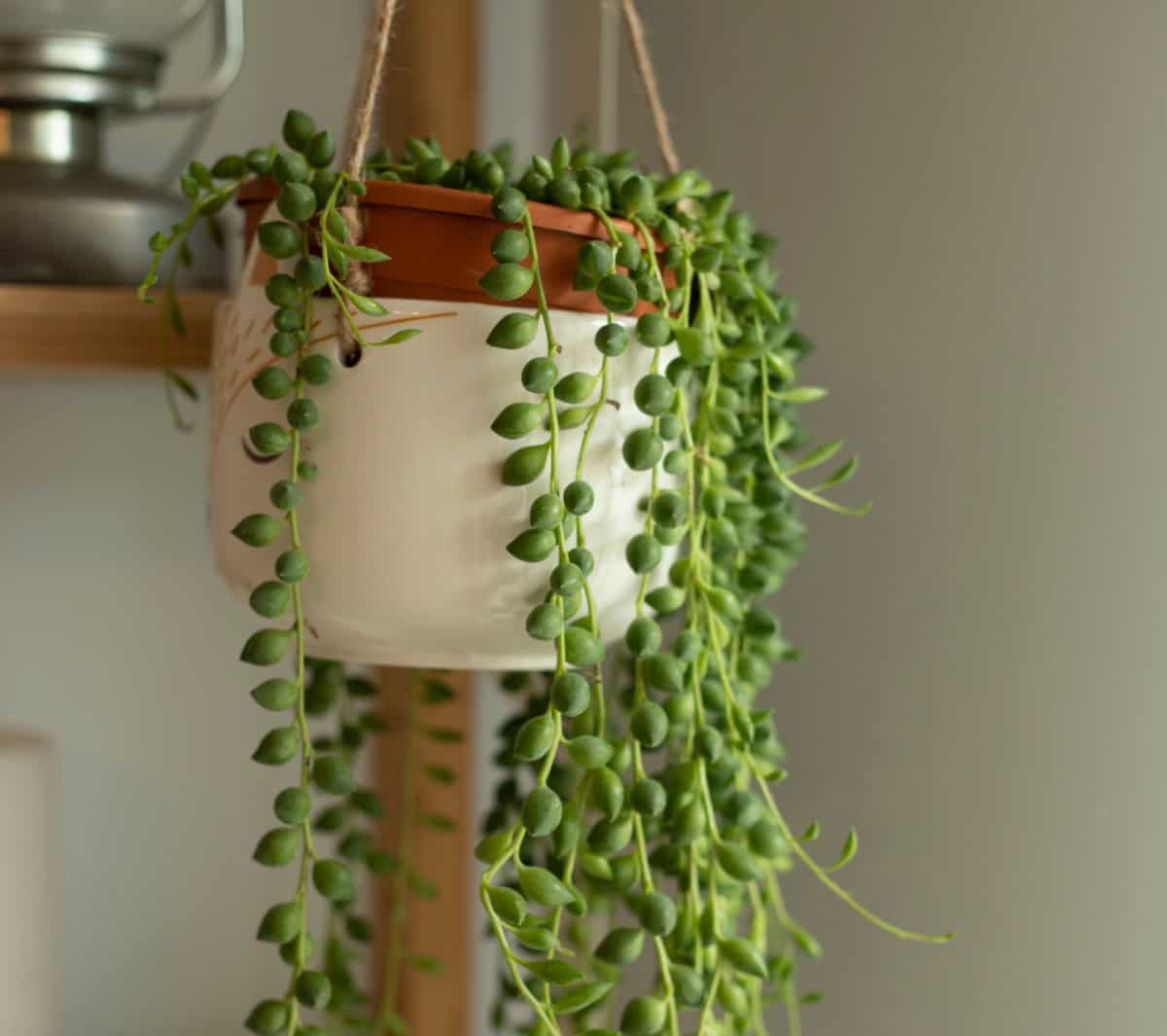 This trailing succulent has small, spherical leaves and white springtime flowers with a cinnamon-like scent. Although it forms a ground cover in the wild, it's popular in hanging baskets.
Note that this plant's leaves are slightly toxic, and its sap can irritate human skin, so keep it away from pets and children. Propagate string of pearls with cuttings in well-drained, sandy potting soil.
It does best if it receives plenty of sunlight, but only partly direct light. Keep the soil slightly moist during the growing season, then water less often in the winter.
Apply diluted, balanced liquid, or water-soluble fertilizer every other week during the growing season. Repot in early spring.
Air Plants (Tillandsia)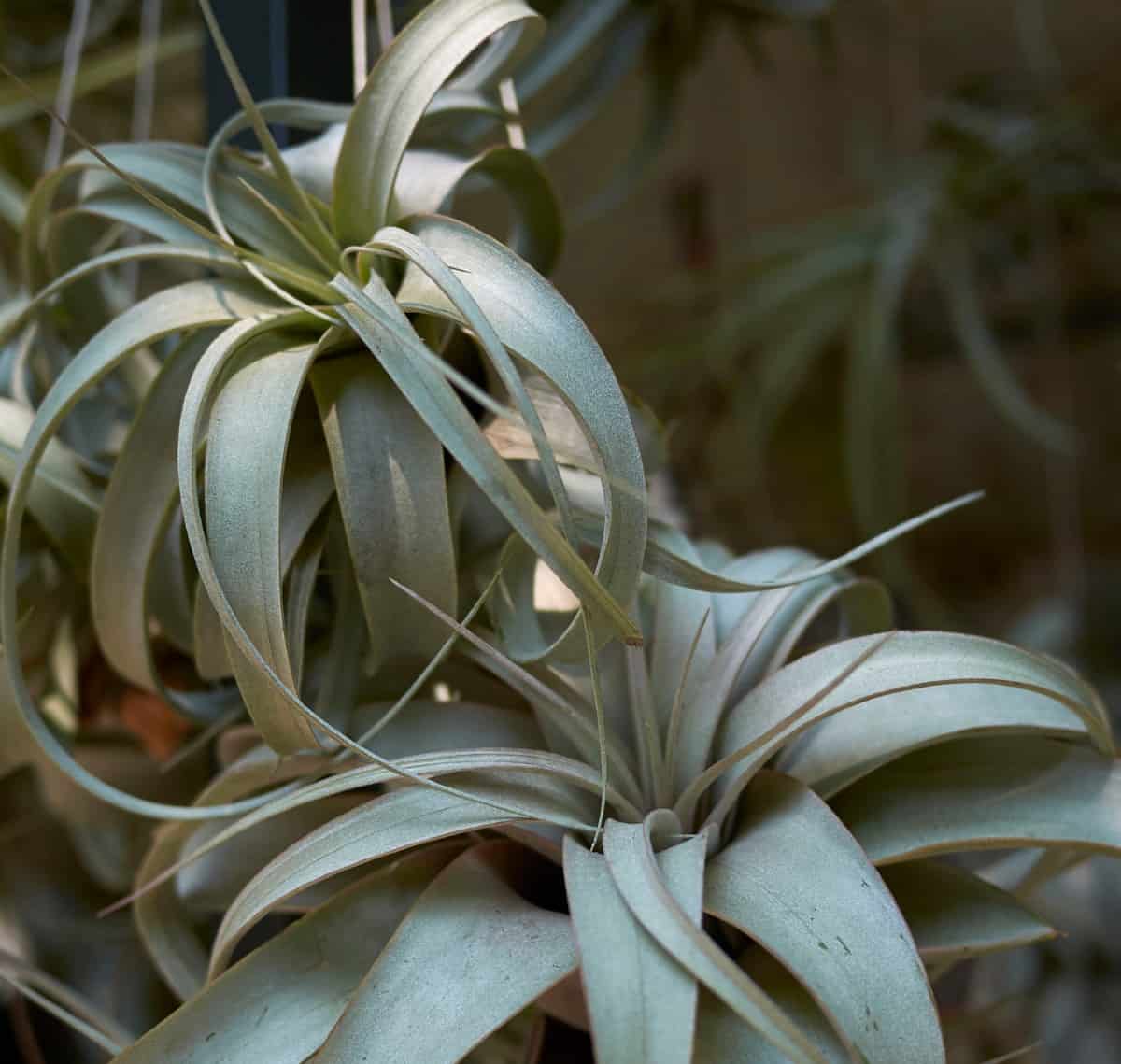 These unique plants do not need soil to grow, instead absorbing moisture and nutrients through their leaves. Their short roots cling to surfaces like branches. There are hundreds of species, but you'll often see green leaves in a rosette pattern and funnel-shaped blooms.
Place air plants in bright but filtered light, employing growing lights if your space is dim. Once a week, soak your plant in water for 30 minutes, then briefly dry it upside down. Between baths, mist your tillandsia every other day, particularly during the winter.
You may add fertilizer to irrigation water approximately once a month. Use fertilizer for air plants or bromeliads or quarter-strength, water-soluble houseplant fertilizer.
Boston Fern (Nephrolepis exaltata 'Bostoniensis') – A Delicate Hanging Houseplant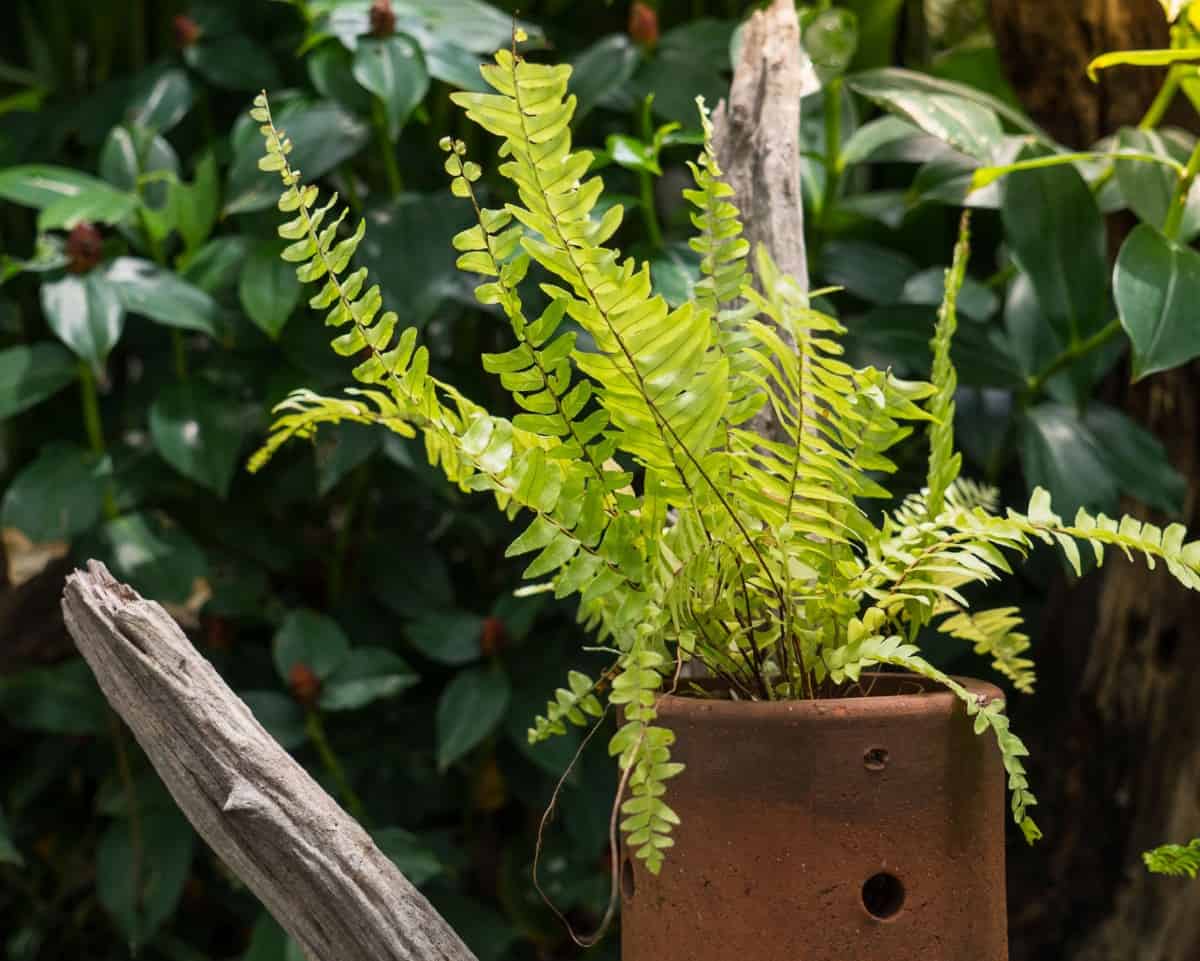 This fern boasts long fronds with tiny leaves. Dividing an existing plant is the easiest propagation method.
Place your basket under indirect light, rotating it occasionally to ensure even growth. Use moist, well-draining, humus-rich, loamy soil rich with organic matter. Water less in the winter, but make sure the soil stays moist.
The Boston fern requires a high humidity level, so mist it often if you have dry air. During the growing season, feed liquid fertilizer or slow-release pellets. Repot your fern every spring.
Burro's Tail Cactus (Sedum morganianum)
This low-maintenance succulent—not actually a cactus—has long, dangling stems with a braided appearance. Its small leaves fall off easily and work well for propagation. Put burro's tail in gritty, fast-draining soil and bright sunlight.
It tolerates heat and drought but not cold temperatures. Provide an even level of moisture, not getting the soil too wet.
Feed your plant cactus food during the growing season. Divide it once it's too large for its container, and transplant it every couple of years.
Baby Rubber Plant (Peperomia obtusifolia)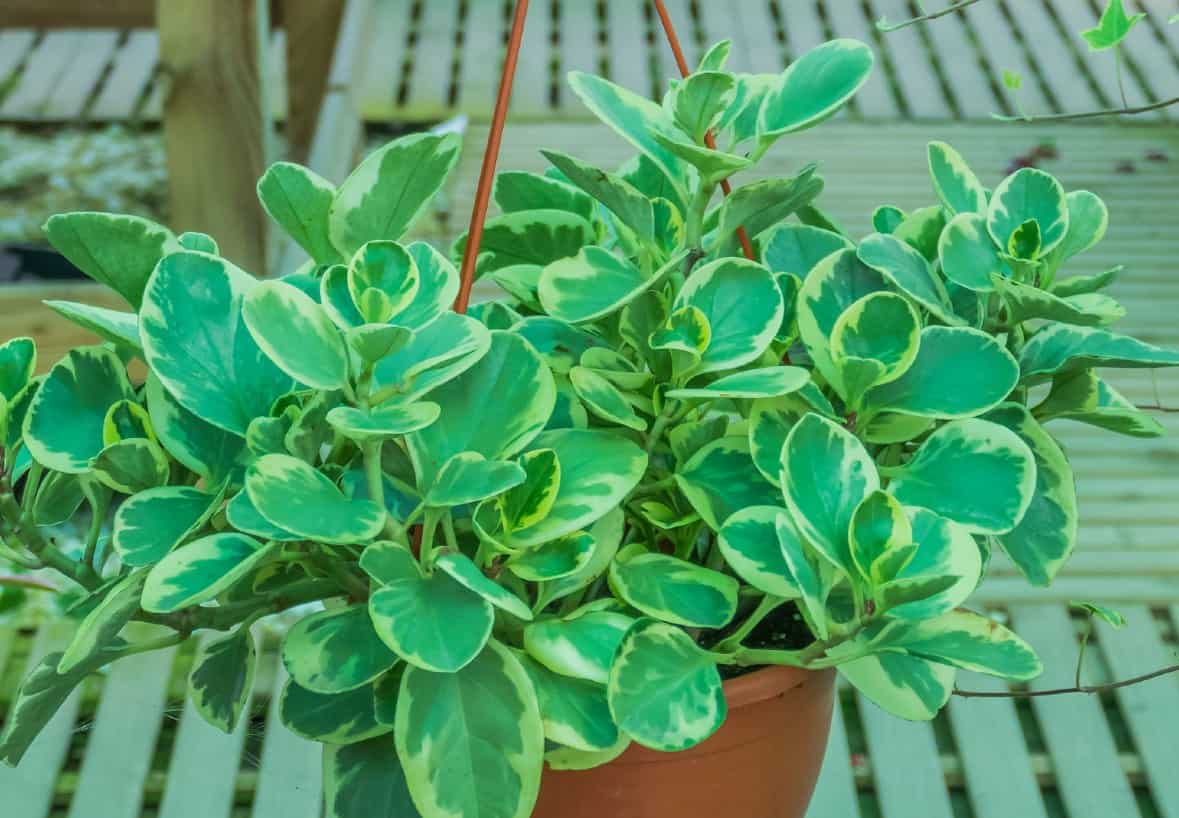 This plant's fleshy leaves come in different colors and sizes and may be variegated. It bears insignificant green or brown flowers in the summer. Propagate baby rubber plant with springtime leaf cuttings.
These easy to grow hanging plants demand medium to bright indirect light and well-drained, loose, slightly acidic soil. Alternatively, use regular potting soil with peat moss, or vermiculite added. Fertilizer is generally not necessary.
This peperomia favors warm, humid conditions. Before watering your peperomia, wait for the soil to dry. Only repot when the roots start poking out the drainage holes.
Heartleaf Philodendron (Philodendron scandens) – A Charming Hanging Houseplant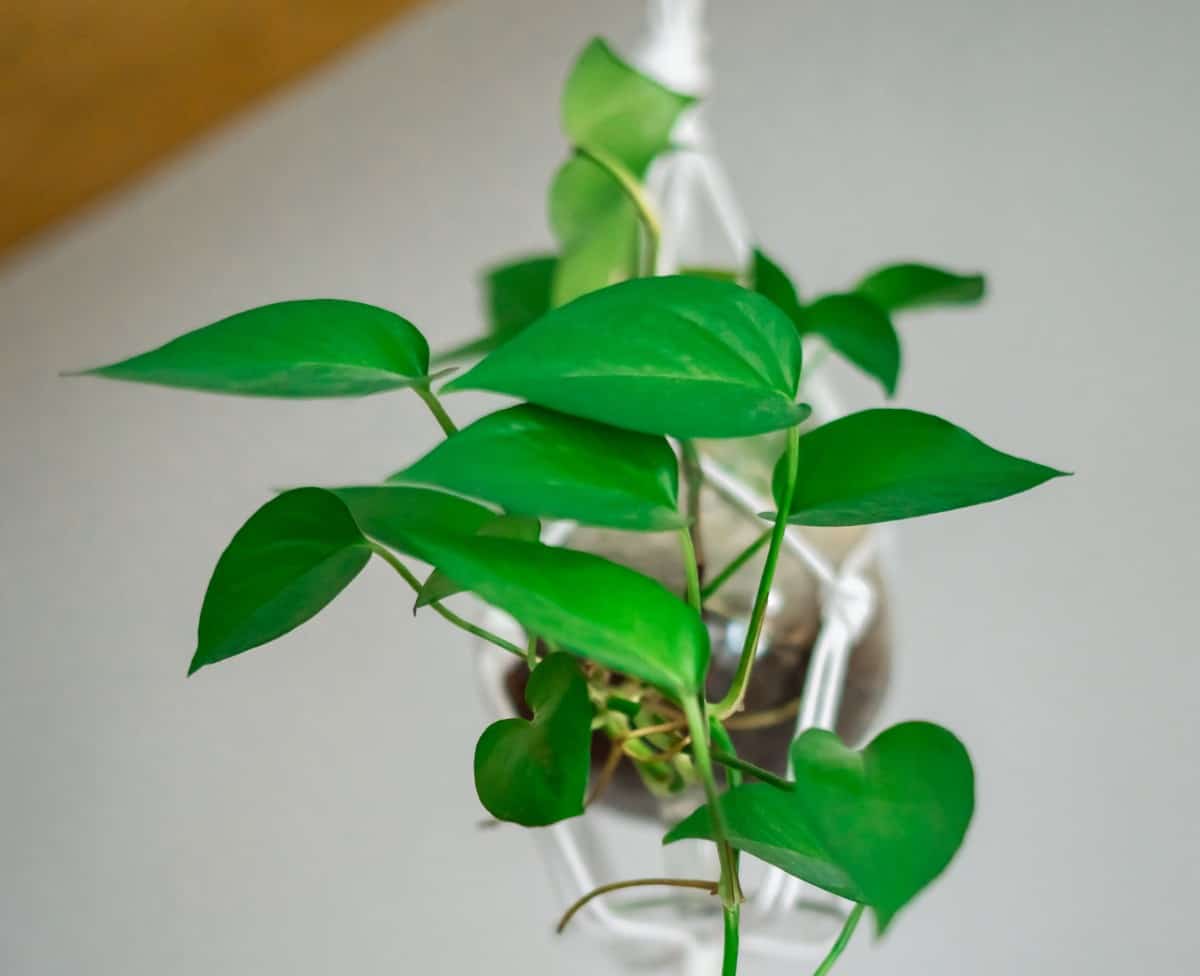 This tropical climber's glossy, heart-shaped leaves and stems are toxic for humans and other animals if consumed. However, this philodendron is effective at air filtration. Propagate it using stems cuttings somewhere with bright but dappled light.
Use slightly acidic, loose, well-draining potting soil rich in organic matter. Always keep the soil moist, particularly in the winter, but do not overwater. Mist the leaves every two days during the growing season and every three to four days during the winter.
Distribute slow-release fertilizer pellets at the start of the growing period or liquid fertilizer weekly and once a month in the winter. Pinch new growth, and repot annually.
English Ivy (Hedera helix)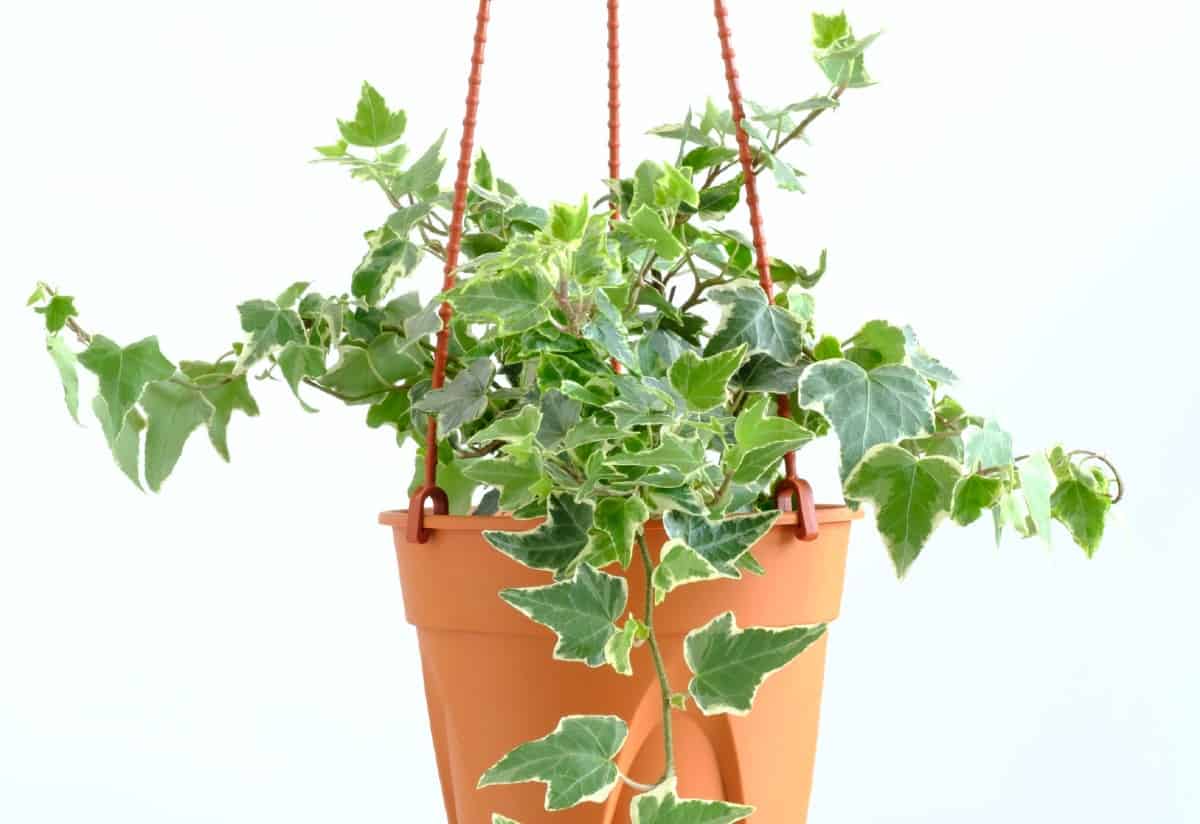 This woody evergreen vine trails over the edges of a hanging planter, whether you put it indoors or make it one of your deck or patio plants. Propagate English ivy with stem cuttings. Pinch off the growing tips on this vigorous grower.
Use a loose, fast-draining potting mix, placing the pot in bright light. Keep the soil moist but not soggy. Mist the ivy's leaves frequently during hot summers.
Fertilize your vine monthly in the spring, summer, and fall with a water-soluble, nitrogen-rich fertilizer. Repot small plants every year and larger plants every other year.
Pothos (Epipremnum aureum)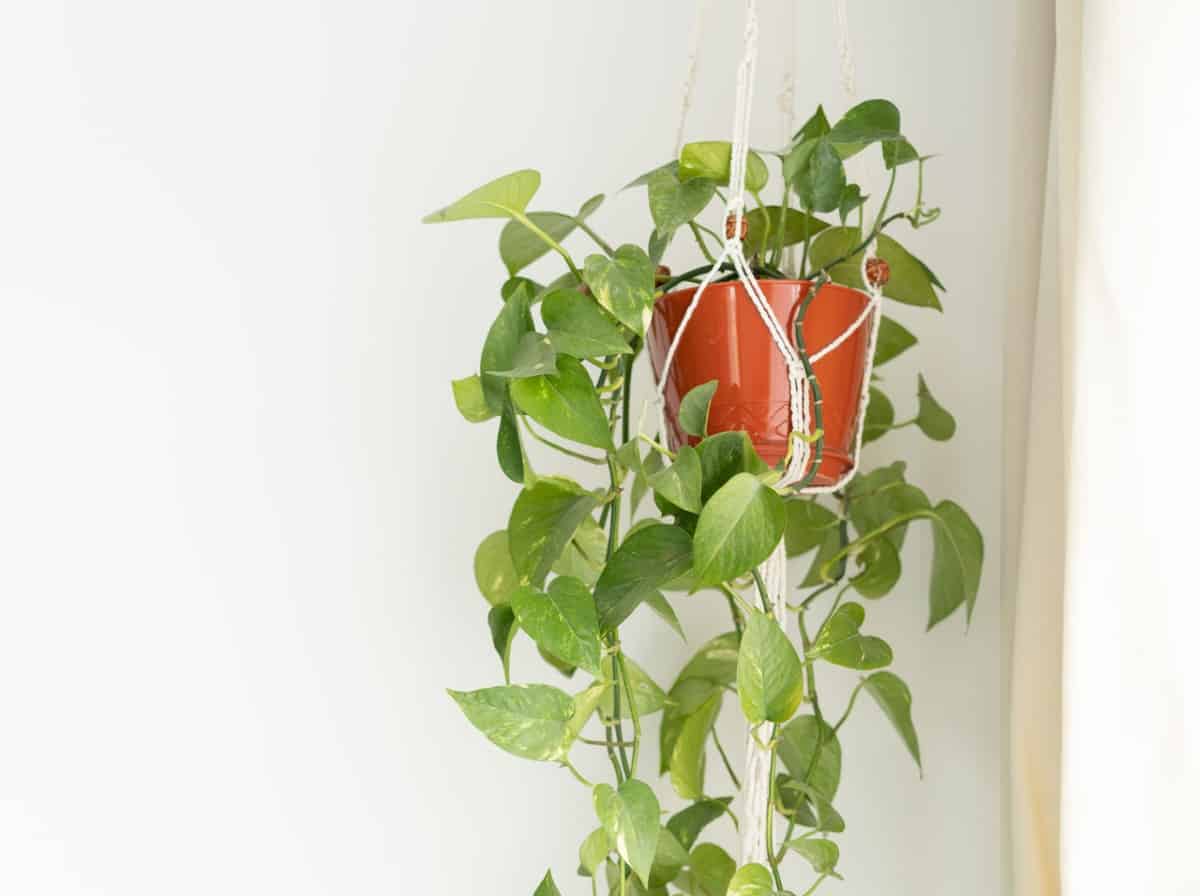 This vine boasts heart-shaped, sometimes-variegated leaves. Its long tendrils can train around a support or onto hooks. The whole plant is poisonous for humans and other animals if consumed.
Propagate pothos with stem cuttings in well-drained potting soil. High humidity is ideal, but it survives in dry environments. Although pothos thrives in bright, indirect light, it handles low and fluorescent light, too.
Water when the soil is dry and the plant has started drooping but is not yet shriveling. If the leaves droop persistently and the roots are filling the container, repot your pothos. Feed it balanced houseplant fertilizer once or twice per month.
Spider Plant (Chlorophytum comosum) – A Funky Hanging Houseplant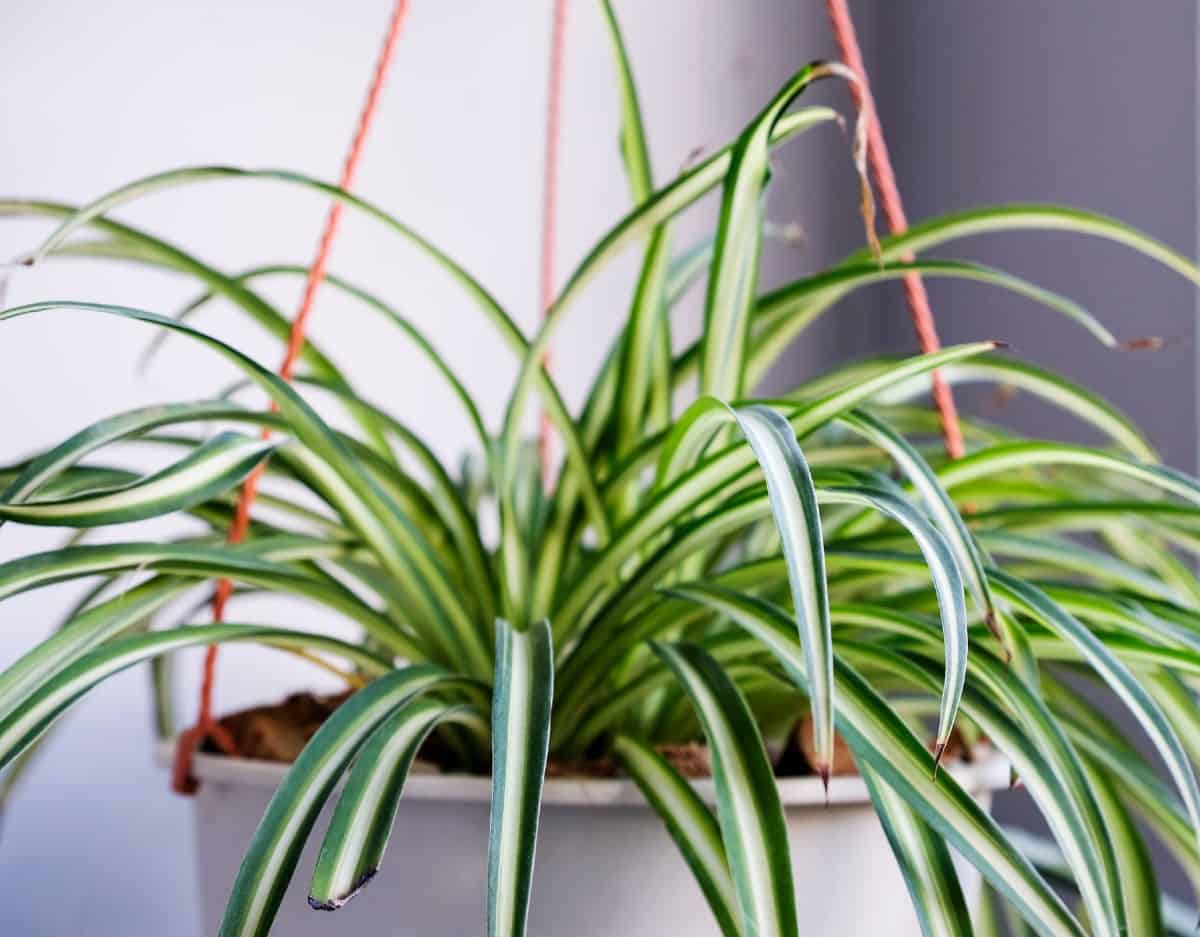 This plant's arching, often-variegated leaves bear dangling plantlets when mature. Mature plants also have small white flowers. Propagate the spider plant by potting a plantlet or dividing a mature plant.
Use a fast-draining, well-aerated potting mix. Find a spot with bright, indirect light—or part shade or partial direct sunlight. There should not be any drafts. Water the spider plant frequently in the summer and mist it occasionally, watering less often in winter.
Apply liquid fertilizer weekly during the summer or fertilizer pellets at the start of the growing season. Only repot if the roots start protruding over the container's rim.
Chenille Plant (Acalypha hispida)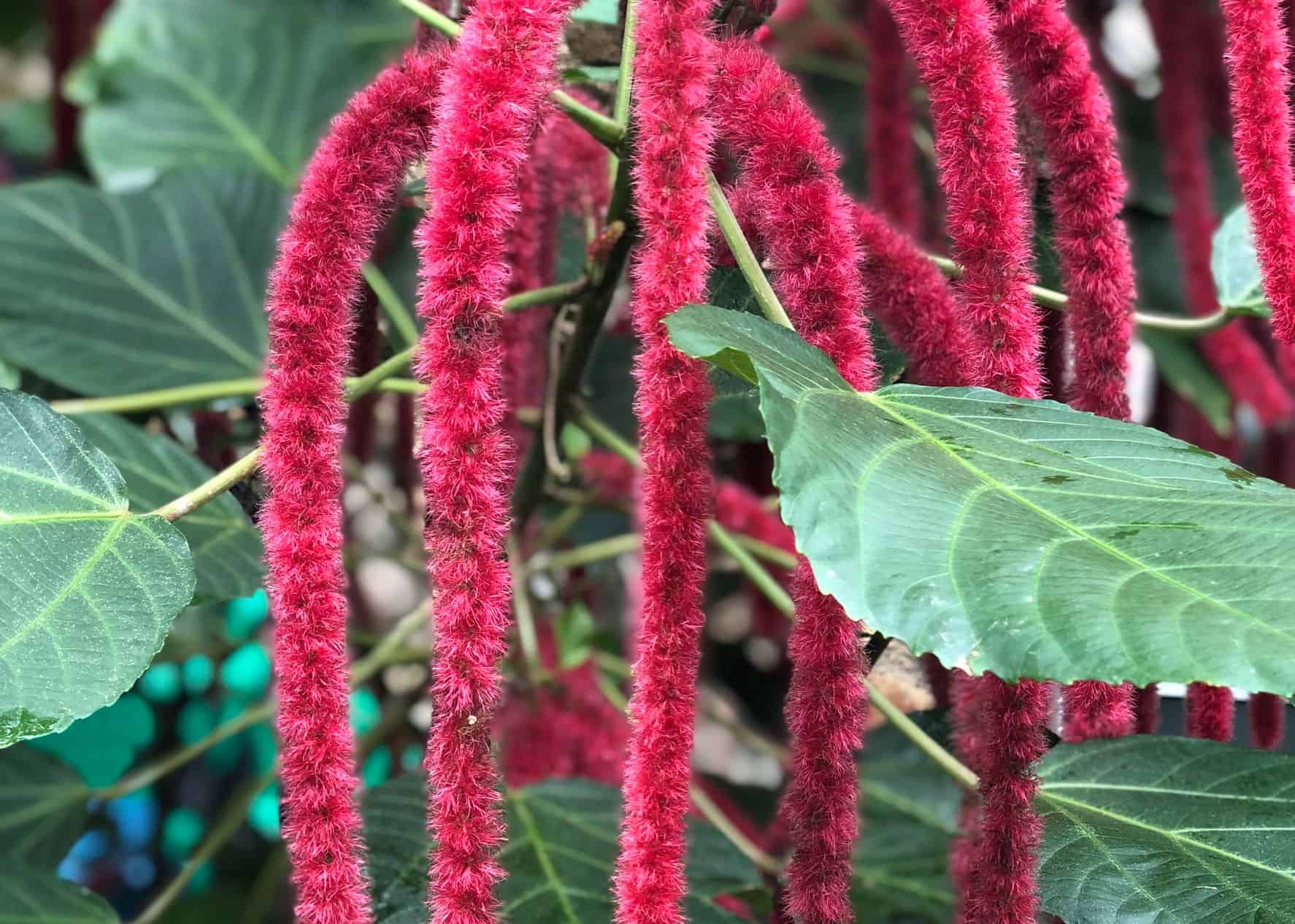 The remarkable female plant from this fast-growing species boasts long, fuzzy red flowers. The rest of the plant is less exciting. Use a nursery plant or cuttings to raise the chenille plant.
It survives in various soils but demands temperatures above 60℉. This species thrives in bright light. Keep the soil moist as your chenille plant is getting established, then reduce watering slightly.
Apply half-strength balanced fertilizer weekly, adding manure if the leaves turn yellow. Cut this plant back in the summer.
String of Nickels Plant (Dischidia nummularia)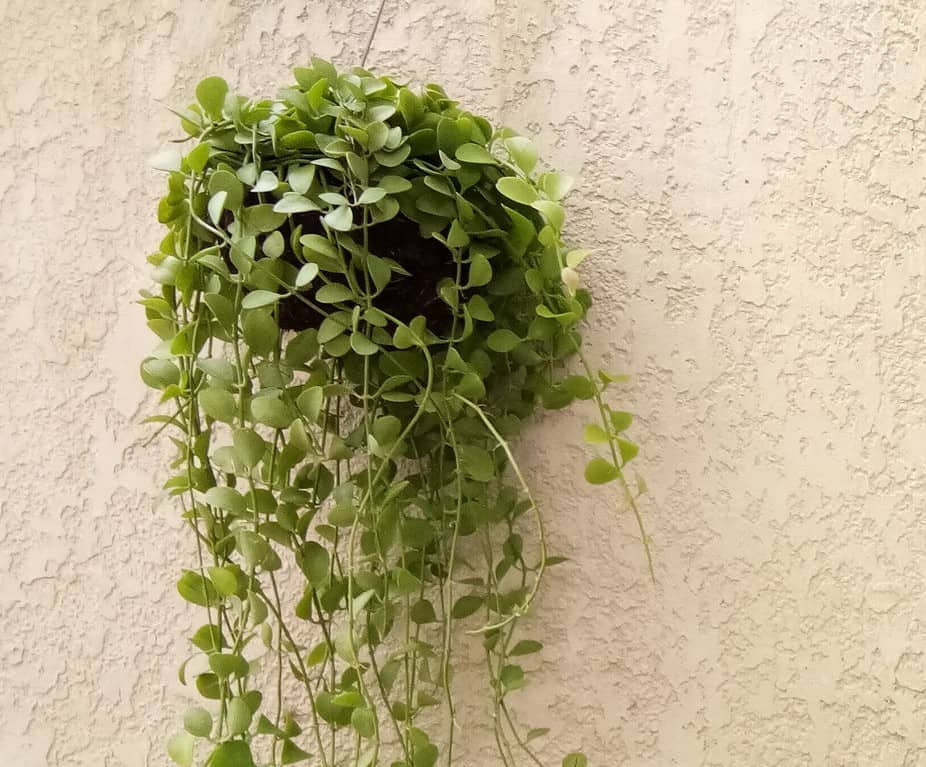 This succulent vine has small, round leaves and unremarkable white or yellow flowers. Propagate the string of nickels plant with stem cuttings.
Since it enjoys a humid environment, consider placing a basket in the kitchen or bathroom. These low light indoor plants tolerate artificial light. Use an airy potting medium.
Keep the soil moist, but don't overwater. Although fertilizer is not necessary, you may give houseplant food during the growing season. Repot the string of nickels plant annually.
Staghorn Fern (Platycerium bifurcatum) – A Hanging Houseplant that Branches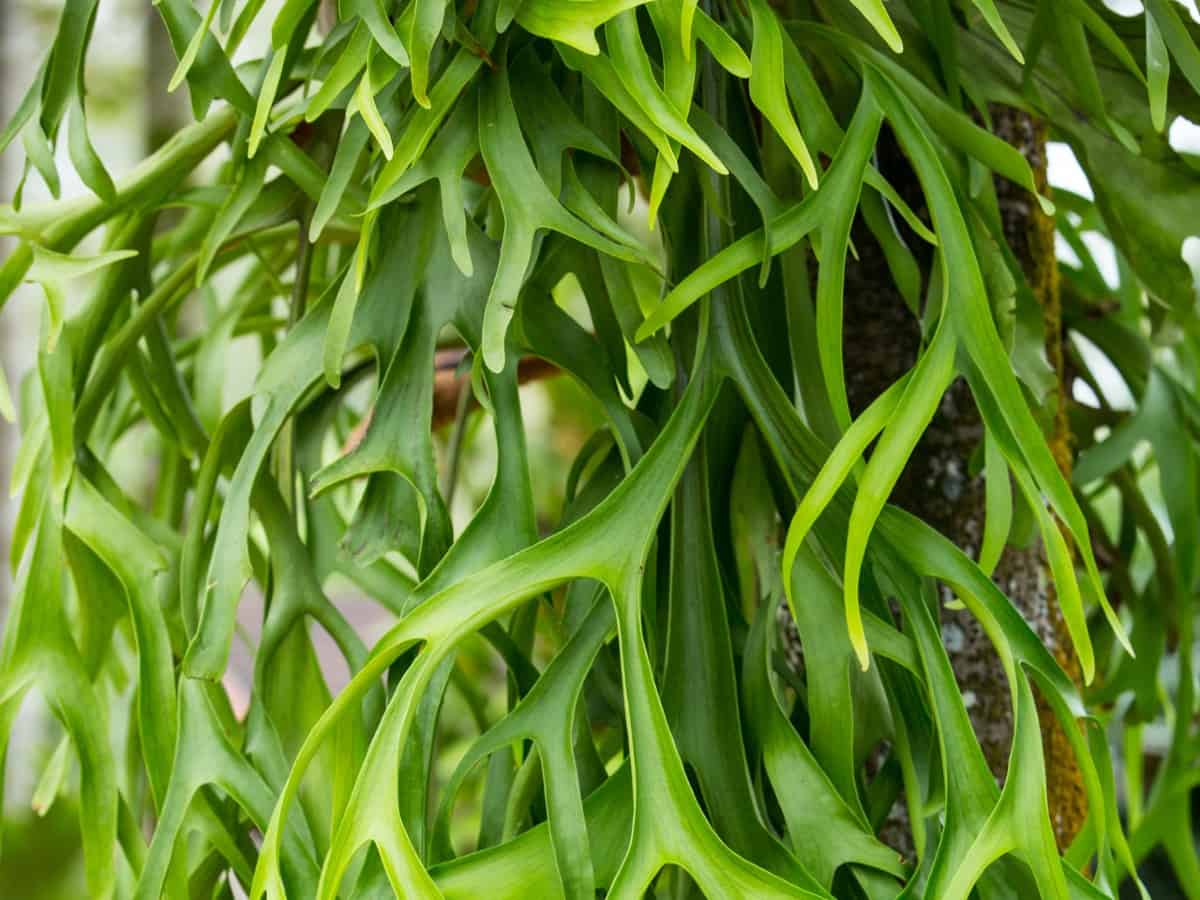 This fern has two types of leaves: antler-like leaves and flat, basal ones that are brown and infertile. The horn-like fronds may droop or stay upright and contain reproductive spores at their tips. Propagate the staghorn fern with pups.
Provide humus-rich soil and bright, indirect light. Add a little peat, compost, or other organic matter to the earth. This fern does best when it receives a medium amount of moisture. Water it frequently, but let it dry out between waterings.
Common Morning Glory (Ipomoea purpurea)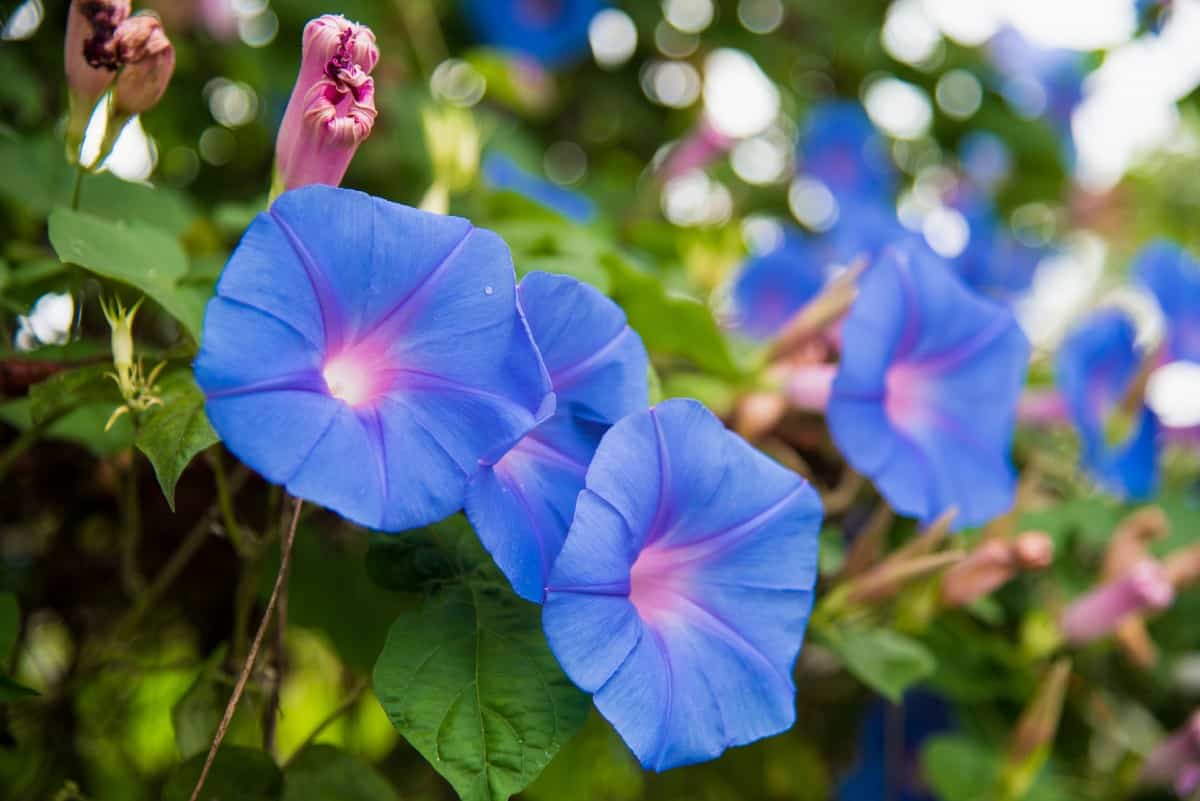 This plant produces heart-shaped leaves and funnel-shaped flowers in various colors, including red and purple. The blossoms make wonderful cut flowers, while the whole plant looks lovely spilling out of a hanging basket. Morning glory typically blooms between May and September, opening only in the morning.
Soak its seeds in water overnight or nick them with a knife, then sow them in well-draining yet moist soil in partial to full sun. Water deeply once or twice a week so that the earth is damp but not soaking.
Fertilize between spring and late summer with a 10-10-10 slow-release fertilizer. Water and fertilize less during the fall and winter. Cut back vigorous vines.
Rosary Vine (Ceropegia woodii)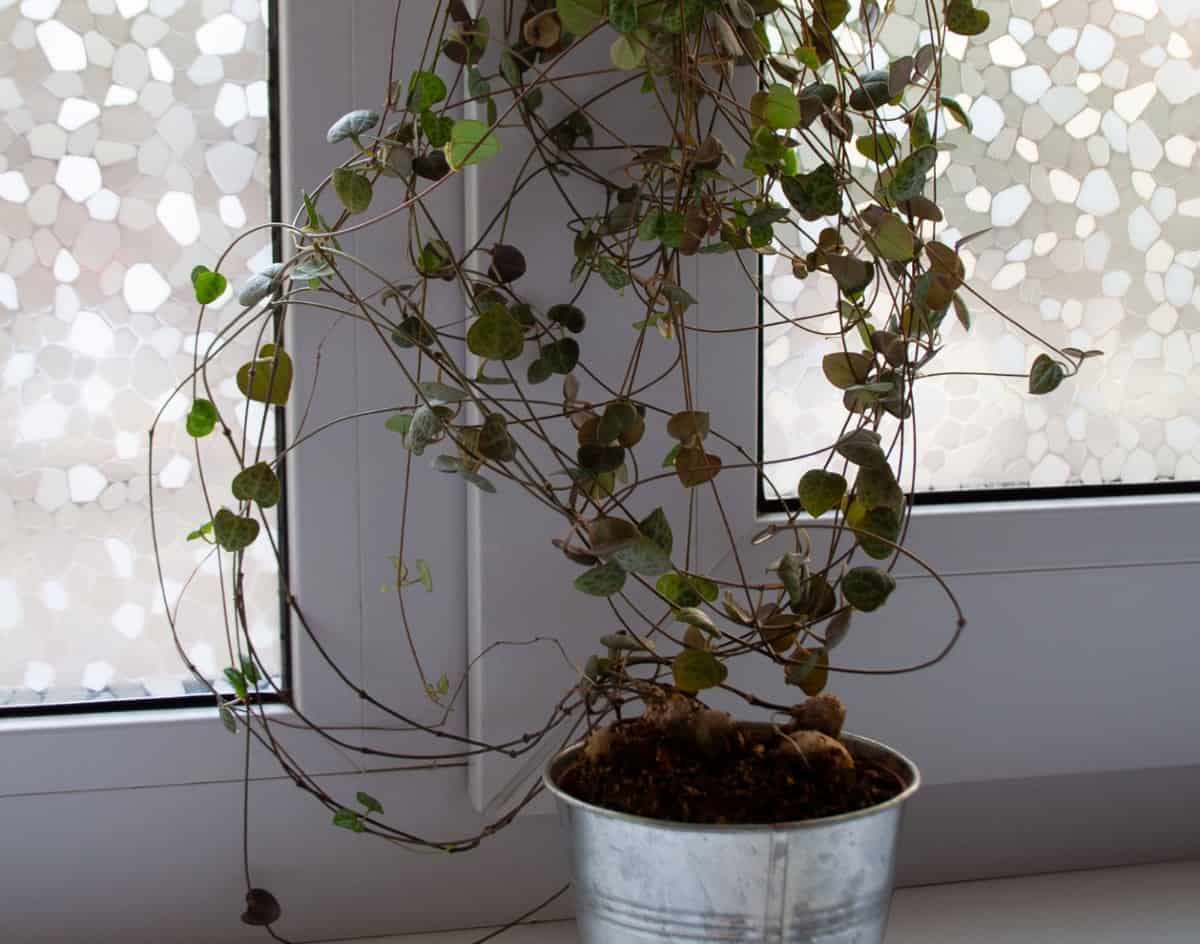 Along its wiry stems, this plant bears pairs of thick, heart-shaped, veined leaves. Bead-like tubercles develop between the leaves after tube-like purple flowers. Use the tubercles to propagate the rosary vine.
Add average potting soil containing one-third sand to a hanging basket that drains well, installing it in a sunny room. This vine tolerates lots of heat and light.
Let the soil dry completely before watering, and water less during the winter. Distribute half-strength plant food every two weeks in the spring.
If you're looking to put together a DIY indoor garden, there's no need to crowd the few remaining surfaces in your home. Instead, consider whether you have any suitable hanging locations on your ceiling or walls.
The best indoor hanging plants offer such variety that you'll be sure to feel a spark of creativity. Find the perfect plant or two among trailing plants, flowering plants, succulents, and more.
If you found these hanging plant ideas helpful, please share these indoor gardening tips with your friends on Facebook and Pinterest.