Growing vegetable plants at home is an excellent way to save money and enjoy a yearly organic food crop. However, it's necessary to fertilize your plants or enrich the soil with compost, organic matter, or manure to promote vigorous plant roots and healthy fruit production. Discover the differences between manure types and their applications to help you choose the best manure for a vegetable garden.
Using animal manure as fertilizer for plants is a practice that goes back thousands of years. It improves the soil structure and creates a nutrient-rich base for plants to grow. Adding this organic material each time you plant ensures that your veggies get the plant food they require to thrive.
There are many things to understand when using manure for vegetable gardening. For example, what animal is it from, is it composted, dried, aged, or raw manure, and what bedding is the manure incorporated in? These all play a role in the nutritional content of the manure – it's essential to understand their differences before applying them to vegetable plants.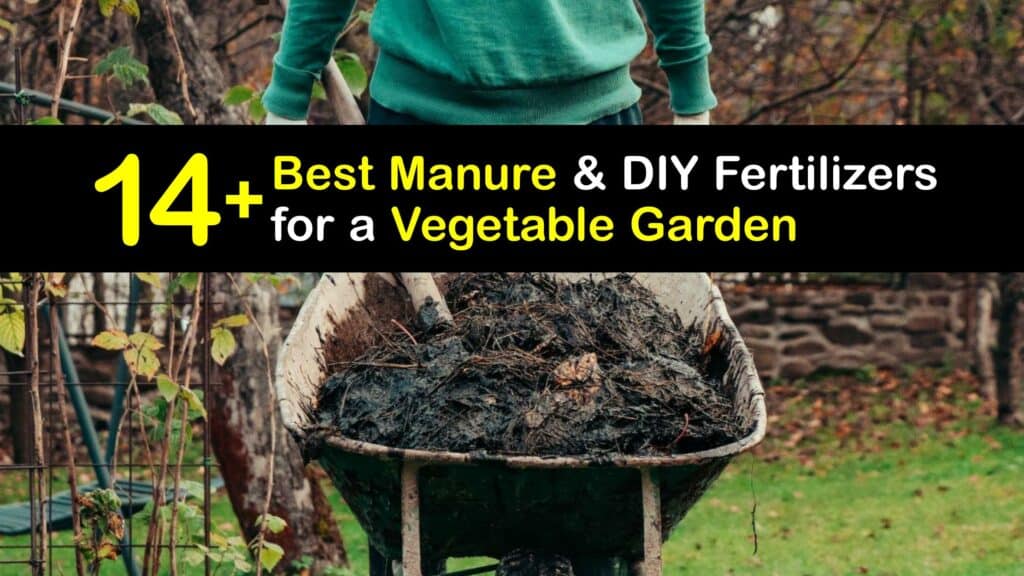 Using Manure in the Vegetable Garden
The best way to improve plant health if your garden soil lacks nutrients is to amend the dirt with an organic fertilizer like manure or compost. Learn about the different manure types, how they benefit your plants, and safe ways to use them as a part of your gardening practice.
How is Manure Beneficial to a Veggie Garden?
Farmers have long used animal manure as a fertilizer, and for a good reason. Explore how manure compost for a vegetable garden benefits the soil and plants, resulting in a healthy crop.
Animal manure contains nitrogen, potassium, phosphorus, and micronutrients necessary for plant growth. It is a source of organic matter that improves soil's water-holding capacity and texture. Additionally, recycling biological waste benefits the environment since it increases soil carbon while reducing atmospheric carbon.
Are There Different Types of Manures?
While you may think of manure as animal feces, it's not that simple. Manure comes from different animals; some types are fresh, while others are aged. Understand their differences to ensure you know the best fertilizer for your needs.
The most common manure sources are cows, horses, sheep, goats, chickens, and rabbits. Fresh cow manure is 17% organic matter, while raw rabbit, horse, chicken, and sheep manure have higher levels of organic matter ranging from 24 to 45%.
All manures contain nitrogen, phosphorus, and potassium. However, dried cow manure has more nutrients than fresh, and chicken manure is the most alkaline.
Which is the Best Manure for a Vegetable Garden?
With so many manure types, from cow manure and horse manure to chicken manure, it's hard to know which manure is the right one for a veggie garden. Explore examples of popular manures and what they have to offer your plants.
The best compost or manure type for vegetables depends on what your soil lacks. For instance, fresh chicken manure has high nitrogen levels, while dried cow manure has nearly equal nitrogen, phosphorus, and potassium levels.
On the other hand, fresh horse manure has less phosphorus and more nitrogen and potassium. Performing a soil test to determine your garden's needs is vital in deciding which type to use.
The Difference between Fresh and Composted Manure
Knowing which manure type to use is just as important as knowing how to use manure in the garden. Discover the difference between fresh manure and composted manure to lessen the confusion.
Fresh vs Composted Manure
Any manure that is less than six months old and not composted is fresh manure. Composted manure is animal manure that goes through the composting process with brown and green materials, eventually breaking down into a dark fertilizer.
How to Use Manure in the Garden
Fertilizing plants is pretty straightforward since you generally add plant food when watering your plants. However, applying manure is a bit different, especially if it's fresh manure. Learn when and how to use manure in the garden for optimal results.
Never side dress vegetable plants with fresh manure since the nitrogen and ammonia content is high enough to burn the plants. Instead, work cow, chicken, or horse manure compost or aged manure six to eight inches into the bed before planting or side dress the compost four inches away from the plant stems.
Do not spread raw manure in a garden with a short growing season to prevent spreading weed seed and harmful pathogens like e coli, listeria, and salmonella. Instead, apply it in the fall for spring planting.
Spread raw manure no less than 120 days before harvesting leafy greens, root vegetables, and other veggies that touch the soil, and at least 90 days before picking peppers and tomatoes.
Manure Compost for a Vegetable Garden
The safest way to use animal manure to feed your plants is to add it to the compost pile. It's an excellent recycling practice, and your plants benefit from various nutrients. However, the nutrition in composted manure is lower than in raw manure. Here is how to prepare manure compost for a vegetable garden.
Combine manure in a composter with sawdust, straw, wood chips, leaves, and other carbon sources. It's a great way of making compost from leaves gathering in the yard, especially in the fall.
Turn the compost regularly to incorporate oxygen into the system and allow contact of the manure with microbes. Curing takes two to four months; the end product is a rich fertilizer.
How to Prepare a Manure Tea for Your Veggies
Manure tea is an option if you didn't get a chance to spread manure in the garden before planting time. However, do not use fresh manure to feed root crops like potatoes, carrots, and turnips. Make liquid plant food with manure.
Fill a large container or bucket two-thirds of the way with water and add enough manure to reach the top. Let the tea steep for a couple days while stirring twice daily. Allow the tea to rest as the solids settle to the container's bottom and pour the liquid around the plant's base, taking care not to get any of it on the vegetables.
Testing the Garden Soil before Soil Amendment
The first step in preparing a garden is to test the soil. A soil test helps you determine if the dirt is too acidic or too alkaline, making it easier for you to amend the ground with the proper nutrients.
Dig five holes six to eight inches deep in the bed, and take a half-inch slice from the side of each hole. Mix the samples in a bucket and spread the dirt out on a newspaper to dry. Collect a pint of the dirt sample and follow the instructions for your soil kit to determine the soil pH, acidity, and alkalinity.
What's the Difference between Chemical Fertilizer and Manure?
If you're a beginning gardener, you may find it confusing browsing through the fertilization section at your local garden center. It's no wonder since there are so many bags of fertilizers and manures. Learn the main differences between manure and chemical fertilizer.
Manure vs Chemical Fertilizer
Manure is eco-friendly and results from the natural decomposition of dead plants and animals, while fertilizers are typically not natural. Companies synthetically manufacture them, and using them excessively may lead to water pollution and soil infertility.
Additionally, extra care is necessary when handling chemical fertilizers since they may cause skin irritation and breathing problems.
Increasing Calcium Soil Levels with Eggshells
Even though adding manure or mushroom compost to the soil before planting provides your veggies with essential nutrients, there are times when your plants want a boost. Eggshells are a good source of calcium and are great for preventing blossom end rot on tomatoes.
The simplest way to use eggshells in the veggie garden is to grind the shells into powder or break them into small pieces and work them into the top inch or two of soil. Another way to use them is to prepare eggshell tea.
Pour a gallon of water into a pot, add two tablespoons of crushed eggshells and boil the liquid for a few minutes. Let it steep overnight, and water your plants with the tea.
Adding Nitrogen to the Garden with Coffee Grounds
Before you toss your leftover coffee grounds in the trash, why not save them to give your veggies a nitrogen kick? Coffee grounds are a great addition to manure, and recycling them in the garden deters pests.
Sprinkle used or fresh coffee grounds around the base of your plants or add it as green material to the compost bin with manure. To make liquid fertilizer with coffee grounds, fill a five-gallon bucket with water and add two cups of used grounds. Let it sit overnight, pour the tea around the plant's base, or use it as a foliar spray.
Give Your Vegetable Plants a Boost of Magnesium with Banana Peels
Magnesium aids photosynthesis and encourages plant growth, and what better way to give your plants this mineral than to recycle banana peels? Use banana skins to feed your veggies.
To amend the soil with magnesium, chop the banana peels into small pieces and work them into the top layer of dirt. If you prefer liquid fertilizer, cut the peels into half-inch pieces, place them into a glass jar of water, and set them aside for 24 hours. Finish by straining the liquid into a container and watering your plants as usual.
Encourage Veggie Seed Germination with Epsom Salt
While it's popular as a body soak, Epsom salt is a naturally occurring mineral salt that improves plant germination and blooming and promotes lush green plants. Here is how to use this salt while growing veggies.
After seeding your vegetables, dissolve a tablespoon of Epsom salt in a gallon of water. Pour the plant food into a watering can and gently water the seeds to boost germination. Reapply the solution monthly throughout the growing season to encourage strong growth.
Can You Add Manure to a Container Garden?
Manure is safe to add to a container garden, but using the proper ratio is vital to ensure that you do not under-fertilize or over-fertilize your plants. Combine manure with potting soil for vegetable growing, like using it as a natural lettuce fertilizer or for your tomatoes. Sheep manure is an excellent vegetable fertilizer if you can obtain it.
Avoid using too much manure in a container garden – no more than 20% is adequate. For example, if you fill a pot with ten pounds of soil, like Dr Earth, add two pounds of cured manure. Adding excessive amounts of manure causes nitrate leaching, excess phosphorus, and plant overproduction.
Combining container ingredients is good for your plants. Mixing topsoil, manure and compost in the right ratio yields fertile soil that plants love. The best ratio of compost to soil is about 20% compost to 80% soil for optimal growth.
Things to Avoid When Adding Manure to the Garden
While adding manure to the garden seems straightforward, problems may occur if you apply it incorrectly. Note these things to avoid during manure application for safe gardening.
While you may consider all manure equal, some animal feces is unsafe for applying to the vegetable garden. Do not use pig manure or pet waste from dogs and cats to fertilize veggies since they may contain parasites that infect humans. While using dog poop as fertilizer for your flowers and non-consumable plants is okay under certain conditions, it is not recommended for plants that you eat.
Avoid using fresh manure as fertilizer. Instead, use it as a soil conditioner to prevent food contamination or composted manure for side-dressing. Only apply fresh manure in the fall for spring planting to give it time to break down into the soil.
Wear gloves when applying manure, and wash your hands and nails thoroughly before and after picking vegetables grown with manure. Clean all root crops and leafy greens after harvesting.
Animal and green manure are ideal fertilizers for plants, whether you are container gardening or preparing a garden bed. However, some manures are more beneficial than others, and it's vital to understand when and how to apply them to the vegetable garden to prevent over-fertilization or plant contamination.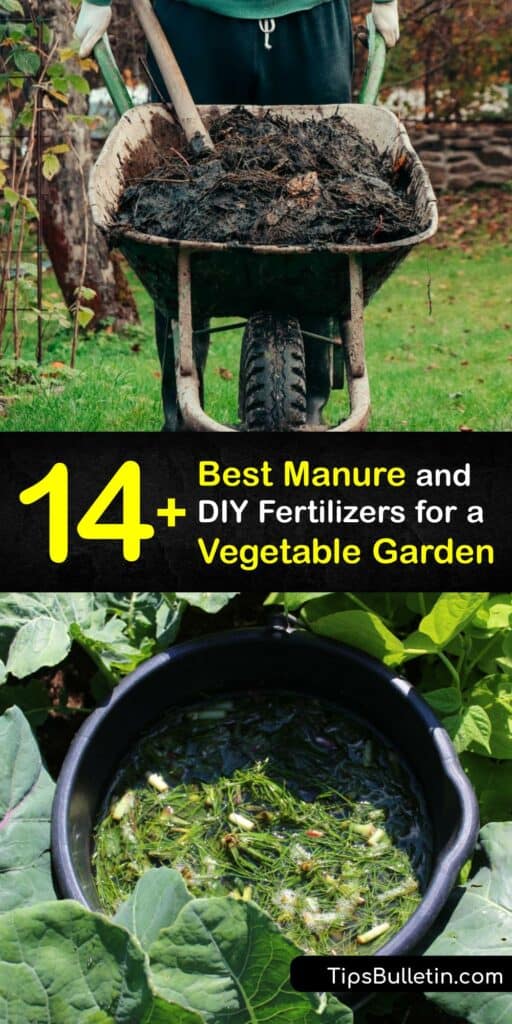 We hope that using the best manure for a vegetable garden helps you grow a thriving crop, and we'd love it if you'd share our veggie garden manure guide with your friends and family on Facebook and Pinterest.