Outdoor hanging plants are a great way to add colorful height to the yard. They are also ideal if you don't have the space for planting flowers in a bed. While some plants grow better in baskets than others, the best outdoor hanging plants are always the ones that make you smile whenever you see them.
There are many types of hanging containers, from baskets filled with lush foliage that cascade down the sides in trails of variegated leaves to colorful baskets blooming with fantastic floral scents.
Hanging plants around your home and in the yard add stunning appeal to your property while providing you with an easy-to-maintain garden.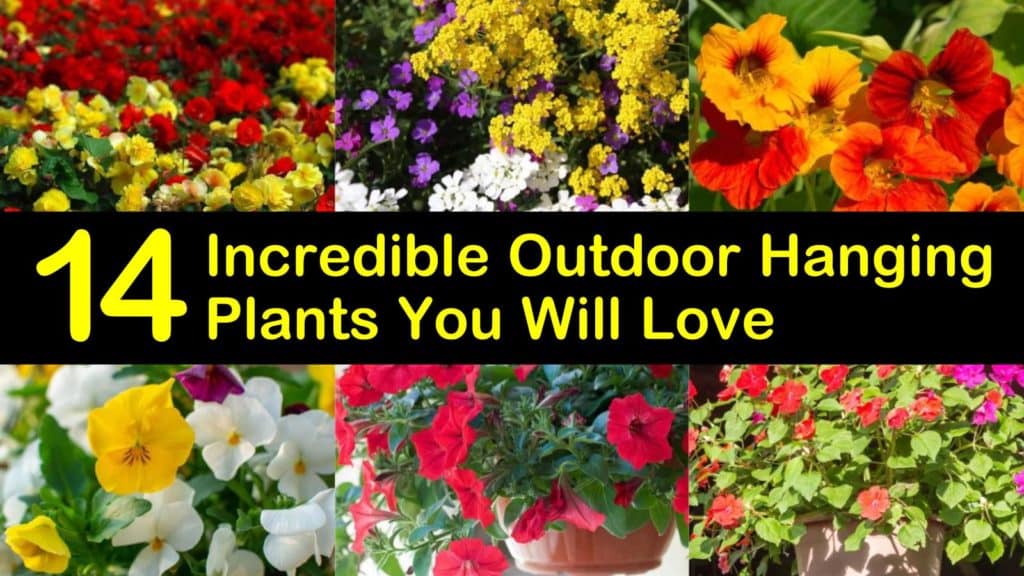 Create a Hanging Oasis with Outdoor Plants
For more variety in your outdoor spaces, choose different hanging plant types along with flowers in pots and shrubs grown directly in the garden soil. The possible combinations are almost endless.
Create small DIY gardens of floral and foliage planters by choosing the best plants for containers and placing them in ideal locations throughout the yard. Fill hanging baskets with your favorite flowers and enjoy colorful blooms, sweet fragrances, and even hummingbirds and other pollinators all summer long.
What are the Benefits of Outdoor Hanging Plants?
One of the best benefits of hanging outdoor plants is when you do not have enough space for a flower bed. Create a floating garden of rich foliage and colorful blossoms placed strategically around your home in front of windows, on the porch, or beside the doorway.
Hanging baskets are also easy to maintain. Hang them at eye level for easy watering, feeding, and deadheading. Flowering plants at this height provide a stronger appeal to your senses with their visual appearance and fragrance. They also give you a chance for a close-up look at hummingbirds and butterflies.
Which Types of Plants Should I Plant in Hanging Baskets?
Just about any type of plant is suitable for growing in hanging containers, but some look more stunning in baskets than others. Top-heavy plants tend to struggle in a garden bed but flourish in a hanging planter. Creepers, vines, and trailers are also great candidates for hanging around your home.
Smaller plants, such as succulents, quickly go unnoticed in an overflowing flower bed but become the spotlight in containers. Other plant varieties that thrive in hanging planters are ivy, fern, and lobelia and also make excellent houseplants during the colder months.
Where are Good Spots to Place Hanging Basket Plants?
The answer depends on the type of plant. Some plants require full sun and thrive in areas of the yard that receive sunshine for most of the day. Place these types in front of south-facing windows to enjoy their blooms while inside your home.
Full shade plants cannot tolerate direct sunlight and grow best in shady or low light areas of the yard, or on the north side of your home. Hang planters in areas around your home where they are most enjoyed.
The front porch, in front of windows, or around a patio are great locations. Another excellent tool for hanging planters is a shepherd hook. Insert these into the ground and hang the flowering basket from the hook.
Do Outdoor Hanging Plants Require Special Care?
While shopping for plants at your local garden center, take notice of the plant's care label. The label tells you if your chosen flowers require any special care. It also informs you of the growing zone, watering requirements, and interesting facts.
It's important to note that dirt dries out faster in garden containers, and hanging baskets require more water than flowers planted in the ground. Outdoor hanging plants also require extra feeding. Frequent watering washes away the nutrients in the soil, and these plants need half-strength plant food weekly.
Fuchsia (Fuchsia magellanica)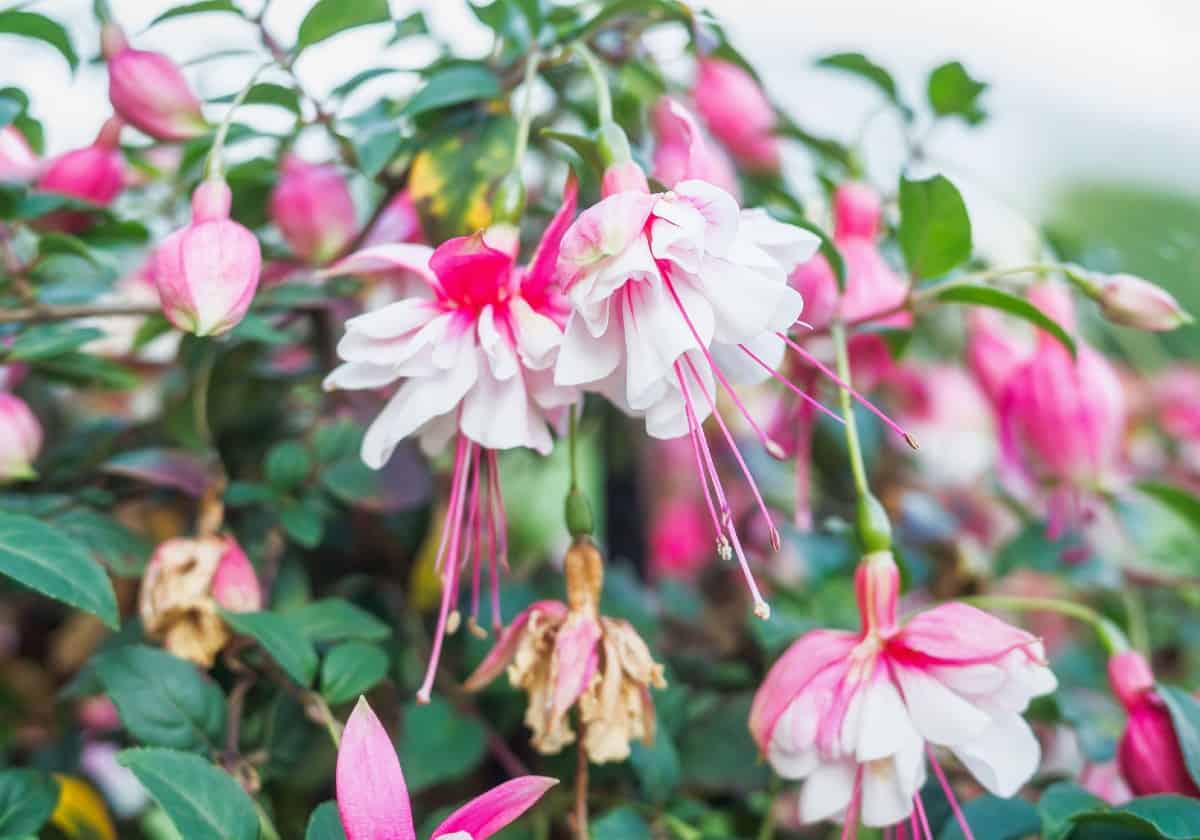 This spectacular flowering plant is well known in the garden and is one of the best outdoor hanging plants. It has elegant, drooping flowers with multi-colored petals in bright shades of pink, purple, white, orange, and red. Hang a basket of these flowers near a window or bench and enjoy visits from hummingbirds, butterflies, and bees.
This shade-loving tender perennial that is one of the best flowers for hanging baskets thrives best in cool, wet areas in zones 10 and 11 but grows as an annual everywhere else. It reaches an average height of 3 feet and allows you to enjoy blooms from summer to fall.
Moss Rose (Portulaca grandiflora) – Low Maintenance Hanging Basket Flower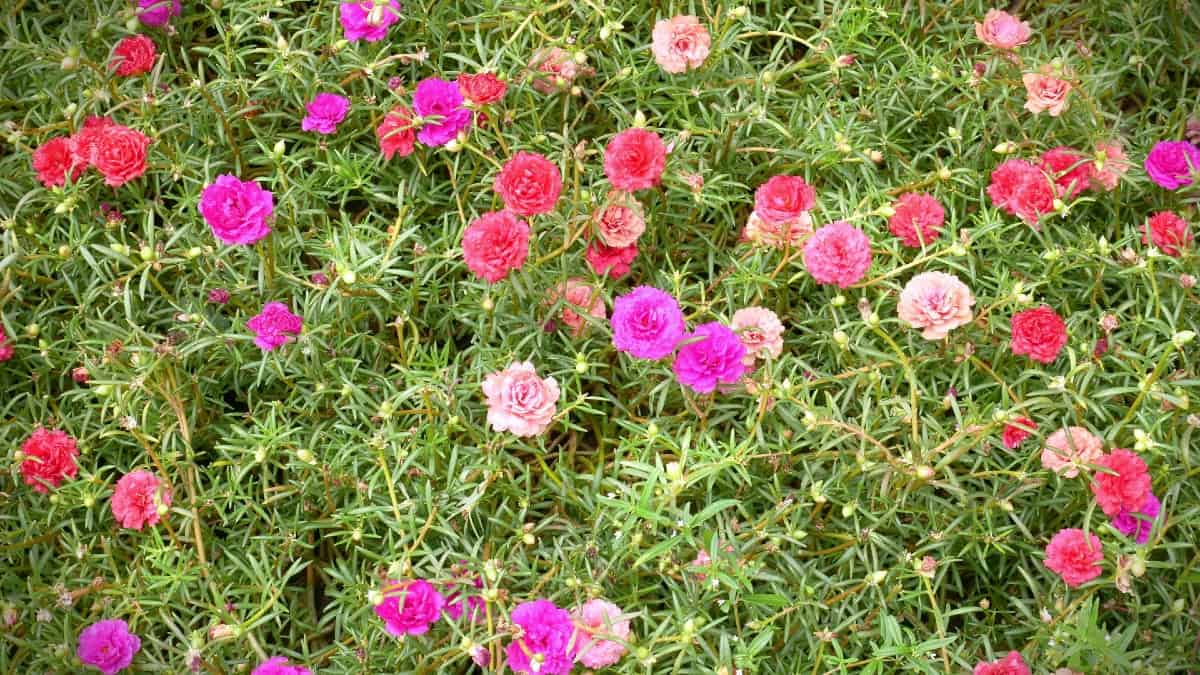 Moss rose is a ground cover flower that has a trailing habit. It has multi-colored blooms in shades of purple, red, orange, white, pink, purple, and yellow flowers that rise out of unique blue/green foliage. It is one of the easiest flowers to grow and blooms all summer long.
The drought-tolerant moss rose loves full sun and is an ideal choice if you prefer not having to water your hanging plants every day. This low maintenance annual is deer resistant and grows to a height of 6 to 12 inches.
Begonia (Begonia x semperflorens-cultorum)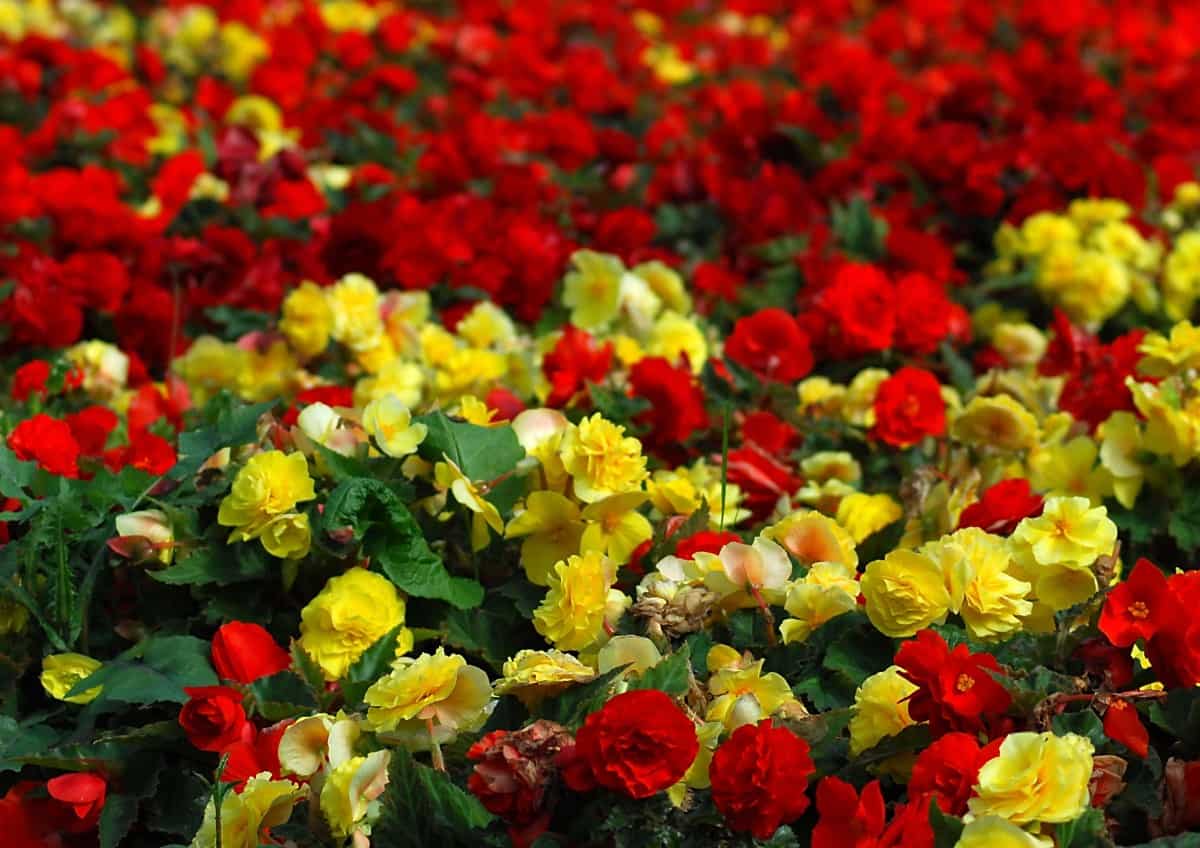 Begonias are an intriguing flower that has blooms and foliage in a variety of shapes, colors, and sizes. The leaves range from shades of green to purple, while the flowers include orange, white, pink, and yellow.
This low maintenance annual produces blooms from spring through fall and thrives in full shade to full sun. It has an average height and width of 12 inches, but some varieties reach up to 3 feet.
Verbena (Verbena officinalis) – Hanging Plant with Cascading Clusters of Blooms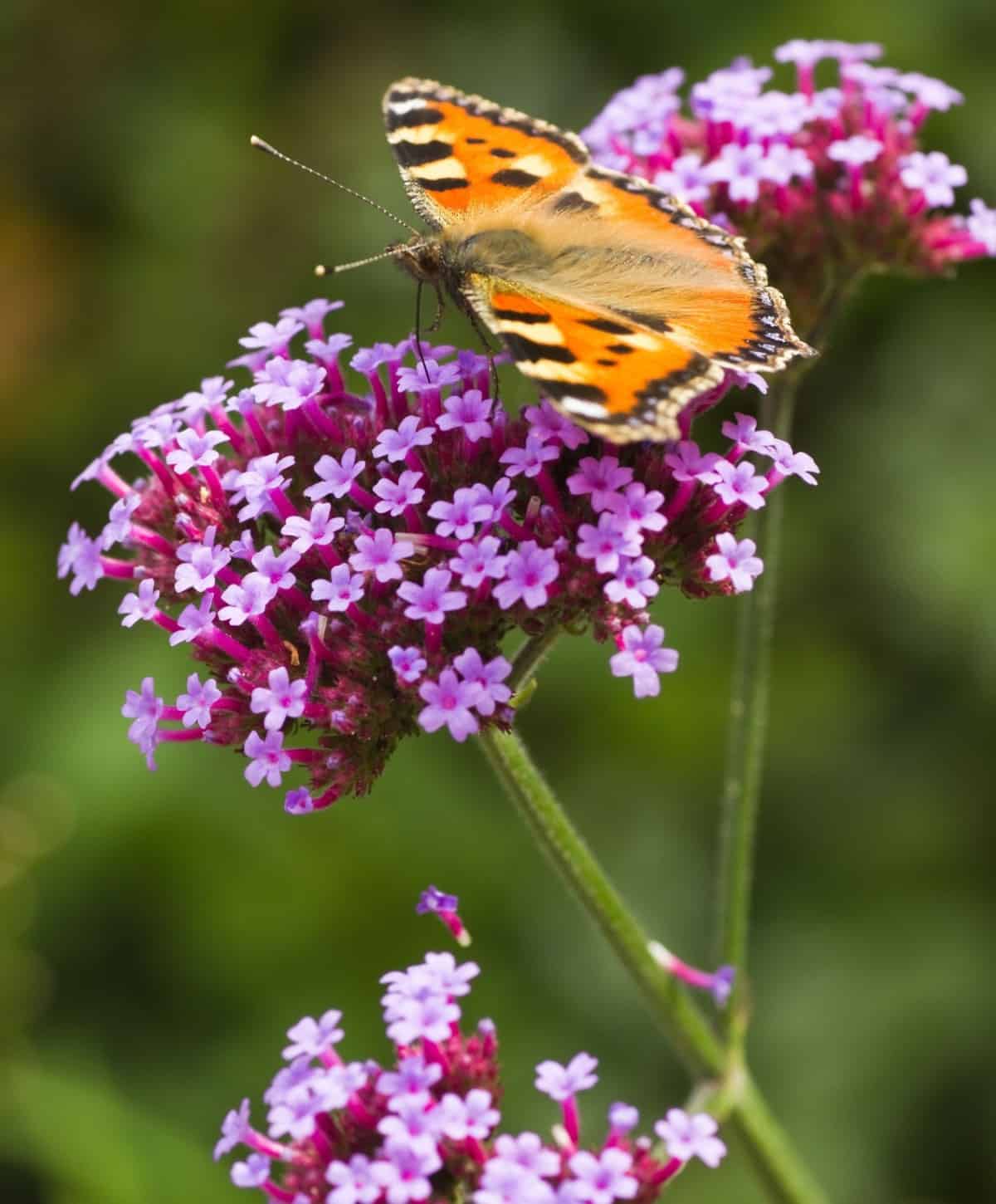 This cascading flower looks stunning in a hanging planter with its clusters of colorful blooms from summer through fall. There are many different varieties of verbena, with flowers in colors from purple, blue, and white to pink and red.
This drought-tolerant flower is an annual that grows as a perennial in zones 7 through 9. The sun-loving verbena is deer resistant and reaches an average height of 2 feet.
Geranium (Pelargonium)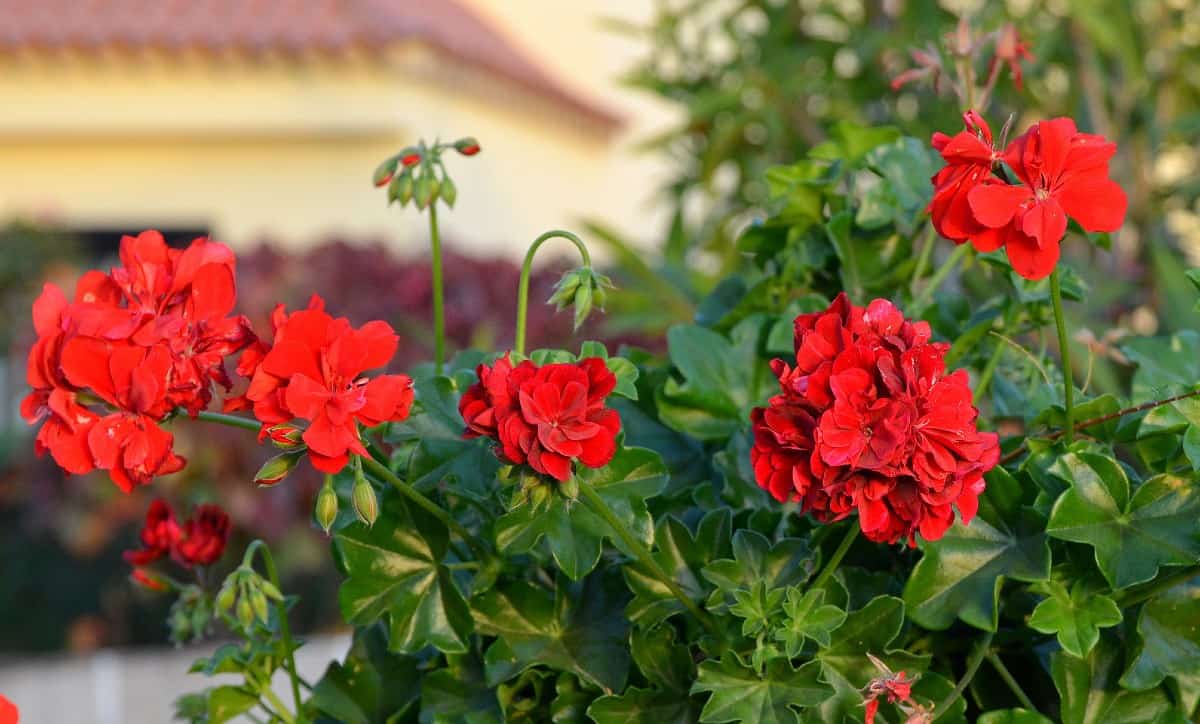 Geraniums are a classic garden flower that has been around for over a century. They grow beautifully wherever you plant them and are eye-catching in a hanging container. They have unique looking foliage that produces tall stems of showy flowers in shades of red, pink, white, orange, and purple.
This flower is usually grown as an annual but is considered a perennial in zones 10 and 11. Geraniums are low maintenance, deer resistant, and drought tolerant and bloom from spring through fall. They reach a height of up to 3 feet and grow indoors if you bring them in before the first frost.
Impatiens (Impatiens walleriana) – Best Flowering Shade Plant for Outdoor Baskets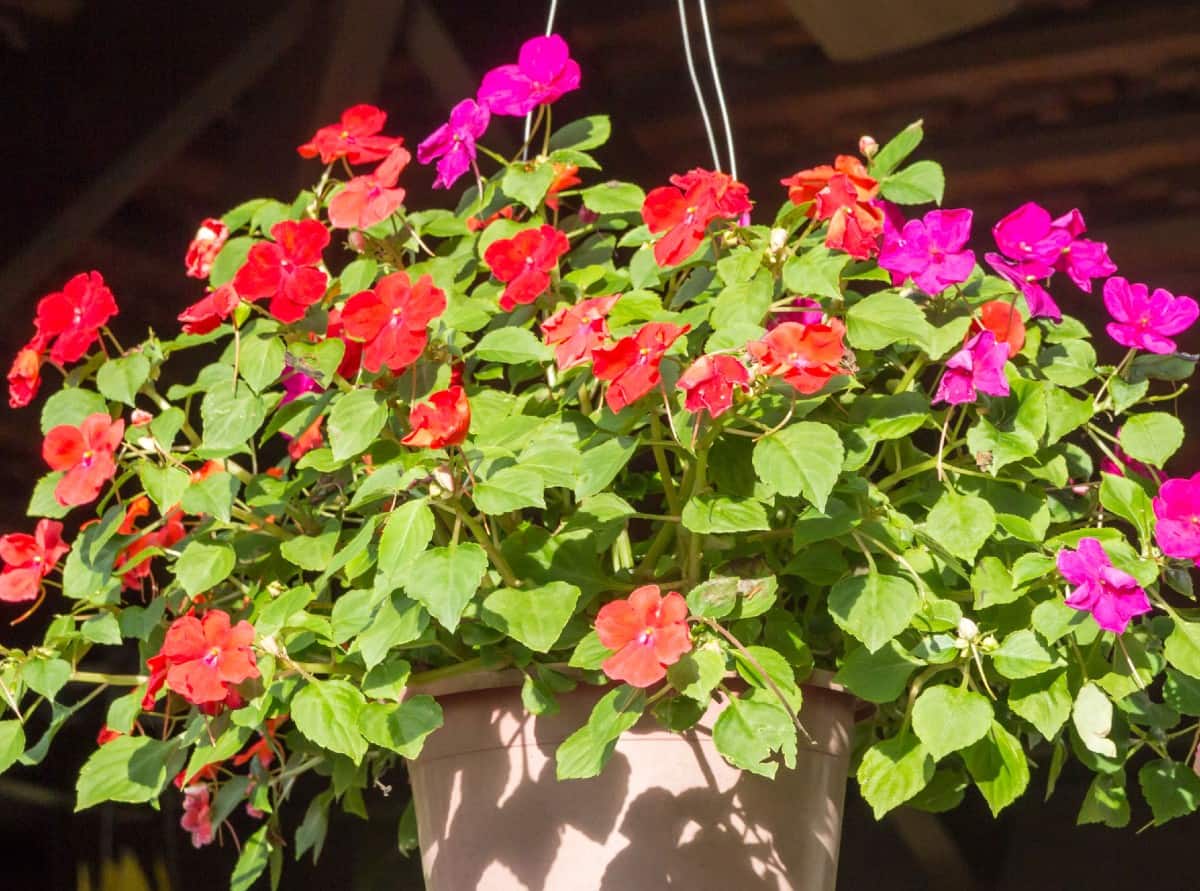 Impatiens have fantastic bloom power for a shade-loving plant. This tropical plant blooms in colors that include purple, blue, red, orange, white, pink, and yellow, and it flowers through the entire growing season.
This low maintenance plant doesn't even require deadheading to continue blooming and thrives in both full to partial shade. It has a width and height that reaches up to 3 feet and has no trouble at all filling up a hanging basket with colorful blossoms.
Lantana (Lantana Camara)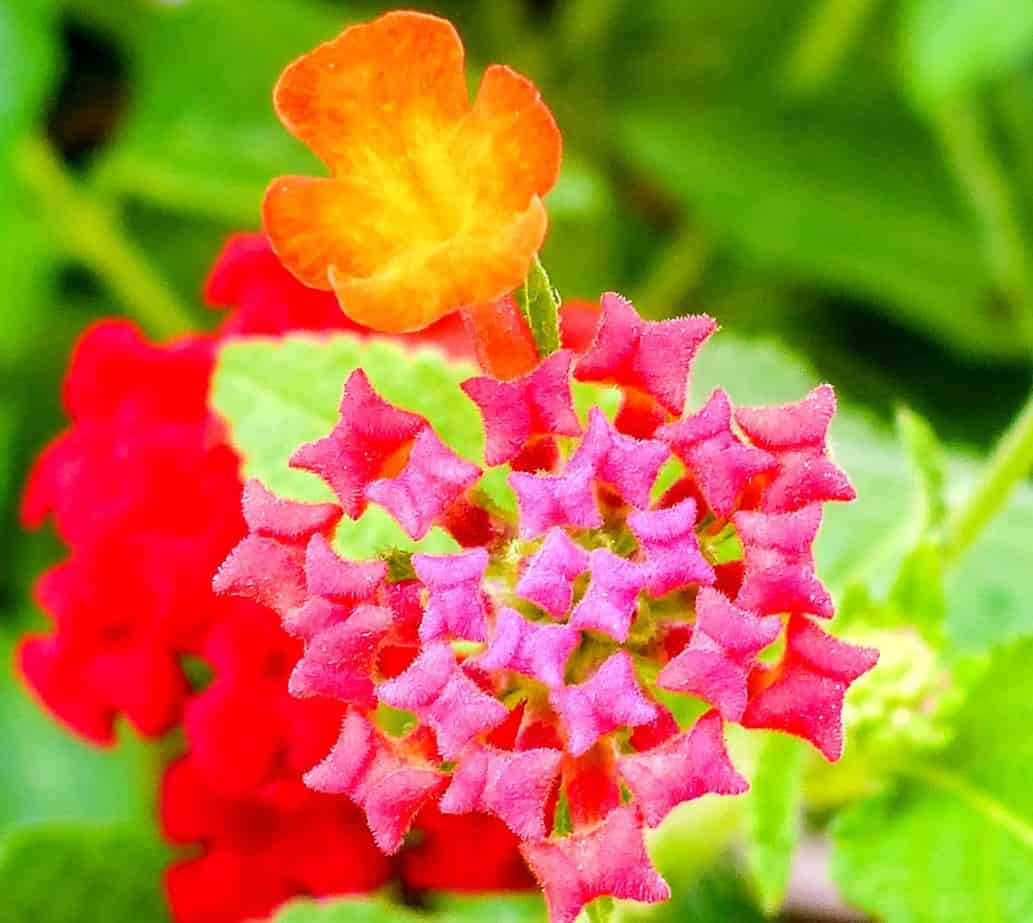 The vibrant flower clusters of lantana grow in combinations of orange, red, yellow, pink, orange, blue, and white and give the area a tropical feel through the entire growing season. The weeping variety fills hanging baskets with ease and attracts hummingbirds to the area.
Lantana grows as a perennial in zones 8 through 10 and an annual in colder areas. This plant thrives in full sun and enjoys well-drained soil. It reaches a mature height of up to 6 feet with long flowering branches that spill over the sides of a container.
Pansies (Viola tricolor var. hortensis) – Spring and Summer Blooming Plant for Hanging Containers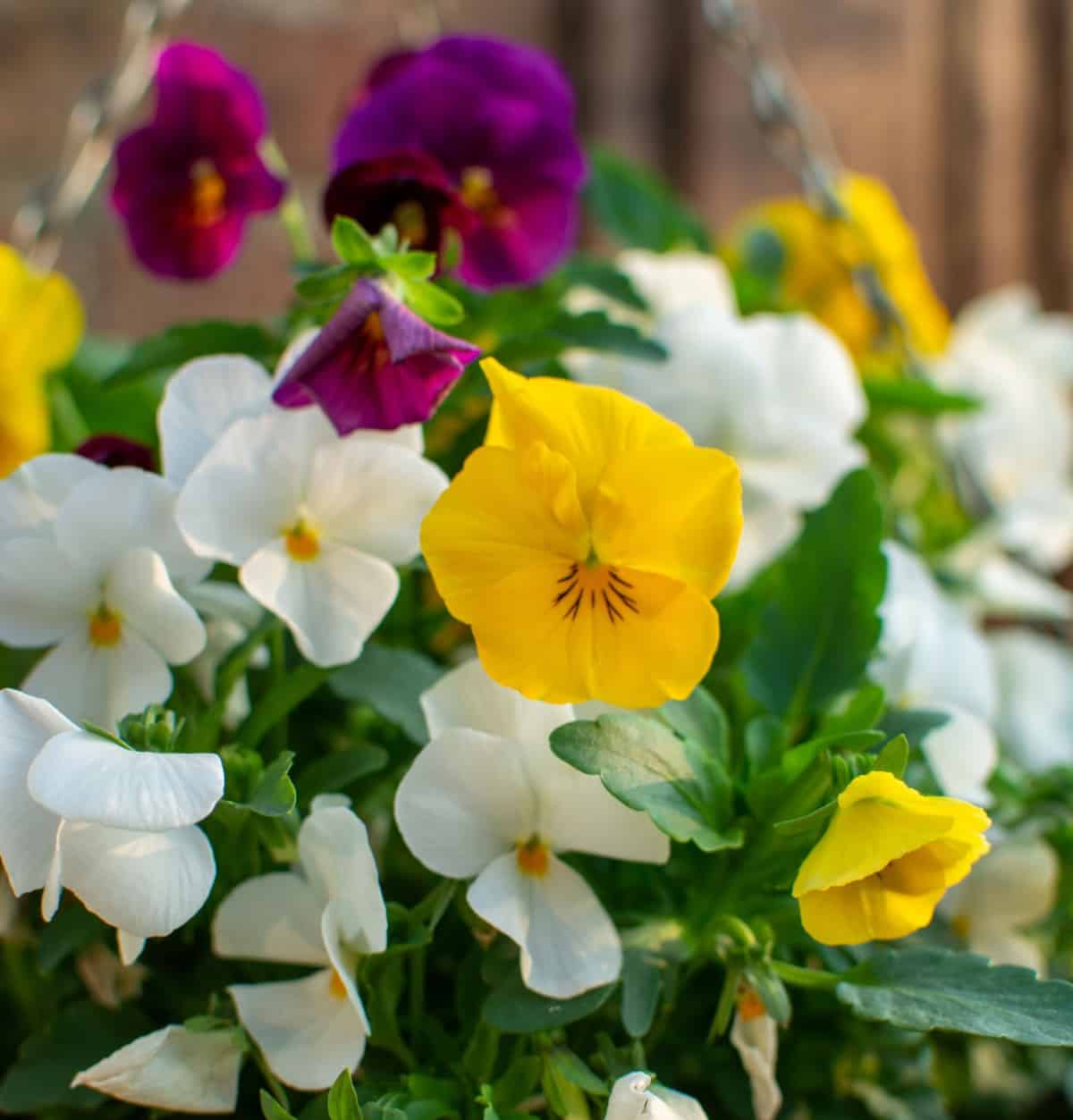 The garden pansy is a cool-weather flower that signals the beginning of spring with its patterned blooms of purple, blue, red, white, orange, and pink flowers. Pansies form a stunning mound of color and striking contrast in a hanging container.
These flowers are both annual and perennial and tend to grow back from seed in areas you'd least expect them. Pansies enjoy part to full sun and grow to a height of 12 inches. These fragrant flowers bloom from spring through summer.
Ivy (Hedera)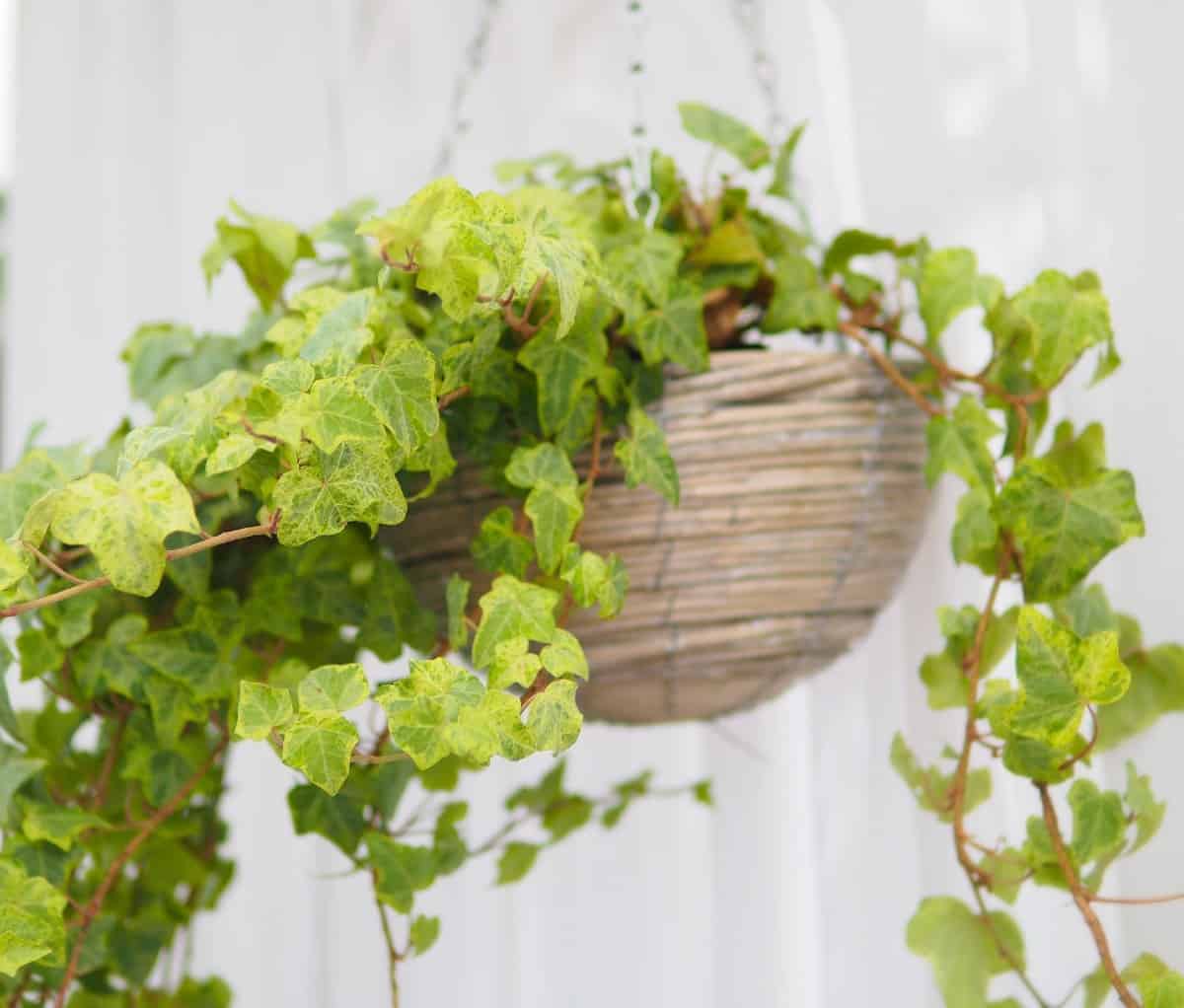 Ivy is a great plant to grow from a hanging basket with its colorful green foliage and vining tendency. Various types of ivy produce different shades of green and variegated leaves. Fill an entire basket with ivy or place it with upright flowers to create a mixed garden that drapes beautifully wherever you put it.
Some good choices for outdoor hanging plants are English ivy, Algerian ivy, and Nepal ivy. Most types of ivy thrive in part sun and do not tolerate hot, direct sunlight. The water tolerant plants enjoy moist, fertile soil and produce vines that reach as long as 5 feet. Keep the vine trimmed if you don't want it to take over an area.
Petunias (Petunia) – Highly Fragrant Flowering Plant that Attracts Hummingbirds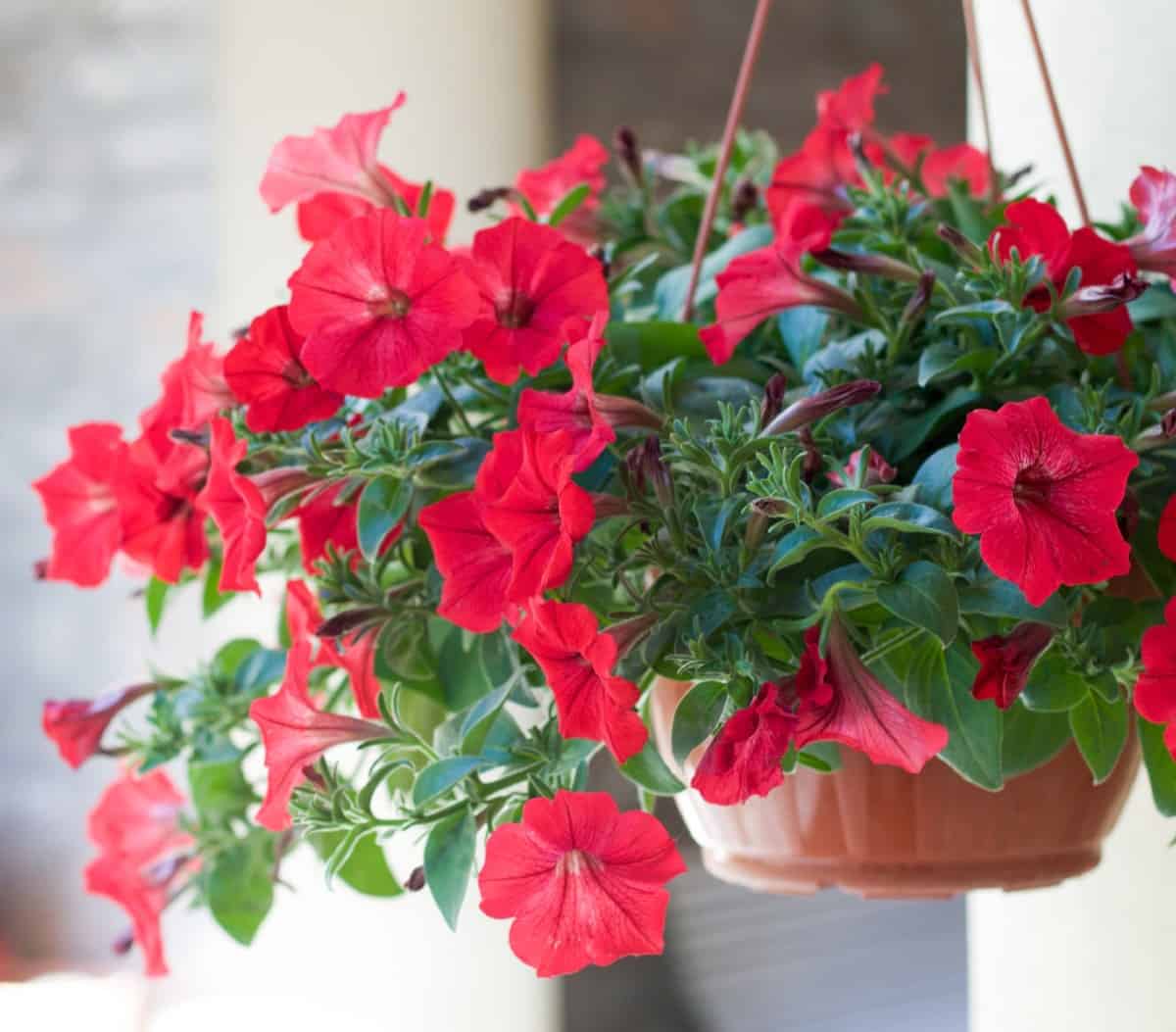 Petunias are a popular annual that adds bright color to the container with its shades of purple, blue, red, white, pink, and yellow blooms from spring through fall. This fragrant flower intensifies its heavenly scent in the evenings and is a great hanging flower to a place near windows or a patio.
The average variety of petunia reaches a height of 1 to 3 feet and thrives in full sun. This highly fragrant plant is deer resistant, easy to maintain, and attracts hummingbirds. As a bonus, the petunia is one of the plants that flies hate so keeping a few petunias around your deck or patio will yield fewer flying pests.
Blue Lobelia (Lobelia erinus)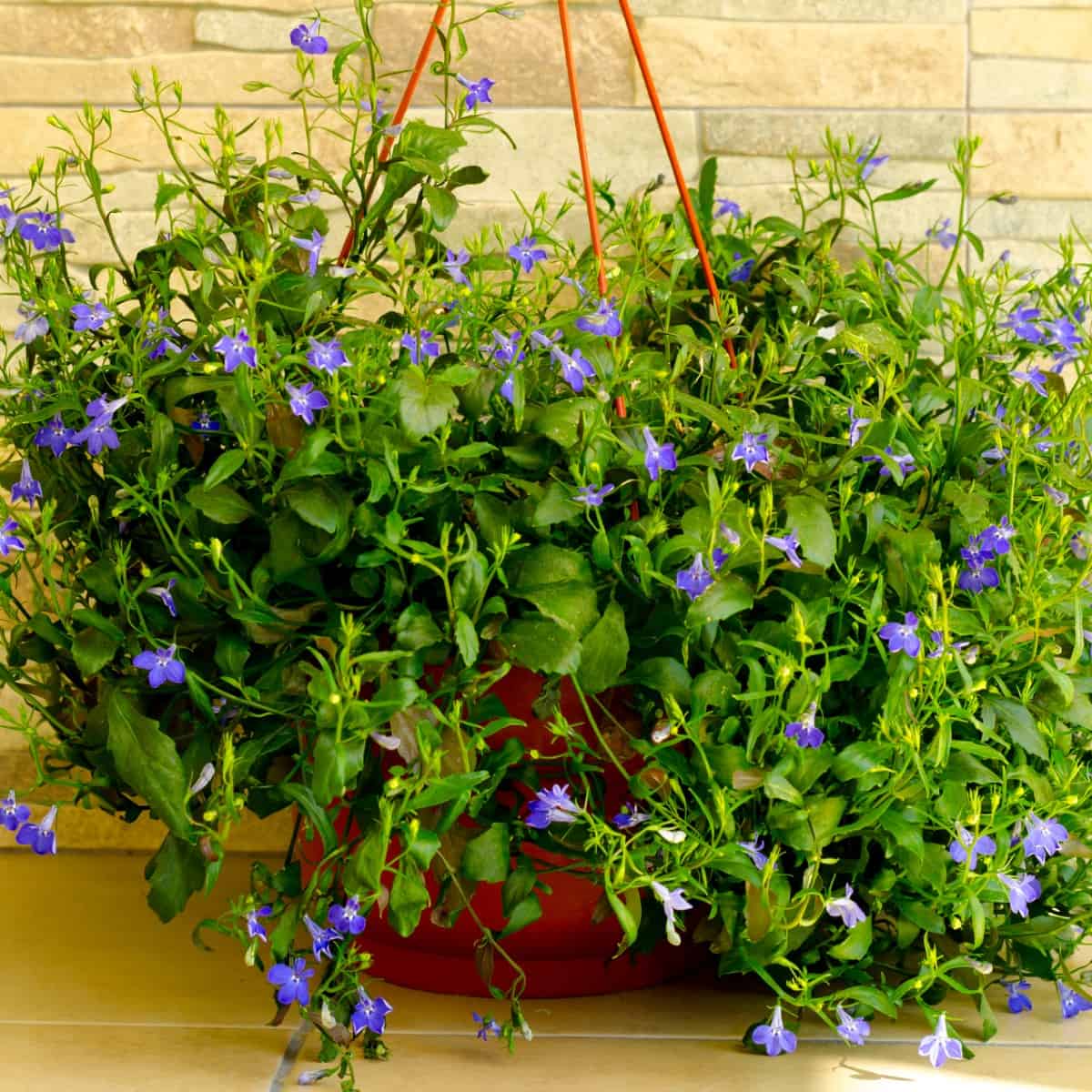 Blue lobelia is a mounding type plant with profuse blooms in rich shades of blue that cascade from a basket like a flowing waterfall. While it blooms from spring through fall in cool climates, it often stops flowering on hot summer days.
This low maintenance flower grows best in zones 2 through 11 and thrives in both shade and sun. Lobelia is grown as an annual and reaches a height and width of 12 inches. If it stops flowering due to heat, shear it back to promote more blooms.
Sweet Alyssum (Lobularia maritima) – Best Outdoor Hanging Plants with Fragrant Spring Blooms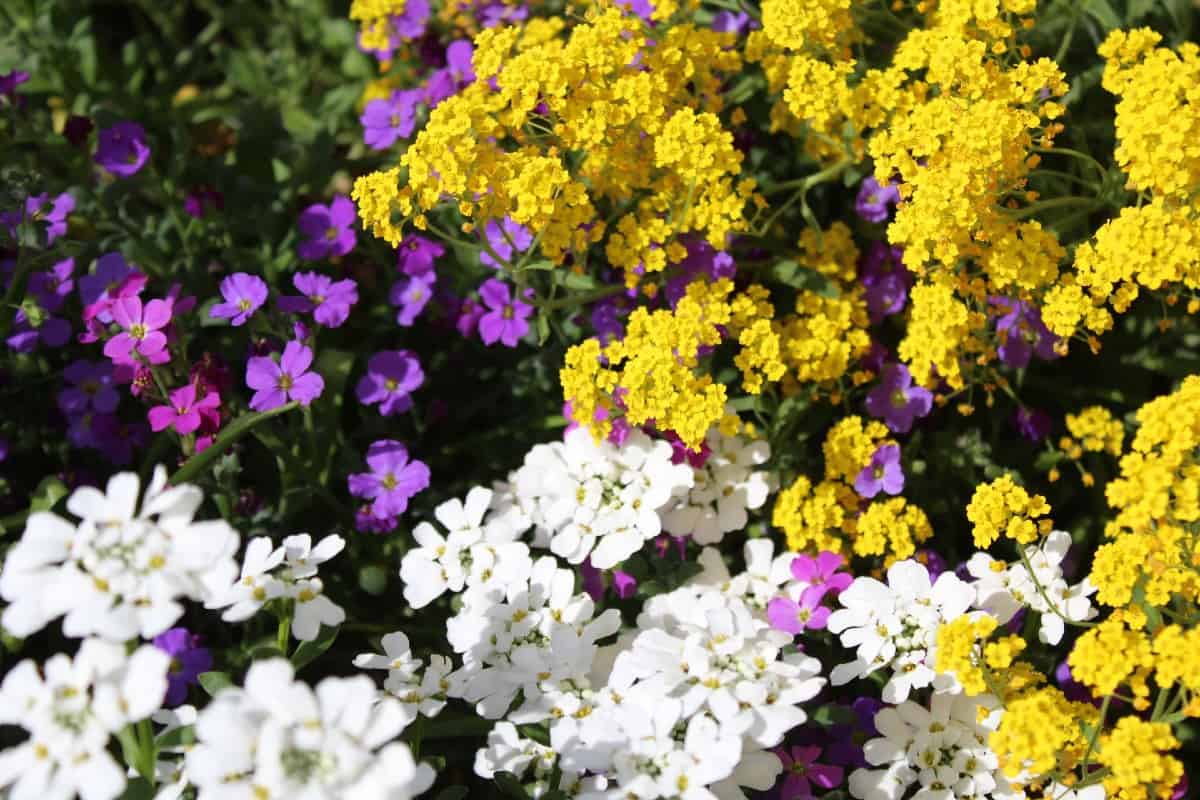 This cool-season annual flower produces an abundance of flowers during the mild days of spring. The plant creates dainty purple, white, and pink blossoms on mounds of blue/green foliage and produces a light, honey fragrance.
Sweet alyssum is a low maintenance flowering plant that prefers partial to full sun. As an excellent ground cover, this plant grows to a height of 6 to 12 inches tall and a width of up to 12 inches, depending on the growing conditions. These flowers are well known for attracting pollinators to the garden and are plants that smell nice to humans, too!
Nasturtium (Tropaeolum)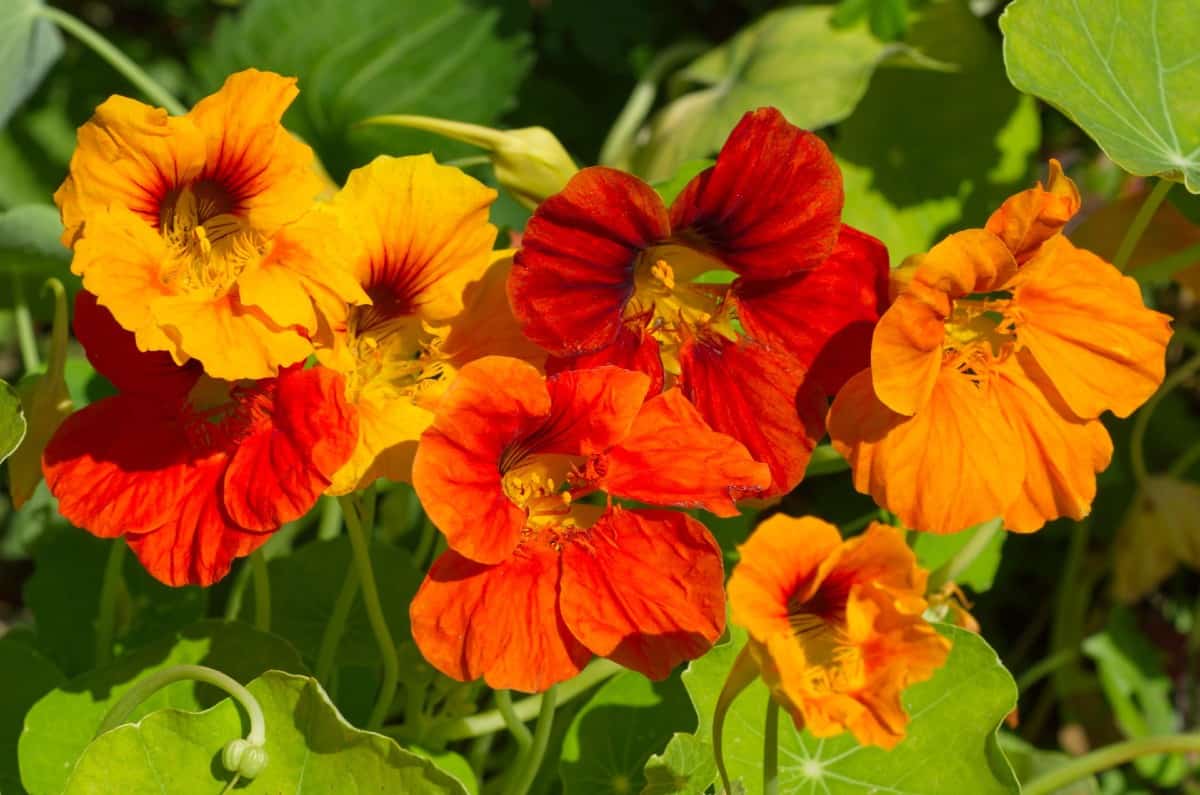 This whimsical flower is an excellent plant for a hanging container with its vividly-colored blossoms of orange, red, white, yellow, and pink and its gray/green variegated foliage. The leaves resemble water lily pads and provide a basket with a unique touch.
Nasturtium is a low maintenance flower that attracts birds to the garden and prefers sunny locations. This plant grows to a height of 1 to 3 feet and a width of up to 18 inches. It is low maintenance, drought-tolerant, and deer resistant.
Million Bells (Calibrachoa) – Flowering Plant with an Abundance of Cascading Flowers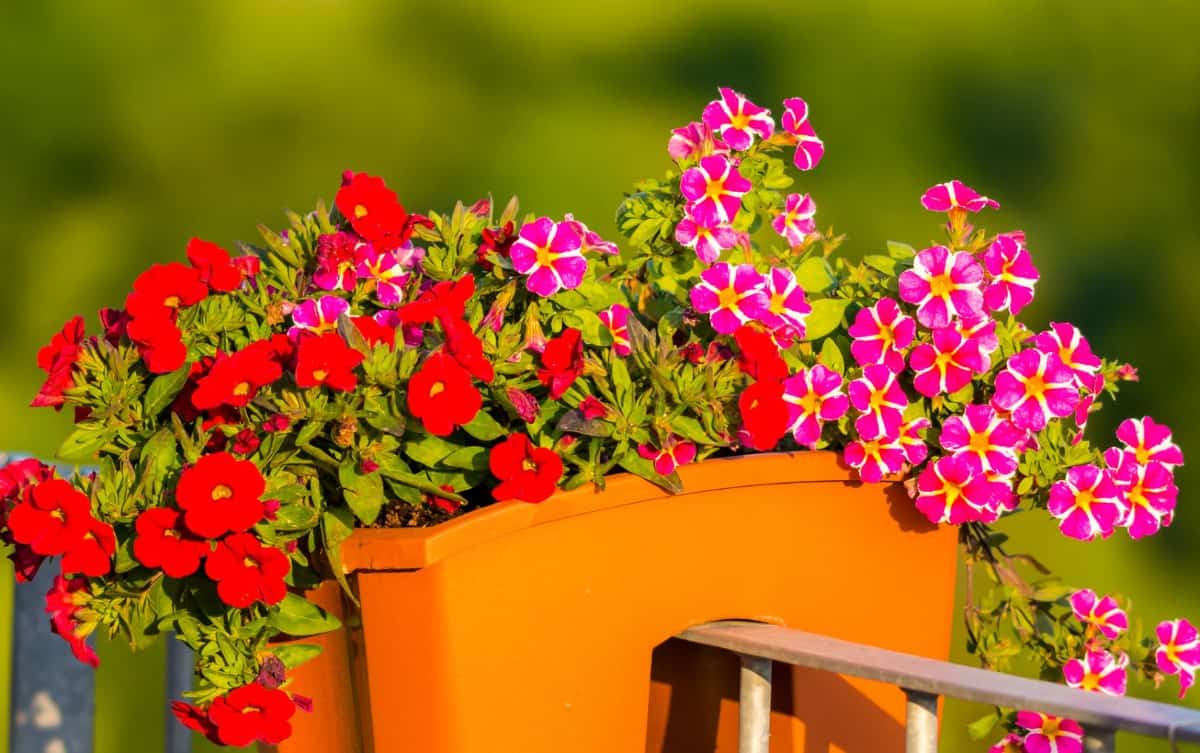 This plant is like tiny petunias on steroids with its colorful display of flowers that grow at a fast rate. It vigorously fills containers with cascading flowers in colors of blue, purple, red, orange, pink, white, and yellow and blooms from summer through fall.
Million bells is a recent newcomer to the plant world but is quickly becoming a favorite for container gardens. It is an annual flower that thrives in a sunny spot in the yard and reaches a height of 6 inches with a width of up to 14 inches.
Growing foliage plants and flowers outside in hanging baskets brings the garden up to eye level, where you can admire their fragrance and beauty. Not only that, but hanging containers make maintenance that much easier. No more bending over to weed, water, and feed your plants. A hanging planter is a gift for you to enjoy, along with hummingbirds and butterflies.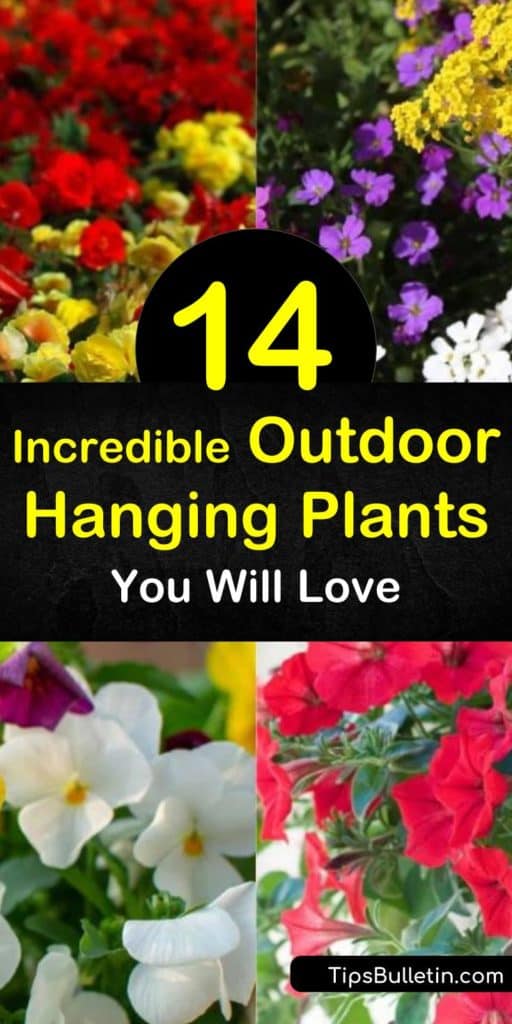 We hope you've enjoyed learning about the best outdoor hanging plants for summer-long enjoyment, and we'd love it if you'd share our gardening tips and list of plants to hang outdoors with your family on Facebook and Pinterest.