Why do we need to know the best way to clean a mattress? We need to know because it can get dirty. Urine, blood, and all sorts of bodily fluid can spill on it, making it uncomfortable to sleep on.
We certainly don't want to sleep on a stained mattress, as there can also be a forest of microorganisms in there. Can you guess how many dust mites there are? Over a million!
Dust mites aren't the only things living in your bed, as there are millions of microbes swarming under the sheets, too.These are just a few reasons we have to clean the mattress regularly. Never fear, though, we have many tips for how to clean a mattress. Get your household recipes ready.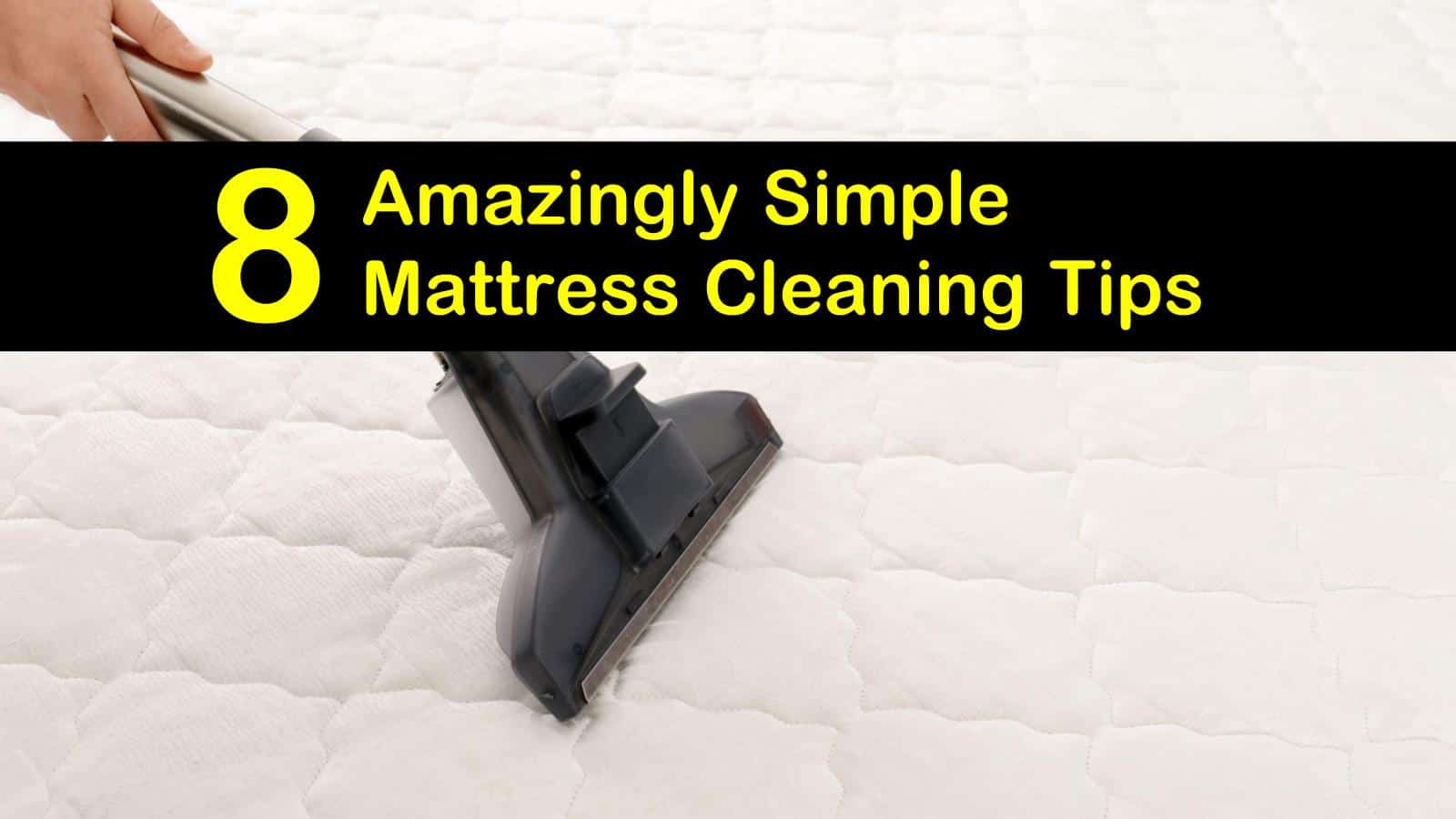 Choose the Best Way to Clean a Mattress from this List of Tips
Whether you have stains from bodily fluids, need to get rid of old, dead skin, or need to clean mold from mattress, we have a few tricks that make the process easier. Be prepared to spend a little time to do the job right and your mattress will look and smell like new.
Find your preferred way of cleaning a mattress from these suggestions or take care of the job by steam cleaning bed mattresses to get them back to like-new condition. You may discover that you like two or three of our options and rotate between them when your mattress needs washing.
An Easy Way to Clean a Mattress is with Sunshine
If you didn't know that sunshine can kill bacteria, this article tells you why and how.We can put the mattress outside on a warm sunny day. The sun itself produces enough light to sterilize your mattress.
At the same time, you will be airing it out and exposing it to other natural cleaners, including the mattress topper. Unfortunately, since the earth's atmosphere absorbs much of the radiation, we need to leave it outside for several hours for maximum effectiveness.
Another Simple Method of Cleaning a Mattress of Dust Mites
Getting rid of the dust mites in your bed entirely means you'll have to put it outside on a cold and sunny day. Take the bed sheets off and throw them in the washer first. The dust mites love the warmth of your house and do not like the cold very much.
The dust mites in your bed should mostly dry up in exposure to the cool air. Then vacuum it when you bring the mattress back in. As a bonus, you will vacuum up the dead skin cells that the mites eat. If you have a pillow top mattress, use extra care when moving.
Cleaning Dried Blood Stains is Easy with Hydrogen Peroxide
A mattress stained with blood is quite common. An easy way to clean a mattress is with hydrogen peroxide. It'll lift and remove all the dried particles. Use this simple solution for how to get blood out of a mattress and leave no lingering stain behind.
Mix the ingredients in a small bowl and give it time to react thoroughly, usually just a minute or two. Rub the solution gently into the bloodstain. This time, give it 15 minutes to react with the dried blood.
Once that's done, scrape it off with a blunt tool. Don't use a rag or cloth, as that could rub the blood back into the mattress. Let your mattress air dry before you sleep on it again.If that doesn't work, check out this information on how to clean a mattress.
A Vacuum is the Best Way to Get Stains Out of Mattress
Most of us have a vacuum in the house and baking soda in the pantry. That's great news because you will need both for this tip. Take your favorite type of baking soda, orange or lavender scented if you prefer, and sprinkle it on your mattress.
Remember to remove the sheets or mattress protector first, as you want to make sure the baking soda contacts the mattress. The baking soda absorbs water, and it is mildly alkali, so the microorganisms in your bed do not like it.
After you wait an hour or so, take your vacuum and suck up the baking soda off the entire surface of the bed. The dead microorganisms will be sucked up with it. This is a great way to control dust mites. As a bonus, now it should smell like a new mattress.
Dish Soap is a Great Way to Clean a Mattress after Bedwetting
Our young children are going to wet the bed at some point. Luckily for us, urine stains are easy to clean off a mattress, even if it's a deep stain. But, before we look at cleaning an air mattress, we have to clean up the liquid.
A towel or cloth should be the right solution to sop up the excess. To clean up the rest of the urine, you will need water and liquid soap to get the pee stain out of a mattress. And, the ingredients are right in your kitchen cabinet.
Once you have mixed this solution, pour it in a spray bottle. Now thoroughly spray the stained area, and use a rag to wipe it up. Wait one minute before you wipe.
You might need to do this once or twice to clean it thoroughly. If it needs deep cleaning, perhaps upholstery shampoo would help.
Use Vinegar and Warm Water to Clean a Mattress after Bedwetting
Use a towel or napkins to clean up the moisture first. After that, follow our ways to clean a mattress after bed wetting with this easy vinegar recipe.
Put the solution in a spray bottle and spritz the affected area. Once done, wipe up the remaining stain. Now you should be 100% clean. One of the other benefits of vinegar is that it should combat the smell. This is what you need to know about how to clean a mattress after bedwetting.
Cleaning a Mattress of Vomit
Ammonia is an excellent cleaner. It works very well to clean up organic fats and other bodily fluids. If you use this recipe, the vomit will quickly come off a mattress.
First, use a tool to scrape up the vomit off the top of the mattress. After that's all safely in the garbage, mix the recipe in a convenient bowl, and grab a cloth. Blot up the liquid and cleanse it at the same time. After a few repetitions, you should have a clean mattress once again.
Preventing Future Accidents
The best way to avoid future stains is to use a mattress protector. You can buy them at most mattress stores, and it'll not only prevent stains but elongate the life of your mattress. You can get five or ten more years out of your bed this way. Plus, you won't have to remove stains.
Keeping the mattress dry also deters the build up of any microorganisms. They love damp and wet areas.
To make sure you get those extra ten years, you will have to get rid of your bed bugs if that is a problem. There are many home remedies to get rid of bed bugs permanently.
What Can You Do with an Old Mattress?
If you're tired of cleaning up stains and your mattress has gotten a little saggy, consider donating old mattresses. Several organizations will take your used mattress as long as it is stain-free and clean. If your mattress seems to be ready for the dump heap, you may also be able to recycle it. Contact your county waste management center for more information.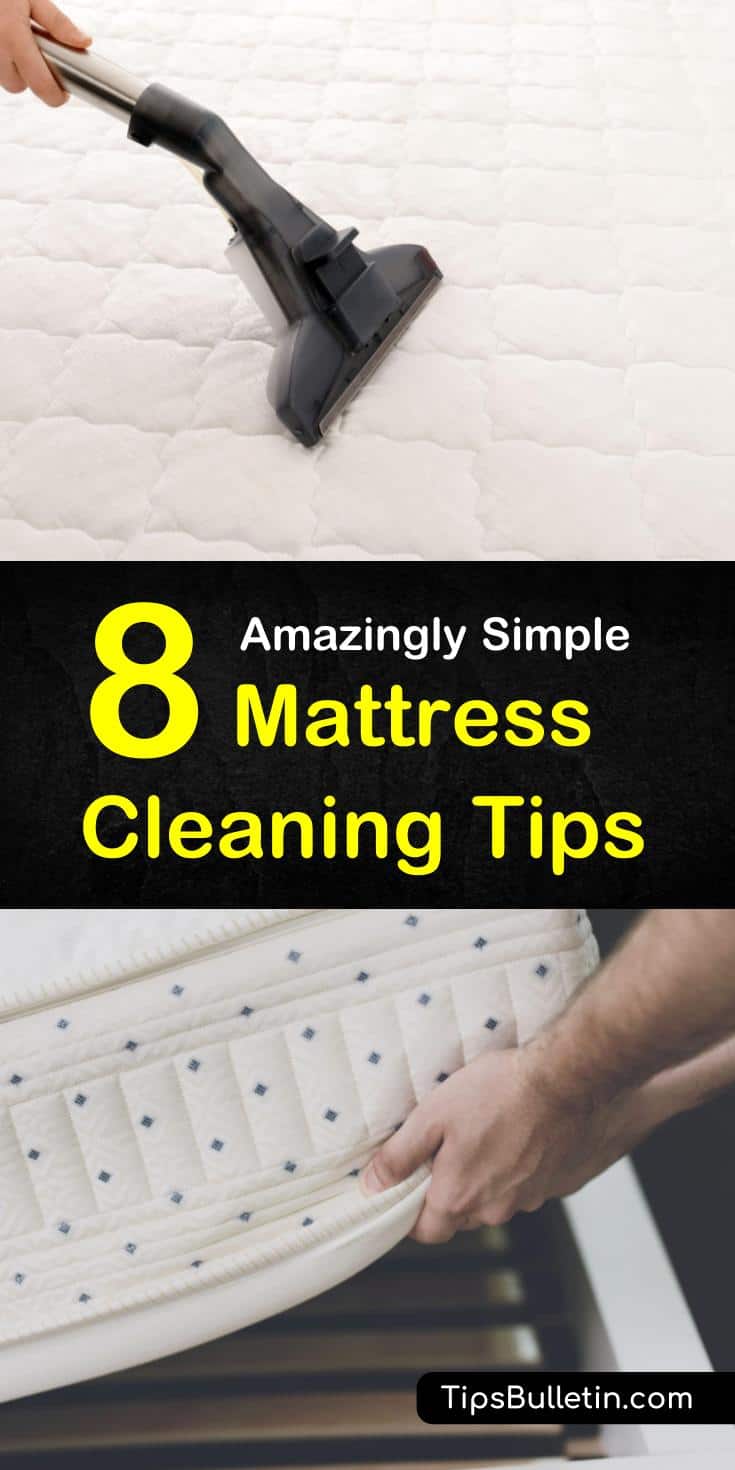 If this list we compiled was the best way to clean a mattress for your needs, please share it on Pinterest with someone else who might need the help.