Did you know that there are over 400 different berry species globally, ranging in color, taste, texture, and size? Some are more popular, like the strawberry, raspberry, and blueberry, but others, like the lingonberry, cloudberry, and bilberry, are uncommon. This is often confusing since some of them look the same. Learn the differences between a bilberry vs blueberry fruit and plant, their nutritional benefits, and ways to use them in your favorite recipes.
Most of us are familiar with blueberries since they are readily available at grocery stores. They are small, round, and plump, and their blue color makes them easy to spot among the other berries in the produce section.
If you've never seen a bilberry or huckleberry, you might have difficulties telling the difference between them and a blueberry since they look very similar.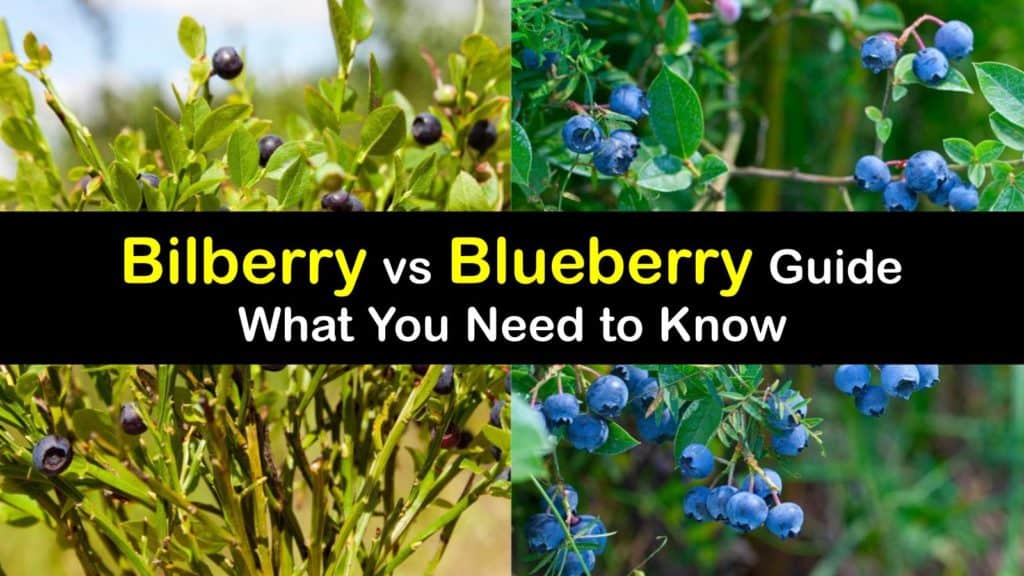 Differences and Similarities of Bilberries and Blueberries
At first look, both berries are purple/blue, so it's easy to mistake one for the other. However, closer inspection tells you a different story, and it's important to understand how these berries differ from each other if you plan on growing them in your garden or using them for making preserves.
While both are a good addition to your diet, their nutritional values and antioxidant properties vary.
Are bilberries the same as blueberries? This question is common, and it's easy to see why. Their outward appearance is strikingly similar with their shape and dark blue skin.
While they are closely related cousins, these berries are actually quite different, and popping one in your mouth is usually all you need to tell them apart.
How different are they when it comes to flavor and nutrition? Discover the difference between bilberry and blueberry fruits, their taste and appearance, their varying health benefits, and how the plants differ to help you choose the right one for growing in your area.
Are Bilberries the Same as Blueberries?
What are bilberries, and are bilberries the same as blueberries? While there are a few similarities, these two berries are quite differentin their overall appearance, and bilberries are not the same as North American blueberries.
Find out what they look like, inside and out, their texture and flavor, so you pick the perfect berry.
Bilberries and blueberries look similar on the outside with their shape and dark blue color. However, if you slice them in half or bite into one, the flesh is not the same.
Bilberries are red on the inside, while blueberries are green. Bilberry or whortleberry fruit also has a stronger flavor that is mildly sweet, fruity, and tangy. Bilberries have a high content of anthocyanins which causes the interior and taste to differ.
Difference between Bilberry and Blueberry Plants
It's hard to tell the difference between a basket of ripe bilberries and blueberries, but what about the plants?
Learn about the difference between bilberry and blueberry plants and their growing habits to help you differentiate between them in the wild and decide which one is ideal for growing in your region.
Both berries are members of the Ericaceae family and grow on shrubs, but one is much larger than the other at maturity, whether you are planting blueberries in pots or the ground.
After you learn when to plant blueberries and care for them properly, blueberry shrubs grow 1 to 12 feet tall when mature with a 2 to 10-foot spread, depending on whether it is a lowbush or highbush blueberry. Bilberry bushes grow in low mats with branches that are only 6 to 24-inches in length.
Both bilberry and blueberry plants love growing in acidic soil and thrive in full sun. Bilberries are hardy in zones 3 through 8, and blueberries grow anywhere from hardiness zone 3 through 7, depending on the type.
Wild blueberries are native to Maine and Canada. Wild bilberry plants, sometimes called European bilberries, are native to northern Europe but grow in other areas, including North America, Finland, and Asia.
There are different cultivars of both berries, including the European blueberry, American blueberry, and Nordic bilberry. They also have varying times when they are ripe for picking.
Blueberry fruits are ready to harvest from early June through early August, and bilberries are ripe from August through September. Grow blueberries or bilberries if you desire a long berry-picking season.
To encourage more fruiting, learning when to prune blueberry bushes is important. Pruning should take place in late winter or early spring. Take off all dead branches.
Nutritional Values of Bilberry vs Blueberry
What are blueberries, and are they as healthy as bilberries? Blueberries are a small and round berry that is a popular superfood and common in everything from blueberry muffins to pancakes.
Their nutritional values differ from bilberries, and some of their differences may surprise you.
Both of these berries are considered superfoods, but one is more beneficial than the other. Blueberry fruits are a good source of antioxidants, but the bilberry has an antioxidant level four times greater.
This is due to the high levels of anthocyanins (delphinidin, cyanide, and peonidin) within bilberries, while blueberries contain only one subtype of anthocyanidin, malvidin.
Anthocyanosides are part of a class of flavonoids, which are phenolic compounds that are responsible for the red, blue, and purple color in the berries.
They may help fight free radicals, reduce oxidative stress, lower the risk of heart disease, and act as an anti-inflammatory.
Bilberries are also more nutrient-dense than blueberries and have higher levels of vitamin C and vitamin E, manganese, and potassium. They have a reputation for improving night vision, especially when using bilberry extract.
Using Bilberries and Blueberries in Recipes
Bilberries and blueberries are interchangeable in various dishes, and there are times when combining both berries gives you tasty results. If you have an abundance of either berry, freezing is an excellent way to preserve them. Freeze fresh blueberries or bilberries to use later.
One of our favorite ways to bring these berries together is to make bilberry and blueberry muffins. This recipe gives you eight large, steaming muffins with a cinnamon crumb topping that is simply irresistible.
Preheat your oven to 400°F, gather your ingredients, and line a muffin pan with liners. Mix the salt, baking powder, a half cup of sugar, and one and a half cups of flour in a mixing bowl.
Add the egg, milk, and vegetable oil, stir the ingredients until blended, and gently fold in the fresh bilberries and blueberries.
Frozen bilberries and blueberries are fine, but fresh berries are tastier. Pour the mix into the muffin cups to the top and set the pan to the side.
Combine the butter, cinnamon, a third cup of flour, and half a cup of sugar in another bowl and use a fork to mix the crumbly topping. Use your hands to sprinkle the topping over the muffins to coat them, place the pan into the oven, and bake for 20 to 25 minutes.
The bright color of blueberries and bilberries also can cause staining. Removing blueberry stains quickly is your best chance of eliminating the problem.
Edible berries are nature's candy, whether you gather yours from the grocery store, in the wild, or your backyard garden, and some of them are healthier than others.
While bilberries contain more antioxidants than blueberries, they are both delicious and perfect for making preserves or baking in pies.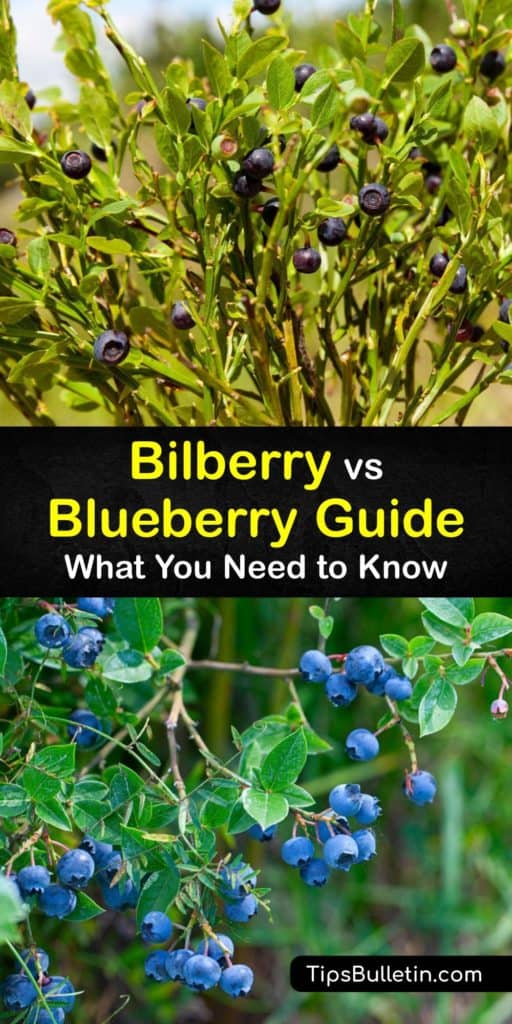 Understanding the differences between bilberry vs blueberry fruits goes a long way when incorporating them into your diet, so why not share our bilberry and blueberry guide with your social circle on Pinterest and Facebook?