There are so many types of beans, from navy beans, soybeans, kidney beans, and great northern beans to red beans, that it's often confusing which ones to use for a recipe. We summarize the differences between black beans vs pinto beans and discuss their flavor, nutritional value, and health benefits.
So how do black beans and pinto beans differ, and which one is healthiest? Legumes are a class of veggies that include black, pinto, garbanzo, and white bean. On the other hand, lentils, such as chickpeas, are mini-sized legumes. They are all highly nutritious and packed with vitamins and minerals to fight heart disease and maintain blood sugar and cholesterol.
With all the benefits of dried beans, it's no wonder they are used in everything from soup and stew to tacos, refried beans, and other Mexican dishes. But, which bean is better for you, and are pinto and black beans interchangeable in recipes?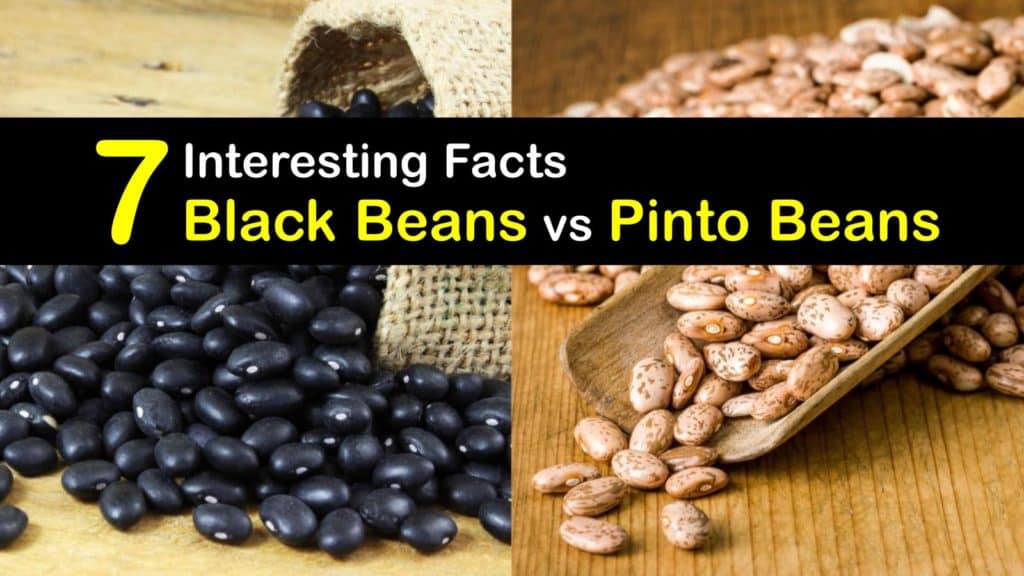 Nutrition, Flavor, Appearance, and Uses for Black and Pinto Beans
There are so many varieties of beans that learning the differences is sometimes challenging. Black beans and pinto beans are both delicious and wholesome, whether you enjoy a chipotle bean burrito or a steaming bowl of baked beans.
But, how are they different? We discuss the varying qualities of these dry beans, their substitutions, and how to incorporate them into a recipe.
Flavor and Color Difference between Black and Pinto Beans
While both pinto and black beans are similar in shape, they differ in size and taste. So, what is the difference between black and pinto beans when it comes to flavor and color?
Pinto beans are brown and caramel-colored with speckles, and cooking them removes some of their pigmentation. They have a light and nutty texture, are more susceptible to moisture, and become slightly mushy when cooked.
On the other hand, black beans are dense and hardy beans with a robust texture and rich flavor. They are small in size and black with a light, cream-colored center. These sturdy beans retain their structure and do not lose any of their color while cooking.
Nutritional Value of Pinto Beans vs Black Beans
While all beans are a nutritious addition to your diet, some beans have more vitamins and minerals than others. Here is the nutritional value of pinto beans vs black beans and their benefits to your well-being.
Per cup, black beans have slightly more protein, fiber, and antioxidants and fewer carbs and starch than pinto beans. Both beans contain iron, magnesium, manganese, thiamine (vitamin B1), phosphorus, antioxidants, B vitamins, and folate.
Pinto beans contain 42 calories per tablespoon and have 8 grams of carbs, 1.9 grams of dietary fiber, 167 milligrams of potassium, and 2.6 grams of protein.
Black beans have 41 calories per tablespoon and 2.61 grams of protein, 7.55 grams of carbohydrates, 15 milligrams of calcium, and 179 milligrams of potassium.
Black Beans vs Pinto Beans for Cooking
We don't often think much about the beans we buy when purchasing canned beans from the grocery store, but what exactly are black beans and pinto beans, and which recipes are they tasty in?
The pinto bean originates from Peru, while black beans originate from South America. Both beans are versatile and useful in a variety of dishes.
The texture of pinto beans makes them ideal for bean dip, refried bean recipes, tacos, quesadillas, and burritos.
Black beans are a staple ingredient in Cajun, Creole, and Caribbean dishes. They keep their form and texture during the cooking process, making them an ideal choice for soups, gumbo, chili, and stews.
Best Way to Store Dry Black or Pinto Beans
Once you understand the difference between black and pinto beans and how to incorporate them into meals, it's an excellent idea to know the proper way to keep them long-term. Here is how to store beans to keep them fresh.
If you store your beans in the original packaging, they are safe to eat by the expiration date or up to one year. The best way to store all dry beans long-term is to keep them in a cool and dark place where the temperature is roughly 70°F.
The beans last up to three years if you transfer them from the plastic bag to an airtight storage container.
If you are unsure if your package beans are still edible, use your senses. Spoiled pinto or black beans have a rancid smell, a color change, and grow visible signs of mold.
Which Beans are a Good Substitute for Black Beans?
There are many reasons to find a substitute for black beans, whether you run out of them or can't stand their taste. Fortunately, several replacements for black beans work wonderfully in most recipes.
The best substitute for black beans is chickpeas. These are high in fiber and protein, and cooking them is not a problem.
Another great choice is kidney beans since they are dark in color and cook the same way as black beans. If you want to avoid beans altogether, try lentils or nuts.
Are there Substitutes for Pinto Beans?
Luckily, some beans work well in a pinch when needing to substitute pinto beans. While they don't have the same color as pintos, these beans taste delicious and are an ideal replacement.
If the color doesn't matter, black beans are a great substitute for pinto beans, although navy beans have a texture similar to pintos with a mild, creamy flavor.
Borlotti beans are also a good choice since they are medium-sized and speckled like pinto beans. Red, kidney, and white beans also work well as an alternative.
Combining Beans to Make a Homemade Bean Soup
Knowing the nutritional value of pinto beans vs black beans goes a long way to deciding which bean is your favorite. Why not combine the benefits of both beans by making bean soup? This recipe is simple to make with a cooking time of only 25-minutes.
Pour olive oil into a stockpot over medium heat and saute the garlic and onion for five minutes. Add zucchini, corn, peppers, and spices and cook for ten minutes or until the veggies are soft.
Pour in the broth and add the beans, chilies, and tomatoes and bring the soup to a boil. Cover the pot and cook it for about ten minutes and serve immediately.
What's not to love about beans? They provide you with dietary fiber and an array of vitamins and minerals necessary for good health. The varying flavor and color of beans make them versatile for use in many recipes.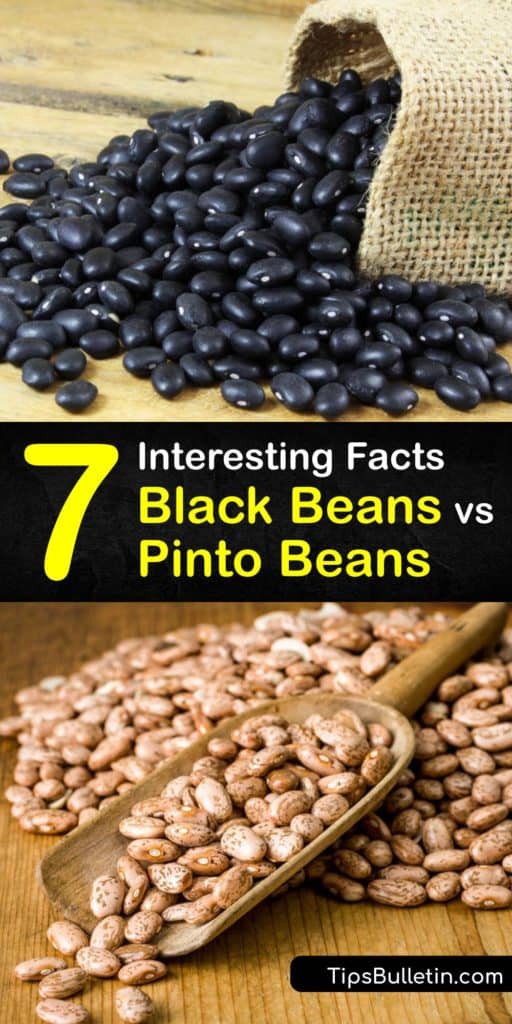 We hope that you enjoyed learning the differences between black beans vs pinto beans, and we'd love it if you'd share our black and pinto bean guide with your circle of friends and family on Pinterest and Facebook.