Tomatoes are one of the favorite plants of home gardeners, and no wonder. Under ideal circumstances, homegrown tomatoes are big, red, juicy, and flavorful. However, if you've ever tried growing tomatoes at home, there's a good chance you've encountered wilting plants or black spots on tomato leaves.
Although tomatoes are relatively easy to grow, they have their share of pests and diseases. Diseases like anthracnose and blossom end rot affect the fruits. Pesky insects like aphids and whiteflies are also known to cause problems on tomatoes.
Have you ever asked yourself, "What causes black spots on tomato leaves?" The cause is often a fungus, although it may also be a bacterium or virus. These diseases spread via seeds, the soil, insects, gardening tools, drops of water, and more. The symptoms vary but might include dark-brown spots, yellowing leaves, wilting, and leaf loss. You may also find rotting fruits or stems.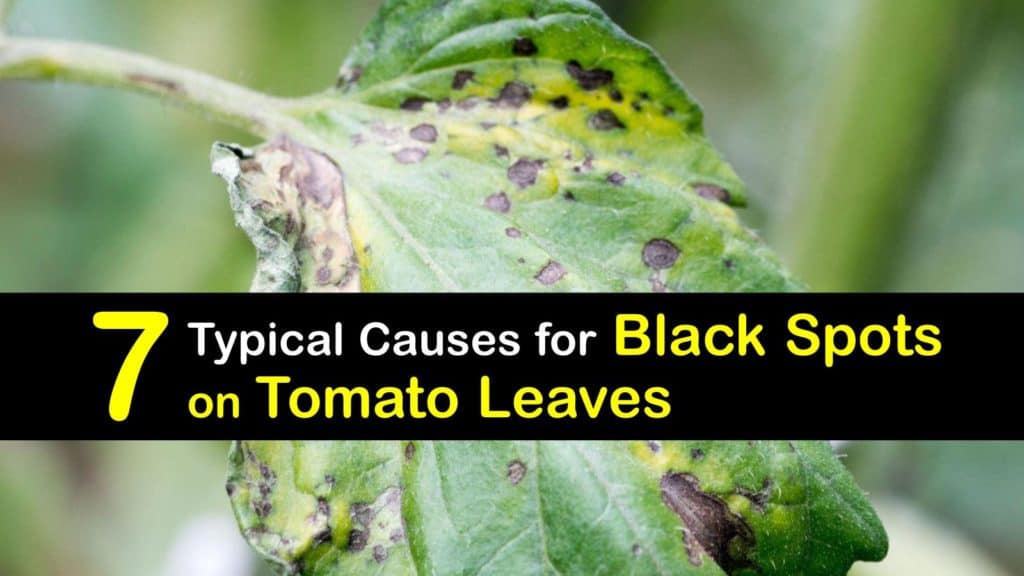 Reasons for Tomato Leaves Turning Black
Like most plants, a variety of diseases and pests must be dealt with to ensure the health of your tomatoes. Getting rid of insects, as well as bacteria and viruses, ensures that you end up with a good harvest.
The reason for tomato plants leaves curling and turning black often involves the weather or plant care approach. You may not prevent rain, but you can modify how you look after your tomato plants.
Early Blight: A Common Cause of Black Spots on Tomato Leaves
The Alternaria solani fungus often strikes in humid or rainy conditions. Watch for dark spots on older leaves, often with a bull's-eye appearance.
What causes yellow leaves on tomato plants? This fungus leads the leaves to eventually go yellow and fall off, exposing the fruits to sunscald. Diseased plants may also develop dark lesions on their stems and dark-brown blotches with concentric rings on their fruits.
This fungal disease overwinters in plant debris, seeds, and soil. Remove weeds and destroy diseased plant material. To prevent early blight, also space plants well and water near the base of the plants.
Apply mulch, maintain an adequate potassium level in the soil, and side-dress monthly with calcium nitrate.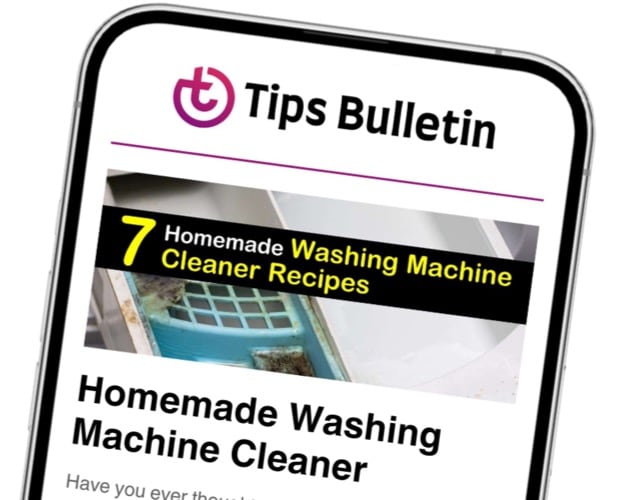 Finally, an email that Transforms Your Home.
Get the latest home and garden tips from our experts, delivered straight to your inbox.
Practice crop rotation to avoid planting tomatoes, eggplants, or peppers in the same place every year. Consider planting resistant cultivars and spraying a fungicide containing copper, sulfur, or chlorothalonil.
Another Reason for Tomato Plant Leaves Turning Black and Curling: Late Blight
Caused by Phytophthora infestans, late blight develops rapidly in cool, moist conditions. Infected leaves display greasy-looking, dark-brown spots, potentially with a pale-yellow or green halo or ring of white mold.
Eventually, the leaves shrivel and die. You may also notice stem lesions, a decaying smell, and leathery rotting on the fruits.
Take similar control measures as for early blight. Rotate crops, ensure adequate plant spacing, and avoid overhead watering, especially in the evening. Plant resistant tomato varieties and, for severe cases, apply a fungicide with chlorothalonil.
Late blight can overwinter in soil and plant debris, including from potatoes. Remove and destroy diseased plants.
Septoria Leaf Spot on Tomato Plants
When the Septoria lycopersici fungus strikes, lower leaves develop dark spots with tan or gray centers, potentially with black dots in the middle. The spots acquire yellow halos.
Eventually, the whole leaf turns yellow, wilts, and falls off. Fungal spores from infected leaves splash onto upper leaves. Mulching helps prevent water from splashing.
Keep the leaves dry by using drip irrigation and promoting air circulation with staking and plant spacing. Septoria spreads via insects, people, and gardening tools. Use an insecticide for tomato plants and wash your hands and pruners before handling healthy plants.
This disease overwinters on tomato plant debris and weeds and in the soil. To protect your plants, plant in a different location every year, pick off infected leaves, and dispose of plant debris in the fall.
Look for disease-free seeds and, if necessary, spray a fungicide containing copper or chlorothalonil.
Fusarium Wilt: Tomato Leaves Turning Black
The fungus Fusarium oxysporum f.sp. lycopersici enters damaged roots, blocking the tubes that transport water and some nutrients. Wilting begins near the top of the plant and may appear to improve at night. Eventually, the entire plant is affected.
The tomato leaves turn yellow and start dropping off. Fusarium wilt thrives in warm, dry weather and acidic soil. Raise the soil's pH by adding lime.
As with other tomato diseases, look for disease-resistant varieties and rotate crops. Fusarium wilt survives in soil, seeds, seedlings, and garden equipment, so be sure to clean and disinfect tools. To protect the plants' roots, do not use a hoe or cultivator around them.
Tomato Leaves Turning Black Due to Verticillium Wilt
The fungus Verticillium albo-atrum lives in the soil and enters via the plant's roots, blocking the flow of water and nutrients. The disease first affects lower leaves then travels upward. The leaf splotches start yellow, become brown leaves on tomato plants, and the leaves fall off.
The plant becomes stunted with smaller fruits. The pathogen responsible for Verticillium wilt survives for many years in the soil and also lives on weeds.
Follow the same preventative measures as Fusarium wilt, including rotating crops, selecting resistant varieties, and removing and destroying affected plants. Note that heirloom varieties often suffer from wilt diseases.
Cause of Tomato Plant Leaves Turning Black and Curling: Bacterial Diseases
Bacterial diseases lead to spots on tomato leaves, stems, and fruits.
Bacterial spot causes large spots. The leaf spots sometimes have a yellow halo, and their centers often dry out.
Bacterial speck causes tiny, dark spots—often with a yellow border—on leaves, stems, and fruits. With bacterial canker, tomato leaves develop black edges, often with a thin yellow lining.
The stems may display light-colored streaks or cankers, and the fruits may develop small spots with light-brown centers and greasy white halos.
The bacteria responsible for these diseases multiply in moist conditions and enter plants through openings in leaves and fruits. To protect your plants, avoid pruning or tying them, watering from overhead, and handling wet plants.
Disinfect gardening tools, rotate crops, and remove infected plants and plant debris. As always, look for disease-resistant varieties. If necessary, apply a copper pesticide.
Tomato Leaves Turning Black Due to Tomato Spotted Wilt Virus
Although stink bugs on tomatoes are annoying and must be handled, insects called thrips transmit tomato spotted wilt virus that causes stunting, leaf spots, and fruit discoloration. Young leaves develop bronze or dark-colored spots or purple veins, while upper leaves become twisted. The fruits may acquire yellow spots or never ripen fully.
Eliminate weeds and mow grass frequently to reduce thrips' habitat. To prevent tomato spotted wilt virus, spread mulch, remove affected plants, and clear away plant debris. Look for resistant cultivars.
How to Prevent Black Spots on Tomato Leaves
Plant disease-resistant and certified disease-free plants or seeds at the recommended time of year. Test the soil and add fertilizer if necessary, or lime or gypsum to increase calcium levels. Organic matter reduces tomato issues.
Plant members of the nightshade family—including tomatoes, potatoes, peppers, and eggplants—in the same soil at most once every three years.
Apply mulch to help retain water and prevent diseases from splashing up. Do not spread grass clippings treated with herbicide.
Water evenly throughout the growing season, using drip irrigation or a hose pointed at the plant's base. Give one inch of water per week, only watering when the soil is dry.
To help leaves dry quicker, increase air circulation. Space plants well, prune them, remove weeds, and consider employing stakes, cages, or a trellis.
Remove and destroy affected plants and wash hands and tools well. Apply fungicides only if necessary, following instructions carefully.
Note that there can be other problems that affect your tomatoes. Why do tomatoes turn black on the bottom? These tomatoes either have inconsistent watering issues or suffer from a calcium deficiency. It's usually an easy fix.
Tomatoes are a favorite plant for the home garden but often suffer from diseases. Although you may imagine plucking healthy, bright-red fruits off a vine, you're likely to come across tomato plant leaves turning black and curling.
Get to the bottom of black spots on tomato leaves to eliminate tomato diseases for long periods or even for good. Try preventative measures like planting disease-resistant varieties and rotating crops.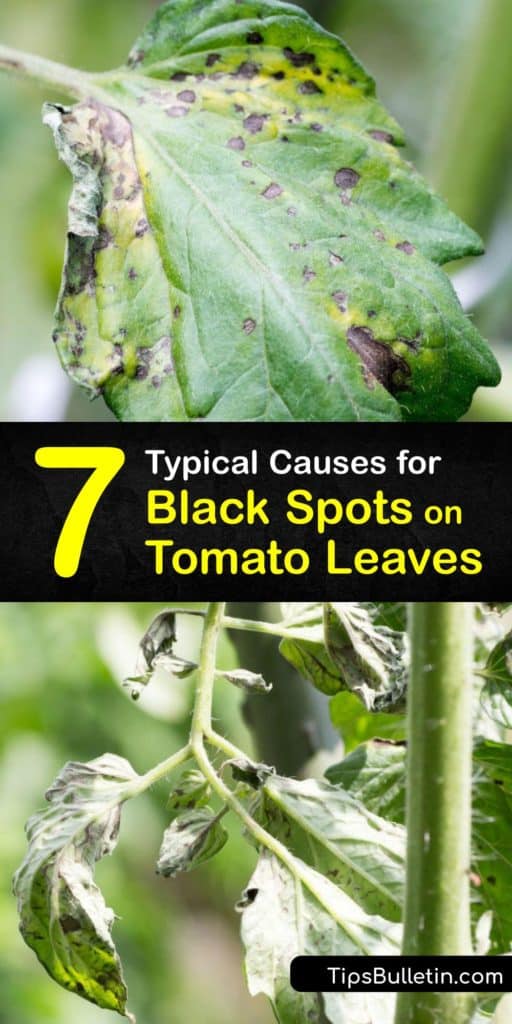 If you found this tomato disease information helpful, please share these vegetable gardening tips with your friends on Facebook and Pinterest.