Growing blueberries in your home garden is well worth the effort. By growing useful blueberry companion plants nearby, your blueberry bushes will stay healthy and productive for many years to come. As long as you provide their ideal growing conditions, you'll enjoy a fresh crop of delicious fruit every summer.
Companion planting is an advantageous garden design technique used in organic gardening and permaculture that takes advantage of certain plants' mutually beneficial qualities. Companion planting blueberries with compatible herbs, flowers, and shrubs creates a healthy, sustainable garden ecosystem.
Some plants attract beneficial insects like pollinators and predators, while others repel common garden pests. In addition, specific plant pairings reportedly support each other's growth and produce better-tasting fruit when grown nearby.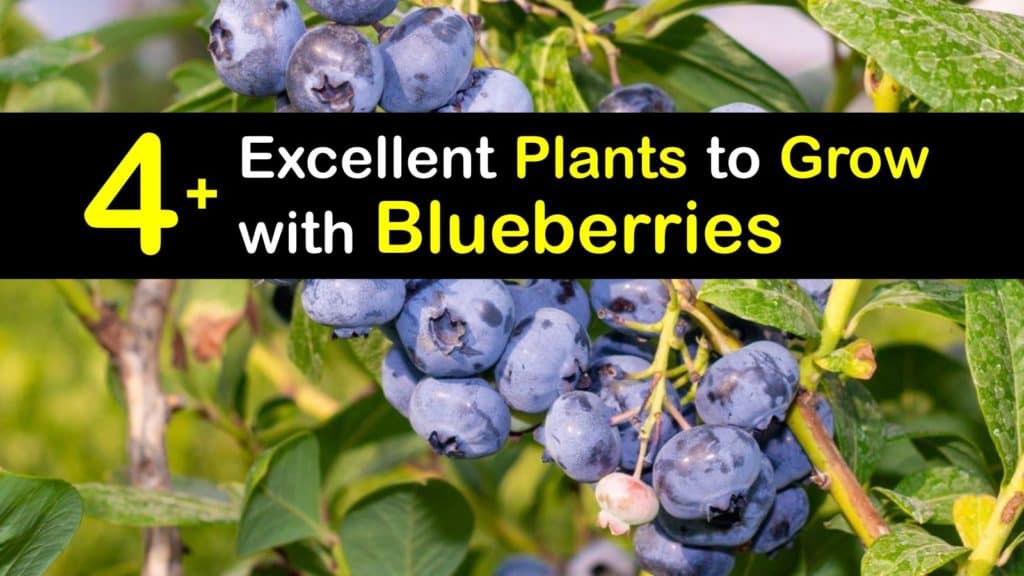 What to Plant with Blueberry Bushes
When choosing your blueberry companion plants, be sure to select varieties that have similar requirements for light, nutrients, soil pH, and water. Read on to find out what to plant with blueberry bushes for your best berry harvest yet.
Since blueberries grow best in acidic soil with a pH level between 4.5 and 5.5, it's essential to choose companion plants with similar environmental demands.
Are huckleberries like blueberries regarding soil needs? Yes. Get in touch with your community's local cooperative extension office for a soil test if you're unsure of your soil pH level to test the acidity.
Consider each plant's mature size when determining your landscaping or vegetable garden layout. Highbush blueberry cultivars (Vaccinium corymbosum) often reach four to six feet tall and wide, depending on the variety. Lowbush blueberries (Vaccinium angustifolium) grow between six inches and two feet in height and width.
Similarly, it's crucial to ensure that taller plants don't block the sunlight for smaller ones that want full sun. When considering bilberries vs blueberries, both plants typically prefer full sun but also tolerate part shade. It's helpful to grow shade-loving ground cover plants beneath blueberry bushes.
Blueberries are perennial shrubs that thrive in USDA hardiness zones 3-10. They have a relatively shallow root system, so it's best not to plant annuals underneath your blueberries to avoid damaging the blueberry roots while digging.
Companion Planting Blueberries with Acid-Loving Plants
Some of the best companion plants for blueberries are other perennial shrubs that prefer an acidic soil environment. Maintaining the proper soil pH ensures that the plants can absorb the nutrients they need through their root systems.
To prepare your blueberry planting area, you may have to amend your soil to increase its acidity. Useful soil amendments include cottonseed meal, peat moss, and sulfur-based products. Using pine needles and organic compost as mulch also acidifies soil over time.
Fish emulsion is an excellent fertilizer for acid-loving plants like blueberries. It's available at most garden centers, or you can try making your own blueberry fertilizer with this straightforward recipe.
Blend the ingredients in a large bucket with a lid. Allow the mixture to cure for two weeks or until the fish parts fully break down. Stir the solution daily while it's curing.
Always dilute fish emulsion with water before applying it to your plants. Mix one ounce of your homemade fish emulsion with one gallon of water. Pour this homemade fertilizer for blueberries around the base of the plant as a soil drench, or spray it directly on the leaves for foliar feeding.
Homemade fish fertilizer usually contains significantly more nutrients than the store-bought alternative because commercially produced fish emulsions often get prepared only with fish waste, not whole fish.
Note that while planting blueberry seeds is possible, it's usually better and faster to start with a seedling or bare-root plant. Blueberries take a while to grow from seed – up to about seven years to bear a good crop of fruit.
Azaleas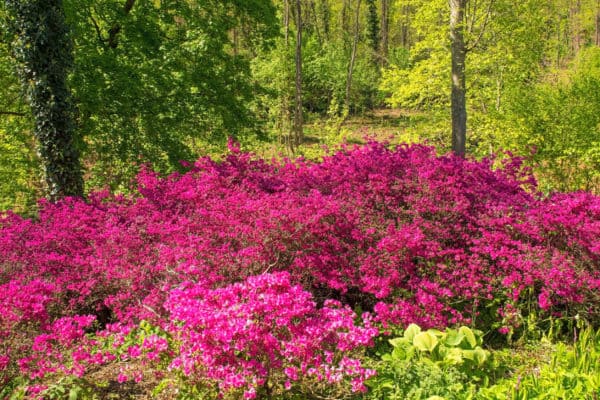 Azaleas are beautiful flowering shrubs that grow in acidic soil and are suited for USDA zones 6-10. Most cultivars bloom between early spring and early summer, similar to blueberries. Having multiple species of plants blooming around your yard is helpful for attracting pollinators.
Azaleas prefer part shade to full sun. They usually grow around four to six feet tall. For more compact spaces, dwarf azaleas stay roughly two or three feet high.
Cranberry Bushes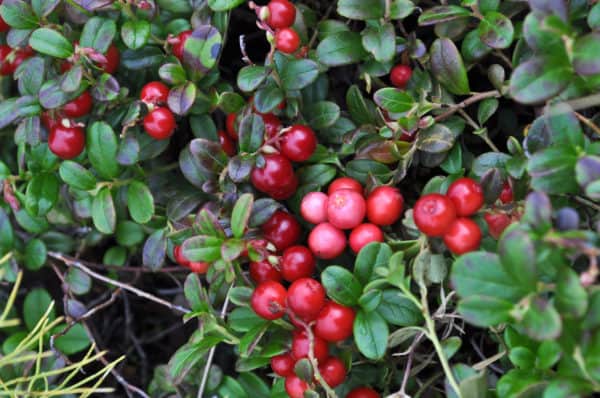 If you'd like to cultivate several different types of berry plants, a cranberry bush makes a great companion for blueberries since they have similar growing requirements. Depending on the variety, cranberries grow in USDA zones 4-7.
Like blueberries, there are highbush and lowbush cranberry cultivars. Lowbush cranberries develop like a ground cover, growing two to eight inches tall and spreading out up to six feet wide.
Highbush cranberries sometimes reach 12 feet tall. If they start overcrowding their neighbors, prune them back to a more manageable size.
Rhododendrons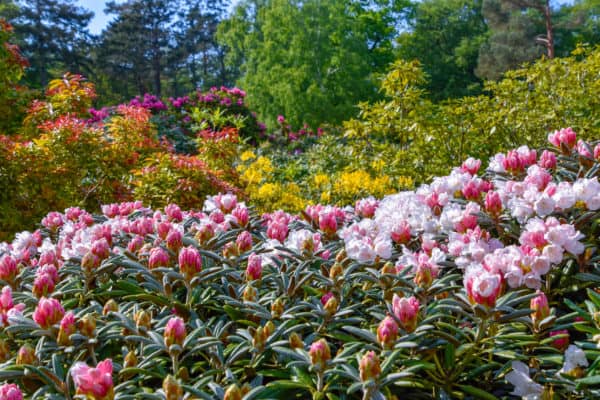 Rhododendrons are ideal for blueberry bush companion planting and often offer the best place to plant a blueberry bush. While most varieties bloom in the spring, certain cultivars bloom in the summer and fall. Rhododendrons flourish in USDA zones 4-8.
In addition, most types of rhododendrons are evergreens. They provide additional protection for your blueberry shrubs during the colder months as well as some winter interest in your landscape.
Blueberry Companion Plants that Attract Beneficial Insects
Pollination is one of the most critical factors for a satisfactory blueberry harvest. Most blueberry cultivars are not self-pollinating and require another variety of blueberry bush for cross-pollination to produce a sufficient crop of fruit.
It's essential to attract pollinators to your garden by planting flowers and shrubs that bloom at the same time as blueberry bushes. In addition, certain aromatic herbs and flowers repel blueberry pests and attract their predators.
Hyacinth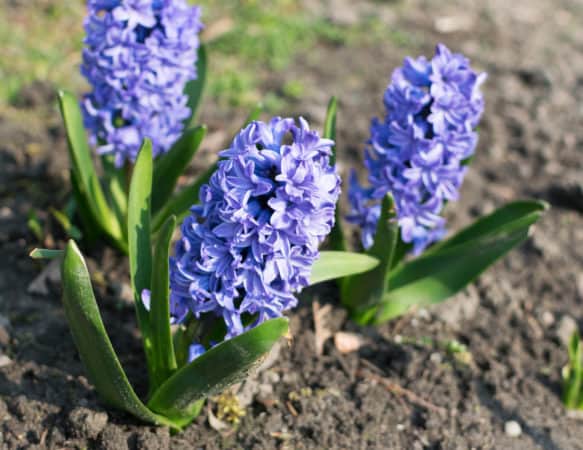 Hyacinths are fragrant flowering bulbs that bloom from early to mid-spring. They're perennials in USDA zones 4-8. The blooms attract pollinators, and their strong odor also works as a natural deer and rodent repellent.
Grape hyacinth (Muscari armeniacum) is another type of spring-flowering bulb with a mildly sweet fragrance that grows well with blueberries. These delicate purple flowers grow six to 12 inches tall and make an excellent ground cover. They're hardy in USDA zones 3-9.
Lilacs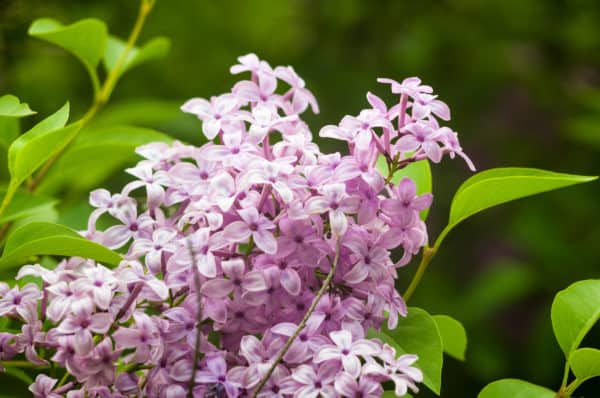 Lilacs are wonderfully aromatic flowering shrubs that grow best in USDA zones 3-7. They bloom from mid to late spring, at the same time as a blueberry shrub, and attract a wide variety of pollinators.
However, lilacs don't do well in acidic soil. They prefer a soil pH level between 6.5-7.0, so it's best to plant lilacs a short distance away from your blueberry patch.
Thyme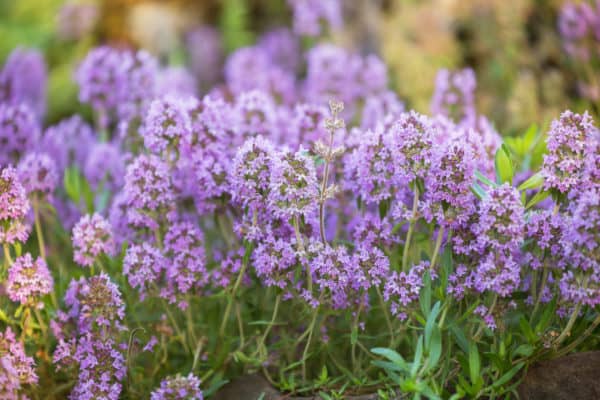 Thyme is immensely useful for companion planting. This savory herb tolerates a wide variety of soil types and light levels and thrives in USDA zones 5-9.
Larger thyme varieties grow about 12 inches tall by 18 inches wide. Creeping thyme makes an attractive and fragrant ground cover, spreading out as much as 12 inches while staying only two or three inches tall.
Thyme's pungent aroma repels pests like maggots, moths, mosquitoes, and whiteflies. The flowers also attract predatory insects like ladybugs, lacewings, and parasitic wasps (which do not sting humans) in addition to pollinators.
If you have recently been wondering what to grow with blueberries, rest assured that there are plenty of good companion plants to choose from. Companion planting blueberries with other flowers and shrubs not only adds a pleasing aesthetic appeal to your landscape but also makes gardening considerably more low-maintenance.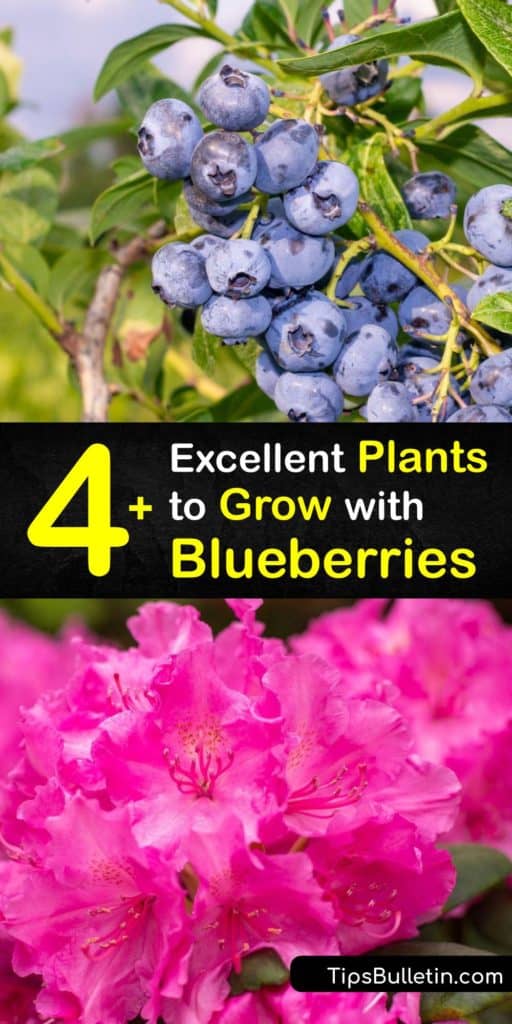 If you enjoyed learning what to plant with blueberry bushes, please feel free to share this article about the best blueberry companion plants with your fellow gardening enthusiasts on Pinterest and Facebook.