Blueberries are delicious and versatile little berries loaded with vitamins. The plants are often grown in North America. The berry's popularity in the home garden means it's no surprise many growers seek support for their blueberry problems, from blueberry disease to blueberry bugs.
Like most of the garden, blueberry plants are susceptible to bacterial and fungal infection and are targeted by insect pests. Growers are eager to learn how to avoid these blueberry problems to deter blueberry bugs and blueberry disease and enjoy a bountiful harvest.
If you've planted blueberries in your garden and run into issues with blueberry leaves turning brown, wet weather causing gray mold, twig blight, and stem blight, or your plants are experiencing dieback and not fruiting, don't panic.
Beating Blueberry Disease in Your Garden
Blueberry problems are relatively straightforward to identify. Working with the fact sheet on your specific cultivars and understanding the common blueberry disease and blueberry bugs outlined in this article make it possible to save your blueberries and still see a productive harvest.
Whether it's blueberry bush leaves turning yellow on young plants or root rot and stem canker, many growers experience blueberry problems in their home garden. Blueberry plants (Vaccinium corymbosum) are sensitive to insect pests that harm plant well-being and fruit production.
Mummy berry, Botrytis blight, and leaf spot are frequent diseases affecting blueberry plants. To effectively diagnose and cure the issue, examine your blueberry plant's particular symptoms and check for insect activity.
Fortunately, with a little bit of knowledge, it's easy to spot blueberry bugs or blueberry disease, whether you germinate and plant blueberry seeds or canes, and kick these blueberry problems out of your garden in a few simple steps.
Blueberry Bugs to Avoid
Several blueberry bugs target both young plants and mature ones. Spotting and removing these pests promptly often save your plant and your chance at an excellent harvest.
Discoloration on your blueberry leaves indicates visible harm, including lesions, bugs, eggs, and feces, which are all signs of blueberry bugs. Select an appropriate pesticide as soon as you notice signs of insect pest activity, and treat it according to manufacturer directions. Consider neem oil or insecticidal soap for natural solutions.
Fungal Blueberry Problems
Other common blueberry problems come in the form of fungal infections.
Any discoloration of blueberry leaves or fruits is a cause for concern, from light brown spots characteristic of Phomopsis blight to the reddish-brown berries of Monilinia. When you notice fungus on your blueberry leaves, whether you need to get rid of powdery mildew in your garden or anthracnose, act fast to select fungicides and begin treatment before heavy damage occurs.
Some fungus overwinters in the garden, so be sure to discard any diseased organic matter to avoid problems from the first year carrying into the second year.
While much discoloration is due to fungus, there are exceptions. Diagnose blueberry chlorosis by blueberry bush leaves turning yellow, caused by a lack of iron. Reverse yellowing and discoloration by increasing soil iron with an appropriate fertilizer.
Check Growing Conditions to Reduce Blueberry Problems
Ensuring you meet your blueberry plant's basic growing requirements and providing natural resources heads off blueberry problems before they begin. Blueberry bushes are planted in early spring. The best place to plant blueberry bushes is where they get 6-8 hours of direct sunlight per day and an acidic soil pH of 4.0 to 4.8 to thrive and remain strong and disease and pest free.
Because their root system is shallow and dries rapidly, blueberries require a lot of water, yet they also demand sandy, well-draining soil with mulch and no additional organic matter. Keep soil moist but not saturated and free of other organic materials to avoid root rot.
Most blueberry plants do better when you don't prune them. When planting your cultivars, follow the fact sheet and instructions, whether growing a Highbush blueberry Vaccinium corymbosi plant, Rabbiteye, or a dwarf variety.
Space plants per the instructions and seek support from your local cooperative extension for care in your USDA zone.
To reduce incidences of bugs and disease, consider companion plants for blueberries like strawberries and parsley.
Water in the Morning to Beat Fungus
Watering your blueberry plants in the morning allows time throughout the day to dry before the cool temperatures of the evening, where moisture and low temperatures team up to make the perfect environment for fungus. Avoid getting water on blueberry leaves and fruit to help prevent fungus and as a way to get rid of fungus gnats and other bugs drawn to your bushes.
Try Companion Planting to Repel Pests
Whether you prefer the bilberry taste compared to blueberries or like blueberries better, skip a harsh pesticide and try companion planting as a natural blueberry bug repellent. Plant blueberries alongside lilacs and azaleas to attract pollinators. With their aromatic petals, lilacs attract pollinating insects and give shade.
During exceptionally hot summers, towering rhododendrons and azaleas provide shade and gorgeous flowers, and they thrive best in the same warm, acidic medium as blueberries. Fragrant herbs like basil, thyme, and borage repel insect pests away from blueberry plants, making them good companion choices.
If you run into blueberry problems and struggle to find the appropriate diagnosis and treatment, reach out to your local cooperative extension for support. The office will point you in the right direction to identify your blueberry problems and cure them.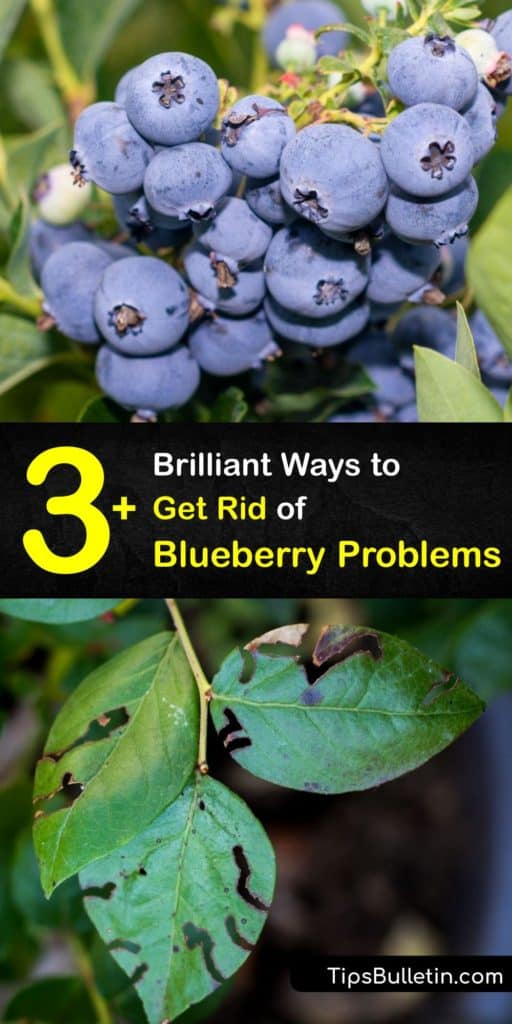 If you loved this article on blueberry problems, please share this fantastic information on blueberry bugs with your like-minded family and friends on Pinterest and Facebook.