Bok choy vs spinach; you've probably tried a delicious dish where you couldn't tell the difference, or maybe you've wandered through the produce section wondering what it might be like to cook with either of these exciting ingredients. These fascinating facts will dispel some myths around the difference between spinach and bok choy.
At first glance, how different are bok choy and spinach? Both are incredibly versatile cooking ingredients, have an impressive nutritional profile, and are now propagated worldwide due to their deliciousness. No one could blame us all for being a bit confused.
While there are many similarities, bok choy and spinach are unique veggies that bring their strengths to the dinner table. Learn how to choose between spinach and bok choy to meet your family's tastes and your nutritional requirements. It's no secret that leafy vegetables are incredibly good for your body; stick around to find out just how good.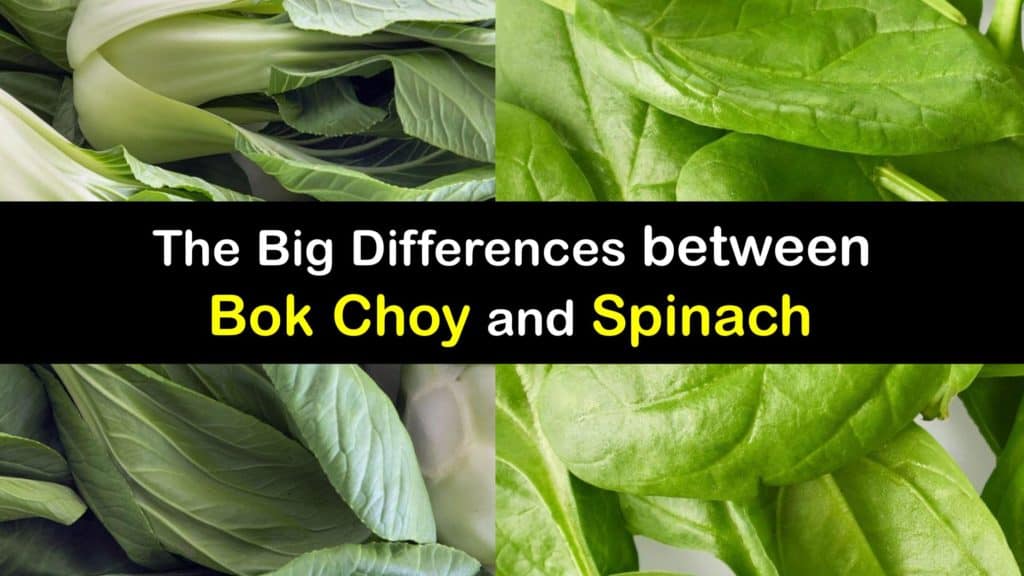 The Difference between Spinach and Bok Choy
Have you ever wondered what the difference is between bok choy and spinach? Learn about these two versatile vegetables; taste, texture, and nutritional and health-related benefits.
It's easy to grow both spinach and bok choy, as well as planting great companion plants for bok choy at the same time. Adding a variety of veggies to your diet is a win-win. Beneficial companions can deter bugs on bok choy and bring in beneficial pollinators to the garden area.
You can even try to grow bok choy from scraps, as well as spinach and a host of other fruits and vegetables.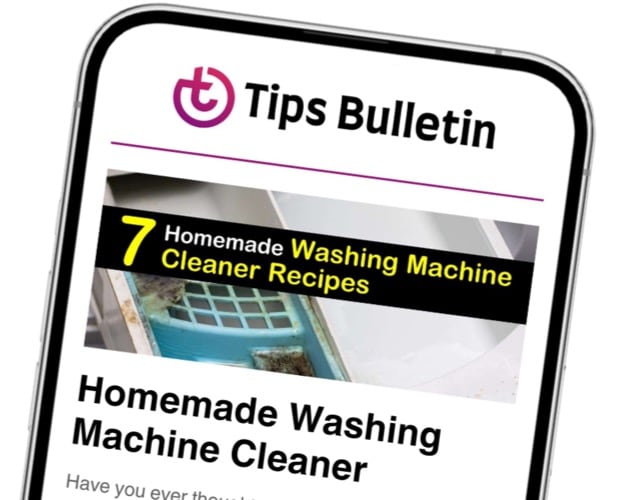 Finally, an email that Transforms Your Home.
Get the latest home and garden tips from our experts, delivered straight to your inbox.
Bok Choy vs Spinach – What are They?
Bok choy is native to Asia and is popular in many Chinese and Korean dishes. You may know it by a few different names – Chinese cabbage, Shanghai pak choi, mustard greens, or napa cabbage, to name a few.
It gets confusing, but Brassica rapa, as the name suggests, is part of the brassica family. Bok choy family members include Brussels sprouts, collard greens, and white cabbage. Is cabbage the same as bok choy? Not exactly but they have similar tastes. The mild flavor of bok choy makes an excellent addition to Asian stir-fry, soup, spring rolls, and dumplings.
The difference between spinach and bok choy is more a case of botanical classification. While both veggies come from similar environments and share many nutritional similarities, the different kinds of spinach or Spinacia oleracea are part of the Amaranthaceae family with famous friends like chard and quinoa.
They're considered flowering plants versus cruciferous vegetables like our brassica friends. Spinach has a green, fresh flavor in salads, dips, or pasta. When considering baby spinach vs regular spinach, baby spinach is a little sweeter.
Bok Choy vs Spinach – The Looks Department
When comparing bok choy vs spinach or even kale or spinach, the easiest way to tell what you've got is to closely look at it. Bok choy has a round bulb with a root end at the bottom that transitions from celery-like stalks into glossy, light green leaves.
Remove the root end, and wash the stalks individually before use. If you're scanning the grocery stores for spinach, look for a "bunch" of freshly picked, individual leaves. Whether you are harvesting spinach you grew yourself or you buy it, before enjoying, wash, and cut the tiny stems off.
Finding a Suitable Substitute for Bok Choy
Bok choy has a notoriously mild flavor, so people call it a "gateway green." If you have any cruciferous vegetable haters on your list, introduce them to baby bok choy, harvested when immature and has an even milder taste.
If you already love bok choy, you know it can sometimes be tough to find at local grocery stores. Fortunately, finding a substitute for bok choy doesn't have to be a pain because there are quite a few options.
For example, napa cabbage is a perfect dupe for bok choy; they're so similar that many people call them all Chinese cabbage. Get adventurous; try red cabbage, white cabbage, or Swiss chard as a new dinnertime addition.
Look for veggies in season or you can always stick to spinach as a go-to substitute for bok choy. There is no wrong way to add beneficial vegetables to your routine.
The Difference between Spinach and Bok Choy – Nutrition
There have been a lot of grand nutrition-related claims made by the USDA about the health and antioxidant benefits of spinach, and they're all accurate.
Spinach is what some nutritionists refer to as a superfood; it's a good source of many nutrients like potassium, magnesium, calcium, and folate that help your body with daily functions like regulating blood pressure and cardiovascular health.
While bok choy doesn't quite measure up to spinach in the nutrition value department, it still brings many strengths to your meal plan. Leafy greens are a great source of beta carotene, which the body converts to vitamin A. They also contain flavonoids like kaempferol, which promote antioxidant activity, helping you resist the aging process.
These aren't just healthy buzzwords; many reputable studies are showing the undeniable goodness of leafy green veggies. There's no competition as far as bok choy vs spinach is concerned. Introducing any cruciferous vegetables or even the odd spinach leaf into your diet only brings health benefits.
Spinach and Bok Choy Side Dish
Studies estimate that wilting leafy greens decreases the nutritional value by about 11%, but they're so nutritionally robust it's ok to cook them just a bit.
Try this easy wilted spinach and bok choy dish with a crisp grapefruit dressing to get your daily dietary benefits. Why choose a substitute for bok choy when you can combine two great veggies to make a unique side dish?
Heat your sesame seed oil in a large pot over medium temperature. Cook the ginger until golden; approximately three minutes. Add the spinach and bok choy to the pot, along with two tablespoons of water.
Give it a good toss to ensure the spinach and bok choy are coated in oil, then pop the lid on for about three minutes or until the spinach wilts. Uncover, allow everything to cool, and squish out excess water. Toss your greens (including ginger) with the soy sauce and grapefruit juice in a serving bowl, salt and pepper to taste, and serve.
We hope you enjoyed learning a little about cruciferous vegetables and flowering plants. Now you can spot them with ease while out for dinner or at your local grocery store. When it comes to bok choy vs spinach, it's probably safe to say there's no winner or even a big difference.
Both leafy green vegetables are beneficial for heart health, cardiovascular system, antioxidant activity, and overall wellness. If you're working on adding more greens to your diet, the trick is to find dishes you already love and then sneak some finely chopped bok choy in where you can; adventure beyond your culinary comfort zone.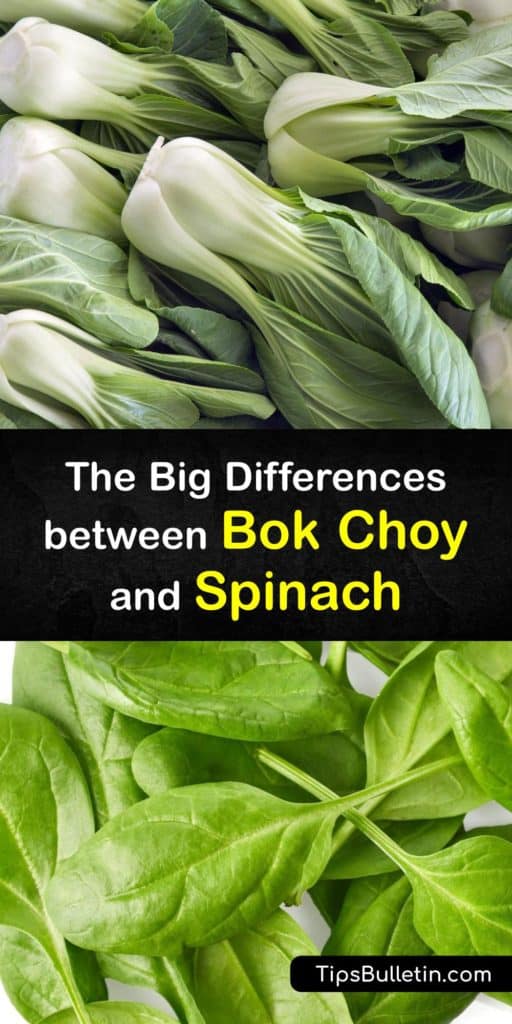 If you loved learning about the difference between bok choy vs spinach, share these fascinating facts with friends on Facebook or Pinterest who would benefit from bok choy.