Many of our pest problems occur once the weather starts to warm up for the summer months. Unfortunately, by that time, a lot of our most significant pests have already established their colonies before we can get to them. There are tons of recipes using Borax for ants outside.
Learn how to get rid of ants outside permanently with these homemade ant killers. There are many species of ants.
Whether you want to kill fire ants, carpenter ants, black ants, or any other type of ant, knowing how to get rid of ants outside with Borax creates results that won't leave you trying to get rid of ants throughout the whole summer.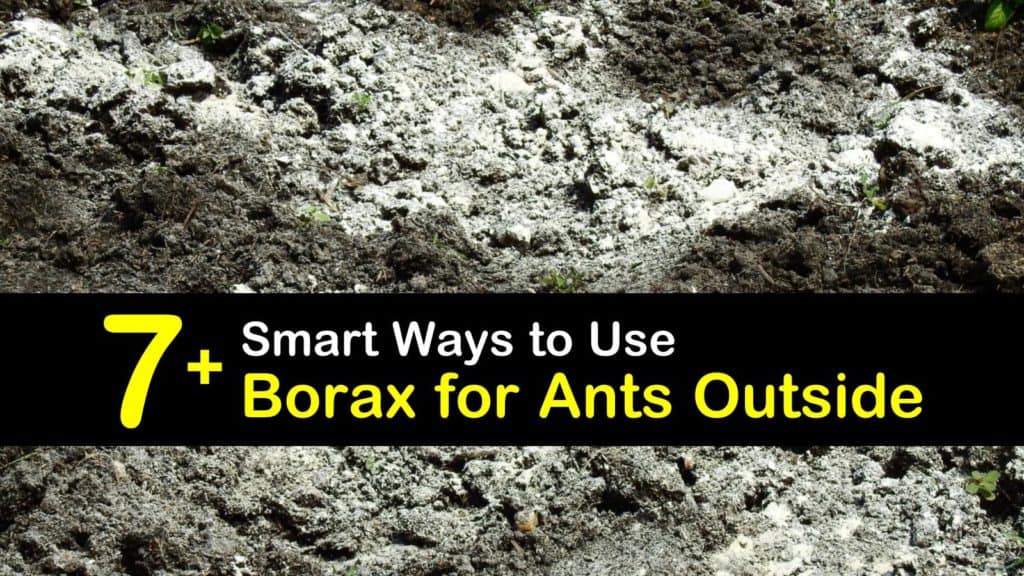 Using Borax to Kill Ants
Killing an entire colony of ants can seem overwhelming, but Borax, also known as sodium borate, is an ingredient that kills ants before they have a chance to create an ant infestation.
Borax is a white mineral that is highly toxic to insects like ants, cockroaches, and termites. Borax is the salt that comes from boric acid, which is also useful in pest and ant control.
Despite its lethal consequences for bugs, Borax has low toxicity for people and animals. When consumed by ants, Borax enters the insect's digestive system and slowly kills them. The slow process allows the ant that ingested the Borax time to go back to its nest.
The ant carries the Borax back to the nest, and the rest of the colony and the queen ingest it. Before calling the exterminator, try using a homemade ant killer recipe for outside ants. Below are some of our favorite recipes for how to get rid of ants outside with Borax.
Recipes using Borax for Ants Outside
Killing ants permanently doesn't have to feel like an impossible task. Setting up several bait stations and ant traps is enough pest control to keep ants away from your home.
By making a quick run to the grocery store for Borax, you can combine this ant killing agent with some common ingredients you'll already have in your home. You'll soon watch the ant mounds around your yard disappear.
While many ants like to eat sugar, other ants prefer a more protein-rich food source like peanut butter. This information may be useful when determining which ant killer or bait you want to try.
You should also know where each type of ant likes to live, so you know where to apply each recipe around your home. Carpenter ants like to live inside of wood and consume moist wood. Look for these ants around a deck or firewood.
Fire ants prefer to live in the soil around open, sunny areas. Black ants prefer to live inside decaying wood but can also build nests in the cracks of cement or under rocks. Sugar ants also prefer to live in holes inside of wood and typically dwell in forest-like areas.
Regardless of the species of ant you want to kill, as long as the ants ingest the Borax or boric acid, they should begin to die within 24-48 hours after consumption.
Recipes for How to Get Rid of Ants Outside with Borax
If you find yourself having an outdoor ant problem every year, try at least one of these recipes for the ultimate ant control.
To get rid of ants with Borax, combine one-part Borax with three parts sugar. Add the mix to several small bowls or jar lids and place them around suspected ant entry points in the home.
Mix the cup of water, sugar, and Borax in a small container. Soak several cotton balls in the mixture. Get several small dishes and place one soaked cotton ball in each. Place the dishes around the outside of your home or near ant mounds.
Combine equal parts of corn syrup and boric acid in a plastic container until it resembles a paste-like consistency. Spread the paste on several index cards or cardboard scraps and place them around your home and next to ant trails and mounds.
While the worker ants leave their colony, they won't be able to resist the sugars from the syrup.
Mix peanut butter and boric acid until thoroughly combined. Force the mixture inside the drinking straw until full. Cut the straw into 5-6 small pieces and place around areas with noticed ant activity. The sugar from the peanut butter allows this recipe to act as both ant bait and ant killer.
Mix equal parts cornmeal and boric acid until a paste forms. Place the mixture in a shallow bowl that allows the ants to climb into it. Set the dish next to the ant's colony or anthills.
If you know you're going to be making this recipe, start saving several old, plastic receptacles like cream cheese and butter containers. Poke several small holes in the lids of the containers.
In a separate bowl, mix Borax and sugar and then divide equally among plastic containers. Put warm water and mix one teaspoon of peanut butter into each trap. Secure the lid with the holes with its appropriate bottom and set traps around the home and next to areas with noticed ant activity.
Sugar ants are persistent in raiding our homes. You'll often see these ants in your kitchen cupboards trying to haul away our food supply. This sweet sugar water mixture attracts sugar ants and traps them for good.
These traps also successfully eliminate gnats outside if you have an outdoor lunch or dinner. Set a few traps surrounding your eating area and enjoy a meal without having to swat away annoying flying insects.
Make this Borax ant killer recipe by thoroughly combining any flavor of fruit jam with two tablespoons of Borax. Use a plastic knife to spread the mixture over pieces of cardboard. Place the ant bait outside of home next to suspected ant entryways and ant hills.
Combine equal parts vinegar and water in a spray bottle. Spray the solution around your doors and window sills to deter ants. You can kill the ants immediately by applying the spray directly to their bodies.
Simple Water and Borax Ant Killer Recipe for Outside
There is another Borax ant killer recipe for outside that only involves two ingredients. We think this is the best way to kill ants in yard and home areas. If you have already found a surplus of ant hills around your home or yard, there is a speedy way to kill a considerable portion of the ant colony.
Combine three tablespoons of Borax for every one cup of water. Bring the solution to a boil. To kill carpenter ants naturally or eliminate other ant species outdoors, dump the boiling water down the opening of the ant hills.
Although you may think you're not reaching all of them, ant colonies widely connect underground. Try this safe way to kill large numbers of ants at one time.
Store-bought Solutions for Getting Rid of Ants Outside
If you're not interested in an easy homemade ant killer for outside, try one of the many products that you can purchase in-store. Brands like Terro and Raid make products that come in powders, liquid sprays, and traps.
One benefit of buying ant control is that they are already pre-made. Another advantage is that they can be safer to handle and store around your house.
Many store-bought ant baits and killers come in small jars and can be placed in discrete locations around your home that help to keep children and pets safe.
If you do decide to buy your ant killer at the store, make sure to read the label for all warnings and directions to ensure safety for you and your family.
Diatomaceous Earth Ant Killer
Diatomaceous earth is another in-store product that is both inexpensive and effective. This powder's make-up includes fossilized diatoms and algae.
It is non-toxic to pets, children, and outside wildlife like birds and squirrels while extremely harmful to ants, beetles, cockroaches, earwigs, slugs, and more. Diatomaceous earth also kills ticks outside if you have a tick problem.
Use only the food grade diatomaceous earth as the best fire ant killer or to eliminate other ants and unwanted bugs. Wear a dust mask and spread the diatomaceous earth around the perimeter of your home.
The product sticks to the ants and makes its way into their exoskeleton and joints. After about 12 hours, you'll soon find that all the ants that came in contact with the diatomaceous earth are dead.
Most of us consider ants to be pests. Whether you have been stung or bitten, found damage to plants, or have discovered large numbers around your home, there are many safe and effective ways to use Borax for ants outside.
You don't need to spend hundreds of dollars by allowing your exterminator to take care of the problem. Purchasing a single box of Borax is a cheap solution and can be combined with plenty of ingredients that are already found at home to make killing ants a breeze.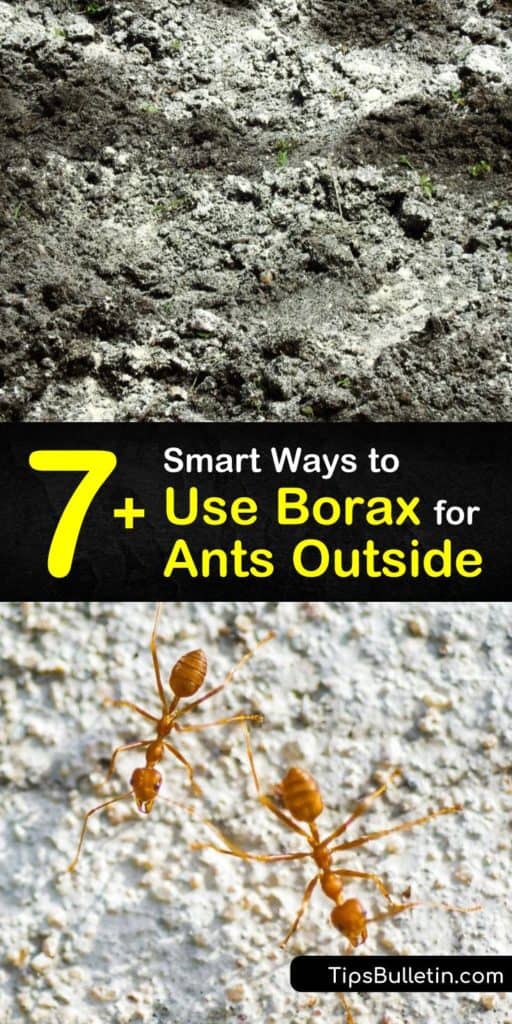 Don't spend your spring and summer fighting over the territory of your home. If you've learned a new way of how to get rid of ants outside permanently, share our recipes for using Borax on ants outside on Facebook and Pinterest.