There are so many types of legumes and beans that it's easy to get confused, from fava, navy, and white beans to butter, calico, lima, and pinto beans. They grow in various colors, sizes, and shapes, each with a distinct flavor, and it's important to understand their differences before using them in a side or main dish. In this article, learn about butter beans vs lima beans and their appearance, taste, and nutrition.
If you've never heard of butter beans, you're not alone. It wasn't until recently when we spotted a photo of these beans from Bon Appétit that we became aware of them ourselves. These cream-colored beans have a rich consistency similar to butter, hence the name.
Lima beans are the green variety that stirs up unpleasant childhood memories. If you hated these beans as a child, you probably sat at the dinner table for quite a while, stubbornly refusing to eat the side dish of lima beans your parents set before you.
Are lima beans and butter beans the same thing? Lima and butter beans are actually the same bean, but different – find out why.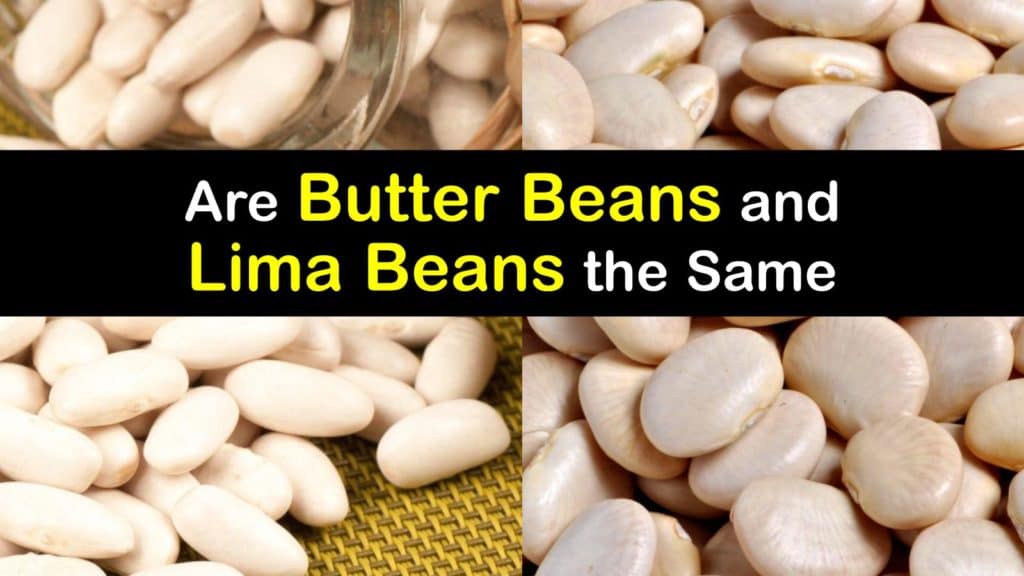 Butter Beans and Lima Beans
Butter beans are the southern name for lima beans, and the two are one and the same. Are chickpeas same as garbanzo beans? They are.
There is a difference between lima beans and butter beans, depending on the variety. Sounds confusing, right? It is not as complicated as it sounds.
Learn about the many types of butter and lima beans, how their appearance and taste are similar or different, and which bean varieties are good substitutes. Discover how to use these beans in a tasty recipe.
Difference between Lima Beans and Butter Beans
Are butter beans and lima beans the same? Yes, they are, in fact, the same bean, but there are varying types. Explore the different varieties of butter and lima beans and the appearance and flavor difference between lima beans and butter beans.
Lima beans (Phaseolus lunatus), or butterpeas, are native to South America, named after the capital of Peru, and are the same bean as a butter bean. The main difference between lima beans and butter beans is when you consume them.
You can eat them when they are fresh, green, and immature, or dried, beige, and mature. The younger the bean, the greener its color, and the more it resembles the typical lima bean we are used to.
Lima beans are harvested young and are green with a starchy flavor, while butter beans are more mature and generally speckled with a creamy, buttery texture.
There are many types of dwarf, small, and large lima beans, from Dixie and Henderson to Fordhook and Madagascar.
The small, green lima beans have many names, including baby lima beans and sieva beans, and baby lima beans are less starchy and milder than larger varieties.
Large, moon-shaped limas are often called butter beans and are featured in succotash, sugar beans, and Kentucky burgoo recipes.
Butter Beans vs Lima Beans and Nutrition
We are all about nutrition these days, and it's always a good idea to know what we're putting into our bodies. While beans and lentils are a great addition to the diet, some beans have more nutrients than others.
Lima beans are full of beneficial complex carbohydrates, low in calories, and considered a low glycemic food. They have slightly more protein than other beans and contain folate, B vitamins, vitamins E and K, manganese, potassium, phosphorus, iron, and magnesium.
Consuming these beans may boost gut health, lower cholesterol, help with weight control, support brain health, and stabilize blood sugar.
Are Lima Beans a Good Substitute for Butter Beans?
Have you ever decided to prepare a dish and discovered that you're missing the right ingredient?
Fortunately, there are many replacements for cooking when you're in a pinch. Discover which beans are an ideal substitute for butter beans and lima beans in recipes.
Lima beans are an ideal substitute for butter beans and vice versa, but there are other options if you do not have either. If you're in a bind, consider using equal amounts of fava beans or white or red kidney beans as replacements in a recipe, as well as black and pinto beans.
If you're unsure of the measurements, the equivalent to a pound of dried lima beans is two cups, there are two cups in a fifteen-ounce can, and a ten-ounce frozen bag of beans is one and three-quarter cups of cooked beans.
Using Lima Beans and Butter Beans in a Recipe
Butter beans or lima beans are a southern staple for various dishes, and one of our favorites is creamy butter beans with ham hocks. This recipe is hearty and delicious and the perfect side dish or as a meal served over rice with crispy cornbread on the side.
Rinse the dry beans in a colander, remove any broken pieces, and pour them into a large pot. Submerge the beans with one inch of water, bring them to a boil and remove them from the heat. Set a cover on the pan and let the beans soak for an hour.
In another large pot, heat the bacon grease or oil over medium heat and add the vegetables. Saute them for three to five minutes, and then add the ham hocks, ham, chicken broth, water, bay leaf, and seasonings.
Simmer it for an hour before straining the beans and adding them and the butter to the liquid.
Cook the creamy butter beans for an hour and a half, adding more water if the liquid drops below the beans. Remove the ham hocks before serving.
After you create a tasty recipe with your beans, you may wonder what to do with the leftovers (if any). How long can limas last in the fridge? After cooking, these beans last several days in the refrigerator.
There are so many canned and dried beans at the grocery store that it's often puzzling knowing which ones to buy for recipes. While lima beans and butter beans are the same beans, there are distinct varieties, and knowing their differences goes a long way in the kitchen.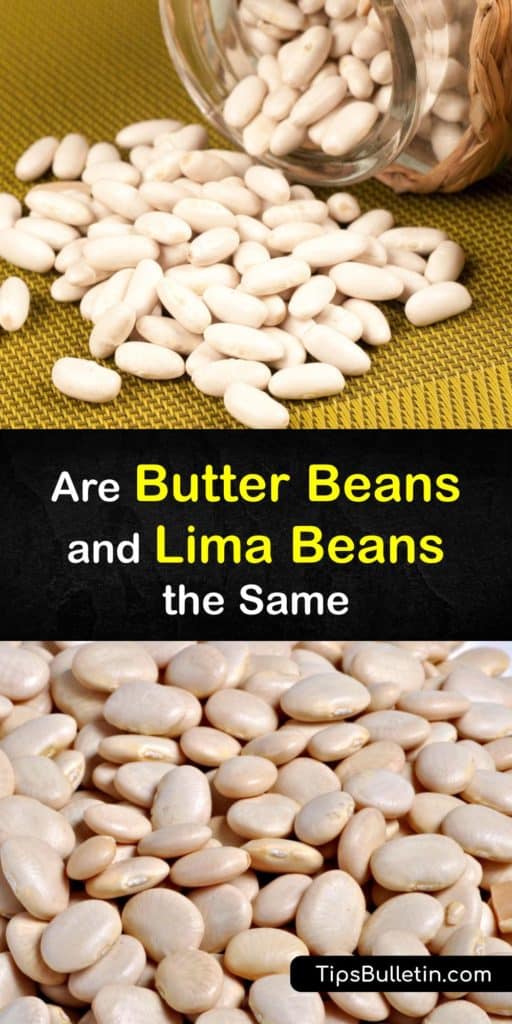 Now that you understand butter beans vs lima beans and how they are the same yet different, we'd love it if you'd share our lima bean and butter bean guide with your friends and family on Pinterest and Facebook.