The next time you make your morning pot of coffee, reconsider before tossing the used grounds in the trash. There are other uses for spent coffee grounds, some of which may surprise you. Can you compost coffee grounds? Believe it or not, coffee grounds are great for the garden, and composting them is an excellent way to recycle and prevent excess waste.
We all love a steaming cup of joe, and the coffee shop is always our first morning stop. Yet, we enjoy brewing coffee at home from time to time. It's great to discover that the coffee filter of spent grounds is suitable for acid loving plants.
If you're an avid coffee drinker, you're used to tossing used coffee grounds in the trash. However, you can compost coffee filters and tea bags in the compost pile to get rich nitrogen fertilizer. Why not save them for your outdoor and indoor plants instead?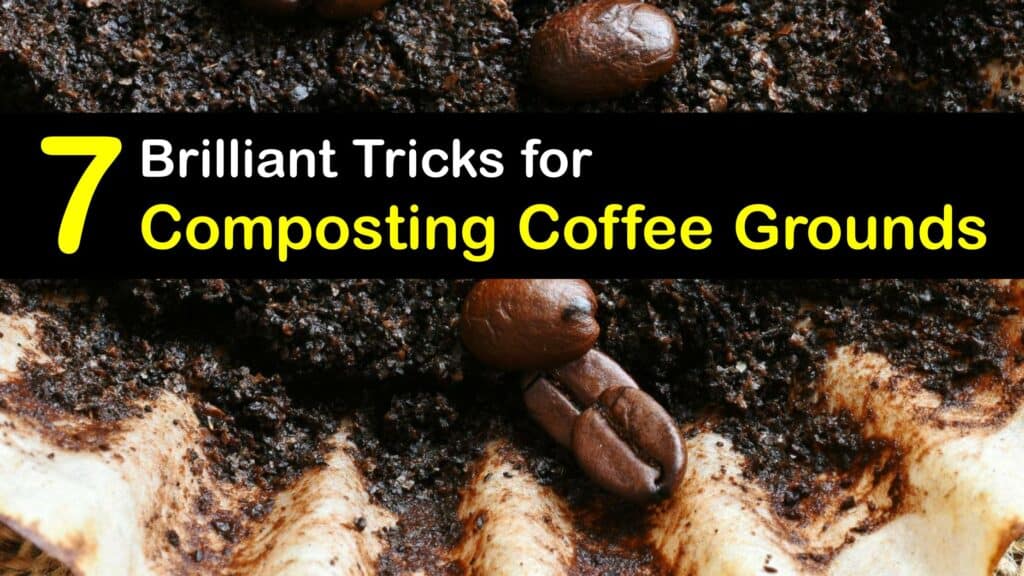 Using Coffee Grounds as Fertilizer
Learn ways to use leftover grounds as fertilizer to encourage healthy plant growth and whether or not coffee grounds are a useful compost material. In addition, find out which plants benefit from coffee plant food and how to use other food scraps in the garden.
Can You Compost Coffee Grounds?
Can coffee grounds be composted? Fortunately, spent grounds are a helpful addition to the compost pile. Learn what composting is and how coffee grounds aid the compost heap.
Coffee Grounds and Composting
Composting is a practice where you turn organic material, such as grass clippings, straw, and food scraps, into fertilizer. The compost goes through a natural decomposing process as the materials break down.
Since coffee grounds are a source of nitrogen, a vital nutrient for plants, they help the compost pile and are one of the most manageable food wastes to compost.
What are the Advantages of Composting?
Farmers and gardeners have been composting for thousands of years for a good reason. Explore the many advantages of composting and how compost material differs from chemical fertilizers.
One of the more apparent purposes for composting is recycling organic matter, like food and yard material, which reduces waste. Still, there are many other reasons to compost.
Compost improves soil health, prevents erosion, retains moisture, suppresses pests and plant diseases, and encourages healthier plant growth. Unlike chemical fertilizers that only meet the needs of plants, compost feeds both the plant and soil.
Things to Know About Composting Coffee Grounds
Are coffee grounds good for compost? Composting coffee grounds is a safe and natural way to recycle. Nevertheless, there are a few things to know about the process to ensure you get a rich final product.
You may think you can toss leftover coffee grounds with grass clippings or leaves and expect compost, but this isn't the case. While composting is relatively easy, there is a little more involved.
It's vital to combine layers of brown material with green material to ensure you get fertile compost. Browns consist of dry leaves, straw, pine needles, sawdust, corn husks, twigs, and bark, while coffee grounds, grass clippings, plant trimmings, animal manure, and food scraps are greens.
How to Compost Coffee Grounds
Can you put coffee grounds in compost? Coffee grounds are a great compost additive. Discover how to compost coffee grounds in the compost bin.
Start by layering brown materials, like dry leaves and shredded paper, and then add coffee grounds, grass clippings, food scraps, and other green materials.
Are coffee filters compostable? Yes, they are, so go ahead and throw a paper coffee filter into the compost as well.
Continue layering the browns and greens, water them every three to seven days, and turn the pile every seven to ten days. After a few months, you have brown compost ready for the lawn or garden. You can use a compost starter recipe to speed the process – vermicomposting also takes less time.
Ways to Use Coffee Grounds as Fertilizer
While composting coffee grounds is the best way to use old grounds, there are other ways to reap their benefits. Learn how to use coffee compost and spent or fresh grounds to feed your plant.
The most straightforward way to use coffee grounds to feed your plants is to sprinkle them directly over the soil or work them into the top couple of inches of dirt.
If you prefer to use coffee ground compost, you can spread it around the plant's base like mulch or amend the soil with it before planting time. Fresh coffee grounds are ideal for maintaining acidic soil and coffee compost helps balance the soil pH.
Which Plants Benefit from Coffee Grounds?
Since coffee grounds are mildly acidic, it's important to know which plants enjoy coffee ground plant food and which ones are better off with coffee ground compost.
Knowing how to compost coffee grounds is only the first step since it's just as important to know which plants enjoy coffee fertilizer. A coffee bean is acidic – plants that thrive from coffee ground fertilizer include azaleas, rhododendrons, hydrangeas, camellias, daffodils, and nasturtiums.
Vegetable and fruit plants that thrive from coffee grounds include radishes, sweet potatoes, blueberries, peppers, cranberries, rhubarb, and sweet potatoes. Used coffee grounds are great for fertilizing garden tomatoes, too. Most plants in the legume family do not tolerate acidic soil, including black beans, pinto beans, red beans, and split peas.
Are Other Food Scraps Compostable?
Now that you understand that coffee grounds are good for the compost pile, you're probably wondering if there are other kitchen scraps worth composting. Some everyday food items are better off in the compost pile than in the trash.
Fruits like bananas, apples, pears, and berries are great for composting, but fruits with large seeds take longer to decompose. Other compostable food scraps include raw, cooked, or rotten vegetable scraps, eggshells, coffee grounds, tea bags, grains, and nuts. Additionally, undressed leftovers that contain these items are all safe for composting.
It's always useful to cut food waste into smaller pieces to encourage faster decomposition, although regular food waste can take up to one year to compost, depending on the method. Garden leaves decompose faster, especially if they're in pieces.
Also, avoid composting meat and bones, grease and oil, and dairy products since these items attract unwanted guests and leave the compost pile smelling worse than necessary. However, along with eggshells, coffee is also a natural slug repellent, so be sure to include some coffee grounds and eggshells with your food scraps.
To store food waste for your compost bin, prepare the scraps by chopping or shredding them and keeping them in a plastic baggie in the refrigerator or storing them in a compost pail.
Coffee grounds are an excellent plant food, whether you use spent or fresh coffee grounds. They deter common pests, add nitrogen to the soil, and coffee grounds compost provides your garden with a fertilizer that plants love.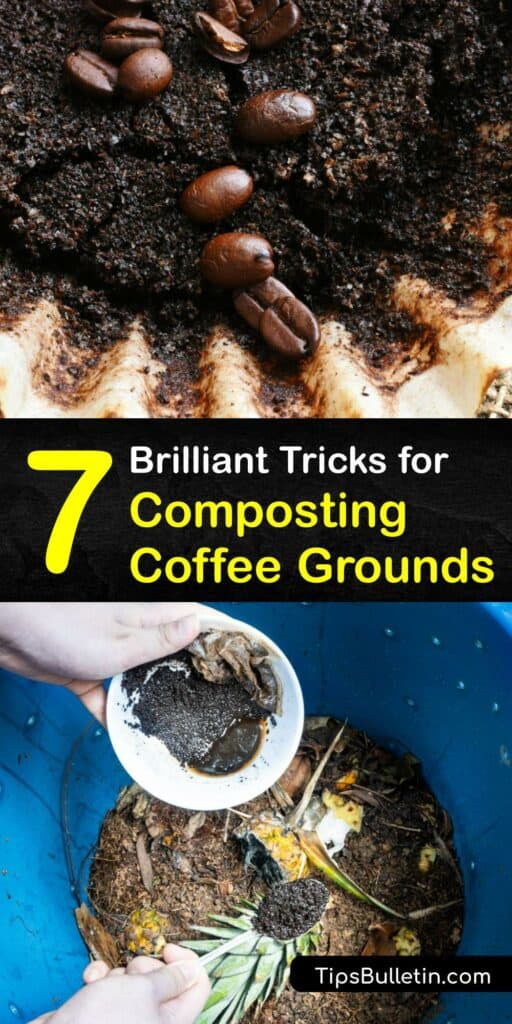 Can you compost coffee grounds is a common question gardeners have, and we'd love it if you'd share our coffee ground fertilizer and composting guide with your family and friends on Pinterest and Facebook.