If you're a pet owner hunting for a creative solution to handle your pets waste, you may have wondered can you compost dog poop? Dealing with dog feces is one of the less enjoyable parts of pet ownership; fortunately, having a system in place makes it less stressful.
Dog poop bags quickly build up in your trash bin and give off a horrible smell, especially in the hot summer. The stench and volume of waste are even worse for dog owners with multiple canine companions. Composting dog waste is a fabulous solution to keep canine feces and doggy bags out of landfills and make free organic fertilizer for your plants.
Composting is the procedure of building an environment to decompose organic material like kitchen scraps, yard trimmings, and even animal poop over time to yield high-quality organic finished compost. Discover how to compost dog poop and use a method to suit the volume of feces your dogs make and the space you have for composting at your home.
Composting Dog Waste
Can you compost dog poop? Composting dog waste is an attractive option for some pet owners. Even with a single pet, the volume of dog manure piles up quickly and makes your trash stink.
Learning how to compost dog poop gives pet owners the tools to take a waste product and convert it into something useful without a large investment. Composting is fantastic for the environment, and placing your dog poop in the compost bin is preferable to letting it go to the landfill.
Regular dog poop bags are troublesome for the environment as they don't break down. Choose compostable or biodegradable poop bags for your pet, and explore including pet waste in your compost pile to produce a richer product and reduce the impact of your dog's poop on the planet.
Can You Compost Dog Poop?
Even with just one pet, the bags of your dogs poo you collect may seem overwhelming, so can you put dog poop in compost? Dog poop bags going to landfills are bad for the environment and though it may seem disgusting at first glance, using your dog waste in compost is a viable alternative.
Is dog poop good for compost? Dog poop seems like a waste item, and it's tough to imagine it having any other use, though this is not the case. Dog manure is rich in nutrients and makes an excellent addition to compost to increase the quality of the finished product.
Is Composting Dog Poop Safe?
When we think of dog poop, we imagine bacteria, parasite problems, pathogens, and the awful smell. Pet waste is exposed to very high temperatures while going through the composting process.
This high heat destroys the germs and the pungent smell of dog manure to produce finished compost, suitable for your garden or houseplants. Since you're only composting poop from your own dog, knowing they are up to date on deworming and medical care is comforting.
Though dog manure compost is generally deemed safe, experts still recommend you don't use it on food crops and take common-sense precautions such as washing your hands while working with feces and keeping your canine up to date on parasite treatments.
What is Composting?
Composting is a technique to break down food waste and other organic material, such as leaf litter, to produce a valuable DIY fertilizer. Microorganisms, and sometimes worms, hasten waste decomposition to generate finished compost for the garden.
While composting is straightforward, a few significant points are critical for a balanced and functioning compost pile.
Materials are considered green or brown, with green being nitrogen-rich and brown, high-carbon. Green and brown products are combined in a 1:3 ratio to create an environment conducive to decomposition.
How to Compost Dog Poop
Composting dog poop is not as simple as adding feces to your existing compost heap or tumbler. Plastic dog poop bags are not compostable and slow or halt the decomposition of the poop and the other waste in your compost heap.
Dog poop must be mixed with a high carbon material to aid its integration into your compost.
Combine the feces and sawdust well before adding them to your compost bin. When cleaning up after your pet, your choice of poop bag is important. Select a compostable bag type, or be prepared to remove your dogs poop from a non biodegradable bag before preparing it.
A traditional plastic bag doesn't break down and prevents the organic waste from degrading into compost. Find compostable dog poop bags at your local pet store or order them online.
Methods to Compost Pet Waste at Home
The best way to compost dog poop varies and is primarily based on the volume of organic material you have to break down and the space available. A compost pile in the backyard is popular, yet lack of outdoor space doesn't mean you can't compost. Choose a technique to fit your goals and the area you have.
A compost pile is a traditional pile situated in ample outdoor space. Similarly, compost bins are placed outdoors, though they may be built to any size, depending on the requirements. Making compost from garden leaves is easy with a pile or bin. Compost tumblers are available to fit any space and work well indoors or outside.
Vermicomposting uses compost worms to hasten the breakdown of organic materials and is perfect for small indoor spaces like an apartment or outside – ideal for composting from kitchen waste. Whatever technique you select, be sure to use compostable poop bags when you compost dog feces so the waste inside breaks down properly.
The Benefits of Dog Poop Compost
Dog poo compost is ideal for any dog owner who keeps a garden or indoor plants. Composting turns your pet poo into rich dog manure fertilizer to feed your plants. Use sheep manure for garden compost, as well as that from rabbits, cows, and horses.
Fertilizer gives plants additional vitamins and minerals by enriching the native soil in your garden or the potting soil in a container to help them thrive. These are nutrients potatoes need to grow and other veggies, flowers, and ornamental plants. Unlike dog dung, the resulting compost is odorless and provides an economical and efficient way to feed plants.
Whether you have cat poop, cat litter, or dog feces, it's paramount to learn to dispose of your dog and cat waste responsibly. Though it seems unappealing, dog dung is a brilliant raw material for composting to produce nutritious finished compost to help your garden bloom.
Invest in compostable dog poop bags to cut the work, and avoid smelly poop in your trash can. Composting removes the germs and the odor from dog poo and offers a convenient place to dispose of waste from your yard while providing you with a helpful gardening tool.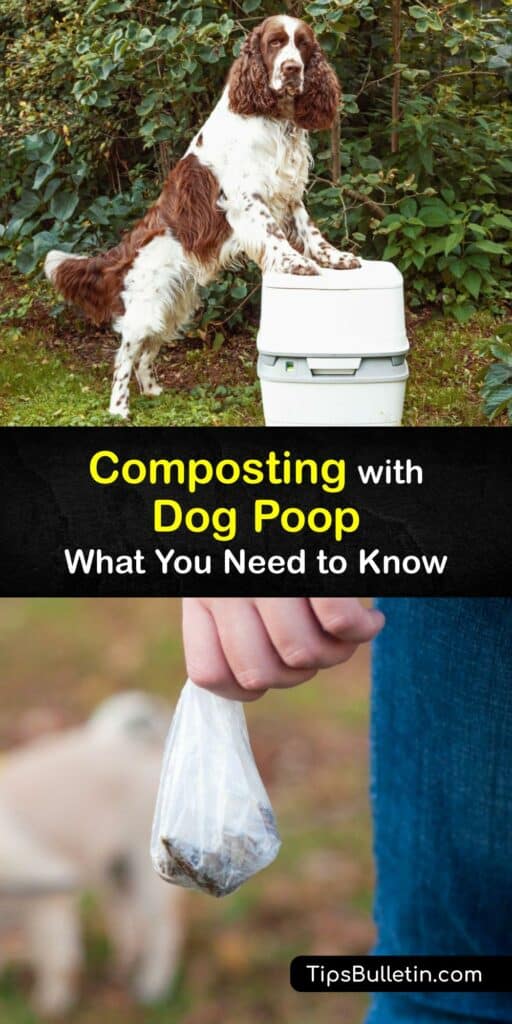 If you loved this article discussing can you compost dog poop, please share these brilliant ideas about composting dog waste with your friends and family on Pinterest and Facebook.