With all the technology available today, many people prefer to read the latest headlines on their phones. However, if you still enjoy getting your local news and weather updates from a newspaper, you may be collecting stacks of old newspaper that need recycling. If you're a gardener, you may wonder, can you compost newspaper with yard waste and kitchen scraps?
Composting is a way to naturally recycle organic material and create rich matter for adding to garden soil. Finished compost provides plants with nitrogen, phosphorus, potassium, and other essential nutrients. This natural resource is a great way to utilize leftover yard debris, food waste, and paper material.
Newspapers are considered brown composting material and are ideal for adding to the compost bin because they add carbon to the compost, which is necessary for decomposition. However, there are a few things to keep in mind when adding this material to the compost heap.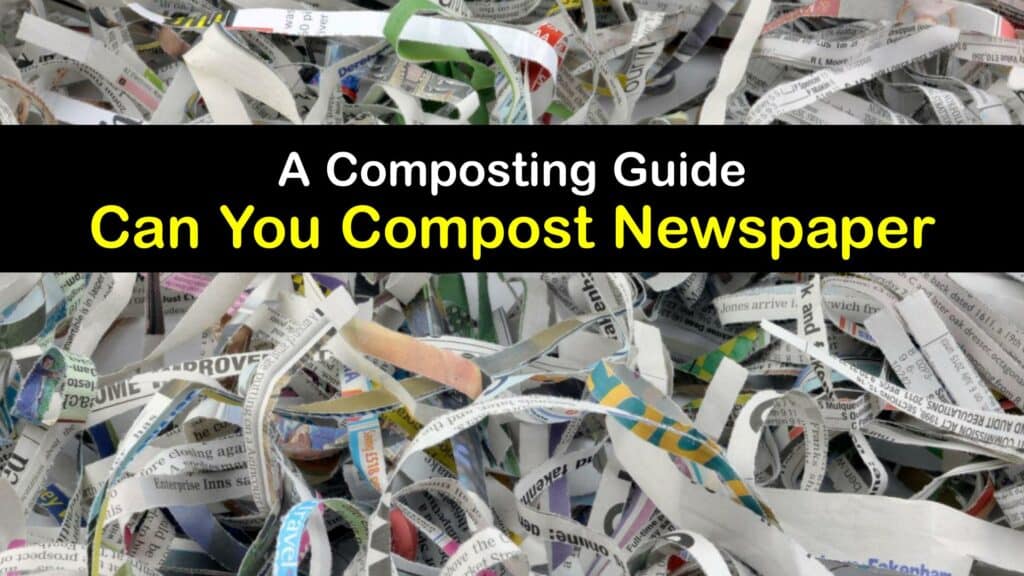 Composting with Newspapers
If you're an avid reader of newspapers, you undoubtedly have stacks of papers waiting for disposal. Why not consider recycling paper and turning it into something that benefits the lawn and garden? While paper slows the composting process, putting newspaper in the compost pile is safe.
Composting newspaper is a great way to prevent waste, but some items are not appropriate for adding to the compost bin. Discover which paper types are suitable to compost and how to compost newspaper with the proper materials.
What is Composting?
Composting is an environmentally friendly practice that turns leftover organic material into plant food or soil amendment. There are also different types of composting. Learn what this process is and how it is useful when growing plants.
How Does Composting Benefit Plants?
All organic materials naturally break down or decompose over time, and combining them in a compost pile in the ideal environment speeds the process. Fungi, bacteria, and other decomposing organisms turn bits of food scraps, leaves, straw, twigs, and grass into something that looks like fertile garden soil.
This recycled organic waste, or black gold as referred to fondly by farmers, improves soil health, recycles nutrients, and reduces greenhouse gas emissions.
It is helpful as a fertilizer, soil amendment, or mulch for home gardening, horticulture, and agriculture. Composting hair, leftover food, and other organic matter also reduces personal waste.
Well-balanced compost contains nitrogen, phosphorus, and potassium, as well as sulfur, magnesium, carbon, calcium, copper, boron, iron, iodine, and other beneficial nutrients.
While most organic materials are safe to compost, avoid composting pet waste, inorganic materials, diseased plants, dairy, and other animal products, like fish, meat, bones, grease, and fat.
Fruits and vegetables, hair and fur, hay, yard trimmings, wood chips, natural wood fireplace ashes, nutshells, eggshells, and small pieces of cardboard are all excellent materials for the compost bin. Shredded paper is very good for your compost, as is junk mail without a lot of colored ink or gloss. You can compost leaves that are dry for brown material and green or yellowing leaves for green material.
Can You Compost Newspaper?
Can newspaper be composted? You may think that newspaper is unsuitable for composting since it has ink printing. Fortunately, today's newspapers are printed with non-toxic ink and are safe for adding to the compost pile. You can compost tea bags and other thin paper products from your home.
Newspaper Compost
Can you compost newspaper? Yes, you can compost cardboard and paper products. Newspaper, office paper, recycled paper, corrugated cardboard, and other cardboard materials like toilet paper and paper towel rolls are fine for making into compost.
However, not all newspapers and paper items are suitable for composting. Avoid putting colored newspaper, glossy paper, or a paper product that contains plastic, like junk mail, in the compost pile since they may contain heavy metals.
Tips for Composting Newspaper
Composting is a practice of combining different types of organic materials to create a rich amendment for soil, whether you follow the way to start composting in a tumbler or pile. However, there are right and wrong ways to compost. Here are some tips for composting newspaper to ensure that you get an excellent final product.
The most crucial step in making newspaper compost is first to shred the papers. Tossing in bundles of papers or wood ash in compost prevents oxygen from getting to the compost, turning it into a moldy mess.
Using an even mix of green and brown composting material is equally important. For instance, a newspaper, paper bag, straw, and wood branches are carbon-rich browns, while coffee grounds, food waste, and a tea bag are nitrogen-rich greens. Composting food scraps is ideal for adding to your compost heap as long as you don't include meat or grease.
How to Compost Newspaper
Can you put newspaper in compost? Yes, you can put that in a composter to help improve the turnover and smell of food and garden waste. Find out how to compost newspaper by preparing it for the bin and combining it with suitable materials.
When setting up your compost bin, choose a dry and shady area, ensure a water source is nearby, and add equal amounts of brown and green materials in layers.
Make a layer of dead branches, twigs, leaves, and shredded newspaper, and moisten them lightly with a hose. You can compost egg cartons, too, if they're the cardboard variety. Add a layer of grass clippings and food scraps, like banana peels, eggshells, and coffee grounds, and cover them with another layer of browns.
Animal manure is ideal for adding to compost, specifically from creatures that are not meat-eaters. There is a difference between manure and compost when you consider using them as fertilizer, so it's important to distinguish between them.
Cover the compost pile with a tarp to keep the compost moist, and use a shovel or pitchfork to turn the materials every three to seven days. Add more small pieces of browns and greens to the pile in layers as needed, and use the compost as fertilizer or mulch once it is a deep, rich brown color.
You can also consider learning about other dry materials that you can add to the compost bin, like cotton burr. Follow our helpful ways to use cotton burr compost if you have access to this excellent dry material.
Composting is an excellent way to recycle many materials, from food scraps, leaves, and grass clippings to dryer lint, wood ash, and shredded newspaper. However, it's vital to use a balance of brown and green material and avoid adding toxic materials to ensure you get a nutrient-rich natural fertilizer.
Can you compost newspaper is a question many gardeners have, so why not share our newspaper composting guide with your family and friends on Pinterest and Facebook?