Tomatoes are a culinary staple across America. Fresh tomatoes are juicy and delicious, adding depth to every dish, from a simple salad to a rich tomato sauce. Can you compost tomatoes? Absolutely; don't let your tomato vine and fruit scraps become a missed opportunity to enrich your compost pile.
Tomatoes are everyone's favorite veggie – or are they? Tomatoes are a member of the Solanaceae family or the nightshade group; they're a fruit masquerading as a vegetable. We often label tomato plants as a vegetable because of their robust nutritional profile. Tomatoes contain elevated levels of vitamin C for cell health and lycopene for proven antioxidant benefits.
Cherry tomatoes produce upwards of 300 tiny tomatoes over the growing season. Depending on your cooking habits, that adds up to a lot of organic material. Discover what to do with leftover tomatoes and tomato cooking scraps in this helpful guide to the composting process.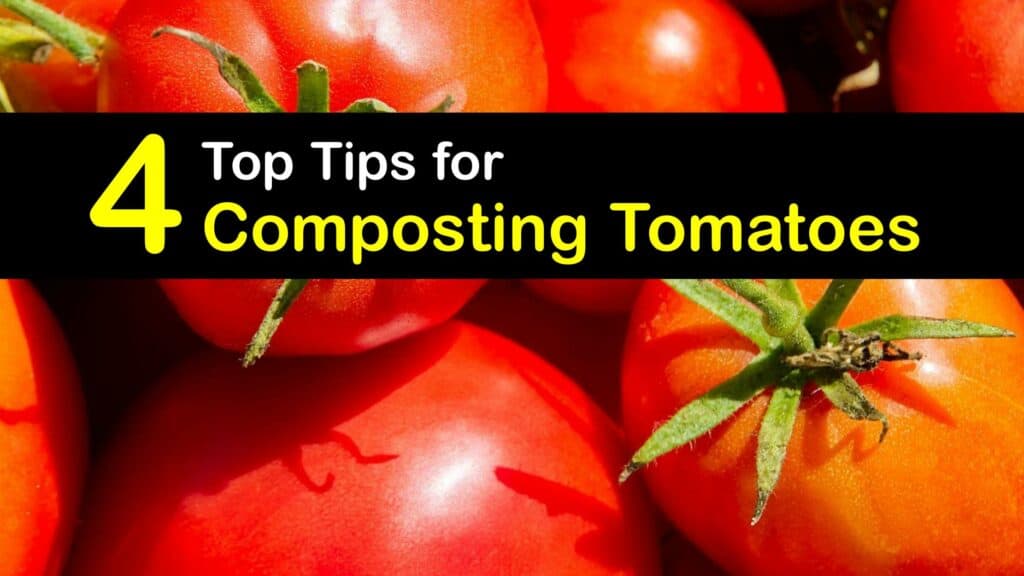 Helpful Hints About Composting Tomatoes
If you love to grow tomatoes in the warmer months, you need tips on handling the volume of organic waste that comes with growing your own fruits and veggies. Discover how to create manure for your vegetable patch safely and with the best interests of your compost system in mind with this go-to garden guide.
Can You Compost Tomatoes?
Can you compost tomatoes? It's no secret that you can compost orange peels, tomatoes, and more veggies for a fabulous and sustainable way to enhance your soil health. The best soil for your garden has good structure, adequate drainage, and plenty of beneficial nutrients and microbes.
However, the home gardening world is often fiercely divided on the safety and efficacy of composting tomatoes. There's nothing inherently dangerous about growing a tomato seedling for compost, but there are certain red flags to be aware of as you begin to compost tomato scraps. Don't worry; brew the best compost on the block with a few tips.
Watch Out for Common Tomato Plant Diseases
Are tomatoes good for compost? Tomatoes are great for composting if you know what to look for before adding them. The tomato plant is prone to many common garden diseases. Unfortunately, diseased plants can infect your entire compost pile, making it useless. Consider keeping a list of compostable kitchen items next to your compost bin to be sure of what can be added.
Check old tomato plants thoroughly, inspect the plant tissue for common diseases that could transfer to your compost bin, infect the resident organic matter, and contaminate your whole compost system. Transmittable diseases include verticillium wilt, fusarium wilt, bacterial canker, tomato blight, and septoria leaf spot.
Always look before you compost. Check for yellowing leaves, sores on the fruit, and signs of mold or bacteria growth. Never compost diseased plants. Instead, trim the diseased tissue and dispose of it in a sealed, outdoor garbage receptacle.
Learn About Common Tomato Pests
Before you put tomatoes in compost, check for common garden pests, especially if the plant material comes from your yard. Tomatoes are also a favorite of many common garden pests; there's always a possibility of introducing these pests to your compost system.
Growing tomatoes and harvesting the fruit is a rewarding hobby. However, planting tomatoes for compost requires a watchful eye and the ability to identify pests like aphids, flea beetles, and cutworms. Before composting, inspect the leaf, stem, and fruit clusters carefully.
Use hot water if you notice an insect invasion on your compostable tomato foliage. Fill a 1-gallon bucket with hot water, and soak your tomato stems for an hour to kill unwanted pests before introducing the tomato plant tissue into your closed compost system.
How to Compost Tomatoes
Can tomatoes be composted? You bet they can. Add tomatoes to your composted manure, mushroom compost, kitchen compost, or vermiculture compost with no worries. Follow a few precautionary steps to ensure the safety of the organic material in your compost bin. Discover how adding banana peels to the bin and other vegetable scraps will make your compost more dynamic.
Some folks use peat moss, grass clippings, or vegetable scraps to enhance their garden soil as part of a cyclical and sustainable plan. The key to home composting is never to use anything exposed to toxic synthetic pesticides.
When composting, use tomato fertilizer that is food-safe and organic. When you fertilize tomato plants safely, your compost stays pure and free from harmful contaminants. Your compost heap must also get hot enough to kill a weed seed or tomato seed. These stubborn seeds often survive composting and disperse back into your yard.
Can you compost tomatoes? Growing tomato plants is a great way to introduce a high-volume crop to your garden, and composting them is an ideal way to be a link in the great chain of organic recycling and redistribution. Composting tomatoes safely and efficiently is a breeze if you follow these guidelines.
Remember that your compost is a living ecosystem all on its own, and introducing transmittable pathogens and pests is harmful. Be on the lookout for diseased plants, especially those showing signs of bacterial canker, tomato blight, and septoria leaf spot. Avoid composting infected plants altogether.
Tomatoes are very attractive to the local pest population, too. Don't compost plants experiencing an infestation, or soak the plant matter in hot water to kill pests before you compost. Taking these few extra steps ensures the health of your compost heap and rich, glorious garden soil.
Can you compost tomatoes? If you loved learning our top tomato tips, share this beginner-friendly tomato compost article with friends on Pinterest and Facebook.