We already know that American cheese makes the best grilled cheese sandwiches. This cheese has been used in dozens of different recipes, including lasagna, macaroni, and cheesesteaks, but few people understand the proper way to store it long-term. Can you freeze American cheese?
Freezing American cheese is a controversial topic. While it's not technically real cheese, people still argue about whether or not you should freeze it. Most people refrigerate American cheese and use it as needed. Still, some people prefer longer solutions.
Learning how to freeze American cheese properly is possible. Whether in a deli block or from traditional cheese slices, you've come to the right article if you want to learn the best way to freeze American cheese, how to thaw frozen American cheese, and a delicious homemade American cheese recipe.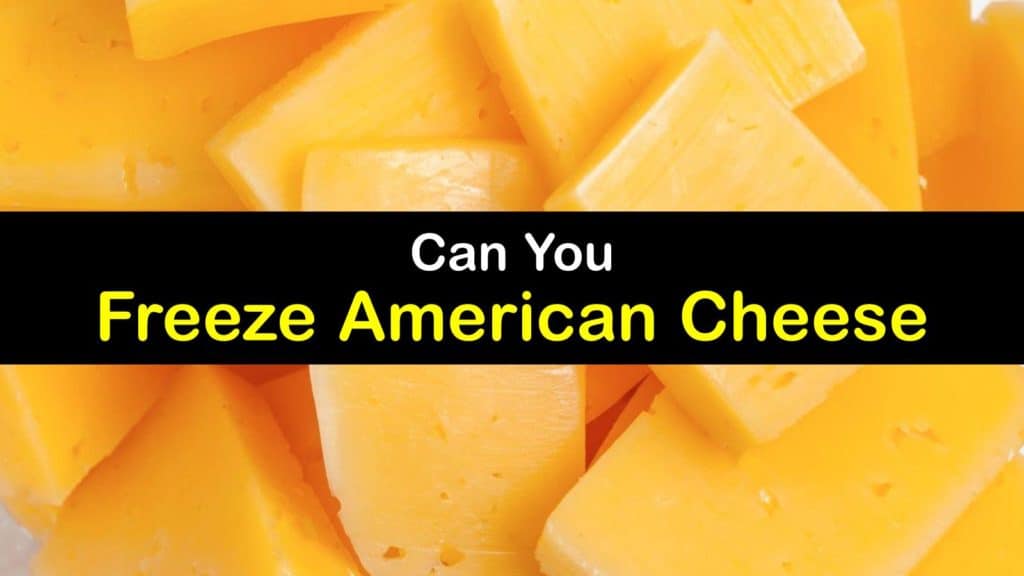 What to Know before Freezing American Cheese
American cheese is technically not real cheese, which is why many people argue over the question, can you freeze American cheese? American cheese is a softer processed cheese known for its melting qualities.
If you wanted to substitute it, you'd have to find other soft types of cheese like Swiss, mozzarella, and brie. Semi-hard cheeses like Romano and Parmesan won't react the same way.
There are many different varieties of American cheese. Most of us picture the pre-sliced pieces wrapped in plastic wrap at the grocery store.
However, you can buy blocks of cheese to slice yourself or turn it into shredded cheese for a different purpose.
Traditionally, American sliced cheese was made by blending Colby and cheddar. Nowadays, it could be a blend of many different things to create new flavors and textures of American cheese. As long as it's super melty, there aren't many guidelines for making it.
Refrigerating cheese is the most popular way to store it. How long can you keep cheese in the fridge? It depends on whether the package has been opened or not and the expiration date. Freezing excess cheese allows it to keep longer.
Letting cheese or other dairy products sit at room temperature too long is never a good idea. How long can cheese sit out before it goes bad? Refrigerate cheese within two hours for optimum freshness and food safety.
Can You Freeze American Cheese?
You've accidentally bought way too much cheese, the shelf life is about to expire, and you're asking yourself, can I freeze American cheese? Yes, it is possible to freeze American cheese as long as you understand it won't necessarily have the same texture after thawing.
Frozen cheese, especially softer cheeses, has a high water content that forms ice crystals in the freezer. This water content is why many people refrain from freezing cheese.
It doesn't matter if it is unopened and left in the original packaging; it doesn't turn out the same after defrosting. However, if you're still determined to know how to freeze American cheese or want to know how to freeze Gouda cheese, there are some options.
How to Freeze American Cheese
While cheeses are technically freezer-safe, realize that you likely won't use them the same way you intended. Properly storing American cheese involves keeping the slices individually wrapped in plastic wrap or parchment paper and setting them in the refrigerator.
Do not store cheese at room temperature, as warm temperatures are an invitation for harmful bacteria to grow. How long does sliced cheese last in the refrigerator? If you sliced your own or bought it at the deli counter, most slices last up to three weeks in the fridge.
To freeze cheese instead of refrigerating it, there are some rules. Try only using products that will remove all the air around the cheese, such as a plastic bag, heavy-duty aluminum foil, or a heavy-duty freezer bag. This is also the way to freeze feta cheese.
If using a zip lock bag as a way to freeze Swiss cheese or American cheese, squeeze out as much air as possible before resealing it. Ideally, use a double layer of protection to keep it from drying out.
Label and date the bag with a permanent marker before placing the wrapped cheese in the freezer. Labeling helps you not forget how long the cheese has been in there. When stored properly, American cheese lasts for up to six months in the freezer.
Freeze grated cheddar cheese and other grated cheeses the same way. Did you know you can also freeze mac and cheese? Use an airtight container for the best results.
Thawing American Cheese
If you wrap the cheese slices individually, there shouldn't be any issues when thawing them. Allow the frozen cheese to thaw in the fridge overnight or for one hour at room temperature before putting it back in the cool refrigerator.
After that, use the cheese as usual. However, there are better ways to use thawed frozen cheese.
Reheating the cheese by melting it is usually your best bet when working with frozen cheese. For example, turning it into a cheese sauce wouldn't alter the flavor or texture.
Grab a standard medium saucepan and melt the butter over medium heat. Stir in the two tablespoons of flour before pouring in the milk. Continue to stir the mixture until slightly thickened.
Stir the solution constantly while mixing in the cheese, salt, and a pinch of garlic powder. Make sure all the sauce ingredients are blended well before serving over your favorite foods like broccoli or sandwiches.
Making American Cheese at Home
It might shock you to learn that you can make American cheese at home. Because it's processed cheese, many people assume you need special equipment or tools, but this isn't true.
Making American cheese at home is a straightforward process. Some kids might even want to join in on the fun. Swap out the types of cheese in your recipes or even add or take away ingredients that you don't like.
Shred your two cheese types and line a five-inch by four-inch loaf pan with plastic wrap. Ensure that you leave some extra plastic wrap hanging over the sides. Put the water in a cup and sprinkle the gelatin in the water.
Let the hard gelatin sit for five minutes until it softens. While you wait, pulse the shredded cheeses, salt, cream of tartar, and milk powder in a food processor until mixed.
Bring the whole milk to a boil in a small pan. Remove it from the heat and immediately start whisking in the gelatin solution until it dissolves and the consistency is smooth.
Turn the food processor on so that it is running and then slowly pour in the hot milk mixture into the cheese. Scrape the processor bowl as needed until everything is smooth and evenly combined.
Transfer the cheese into the loaf pan and work quickly while packing it down to eliminate all air bubbles. Set the loaf pan in the fridge for a minimum of three hours. To store, keep it wrapped tightly in plastic wrap for up to a month.
Freezing American cheese isn't common, but that doesn't mean it can't be done efficiently. We have provided you with our best freeze-cheese tips to help you store your cheese for more extended periods without having to throw out your food.
American cheese is truly one of a kind. While it might not technically be considered cheese, there is a whole lot to love about this soft, melty concoction of flavor.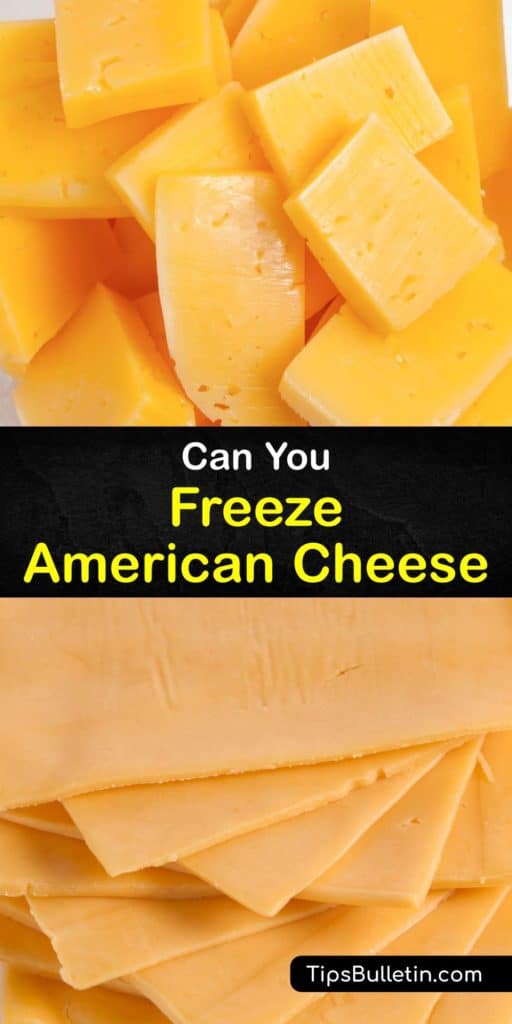 If asking yourself, can you freeze American cheese, has led you to this informative article, share this guide about how to freeze American cheese on Facebook and Pinterest.