If you are an avid avocado lover, you have probably asked the question, "Can you freeze avocados?" at least once while enjoying a perfectly ripe avocado. Many people wonder if you can freeze avocado because they want to stock up on the delicious fruit when it's on sale and in season.
Serious avocado lovers know all too well just how short avocado season is and they are always left wanting more. One of the best things we are here to tell you is that yes, you can freeze avocados.
The best part is freezing avocados is easy to do, and there are several ways you can do it successfully. Whether you are freezing whole, halved or mashed avocados, let us show you how to freeze avocados so you can enjoy them all year.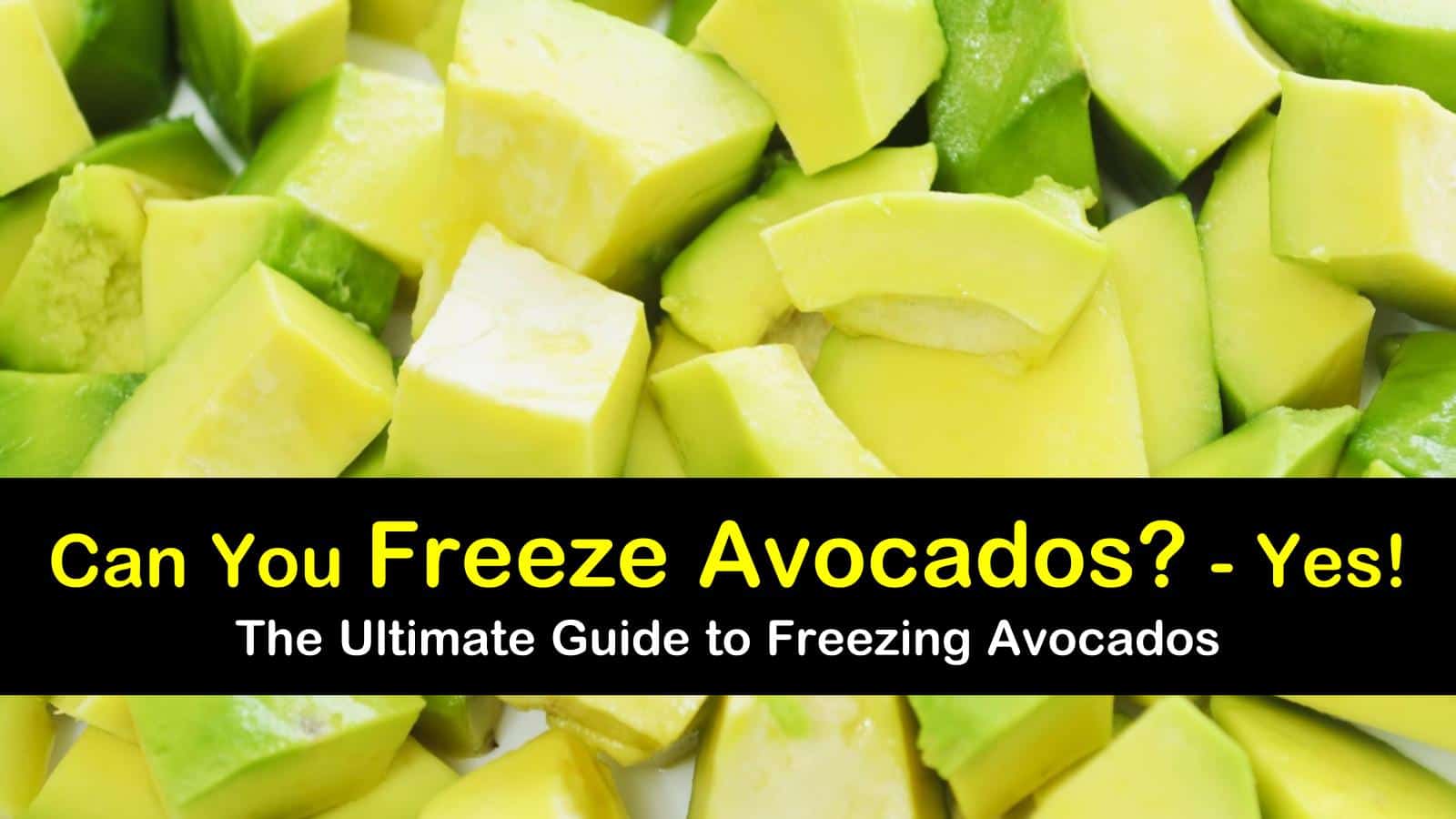 Can Avocados be Frozen? What You Need to Know
Before you go about freezing avocados, you need to pick out the best fruit for freezing. California avocados season runs from spring to fall, which is the best time to buy and freeze them.
Having fresh fruits and vegetables is crucial when planning to freeze them. Of course, you can't freeze avocados whole because of the pit, but you can freeze whole strawberries and smaller produce like peas. It's also the best way to freeze blueberries so that you have them for your favorite cobbler recipe later.
Tips for Freezing Avocados
To determine if the avocado is ripe and ready for freezing, you need to squeeze it gently in your hand. The fruit should yield a little bit to the pressure, but remain firm.
Color is not always a determining factor for ripeness. Hass avocados turn black or dark green when ripe, but other varieties remain light green, even when ripe. If you are not going to freeze or use your avocados right away, you can purchase hard, unripe ones and allow them to ripen at home.
Avoid selecting fruit that is over soft or has dark blemishes. While it is possible to freeze whole avocados, it is not something we recommend. Freezing avocados is similar to how to freeze a banana; you want the skin off before you freeze it.
To freeze the entire avocado, wash and dry the fruit thoroughly, and place inside a plastic bag and into the freezer. The reason we don't recommend freezing whole avocados is they are harder to peel. Whole ones also take a while to thaw out, which makes removing the pit harder.
Can You Freeze Avocados? Yes! – How to Freeze Them
When learning how to preserve avocado, the first thing is picking your preserving method. Do you want to mash them and then freeze them or do you want to freeze avocado halves?
Regardless of the freezing method chosen, there are similar steps you need to follow when learning how to freeze avocados. Some of these same rules apply to freezing fresh potatoes, as well, so pay close attention so you'll know how to freeze multiple types of produce in much the same way.
Before you begin, wash the avocados in cold water. Once clean, cut avocado in half and then remove the pit. This is where things start to become different based on the method you have chosen to freeze your avocados.
If freezing avocado halves, brush each half with a small bit of lemon juice. Wrap each half tightly in plastic or cling wrap, as you do not want to leave any room for air to enter. Make sure the cling wrap is sticking to the hole left from the pit and mold the plastic wrap to fit the avocado perfectly.
Once wrapped tightly, place the avocado halves into a large Ziploc bag. Once the container is full, press out as much air as you can, and then seal tightly to reduce the chance of freezer burn and a tasteless product when you need it. Place the bag inside the freezer. Putting avocadoes in freezer bags is much the same process you use for freezing ricotta or other cheeses.
You can also use a food prep or vacuum sealing machine when freezing avocados and skip the cling wrap step. If you want to have frozen avocados that are ready to go for avocado toast or for making guacamole, use the mashed method. Starting with an avocado half, scoop out the fruit and place it inside a bowl.
Cut the lemon in half, grab one of the halves and squeeze the juice over the bowl full of avocados. Use a food processor or a potato masher to mash the avocados to your desired texture. Some people prefer an avocado puree while others enjoy having different sized chunks.
Spoon mashed avocados into a Ziploc freezer bag; remove the air, seal shut, and place inside the freezer. You can use different sized freezer bags to control the portion size, as this allows you to take what you need when using it.
You can also freeze mashed or pureed avocado in ice cube trays or airtight containers. As it freezes, it will decrease volume, so fill bags and trays accordingly.
How to Store Avocados
To store frozen avocados, label, and date each of the bags to allow you to know what avocados to use first and how long they have been in the freezer. Store frozen avocados, both halves and mashed, in the freezer for no more than six months.
How to Thaw Frozen Avocados
How you thaw avocados will again depend on the method used to freeze the avocados. If thawing mashed ones, place the bag or container inside the refrigerator and allow it to thaw gradually. Thawing can take anywhere from 12 to 24 hours.
If you need to thaw them faster, you can place the bag or container inside a bowl or basin of cold water. Run cold water over the frozen avocados to speed up thawing time. When thawing frozen avocado halves, you have two options.
The first choice is to leave it on the counter and allow it to thaw at room temperature. Your second option is using the microwave on low or defrosts for less than a minute. Word of warning: avocado halves don't thaw as nicely as mashed or pureed avocados, but you can still use them in a variety of dishes or for baking.
How to Use Your Frozen Avocados
You can use frozen avocados the same way you use fresh avocado. Some of our favorite avocado recipes include avocado toast, smoothies, tacos, hummus, and so much more. As the texture of the avocado may change when frozen, not everybody enjoys just scooping it and eating it as they do when they get a fresh one off an avocado tree.
The favorite recipe with frozen avocados for most Americans is guacamole. This dip is enjoyed by so many that several have posed the question, "Can you freeze guacamole?" You can freeze it, but we only recommend freezing guacamole made with fresh avocados, not frozen.
Scoop avocados out of their skin, place into a bowl and mash with a fork. You want the avocados to be a little chunky. Once mashed, add salt and lemon or lime juice and stir to combine. Roast the chilis before seeding, stemming, and mincing for a different flavor.
Add small amounts of chilis at a time to control how spicy the guacamole is. Add the remaining ingredients and stir. Cover and chill inside the refrigerator until ready to serve. Most guacamole is made to taste, so add or subtract things as desired.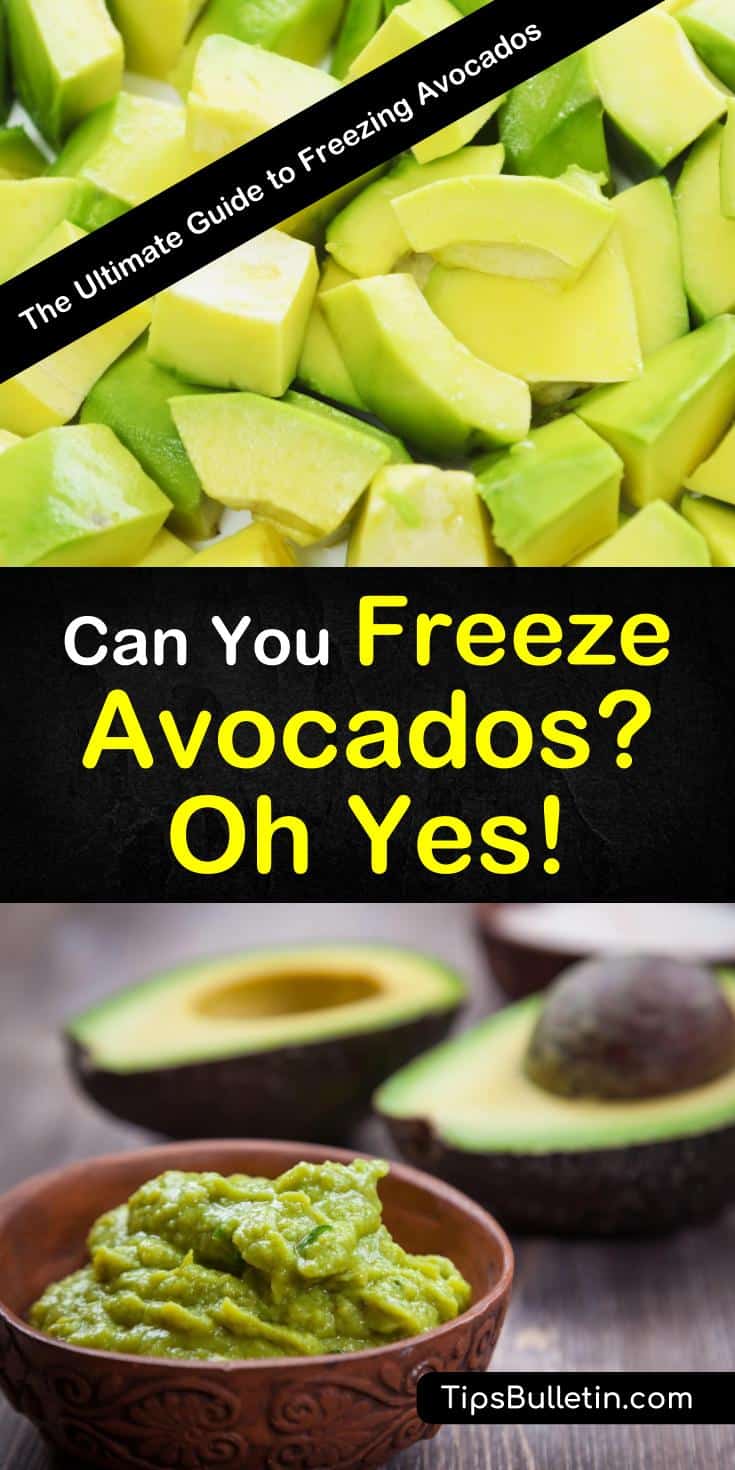 Thank you for learning about freezing avocados. If we were able to answer the question can you freeze avocado, please share our answers to can you freeze avocados with others on Facebook and Pinterest.