If you happen to be a regular coffee drinker, you may have wondered what to do with leftover coffee to avoid letting it go to waste. Have you ever asked yourself, "Can you freeze brewed coffee?" The answer is yes.
The best way of freezing coffee depends on how you intend to use it later. Freezing brewed coffee in an ice cube tray is a quick and easy way to enjoy iced coffee at home. Or, use coffee ice cubes to cool off your cup of hot coffee without diluting it with water.
However, reheating frozen coffee changes the flavor, and not for the better. Even the best coffee loses its rich taste when defrosted.
But don't worry, there are numerous creative and delicious uses for frozen coffee cubes. Read on to learn a few handy tips and tricks so you'll never pour your unfinished pot of coffee down the kitchen sink again.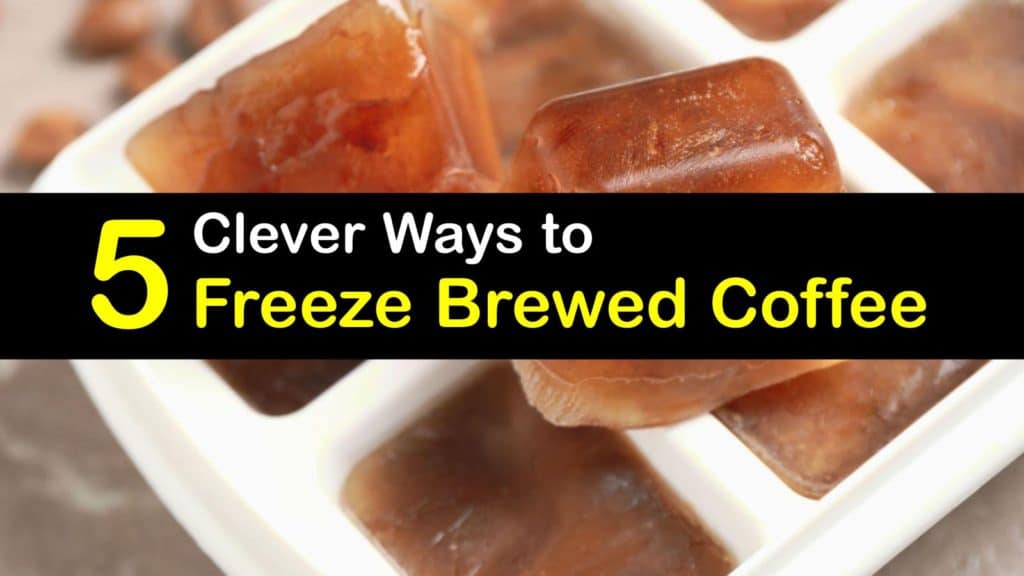 Best Ways of Freezing Coffee
Iced coffee is an excellent treat, especially on hot summer days, but it quickly gets watered down if you're using regular ice cubes. Keep a few coffee ice cubes on hand for better quality coffee.
What about your creamer? Can you freeze creamer, too? Yes, you can freeze coffee creamer but know that the texture won't quite be the same.
Store Coffee Beans in the Freezer
Do you know where to store coffee beans until you are ready to make a fresh brew? Freezing coffee beans is a handy method of extending their shelf life. The aromatic flavor of coffee beans begins to fade after about two weeks when stored at room temperature. The way to freeze coffee beans is to ensure that they are sealed in an airtight container.
It happens even faster to ground coffee because the grinder oxidizes the coffee beans. In contrast, when you store coffee beans frozen, they stay fresh for up to three months. Similarly, store instant coffee in the freezer to make it last longer.
Cold brew coffee retains its taste best for drinking after being frozen and rethawed. This is because it has roughly half the acidity of traditionally brewed coffee, which gives it a smoother taste, both fresh and frozen.
Can You Freeze Brewed Coffee?
Yes, it's possible to make your leftover coffee last longer by freezing it. Everyone enjoys their coffee drinks a bit differently. Maybe you have a favorite barista at Starbucks or your local coffee roaster who makes your specialty espresso.
Perhaps you prefer making your daily cup of coffee in your French press or coffee maker. However, when it comes to freezing fresh coffee, a latte or mocha might be a bad idea.
Does black coffee go bad? All coffee goes bad eventually. It's best to use black coffee for freezing, as the fat content in milk, whether dairy or plant-based, separates from the water and has a lumpy consistency when defrosted.
Whether you're freezing fresh coffee or coffee beans, use an airtight container so the coffee flavor doesn't mix with whatever else might be in your freezer.
Coffee readily absorbs other flavors, so check to ensure that the food items stored next to your coffee in the freezer are also in sealed storage containers.
To make coffee ice cubes, fill an ice cube tray with your leftover coffee and place it in your freezer for several hours until the cubes are completely frozen.
Transfer the cubes to a resealable freezer bag for convenient use. Each cell in a standard ice cube tray holds approximately one ounce or two tablespoons of liquid.
How Long Can You Refrigerate Brewed Coffee?
How long does coffee last in the fridge? If you enjoy drinking iced coffee, you'll be glad to know that it's safe to store your brewed coffee in the fridge for three or four days. Make a big pot, allow it to cool to room temperature, then transfer it into an airtight container to refrigerate brewed coffee.
However, keep in mind that no matter what type of coffee you brew, it won't taste the same when reheated. Once your coffee is refrigerated or frozen, it's best to consume it cold to preserve the best flavor quality.
The naturally occurring volatile compounds in coffee that give it its complex, acidic, slightly bitter flavor intensify when the coffee beans are heated. The more times it's reheated, the harsher it tastes.
How to Defrost Frozen Coffee
To defrost frozen coffee to drink or use in a recipe, avoid putting it in the microwave. The frozen coffee defrosts unevenly.
You may end up boiling some of your thawed coffee, which causes the flavor to deteriorate further. Instead, leave the frozen coffee in your refrigerator overnight to allow it to defrost gradually.
What to Do with Frozen Coffee Cubes
There are numerous fun and delicious uses for coffee ice cubes. They're perfect for making stronger iced coffee or adding to a cup of coffee that's too hot to drink.
They're also useful additions to a brownie recipe or other baked goods and desserts. In savory recipes like chili or barbecue, try substituting vinegar for a frozen coffee cube.
Frozen coffee cubes are also a fantastic addition to your morning breakfast smoothie for a little extra caffeine and flavor.
Try this delicious recipe next time you're feeling creative around breakfast time. It might just rival the smoothies at your favorite coffee shop.
Combine the ingredients in a blender and mix until smooth. Consume the smoothie immediately or refrigerate it in an airtight container for up to two days.
No matter how you enjoy your coffee drinks, sometimes you make a bit more than you'd like to drink at once. Don't worry, it's fine to refrigerate brewed coffee for a few days. Also, there are plenty of practical uses for frozen coffee cubes.
Pour your leftover coffee into an ice cube tray and use the cubes to cool off your cup of coffee, prepare iced coffee, or make smoothies and milkshakes. They're also useful for both sweet and savory recipes.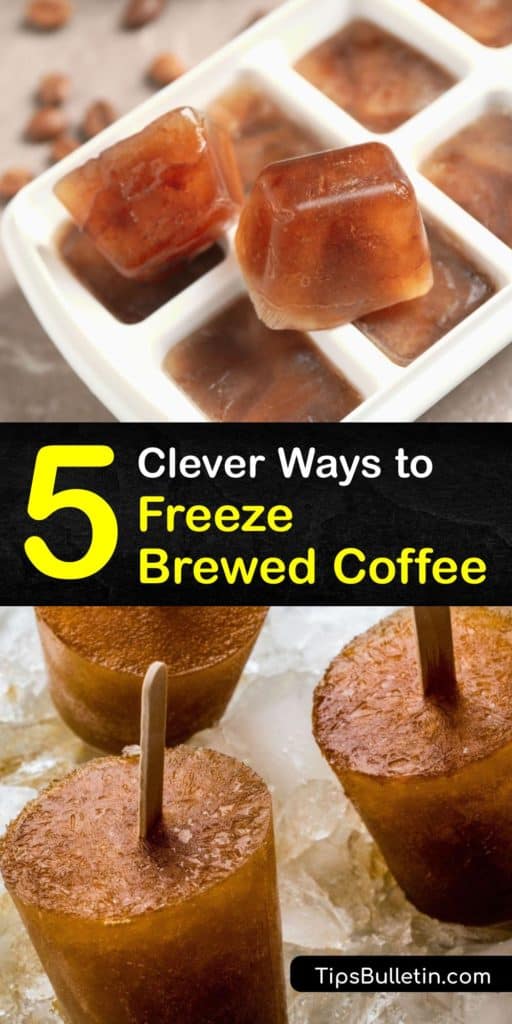 If you found these tips for freezing coffee helpful, please share this article about how to freeze brewed coffee with your fellow coffee lovers on Pinterest and Facebook who might be wondering, "Can you freeze brewed coffee?"