Brie is a decadent cheese enjoyed in cooked dishes such as stuffed salmon or as an appetizer on a cheeseboard. Unfortunately, this soft cheese has a relatively short shelf life. What is the best way to store it, and can you freeze brie?
Named after the French region where it originated, brie is a cow's milk cheese with a soft texture. A brie wheel has a soft, edible white mold rind with a creamy, buttery interior. It is rich in calcium, high in fat, and irresistible served on crusty bread and crackers with jam and honey.
Unlike hard cheeses, such as parmesan and romano, which last up to four months in the original packaging, soft and semi-soft cheeses like mozzarella, camembert, and brie do not last nearly as long.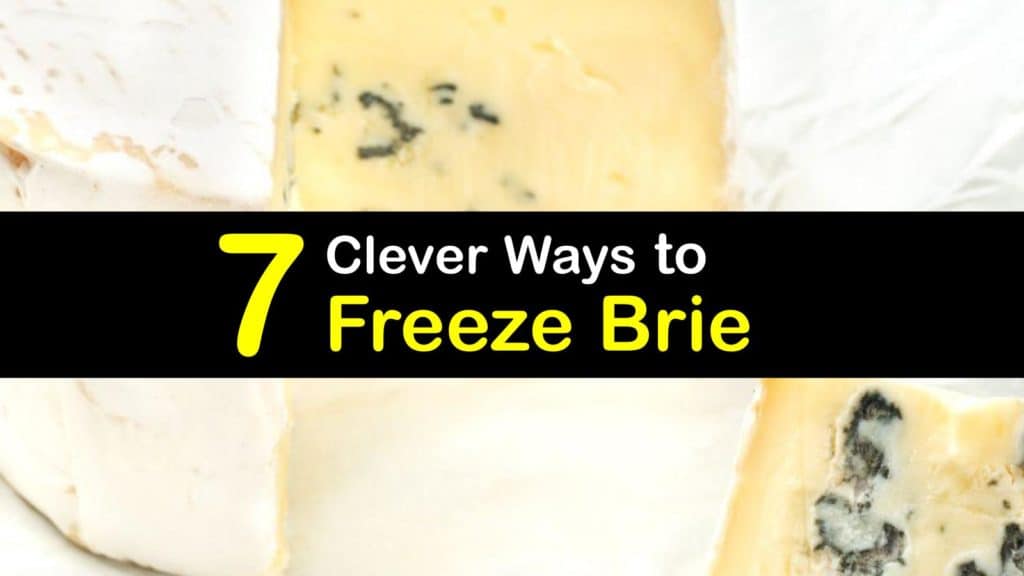 Ways to Store Brie Cheese in the Fridge and Freezer
There are ways to safely store brie in the fridge and freezer to extend brie shelf life. After eating as much brie and crackers as possible, you wonder what to do with the leftovers. Learn how to keep brie fresh in the refrigerator, store it in the freezer, and defrost it when you're ready to indulge.
How Long does Brie Last in the Fridge?
If there are remaining slices of brie sitting out on a platter, you don't want those delicious bits of goodness going to waste. If you plan on eating the leftover cheese within a week, the ideal place to store it is in the fridge.
Do not wrap an opened package of brie or cheese slices tightly in plastic since it needs to breathe. Instead, cover it loosely with a large sheet of parchment paper and set it in the refrigerator for up to one week.
Brie is different from many other kinds of cheese since it has a soft interior beneath a white rind. An unopened package of brie lasts one to two months in the fridge, but it depends on the best by date.
Always bring brie cheese to room temperature before eating for the most satisfying flavor and texture.
Things to Know before Freezing Brie Cheese
If you have too much cheese to store in the fridge and you're wondering if you can freeze brie, the answer is yes, but there are a few things to understand before freezing brie cheese, just like when freezing Gouda cheese.
Brie Cheese
Freezing and thawing brie changes the texture by making the cheese slightly crumbly but you can freeze crumbled feta cheese and brie cheese the same way. However, if you store it properly, it still has a pleasant taste and works wonderfully for cooking.
When storing your cheese in the freezer, it's a good idea to freeze it as soon as possible to retain optimal flavor. Avoid freezing brie past the expiration date and use the right materials for storage to avoid freezer burn and deterioration.
How to Freeze Brie Cheese Wheels
Perhaps you bought a wheel of brie intending to eat it right away, and you change your plans, or maybe you received it as a gift. Whatever the reason, it's essential to store it properly.
One way to keep a wheel of cheese fresh is by using the freezer. Here is how to freeze brie cheese wheels for long-term storage.
Wrap the cheese wheel in a sheet of plastic wrap or aluminum foil. Wrap it even if it's in its original packaging to prevent moisture from getting to the cheese.
Set the wrapped cheese in an airtight container rather than a freezer bag to stop it from being squished in the freezer. Write the date on the lid and set it in the freezer. The same rules apply to frozen blue cheese.
Can You Freeze Brie Slices?
Can you freeze brie cheese after you slice it? What about mozzarella? Can you freeze fresh mozzarella slices?
Fortunately, the answer is yes, and freezing smaller portions is easy if you follow the proper steps. Here is how to freeze slices or pieces of brie to enjoy at a later date.
There are two ways to freeze cheese wedges, together and individually. The best way to freeze brie slices is to keep them separate so they don't stick together during the process. When you freeze sliced cheese, wrap each piece in food wrap and place them in a freezer bag or airtight container.
To freeze the wedges together, line a baking sheet with parchment paper. Set the slices on the sheet in a single layer without touching and flash freeze them until frozen. Put the frozen cheese in a freezer-safe container and place them back into the freezer.
How Long does Frozen Brie Last?
After you go through the process of freezing brie cheese, you probably wonder how long it lasts in the freezer before it is no longer edible. It depends on whether the cheese is whole or sliced.
Frozen Brie Shelf Life
While a constant temperature of 0°F keeps food indefinitely, the quality degrades over time. Properly storing a brie wheel or wedges in the freezer maintains quality if you use it within six months.
However, the longer it sits in the freezer, the less desirable it is. Use frozen cheese within three months.
Ways to Freeze Brie in Puff Pastry
Puff pastry stuffed with brie cheese is a decadent and elegant appetizer, and it's easy to prepare ahead of time by freezing. Here is how to freeze brie cheese in pastry using unbaked and baked brie cheese.
To freeze unbaked brie pastry, wrap the cheese in the dough as usual but do not brush it with beaten egg. Double wrap it in plastic wrap and place it in a sealable plastic bag before storing it in the freezer.
When you're ready to bake it, brush the pastry with egg and set it in an oven preheated to 350°F for 50 minutes.
To freeze baked pastry-wrapped brie, prepare it with your favorite recipe and bake it according to the directions. Let it cool before wrapping it in plastic wrap and storing it in a container in the freezer.
Once you're ready to serve it, bake the frozen pastry in an oven preheated to 200°F for about half an hour.
How to Defrost Brie Cheese
Here is how to thaw frozen brie the right way to ensure it retains its texture. Remove frozen cheese from the freezer 12 hours before you intend to eat it. Set it on a plate and keep it in the fridge until it is soft.
This takes from a few hours to an entire day, depending on the cheese size. If you don't have time to wait, thaw smaller portions of packaged cheese in a bowl of cold water.
After it's defrosted, remove the cheese from the fridge and set it at room temperature for half an hour before serving.
The strong earthy aroma, rich flavor, and creamy texture of a wheel of runny, brie cheese is a special treat enjoyed on toast and crackers.
However, the leftover cheese only lasts so long, especially if you do not store it properly. Fortunately, the freezer is a great place to keep brie from spoiling, and thawed brie is delicious in your favorite cooked recipes.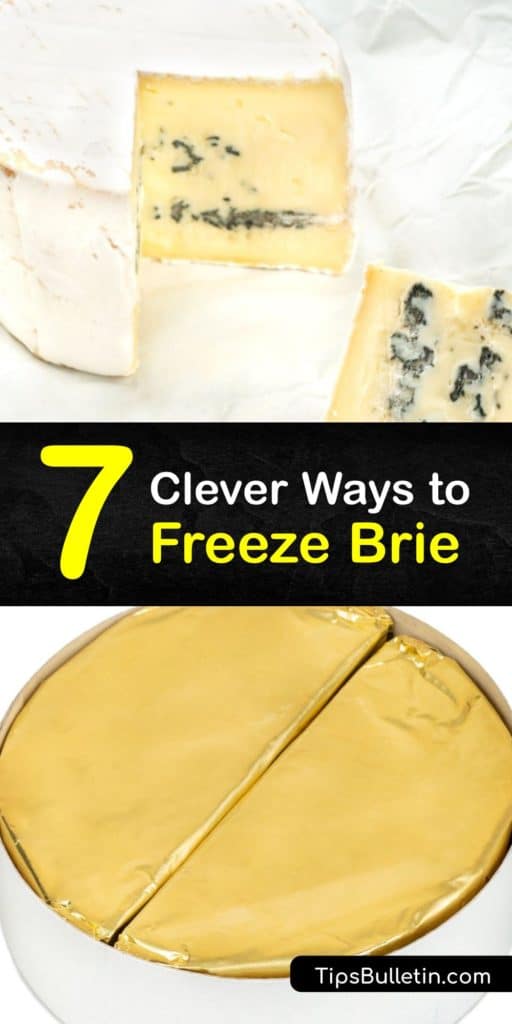 If you have cheese-lovers in your life that ask the question, can you freeze brie, why not share the answer with this cheese storage guide with them on Facebook and Pinterest?