It's always an excellent idea to have cheese on hand, and it's even better when you find a cheese sale at your local grocery store deli. We like to stock up on Parmesan, pecorino, and ricotta for lasagna and sliced cheese for grilled cheese sandwiches, so can you freeze cheddar cheese, and does it still taste good after thawing?
There are so many types of cheese, from Romano, mozzarella, and Swiss to Gouda, goat cheese, and cottage cheese, but cheddar cheese is top on our list. There is nothing better than homemade creamy macaroni and cheese to fill the belly and warm the heart.
Unfortunately, cheese only lasts so long in the refrigerator before it grows mold or gets hard and crumbly, especially if you don't store it correctly. It is so dissatisfying reaching into the fridge for a block of cheese only to discover it's gone bad. How long does cheddar cheese last, and can you freeze cheese?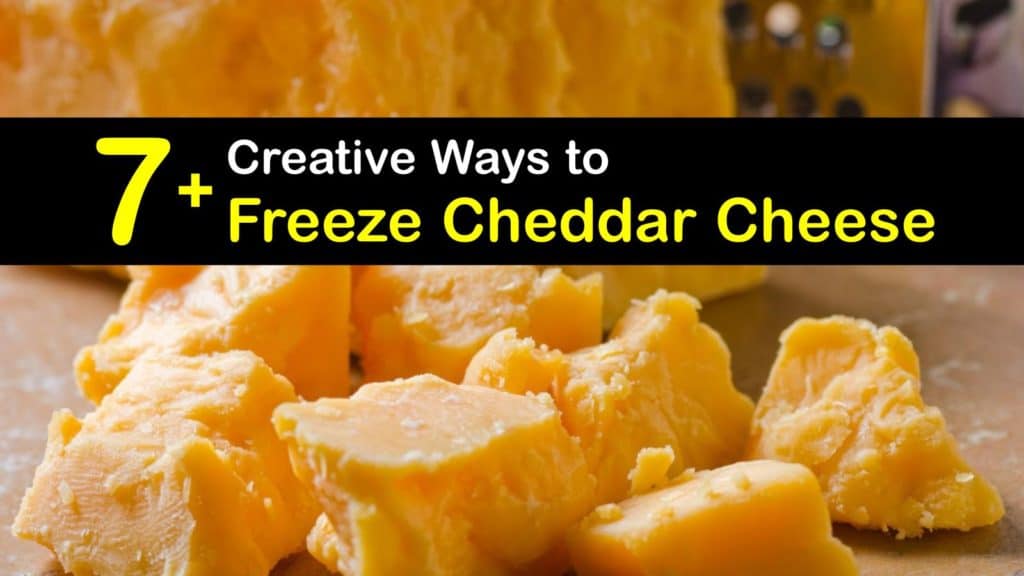 Ways to Store and Freeze Cheddar Cheese
Mild, medium and sharp cheddar cheese are delicious, whether you enjoy them on a cheese board for snacking or want to add extra creaminess to cooked dishes.
Learn how to keep your cheese in the fridge, ways to freeze it long-term, and how to tell when cheddar cheese is no longer good.
Can You Freeze Cheddar Cheese?
Yes, it is possible to freeze cheddar cheese. What about freezing Swiss cheese? Frozen cheese does not always have the same consistency as fresh cheese and is best for cooking. Here is the proper way to refrigerate cheddar cheese or Swiss if you plan on eating it daily.
Even though your cheese comes wrapped in plastic from the grocery store, it's a bad idea to keep it in plastic after opening the original packaging. Cheese needs to breathe, and plastic wrap suffocates it.
To store your cheddar cheese in the fridge, remove it from the package and double wrap it with cheese paper or parchment paper.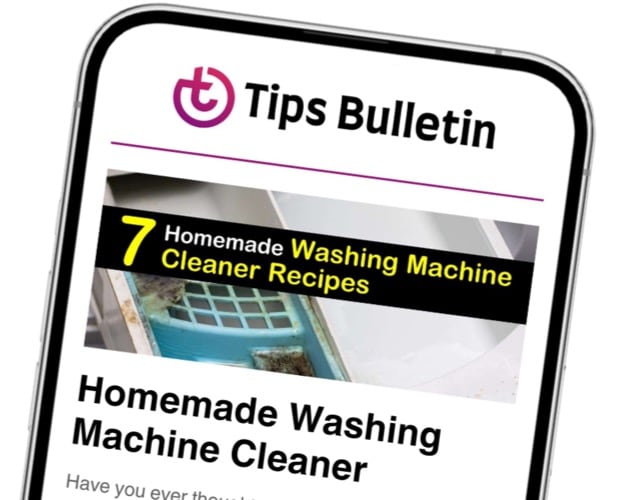 Finally, an email that Transforms Your Home.
Get the latest home and garden tips from our experts, delivered straight to your inbox.
Seal it shut with a piece of tape and set it on the refrigerator shelf. If you cannot eat the cheese before it spoils, consider storing it in the freezer to extend its shelf life.
The way to freeze feta cheese is in an airtight container. Note that frozen feta is best used in recipes rather than eating it on its own due to consistency changes.
Things to Know before Freezing Cheddar Cheese
Can cheddar cheese be frozen? Yes, this hard cheese holds up well to the freezing process, unlike soft cheeses such as cream cheese and brie that do not freeze well. However, there are some things to know before freezing cheddar cheese to ensure good results.
Cheddar Cheese
Cheddar cheese is a firm cheese with low moisture content. It is usually a gold-yellow color, but some types are paler than others. It has a distinct mild to sharp taste and is most often made with cow's milk, but some types are made with goat's or sheep's milk.
Mild cheddar cheese is sold after aging for about three months, while extra sharp cheese ages for up to 15 months. This cheese comes in various forms, from the classic cheese wheel to shredded and sliced.
When freezing this cheese type, it is vital to protect it to prevent freezer burn.
Freezing cheese causes ice crystals, which alter the flavor and texture, and frozen cheddar cheese doesn't always taste the same. However, it is still quite delicious if you plan on using it in cooked dishes.
How to Freeze Cheddar Cheese Blocks
Freezing hard cheeses in block form is the easiest method, especially in their original packaging. While they don't thaw as quickly as slices or shredded cheese, they are perfect for use in hot dishes. Discover how to freeze cheddar cheese or the best way to freeze Gouda cheese as a whole block.
To freeze a block of cheese without opening it, put it in a ziplock freezer bag and set it directly in the freezer. To freeze an opened block of cheese, discard the package and wrap the cheese in aluminum foil or plastic wrap.
Place the wrapped cheddar in a freezer bag and put it in the freezer. Do not freeze cheese over a pound in size since the larger the cheese is, the longer it takes to thaw.
Ways to Freeze Shredded Cheddar Cheese
After shredding, freezing cheddar cheese is a great way to have cheese on hand for a pizza topping, sprinkling on a casserole, or for tacos and burritos. This frozen cheese is also the quickest to thaw.
If you purchase your cheese pre-shredded from the store, leave it in the original package and put it straight into the freezer. The best way to freeze cheddar cheese after shredding it is to mix cornstarch with the cheese to keep it from sticking together.
Place the shredded cheese in a freezer bag and add one tablespoon of cornstarch for each pound of cheddar. Seal the storage bag and shake it to coat the pieces. Open the bag, press out the air, and then seal it before placing it in the freezer.
Store mozzarella cheese in freezer if it is shredded in the same way as cheddar. It's ideal for topping a pizza or soup.
How to Freeze Cheddar Cheese Slices
If you enjoy your cheddar cheese for making grilled cheese sandwiches, consider freezing the cheese in slices. This freezing process is simple, and the slices don't stick together, so they are conveniently ready for using one at a time.
To freeze sliced cheese, separate the cheese slices by placing a small sheet of parchment paper between each slice. After separating and stacking the cheese slices, wrap the whole bundle in plastic wrap or foil, place them in a freezer bag, press out the air, and seal it before setting it in the freezer.
Making and Freezing Cheddar Cheese Sauce
Steamed broccoli is just not complete without drizzling some cheesy sauce over the top. This recipe is perfect as a veggie topping, mac and cheese, and sandwich melts. Here is how to freeze cheddar cheese sauce for the freezer.
Homemade Cheddar Cheese Sauce
Place a saucepan or pot on medium heat and melt the butter. Add the flour, salt, pepper, and dry mustard, and continue cooking for about one minute.
Gradually stir in the milk and simmer on low while stirring for five minutes. Sprinkle in the cheese and cook it until it melts, is well-blended, and is smooth.
Remove the pot from the heat and serve it over pasta or veggies. If you plan on freezing it, let the sauce cool completely first. Pour the cheese into an airtight container, secure the lid in place and set it in the freezer.
If you have leftover mac and cheese with your delicious homemade cheese sauce, you can also freeze macaroni and cheese. A tightly closed container is best for preserving the dish for later eating.
How Long does Cheddar Cheese Last?
How long does cheddar cheese stay fresh? It all depends on whether you keep it in the fridge or freezer. Find out the shelf life of this cheese and how to tell when it's ready for the trash.
How long is cheese good for? Refrigerated cheddar cheese lasts four weeks after opening, and frozen cheddar cheese lasts up to two months. If you notice some mold on the cheese during this time, cut away the moldy part and discard it. The remaining cheese is still safe to eat.
If you're unsure how old the cheese is, inspect it for color and texture. Very old cheese darkens and becomes hard and almost brittle. It also develops a strong smell, and these signs are indications that the cheese is spoiled and no longer edible.
Ways to Thaw Cheddar Cheese
You've gone through the steps to freeze your leftover cheese and decide to use it in a recipe. How do you thaw it, and how long does it take to defrost? Here is how to thaw frozen cheddar cheese, whether it is blocks of cheese, shredded, or a cheese sauce.
Thawing Cheddar Cheese
Avoid thawing frozen cheese at room temperature since this causes bacterial growth. Instead, plan ahead of time and take the cheese out of the freezer up to 48 hours before you plan to use it. Set it in the refrigerator and let it defrost slowly.
It's not necessary to thaw frozen shredded cheese when using it in hot dishes. Sprinkle the frozen cheese directly on a pizza or melt it in a soup or casserole.
Cheddar is one of the most well-known cheeses, with its mildly sharp and earthy flavor, and it's delicious on everything from crackers and sandwiches to casseroles.
While cheese has a limited shelf life in the fridge, the freezer is a great place to store leftover cheddar cheese for future cooking.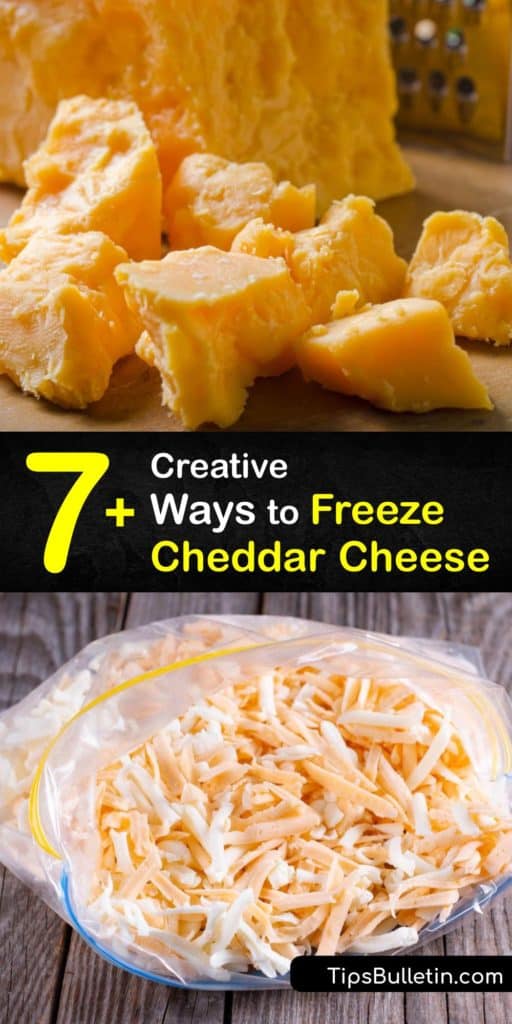 Can you freeze cheddar cheese is a common question, and knowing the right way to freeze your leftover cheese helps you prevent food waste and saves you money, so why not share our cheddar cheese storage guide with your social circle on Facebook and Pinterest?