Whether you worship it or despise it, cilantro is an herb taking over the world and changing cuisine. If you're a cilantro fanatic like us, you probably want to keep this herb in the house year-round. Can you freeze cilantro? The answer is yes.
Freezing cilantro is one of the smartest ways to preserve the unique, citrusy, and spicy flavor profile. Learning how to freeze cilantro allows you to use the herb throughout the year and is easily added to tasty foods like pesto, salsa, curries, or butter.
Whether you have cooked with cilantro or not, the chances that you've eaten it before are exceedingly high. This herb is a dominant ingredient in Indian, Chinese, Mexican, Caribbean, Thai, Mediterranean, Eastern European, and North African cuisines.
Cilantro is grown all over the world. You may not know that it comes from the same plant as coriander. Cilantro leaves are the plant's foliage, while the seeds make coriander, the berries make peppercorns, and the flowers make cloves. There are so many benefits of cilantro that people don't know.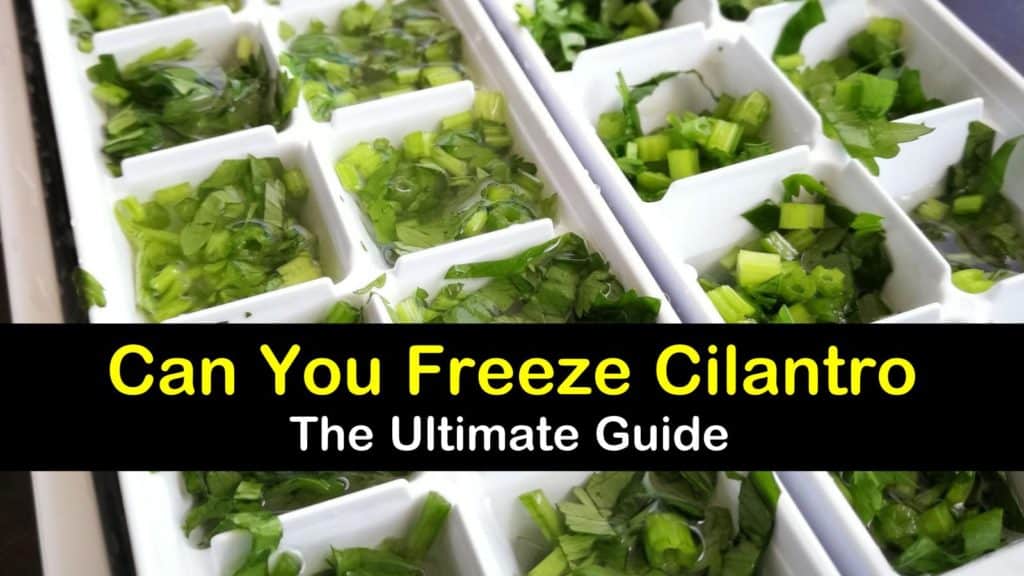 How to Find Fresh Cilantro
The easiest way to find fresh cilantro at the grocery store is to give it a sniff test. The best bunch of cilantro has the most potent smell.
The leaves of good cilantro are vibrant green, so look out for wilted leaves and brown or yellow spots. Make sure the leaves are dry to the touch and not soggy or mushy.
If you find it challenging to locate fresh cilantro at the store, growing cilantro from seed is easy – and you always have some when you need it.
Can You Freeze Cilantro?
Is it safe to freeze cilantro, and if so, what are its benefits? Cilantro is an herb used more often for finishing a dish than using it throughout the cooking process. Dried or dehydrated cilantro loses its texture, aromatics, and a lot of the flavor.
Knowing how to freeze cilantro is the only way to preserve the character and taste of these fresh herbs after you harvest cilantro or purchase it from the store. Although fresh is the best, freezing cilantro is the next most viable storage option.
How to Prepare Cilantro for the Freezer
Always wash herbs and produce before consuming them. The first step in preparing your cilantro for freezing is to clean it. Fill a small bowl with cold water. Hold the cilantro by the stems and gently swirl it in the water to remove dirt.
Drain the dirty water from the bowl and repeat until the water is clear. Shake the excess water off the cilantro and then pat the herbs dry with paper towels until all the water is gone.
If you like preserving the color of the cilantro, consider blanching it. To blanch cilantro, dip the herbs in boiling water for 15 seconds.
Remove the cilantro from the boiling water and immediately dunk it in ice-cold water for 30 seconds. Thoroughly dry the herbs with paper towels.
Can I freeze cilantro now? Unfortunately, you're not quite ready yet. Decide between freezing the cilantro whole or freezing only the leaves.
If you only want the leaves, pinch them off and throw the stems away. Here's a little secret: the stems are packed with flavor, so most professional chefs prefer to utilize them.
Without a barrier to the cold temperatures, the cilantro leaves turn to mush. To protect the herb, toss the cilantro with a teaspoon of olive oil. Now you're ready to learn how to freeze cilantro.
How to Freeze Cilantro
There are several ways to freeze fresh cilantro. Find what freezing methods work best for you and discover some tasty recipes along the way.
Freezing Cilantro in a Bag
Many people think the best way to freeze cilantro is with a trusty plastic bag or freezer bag. Place one bunch of cilantro in a plastic bag. Remove as much air as possible and seal the bag tightly.
Stick the bag in the freezer and take out what you need as often as necessary. The leaves of cilantro don't look the best after putting them in the freezer, so stir the ingredient into recipes while cooking instead of using it as a garnish.
Can you freeze cucumbers for later use like you do cilantro? Yes, freeze cucumber slices to use on tired, swollen eyes for a DIY spa treatment or freeze them in a cube recipe similar to the one below.
How to Make Cilantro Cubes
Turning cilantro into ice cubes is a smart way to cook. With this method, thawing is unnecessary. Drop a single cilantro cube into a soup, stew, or sauce, and you have an added burst of bright cilantro flavor.
Place as much fresh cilantro as desired in a food processor or blender. Turn the processor on and slowly add olive oil until it makes a thick puree. Drain the mixture into an ice cube tray and place the tray in the freezer.
Once frozen, remove the cubes from the tray and store them in a freezer bag for up to six months. Use water for a substitute if you don't have oil on hand or prefer not to use it.
Our Favorite Recipe with Frozen Cilantro
Turning cilantro into pesto is a genius idea. Whoever thought of it probably deserves an award of some kind.
Unlike traditional basil pesto, cilantro pesto doesn't include Parmesan and garlic. Instead, the flavors pair well with serrano chiles and red onion. Throw it into guacamole for a fresh take on a favorite dip.
Toast the slivered almonds in a small or medium skillet over medium-high heat, constantly stirring with a wooden spoon until fragrant.
Add the cilantro, almonds, onion, chile, and salt to a food processor and pulse until well blended. Allow the food processor to keep running and slowly add the olive oil.
To preserve the pesto, line an ice cube tray with plastic wrap and fill each of the cubes with the pesto. Freeze the pesto and remove the cubes. Place the pesto cubes in a freezer bag and store for up to six months.
How to Make Cilantro Butter
This cilantro freezing method is similar to the technique used with olive oil. The main difference is that butter has a different flavor than olive oil that some people prefer. It is also delicious slathered on toast or melted over a hot steak.
Allow your butter to reach room temperature. Begin finely chopping cilantro on a cutting board. In a small bowl, combine softened butter with as much cilantro, salt, pepper, and garlic as you like.
Scoop the cilantro infused butter onto a sheet of parchment paper and roll the butter into a log. Wrap the log in parchment paper and seal it inside a plastic bag. Place the butter in the refrigerator until it hardens, then place it in the freezer for six months.
How to Make Cilantro Chutney
Cilantro chutney is a delicious sauce. Top your favorite chicken, steak, or salmon dishes with this zesty sauce. Use it as a salad dressing, marinade, sandwich spread, or dip for your favorite fried appetizers.
Blend the green chiles, ginger, lime juice, and water in a blender or food processor. Add the cilantro, salt, cumin, honey, and chaat masala to the food processor and puree until combined.
How to Refrigerate Cilantro
As much as you love cilantro, we wouldn't blame you if you used it all up before freezing became necessary. When you bring your cilantro home from the grocery store, remove the rubber band around the stems.
Fill a small glass with about an inch of water and place the cilantro into the water stem side down. Loosely tent the herb with a plastic bag and place it in the fridge. Wash your cilantro before consuming it. The refrigerated cilantro lasts about seven days.
How to Thaw Frozen Cilantro
The truth is, you'll never get fresh leaves after putting cilantro in the freezer. The best way to thaw frozen cilantro is to remove it from the freezer bag it's in, place it on a paper towel to defrost, and then stir it into a hot dish for added flavor.
Cilantro is a versatile herb. It pairs well with more than you thought was possible. Add it to avocado, chicken, eggs, lentils, mayonnaise, pork, rice, salads, shellfish, tomatoes, yogurt, lamb, cheese, fish, and more.
This herb is low calorie and full of vitamins A, C, and K. It works as an antioxidant and aids in healthy skin, teeth, eyes, and creates a more reliable immune system.
If you aren't convinced, give one of our frozen cilantro recipes a try and discover how one ingredient changes the entire flavor profile of a dish.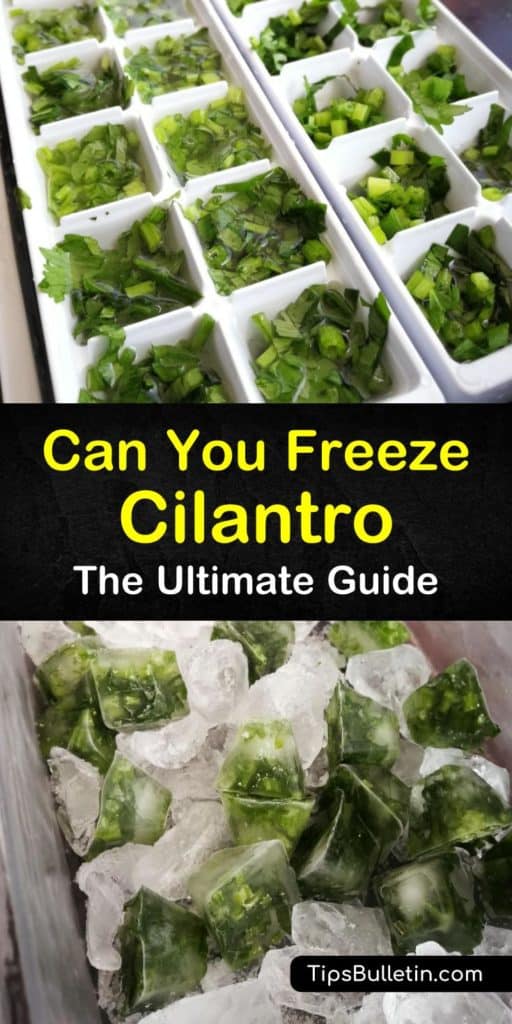 If you've been stuck wondering can you freeze cilantro and found the answers you were looking for, share these recipes for freezing cilantro on Facebook and Pinterest.