Cream cheese is a beautiful addition to any kitchen. Versatile, delicious, and endlessly useful, cream cheese works equally well as a spread and as a recipe ingredient, and its rich flavor enhances any dish in which it's used, including New York-style cheesecake and cream cheese icing. But, can you freeze cream cheese? Absolutely.
Cream cheese has a long shelf life, and you can extend that shelf life by freezing cream cheese until you need to use it. With so many great attributes, it's no wonder that cream cheese is a household staple.
In this article, we look at cream cheese and why we love it so much. We discuss how to freeze cream cheese and how to freeze cheese of other varieties without harming it, and we even share our favorite cream cheese recipe along the way!
We go over the thawing process as well, and we give you tips to make sure that your cream cheese is delicious and enjoyable throughout its lifetime. Knowing how to store cream cheese is vital to concocting amazing dishes, and our guide will make sure that you get the information you need!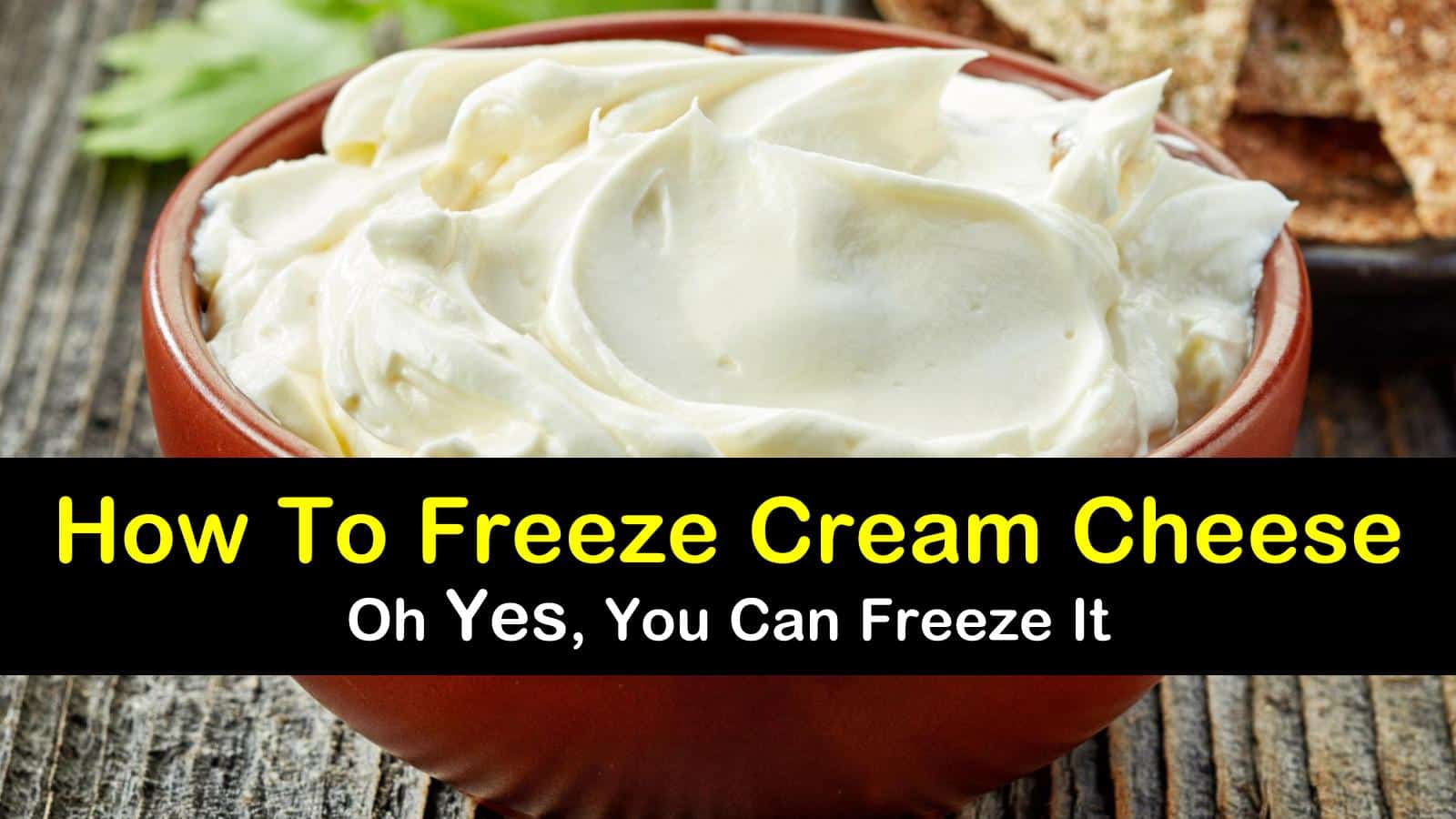 Why Cream Cheese?
So, what makes cream cheese so unique? There are plenty of spreadable food products out there, so why is cream cheese so lauded? Well, cream cheese is not only a spread, but it works in a variety of instances and serves all sorts of health and dietary needs.
In this section, we look at cream cheese's benefits when used as a nutritional and flavorful dietary element. We compare cream cheese to similar spreads and ingredients, and we put our money where our mouth is with a tremendous health-conscious salmon and cream cheese recipe. You'll never see cream cheese the same way again!
When dealing with cream cheese and other cheeses, you may wonder how long does cream cheese last? There are ways to preserve this delicious cheese that will ensure you always have some on hand.
Freezing and Thawing
Knowing how to store cream cheese safely is a great skill to have, and knowing how to thaw frozen cream cheese is equally as important. Freezing cream cheese can extend its life, but if you freeze or thaw it incorrectly, you could wind up with unappealing and inedible cream cheese and will have wasted time, freezer space, and money.
This section examines the storage and unfreezing process. We'll take a look at how to freeze cream cheese efficiently and safely, and we'll also go over how to make sure that the cream cheese you get at the end of the storage process is delicious and ready to be used in baking.
The same basic storage methods apply to freezing shredded cheese, goat cheese, and freezing ricotta cheese, as well as other types of cheeses. Freezing cottage cheese and other cheese correctly ensures that you have yummy cheese when you need it, whether it's to go in a recipe like 7 Layer Mexican Dip or to add as a topping to a hash brown casserole.
The cooking possibilities are almost endless and you won't have to run to the store if you suddenly decide to make a recipe with frozen cheese. You'll have all the cheese you need in the freezer already!
How to Freeze Cream Cheese
You may have questions about freezing cheese. Can you freeze mozzarella cheese? Can you freeze cream cheese? Yes, but before freezing cream cheese or another type of soft cheese, make sure that you've selected fresh cream cheese with a distant expiration date. This also applies to the question, "Can you freeze feta cheese?"
While frozen cream cheese will last longer than at room temperature, freezing an old and nearly expired product will result in an inferior and unpalatable cream cheese after thawing. Pick up a fresh package of cream cheese at the store to freeze for best results.
Remove your unopened packages of cream cheese bricks from their cardboard container, but leave them in their foil packaging, as this wrapping works well to protect cream cheese in the freezer. Place the blocks in a freezer bag or wrap them in plastic wrap to prevent freezer burn, and remove all air to prevent ice crystals from forming.
Affix a label to the bag or wrap, and note the date using the marker. Store the freezer bags in an out-of-the-way corner of the freezer. And, always remember that the answer to "Can I freeze cream cheese?" is a resounding "Yes!"
Thawing and Using Frozen Cream Cheese
Can you freeze cheese? Yes, although cream cheese and other soft cheeses freeze well, you can damage them during the thawing process. Improperly thawed cream cheese can undergo flavor profile changes, so follow our instructions on how to unfreeze cream cheese to give your cream cheese its best chance at a successful thawing.
Place your frozen blocks of cream cheese in the refrigerator, and allow them to remain for at least a day before using. Like many dairy products, freezing cream cheese can affect its texture.
If your cream cheese is no longer creamy, allow it to come to room temperature after thawing it out, add a dash of milk, microwave on low for a few seconds, and stir until the cream cheese has a smooth texture again. You can use thawed cream cheese in New York cheesecake with heavy cream and sour cream, cream cheese frosting, or other desserts.
Health Benefits
One of the reasons that cream cheese is such a well-regarded ingredient is that it can take the place of solid fats such as butter in most recipes. When you use cream cheese instead of butter, you reduce your fat intake and increase the flavor as you go. Regular cream cheese like Philadelphia brand cream cheese has a high-fat content, but it is often still the healthier choice when compared to butter.
Check your cream cheese fat content. There are all kinds of low-fat cream cheese options you can find for an even healthier option, so feel free to explore and find the perfect cream cheese for your needs.
Amazing Flavor
Cream cheese is a valued ingredient for many reasons, but one of the key reasons is its flavor. Cream cheese has a unique and lovely flavor that adds dimension to all sorts of meals, and thanks to the many cream cheese varieties available, you can make your meals as healthy as you wish.
Use cream cheese in desserts or to spice up your chicken or fish dish such as in our favorite cream cheese recipe, which we've included below.
Heat the oven to 425°F. Put parchment paper on a baking sheet with a rim. Heat the oil over medium-high heat in a large skillet. Stir in the garlic and shallots, and stir for about two minutes until soft.
Add red pepper, and stir for thirty more seconds. Add the spinach in three equal portions; stir in each portion until wilted, and then add the next one. It should take you about three minutes to add all of the spinach.
Remove the skillet from the heat, and add the cream cheese and mozzarella. Stir until melted, and let the mixture cool for another ten minutes.
Cut each fillet lengthwise in its center so that you cut through the flesh but not the skin to form a pocket. Place the fish skin-side down on the baking sheet, and sprinkle with black pepper and salt. Then, fill each pocket with the spinach mix. Bake the salmon for about eight to ten minutes.
We hope you enjoyed reading this guide to freezing and using cream cheese. Cream cheese is a wonderfully flexible and tasty ingredient, so knowing how to store and use cream cheese will make you a better cook and will leave your family satisfied. With our help, your cream cheese recipes will shine!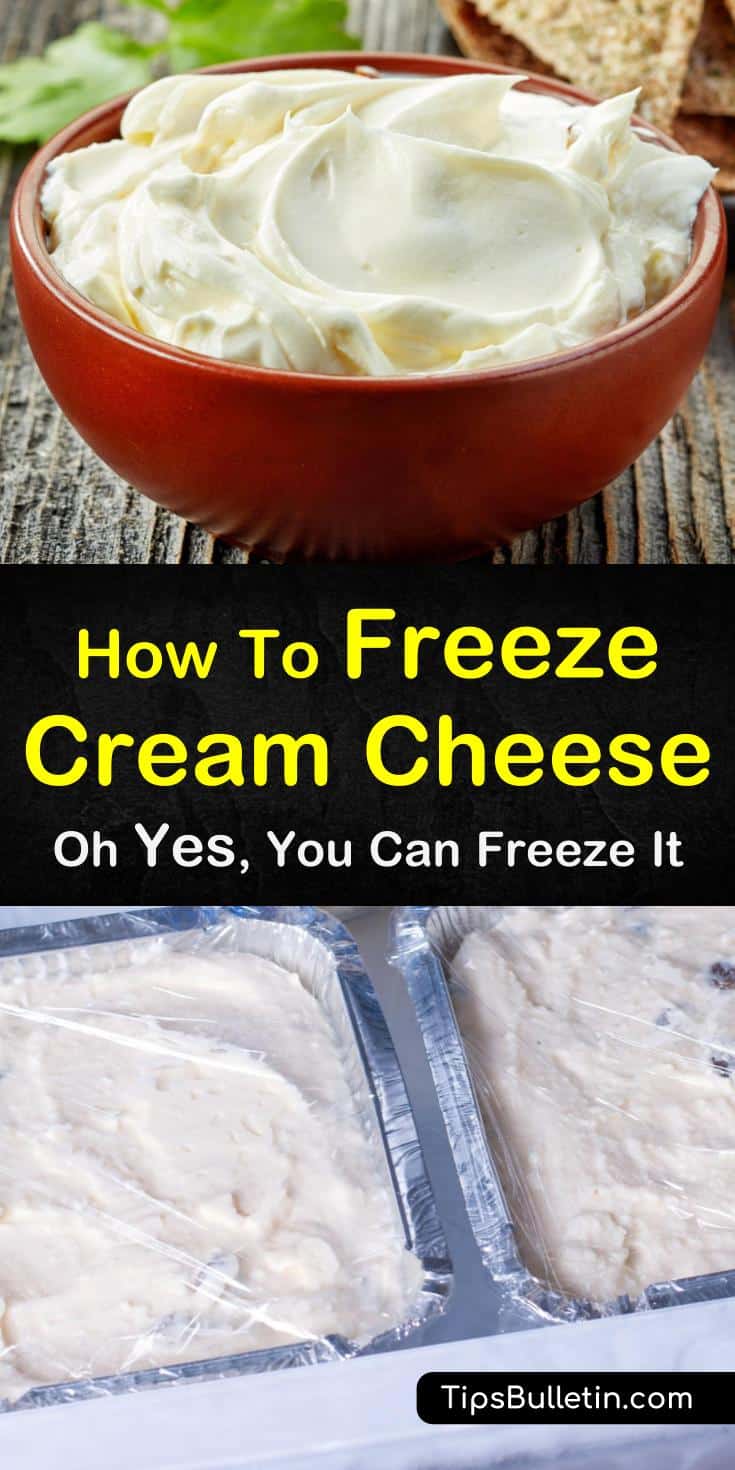 Thanks for reading our tips for cream cheese storage and use. If you found our cream cheese guide useful, please spread the word and share this guide to cream cheese with friends and family on Pinterest or Facebook.