If you had a garden this year and have just harvested your autumn vegetables, you may have realized that you have more fresh cucumbers than you can manage. Cucumbers can only last so long in the refrigerator, and you don't want those yummy garden delights to go to waste. This dilemma probably leads you to the question, "Can you freeze cucumbers?"
Like many other garden veggies, the answer is yes. It's hard to resist munching on a freshly picked whole cucumber while harvesting vegetables from the garden.
Cucumber slices are delicious used in salads with lettuce, tomatoes, and green peppers. While these are great ways to enjoy your harvest, you may still end up with extra cucumbers when the season draws to an end.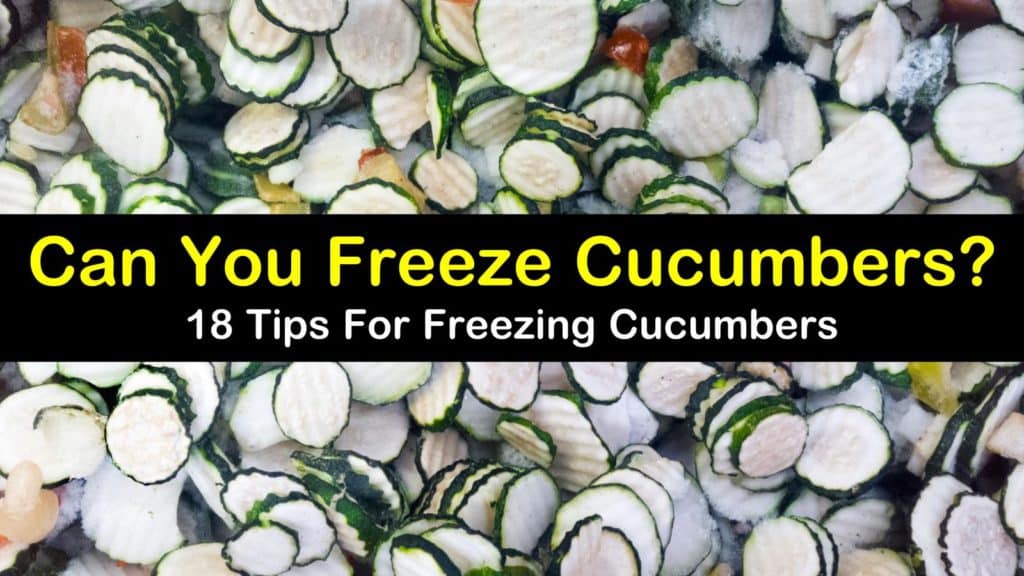 Let's Freeze Cucumbers
You don't have to worry about eating all of your cucumbers at once after they ripen. There are a variety of storage methods that work quite well for this delicious veggie. Some people prefer canning cucumbers while others like freezing. Preserving cucumbers in both ways is beneficial.
Before you even begin to think about freezing cucumbers you need to select the perfect specimens. There are all types of cucumbers, from burpless to long English varieties.
Learn how to tell if a cucumber is bad by using your senses. If it is soft and rubbery, has moldy spots, or smells, don't use it and throw it away instead.
You only want the freshest cucumbers for freezing. Don't expect thawed frozen cucumbers to be like snacking on a fresh, crispy cucumber. You can't slice them up and toss them into a salad, but you can enjoy them on a whole new level.
Frozen cucumbers work splendidly in smoothies, green juices, sandwich spreads, and more. We'll show you how to freeze those cucumbers correctly and what you can do with them after they are frozen.
Freezing Cucumbers with the Brine Method
Due to their high water content, brining is one of the best methods for freezing cucumbers to ensure that they remain crunchy after they defrost. Brined freezer pickles keep their texture for several months.
Begin by peeling the cucumbers and cutting them into thin slices. Place the cucumber slices into a large bowl and add the salt. Allow them to sit for two hours and then rinse with cold water. Add the oil, vinegar, sugar, and celery seeds to the cucumbers and mix well.
Cover and refrigerate the cucumber mixture overnight. Pack the cucumbers and brine mixture into airtight containers or glass jars, leaving an inch of head space. Wait one week after freezing before eating.
How to Freeze Cucumbers Slices
Sliced cucumbers can be used in cucumber water, on sandwiches, or for use in purees and smoothies. This recipe shows you how to freeze cucumbers in slices for convenient storage.
Slice cucumbers into thin and desirable sizes. Freeze jalapeno peppers in the same way, although it's a good idea to remove the seeds first. If you'd prefer, use a food processor with a slicing attachment for this.
Lay the slices out in a single layer onto a cookie sheet lined with parchment paper or wax paper. Place the cookie sheet into the freezer to freeze cucumber slices for about 30 to 60 minutes.
Grab both ends of the paper lining and funnel the cukes into a freezer bag. Repeat until you have used all of your cucumbers. This method is also how to freeze green beans.
How to freeze ginger follows these same guidelines. You can peel the ginger first or leave the peel on, as the ginger peels better when it is frozen.
Freezing Cucumber Puree
Freezing cucumbers for smoothies can be done quite quickly if you make a puree out of the cucumbers first. The following recipe gives you ready-to-go healthy additions to your favorite smoothie beverages.
Wash and cut cucumbers into chunks and place them into a mixer on the puree speed. Pour the puree into ice trays and put them into the freezer.
Once the cucumber cubes freeze, remove them from the trays and place them into freezer bags. Make sure to label the bags before freezing.
Cucumber Spears – Great Way to Freeze
Frozen cucumber spears have many uses, one of which may come as a surprise. They can be used to relieve your toddler's teething discomfort. The cold alleviates their pain, the spear shape is natural to hold, the size is perfect for preventing swallowing, and it's healthy!
Freezing Cucumber Spears
Cut the cucumbers into spear shapes and place them in a single layer into freezer bags. Label the freezer bags and put them in the freezer. Wait approximately one week before eating. Frozen cucumber spears can last up to one year in the freezer.
Ferment Cucumbers
This form of cucumber storage is not only tasty but highly nutritious. Fermented cucumbers contain probiotics which are good for digestion. Cucumbers absorb water, so pick slightly under firm cucumbers for fermentation to prevent them from becoming mushy.
Prepare the cucumbers by removing the ends and cutting a slit into both ends. Place some dill into the bottom of a glass jar and pack the pickles over the dill. Add in the garlic, mustard seeds, salt, and more dill, squeezing everything in tightly.
Pour water over the top until covered, leaving an inch of headspace. Cover the jar tightly and place it in a dark and cool place for two to seven days. You can refrigerate or freeze the fermented pickles.
Make Freezer Cucumber Pickles
If you enjoy dill pickles, you can use cucumbers to make freezer cucumber pickles with a similar result minus the dill.
Combine the cucumbers, onion, garlic, salt, and water into a large bowl and allow the mixture to rest at room temperature for about two hours. Add the sugar and vinegar to the mix and stir until they have dissolved.
Divide the cucumber mixture into two containers, leaving an inch of headspace, and then seal and place into the freezer. The cucumber pickles last up to six months in the freezer.
Turning Frozen Cucumber Pickles into Relish
Now that you have frozen pickled cucumbers in your freezer, why not turn them into a tasty sweet relish for burgers and hot dogs?
Take the pickled cucumbers out of the freezer and put them into the fridge for eight hours to thaw. Place the pickled cucumbers, peppers, celery, onion, and pickling salt into the pan and cover. Allow them to sit at room temperature for about four hours.
Drain and rinse the vegetables, and set aside. Combine the vinegar, celery salt, sugar, and mustard seeds into the pot and bring to a boil.
Add the vegetables and simmer for about ten minutes, and then pour the veggies and seasoned liquid into the jars, leaving a half-inch of headspace. Seal the jars with their lids and process in the water bath for ten minutes.
Turn those Cucumbers into a Healthy Salad
Here is a quick cucumber salad that you can freeze in a single-serve plastic bag or container and enjoy whenever you fancy.
Place the onion and cucumber slices into a bowl and add the salt. Allow them to sit for about three hours. In the meantime, warm the vinegar and sugar in a saucepan until the sugar dissolves.
Drain the cucumbers and onions and add the vinegar solution to the veggies. Mix well and pour into freezer bags or storage containers. Label and freeze. When you're ready to enjoy, defrost and eat chilled.
Making a Vegan Soup with Frozen Cucumbers
Make a rich, zesty, and creamy soup that will not only use those frozen cucumbers you have stashed away in the freezer but is also vegan and delicious.
Pour the water, cucumber, and onion into a soup pot and bring to a boil. Boil for ten minutes and then transfer to a blender. Puree the mixture and then move back into the pot.
Add the milk and flour and mix well to avoid clumping. Bring the pureed mixture to a boil and simmer for five minutes. Add the green pepper, salt, paprika, and olive oil and simmer five more minutes.
Make Green Cucumber Smoothies
The following smoothie recipe is a great way to use those cucumber ice cubes to make a frosty beverage that is not only delicious but packed full of vitamins and minerals for a boost of energy. This smoothie is an excellent way to power up after a good workout.
Combine all of the ingredients into a processor or blender and blend until smooth to make two sixteen-ounce smoothies.
Green Juice out of Frozen Cucumbers
A refreshing green juice detoxifies the body using only three ingredients. It's a great way to use those frozen cucumber slices or spears stored in the freezer.
Juice the cucumber and apple in a juicer and pour into a tall glass. Squeeze the juice from a fresh lime into the green juice and enjoy a refreshing beverage.
The Best Cucumber Dip
This recipe is for a cucumber yogurt dip, or Tzatziki, which is a Greek-style dip that complements just about any meal. It also works wonderfully as a dip for vegetables or as a sauce in chicken wraps.
Make sure that you defrost your cucumber before preparing the recipe. Peel and seed the cucumber. Use a grater to shred the cucumber into a bowl.
Add the remaining ingredients and mix well. Allow the cucumber dip to rest in the refrigerator for about half an hour so the flavors can marry.
Cucumber Sorbet For Gourmets
Yes, you read that correctly. You can make a sorbet out of those frozen cucumbers!
Begin by peeling the thawed cucumbers, removing the seeds, and cutting into two-inch pieces. Put the cucumber chunks, lemon juice, and sugar into a food processor or blender and process the mixture until it is smooth.
Pour the sorbet into an airtight container and place it into the freezer for a few hours until the mixture reaches the desired frozen consistency.
Simple Yet Powerful Cucumber Water
Both water and cucumbers are an excellent way for the body to re-hydrate itself. Not only that, but cucumbers are healthy for the skin.
They contain high amounts of vitamin B-5, which is used for treating acne. The following recipe is good for the body inside and out and is also plant-based, gluten-free, and vegan.
After slicing the lemon and cucumber into thin slices, place them into a pitcher of filtered water. Add all of the spices and refrigerate for about one hour. Pour into glasses of ice and garnish with a lemon wedge.
Detox Smoothie Out of Frozen Cucumbers
Detox smoothies are a great way to revitalize the body after recovering from an illness or when feeling under the weather. This recipe uses frozen cucumber and other ingredients to create a slightly zesty and refreshing smoothie.
Put the water into a blender, followed by the rest of the ingredients, and blend until smooth for a detox smoothie high in vitamin C, iron, and other vitamins and minerals.
Cucumber Slices to Relieve Tired Eyes
Cucumbers contain antioxidants that can relieve irritation, as well as reduce swelling. The coldness of a frozen cucumber is also an added benefit that reduces the appearance of puffy eyes.
Cucumber Eye Treatment
Lie down in an area where you won't be disturbed. Take two frozen cucumber slices and place them over your eyes.
If they are too cold fresh out of the freezer, let them sit at room temperature for a few minutes beforehand. Let the cucumbers rest on your eyes for about 15 minutes and flip them over to the opposite side if they become too warm.
Using Cucumber Puree as a Facial Cleanser
Cucumbers contain high amounts of vitamin B-5, which is used for treating acne, along with vitamin C and other antioxidants, all of which are great for the skin.
Mix the puree, oatmeal, and honey in a bowl and apply an even layer onto your face and neck. Massage the mixture into your skin using a circular motion.
Let the mask sit for about 15 minutes and then rinse it away with lukewarm water. You may need to use a washcloth to wipe away the oatmeal residue. Pat your face dry with a clean towel.
Make a Facial Mask with Cucumber Puree
Using cucumber and yogurt to make a face mask can do wonders for your skin. The combination of the two ingredients hydrates your skin, tightens pores, and reduces irritation.
Mix the pureed cucumber and yogurt in a small bowl until thoroughly combined. Wash your face and neck with an oil-free cleanser and pat dry.
Apply the facial mask evenly onto your face and neck. Relax for about 15 minutes while the facial does its job. Rinse your face and neck clean with lukewarm water and pat dry with a clean towel.
As you can see, freezing cucumbers is quite simple and convenient. Not only that, having frozen cucumbers on hand can provide you with an easy way to make everything from healthy smoothies to facial masks.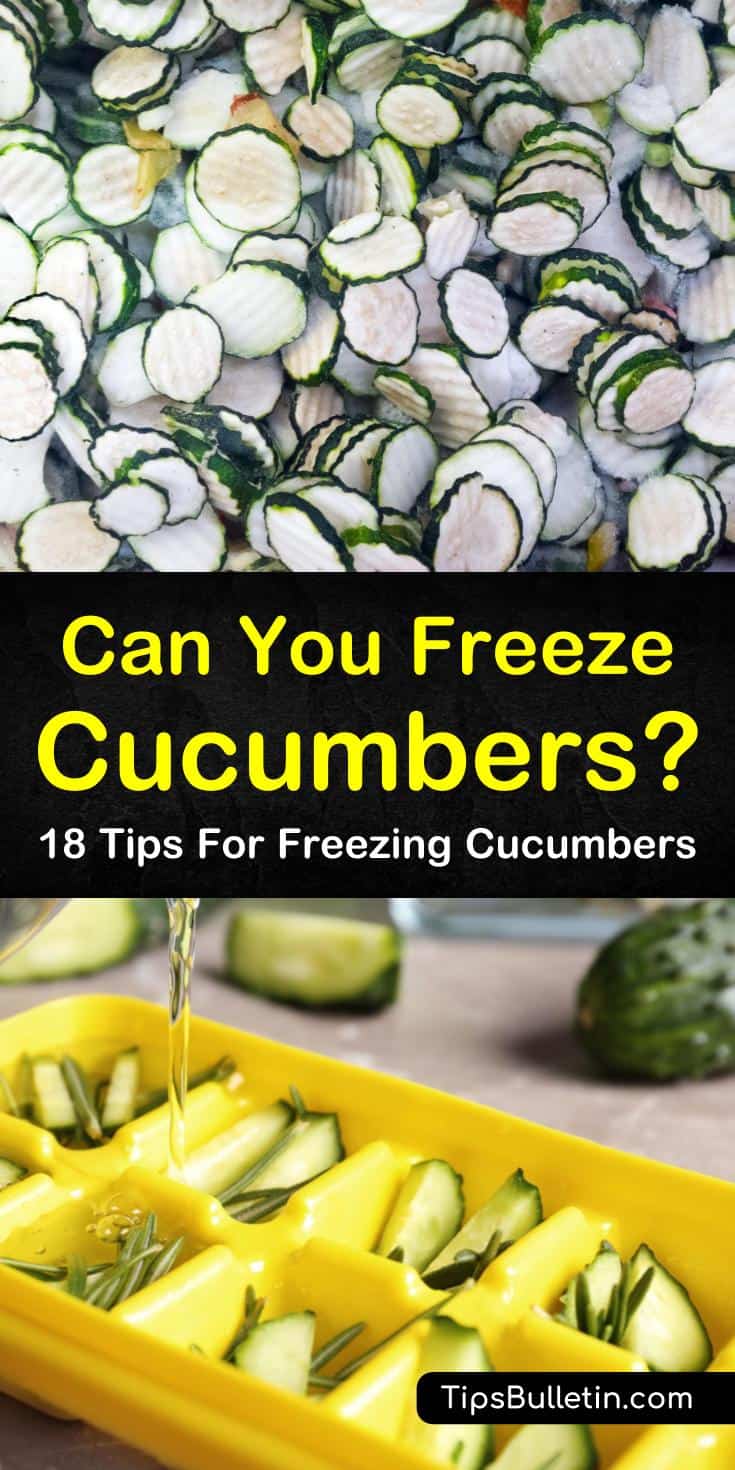 Now that you know the answer to your question, "Can you freeze cucumbers?" we'd love it if you shared our cucumber freezing tips with your friends and family on Facebook and Pinterest.