Egg salad is a simple and easy recipe that's excellent for meals on the go or by itself as a side dish. But if you've ever made too much egg salad at once, you may have wondered, "Can you freeze egg salad?"
A classic egg salad sandwich served with lettuce leaves on crusty, thick-sliced bread is a lunchtime favorite.
Whether you're using it as a sandwich filling, a stand-alone appetizer, or incorporating it into another recipe like deviled eggs or quiche, using up all of your egg salad before it's at risk of spoilage is sometimes a challenge.
This leads to the question, "Can egg salad be frozen?" While the answer is yes, there are a few considerations to keep in mind before freezing egg salad.
Read on to find out the shelf life of egg salad in the refrigerator, the best way to freeze egg salad, and how to thaw egg salad for the best possible consistency.
Can Egg Salad be Frozen?
If you've ever made too much of your favorite egg salad recipe, you may have asked yourself, "Can I freeze egg salad?" The answer to this matter may not be as simple as you think.
Since egg salad contains delicate ingredients like eggs and mayonnaise, it doesn't last very long at room temperature before developing unpleasant odors from bacterial growth.
To prevent food poisoning, always refrigerate egg salad in an airtight container. How long can you keep egg salad in the fridge? Use egg salad within a couple of days for the best quality, and always check for signs of spoilage before eating it.
Freezing egg salad or freezing macaroni salad is a convenient option to make egg salad last longer, but understand that it won't come out of the freezer quite the same as it went in.
Even the best egg salad may lose its creamy consistency when thawed and take on a more watery texture because of the high moisture content of the ingredients.
For this reason, it's best to use thawed egg salad as a sandwich filling or incorporate it in another dish instead of as a separate appetizer.
Best Container for Freezing Egg Salad
The most critical element when freezing salad or any other type of food is the container that you choose. Make sure to always use a freezer-safe, airtight container. Freezer bags or Tupperware containers with securely fitting lids are perfect.
It's helpful to remove as much air as possible from the container before freezing egg salad. Use a vacuum sealer for packaging your egg salad for freezing if you have one. Can you freeze tuna salad the same way? Yes, vacuum sealing is also ideal for tuna salad and chicken salad.
Otherwise, use a straw to suck as much air as possible out of the freezer bag. Seal the zipper around the straw, remove all the air you can, then remove it to zip the bag fully closed. If using lidded containers, try to find lids with resealable air vents.
How to Freeze Egg Salad
Before freezing egg salad or the best way to freeze potato salad, be sure to check for any signs of spoilage. Freezing does not salvage spoiled food.
For best results, avoid using vegetables that are negatively affected by freezing, like cabbage, broccoli, or tomatoes, in your egg salad if you're planning on freezing it.
Keep the recipe as uncomplicated as possible, using simple ingredients like hard-boiled eggs, mayonnaise, chives, salt, and pepper.
Freezing salad dressing like mayonnaise does change the texture a bit. It's also helpful to use less mayonnaise than the recipe calls for in egg salad you're going to freeze. The oils and lemon juice or vinegar in mayonnaise separate from the egg when frozen, causing it to lose its emulsion and take on a watery texture.
If you know that you'll be freezing egg salad, use half the amount of mayonnaise suggested in the recipe, and add more when you're ready to serve the thawed egg salad.
How to Thaw Frozen Egg Salad Safely
Eggs don't hold their flavor and texture for very long after cooking, especially when frozen, so try to use your egg salad as quickly as possible. Avoid storing egg salad in the freezer for longer than one week.
When you're ready to eat your frozen egg salad or after you freeze pasta salad, remove the container from your freezer and place it in a bath of cold water to defrost. Avoid thawing your egg salad in the microwave, as that results in more loss of texture and consistency.
Can You Freeze Egg Salad Twice?
Because mayonnaise loses its emulsion when thawed, it's best not to try freezing egg salad twice.
The separation of the oils, vinegar or lemon juice, and egg affects the egg salad's texture and flavor. At that point, you're better off just making a fresh batch of egg salad.
Our Favorite Egg Salad Recipe
Egg salad is a household favorite because it's quick and easy to make and is a wonderfully versatile dish. Try this recipe for classic egg salad next time you have a craving. Keep it simple, or try adding extra ingredients to spice it up a bit.
Place all of the eggs in a large saucepan filled with enough cold water to cover them completely. Bring the water to boiling, then turn the heat off and cover. Let the eggs sit in the boiling water for ten minutes.
Remove each of the eggs from the saucepan using a slotted spoon. Let them cool, and then peel them. Roughly chop the hard-boiled eggs, and place them in a medium-sized mixing bowl. Incorporate the rest of the ingredients and stir well.
Serve fresh with your favorite bread or crackers, use as a sandwich filling, or try substituting for scrambled eggs at breakfast time.
Egg salad is a healthy and delicious option for a quick meal or fun appetizer. Because of its relatively short shelf life, it's best only to prepare as much egg salad as you'll use at one time.
However, if you make too much egg salad, you may ask yourself, "Can egg salad be frozen?" The answer is yes, but the flavor and consistency won't be the same once it's thawed.
Because the ingredients in the mayonnaise separate, thawed egg salad tends to have a watery texture. Using less mayonnaise in your recipe helps the egg salad retain a better texture once defrosted.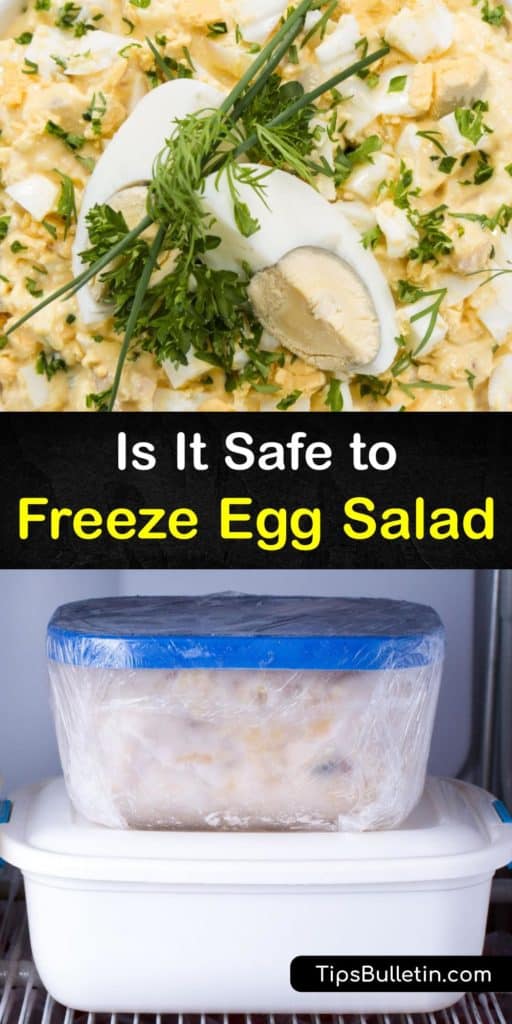 If you found these tips for freezing egg salad helpful, please share this article about the best way to freeze egg salad with your friends and family on Pinterest and Facebook who have ever wondered, "Can you freeze egg salad?"