Can you freeze fruit salad safely? Freezing your favorite fruit salad recipe is an excellent way to preserve fresh fruit for a later date. Fruit salad is a delicious and healthy treat for breakfast, a snack, or a dessert when paired with vanilla ice cream.
Combining fruits like cantaloupe, crushed pineapple, mandarin oranges, watermelon, frozen strawberries, and many other fruits is excellent for your health and brain function.
Freezing fruit salad is simple and prevents your frozen fruit salad from becoming mushy as it sits in the fridge. Because this fruit cocktail mixture includes several fruits, it is packed with antioxidants, vitamins, and minerals.
Not only is ripe fruit healthy for you, but it is also always a fantastic treat on a hot summer day. Easy to find tools like a freezer bag or a cookie sheet effectively freeze fruit salad.
Find out how to freeze fruit salad in a few different ways, so your frozen fruit salad stays fresh as long as possible.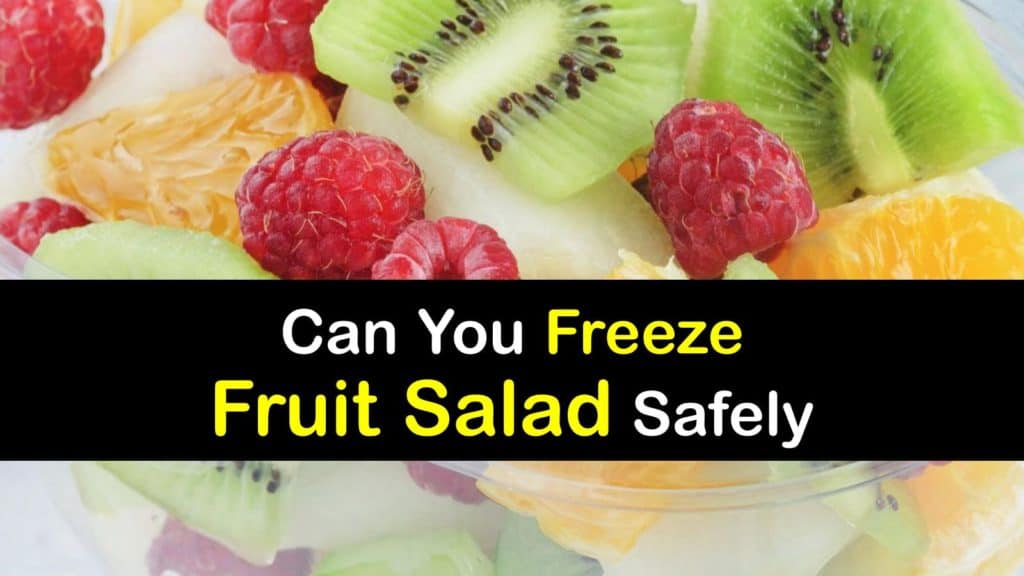 Learning How to Preserve Your Fruit Salad
Use fruit for a variety of unique recipes. Cobblers, cupcakes, and desserts utilizing cream cheese all make incredible treats, but creating a fruit salad is one of the healthiest ways to enjoy the leftover fruit in your fridge.
How long does fruit last in the fridge? It depends on the fruit. Store fruit salad in the fridge based on the one that spoils fastest.
Before freezing fruit salad, it is better to make a syrup to preserve these gluten free snack nutrients.
Combine the ingredients in a blender and pour over the fruit to prevent the fruit from browning as it freezes.
Can You Freeze Fruit Salad for a Couple of Weeks?
The best way to freeze fruit salad for short-term purposes is to prevent ice crystals from forming with an airtight container. Freeze and preserve fruit salad for a week or two be getting out as much air from the container as possible.
Airtight containers block oxygen that tries to sneak into the box. When oxygen comes in contact with your frozen stone fruit, it replaces the moisture and leads to freezer burn, and the fruit loses its taste.
Take your good fruit salad recipe and spread a single layer of syrup over the top before placing it in a freezer-safe, airtight container. We recommend using a box that is deep rather than wide.
Bunch up several parchment paper pieces and set them on the fruit's top before sealing the container closed. When you learn how to freeze fruit salad with an airtight container, your frozen fruits stay fresh for up to eight weeks.
Freezing Fruit Salad Long-term
Can you freeze fruit salad for longer than eight weeks? It is also feasible to freeze fresh fruit for more extended amounts of time. Before freezing fruit, use a paper towel to remove as much moisture as possible.
Can watermelon be frozen? With watery fruits like watermelon, excessive moisture causes the fruit to get mushy and negatively affects the taste when you use it for fruit smoothies. Cover an entire baking sheet with parchment paper and spread your fruit out in a single layer.
Cover the tray with plastic wrap before setting it in the freezer until the fruit is completely frozen. Transfer the contents into freezer bags.
Squeeze out as much air as possible and seal it tightly. Freezing fruit salad on a tray first prevents clumping when transferred to the bags.
Freeze apples for smoothies and fruit salad and a variety of other fruits this way. Frozen banana slices are just as tasty by themselves as they are in a fruit salad.
How to Freeze Fruit Salad and Thaw
Understanding how to thaw frozen fruit salad is easy. There are a couple of methods to practice when thawing frozen fruit. One way to unfreeze fruit salad is to pour the fruit into a large bowl and let it sit out at room temperature for a couple of hours.
It is critical to note, though, that if you thaw your fruit salad at room temperature, there is a higher chance of bacteria growth.
When fruit is left at room temperature too long, the air speeds up how bacteria and other harmful microorganisms grow. The more bacteria on the fruit salad leads to a higher risk of acquiring food poisoning.
A Safer Way to Thaw Your Fruit Salad
To repel excessive bacteria growth, we suggest leaving your fruit salad in the fridge overnight to thaw. When you refrigerate fruit salad, the cool temperatures preserve the fruit better than room temperature.
Thawing your fruit salad in the refrigerator does require advance planning, but refrigeration is the safest method for thawing.
Understanding how to freeze fruit salad correctly is essential so it thaws it safely. As your fruit salad is thawing in the fridge, you can check on it after a few hours.
Partially frozen fruit is just as delicious as fresh fruit. After your fruit salad is unfrozen, pour a little syrup over the top to add some juiciness.
Can You Refreeze Fruit Salad?
Fruit has high functionality and can be included in many snacks and sweet treats. After you thaw fruit salad, it is best not to refreeze it. You can refreeze fruit salad; however, the taste deteriorates rapidly.
When you refreeze fruit salad, ice crystals break down the fruit's cell walls and remove the flavor. The fruit becomes soft and mushy after freezing it the second time. Can I freeze fruit salad a second time? Refreezing fruit salad eliminates the rich taste fruit provides.
For a tasty and healthy side dish for a summer outing, fruit salad is perfect. Fruit salad is a magnificent way to use up extra fruit in your refrigerator, and the fruit offers several health benefits.
Fruits contain vitamin C, E, and A, as well as folic acid. The vitamins and nutrients in fruit are a low-calorie snack that reduces the risk of heart disease.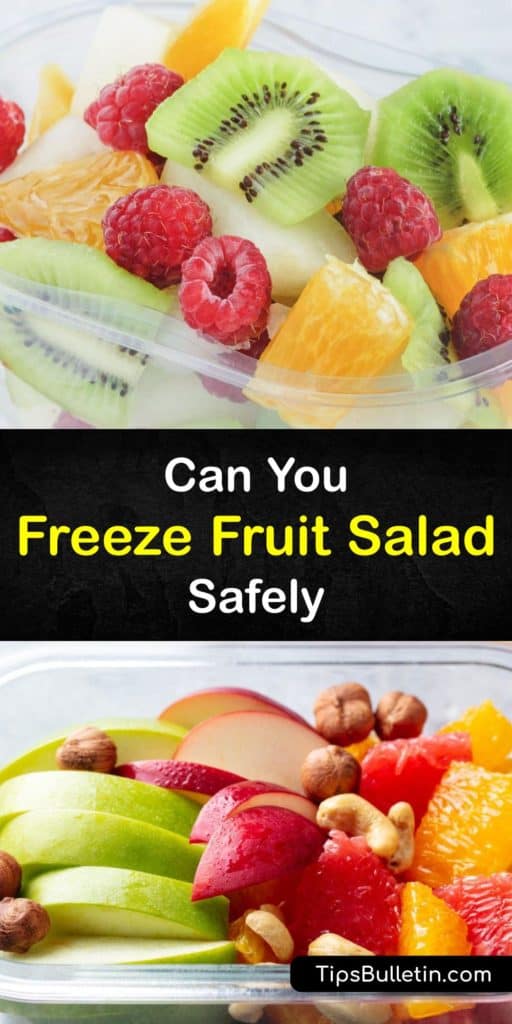 If you found out the answer to "Can you freeze fruit salad?" share this article about freezing fruit salad safely with your family members on Pinterest and Facebook.