Fresh ginger is great to have on hand, but chances are you don't use all of it before it goes bad. Even when you purchase a small quantity of ginger, you often have more than you use, so people wonder, can you freeze ginger?
Yes, freezing fresh ginger is possible, but how you freeze it depends on how you plan to use it in the future. One of the reasons so many people want to learn how to freeze ginger is because it keeps its potent flavor. Ground ginger, no matter how much you add, isn't capable of providing your dishes with that intense burst of flavor fresh ginger offers.
Ginger root keeps at room temperature or in the fridge for up to three weeks, but after that, it begins drying into a small lump or start rotting. Freezing ginger root allows you to preserve its freshness for up to six months.
Top Tips for Freezing Ginger
Like most produce, the shelf life of ginger is limited. Determine how you want to use the spice and prepare accordingly. The best way to store ginger is to freeze it for later use.
Freezing ginger is possible in a variety of ways, all of which are easy and take only a little time. Let us show you the best ways to freeze ginger, so you cut back drastically on how much food you are wasting.
Once properly frozen, store ginger in the freezer from six to nine months. Always label and date your containers to ensure you are using the oldest products first and enjoy the fresh taste of ginger in any recipe and so you won't have to wonder is turmeric and ginger the same in an unmarked freezer package.
Can You Freeze Ginger?
Freezing fresh ginger root is feasible and helps the herb last a long time. Before you begin freezing ginger, make sure you are using the best pieces you find. When selecting ginger, look for fragrant, plump, firm, and unwrinkled pieces as they have the best flavor.
Most local grocery stores carry fresh ginger roots, but they may not sell the freshest ones. Ethnic grocery stores, especially Indian and Asian ones, are an excellent source for fresh ginger as that style of cooking calls for ginger more often.
Best Tip for How to Freeze Ginger
If you are looking for an easy way to freeze ginger, our best advice is to freeze it as is. There is no need to wash, peel, grate, or chop the ginger root before freezing.
To freeze it quickly, leave the peel on the piece of ginger and place inside a Ziploc freezer bag. First, wrap the ginger with plastic wrap before placing it in a freezer-proof plastic bag or an airtight container.
Another option is to peel the ginger first and then freeze it. Some people prefer to peel and freeze, as frozen ginger is more straightforward to grate than fresh. Fresh ginger is fibrous, so grating gets tricky as the fibers don't always want to cooperate.
If you peel it before freezing, it's easy to grab a chunk of ginger when you need it and quickly grate the exact amount the recipe calls for. When freezing, remove as much air as you can from the freezer bags to prevent freezer burn.
Tips for Grating Ginger
It's possible to grate fresh and frozen ginger. Grating a new ginger piece is a bit messier than frozen, as fresh ginger is juicy.
Peel the whole root before proceeding with grating. Grate frozen ginger root as is. Before grating, decide on the size holes on the grater you wish to use. Use the medium or tiny holes on a box grater or use a microplane grater. Once grated, store ginger in the freezer.
Methods for Freezing Ginger Root
No matter what freezing method you use, only store ginger root in the freezer for up to nine months for optimal results. After peeling ginger, wash and dry ginger with a paper towel before freezing.
Method number one involves portioning the ginger into one tablespoon or teaspoon measurements inside an ice cube tray. Press ginger down inside each cube to squish it together as much as possible.
Place the ice cube tray inside the freezer for at least eight hours, but overnight is best. Once frozen, pop ginger out of the cubes, and place inside a freezer-safe container until you are ready to use.
Method number two requires a cookie sheet and some parchment paper. Line a baking sheet with parchment paper and scoop out one tablespoon or teaspoon-sized scoops of grated ginger.
Space the scoops about one inch apart. Place inside the freezer for a minimum of eight hours. Once frozen, move frozen ginger mounds into freezer-safe containers until you use them.
Best Tips for Freezing Fresh Ginger
When freezing ginger, never let the pieces touch as they have a high water content. If slices or chunks are touching, they won't freeze individually, so you have to defrost the entire batch before using it as they are almost impossible to pry apart.
Use a paring knife, spoon, or a vegetable peeler to peel your ginger. The paring knife comes in handy for the knobby spots, but be careful not to cut too deep. Vegetable peelers work well on more solid and smooth surfaces of the root.
To peel your ginger with a spoon, hold the spoon backward, so the bottom of the spoon is facing you. Apply some pressure and slide the spoon towards you and watch the peel slip away.
The older the ginger, the drier it is. Fresh ginger doesn't require any liquid before freezing, as it is incredibly juicy when grated. Dry ginger won't freeze as well, so add a small amount of water to your mounds or to the ice cube trays to encourage freezing.
Do You Have to Grate Ginger Before Freezing?
No, you don't have to grate ginger before freezing. Use a food processor to mince or dice the ginger into smaller pieces or to make a puree. As an alternative, cut ginger into chunks or slices for freezing.
If using chunks or slices for preserving fresh ginger pieces, spread ginger out on parchment paper to flash freeze it. Pureed, minced, or diced ginger requires scooping into ice cube trays or onto cookie sheets before freezing.
How to Use Frozen Ginger
Home cooks know that they can use frozen ginger in place of fresh and freeze dried ginger in all of their favorite recipes. It always tastes better than the dried ginger you buy at the store, although dried is usually the best option for fresh ginger substitution.
If you are making a cold dish that calls for ginger, be sure to thaw the ginger out before using it. If adding to soups or smoothies, use the ginger chunks as is.
For ginger tea, grate frozen ginger directly into two cups of water and bring to a boil. If adding to cooked dishes, such as stir fry, add frozen ginger with your oil and heat them both up together. Here is one of our favorite vegan recipes from an online cookbook.
Melt coconut oil in a pot using medium-high heat and then cook onions in hot oil for four minutes. Add the ginger along with the garlic and cook for another minute. Then add carrots, sweet potato, and seasoning and give it a quick stir.
Dump the broth into the pot and bring everything to a full boil. Lower the heat to medium once boiling and cook for ten minutes at a simmer. You want the vegetables to be soft. Pour soup into a blender and add the almond butter and process until smooth.
Add the soup back to the original pot and pour in lime juice and coconut milk. Cook everything on medium heat until heated.
If you have a lot of ginger, you can also store it using other methods, too. Learn the best way to pickle ginger, preserve it in alcohol or wine, or dry it. You have numerous options for saving this yummy spice to use later.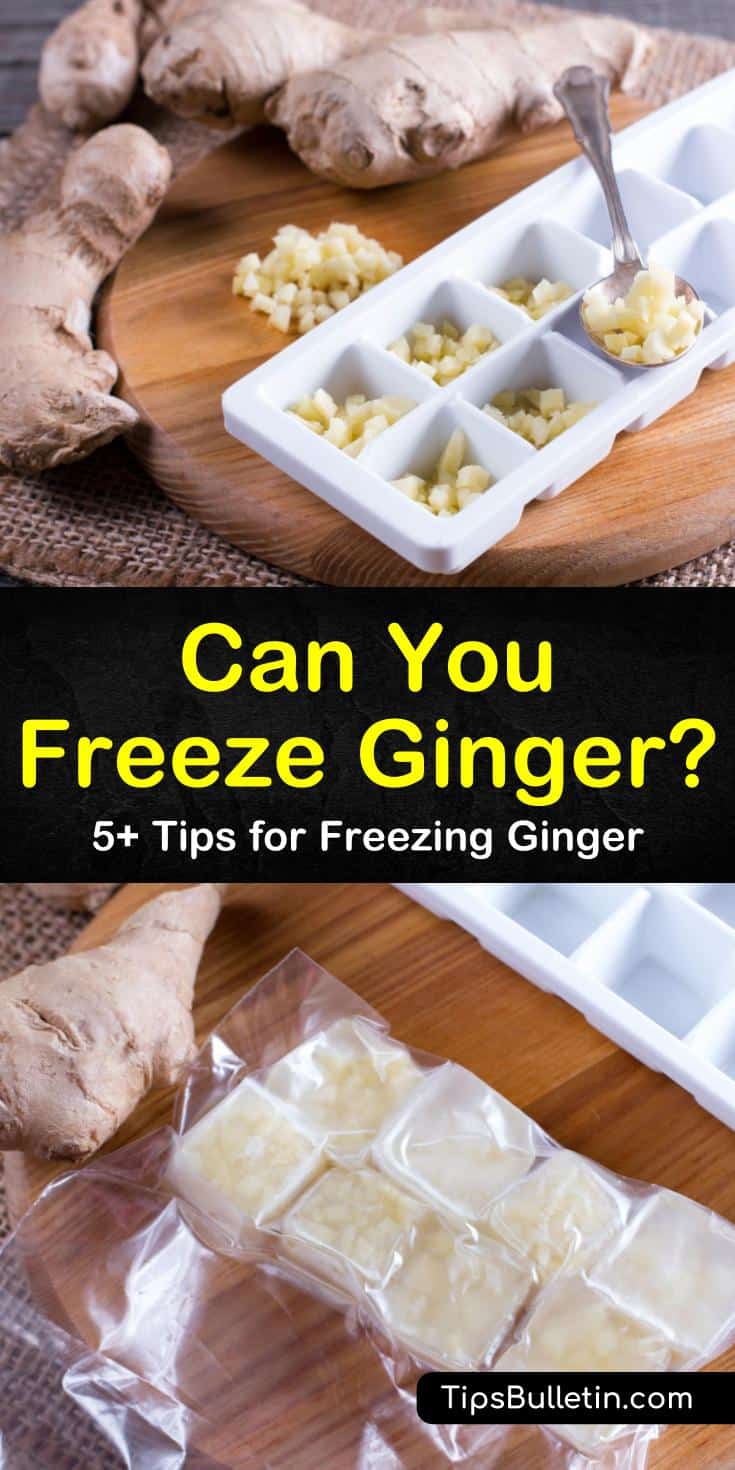 Thank you for learning all about how to freeze ginger. If you found any of our tips on freezing ginger root helpful, please take a second to share them with others on Facebook and Pinterest, as sharing our post allows others to learn the answer to the question can you freeze ginger, too.