What better way to add flavor to a dish than to cover it in ooey-gooey cheese? Of course, one of our favorites is Gouda because of its unique taste and how it melts perfectly for a grilled cheese sandwich. Can you freeze gouda cheese to make it last longer?
Making cheese last longer than its expiration date is possible once you understand a little bit more about the risks of freezing Gouda cheese. While there isn't necessarily a best way to freeze Gouda cheese, there are some guidelines that most people follow.
Freezers often alter how fresh food tastes and feels once it has been stored in frigid temperatures for extended periods. Thankfully, this is somewhat avoidable. Learn how to freeze Gouda cheese the right way and eliminate too many textures or flavor differences.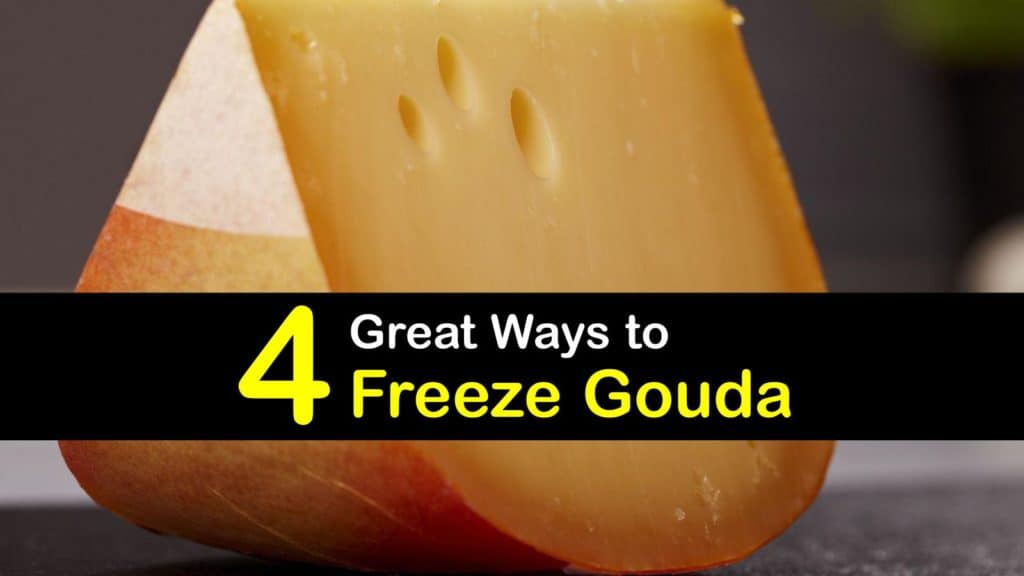 What is Gouda Cheese?
Not all cheese is made the same. When you ask, can you freeze Gouda cheese, make sure you're talking to someone familiar with the different types.
There are soft cheeses with high water content and smoother texture. Some examples of soft cheeses include Brie, fresh mozzarella, cottage cheese, cream cheese, feta, goat cheese, and Camembert.
Hard cheese includes parmesan, gruyere, Swiss, and sharp cheddar. Gouda lands somewhere in the middle and is considered a semi-hard cheese. Other semi-hard cheeses are edam, blue cheese, and Havarti.
Gouda gets its name not from the place it is created but from the city where it is traditionally purchased and sold in the Netherlands.
The town of Gouda earned the rights to trade cheese back in the Middle Ages, and cheese was one of the most popular things it had. This cheese name also refers to the cheesemaking process.
Cultured milk is turned into curds to make Gouda cheese, and some excess liquid whey is removed and replaced with warmer water. The curds are drained once more in a process that eliminates extra lactose.
The curds are pressed into round molds and put into a saltwater brine bath. Finally, the cheese sits out to dry and is either coated in plastic or wax.
The Gouda ages from one month to a year before it is ready to eat. Younger cheese has a milder and sweeter flavor, while older Gouda is darker and stronger with nutty and buttery notes.
Can You Freeze Gouda Cheese?
Can gouda cheese be frozen if you want it to last longer? Yes, Gouda is safe to freeze. You can even freeze mozzarella balls and American cheese. However, you might want to think a bit longer before tossing it into the freezer.
The Ideal Way to Store Gouda Cheese
Cheese is alive with lots of beneficial bacteria, and the worst thing you can do is suffocate it by wrapping it in plastic wrap or keeping it in the original packaging to make cheese last longer.
This rule applies to all types of cheese and not just Gouda. Instead, the way to keep Gouda cheese fresh is to wrap the fresh cheese in parchment paper and place it in the warmest area of your fridge, which is usually the vegetable drawer.
You get two or three weeks of freshness when you refrigerate Gouda cheese instead of freezing it.
How to Freeze Gouda Cheese
When freezing Gouda cheese, either keep it in one big piece or turn it into sliced cheese for pieces that thaw faster.
Freezing cheese, whether you freeze feta or Gouda, also requires you to wrap it in plastic wrap or aluminum foil before placing it in an airtight container or Hefty freezer bag. Squeeze out as much air from the bag as possible. Even Parmesan can be frozen this way if it is in a block. For grated cheese, keep it in the container.
What to Do after Freezing Gouda Cheese
Learning how to thaw frozen Gouda cheese is when things start to head south for cheese lovers. The once smooth block purchased from the grocery store is now crumbly and slightly less flavorful.
This texture alteration happens when thawing any type of cheese. Ice crystals form inside of the block at cold temperatures.
To thaw frozen cheese, properly, allow it to thaw at room temperature for no more than two hours. You can also set it in the fridge to thaw frozen Swiss cheese or Gouda if you're not in a rush. Do not remove the wrapping when softening it.
Cooking with Frozen Cheese
Once it has frozen, Gouda isn't the best for putting back onto a sandwich. Instead, make something hot, like lasagna or macaroni, where the texture doesn't matter as much.
Heat your home's oven to 375°F and coat a two-quart baking dish with some olive oil. Cook your pasta noodles until they are al dente and rinse them under cool water. Lay the pasta flat and set it aside.
In a bowl, mix the fresh ricotta, parmesan, egg, zest, salt, and pepper. Spread a thin layer of tomato sauce on the bottom of your dish. Lay three or four noodles over the sauce to cover the bottom.
Spread the next layer of filling, about one-third of it, over the noodles. Repeat each layer until all ingredients are used.
Bake the Gouda lasagna in the oven for about 45 minutes or until the top layer of Gouda cheese is golden and melted. Allow the piping hot lasagna to cool for 10 minutes before you serve it.
Gouda has made our food taste better for decades. Even though freezing Gouda cheese isn't always ideal for storage, it is safe and one of the simplest ways to extend the life of a favorite food. We hope these freeze-cheese tips have made the entire process simple.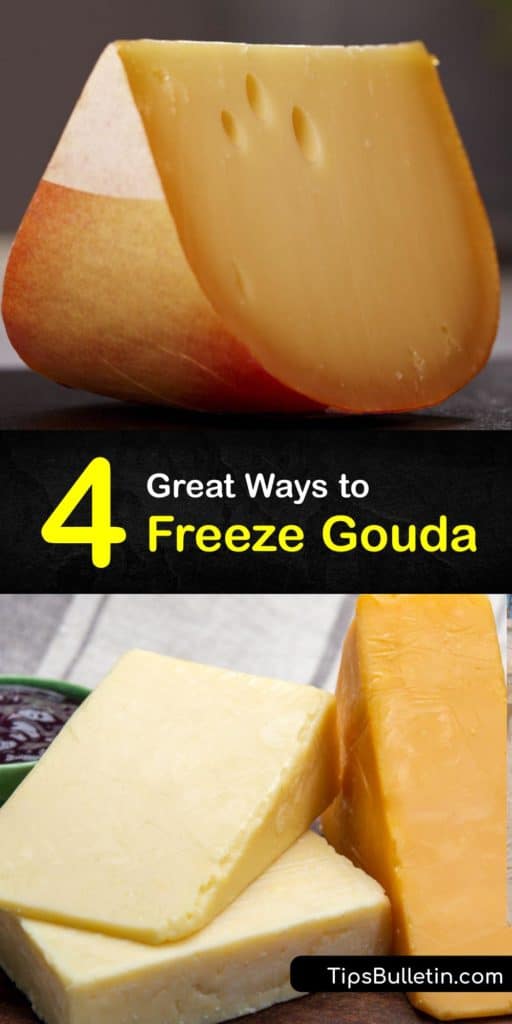 If this article asking can you freeze Gouda cheese has given you a clear answer, share this article explaining how to freeze Gouda cheese on Facebook and Pinterest.